Bitkub is a new-generation exchange platform for trading digital assets with low commissions, stable terminal operation and a high level of security.
Read completely
Cryptocurrency exchange
Website
Social media
Date of foundation

2018

Head Office

Bitkub Online Co., Ltd. 2525, FYI Center, Tower 2, 11th floor, Unit 2/1101-2/1107, Rama 4 Road, Klongtoei Sub-district, Klongtoei District, Bangkok 10110

Types of support

Feedback form on the site

Chat

Telegram: @bitkubofficial

Twitter

Facebook

Instagram

Office

Support by phone
Languages

English, Thai

The owner of the company
Investors

Bitkub Capital Group Holdings, dtac Accelerate, Pume Viwatrujirapong, Nattaphol Vimolchalao

Minimum entry amount
Maximum input amount

Verified

Fiat

Bank Transfer:

THB No restrictions

Unverified

Fiat

Bank Transfer:

THB No restrictions

Maximum withdrawal amount

Verified

Fiat

Kasikorn Bank:

THB Available withdrawal amount depends on the user level

Unverified

Fiat

Kasikorn Bank:

THB Available withdrawal amount depends on the user level

Exchange Commission
Terminals

Author's platform

Age restrictions
Trading volume per day
Number of users
Number of cryptocurrencies
Margin Trading
Leverage

Depends on the pair traded and the type of margin

Tokenized assets
Free Demo Account
Types of accounts
Execution of orders

Market Execution (at market price), Limit Orders

Methods of replenishment

Wire transfer

Withdrawal methods

Kasikorn Bank

Account currencies

THB, Cryptocurrencies

Types of cryptocurrencies

Bitcoin, Ethereum, XRP, Litecoin, Bitcoin Cash, Tether, Stellar, Cardano, Wancoin, OmiseGO, Zilliqa, StatusNetwork, Civic, Chainlink, IOSToken, 0x, KyberNetwork, Raiden Token, Arcblock, Decentraland, Dogecoin, USD Coin

Mobile applications
Trader training
A way to store cryptocurrencies
Fiat accounts
Scalping
Stop Loss and Take Profit Function
Exchangeability for fiat currencies
Basic verification
Extended AML verification

KYC, address confirmation

Regulatory laws
API
Affiliate Program
Benefits

Small trading commissions

Stable operation of the terminal

Instant exchange between accounts and exchanges

Disadvantages

The interface is translated into English and Thai only

Company requisites

Legal name:

Bitkub Online Co.

Legal address:

Bitkub Online Co., Ltd. 2525, FYI Center, Tower 2, 11th floor, Unit 2/1101-2/1107, Rama 4 Road, Klongtoei Sub-district, Klongtoei District, Bangkok 10110

Overall assessment
Date of update

27.04.2022
Bitkub is it a scam? Reviews and description
Bitkub - a new-generation exchange platform for trading digital assets. In addition to major cryptocurrencies such as Bitcoin, Bitcoin Cash SV or Ethereum, the service trades many other coins, with a total of 33 destinations. Although the company is based in Bangkok, it works with users from all over the world.
You can buy and sell cryptocurrency in the company's platform on the website and through a mobile app. Reviews about the exchange are few, but all of them are positive. To understand whether Bitkub is really a reliable service and not a scam, we compiled this review.

Why Bitkub?
Bitkub is young crypto exchange with an authoring platform for buying and selling many cryptocurrencies. The benefits of the service:
A large share capital of the company;
Round the clock technical support;
Profitable affiliate program;
Protection against DDoS attacks and full data encryption;
APIs that can support extensive projects.
To make the platform accessible to everyone, whether a beginner or an experienced trader, Bitcube offers detailed guidelines in its FAQ. The site also has detailed information about the company and its employees, news, and contact information. A Bitkub mobile app has also been developed and recommendations for its use are also posted on the site. One of the features of Bitkub is its 24/7 support service and hotline. This makes it possible to ask questions, send suggestions and solve problems even on weekends.

How to exchange cryptocurrency on Bitcube platform?
You can sell cryptocurrency in two steps:
Go to your Bitkub account and click "Market" and "Sell".
Select the type of sell order: "Limit" or "Market".
Go to the marketplace bitkub.com and buy BTC, ETH and other cryptocurrency of your choice. For a limit order, enter the number of coins and the price per coin. For a market order, enter the number of coins and the system will indicate the best available price per coin for "Bid" requests and click "Sell". As soon as the coin is sold, THB will be automatically credited to your wallet. Buying cryptocurrency is also easy:
Deposit Thai Baht into your Bitkub account.
Go to the market and buy BTC, ETH or other cryptocurrency. Coins will be credited to the service's account automatically.
All work takes place in the interface on the company's website. The program looks as follows.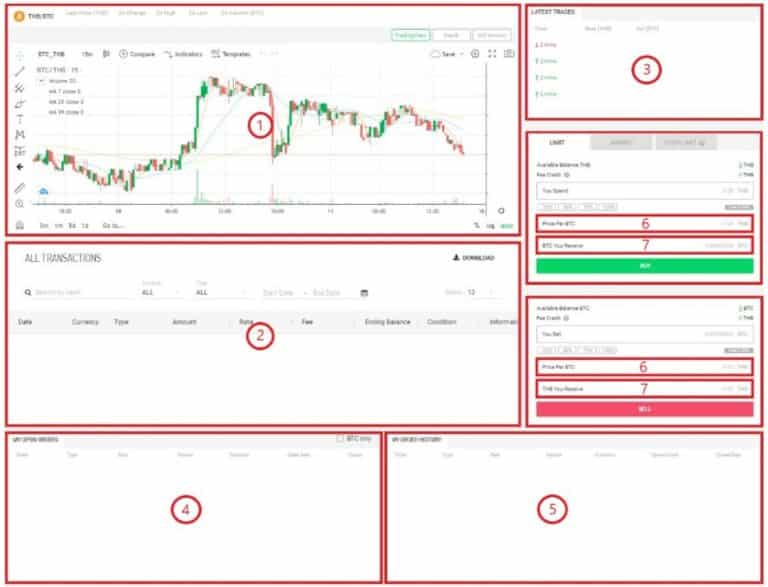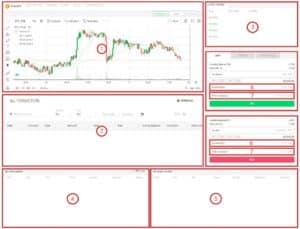 The screenshot shows these windows:
1. trading view - a graph reflecting the price trend and volume of the selected coin.
2. The order book is divided into 2 parts - bids (reflect buy orders with the volume of THB spent to buy coins and the volume of coins to be received for each order) and asks (show sell orders with the volume of coins to be sold or spent and the volume of THB received for each order).
3. Last Transaction - reflects the volume of the last completed orders.
4. My open orders - shows existing orders that are not completely filled.
5. My Order History - reflects partially or fully executed orders.
6. Price - the value of the asset specified by the buyers and sellers on the exchange platform.
7. Volume - the amount of an asset to spend or receive.
Daily deposit and withdrawal limits depend on the user's level and verification:
2 million baht for level 1 (photo, ID and questionnaire);
12 million baht for level 2 (address and bank statement);
any amount for Level 3 (bank statement).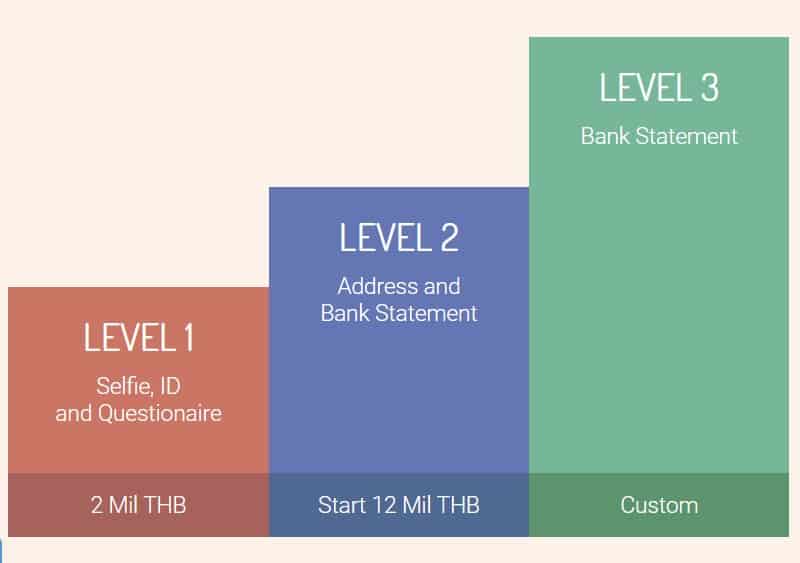 Verification on bitkub.com platform
The first step in creating an account on the site bitkub.com - the registration process. To do this, enter your email address, create a password, and read the "Terms of Service". Instructions for registration:
Open Bitkub.com and click "Create an account" in the upper right corner of the home page.
After accepting Bitkub's terms and conditions, provide your email and password.
Check the "I agree to the Terms of Use, Privacy, and AML policies" box and click "Join Bitkub".
You will receive a link to confirm your email address in the email.
Confirm your account and deposit money before trading.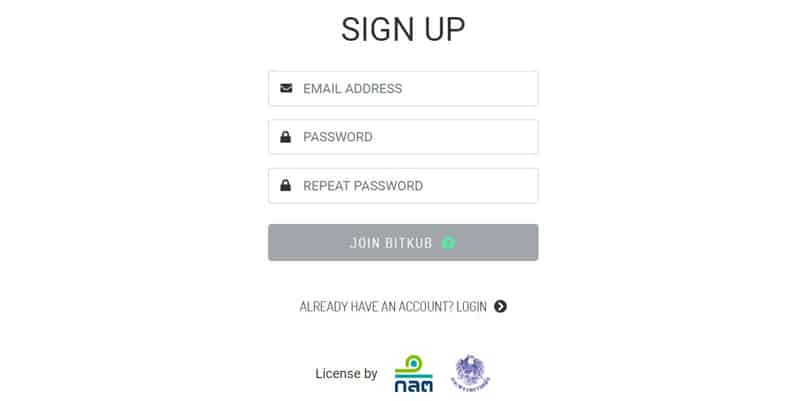 To verify your account, click the "Verify Account" button. After studying the offered documents, fill in all the information in the fields on the website. To confirm your identity, scan the QR-code from the site or upload your photos. You need to add the first page of your passport and a selfie photo. When the process is complete, you will see the message "Verification in progress. It takes 5-7 days.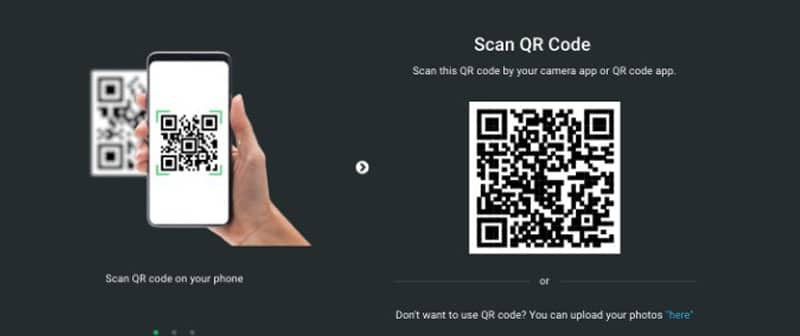 Deposit and withdrawal
On Bitkub the minimum deposit amount in Thai Baht is 40 Baht. There are no additional commissions when making a deposit, but the minimum amount of trade must be more than 10 THB. Transaction fee will depend on the type of transaction. Main deposit method - bank transfer, accounts are opened in almost all banks in Thailand. Deposit and withdrawal time - from 5 minutes to 2 hours. The time largely depends on the bank and the time of transactions. How to deposit funds:
Log in to your account bitkub.com.
Click the "Wallet" button in the upper right corner of the screen. On the page that opens, you will see THB and cryptocurrencies, for each of which a deposit is linked.
Select the cryptocurrency you would like to deposit. You will see your wallet address or QR code corresponding to your digital asset.
Copy and paste the wallet address into the platform interface.
Record the hash of the transaction to check the status.
After confirmation, you can check your wallet balance.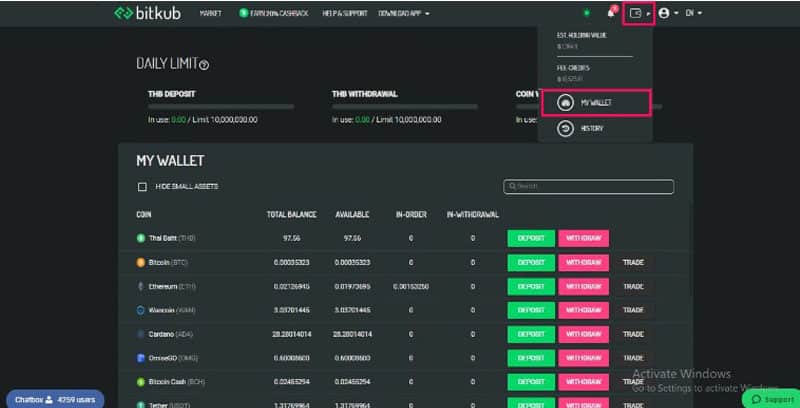 To withdraw Thai Baht to your bank account, go to the "Wallet" page, select the line "Thai Baht" and click on "Withdraw". In the new window on the left side will be the details of the Thai bank and the amount available for withdrawal. On the right side, enter the amount to withdraw and the verification code. Click on "Withdraw from Account" and wait for the funds to come to the bank account. The procedure may take several minutes to 2 hours.
Cryptoexchange Commission
This exchange does not charge different commissions between recipients and makers. Instead, it uses a flat fee model. The service has set a fixed commission for selling and buying at 0.25%.
Withdrawal fees
BTC withdrawal fee is 0.0002 BTC. This is lower than the industry average fee of 0.0008 BTC. There is information about other commissions on the exchange's website.

Bitcube bonuses
Bitcube offers customers to participate in a referral program, attracting new users.
Bitkub referral program
Invite friends to the site bitkub.com and receive a 20% commission on all referral trades and an exclusive e-book worth 4,995 baht. When a minimum of 3 referral users make 1 trade each, you will receive a book with "Profitable Techniques for Winning in the Bear Market". Terms and Conditions:
Complete the screening process (Level 1) to be eligible to participate in the program.
Invite your friends to sign up with a QR code or referral link.
Receive a 20% commission after a referral completes a transaction with any cryptocurrency.
Remuneration is taxed at 3%.

Complaints about Bitcube
Customers leave reviews of the service on the company's Facebook page. Among the positive comments about the convenience of working with the platform, small commissions and favorable conditions, there are reviews that the site often "hangs", and technical support is not always able to help. The company is young, so it is not surprising that few users talk about working with it. For example, there are no Russian-language comments yet. We will keep an eye out for updates on this.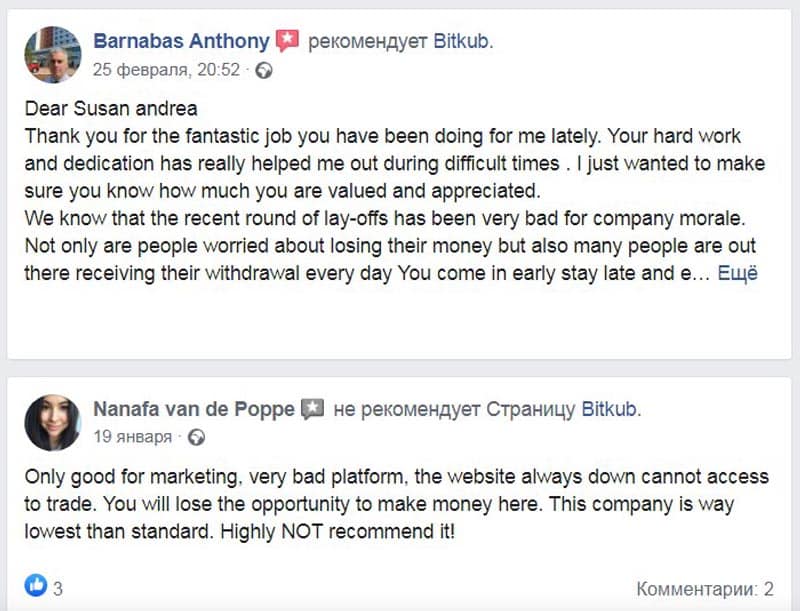 If there are any complaints about Bitkub, we'll be sure to post on social media. Sign up so you don't miss anything!
Please keep yourself informed about news and complaints. We copy the most valuable information to social networks, so please sign up!
Regulation of the crypto exchange bitkub.com
The service is owned by Bitkub Online Co. It operates under local laws. Bitkub guarantees that 100% deposit funds are never used for other purposes. The service now freezes large amounts of capital for protection in case of unforeseen situations. This practice ensures that exchanges can repay customers.
Bitcube User Agreement
Several documents have been published on the company's website. On the corresponding page, you can read the user agreement. It contains information about creating an account, trading rules, services, wallets, rights and obligations of the parties.

The site also has a privacy policy. The document has clauses about collecting and protecting personal information and using cookies.

In addition, the text of the AML/CFT policy is available on the site.

Customer Service
You can contact the Exchange staff by phone at 02-032-9555, by e-mail at [email protected] and via online chat.
Is Bitkub a scam?
Bitkub - is an exchange that has been operating since 2018 in Thailand. It offers buying and selling of 33 cryptocurrencies, low commissions, a simple trading platform interface and detailed guides on its website. There are not many reviews about the service so far, there are both positive and negative points that users notice. Given the fact that the site has detailed information about the company and the texts of the user agreement, privacy policies and AML/CFT, we can conclude that Bitkub is not a scam, but an exchange that operates under the laws of Thailand.
Conclusion
Bitkub - young service, so it is difficult to evaluate it objectively. According to customers, it has both pluses and minuses, so we ask our readers to leave their feedback about it. Evaluating the service based on real work will help other users decide whether to use Bitcube services or not.
Robots for cryptocurrency