Bithoven is a cryptocurrency exchange with low commissions, a reliable cryptocurrency wallet and fixed trading fees.
Cryptocurrency exchange
Official website
Social media
Date of foundation

2019

Head Office

Suite 305, Griffith Corporate Centre, PO BOX 1510, Beachmont, Kingstown, Saint Vincent and the Grenadines

Types of support
Languages

English, Thai, Indonesian

Manager
Minimum withdrawal amount

Verified

Cryptocurrency

From 0.000901 BTC
From 0.01010001 ETH
From 12.790001 XRP
From 0.03934601 BCH
From 45.01 USDT
From 0.05300001 LTC

Unverified

Cryptocurrency

From 0.000901 BTC
From 0.01010001 ETH
From 12.790001 XRP
From 0.03934601 BCH
From 45.01 USDT
From 0.05300001 LTC

Maximum withdrawal amount
Exchange Commission

Trade Commission:

0.2

% for maker /

0.2

% for taker

Withdrawal fee:

0.0009

BTC /

0.0101

ETH /

12.79

XRP /

0.039346

BCH /

45

USDT /

0.053

LTC

Terminals

MetaTrader 5

Age restrictions

From

18

years

By opening an account, you represent and warrant that you are at least 18 years old

Trading volume per day
Number of users

60000+

The number of users is constantly growing

Number of cryptocurrencies
Number of trading instruments

4

Trading pairs (500+), candlestick chart, order book and market overview

Margin Trading

User-friendly and multifunctional interface for margin trading

Leverage
Tokenized assets
Free Demo Account
Types of accounts
Execution of orders

Market order, Limit order

Methods of replenishment

Cryptocurrencies

Withdrawal methods

Cryptocurrencies

Account currencies

Cryptocurrencies

Types of cryptocurrencies

BTC, ETH, XRP, BCH, USDT, LTC, EOS, TRX, XLM, ADA, etc.

Mobile applications
Trader training
A way to store cryptocurrencies
Fiat accounts
Scalping
Stop Loss and Take Profit Function
Exchangeability for fiat currencies
Trading Strategies

All cryptocurrency trading strategies, trading robots are allowed

System maintenance and updates

In real time

The speed of the order collation kernel

No overloads and downtime

Platform Safety

Input and output with offline signatures; KYC

Strategic alerts

Customizable notification and reminder tool of the Meta Trader 5 terminal

Basic verification

Through a link sent in an email

Extended AML verification

KYC (passport, passport or driver's license. Photo with the document (selfies). Proof of address (bank statement, utility bill, etc.)

Regulatory laws

International data protection law

FATF (Financial Action Task Force)

API
Bonuses
Affiliate Program

Registration

20% commission from the trading fee paid by a referral for buying or selling cryptocurrencies

Benefits

Margin trading is available

Zero commission when transferring BTC to margin accounts

Reliable and convenient platform with a large number of orders

Transparent user relations and 24/7 feedback

Disadvantages
Company requisites

Legal address:

Suite 305, Griffith Corporate Centre, PO BOX 1510, Beachmont, Kingstown, Saint Vincent and the Grenadines

Overall assessment
Date of update

26.02.2023
Address
Suite 305, Griffith Corporate Centre, PO BOX 1510, Beachmont, Kingstown, Saint Vincent and the Grenadines
Map
Subscribe to this company
Bithoven is this a scam? Reviews and description
Exchange trading platform Bithoven is designed to take into account all modern tools for conducting operations with cryptocurrencies. MetaTrader 5 terminal is used, profitable affiliate programs are launched, and for cold storage of cryptocurrencies the company has concluded an agreement with the wallet BitGo.
Traders are provided with leverage, the number of trading pairs is growing, more than 500 cryptocurrencies are available. To find out if bithoven.com is a scam, let's take a closer look at how the platform works.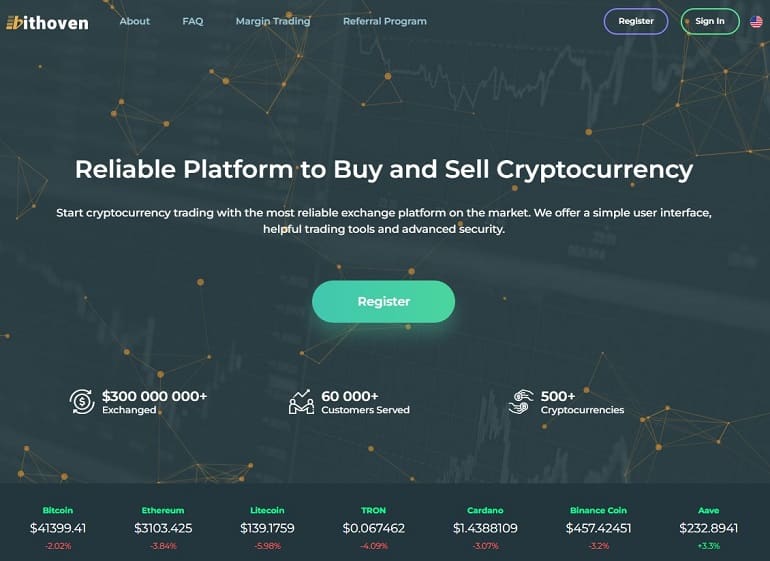 Why Bithoven?
Exchange bithoven.com started in 2019. Benefits crypto exchanges:
zero transfer fee BTC to margin accounts;
high level of security;
profitable affiliate program;
many cryptocurrencies;
leverage;
prompt work of the technical support service;
the ability to use trading robots;
Getting free coins 100 DOGE after registration.
The portal is not translated into Russian, but the control panel, the terminal and the registration module have an intuitive interface and even a novice trader can start trading. It is possible to get started without obligatory verification.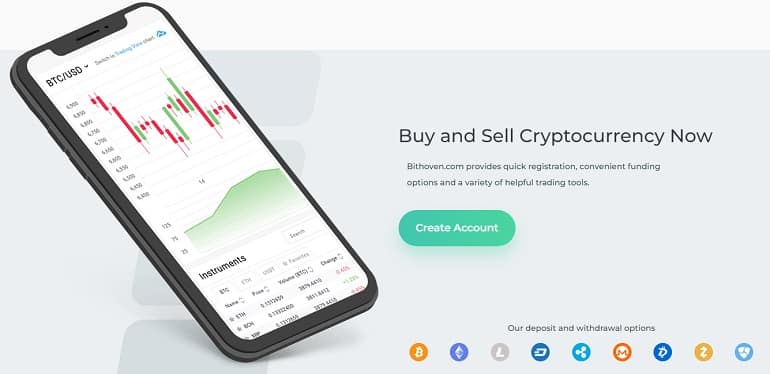 How to exchange cryptocurrency on the Bithoven platform?
Platform Beethoven does not work with fiat currencies. To start working with the exchange, transfer, exchange and any other operations with cryptocurrencies on the site you need to register and be verified. The company works with BitGo cryptocurrency wallet for cold storage and exchange operations.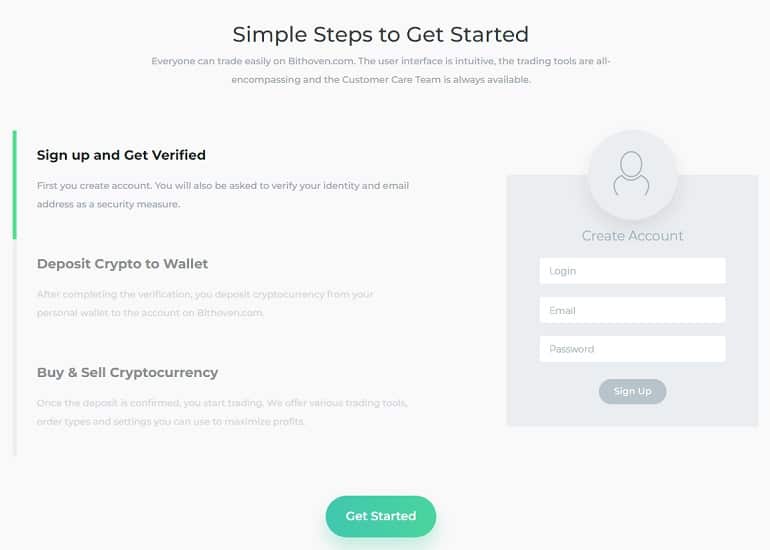 Verification on the bithoven.com platform
The website bithoven.com has two-phase verification. Transactions up to 2 BTC can be made after a simple registration without account verification. To increase the amount of transactions on the exchange to 100 BTC, you need to be verified. To do this you will need:
identity documents, ID card, driver's license or passport, with them and a piece of paper on which will be written the name of the exchange, you need to take selfies;
Proof of address, such as utility bills.
In the future, after registration, you will be able to enter a personal account via your Google or Facebook accounts.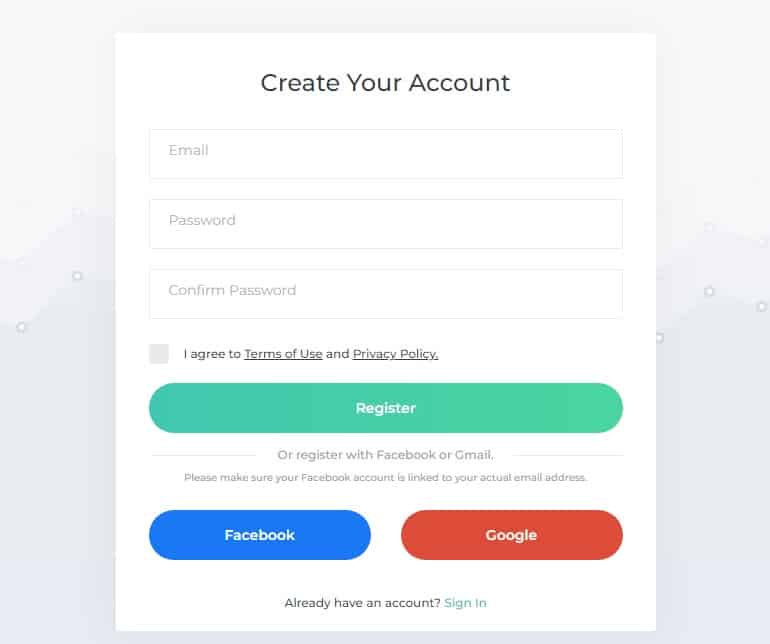 Deposit and withdrawal
It is possible to deposit funds on the exchange through cryptocurrencies, linked to a personal account. It is also possible to withdraw earnings. For all operations the commission is taken.
Bithoven Crypto Exchange Commission
The bithoven.com exchange collects commission for trading and withdrawal of currencies. Trading commission is the same for taker and maker: 0.2%. Commission for withdrawal will depend on the type of cryptocurrency, for example: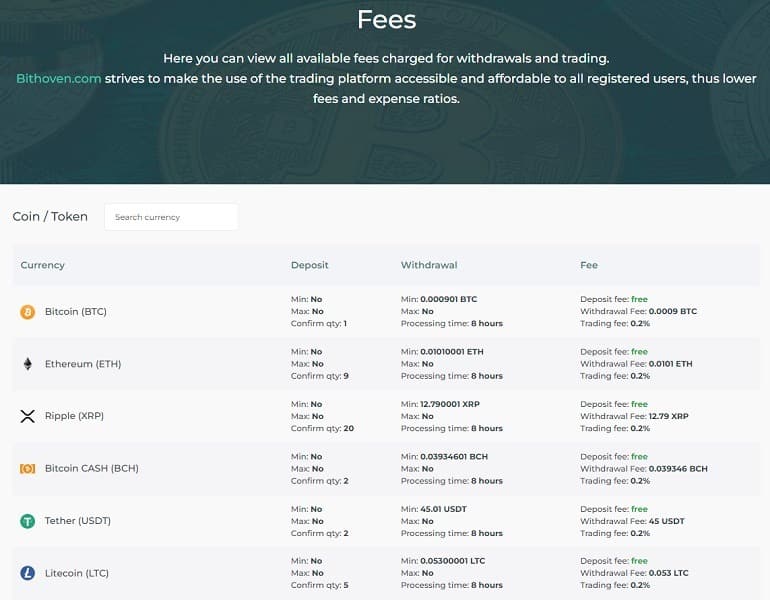 Bonuses at bithoven.com
The exchange does not yet have a privileges program. But the company has launched an affiliate program and prepared interesting offers for traders who trade on margin trading.
No commission for transferring BTC to a margin account
When transferring Bitcoin to margin accounts, the exchange takes no commission.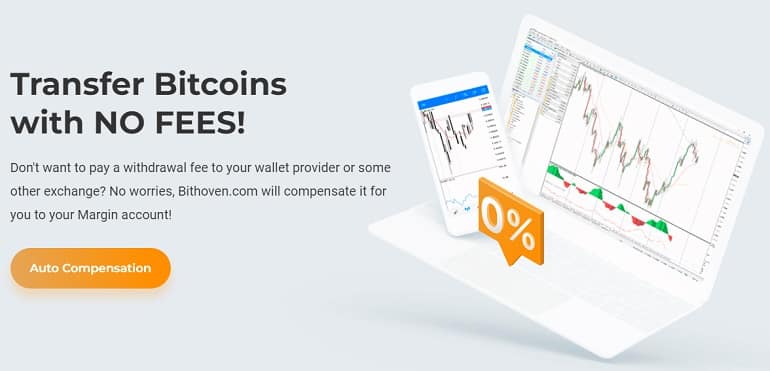 100 DOGE coins as a gift when you register
New users of the exchange after registration will receive 100 Dogecoin coins as a gift.
Affiliate Program
The company has opened an affiliate program. By getting a referral link in your personal cabinet, traders will receive up to 20% commissions for each referred client.

Complaints about Beethoven
Bithoven company has not been operating for so long and is better known in the English-speaking sector of the Internet, but we were able to find a lot of feedback from users of the portal.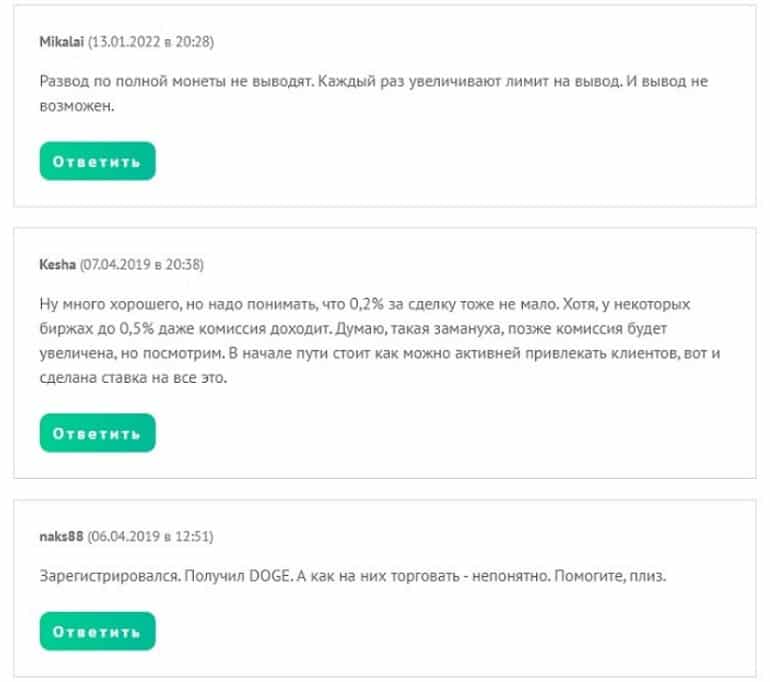 The most common complaints: high withdrawal fees and technical failures on the platform. In positive comments most often praise free coins and affiliate program. Many clients note the exchange's user-friendly portal, fast withdrawal of funds and the fact that it is possible to trade without verification.
If there are any complaints about the Bithoven exchange, we will be sure to post the information on social media. Sign up so you don't miss anything!
Please keep yourself informed about news and complaints. We copy the most valuable information to social networks, so please sign up!
Regulation of the crypto exchange bithoven.com
Before signing an agreement and registering on the site of any financial institution, you need to check its documents, so as not to get caught by fraudsters and not to lose the money invested.
Regulator
The exchange is opened by Fortis Ltd. The organization is registered offshore. Its registered office is at Suite 305, Griffith Corporate Centre, PO BOX 1510, Beachmont, Kingstown, Saint Vincent and the Grenadines. Legal entity registration number: 25256 BC 2019.
Bithoven User Agreement
When registering, all new users agree to the standard rules of the site. Like all other materials on the site, the document is not translated into Russian and is written in standard legal language.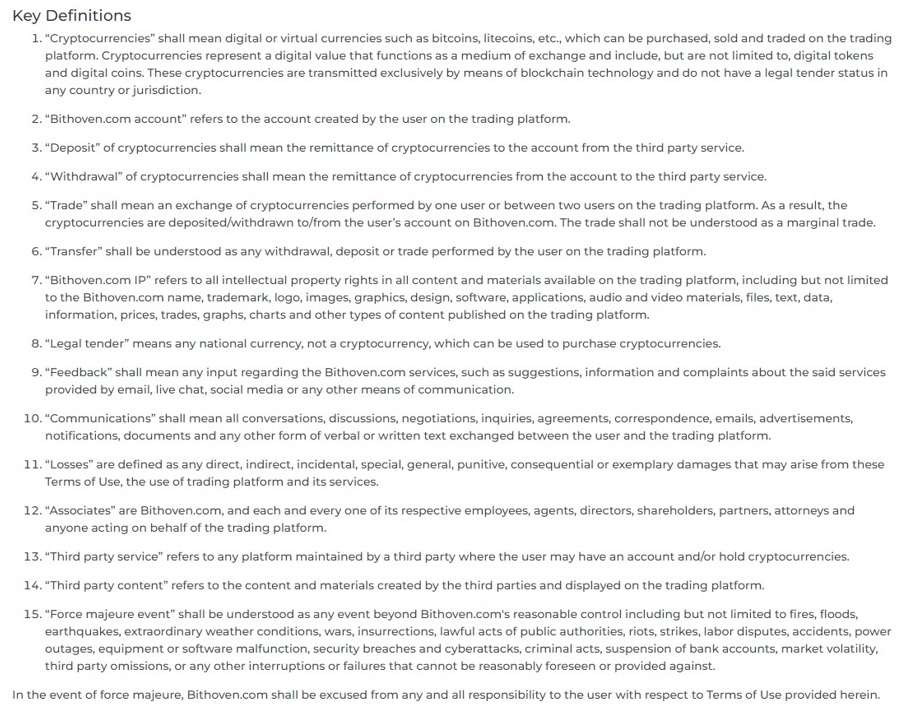 On the first pages are spelled out the terms used on the exchange platform: deposit, commission, orders and other concepts that may be useful to novice traders.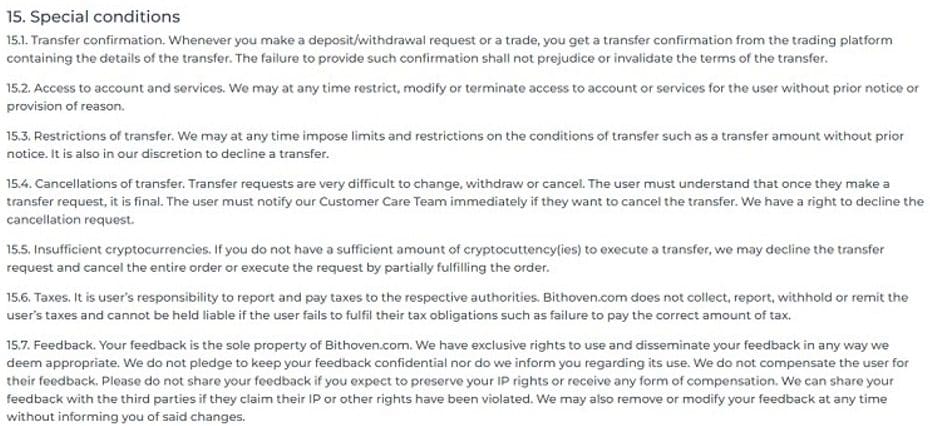 The document contains general provisions: fees, taxes, refusal to transfer funds if there is not enough money in the account and other operational issues. If there are any problems with registration or any other technical points, it is best to write a message through the feedback form.
Customer Service
The Exchange website has a help center, where answers to all the most frequently asked questions are uploaded. You can leave a message through the feedback form or by e-mail.
Is Bithoven a scam?
Bithoven has been operating since 2019. The company is developing, adding new features and cryptocurrency pairs. Bithoven.com is not a scam. Among the pluses: fixed commission for trading operations, fast withdrawal of funds, convenient terminal, prompt work of the support service, distribution of free coins at registration, margin trading, provision of leverage, reduced commissions and profitable affiliate program.
More than 500 cryptocurrencies are available for trading. So far, the exchange does not work with fiat currencies. Of the languages, translation is only in English, Indonesian and Vietnamese. It is possible to trade and withdraw funds without verification, the maximum withdrawal amount is relatively high - 2 BTC. The exchange has not yet launched a mobile application, but the terminal, which is used to trade is available for use with smartphones, tablets or computers.
Conclusion
Bithoven offers users the usual work for cryptocurrency exchanges orders, signals for transactions, trading robots. The platform has a high level of security. By subscribing to social media accounts on Facebook and Twitter, customers will be able to learn about new promotions and exchange opportunities. Among the working tools, customers note the presence of a candlestick chart of price changes and the book of active orders.
No reviews yet, be the first!
The company in the ratings
Robots for cryptocurrency
Activity
New

0

Resolved

0

Not resolved

0
New companies on the site