BitHash is a crypto exchange for cryptocurrency trading using popular digital assets and fiat (available in US dollars, euros and rubles). There is a possibility of instant exchange without registration.
Read completely
Cryptocurrency exchange
Official website
Social media
Date of foundation

2016

Head Office

Global Gateway 8, Rue de la Perle, Providence, Mahé, Seychelles

Types of support
Languages

English, Chinese, Russian

The owner of the company

Phoenix Trading Solutions Ltd.

Minimum entry amount

Verified

Fiat Currency

from 100 USD / depending on payment system
from 100 EUR / depending on payment system
from 10 000 RUB / depending on the payment system

Maximum input amount
Minimum withdrawal amount

Verified

Cryptocurrency

From 0.0001 BTC
From 0.005 ETH

Fiat Currency

from 100 USD / depending on payment system
from 100 EUR / depending on payment system
from 10 000 RUB / depending on the payment system

Maximum withdrawal amount
Exchange Commission

Trading commission:

0.1

% for maker /

0.1

% for taker

Account replenishment fee:

From

0.5

To

2.5

% / for fiat currencies

Withdrawal fee:

1.5

% / for fiat currencies

0.0005

BTC /

0.005

ETH

Terminals

TradingView

Age restrictions
Trading volume per day
Number of cryptocurrencies
Margin Trading
Tokenized assets
Free Demo Account
Types of accounts
Execution of orders

Limit Order, Market order

Methods of replenishment

Bank transfer, Bank card (Visa/MC), Cryptocurrencies

Withdrawal methods

Bank transfer, Bank card (Visa/MC), Cryptocurrencies

Account currencies

USD, RUB, EUR, Cryptocurrencies

Types of cryptocurrencies

BTC, ETH, LTC, DOGE, BCH, DAI, DASH, EOS, XMR, XRP, etc.

Mobile applications
Trader training
A way to store cryptocurrencies
Fiat accounts

In U.S. dollars, euros and rubles

Scalping
Stop Loss and Take Profit Function
Exchangeability for fiat currencies
Basic verification
Extended AML verification

Obligatory for trading with fiat currency. You must provide information about yourself and a photo of an identity document

Regulatory laws

International data protection law

Canadian law

The International Business Companies Act

API
Affiliate Program

Registration

1-20% from trade commissions of referrals, 25% for listing agencies

Benefits

Instant exchange without registration

Two affiliate programs: for users and listing agencies

Ability to trade with fiat

Several ways to deposit in fiat

Disadvantages

Complaints about not receiving funds after sending an exchange payment without registration

Company requisites

Legal name:

Phoenix Trading Solutions Ltd.

Legal address:

Global Gateway 8, Rue de la Perle, Providence, Mahé, Seychelles

Overall assessment
Date of update

20.02.2023
Address
Global Gateway 8, Rue de la Perle, Providence, Mahé, Seychelles
Map
Subscribe to this company
BitHash is this a scam? Reviews and description
BitHash - crypto exchangefounded in 2016. On its platform you can buy, sell and exchange cryptocurrency. More than 100 currency pairs are available. The exchange belongs to Phoenix Trading Solutions Ltd. which is registered in Seychelles. The platform offers not only cryptocurrency tradingbut also instant volume without registration and a referral program. To find out if the company is reliable and if BitHash is not a fraudulent scheme, we studied its work and reviews of the exchange.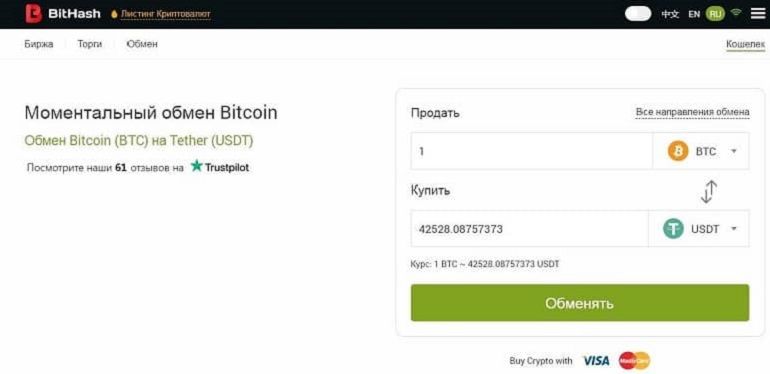 Why BitHash?
BitHash is a cryptocurrency trading platform founded in 2016 that provides cryptocurrency exchange services. The crypto exchange allows trading of many digital assets. BitHash uses a cryptocurrency exchange order book. Users can trade, input and withdraw tokens. Instant exchange is available without registration.
The site has information about the company, which owns the exchange, commissions and limits, wallet statuses, statistics and API documentation. You can also read details about referral program, verification, rules of crypto exchange. There are three tabs at the top of the browser page:
Exchange - information about currency prices, rate changes, trading volume, minimums and maximums.
Trading - a terminal with an order book for trading cryptocurrency.
Exchange - a form for instant exchange without registration.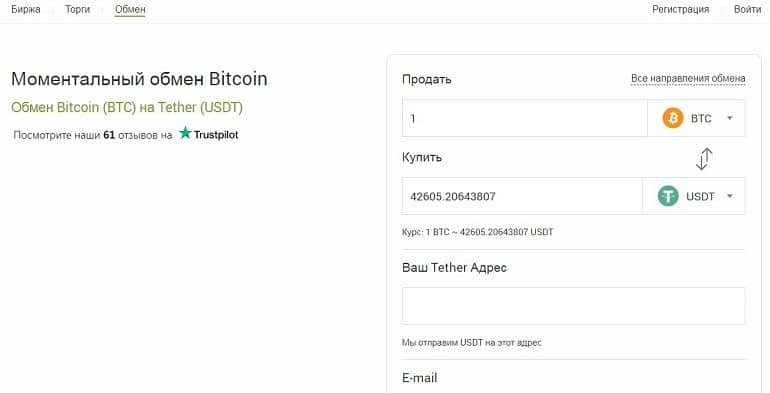 You can send an application to add your coins to the listing and become a member of the affiliate program for listing agencies. A referral program for all users is also available. The advantages of the exchange include:
optional verification;
the possibility of instant exchange without registration;
affiliate program for listing agencies;
referral program;
a simple trading terminal;
a large number of cryptocurrencies;
small trading commissions;
the ability to recharge in fiat, several methods of recharging are available.
How to exchange cryptocurrency on the BitHash platform?
To start trading on bithash.net, it is necessary to enter funds into the platform. Account replenishment is possible by transferring cryptocurrencies or fiat money supported by the platform. Go to the "Exchange" page, select the currency pair you want to trade on the top right. Available trading pairs for USD, EUR, RUB and cryptocurrencies BTC, ETH, LTC, DASH, EOS, ETC, XMR, XRP, ZEC, DAI, MATIC.
The TradingView chart is located in the upper part of the window. Trading blocks are available in the lower part of the window. Select the order of interest from the list or create your own by specifying the amount and price. Click on the "Buy" or "Sell" button. The order should appear in the "Sell/Buy Orders" window. After the order is executed and funds are credited to the wallet, the order will move to the "Trades" window.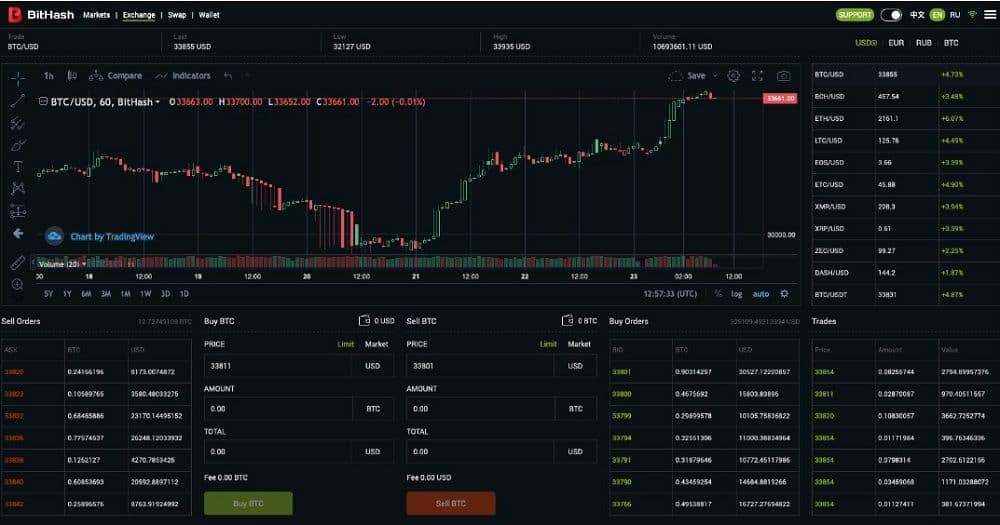 BitHash also offers an instant cryptocurrency exchange service. Exchange BTC for Ethereum, Tether to Monero, Litecoin to Dash and other cryptocurrencies and tokens can be exchanged instantly and without registration. Visit bithash.net and choose the currencies you want to exchange.
Enter the amount, the address where you want to receive the coins, your email address, submit your exchange order, and complete the payment. You will receive the coins as soon as your payment is confirmed. Instant Exchange Terms and Conditions:
No hidden fees.
No need to register.
The rate is fixed for 30 minutes from the moment of submitting the order. If the order is not paid within this time, it will be canceled. Any coins transferred to the address used for payment must be credited to the user's account using the email address from the order. If there is no account with an email address on the order, an account will be automatically created. Login information will be sent to that address.
It is necessary to confirm the transaction within 2 hours of payment. Otherwise it is cancelled.
Automatic payment is made immediately after confirmation of the transaction.
Verification on the platform bithash.net
First, you need to register your account. To do this, go to the account creation page and enter your email. It will receive a link for activation and a password to enter your personal account. It has several sections: wallet, history, orders, verification and security (to change your password and enable two-factor authentication.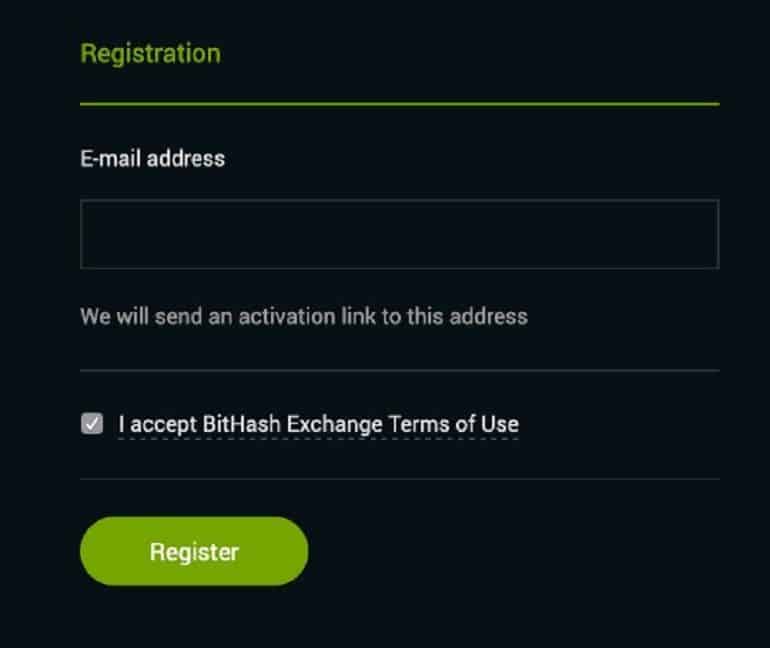 The process of verifying an account in BitHash - a measure of compliance and anti-money laundering (AML), KYC and terrorist financing (CTF) regulations. KYC verification consists of completing an online form and providing supporting documentation. You must sign a declaration confirming the accuracy of the information and allowing BitHash to complete the check.
You must visit the account confirmation page for complete information. Once all the fields are filled in, the verification process will begin. You must enter e-mail, country, city, phone number, first and last name, date of birth, document number, date of issue and expiration. You also need to send a photo of the document (maximum size - 10 MB). Processing time may take several weeks. After successful verification, a notification email is sent.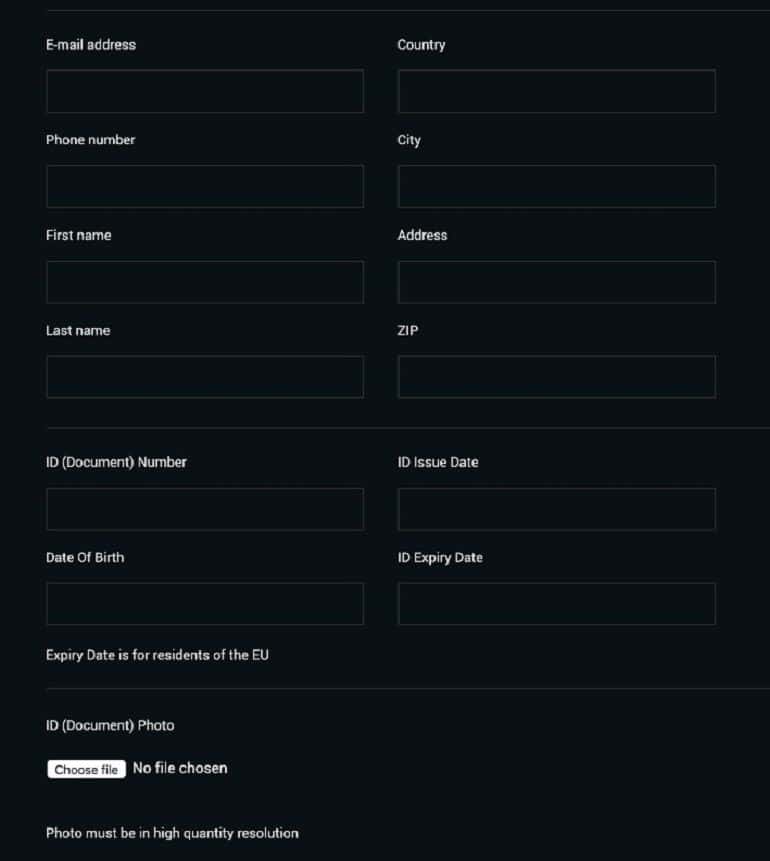 You don't have to be verified to start trading. Verification is required only for users who are going to deposit/withdraw fiat currencies, for some stabelcoins, or for those who want to speed up the deposit/withdrawal process. Customers who want to deposit/trade/withdraw most cryptocurrencies do not have to confirm their accounts.
Deposit and withdrawal
There are several ways to deposit in fiat currency: by bank transfer, VISA or Mastercard in US dollars, rubles or euros. The minimum deposit or withdrawal can be 1,000 U.S. dollars or euros and 100,000 rubles by bank transfer. If you deposit from a bank card, the minimum amount is $100 or euro and 10,000 rubles. There is no minimum to deposit in cryptocurrency. For the withdrawal of funds, the minimum amount depends on the currency. Thus, for Bitcoin it is 0.0001 BTC, for Ethereum - 0.005 ETH, for Litecoin and Monero - 0.01 LTC and XMR respectively.
To deposit money into your account, go to the "Wallet" section and click on the "Deposit" button. Select the currency you want to transfer, the wallet replenishment method to which the transfer will be made, and go to the payment section. Withdrawal of funds is done in the same way. There is a "Withdraw" button, which opens a form to enter the amount and address of the wallet.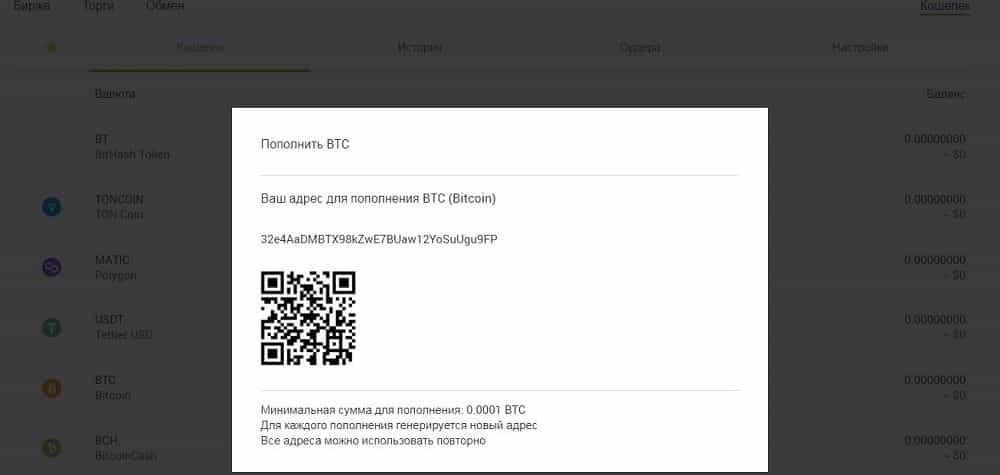 Cryptoexchange Commission
The Exchange charges trading commissions. They are the same for makers and takers and are 0.1%. The rest of the commissions depend on the currency and method of deposit or withdrawal. Deposit commission:
0.5% - bank transfer;
2.5% - VISA/Mastercard.
Cryptocurrency deposit fees are not charged. Withdrawal in fiat currency is charged 1.5% regardless of method. For cryptocurrency withdrawals, the fee depends on the asset. So, for Bitcoin it is 0.0005 BTC, for Ethereum - 0.005 ETH, for Monero - 0.01 XMR, for Litecoin - 0.01 LTC.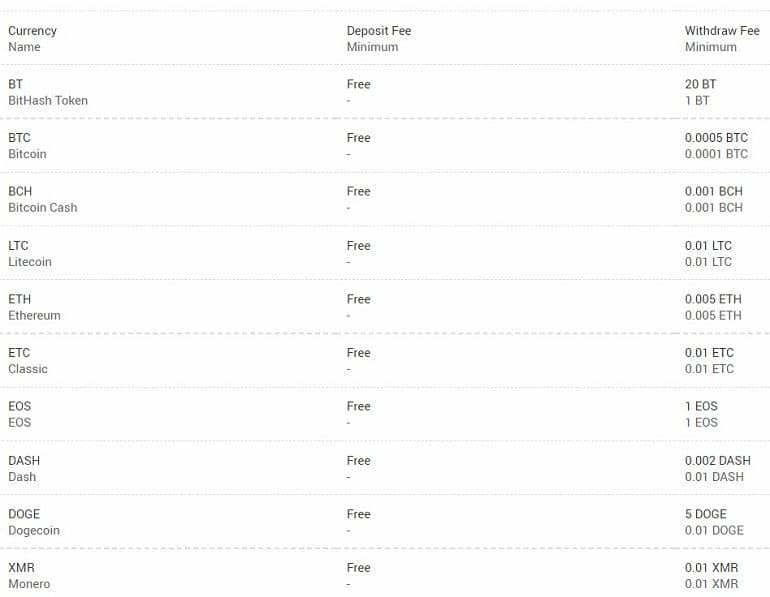 Bonuses bithash.net
BitHash offers two bonus programs: a referral program, available to all users, and an affiliate program for listing agencies, consultants and market makers.
Referral program
Inviting friends to trade cryptocurrency at bithash.net. by referral link, you can earn up to 20% from their trading commissions. To participate, register on the exchange site to get your personal referral link. Send it to your friends and get a bonus every time a referral completes an order.
Referral bonus = amount of payment of the invited user * commission rate per transaction * bonus rate depending on the level. Each referral will bring income for one year, starting from the first completed order. Referral bonus rates depending on the level:
1 - 20%;
2 - 10%;
3 - 5%;
4 - 2%;
5 - 1%.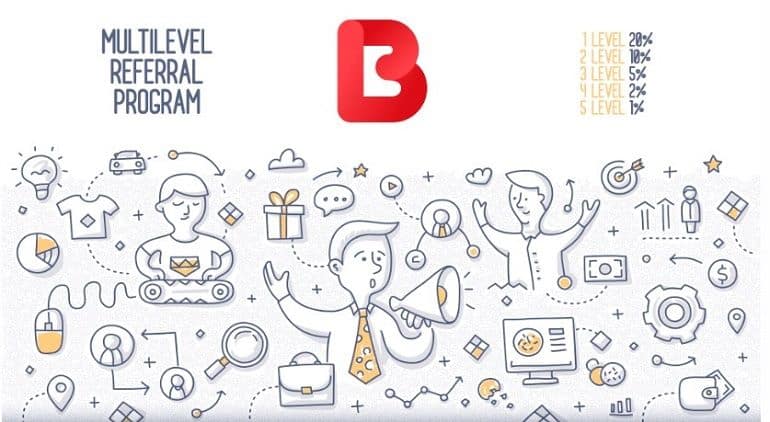 Affiliate program for listing agencies
BitHash offers an Exchange Listing affiliate program for listing agencies, consultants, market makers and anyone associated with crypto projects. The exchange pays 25% from each listing per referral. To participate, you must submit a request by filling out the form on the program details page for more information.
Complaints about BitHash
There are many reviews on the Internet about the work of the exchange. Many of them are positive. Users note that the platform is convenient and intuitive, the commissions are affordable, and the conditions are transparent.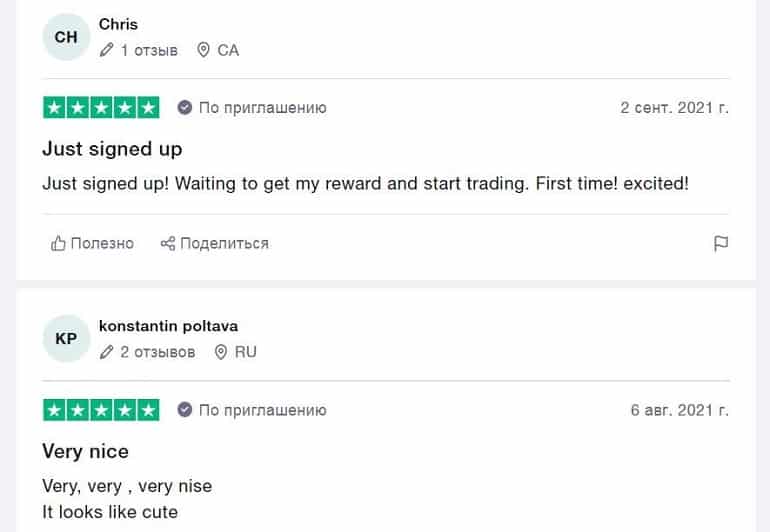 But there are also many complaints about the company's work. There are users who exchanged cryptocurrency on the exchange site and did not receive their money. These are serious complaints that are worth paying attention to if you plan to use the service. More often such cases happened to those who wanted to use the instant exchange without registration. Until there are more positive reviews about this service, it is better not to apply to the company for it. Register your account and only then make exchanges.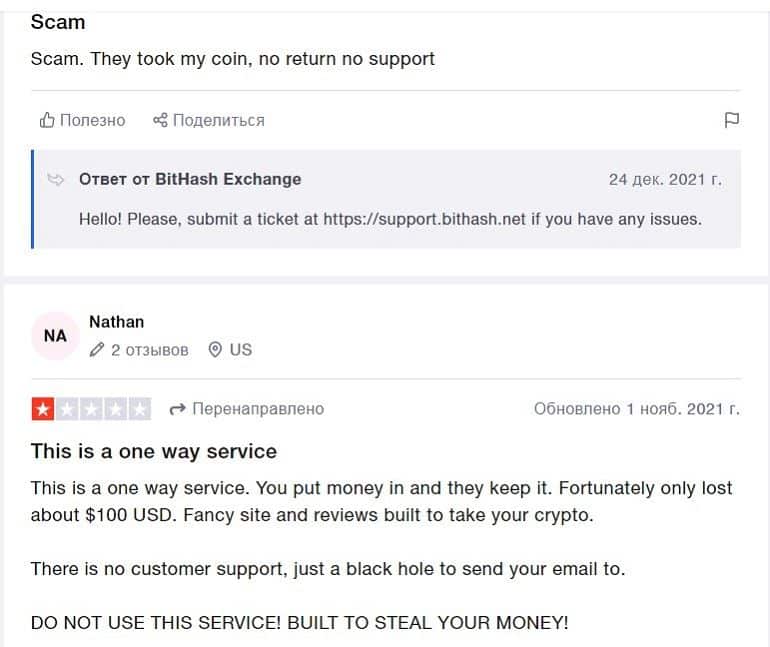 If there are any complaints about BitHash, we'll be sure to post the information on social media. Sign up so you don't miss anything!
Please keep yourself informed about news and complaints. We copy the most valuable information to social networks, so please sign up!
Regulation of BitHash crypto exchange
Considering that there are more and more crypto exchanges, it is necessary to study information about each of them before you start trading on this or that platform. Check for a license and read all the documents that are published on the service's website.
Regulator
The exchange belongs to Phoenix Trading Solutions Ltd. registered in Seychelles under IBC number #214028. There is no information about the license. There is only the text of the user agreement.
User Agreement bithash.net
The document specifies information about the company that owns the crypto exchange and the terms of use of the site. It is not allowed to take illegal actions, to try to get unauthorized access to any part of the site. The user agrees that the administration of the exchange can terminate access to the site without prior notice.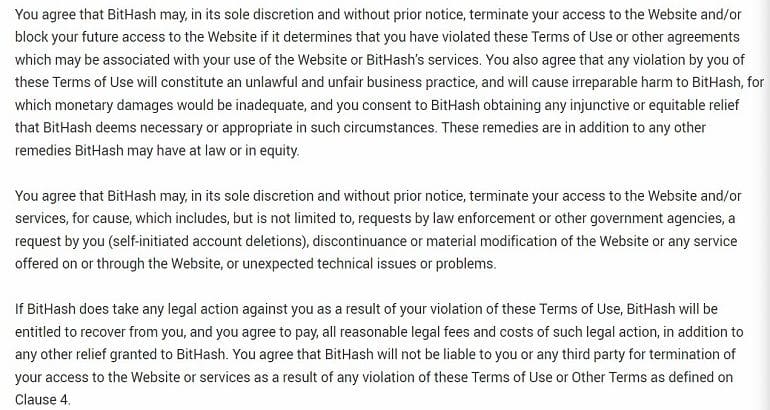 There is information about creating an account, passing verification and disclaimer.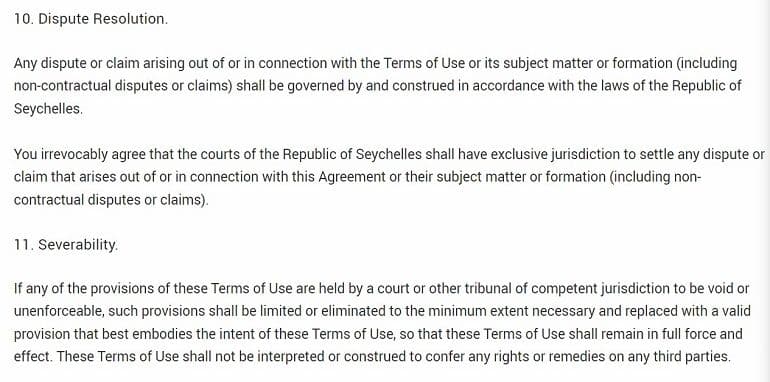 Customer Service
You can contact the staff by e-mail: [email protected] There is also a separate website for the support service support.bithash.net, where you can read manuals, answer questions, and send a ticket with a request for help. The company has a Twitter page and Telegram channels (the main one and several for different regions).
Is BitHash a scam?
BitHash - a crypto exchange that started its work in 2016. During this time it has developed a convenient trading terminal and two programs: referral and affiliate programs for agencies and consultants. There is a possibility of instant exchange without registration and purchase/sale of different cryptocurrencies, including fiat. Verification is not required, but the administration advises to pass it in order to have access to all services of the service. Commissions at the exchange are low.
The reviews of the company are varied. There are positive comments from those who were satisfied with the convenience of the platform and trading conditions. But you can also find complaints from users, including the fact that after sending a payment to exchange the money to the account was not received. Considering all the facts, it is impossible to call BitHash a scam. But the administration should pay attention to negative feedback from users to avoid the repetition of problematic situations.
Conclusion
BitHash - cryptocurrency exchange, which offers buying and selling of different cryptocurrencies with other digital assets and fiat. Also available exchange without registration and the ability to add their coins to the listing. The exchange has a simple terminal and an informative website. There is its Russian-language version, but not all pages are translated into Russian. If you used the services of exchanger, leave your feedback on this page.
The company in the ratings
Robots for cryptocurrency
Activity
New

0

Resolved

0

Not resolved

0
New companies on the site