The exchange offers cryptocurrency trading and exchange for fiat units, good trading limits, relatively small commissions and minimum registration requirements.
Read completely
Cryptocurrency exchange
Website
Social media
Date of foundation

2019

Head Office

Harju maakond, Tallinn, Kesklinna linnaosa, Poordi tn 3-75, 10156, Estonia

Types of support

Feedback form on the site

Help Center

Office

Facebook

Telegram

Twitter

Instagram

WhatsApp: +380-50-137-32-04

Viber: +380-50-137-32-04

Languages

Russian, English, German, Portuguese, Turkish, Chinese, Spanish, Korean, Vietnamese, Japanese, Polish, etc.

Founder
The owner of the company
Manager
Minimum entry amount

Verified

Cryptocurrency

From 0.002 BTC
From 0.004 BCH
From 0.04 ETH
From 0.004 LTC
From 4 USDT
From 1 XRP

Fiat

to 2 500 RUB
to 80 EUR
to 50 USD
to 80 GBP
to 300 UAH
to 100 CNY

Unverified

Cryptocurrency

From 0.002 BTC
From 0.004 BCH
From 0.04 ETH
From 0.004 LTC
From 1 XRP
From 4 USDT

Maximum input amount

Verified

Fiat

to 300,000 RUB / 300,000 per transaction
to 11,000 USD / 5,000 per transaction
to 11,000 EUR / 3,500 per transaction
to 29 499 UAH
to 11,000 GBP / 3,000 per transaction
to 1 000 000 CNY / 1000000 per transaction

Minimum withdrawal amount

Verified

Cryptocurrency

From 0.001 BTC
From 0.001 BCH
From 0.02 ETH
From 0.1 LTC
From 10 XRP
From 20 USDT

Fiat

to 1 000 RUB
to 100 UAH
to 100 USD

Maximum withdrawal amount

Verified

Cryptocurrency

to 0.5 BTC
to 20 BCH
to 20 ETH
to 10 LTC
to 20,000 XRP
to 35,000 USDT

Fiat

to 300 000 RUB
to 24 999 UAH
to 5 000 USD

Exchange Commission

Account replenishment fee:

To

5

%

Terminals

TradingView (For professional traders: indicators, graphical elements, depth charts, etc.), Author's platform

Age restrictions
Trading volume per day
Number of users

5000+

The number of users is increasing

Number of cryptocurrencies

7

The number of cryptocurrencies may change

Margin Trading

Expected to launch in the near future

Leverage
Tokenized assets
Free Demo Account
Types of accounts
Execution of orders

Market Execution (at market price), Limit Order

Methods of replenishment

Bank card (Visa/MC), Cryptocurrencies, Wire Transfer

Withdrawal methods

Cryptocurrencies, Wire Transfer

Account currencies

EUR, USD, UAH, RUB, CNY, GBP, Cryptocurrencies

Types of cryptocurrencies

Bitcoin, Bitcoin Cash, Litecoin, Ethereum, Tether, Ripple, etc.

Licenses

Licensed

Politsei- ja Piirivalveamet No. FVT000465 (provision of exchange between cryptocurrencies and fiat money, provision of virtual cryptocurrency wallets service)

(Active)

Mobile applications
Trader training

Binary Academy, reference materials, FAQ

A way to store cryptocurrencies
Fiat accounts
Scalping

Trade from 1 min. to 30 min.

Stop Loss and Take Profit Function
Exchangeability for fiat currencies
Trading Strategies

All strategies for trading in the cryptocurrency markets are allowed

Additional features

White Label

Basic verification
Extended AML verification

Passport, passport or driver's license, photo with the document (selfies), proof of address (bank statement, utility bill, etc.)

Regulatory laws

International data protection law

FATF (Financial Action Task Force)

API

Read more

A simple and effective way to integrate the client's trading application into the exchange platform

Affiliate Program

Registration

Up to 50% commission on the volume of orders of invitees

Benefits

Exchange with a license, the company-owner is registered in Estonia

Spot trades and margin trading

Own liquidity (the company has reserves of cryptocurrency and fiat units in "cold" storages)

High trading limits and fast withdrawal

TradingView analytics and trading education academy

Russified customer support

Open team and CEO and White Label

Continuous development of the exchange and fiat gateway

Profitable affiliate program

Disadvantages

Few cryptocurrencies and fiat

Leverage cannot be set in the terminal yet

Company requisites

Legal address:

Harju maakond, Tallinn, Kesklinna linnaosa, Poordi tn 3-75, 10156, Estonia

Overall assessment
Date of update

07.07.2022
Address
Harju maakond, Tallinn, Kesklinna linnaosa, Poordi tn 3-75, 10156, Estonia
Map
Subscribe to this company
Binaryx is it a scam? Reviews and description
Binaryx
offers trading in cryptocurrency units and fiat currency from bank cards, transfers and cryptocurrency wallets - its own or opened on the service. The company has its own terminal, the analytics is taken from the TradingView service. The client can be an adult from any country in the world.
Is it reliable crypto exchange and is it safe to deposit my funds into it if cryptocurrency transactions are irreversible? Binaryx - a scam or an honest liquidity provider? Let's try to understand.
Why Binaryx
The exchange is young, not even 2 years old. That's why its functionality is still limited to two areas: cryptocurrency storage and cryptocurrency trading and fiat. The list of Binaryx:
The presence of a license and company registration in Estonia (not all representatives of the industry are registered as it is supposed to be).
2 trading directions - spot and margin trading (through the author's terminal of the company).
Withdrawal of funds up to 48 hours.
Own liquidity (the company has reserves of cryptocurrency and fiat units in "cold" storages).
High trade limits.
Analytics from a reliable supplier - TradingView.
Free training materials (trading academy with lessons of varying complexity, blog).
Russified customer support. Legal documentation (agreement, privacy policy, return policy) is also translated into Russian.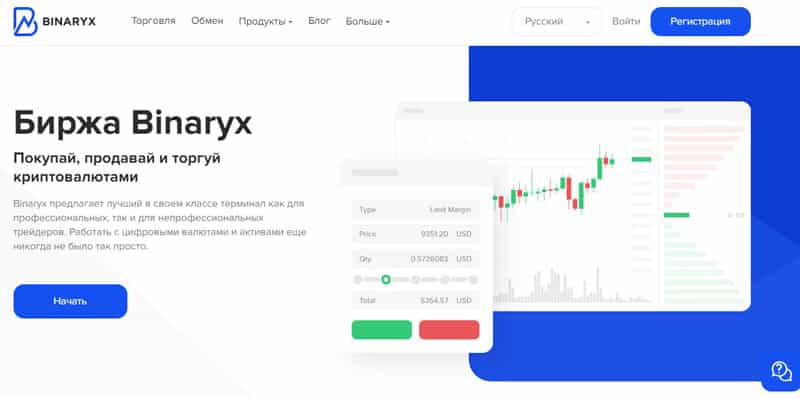 How to exchange cryptocurrency on the platform binaryx.com
At Binaryx you exchange cryptocurrency into cryptocurrency and fiat in two ways:
Through the exchanger (in the "Exchange" section of the site binaryx.com) - in this case it is not necessary to create an account in the system and you can deposit and withdraw them using cards, bank transfers and your own cryptocurrency wallets.
Through the terminal of the company (in the "Trade" section of the site) - you are allocated "cold" storage, the deposit and payments are made only in cryptocurrency, while transactions in fiat currency are converted.
But first you have to register on the website anyway binaryx.com. To do this, you click on the "Registration" button and choose the method - via e-mail or a profile in a social network. When you create an account using e-mail, you fill out a form: enter your name, last name, e-mail address, country of residence, agree to the terms of the service and come up with a password. If you use a social network account, you provide access to your personal page data.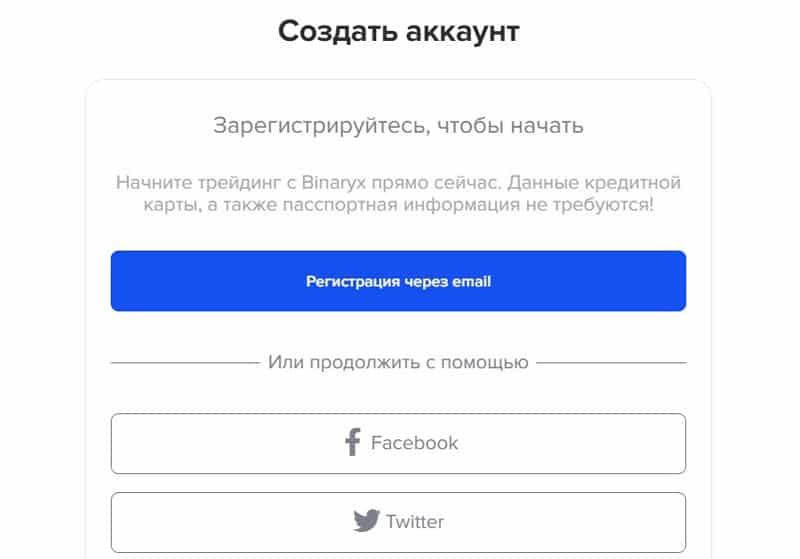 Successfully logged in, you find yourself on the page of quick purchase - an analogue of the exchanger (section "Exchange"). To work with it, you need to verify your email by following the link in the letter you receive from Binaryx. It remains only to deposit funds by clicking the "Deposit" button, filling out the form with details and confirming the transaction. And you will be able to buy and sell fiat and cryptocurrencies. BNRX (exchange token), BTC, BCH, LTC, XRP, ETH, USDT, EUR, UAH, RUB, GBP and USD are available for exchange.

To buy and sell through the terminal, you need to go to the "Trade" section. The Binaryx platform offers the following features:
9 assets - EUR, GBP, RUB, USD, UAH, SVDT (Valentine's Day token), BTC, LTC, USDT. It is possible to save to favorites.
7 types of chart display - bars, candlesticks, empty candlesticks, lines, area, baseline, Haken Ashi.
70+ indicators, oscillators and trend patterns.
11 timeframes - 1M, 5M, 15M, 30M, 1H, 4H, 8H, 12H, 1D, 1W, M1.
Color scheme settings, scrolling and other interactive options.
Function of saving the graph to the "cloud".
Analytics is presented by the TradingView service (built-in plugin). You choose the deal execution type - Market Execution or Limit Order, set the buy/sell price and click "Buy"/"Sell". Deposit and withdrawal are made through a purse (How to make money on cryptocurrency?).
Verification on the Binarix platform
During the registration process, you are required to complete a basic verification: confirm your email address by following the link in the email sent to you by the provider. Extended verification in the AML program is not mandatory at the trading stage. But before approving the payment, the support department has the right to request any confirmation from you. For security purposes, there are 3 more steps in the personal cabinet, in addition to verification of e-mail:
Enable 2FA (two-factor authentication). For now, it is only available through the service Google 2FA, but the company promises that soon it will be possible to send one-time cards via SMS.
Prove your identity by uploading a photo/scan of your passport, driver's license, ID-card (for EU citizens) or residence permit, and undergo biometric verification by smoothly waving your head in front of the camera when the connection with the system is established.
Enable the anti-phishing code (a unique set of characters that you will enter to prove that you own the account and are entitled to make transactions).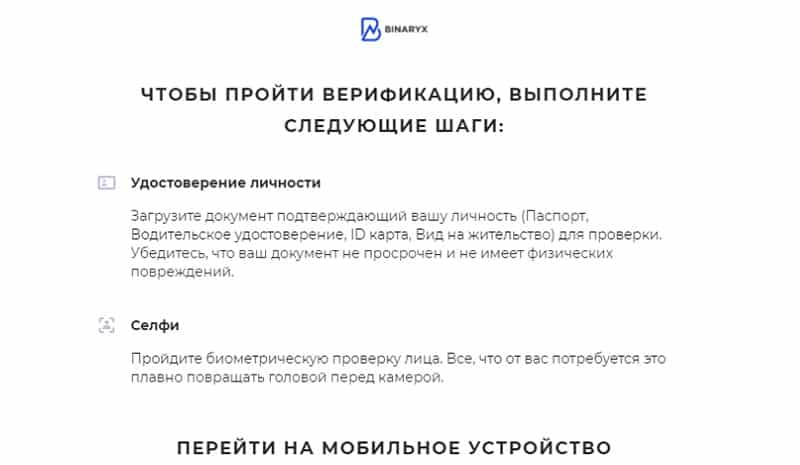 Deposit and withdrawal
At the moment, for "cold" storage on Binaryx there is an option to deposit and withdraw only by cryptocurrency wallet. Work with bank cards and transfers is expected in the future - for now, the option is under development. Transactions are made in the "Wallet" section. Available assets are displayed - you can top up, withdraw all or part of them, and go to trade.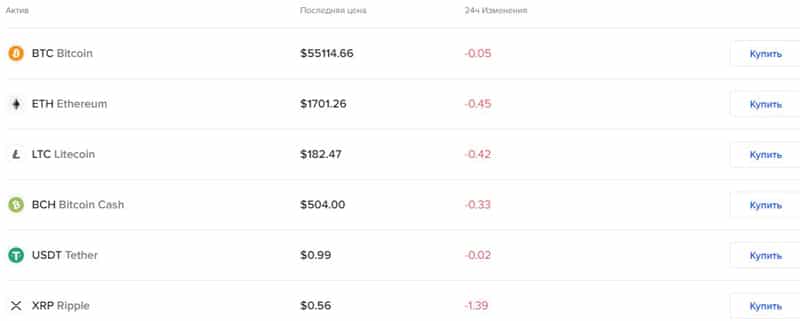 You can also deposit money into the exchanger in fiat currency - from VISA, MasterCard and bank transfer. For deposits in rubles, dollars, pounds, euros and hryvnias you will be charged a percentage (about this we will tell further). Withdrawal requests are processed manually by support department. Approximate time of processing is up to 48 hours, but may be longer.
Deposit and withdrawal limits
The exchange has set limits not only on the exchange, but also on deposits and withdrawals. The minimum allowed deposit 0.002 BTC/0.004 BCH/0.004 LTC/0.04 ETH in crypto and 80 EUR/80 GBP/1000 UAH/2500 RUB/1000 USD in fiat. Maximum deposit threshold is 3500 EUR/3000 GBP/29499 UAH/300 000 RUB/5000 USD. It is not set for cryptocurrencies.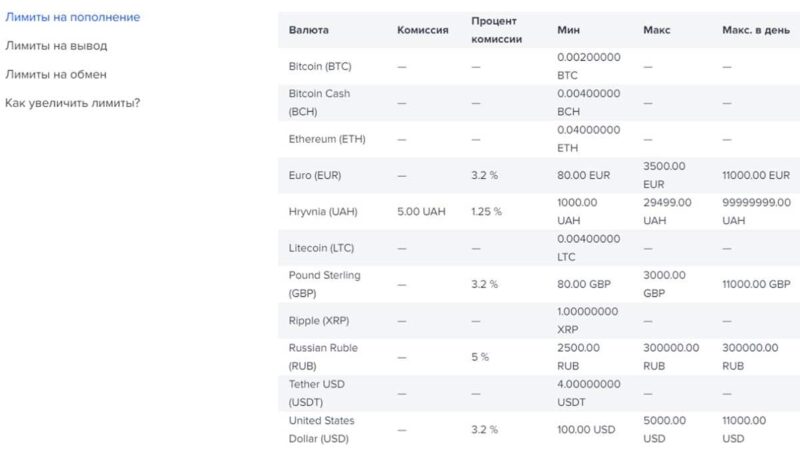 Withdrawal of assets is carried out within the following limits:
0.001-0.5 BTC.
0.001-20 BCH.
0.1-10 LTC.
0.01-20.
10-10,000 XRP.
5-35,000 USDT.
1000-300,000 RUB.
100-5000 USD.
Not more than 29 499 UAH.
Binaryx Commission
The exchange rarely charges a commission on deposits. Only if you want the deposited amount to be calculated in fiat currency, you will need to pay a fee:
For EUR, GBP and USD - 3.2% of the recharge amount plus 0.35 USD/0.3 EUR
For RUB - 5% of the recharge amount.
For UAH - 1.25% of the recharge amount or 5 UAH (which is more).
Trading commission is fixed: 0.7% for all currencies.
Withdrawal fee
Withdrawal fee is almost always taken and can be fixed (rate) or as a percentage of the amount transferred. Its size also depends on the amount of currency on the balance:
0.0005 BTC.
0.001 BCH.
0.01 ETH.
0.001 LTC.
0.25 XRP.
1 USDT.
2 USD.
50 RUB/2.5% (which is more).
0.75% of the amount in UAH.
Binarix Bonuses
In Binaryx communities in social networks you can come across interesting bonuses, which the company provides for holidays. And take part in contests.
Holiday Gifts
One example of Binaryx's holiday promotions is the Valentine's Day promo. The vendor gave all platform users 100 units of a new tokenized currency - SVDT (St.Valentine's Day Token).
Contests
Drawings for prizes are also a frequent occurrence in Binaryx groups in social networks. The company has no active contests. The last one held was associated with a token, which exchange clients received on February 14. With their help the participants had to raise their "valentines" in the rating (presented SVDT was not enough, and they had to buy them). The winner received a trip to Dubai for two.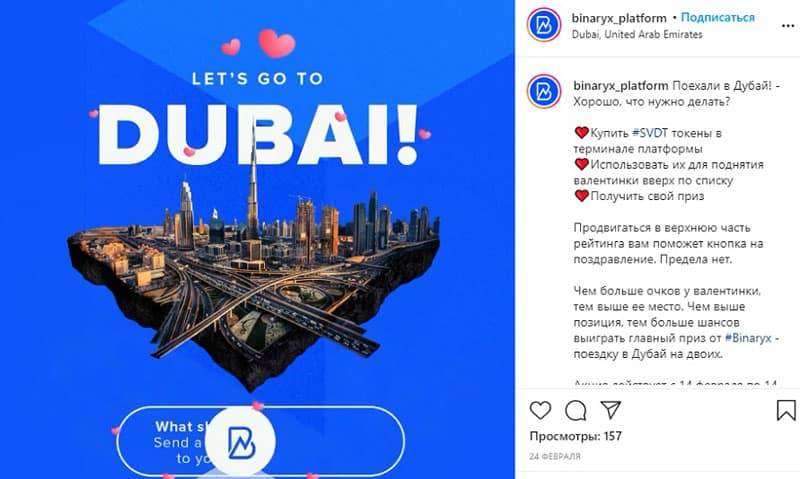 Referral program
Users of binaryx.com can invite friends and acquaintances to the platform and earn up to 50% of the commission of their transactions. What is required for this:
Register at the cryptocurrency exchange site binaryx.com.
Go to the "Invite Friends" section of your account.
Copy your unique referral link to post on a public resource (forum, community, blog, etc.), chat room, affiliate service. Or share it on Telegram, WhatsApp, Facebook.
Monitor the statistics of transitions and accruals in the LC (as soon as someone goes to your link, it will become your referral and will be displayed in the profile data; the amount of earned on its commissions and you will be credited compensation).
White Label
The company offers to launch your own cryptocurrency trading business using the terminal, API, liquidity, marketing strategies and all Binaryx functionality. In this case, the exchange will exist under your logo. Additionally provided:
Mail server.
Adapting solutions to the specifics of work in a particular region.
Branded interface design and logo from the company's professionals.
Sappor.
Server and interface solution for risk management and trading core configuration.
For details and to apply, open the program description page and fill out the form by clicking on the "Get Offer" button.
Complaints about Binaryx
On the international rating of Trustpilot the assessment of the exchange is 4.4 points out of five. Traders write that the platform is convenient and understandable, without "garbage" (useless functions), but I would like to see more currency pairs. Also note the useful training materials and promotions - like the one held on February 14.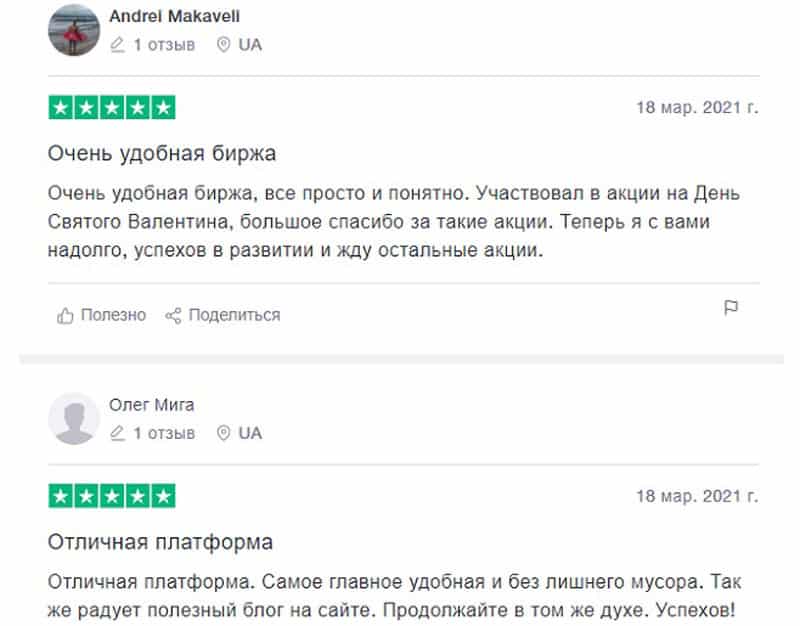 However, not everyone likes to go through the KYC program ("Know Your Client") verification procedure, which takes place before confirmation of payment in some cases.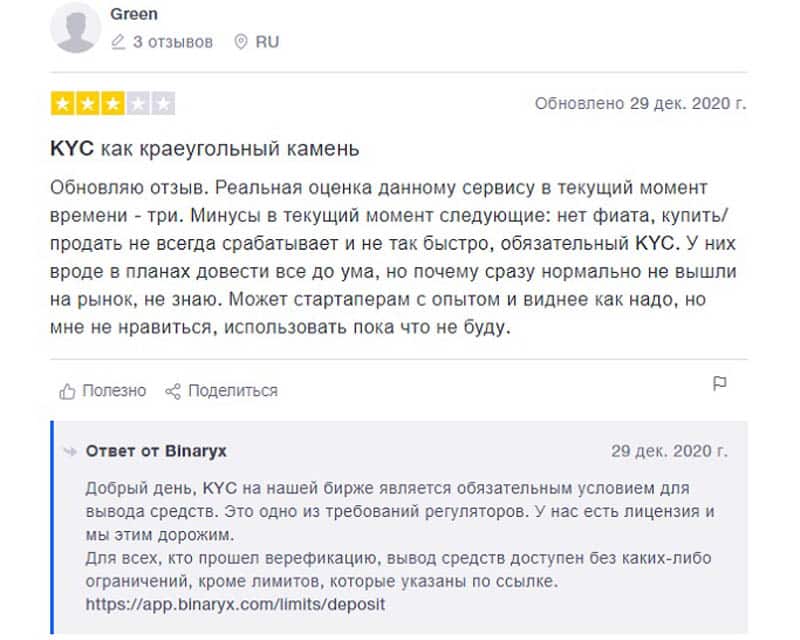 If there are any reviews about Binaryx Crypto Exchange, we will definitely publish the information on social networks. Sign up so you don't miss anything!
Please keep yourself informed about news and complaints. We copy the most valuable information to social networks, so please sign up!
Crypto exchange regulation
The cryptocurrency exchange belongs to the company of the same name, Binaryx OÜ, registered in Estonia, which is confirmed by entries in public registries of the jurisdiction. For example, E-Business Register, which is trusted. There you can find data on the legal entity by its name or registration code - 14819844. The exchange operates on the basis of a perpetual license number FVT000465, issued by the Bureau of Jurisdiction. Permitted activities: exchange of virtual currency, storage of virtual currency. In the MTR register these data were confirmed.
User Agreement binaryx.com
The main language version of the binaryx.com User Agreement is English. But translation into Russian is available. The document reflects the order of work with the exchange services, as well as the rights and obligations of its users and administration (owners). Let's look at examples. Thus, listed are the conditions under which it is forbidden to trade on the exchange: the age under 18 years, the presence of blocking on the platform previously, lack of legal capacity or legal capability, using the platform for commercial purposes (not for personal gain) or on behalf of a third party, the status of a politically exposed person or his family member. Binaryx has the right to block any account by closing all positions and account if it is found that you have provided false information about yourself or your jurisdiction prohibits cryptocurrency trading (clause 2.3).

The Exchange itself does not guarantee the accuracy, completeness, suitability and reliability of information published on its resources (clause 3.5).

The company is not responsible for the loss of access to the platform caused by malfunction of your device, browser or third-party factors and the consequences thereof (damages). You shall compensate Binaryx for all losses incurred by the company due to the provision of services to you (clause 6.1).

The same goes for lawsuits, fines and fees - you have to secure the supplier against them and bear all costs caused by them (clause 9).

Customer Service
Support for customers of the cryptocurrency exchange is carried out:
By phone call center:a +380-50-137-32-04 (office located in Ukraine).
By e-mail: [email protected]
In messengers WhatsApp, Viber (support service accounts are tied to the same number: +380-50-137-32-04).
In Telegram - an account with a chat for correspondence: @binaryx_support_bot.
Through the feedback form on the website.
There is also a fairly detailed FAQ, which contains answers to common questions related to registration on the exchange, conditions and restrictions, functionality and asset management.
Is Binaryx a scam?
Binaryx operates on the basis of a license issued by the Estonian regulator. This is confirmed by the official registry. The company-owner of the exchange is registered in the same country, although the support is located in Ukraine (the phone number of the call center proves this). Reviews about the provider for the most part positive, no complaints about the refusal of withdrawal. Although some are dissatisfied with the mandatory verification before withdrawal confirmation.
The crypto exchange has good trading limits, relatively low commissions and minimum registration requirements. Account security is provided by two-factor authentication and email verification. The user agreement is in the public domain and contains standard clauses - we have not found any bonded wording. It doesn't look like Binaryx is a scam.
Conclusion
В Binaryx So far there are few cryptocurrency units - only major ones like Bitcoin, Bitcoin Cash, Litecoin, Ethereum and Tether. And fiat is represented by five currencies: dollar, euro, pound, hryvnia and ruble. The trading terminal features are also not diverse: there are several timeframes and chart types, analytical tools TradingView, market and limit orders, interactive options and saving the chart in the "cloud". There is no leverage mentioned on the main page, no stop loss and take profit functions.
In this case, verification before withdrawal is mandatory, as on the stock exchange. There is an opportunity to make quick (spot) transactions through the exchanger - from the card, personal wallet, bank transfer. And open a cold storage account on the platform. In addition, Binaryx provides free access to training lessons and information block. The exchange is registered in Estonia and operates under license number FVT000465 from the local regulator.
Robots for cryptocurrency