BeQuant is a young crypto exchange, created by blockchain professionals and offering favorable trading conditions.
Cryptocurrency exchange
Official website
Social media
Date of foundation

2018

Head Office

5B, Office 2, Spinola Residence, Spinola Road, St. Julians. STJ 3012, Malta.

Types of support
Support by phone
Languages

English

The owner of the company
Maximum withdrawal amount

Verified

Cryptocurrency

Up to 500 000 USD / Withdrawal of cryptocurrency

Fiat

Up to 100 000 USD / Withdrawal of fiat currency

Unverified

Cryptocurrency

Up to 1 000 USD / Withdrawal of cryptocurrency

Fiat

Up to 1 000 USD / When withdrawing fiat currency

Exchange Commission

Trade Commission:

0.1

% for maker /

0.01

% for taker

Terminals

TradingView

Age restrictions
Trading volume per day
Number of cryptocurrencies
Number of trading instruments
Margin Trading
Tokenized assets
Free Demo Account
Types of accounts

Basic, Individual Pro and Institutional

Execution of orders

Stop Limit, Market order, Limit order

Methods of replenishment

Cryptocurrencies, Bank card (Visa/MC)

Withdrawal methods

Cryptocurrencies

Account currencies

Cryptocurrencies

Types of cryptocurrencies

BTC, LTC, ETH, USDT, XRP, USDC, EOS, BCH, etc.

Mobile applications
Trader training

There are instructions on verification, deposit and withdrawal, commissions, etc.

A way to store cryptocurrencies
Fiat accounts
Scalping
Stop Loss and Take Profit Function
Exchangeability for fiat currencies

You can exchange cryptocurrency for fiat

Terminal capabilities

Working with indicators and graphical tools

Basic verification
Extended AML verification

KYC (passport, passport or driver's license. Photo with document (selfies). Proof of address (bank statement, utility bill, etc.)

Regulatory laws

Laws of Malta and Great Britain

International data protection law

FATF (Financial Action Task Force)

API

Read more

BeQuant REST & Streaming API version 3.0 provides software access to BeQuant's next-generation trading engine

Affiliate Program

Registration

% is calculated individually, depends on the number of invited persons and the total volume of their trades

Benefits

Advantageous trading conditions for professional and institutional traders

Digital assets with high liquidity

Intuitive interface of the trading platform

Simplified verification and account opening procedures

Access to multiple marketplaces

Cold storage of cryptocurrency (via Safequant storage solution)

Over-the-counter execution

Disadvantages
Company requisites

Legal name:

Bequant Exchange Limited

Legal address:

99a Mews St, St Katharine Docks, E1W 1BD, London, United Kingdom

Overall assessment
Date of update

30.01.2023
The address is
5B, Office 2, Spinola Residence, Spinola Road, St. Julians. STJ 3012, Malta.
Map
Subscribe to this company
BeQuant is a scam? Reviews and description
BeQuant
- that
cryptocurrency exchange
, created by technical specialists, experienced financial experts and traders. The platform was launched in September 2018. And the team developing it has been working in the blockchain sphere since 2012.
The project offers a one-stop solution for professional investors and digital asset organizations. The services include brokerage, storage, administration of funds on a trading platform providing high liquidity and direct access to the market. In this review, let's look at the features of the bequant.io platform and see if it is a scam.
Why BeQuant?
On the platform bequant.io Almost 100 trading pairs and 37 cryptocurrencies. There are top assets, such as Bitcoin, Ethereum, Litecoin and others. The exchange offers three account types: basic, individual Pro and institutional. Thanks to high liquidity, sophisticated trading solutions (e.g., BeQuant Pro, a first-class brokerage service), this site successfully serves professional and institutional traders.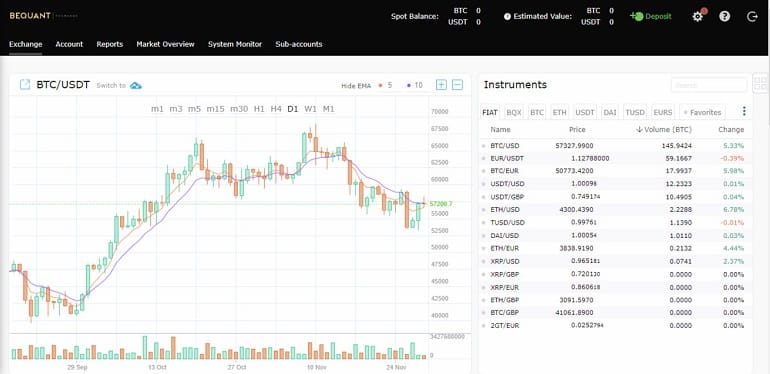 The technologies of the project are compatible with automated trading strategies, including numerous trading bots. Trading is done using BeQuant's own protocols: FIX, WebSocket or REST API. The platform boasts real-time data updates and is equipped with advanced tools. Institutional and professional clients have access to an extended list of services. The BeQuant Pro package provides:
simplified KYC procedure and account opening process;
over-the-counter execution of a transaction;
lower trade costs;
access to several marketplaces;
co-location (via Bequant Direct);
cold storage (via the Safequant storage solution).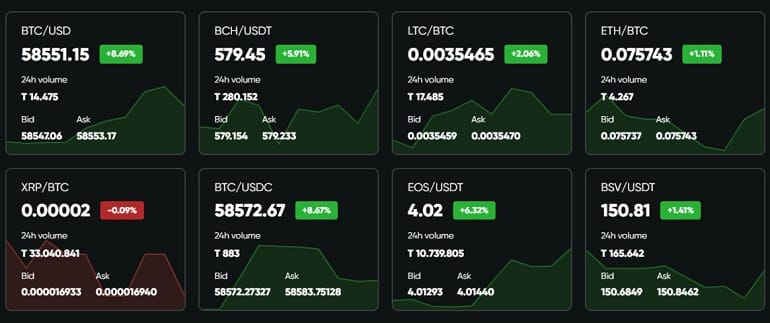 How to exchange cryptocurrency on the bequant.io platform?
After registering at bequant.io the Exchange section will be available to you. Here you can trade cryptocurrencies and exchange some coins for others.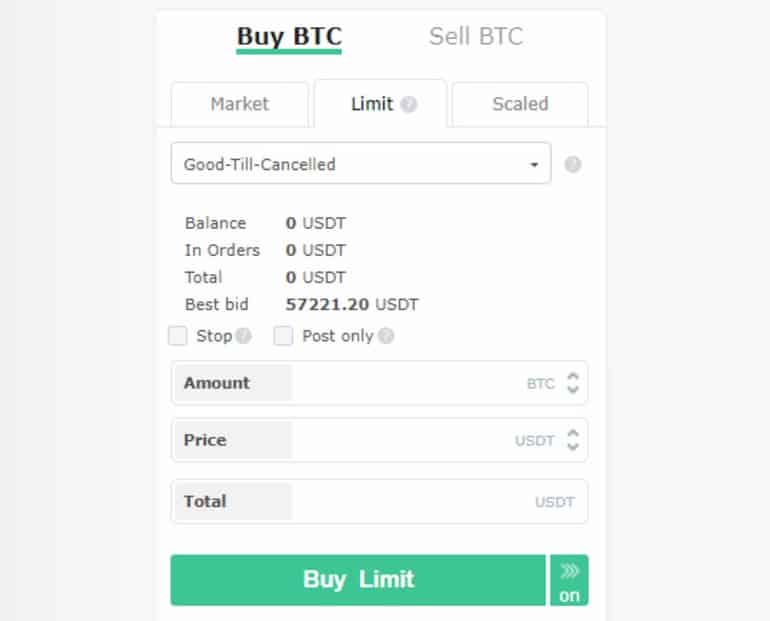 You choose a trading pair, make a bet and sell/buy a currency. All trades are stored in "My Trades", you can view them and repeat them if necessary.
Verification on the BiQuant platform
The verification procedure depends on the account type you selected. Go to "Settings" and select "Account verification". For a Basic account, all you need is your full name, email address, nationality, registration address and phone number. Pro requires selfies, ID, address and income verification. Institutional account requires property information and supporting documents (AML, Risk, Incorporation).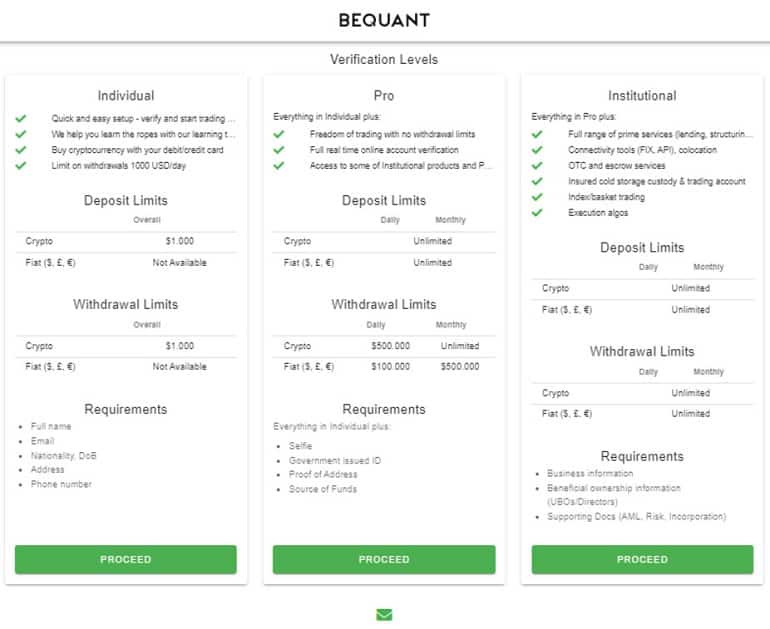 Deposit and withdrawal
Log in to your account and click the green "Deposit" button in the upper right corner of the main window. Find the currency and click the "Deposit" button next to the digital asset you want to deposit. This will create your address cryptocurrency wallet.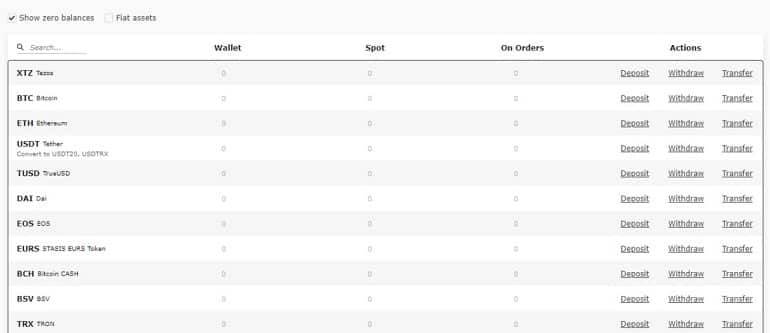 Your deposit address and QR code will be shown. Refill your deposit by sending digital assets to your deposit address.

You can click "Copy" to copy the deposit address to the clipboard, or click "Create" to create a new deposit address. Copy and paste this address into a third-party service to initiate the transaction. Copy and paste your payment ID into a separate field before initiating the transaction. To withdraw funds, also click the green "Deposit" button. Next to each currency there is a "Withdraw" button. Clicking on it, you will go to the form, in which you need to specify the number of coins to withdraw and the address to which you will withdraw them.
BeQuant Crypto Exchange Commission
The commission for the takeers is 0.1%, for the makers - 0.01%. Tables with the withdrawal commissions on the site bequant.io is not presented.
Bonuses bequant.io
There is no information about bonuses on the bequant.io site. But the company has a referral program.
Affiliate Program
You can create a referral link and invite your friends to the platform BiQuant. You can share the link in social networks and receive compensation for the user who has become your referral and trades. The percentage is calculated individually, depends on the number of invited persons and the total volume of their trades.
Complaints about BeQuant
Clients speak positively about this crypto exchange. They write that the platform is convenient and commissions are low. However, it is recommended to improve the level of security. Users also write that the project deserves the attention of traders. No wonder that it attracts more and more professional and institutional traders. Unfortunately, the site is presented only in English, which makes it difficult for Russian-speaking users to familiarize themselves with the terms of trade. But at the same time, the interface of the platform is simple and clear, it's easy to understand how to choose a trading pair and make a deal.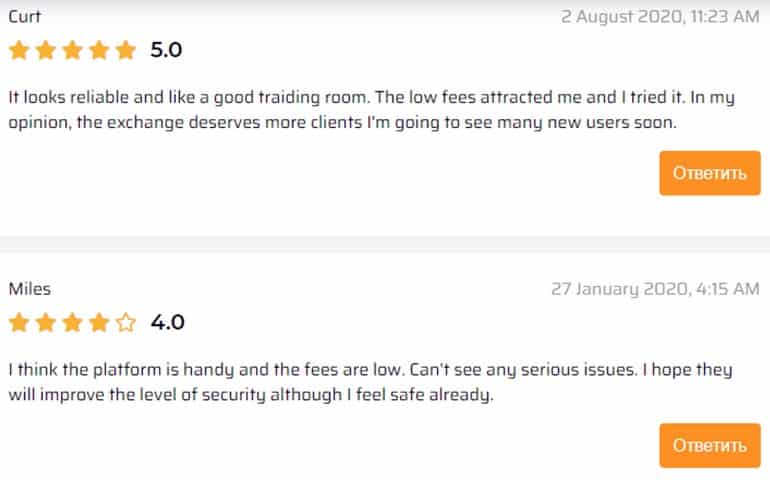 If there are any complaints about BeQuant, we will be sure to post the information on social media. Sign up so you don't miss anything!
Please keep yourself informed about news and complaints. We copy the most valuable information to social networks, so please sign up!
Regulation of the BeQuant crypto exchange
Like any financial company, a crypto-exchange can turn out to be either good or fraudulent. Next, let's find out how activities are regulated BiQuant.
Regulator
The crypto-exchange is registered as Bequant Exchange Limited. Its office is located in Malta: 5B, Office 2, Spinola Residence, Spinola Road, St. Julians. STJ 3012, Malta. The headquarters are located in London: 99a Mews St, St Katharine Docks, E1W 1BD, London, United Kingdom. The Company is governed by the laws of Malta and the United Kingdom.
Bequant.io User Agreement
The document begins with a warning about the risks associated with trading in digital assets.

The company has the right to close a user's account if it considers any information to be inaccurate or irrelevant.

You understand and agree that due to technical problems, market data may be delayed and therefore not reflect the current, real market value of the currency, and that the company is not responsible for this.

The client is fully responsible for all activities performed through his account. Agrees to immediately notify the company of any unauthorized use of the password or member ID, as well as any other breach of security.

The document specifies where to send complaints in case of dissatisfaction with the services of a cryptocurrency.

BiQuant support service
The support team can be contacted as follows:
email: [email protected];
feedback form and online chat on the site;
Phone: +44-0-20-3893-3214 (UK), +356-2778-1481 (Malta);
Twitter;
Facebook.
Is BeQuant a scam?
Crypto Exchange BeQuant is not a scam or a fraud. This is evidenced by the positive feedback from clients. They write that the platform is simple and understandable even for a beginner, the commissions here are low - for the tickers 0.1% and for the makers 0.01%. Of the disadvantages, note the absence of a Russian-language version of the site. The platform is presented only in English, which complicates familiarization with the trading conditions. Biquant is headquartered in London and has an office in Malta, maintains a competitive remuneration structure attractive to the most influential makers. This increases the overall liquidity of the crypto platform.
The exchange offers an impressive selection of coins with high liquidity. The company supports both cryptocurrency and fiat currency trading. The peculiarity is the use of modern APIs (FIX, REST and Websocket). In May 2019, a new service BeQuant Direct was launched. It offers a low-latency trading platform for institutional and professional traders. Using FIX 4.4 order routing and market data connectivity, traders can perform up to 1,000 transactions per second when logged in. The Biquant Direct platform is capable of handling the most sophisticated trading strategies.
Conclusion
BeQuant - is a young crypto exchange created by blockchain professionals. The company does not hide its contacts, it has its headquarters in London and now has an office in Malta. Its activity is regulated by the laws of these states. On the bequant.io platform it is possible to exchange fiat money (dollars, euros, pounds sterling) for cryptocurrencies. If there are any difficulties or questions when working with the platform, you can always contact support. Technical support specialists work in 24/7 mode.
No reviews yet, be the first!
The company in the ratings
Robots for cryptocurrency
New companies on the site