ATAIX is a centralized crypto exchange for trading and exchanging digital and fiat currencies. It offers a simple terminal, fast exchange, over-the-counter trading, and fundraising campaigns to develop new projects.
Read completely
Cryptocurrency exchange
Official website
Social media
Date of foundation

2018

Head Office

Roosikrantsi tn 2-K468, Tallinn, 10119, Estonia

Types of support
Support by phone
Languages

English, Russian, Japanese

The owner of the company
Minimum entry amount

Verified

Cryptocurrency

From 0.000001 BTC
From 0.000001 ETH

Fiat Currency

from 20 EUR / for bank transfer
from 50 EUR / for transfer from card, via Skrill, Neteller

Unverified

Cryptocurrency

From 0.000001 BTC
From 0.000001 ETH

Fiat Currency

from 20 EUR / for bank transfer
from 50 EUR / for transfer from card, via Skrill, Neteller

Maximum input amount
Minimum withdrawal amount

Verified

Cryptocurrency

From 0.000001 BTC
From 0.000001 ETH

Fiat Currency

from 100 EUR / for bank transfer
from 3 EUR / for transfer via Skrill, Neteller

Unverified

Cryptocurrency

Unavailable

Maximum withdrawal amount

Unverified

Cryptocurrency

Unavailable

Exchange Commission

Trading commission:

From

0.07

To

0.5

% / depending on balance and market

Withdrawal fee:

0.0008

BTC /

0.002

ETH /

40

EUR / per bank transfer

5.5

% / Withdrawal via Skrill, Neteller

Terminals

Author's platform

Age restrictions
Number of cryptocurrencies
Margin Trading
Tokenized assets
Free Demo Account
Types of accounts
Execution of orders

Limit Order, Market order

Methods of replenishment

Cryptocurrencies, Bank Card (Visa/MC), Wire Transfer, Skrill, Neteller

Withdrawal methods

Cryptocurrencies, Wire Transfer, Skrill, Neteller

Account currencies

Cryptocurrencies, EUR

Types of cryptocurrencies

BTC, ETH, USDT, LINK, DOGE, XLM, XRP, LTC, DASH, TRX, etc.

Licenses

Licensed

License to provide virtual currency services FVT000327

(Active)

License for virtual currency exchange services FVR000231

(Active)

Mobile applications
Trader training
A way to store cryptocurrencies
Fiat accounts
Scalping
Stop Loss and Take Profit Function
Exchangeability for fiat currencies
Initial Exchange Offering (IEO)

A platform for launching a fundraising campaign for the project

SecuX

Hardware wallets

Escrow

Conditional escrow for transactions

Widgets

Ability to install the course widget on your platform

Adding a coin to the listing

Submitting a request to add or vote by users

Basic verification
Extended AML verification

Confirm the phone number, provide proof of identity, selfies with the document and a piece of paper with the name of the service. To withdraw fiat you will need proof of address

Regulatory laws

Estonian law

International data protection law

FATF (Financial Action Task Force)

API
Bonuses
Affiliate Program

Registration

10% from trade commissions of referrals, 30% from commissions when adding a quick exchange to your platform

Benefits

Department of OTC Trading

Quick cryptocurrency exchange on the site

Opportunities to get coins for voting to add new currency to the listing

Fundraising campaign launch platform for new projects

Disadvantages

Mandatory verification for withdrawal of funds

Poorly developed mobile app (according to online reviews)

Company requisites

Legal address:

Roosikrantsi tn 2-K468, Tallinn, 10119, Estonia

Overall assessment
Date of update

20.02.2023
Address
Roosikrantsi tn 2-K468, Tallinn, 10119, Estonia
Map
Subscribe to this company
ATAIX is this a scam? Reviews and description
ATAIX - is a centralized crypto exchange for trade cryptocurrency and exchange of digital assets. The platform supports both cryptocurrency and fiat-to-cryptocurrency exchanges and charges a small commission for trading. ATAIX is an exchange provider and does not trade on its own, which protects against financial risks.
A simple trading terminal, a fast exchange on the site, an OTC trading department, the ability to add your own coin to the listing, and the launch of a fundraising campaign for new projects are available. Every user can vote for coins to be added to the listing and receive them as a reward after the token launch. To find out if the company is reliable and if ATAIX is a fraudulent scheme, we compiled this review.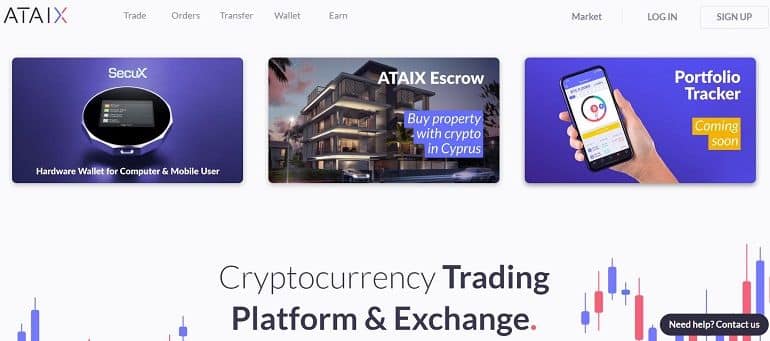 Why ATAIX?
ATAIX is a cryptocurrency exchange, on the platform of which you can trade major cryptocurrencies available today, and a large number of new coins and tokens, which are only available on this site. Their list is constantly expanding. It is available to add your own coin to the exchange listing. To do this, you need to fill out a request form for addition, specifying the details of the asset. Since users' opinions are taken into account when considering the inclusion of coins in a listing, you can also submit a request to be included in the voting list. Users vote for the coin they want to see next on the platform.
The exchange and platform Initial Exchange Offering (IEO) ATAIX developed is a fundraising campaign for a new project. Unlike the initial coin offering (ICO), when the project team conducts fundraising, the IEO platform takes care of the entire process and allows contributors to support projects directly with funds from their account ATAICS. A contributor only needs an account on ATAIX and some funds on the balance. For those who want to promote their project, the platform offers to make it available to users, fundraisers and KYC procedures.
You can add a widget for BTC and other currencies to your site, select one of the SecuX hardware wallets, and take advantage of Escrow, which protects buyer and seller and provides secure cryptotransactions.
Every user who has confirmed a phone number can become a voter for new coins to be listed. After the asset for which the vote was cast appears on the exchange, a certain number of coins will be distributed between those who selected it. The exchange has also developed the ATAIX Mobile app, which gives access to the cryptocurrency markets anywhere, allows you to manage your funds and receive real-time market notifications.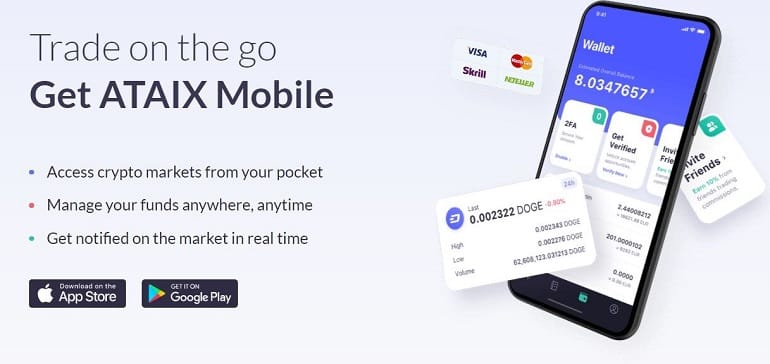 How to exchange cryptocurrency on the ATAIX platform?
First, you need to register your account. To do this, go to the ATAIX home page and click "Register". Enter your email address, password and promo code, if you have one, click on the captcha to confirm that you are not a robot. The next step is to confirm the email using the link from the email. Immediately after registration, you can deposit coins and trade, but you cannot withdraw cryptocurrency from your wallet. To allow withdrawals, you have to confirm level 1.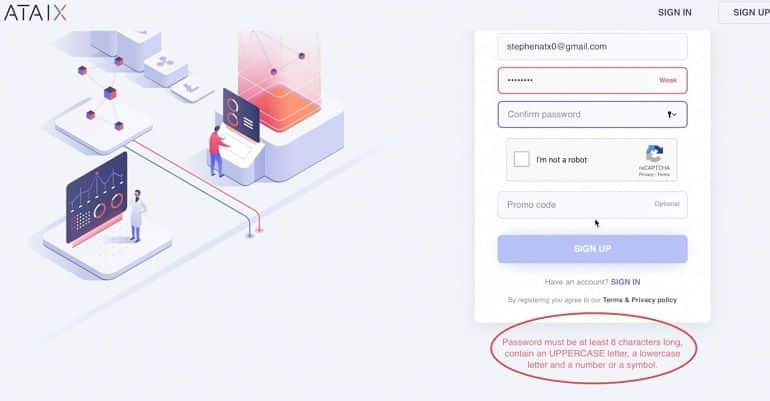 To transfer assets between your wallets or send to another account, follow these steps:
Log in to your account and click "Translate" at the top of the ATAIX toolbar.
Select "Transfer between your wallets" or "Transfer to another account".
Select the currencies you want to send.
Check rates and availability and click "Transfer" to confirm the transaction.
Funds will be converted automatically at the best available exchange rate.
You can also click the "Trade" button in the upper left corner, which will redirect you to the ATAIX trading dashboard. On the dashboard, select the pair in the upper left corner. Specify whether you are creating a limit order or a market order. For a limit order, specify the number of coins you want to buy. Tick the amount you are willing to pay for the coin. As soon as a sell order matching the request is placed, the trade will be executed automatically. For a market order, specify the number of coins you wish to purchase and click "buy." The order will be executed based on the market value of the coin. The sale of coins is done in the same way.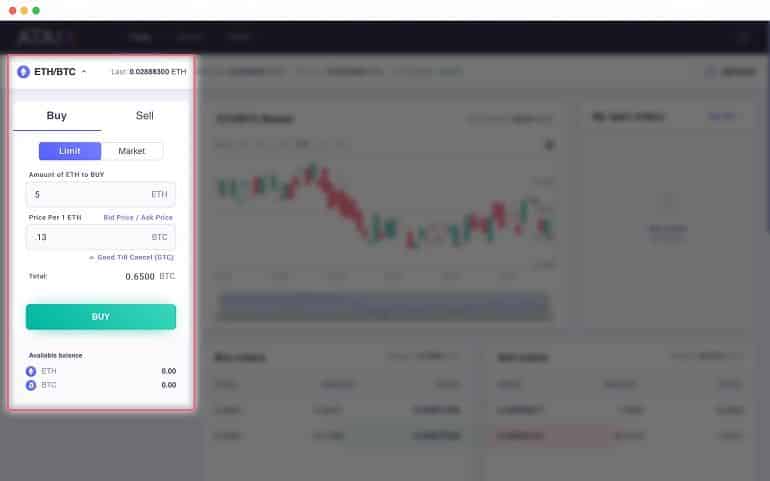 There is a section on the site for quick exchanges. It offers a form in which you have to choose cryptocurrencies for a transaction, specify the amount and purse. OTC transactions of high volume are also available. The exchange has specialists who can work with OTC traders individually to provide safe and convenient cryptocurrency trading. To make such a transaction, contact the company with an OTC request.
Verification on the ataix.com platform
To be tested for ataix.comYou need a valid government-issued photo ID, such as a passport, selfies that meet several criteria, a cell phone number and a utility bill or other proof of residency no older than three months. You can go through the verification process in your personal office. The first step is to enter the phone number and confirm it by entering the code from the SMS.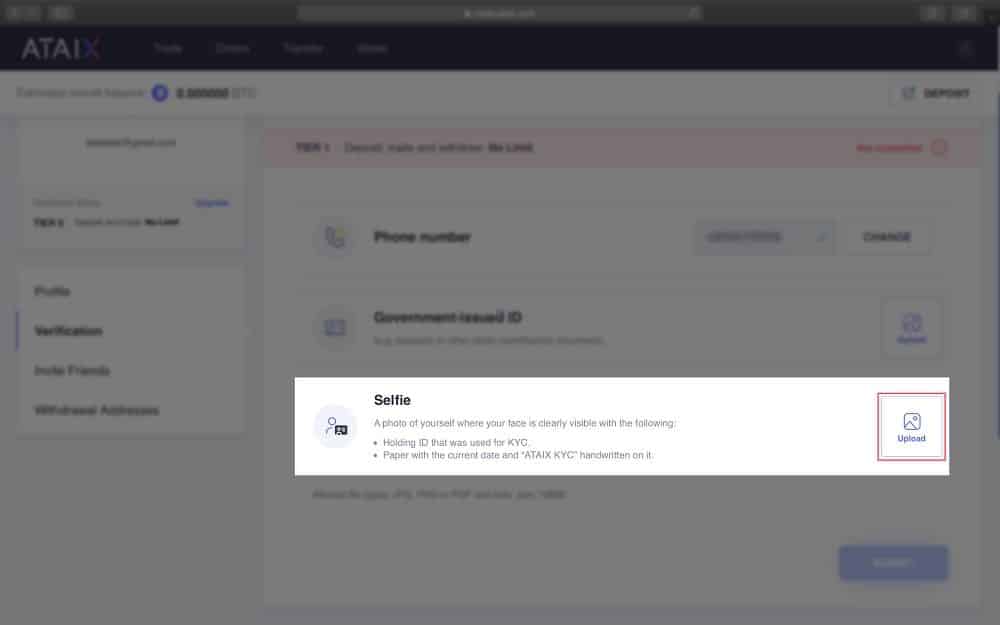 The state-issued ID card must clearly show the photo, name, date of birth and expiration date. Selfies must clearly show your face, ID card and a piece of paper with the current date, email address and the text "ATAIX KYC.
The ATAIX team reviews uploaded documents within 2-3 business days and either approves or rejects the Level 1 review. You will be notified by email when the process is complete. If rejected, the reason will be given and steps you can take to get approved. Once approved, you will be able to deposit, trade and withdraw without restriction.
To withdraw fiat currency, proof of residency will be required in addition to a valid ID and selfies. Proof of residency must be provided every three months to ensure that the exchange has the last address of the user.
Deposit and withdrawal
The account can be deposited in cryptocurrency or euros. For fiat currency ATAIX provides several options for deposit and withdrawal - Skrill, Neteller, bank card or bank transfer. To make a deposit, log in to your account, click "Wallet" at the top of the control panel and go to the page with all balances. Click on the coin you want to deposit and you'll see the wallet address and a QR code for it. Copy the deposit address by clicking the button to the right of it and paste it into your coin purse to deposit the desired amount. Or use the QR code above the address. Cryptocurrency withdrawal is performed in the same way.
To deposit in fiat currency, select "Euro" in the wallet. Enter the amount you want to deposit and click "Deposit". You will be taken to the payment page, where you can choose the type of card and enter all information about it. Fill out the fields and click "Pay securely" at the bottom. Deposits can take up to 3 business days. You can also choose Skrill or Neteller (in this case funds will be credited immediately after payment). Withdraw fiat can be made by Skrill and Neteller, selecting the desired method and confirming the operation via e-mail. Withdrawal by bank transfer is also available.

The minimum amount for deposit and withdrawal is 0.000001 coins in the equivalent of each cryptocurrency. For bank transfer the minimum for deposit is 20 euros, for withdrawal - 100 euros. Deposits from cards, via Skrill and Neteller are available from 50 euros. Withdrawals via Skrill and Neteller are available from 3 euros.
Cryptoexchange Commission
Trade commissions on ataix.com depend on the average monthly volume of transactions in euros:
< 1,000,000 - 0.15% for trading with DOGE, 0.2% for BTC, USDT, ETH and 0.35% for EUR;
< 5,000,000 - 0.1% for trading with DOGE, 0.15% for BTC, USDT, ETH and 0.25% for EUR;
5,000,000 - 0.07% for trading with DOGE, 0.1% for BTC, USDT, ETH and 0.15% for EUR.
The commission for cryptocurrency deposit is zero. Bank transfer is charged 1,5%+12 euros, for deposit from card - 5%. Commission for deposit and withdrawal via Skrill and Neteller is 5,5%. When withdrawing via bank transfer there will be a withdrawal fee of 40 euros. Cryptocurrency withdrawal fee depends on the coin. So, for Bitcoin it is 0.0008 BTC, for Ethereum - 0.002 ETH, for Litecoin - 0.001 LTC.

Ataix.com bonuses
The exchange offers participation in voting for adding new coins to the listing, in a referral program with the ability to earn rewards for attracting users. Remuneration is also available for adding a fast exchange to their platform.
Voting to add coins
Every user who has confirmed a phone number can vote to add a new coin to the listing. If the selected token appears on the exchange, such a customer will receive a reward in the form of project coins. For each of them, an equal distribution of a certain number of coins between all the users who voted is available.
Referral program
ATAIX gives you the opportunity to earn more by inviting your friends to join the platform. Any verified ATAIX user can send a referral link and receive 10% from the referral's trading commissions. You can find the link in your personal cabinet. To do this, click on the profile icon in the upper right corner and go to "Invite friends". You can copy the link and send it or post it on social networks using the icons below the link.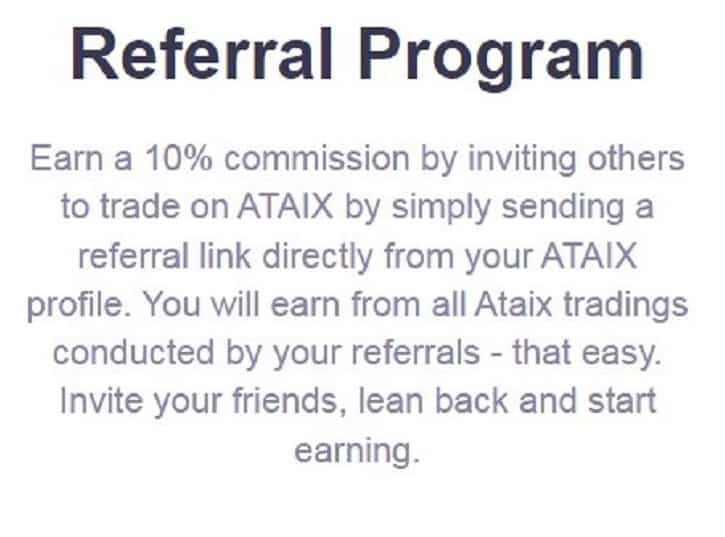 Commission discounts
By adding ATAIX fast exchange to your platform, you can get up to 30% of exchange fees from each transaction. This way your platform will provide users with an easy and convenient way to exchange cryptocurrency, and you will earn every time they use it.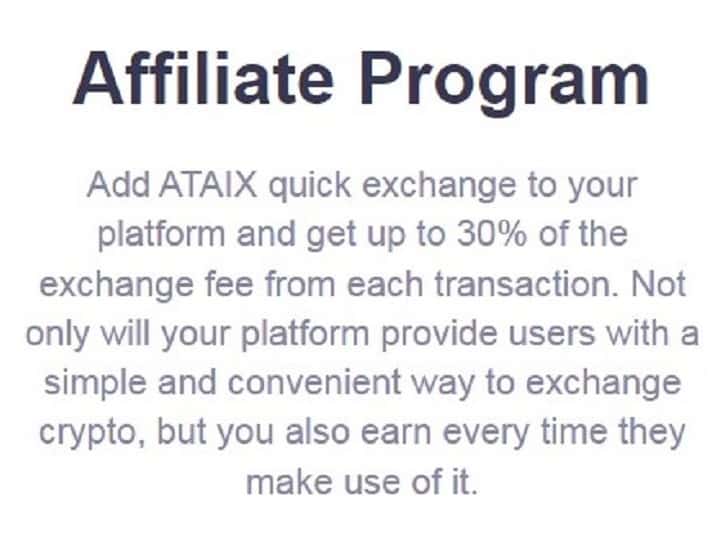 Complaints about ATAIX
There are reviews on the Internet about the work of the exchange. Many of them are positive. Users note the high level of security, the presence of additional features, including a convenient fast exchange, competitive prices, the presence of an EU license.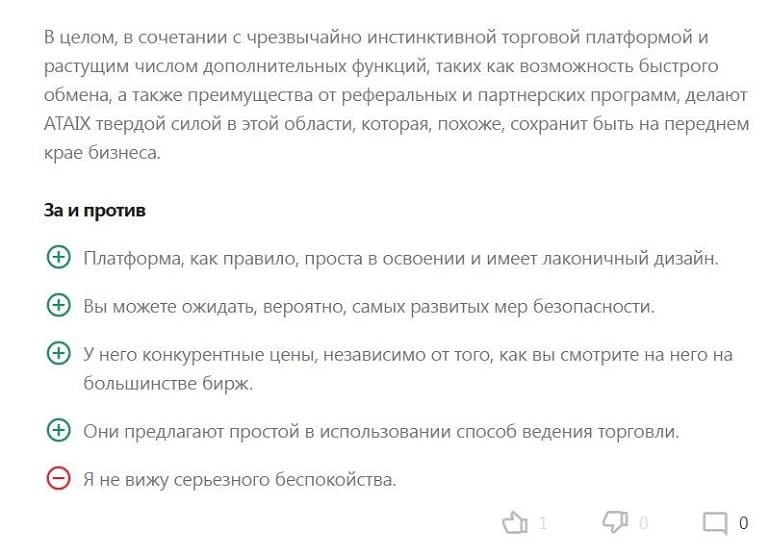 Complaints concern only the need for mandatory verification. Many traders choose decentralized projects to remain anonymous.

There are also comments about the app. Users note that it is not very convenient and unfinished.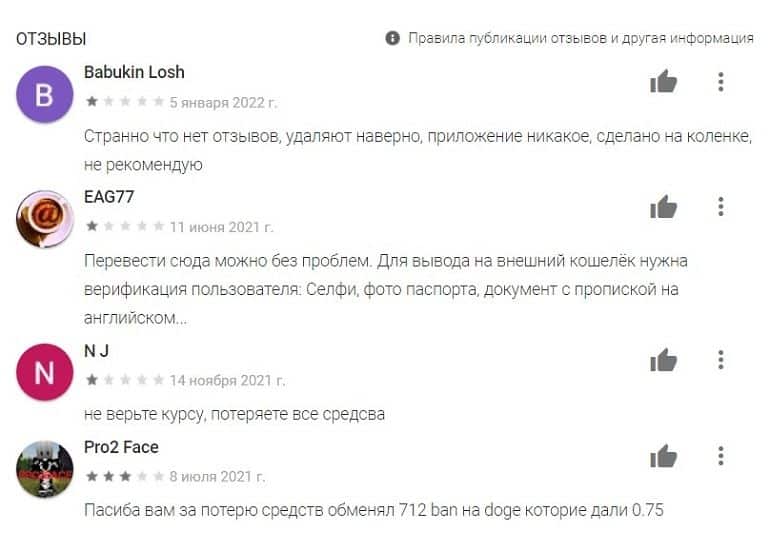 If there are any complaints about ATAIX, we will be sure to post on social media. Sign up so you don't miss anything!
Please keep yourself informed about news and complaints. We copy the most valuable information to social networks, so please sign up!
Regulation of the ATAIX crypto-exchange
Cryptocurrencies is a sphere in which not only reliable companies operate. There are many crypto-exchanges, which are opened by scammers in order to capture users' money. Therefore, it is important to find out legal information about the company, study documents and reviews about the service.
Regulator
ATAIX is licensed by the European Union and regulated in accordance with EU laws. The exchange belongs to the company EuroToken OÜ. It has the right to exchange cryptocurrencies for currencies in accordance with the EU license #FVT000327.
The Exchange uses user data only to perform certain actions on the platform. They are not shared with anyone other than ATAIX employees or partners. Several measures are also in place to mitigate any risk to users, including monitoring user accounts for suspicious login attempts/activities, "Know Your Customer" verification procedures, and two-factor authentication. The latter two are optional, but recommended for all users to ensure a high level of security for their accounts. There are several documents in the Legislation section.
Ataix.com User Agreement
The Terms of Use page describes the services of the crypto-exchange and the requirements for users. By using the site, they agree to accept and abide by the terms and agree to read the document. The user undertakes to inform ATAIX immediately after detection of any unusual, suspicious or incomprehensible changes in their account. Failure to inform in a timely manner will make the customer liable for violation of the terms and conditions and ATAIX will have the right to take any action, including reporting to the appropriate authorities.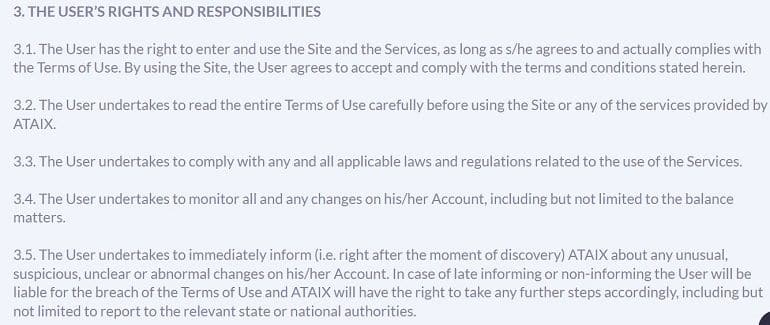 The rights and obligations of the exchange and guarantees are described. It is specified that all buy and sell orders made on the platform will be made anonymously, so that the user and sellers do not know each other. Transaction pricing is calculated based on actual negotiated orders placed by users participating in the bidding process, combined with applicable fees. There are also clauses on user verification, account maintenance, order creation, and service fees.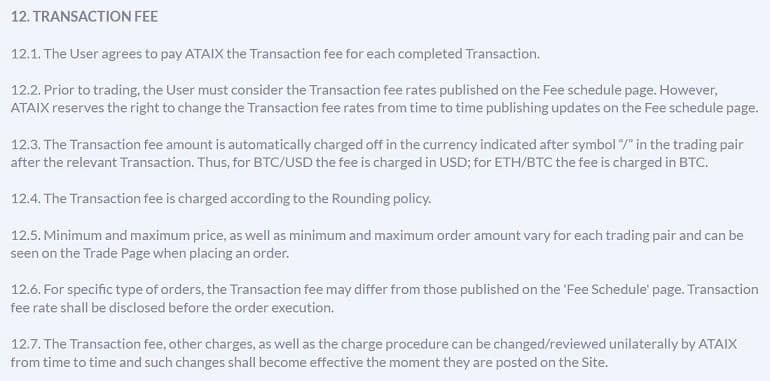 Customer Service
You can contact the staff of the exchange by phone: +372-617-03-71 or email: [email protected] The exchanger also has a support center. You can find answers to popular questions there by opening the section with the topic of interest or by using the search bar. You can send support with your question by filling out the feedback form.
Is ATAIX a scam?
ATAIX - a centralized crypto exchange for cryptocurrency trading and exchange of digital assets. It is owned by a company that has an EU license that allows the exchange of digital and fiat currency. The exchange offers a simple terminal, fast exchange, and over-the-counter trading. You can add your own coin to the listing or participate in voting to add tokens to the platform. The company has also developed a program to launch fundraising campaigns to develop new projects.
There are virtually no complaints about the service. Users are satisfied with the company's services, technical support, speed of transaction processing and prices. There are negative comments about the work of the mobile application. Also not everyone likes the mandatory verification. Given the nuances of the exchange and user reviews, we can conclude that ATAIX is not a scam, but a reliable service for trading various cryptocurrencies.
Conclusion
ATAIX - officially registered crypto exchange that offers not only exchange of digital and fiat currencies, but also additional services. The company fulfills its obligations to users in good faith and can be considered a safe and reliable platform for cryptocurrency transactions. If you have used ATAIX services, leave your feedback in the comments to the review.
No reviews yet, be the first!
The company in the ratings
Robots for cryptocurrency
Activity
New

0

Resolved

0

Not resolved

0
New companies on the site