Amplify is the world's first and only cryptocurrency exchange with zero fees for private traders. The platform promises transparent trading conditions and deposit insurance.
Read completely
Cryptocurrency exchange
Official website
Social media
Date of foundation

2019

Head Office
Types of support
Languages

English, Spanish, Korean, Chinese, Vietnamese, Russian, etc.

Founder
The owner of the company
Manager
Minimum entry amount

Unverified

Cryptocurrency

Unavailable

Maximum input amount

Verified

Fiat Currency

Bank card (Visa/MC), PayPal:

to 100,000 USD

Unverified

Cryptocurrency

Unavailable

Minimum withdrawal amount

Unverified

Cryptocurrency

Unavailable

Maximum withdrawal amount

Verified

Fiat Currency

Bank card (Visa/MC/MIR), PayPal:

to 100,000 USD

Unverified

Cryptocurrency

Unavailable

Terminals

Author's platform

Age restrictions

From

18

years

The user must be of legal age in their country

Number of cryptocurrencies
Number of trading instruments
Margin Trading
Tokenized assets
Free Demo Account
Types of accounts
Execution of orders

Limit Order, Stop Orders

Methods of replenishment

Bank card (Visa/MC), Cryptocurrencies, PayPal

Withdrawal methods

Bank card (Visa/MC), Cryptocurrencies, PayPal

Account currencies

USD, GBP, EUR, Cryptocurrencies

Types of cryptocurrencies

ZRX, BTC, DASH, EOS, ETH, LTC, NEO, XRP, XLM, XTZ, ADA, BCH, ETC, BAT

Mobile applications
Trader training
A way to store cryptocurrencies

Cold:

yes

Funds are stored in the exchange's own wallet

Fiat accounts

Account opening in USD, GBR and EUR is available

Scalping
Stop Loss and Take Profit Function
Exchangeability for fiat currencies

Exchange is possible in the process of trading currency pairs

Asset insurance

Amplify cold storage funds insured to the tune of USD 100 million

Basic verification

It is necessary to specify full name, email address, password.

Extended AML verification

Requires you to upload a scan of your passport or ID card

Regulatory laws

International data protection law

Canadian law

API
Bonuses
Affiliate Program
Benefits

Zero commissions and favorable rates

Integration with the global banking system

Powerful analytics and deposit insurance

Disadvantages

A lot of ambiguities in the user agreement

Inactive customer service

Company requisites

Legal name:

AmplifyX Holding Limited

Legal address:

No information specified

Overall assessment
Date of update

11.05.2023
Address
No information specified
Map
Subscribe to this company
Amplify is this a scam? Reviews and description
Amplify
- world's first
crypto exchange
which offers commission-free trading to non-U.S. users. By registering on the exchange, you get an opportunity to buy and sell cryptocurrencies without commissions, which reduce traders' income. The company offers transparent working conditions, fast withdrawal of money, training materials and its own token. In this review, let's understand whether Amplify is a scam or a reliable cryptocurrency exchange that offers traders really profitable trading conditions.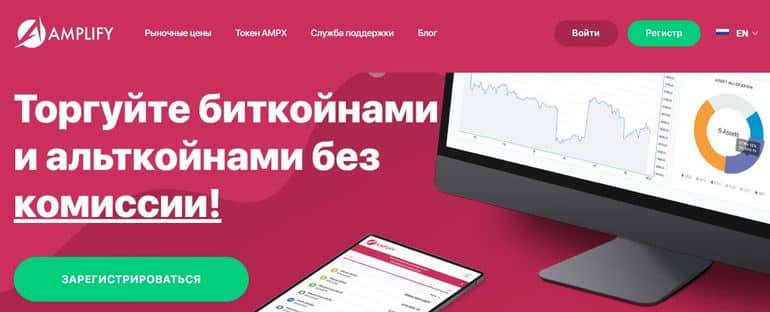 Why Amplify?
amplify.io - a new cryptocurrency exchange for trading bitcoins and altcoins without commissions. The exchange was founded in 2019 and is just beginning to win the interest of traders. Fourteen cryptocurrencies in 40+ currency pairs are available to trade on the cryptocurrency exchange, cryptocurrency to fiat exchange, and Asian and European fiat gateways are preparing to launch. Available cryptocurrencies: ZRX, BTC, DASH, EOS, ETH, LTC, NEO, XRP, XLM, XTZ, BCH, ADA, BAT, ETC (How to make money on cryptocurrency). Of fiat currencies crypto exchange supports: USD, GBR, EUR. The distinctive advantages of the crypto exchange can be highlighted:
Direct Fiat Gateway. To enable traders from different countries to buy and sell cryptocurrency for fiat without intermediaries, Amplify provides a direct fiat gateway. The gateway is available for 170+ countries.
Best Bid & Offer. By implementing Best Bid & Offer, the crypto exchange connects to different currency and liquidity providers to offer traders the best prices for buying, selling and exchanging digital assets.
Zero commissions. All trading pairs on amplify.io for private traders are traded without commissions. This makes traders equal, with no differences in trading conditions with different deposit and trading volume.

For the convenience of traders website amplify.io is adapted to work on mobile devices. Thanks to this, it is possible to trade not only from a computer, but also from a smartphone in a convenient mode. Besides, among the advantages of the platform traders single out:
Integration with the global banking system.
Powerful asset analytics.
Cold storage of assets.
Deposit insurance.
The best prices for cryptocurrencies.
Simple interface.
According to the company, the site offers the best asset storage and security technology, as well as a serious profit and loss analytics system.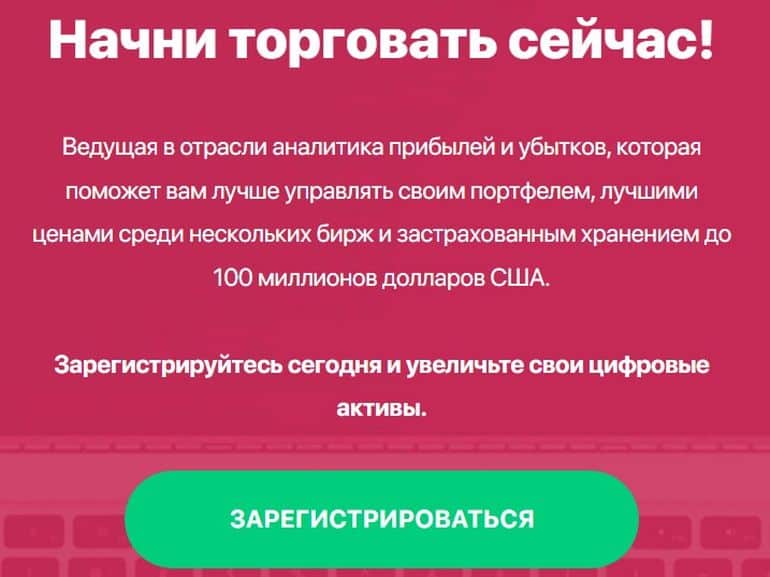 How to exchange cryptocurrency on the Amplify platform?
With a direct fiat gateway on Amplify, residents of 170+ countries can directly exchange cryptocurrencies for fiat with withdrawals to their bank cards. The exchange takes place in the process of selling cryptocurrency for fiat money. Also, buying cryptocurrency for USD, GBR, EUR is available on the platform without intermediaries and third-party resources.
Verification on amplify.io platform
To trade on the exchange Amplify registration followed by account verification is required. This procedure is necessary for the security of the user's account, as well as for access to other features of the ecosystem. For example, when buying cryptocurrency on an exchange, it will automatically become available in Crypto Pay, from where it can be used to pay for goods and services from businesses participating in the system.
To open a first-level account, you must complete a simple registration process. To do this, click the "Registration" link in the upper left corner of the home page. Then you will be taken to the registration form page. Registration consists of several steps.
Step 1. Enter the initial data. At this step you need to enter your email address, password, first name, last name, middle name, country of residence, and date of birth. After filling in the data, press the "Continue" button and proceed to the second step of registration.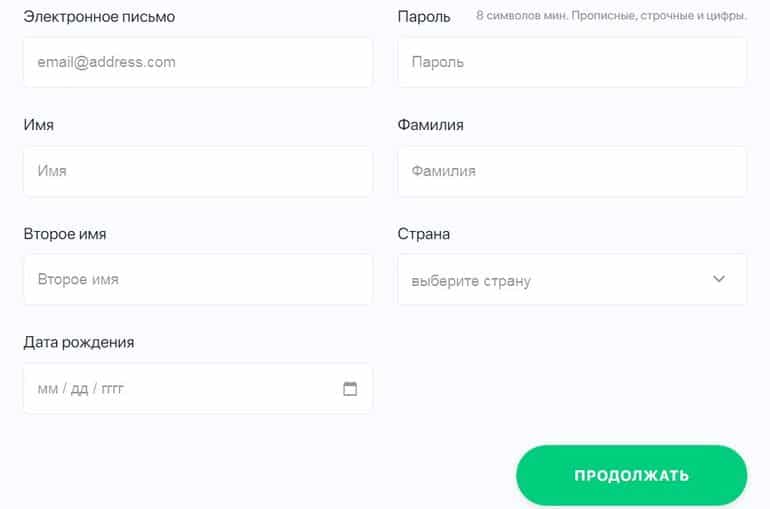 Step 2: Confirm email. The second step is to click on the link that will come in the letter to the email indicated at registration.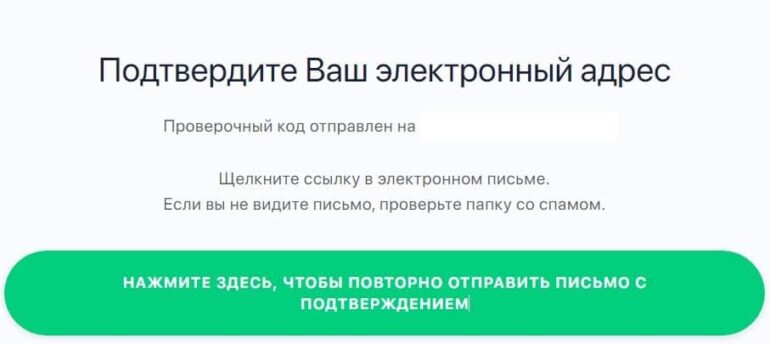 Step 3. After confirming your email address, log in to your account by entering the password you specified earlier. After entering the password, press the "Continue" button.

Step 4, 5. Address entry and verification. At this step you need to enter the residential address, city, region and zip code. Then you will be asked to pass the verification, during which you need to upload a scan of your passport or ID with all the specified data. You can skip these steps and go through them later, but in this case you will be limited in the deposit and withdrawal of funds.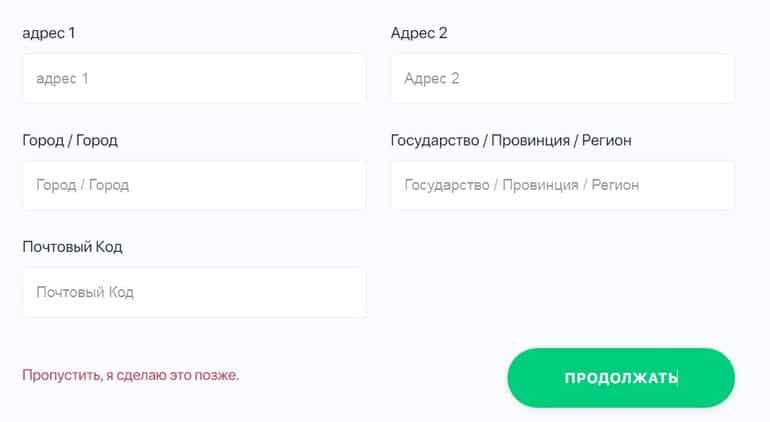 At the last stage of registration, you should read and accept the terms of service. Read the document carefully, so that no problems will arise later due to violation of the platform's rules. After registration, a personal account is formed for the user, where they can trade in cryptocurrencies, deposit and withdraw money to their bank card.
Deposit and withdrawal
The Amplify cryptocurrency exchange is a hybrid of a centralized and decentralized exchange. Here you can deposit and withdraw money both in cryptocurrency and fiat. In order to deposit and withdraw money you need to pass a full identity verification, otherwise the platform will be available for viewing only. After all the data is filled in and verified, a deposit account is connected to the user's account. This account can be funded with cryptocurrencies or fiat money. For each cryptocurrency available on amplify.io a separate wallet address is created. You can find these addresses in your portfolio.
Deposit replenishment
Deposits are available in cryptocurrencies and fiat money. To make a deposit in cryptocurrency, select the currency deposit address, copy it and paste it into the wallet from where you plan to transfer funds. After the transaction is processed and confirmed, you will see the amount of the deposit in your portfolio. To make a deposit with fiat money, choose the deposit method: bank transfer, bank card, telegraphic transfer, or a third-party resource. Then follow the instructions of the system. Deposit limits on the exchange depend on the type of account. The maximum deposit amount for a Level 2 account is 100 000 USD per day.
Deposit withdrawal
To withdraw cryptocurrency, find an asset in your portfolio and click "Withdraw". A withdrawal form will open in front of you, where you need to specify the amount and the wallet address. Confirm the transaction. Withdrawal of fiat money from the exchange is possible to a bank card or an e-wallet. Select the deposit, specify the payment details and confirm the transaction. Cryptocurrency withdrawal limits depend on the type of account. For the 1st level account the maximum amount to be withdrawn - up to 20 000 USD per day, for the 2nd level - up to 100 000 USD per day.
Cryptoexchange Commission
The Amplify cryptocurrency exchange confirms that it does not charge commissions from private traders. You don't have to pay any deposit or transaction fees when trading on the exchange. Amplify is the world's first cryptocurrency exchange with zero fees on all transactions.
Amplify Bonuses
Since its opening, crypto exchange Amplify has been attracting traders with promotions and bonuses. As of 12/14/2021, the platform offers a discount of 50% when paying commissions with AMPX token. Follow the news on our website and crypto exchange platform to stay up-to-date with the best offers.
Referral program
Amplify has launched a referral program, which is available to every registered and verified user. You can get the referral link in your personal cabinet in your account settings. Amplify's referral program allows traders to earn 250 AMPX (the platform's own token) for each user who is invited and makes a trade.
Complaints about Amplify
Despite the rather young age of the crypto exchange, it has clearly aroused the interest of traders on the Internet. There are not many reviews about the platform, but all of them testify about really zero commissions, clear interface, safe storage of assets and absence of limits. But traders are alarmed by the lack of tracking on CoinMarketCap and the team's inaction on social media. 90% reviews indicate that traders treat the exchange with caution.

If there are any complaints about Amplify, we'll be sure to post on social media. Sign up so you don't miss anything!
Please keep yourself informed about news and complaints. We copy the most valuable information to social networks, so please sign up!
Regulation of the Amplify crypto exchange
Before you start trading on a cryptocurrency exchange, you should carefully study the legal documents of the company, find out about the regulator and understand the legislation of which country regulates its activity.
Regulator
Unfortunately, the amplify.io website does not specify the country of registration of the exchange and its regulator in the documents. Also, the platform has no information about its founder and manager. The only information available to users is that the site belongs to AmplifyX Holding Limited. Documents from amplify.io:
Read the "User Agreement" on the Amplify website (See);
Read the "Privacy Policy" on the Amplify Exchange website (See).
User agreement amplify.io
User agreement is the main document, which regulates the relations between the service administration and the user. Before registering on amplify.io, you should read the agreement and accept its terms. We advise users not to ignore this step, thoughtlessly checking the box on reading, but to really read the document carefully.
Under the terms of the agreement, by registering on the site, you confirm that you understand and acknowledge the risks of cryptocurrency trading. You agree to create one account and provide accurate information about yourself to the company.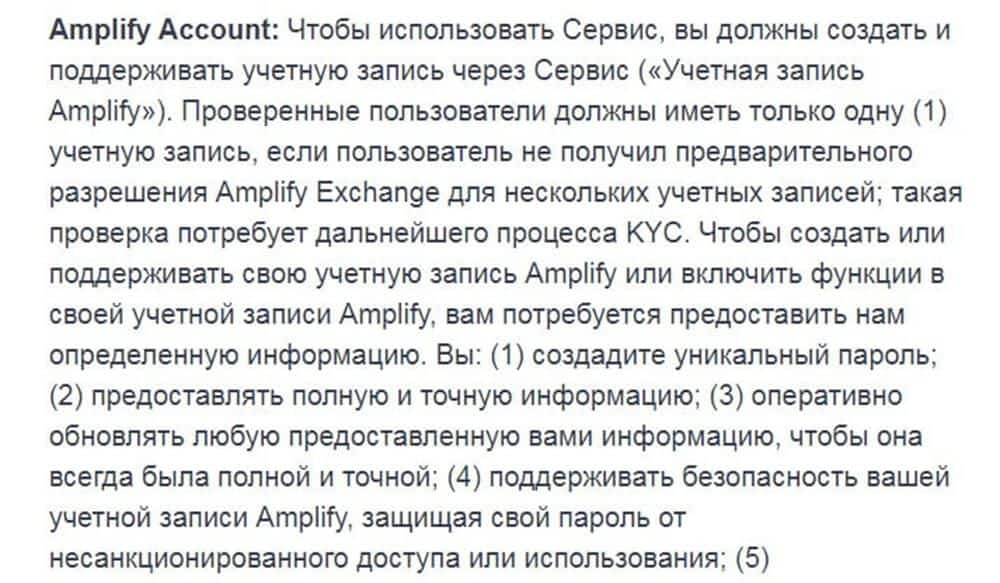 When working on the exchange, you assume all costs of third-party fees and payment of transaction fees. You also agree that the timing of transactions may vary, because they depend on third parties, which are not subordinate to AmplifyX Holding Limited.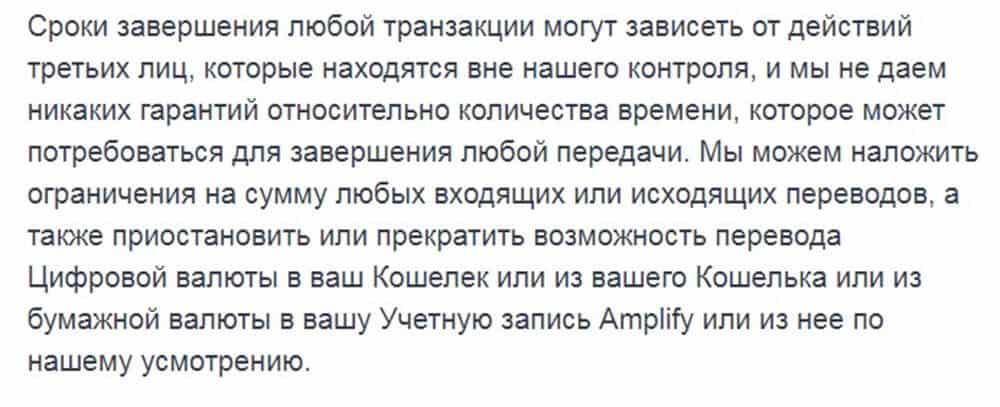 The service administration reserves the right to limit access to the platform's services, cancel incomplete transactions or impose restrictions on transactions. Service is not responsible for entering cryptocurrencies not supported by the system, as well as for transactions with incorrect addresses and payment data.
After studying the document, we realized that there are a lot of ambiguities in it. For example, while stating zero commissions on the site, the user agreement says that you must pay the service fees in full. It also remained unclear, the laws of what jurisdiction the exchange is subject to. At the same time, the document says that if the user has a debt to the service, the administration has the right to withdraw and transfer digital assets or fiat money from his account, wallet or external account in its favor.

Customer Service
Amplify crypto exchange offers users several options for contacting the support team:
E-mail: [email protected].
Feedback form on the site.
Discussion of the issue in the forum.
Facebook.
Twitter.
At the same time, there are no active discussions on the forum, the Twitter account is suspended, and the last entry on Facebook dates back to 2020. From this we can conclude that the support service is inactive. Answers to frequent user questions can be found on the FAQ tab.
Is Amplify a scam?
Amplify - the world's first cryptocurrency exchange with zero commissions for private traders. Having studied the website of the exchange, its functions and user reviews, we cannot confidently state that Amplify is a reliable exchange and it is safe to trade on it. When studying the platform, we had many questions that we didn't find answers to, namely:
What country is the exchange registered in?
Who is its founder and leader?
Who are the liquidity providers?
How reliable is the wallet exchange?
How many users are registered here?
What is the daily trading volume?
Given the absence of this information, we advise traders to be cautious when trading on amplify.io. Before registering and making a deposit, we advise to contact the support team and ask about limits and supported cryptocurrencies. Also, you should find out if the exchange really offers zero commissions for all transactions or it's just another publicity stunt. If you already have experience in trading at amplify.io, share your opinion about the exchange with us and our readers. Is it safe to trade there, no problems with withdrawal or is it just another scam?
Conclusion
Positioning itself as the world's first and only crypto exchange without commissions for traders, Amplify promises transparent trading conditions, safe custody of assets and powerful profit and loss analytics. But having analyzed the reviews on the Internet, we have not found any active traders of this platform. All reviews are from users who are only looking at the platform, but have not yet opened a deposit on it. It is up to you to register here or not, but our opinion remains the same, it is advisable to be careful with this resource.
The company in the ratings
Robots for cryptocurrency
Activity
New

1

Resolved

0

Not resolved

1