Namebase is a crypto exchange that registers Handshake domains and allows you to buy and sell HNS tokens.
Cryptocurrency exchange
Official website
Social media
Date of foundation

2018

Head Office

6 Honduras Street, London, United Kingdom, EC1Y 0TH

Types of support
Support by phone
Languages

English

Founder

Anthony Liu, Tishun Rockerre

The owner of the company
Minimum entry amount
Maximum input amount
Minimum withdrawal amount
Maximum withdrawal amount
Exchange Commission

Trading commission:

0.1

% for taker

Spreads:

From

0.1

To

0.3

%

Terminals

Author's platform

Age restrictions
Trading volume per day
Number of cryptocurrencies
Margin Trading
Tokenized assets
Free Demo Account
Types of accounts
Execution of orders

Market order

Methods of replenishment

Cryptocurrencies

Account currencies

HNS, BTC

Types of cryptocurrencies

HNS, BTC

Mobile applications
Trader training

Materials of the Training Center

A way to store cryptocurrencies

Hot:

yes

For HNS trading and HNS/BTC exchange

Fiat accounts
Scalping
Stop Loss and Take Profit Function
Exchangeability for fiat currencies

Deposit and withdrawal in U.S. dollars via ACH

Basic verification
Extended AML verification

Providing passport, passport or driver's license information

Regulatory laws

International data protection law

Canadian law

API
Affiliate Program
Benefits

Ability to sell and buy domain names

Convenient trading terminal

A lot of materials for learning how to work with the exchange

Profitable referral program

Disadvantages
Company requisites

Legal name:

Namebase LTD.

Legal address:

6 Honduras Street, London, United Kingdom, EC1Y 0TH

Overall assessment
Date of update

21.02.2023
Address
6 Honduras Street, London, United Kingdom, EC1Y 0TH
Map
Subscribe to this company
Namebase is this a scam? Reviews and description
Namebase - is an exchange that registers Handshake domains and makes exchanges for HNS coins. It supports BTC and HNS and is registered as an MSB with FinCEN. Namebase customers can use their HNS to bid on and buy/sell Handshake domain names.
There are several ways to use domains and coins exchanges. A referral program is also available, which allows you to earn up to 50% from the commission of attracted users. To find out how reliable the company is, and whether it works honestly, study this review. It will allow you to find out if Namebase is a fraudulent scheme.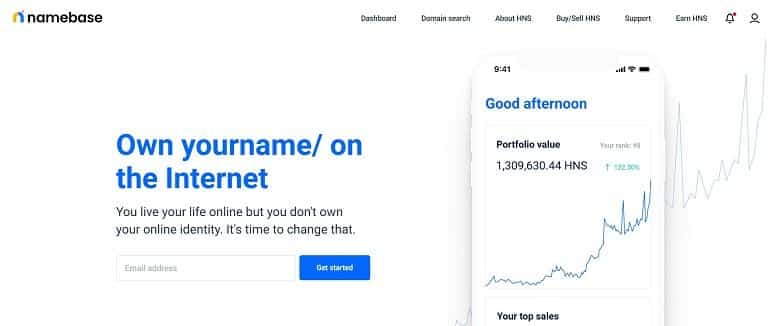 Why Namebase?
Namebase is a London-based exchange for the Handshake token. It can be used to buy and sell HNS, trade (How to make money on cryptocurrency), purchasing and using Handshake domain names. The platform also supports Bitcoin. Handshake is a decentralized naming protocol in which each peer node verifies and is responsible for managing the root naming zone in order to create an alternative to existing certificate authorities and systems. Internet names (top-level domains, social network descriptors, etc.) ultimately depend on centralized entities with full control over the system. Handshake aims to experiment with new ways to improve the security, resilience, and social usefulness of the Internet using a peer-to-peer system, verified by network participants.
On a technical level, Handshake is a fork Bitcoin, a full-node implementation that allows you to register domain names to be supported by a decentralized network of nodes. Handshake is fully compatible with the existing domain system and can be easily integrated with major browsers. It uses Bitcoin software with some additional transaction types that allow you to bid on names in the chain.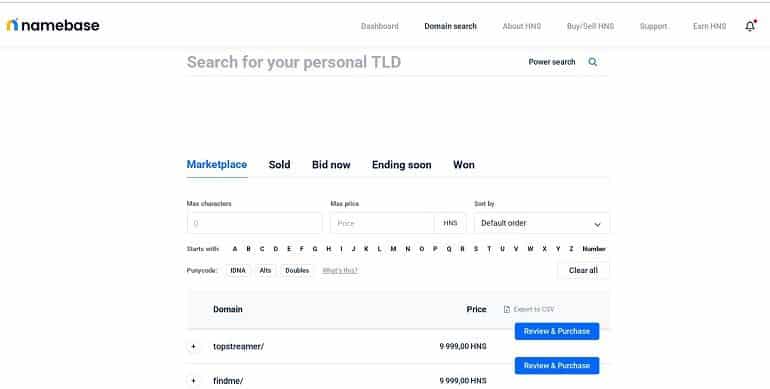 Handshake domains can be used in several ways. One of the easiest options is to create a website on them. It is also possible to create a dLink. Handshake allows you to create a fully decentralized site that is hosted on Skynet via a decentralized name without coding. A few more ways:
Redirect domain name. This function allows you to redirect the name to any other domain.
Sell Name. Find your name in the Domain Manager, select "Manage" and click the slider next to "Sell this domain" to set the price and put it up for sale. You can edit the prices to buy in your lists or delete them completely on the domain manager's sell page.
To donate a name. On the Manage page, you can select Gift this domain. Make sure that the recipient's email address matches their Namebase account address. If the recipient does not have a Namebase account, they will be prompted to create one. If the recipient does not receive the name before it expires, it will be returned to your account.
Sell subdomains. The Name Base Registry is a service that allows you to sell subdomains in TLD Handshake.
The volume of trading on a relatively new platform is a problem at the beginning. У namebase.io The 24-hour trading turnover does not exceed $15,000, with the only HNS/BTC trading. So far, the exchange has yet to advance in terms of trading volume. Advantages of the exchange include:
the ability to sell and buy domain names;
convenient trading terminal;
available commissions;
a lot of materials for learning how to work with the exchange;
profitable referral program.
How to exchange cryptocurrency on the Neymbase platform?
Namebase automatically creates a special wallet for the user during registration (you can get your HNS address by clicking "Create address" on the toolbar). The wallet can be used to register Handshake domain names, buy and sell HNS.
HNS is needed for bidding on Handshake auctions, and winning bids are burned from the blockchain (winning bids are not paid to anyone). HNS is also used to pay transaction fees to miners who add bidding, renewals, and other transactions to the Handshake blockchain. There is a "Buy/Sell HNS" section for buying tokens. There are 3 functions available:
Buy for Bitcoin. You have to enter the amount you want to spend and a refund address if the transaction is unsuccessful. The price at which the buy is calculated may differ from the current price, because the transaction is confirmed by BTC after 3 blocks (~30 minutes). With larger order sizes, price slippage occurs, which affects the final total calculated price depending on the liquidity available in the market. The amount presented in the calculator is the best price given the current market conditions and average purchase volumes.
Buy with dollars.
Transfer HNS. If you use a different HNS wallet, you can send tokens to the Handshake address corresponding to your personal wallet in Namebase.
A Namebase Pro terminal with an order book for HNS/BTC exchanges is also available.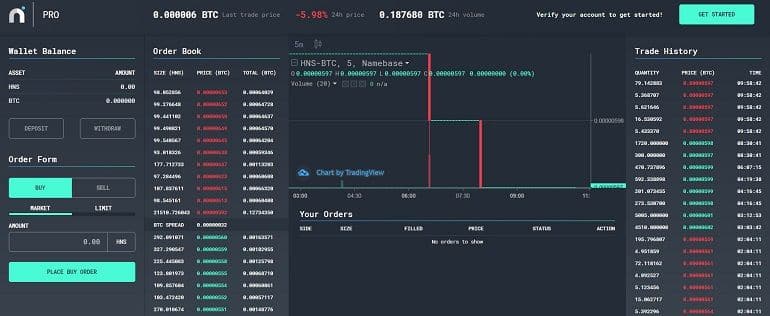 The cost of creating a domain for Handshake is determined by the auction held online. You can bid on any unknown name with HNS coins. This initiates the start of the 720 block bid period (~5 days). You can bet any amount and, if you wish, add a blind to hide the actual bet from others. Your bid + the blind is called a block, and it is the only value the other bidders see.
After the end of the bidding period, the Block Disclosure Period begins, during which bidders must disclose the true value of their bids. The bidder with the highest bid (not the highest block) wins the auction and mints the name. If you made a blind, it is immediately returned to you when you open your bid. If you forget to reveal your bid, it won't count, and you'll permanently lose the entire lock (both the bet and the blinds).
At the end of the disclosure period, the winning bidder pays only the second highest bid, but not his winning bid, and receives a refund of the difference between them. The losing bidders are refunded the full blocking amount in full. If there is only one bid, the only bidder creates a name for free because the second highest bid is effectively zero. No one receives the coins paid by the winner; they are burned from the blockchain, creating a deflationary effect on the HNS price.
Verification on the namebase.io platform
To get started, you need to register an account. You can do this by entering your email and password to get a confirmation link, or by logging in via GitHub.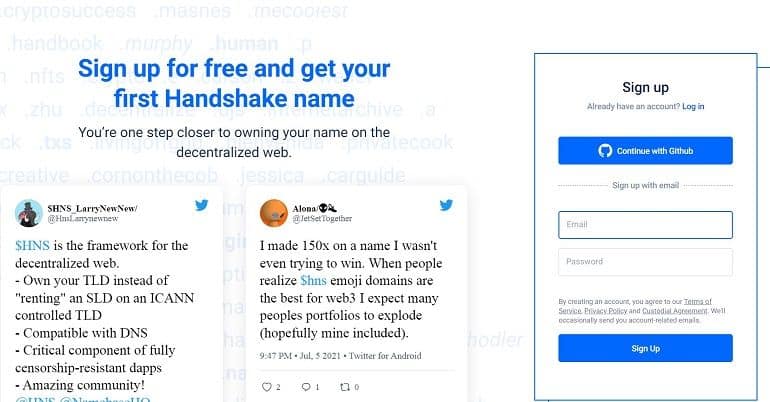 Before you start trading HNS, you must verify your profile. Namebase is a registered company and must comply with AML/KYC laws. The verification process may vary, depending on the customer's location. Some users may only need to verify first name, last name and phone number. Others may require additional information such as ID (driver's license or passport). The exchange works with Jumio to verify accounts and store verification data. Without verification, you cannot sell HNS and buy them for USD, transfer HNS in the Namebase and transfer coins, or use Namebase Pro.
Deposit and withdrawal
You can use BTC and USD on this exchange. Deposits and withdrawals in USD (when you sell HNS) are made via ACH (Automated Clearing House) transfers. This means that deposits via debit or credit card are not yet available.
Cryptoexchange Commission
Each transaction is between two parties: the maker, whose order exists in the order book before the transaction, and the taker, who accepts it. The maker-taker model encourages market liquidity by rewarding producers with a discounted commission. Trading commissions namebase.io for the tickers is 0.1%. Makers pay no commissions (0.00%).
For Namebase users, there is no commission for trading, but instead the platform has set prices for HNS with spreads ranging from 1 to 3% depending on market conditions. The only fee to worry about when withdrawing BTC from this platform is the mining fee. This commission is not charged by the exchange itself.
Namebase bonuses
Exchange has developed a profitable affiliate program.
Referral program
Invite new users and receive 50% of their commission when they buy or sell a name on the marketplace. Bonuses are paid immediately upon purchase and sale on the secondary market. Coining names does not count toward the bonus.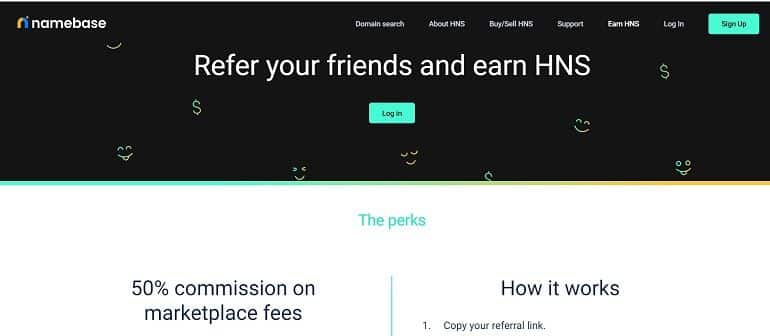 Complaints about Neymbase
There are many reviews on the Internet about the exchange. Among them there are positive comments about the company. Users note that the available commissions, user-friendly trading terminal, the ability to buy and sell domain names, profitable referral program.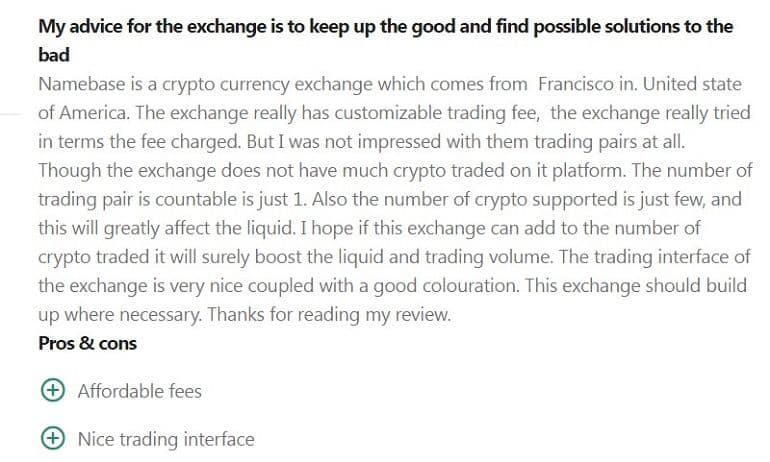 The disadvantages include a small number of pairs for trading - the exchange is only available between HNS and BTC. Trading is not the main task of the company. Users can buy and sell tokens on the platform, but they are only needed for the internal values and growth of the project. Tokens are not so much needed for trading activities, but rather for the tasks of project development.

If there are any complaints about Namebase, we will be sure to post them on social media. Sign up so you don't miss anything!
Please keep yourself informed about news and complaints. We copy the most valuable information to social networks, so please sign up!
Regulation of crypto exchange Namebase
Today there are many companies that offer trading cryptocurrencies and additional services. But not all of them are reliable and honest, there are scammers. To avoid becoming a victim of scammers, you should study all the documentation on the exchanger's website.
Regulator
There is information that the company is registered in the UK and has a LEGAL_US_E # 140100879.1 document:
Namebase.io User Agreement
The site has a "Terms of Service" section, which publishes the text of the user agreement. The document contains information about the account, blockchain and token used by the exchange. It is noted that in order to use Namebase services, it is necessary to register an account, provide information about yourself and pass verification.
The document spells out the terms of creating a wallet, selling and buying service tokens and other cryptocurrencies. There is information about restrictions, availability of the site and services, and customer support.

Customer Service
The site has a FAQ section, a help center and a feedback form for communicating with technical support. You can also send an e-mail to [email protected] and contact the company's employees via its Twitter page.
Is Namebase a scam?
Namebase - an exchange that registers Handshake domains and works with exchanges of HNS to BTC and back. The terminal only offers exchanges in those directions, as it does not focus on trading. The token is needed for internal use. Users like the ability to create domain names, sell and buy them, but a small number of cryptocurrencies cite disadvantages.
Having studied the work of the exchange, we can conclude that this is not a scam. Namebase is not an ordinary crypto exchange, but a platform for working with domains.
Conclusion
Namebase - an exchange that offers service token trading, creation, purchase and sale of domain names. The site has a lot of materials that will help you quickly understand the specifics of the company and begin working with it. If you have used the service, write your opinion about it in the comments to this review.
No reviews yet, be the first!
The company in the ratings
Robots for cryptocurrency
Activity
New

0

Resolved

0

Not resolved

0
New companies on the site