Форекс-брокер предлагает большой выбор платформ и технических инструментов, несколько видов счетов, интересную программу бонусов и многое другое.
Read completely
Forex broker
Website
Social media
Date of foundation

2010

Head Office

Suite 305, Griffith Corporate Centre P.O. Box 1510, Beachmont, Kingstown, St. Vincent and the Grenadines

The owner of the company
Types of support

Feedback form on the site

Chat

Telegram

Twitter

Support by phone
Languages

Russian, English, French, Spanish, Italian, German, Portuguese, Korean, Turkish, Chinese, Vietnamese, Japanese, Filipino, etc.

Terminals

MetaTrader 4, MetaTrader 5, Авторская платформа

Min. first deposit
Broker fee

Depending on the type of account

Lot volume
Bonuses
Leverage
Spreads
Free Demo Account
Adjustable
Regulators
Licenses
Types of accounts

Demo, MICRO, PREMIUM, ZERO SPREAD, AUTO, PAMM, HFCOPY, Исламский

Transaction volume
Execution of orders

Market Execution (at market price)

Methods of replenishment

FasaPay, Neteller, Skrill, UnionPay, Webmoney, Банковский перевод, Банковская карта (Visa/MC), Криптовалюты

Withdrawal methods

FasaPay, Neteller, Skrill, UnionPay, Webmoney, Банковский перевод, Банковская карта (Visa/MC), Криптовалюты

Number of assets
Types of assets
Account currencies

EUR, USD, NGN

Mobile Trading
Weekend trading
Tournaments / contests

Демо-конкурс, VIP Partners Rewards, Traders Awards, праздничные конкурсы и т. д.

Trader training

Electronic courses, training videos, webinars

Contract Difference Commission
Swaps
PAMM trading
Analytics

Expert market analysis, economic calendar, Autochartist, Traders Board, exchange rates, paid trading signals

Margin Trading
Affiliate Program

Registration

60% от стоимости пунктов в зависимости от объема торговли

Benefits

Transparent trading conditions

Verified licenses of subsidiaries (branches)

Multiple platforms for PC and mobile

Broker compensates for deposit and withdrawal fees of payment systems

Good selection of training programs and analytics

Several options for demo accounts

The broker covers fees on deposits and withdrawals

Disadvantages

The site is translated into Russian in fragments, the sentences in Russian are mixed with phrases in English

Company policies and rules in English only

Pretty tough contract terms

Company requisites

Legal name:

HF Markets Group

Legal address:

Suite 305, Griffith Corporate Centre P.O. Box 1510, Beachmont, Kingstown, St. Vincent and the Grenadines

Markets

All the world except the U.S., Canada, Sudan, Syria, North Korea

Trust management

There's

Trading robots/automatic trading

There's

Asset management

There's

Managerial assistance

There's

Single account

There's

EIS

There's

Date of update

12.05.2022

Overall assessment
HF Markets is it a scam? Reviews and description
HotForex is a commodity and Forex-broker that has earned a variety of awards: for the best referral programme International Finance Awards 2019, for the most rapid growth according to International Business Magazine 2019 etc. Regulated by HF Markets Group and exists in the market since 2010.The company is engaged in charity and participates in international social projects.
And at first glance, the services provider seems to be reliable, but is it really so? HotForex is just a bubble scheme or a profitable platform for investments? We will try to find that out.
Trading conditions with HotForex
The platform hotforex.com offers 6 types of accounts for independent Forex trading:
MICRO with a minimum deposit of $5, floating credit leveraging up to 1:1000, floating spreads from 1 pips, 10% stop-out, 40% margin call and simultaneous opening of up to 150 orders. Trading is carried out using MT4 and MT5.
PREMIUM with a minimum deposit of $100, floating credit leveraging up to 1:1500, floating spreads from 1 pips, 10% stop-out, 40% margin call and simultaneous opening of up to 300 orders. Also on MT4 and MT5. Support is provided by bonuses.
ZERO SPREAD with a minimum deposit of $200, floating credit leveraging up to 1:1500, floating zero spreads, 20% stop-out, 50% margin call and simultaneous opening of up to 500 orders. Fees are included: 1 USD/2.5 EUR/1100-1450 NGN for every lot. This version is developed especially for scalpers.
AUTO – an automated trading account with a minimum deposit of $200, floating credit leveraging up to 1:500, floating spreads from 1 pips, depends on the account type, 20% stop-out, 50% margin call and simultaneous opening of up to 300 orders. Investors copy transactions based on trading signals using the software. No transactions fees are included.
PAMM (PREMIUM and PREMIUM PLUS) with a minimum deposit of $250, floating credit leveraging up to 1:300, floating spreads from 1.1 and 0.3 pips, depends on the account type, 20% stop-out, 50% margin call and simultaneous opening of up to 500 orders. There is no fee on PREMIUM, and $5 of every $100 000 on PREMIUM PLUS. It is investing into PAMM-accounts (managers accounts, which actions shall be copied with your assets proportionally considering the amount of your balance).
HFCOPY is another service of autocopying with a minimum deposit of $500-1000, floating credit leveraging up to 1:400, floating spreads from 1 pips, depends n the account type, 20% stop-out, 50% margin call and simultaneous opening of up to 300 orders. But in this case you can act both as a trader and as an investor. Supported by bonuses.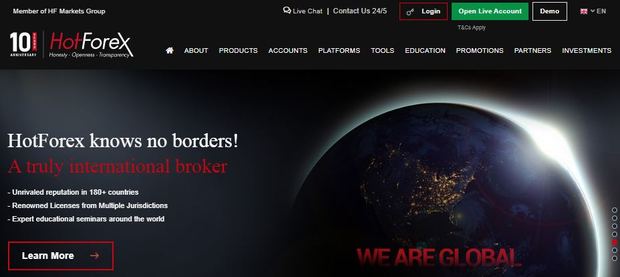 Trading for all cases shall be market type. Transactions in Euro, US dollars and Nigerian nairas are possible (it is evident that the broker is focused on the South American market). The minimum trading volume is 0.01 lot. Spreads, as the broker assures, start from 1 pips and in some cases even with zero surcharge.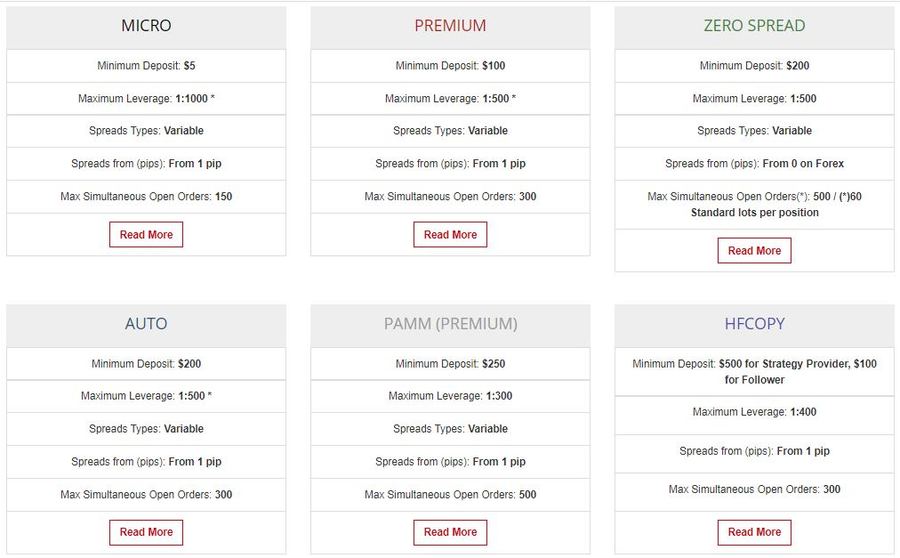 A huge and diversified set of materials is proposed for newbies: electronic training courses, video lessons, educational courses, webinars and etc. as well as training using free training account (Forex trading training). Experienced traders get access to analytics: conventional economic calendar, market news, trading calculators, Autochartist software (technical analysis) as well as fee-based trading signals and VPS-hosting for large projects.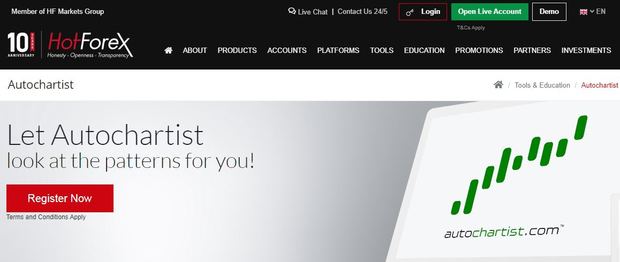 Support is provided by telephone, by e-mail (direct e-mailing or through the feedback form), by on-line chart on the web-site, Telegram/Facebook and social networking sites. Managers speak all the languages widely spread in Europe and Asia. To ensure investments security for clients, HotForex has launched the civil liability insurance programme to provide protection against errors, negligence, frauds and other risks for the coverage amount of up to Euro 5 million.

hotforex.com platform
HotForex offers you to work at MetaTrader 4 (MT4) and 5 (MT5) platforms and in-house developed terminals (HF). They all are available in the web-format as well as in the applications to be installed on your mobile devices. Moreover, both versions of MetalTrader can be installed on the PC to run when no internet connection (install) is available. The basic capabilities of the software are:
Analytics and reporting.
Orders placing (several timeframes, 3 types of schedules, indicators, oscillators).
PAMM and automatic trading.
On-line chart and notifications.
Transactions history.
Different types of assets.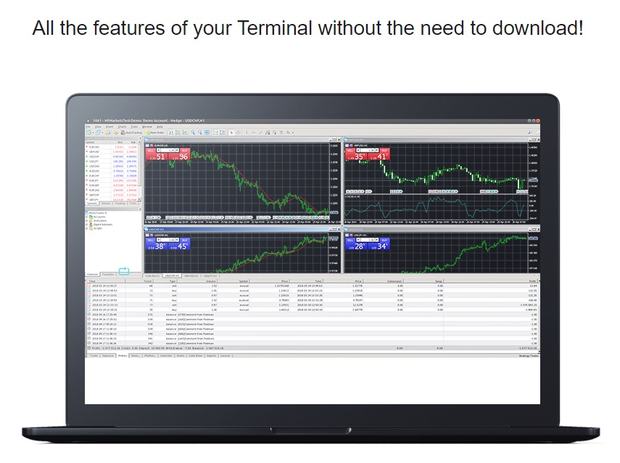 Users funds are stored at segregated (dedicated) accounts apart from company funds. Transactions are conducted using SSL-encryption to ensure protection against unauthorized access by third parties. Processing is performed by HF, HF Markets Fintech Services Ltd., a subsidiary of the holding.
HotForex broker quotations
About 50 assets – currency pairs – are available for Forex: CAD/CHF, CAD/LPY, GBP/USD etc. HotForex is not included into lists of popular brokers that is why it is not practicable to compare HotForex quotes with other financial quotes. However, reviews posted by users at reliable platforms show quite accurate values and minimum gapping. The company does not announce its liquidity providers; it only mentions that these are large issuing banks. But it is not possible to check this information. That is why the issue of HF quotes is still open.
HotForex demo account
A demo-account on hotforex.com, as anywhere else, can be opened only by a registered user. You can trade with funny money (assets with no monetary equivalent) using training terminals MetaTrader 4 and 5. No time limits are set, the functions set is given in full. The only exception is as follows: in case of inactive status, the account will be automatically deleted 29 days after the last action is taken.

We would like to draw your attention to the fact that the effectiveness of your actions using the training terminal will be more positive in comparison to real life transactions since the company wants you to contribute the money. The account you used for demo can be subsequently used to open a trading account.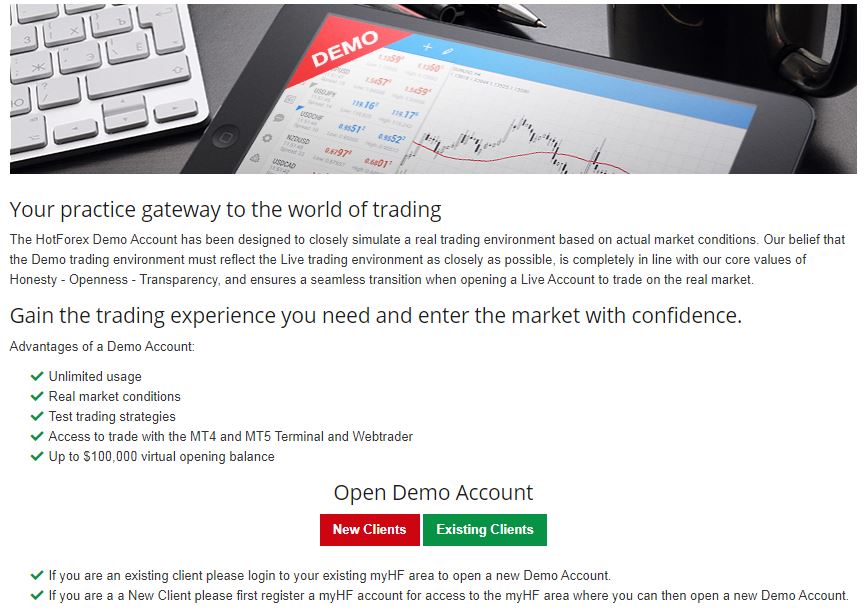 HotForex mobile application
The broker not only uses the mobile applications of its partners (MT) but has also developed its own application. It is available for free downloading from App Store and Google Play Market.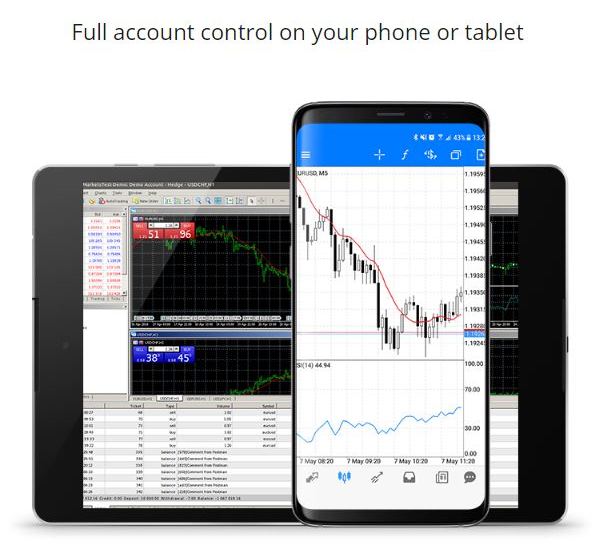 In general, the mobile is evaluated quite positively; however, users quite often come across problems with replenishment: payment failed, no funds are credited to the balance even in case of positive depositing notification and etc. The advantages of the software are:
fast opening, user-friendly interface;
adjustable parameters + navigation bar to search for desired options;
access to the clients database myHF;
free calculators and transfers between the accounts.
HotForex bonuses
HotForex offers an enormous number of bonuses. Firstly, it is the loyalty programme: all the company clients automatically become participants of this programme. The more active days they have (that is the number of trading days), the more ingots (equivalent of loyalty points) they earn. The number of ingots determines the level within the programme («Red», «Silver», «Gold» and «Platinum») and relevant benefits: additional accrual of ingots. The accumulated loyalties can be exchanged for money prizes or just assets at the rate of 35 ingots = 1 USD (to make an exchange you need to have at least 1000 ingots).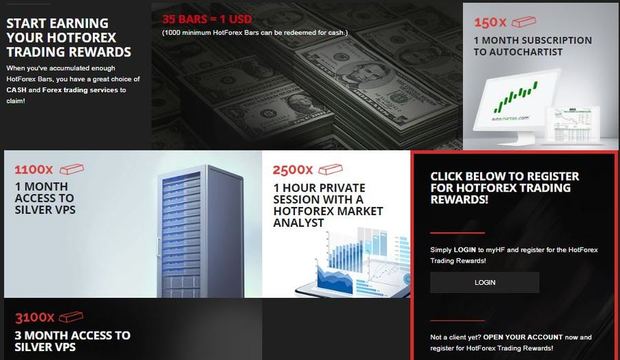 Secondly, it is 100% cashback (maximum $50 000/€30 000) that is allocated to the account when making replenishment for the amount of $250 and more. The only thing is that this cashback is given as a discount for every transaction ($2 for every lot) and not as a single-time allocation. You can daily get 5 dollars. You can use them only for trading: if you request for withdrawal you will immediately lose all your c.u. Conditions of this promo actions are changed every month, basically these changes are related to limits.

Thirdly, you have 5-10 bids every month: for beginners (the prize fund will go to those who have earned more virtual currency at their demo-accounts), for VIP-clients (participants of the loyalty programme) and just active traders. You can win not only remuneration in money but also some goods from HotForex partners.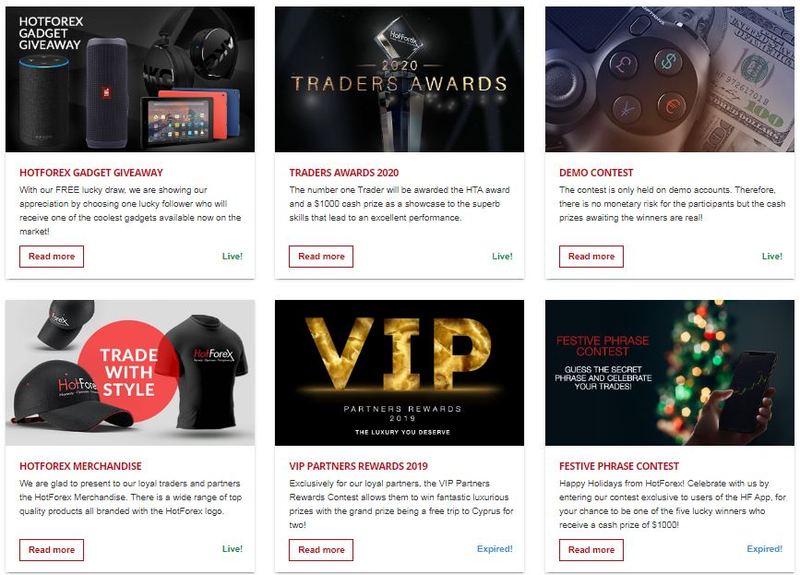 Several versions of partnership are available: referral programme (up to 25% of the referral transactions), White Label that implies brokerage (60% of transactions made by attracted clients), a regional representative office.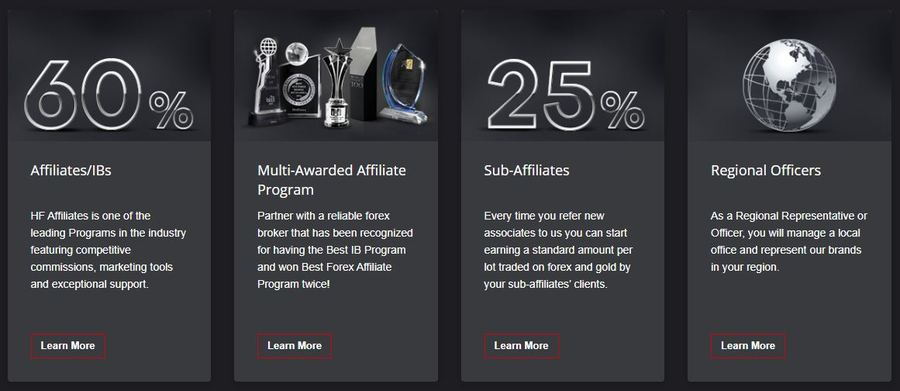 Deposit and withdrawal
To deposit an account on hotforex.com you can apply the following methods:
A bank transfer. Depositing will be done within 2-7 transaction days, the broker will compensate for the fees not exceeding 100 US dollars. The minimum amount of the deposit shall be equivalent.
Credit cards VISA, VISA Electron, Master Card, Maestro, UnionPay. Depositing will be done from 10 minutes to 24 hours, the fee is always reimbursed by broker The minimum amount deposited can be $5 (exception: UnionPay).
Payment systems and wallets FasaPay, Neteller, Skrill. WebMoney. Instant fee-free deposit from $5.
Cryptoexchanges. Deposit from $5 (exception: Crypto Payments with the lower limit of $100) – within 10 minutes, also fee-free.
To withdraw the funds the same methods are used, but the processing time is different:
Bank cards – from 2 to 10 business days.
Wallets and payment systems – instantly.
Cryptoexchanges – from 1 to 3 business days.
Moreover, your identity shall be verified as per the AML policies by submitting scans of the passport, payment documents (the details shall be the same that were used during depositing) that confirm the address of receipt notices (for example, notice of payment for the internet services or housing and public utility services).
Complaints against HotForex
You can find a lot of reviews of HotForex in the internet and if we focus on reliable platforms where comments are moderated (requests are sent to users to confirm the information), then the reviews are generally positive. The provider is recommended for no problems with the funds withdrawal, narrow spreads and good performance rate. However, not all the terms and conditions of the company seem attractive for the clients. For example, cancellation (zeroing) of transactions in case of spikes that is specified in the agreement is quite unpopular among reviewers. Besides, some comments say that the support`s attitude to the trader/investor is not quite encouraging.
Regulator of the broker hotforex.com
HF Markets Group acts based on the Saint-Vincent and the Grenadines permit under the number 22747 IBC 2015 (the document is posted on the web-site, the link is given), although, the legal address of the companies group coincides with the addresses of at least 3 other legal entities: Capital Group Limited (Noverk broker), STForex Ltd. (STForex broker) and Siriusfn Ltd. (Siriusfn broker). That means that it is fake. Moreover, the jurisdiction itself is not that popular among traders and market experts, since it provides no support to users. This is just a certificate that can be purchased for money. The regulatory authority gives no information or details about the companies, and does not control their financial operations and tax payments. Subsidiaries acting on behalf of HF Markets in different countries, as per the information taken from the web-site, are controlled by FCA of Great Britain (registration number 80101), UK, DFSA (F004885), FSCA (46632) and FSA of Seychelles (SD015). And it`s there where we managed to find all the licenses.
HotForex Terms and conditions
Terms and conditions of HotForex are written in the English language that is why some clients can have difficulties reading it. But it is really worth reading it since it identifies mutual rights and liabilities between you and the company. That is why we would like to list most critical provisions (as we see them) in our summary. For example, if we start with cl. 4.1, here you can see that the company shall not be obliged to conclude an agreement with you if the security office considers you may pose risks to the company. You will get no justification of the refusal.
At any moment during the agreement period you can be requested for identification information (cl. 4.4). In case you refuse to submit such information, the company may discontinue any cooperation with you.

The operator shall not be liable for any directives (requests) made through the internet if the identification data of the client were submitted (for example, the log-in and the password were entered). If any personal data becomes known to any parties, you will bear all the responsibilities (cl. 10.6).

Despite the fact that the funds withdrawal terms and conditions specify no fees, cl. 12.8 states that the client shall be obliged to repay any fees and other expenses incurred by the broker when transferring its funds from the trading account to the personal account.

You will also have to pay all taxes and levies incurred due to the execution of your contract and according to the effective legislation (cl. 13.4).

The accounts that you were not taking actions with (trading, replenishment, withdrawal) during 6 months shall be considered as inactive and shall be charged with monthly fee in the amount of $5 up to zeroing (cl. 13.8).

In case any account is inactive during 60 days it becomes archived: its funds shall be frozen and temporarily transferred to myHF (cl.cl. 15.1-15.4).
You can subsequently reactivate this account by sending a request to the support service, but the decision shall be taken at broker`s discretion (cl. 15.6).

In case you have a negative balance due to a stop-out, the company will make adjustment to replenish the losses (cl. 17.5).

Based on results of every transaction you will be sent documents. You shall verify these documents for errors within 3 business days since the moment of their receipt and claim any non-compliances, otherwise, all the documents are considered to be true (cl. 18.3).

If you come to the web-site upon the recommendation of a third party (representative), you agree for possible extra charges in spreads as commission payment (cl. 22.3).

Certain market conditions, as the provider mentions, may make it difficult or impossible to execute the order at the stipulated price. You will be responsible for any possible losses that may be incurred thereof unless due to the company`s negligence (cl. 24.2, b-d).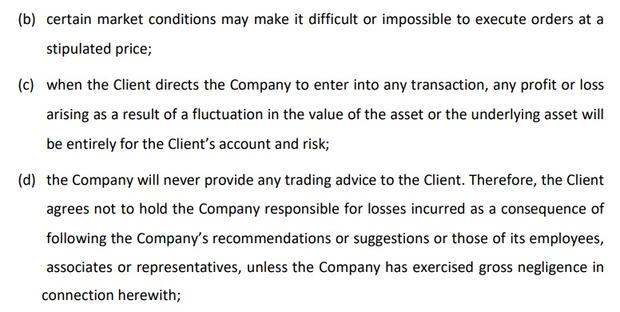 The company is entitled to terminate the agreement, close all the transactions and request for the reimbursement (if possible) in the following cases:
The client hasn't delivered payment as per terms and conditions.
Any obligations under the contract have not been fulfilled.
The fact of the account holder`s death or incapability has become known.
All these cases are listed in cl. 28.1 of the document.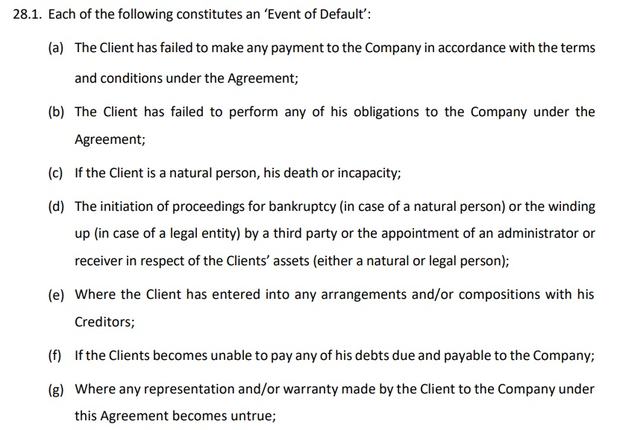 If you have too many chargebacks for the deposit, this can be a reason for HotForex to suspect you of a fraud. Your transactions will be temporarily frozen (the standard period is 4-6 hours, but in case of high risks, a longer period may be required), and in some cases you can be personally contacted to perform verification. Therefore, you will have to pay commission in the amount of 300 dollars: 150 dollars for the verification and 150 dollars more for the administrative processing (cl. 32.4, a-c).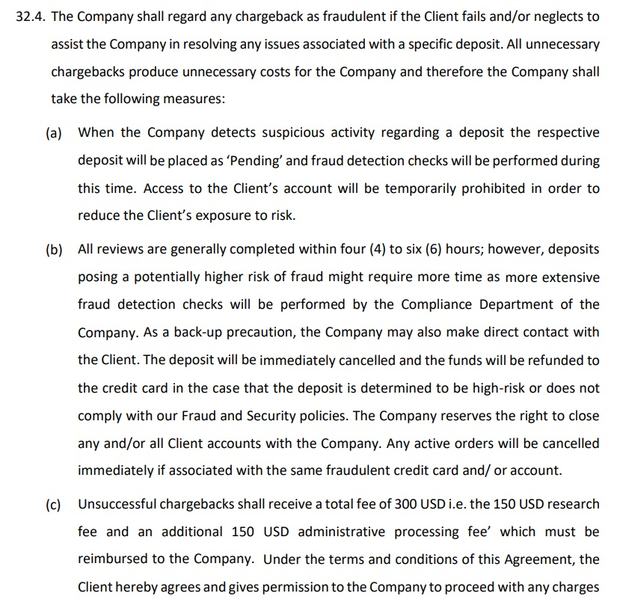 Among other issues, you have to pay to the broker all the unpaid business expenses and other compensation (for example, expenditures incurred by the company when closing transactions, settling non-executed transactions and etc.) in case of the contract closure. The complete list is given in cl. 36.6 of the agreement.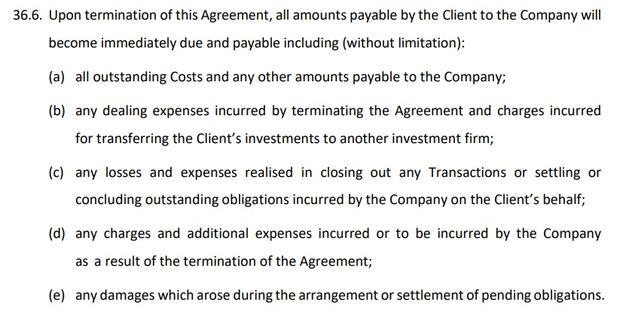 Is HotForex a scam?
HotForex looks rather inspiring: separate representative offices for every continent, each of them has license (and in almost all cases we found confirmation in registers, although we are not confident that they are missing for other cases), individual financial company for transactions processing, a great variety of platforms and technical tools, several types of demo-accounts, extensive and diversified programme of bonuses for standard users and partners. Yet there are some deficiencies. For example, all the documents are prepared in the English language and are not translated into other languages. And that means that users may have problems with understanding the terms and conditions (not only due to the language barrier but also due to some possible ambiguity of wordings). Moreover, in some reviews we found dissatisfaction of users with the support attitude to people: it is often formal. Of course, HotForex is not a bubble scheme although they still need to do something with their policy as related to clients, to our opinion.
Summary
HotForex really impressed us with the diversity of possibilities both for beginners and for professionals. Free and paid tools, video materials, terminals settings – all these conditions offer opportunities for trading using Forex and CFD. There are not so many assets offered here, but as it looks like, the company is not seeking to capture all and everyone: the services provider has ensured its new clients increase.
The language issue still leaves a great deal to be desired. Here we can see proposals in the native language of a trader together with phrases in the original language. Concerning the documents, we have mentioned above: they are not translated at all. And still if we do not treat the broker with all-or-nothing mentality, it is rather a reliable provider of services that can be trusted. We can recommend this company, although, as usual, we recommend to start with small amounts (micro-accounts).
Rating of reliable brokers