Automated service for buying and selling cryptocurrencies on popular cryptocurrency exchanges with a set of algorithmic and other options available to every trader.
Read completely
Cryptocurrency robot
Website
Social media
Date of foundation

2017

Head Office

Johan van Hasseltweg 18A, 1022 WV, Amsterdam

The owner of the company
Types of support

Live Chat

Feedback form on the site

Help Center

Facebook

Twitter

Telegram

Instagram

Languages

English

Bonuses
Exchange Commission
Age restrictions
Free Demo Account
Types of accounts

Demo, Pioneer, Explorer, Adventurer, Hero

Methods of replenishment

Credit cards, Debit cards, VISA, Mastercard, PayPal, Diners Club, American Express, Cryptocurrencies, iDeal, Sofort, Giropay, Przelewy24, Bank transfer, etc.

Withdrawal methods

Cryptocurrencies

Account currencies

Cryptocurrencies

Mobile applications
Trader training

Materials and books for learning how to trade

A way to store cryptocurrencies
Fiat accounts
Scalping
Exchangeability for fiat currencies
Number of connected exchanges
Margin Trading
Extended AML verification
Basic verification
Stop Loss and Take Profit Function
Affiliate Program
API
Benefits

A large number of crypto exchanges

Ability to receive a report on operations

The versatility of robots

Choosing a trading package

Automated cryptocurrency trading on any available exchange

Disadvantages

The possibility of changing prices and additional charges to the account for subscriptions

Trading signals

Accurate signals to enter the trade

Trading strategies

Different strategies as different robots

Algorithms of the robot

Short and Long

Company requisites

Legal name:

Cryptohopper B.V.

Legal address:

Johan van Hasseltweg 18A 1022 WV, Amsterdam, The Netherlands

Overall assessment
Date of update

05.09.2022
Address
Johan van Hasseltweg 18A, 1022 WV, Amsterdam
Map
Subscribe to this company
Cryptohopper is it a scam? Reviews and description
Cryptohopper
- is an automated bot, or rather, a set of bots for buying and selling cryptocurrencies. The service offers more than 50 tools for algotrading and claims to be an industry leader
cryptocurrency trading
. The user when working with the site applies different directions, strategies that are invented by programmers and analysts, new developments algorithms, including exchange and mirror trading, arbitrage, backtesting and more.
The company declares itself as a service that every cryptotrader needs, making efforts to keep customers happy. All transactions through the site can be easily viewed in the history, where each bot action is described in detail. The developers want to make trading and working with cryptocurrencies more accessible for exchange speculators, so they actively cooperate with different consultants in this sphere. Let's find out: is cryptohopper.com really reliable? cryptocurrency trading robotOr is it safer not to cooperate with this service? Or maybe this site and its owners are crooks at all? Read the article to the end and you'll find out.
Cryptohopper registration
Registration on the platform is free and does not take much time. Click the "Get started" button and fill out the special fields in the registration form:
Your full name.
Username.
Email address.
Password.
Please note that for successful authorization on the site cryptohopper.com you need to agree to the privacy policy. Here you can also subscribe to the service's newsletter. After filling in all the fields, the site will send an email form to confirm registration. Next, you will need to log in again, and you can start to explore your personal account.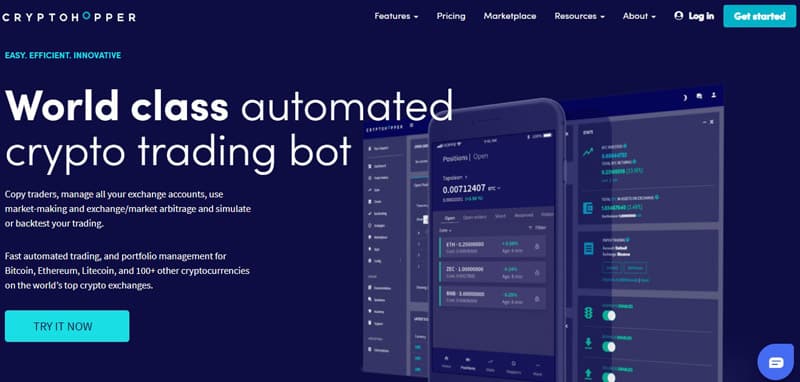 After registering an account, the site will offer to set up your first trading bot on special prompts:
To begin with, choose an exchange for work from the list of proposed and register there, if necessary.
The next step is to enter the API secret and API key data. They are found on the selected exchange.
If all fields are filled correctly, the robot will automatically connect to the exchange and you can start working with Cryptohopper.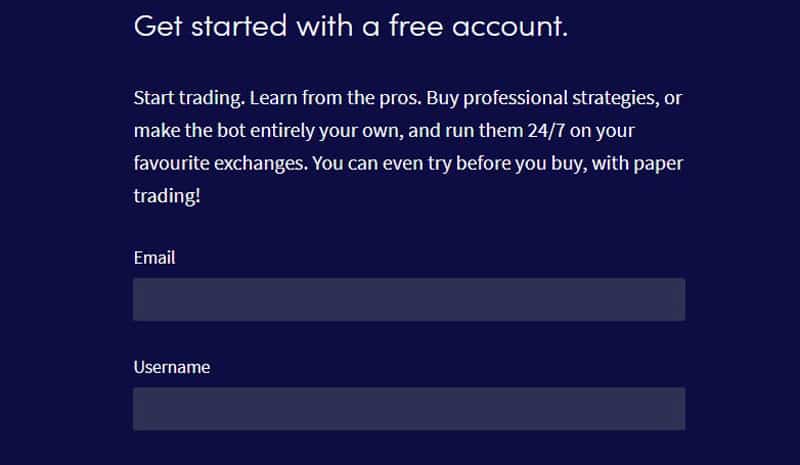 Trading platform cryptohopper.com
The interface is very simple, and a trader of any level above zero can easily understand it. The site works only in English. The developers of the service assure that the client will find here everything for positive and profitable cryptocurrency trading, which will eventually bring him profit. The company operates with the help of more than 10 cryptocurrenciesThe trader chooses the appropriate one when registering a cryptocurrency wallet:
OKex;
Bitmax;
Kucoin;
CuCoin;
With Cryptohopper you can trade on all these exchanges. You can sell or buy cryptocurrencies in automated and manual modes, control every transaction and get a detailed report on it. You can manually adjust the degree of automation of the bot, follow templates or create your own trading strategy. Service for traders has many areas of work with cryptocurrency (How to make money on cryptocurrency?).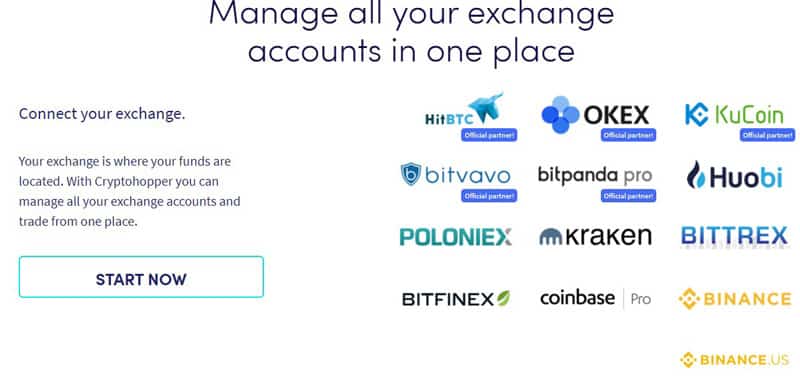 Algotrading
Autotrading performs cryptocurrency transactions 24 hours a day, 365 days a year. A human being, as a living being, cannot physically trade that much - that is the main advantage of the bot. Cryptohopper uses mathematical analysis to make trading decisions. The robot trades all available coins simultaneously, tracking their exact prices and selling as soon as they reach their target profit. A human cannot apply real-time technical analysis to more than one open position, while the bot can do it easily. It is also possible to connect additional functions:
The service offers trend trading with a sliding stop loss function.
The bot conducts automatic analysis at intervals of up to 2 minutes.
You can accumulate your funds with the help of a special piggy bank, located on the site.
Scan up to 75 coins at a time and sell them when they reach a profit of just 0.8%.
Your bot can only trade coins that have had a positive change in 24 hours. This way you can increase your chances of a profitable investment with the least risk.
The robot will instantly react to the rise and fall of BTC, to notify about it and make all the necessary transactions related to the main cryptocurrency.
A function is available to quickly sell declining coins and buy them back at the lowest quote.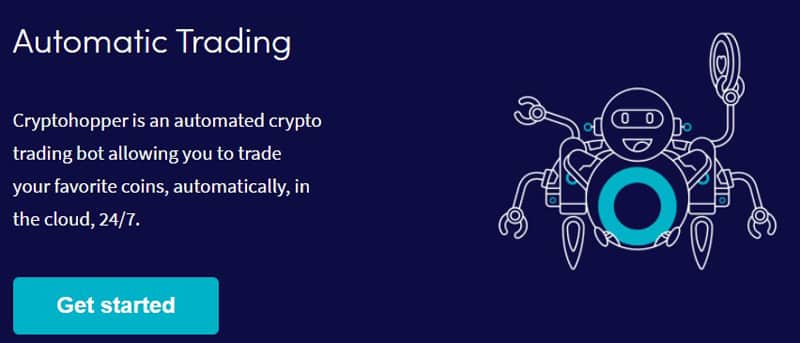 Robot signals
On the site cryptohopper.com there is a "Signals" section, which contains a whole catalog with a large selection of signals from different traders. These signals can be both paid and free. Cryptohopper constantly updates information about the signals that brought the most interest from the sale of cryptocurrency for the day. For better analysis, there is a ranking where the top 10 weekly signals are listed. You can choose for yourself suitable by type of exchange, different sorting conditions, its cost. For additional income you can sell your own signal to enter the market on the site. There is a separate button "Become a Seller" for this purpose.
Demo account Cryptohopper
On the site cryptohopper.com there is no demo account. All products are divided into packages and each of them has its own value. The service offers a free "Pioneer" package, which includes 20 positions, the ability to manage a securities portfolio, manual trading options with the site tools and, importantly - trading with this package is available on all exchanges connected to the site. Please note that you can test a free 7-day version of the package "Explorer", which gives the right to use the automatic bot to sell and buy cryptocurrencies.

Mobile application
The developers of Cryptohopper have created a separate mobile application. It has all the same features as on the website. You can download it from the App Store if you use the iOS operating system or from Play Market if you prefer Android. It is free of charge. Many traders are immediately attracted by the design, which is similar to that of the website. This program has the same set of options and settings and even more, all the sections are adjusted for the convenience of the client, so you shouldn't have any problems with the application.

Bonuses from Cryptohopper cryptocurrency trading robot
There is no information on the site about bonuses and promotions available at the moment. But pay attention that you can not only sell and buy cryptocurrency based on the service, but also become a part of its team or even a full-fledged partner. You can check out the vacancies and offers that are currently available at Сgurtochorrer in the "Careers" section. In addition, we advise to pay attention to the bonuses of the exchanges themselves. They often offer additional incentive programs for their customers. If you are a beginner and have not yet decided on the choice of exchanges for trading, it may be useful to study and compare them just on this basis.
Affiliate Program
As part of the affiliate program, each trader can receive up to 15% from each payment of a referral.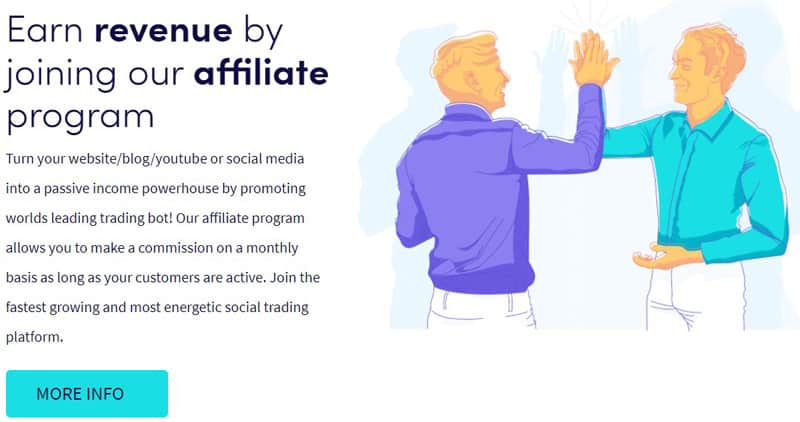 Deposit and withdrawal
When you register on cryptohopper.com, a BTC-currency wallet is immediately created for you. You can top up your balance using a variety of e-wallets that specialize in cryptocurrencies. You can see their complete list on the service itself in the "Pricing" section. The payment system of the site accepts not only BTC, but also other cryptocurrencies, which are automatically translated into bitcoin at the optimal rate. Withdrawal of funds is also possible through a personal account to different cryptocurrencies. When you try to withdraw, cryptohopper.com will automatically suggest different options and you will be able to choose the right one for you.
Complaints about Cryptohopper
There is a separate column on the site, where each client can read reviews from others or write his own. Of course, the reviews about cryptohopper on the official website are positive, but what is surprising is that no negative comments about the company were found on the Internet. The developers of the products are not just doing their job, but also strive to create the most comfortable and effective algotrading tool for their clients.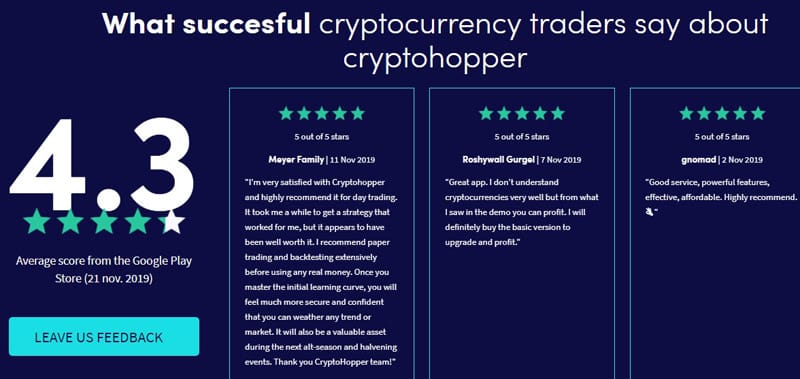 If there are any reviews about Cryptohopper cryptobot, we will definitely publish the information on social networks. Sign up so you won't miss anything!
Please keep yourself informed about news and complaints. We copy the most valuable information to social networks, so please sign up!
Robot controller
Often it is interesting and important for users to know what company they are cooperating with, who owns it and where it is physically located. The cryptohopper.com site and therefore all its intellectual property belongs to Cryptohopper BV Corporation and its head office is located in the Netherlands, on Johan van Hasseltweg 18A in Amsterdam. The service writes openly about its VAT and other information, which can be useful for finding financial history.
Cryptohopper.com User Agreement
Cryptohopper also differs from many other cryptocurrency trading bots in that it publishes a user agreement on its website that clearly delimits the rights and obligations of both parties. You can see it in "Terms and conditions" section. For example, it will be useful for the user to know that the price of all products on the site does not include taxes and expenses, and prices may change and the buyer will be charged a different amount when subscribing.

"Privacy policy" is another section which announces the rules of the site and indicates what actions can be done with your personal data. Please note that before you start working with the service, you should study this page on cryptohopper.com. This is necessary because by being on the site you automatically agree to it, unlike agreeing to the rules of the "User Agreement" which you will be asked to sign up for.
Cryptohopper cryptocurrency trading robot is a scam?
Cryptohopper - is not another cryptocurrency trading robot, but a set of algorithmic options available to every trader. The functionality of the service includes manual and automatic trading modes, additional add-on options and other useful features. The company conducts an honest and open business, announcing the rules and regulations of using their website, the relationship between buyer and seller, the rights of intellectual property. Has a support service that is available 24 hours a day, physical address and a lot of offers for cooperation with Cryptohopper.
The site contains materials and books for learning how to trade from the very basics. There are several algorithmic trading packages available for purchase, ranging from $19 to $99 with different feature sets. We declare on the basis of the information received today that Cryptohopper is not a scam. On the contrary, the company is an honest service for algotrading, which is suitable for both experienced users and beginners. The site has all the details of the company, legal information and even data on VAT.
Conclusion
From the Service. Cryptohopper it is possible to make money speculating on cryptocurrencies. The company is constantly evolving, upgrading strategies and programs, bots, finding new trends in trading and putting them into practice in real time. There are dozens of positive reviews written about it from grateful crypto traders.
Rating of reliable brokers
New companies
AverBot

Robots for cryptocurrency trading

Pump Bot

Robots for cryptocurrency trading