Automated system for cryptocurrency trading, which is suitable for all private traders (from beginners to professionals).
Cryptocurrency robot
Website
Date of foundation

2017

Types of support
Languages

Russian, English, French, Spanish, German, Chinese, Thai, Arabic

Minimum input limit
Age restrictions
Free Demo Account
Types of accounts

Demo, Bronze, Silver, Gold

Methods of replenishment

Bank card, Crypto Wallet, Electronic Wallets

Withdrawal methods

Bank card, Crypto Wallet, Electronic Wallets

Account currencies

USD

Mobile applications
Trader training
A way to store cryptocurrencies
Fiat accounts
Scalping
Exchangeability for fiat currencies
Margin Trading
Extended AML verification
Basic verification
Stop Loss and Take Profit Function
Affiliate Program
API
Benefits

Large selection of cryptocurrencies for trading

Automated trading strategies

Ability to customize your robot

Disadvantages
Trading signals

Accurate signals to enter the trade

Trading strategies

Support for any trader's trading strategies

Overall assessment
Date of update

20.04.2022
CentoBot is it a scam? Reviews and description
CentoBot
- is an automated system for
cryptocurrency trading
. The company was founded in 2017 to simplify the process of trading cryptocurrency, and now it is a very popular activity among private traders. Using this robot, it is possible to choose trading tools and indicators to work on the platform. In addition, traders can create their own bots or take ready strategies from experienced exchange players. Centobot.com offers not only trading
cryptocurrencies
. Brokers, with which the company cooperates, offer clients the opportunity to trade binary options and assets in the forex market.
But let's study the system in more detail! Is this company really aimed at long-term and mutually beneficial cooperation with its clients? Or is Centobot a scammer who is only interested in users' money? Let's answer these questions in our review.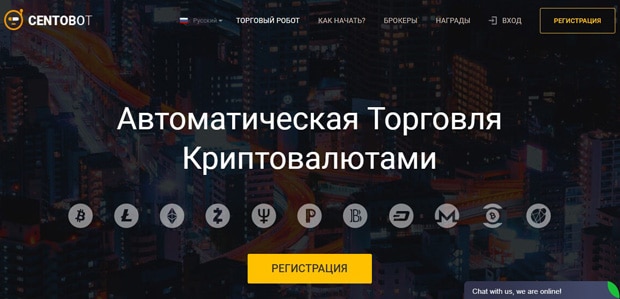 CentoBot Registration
The registration process is quite simple and takes literally a couple of minutes. In addition, it is completely free and you do not have to enter a lot of information about yourself.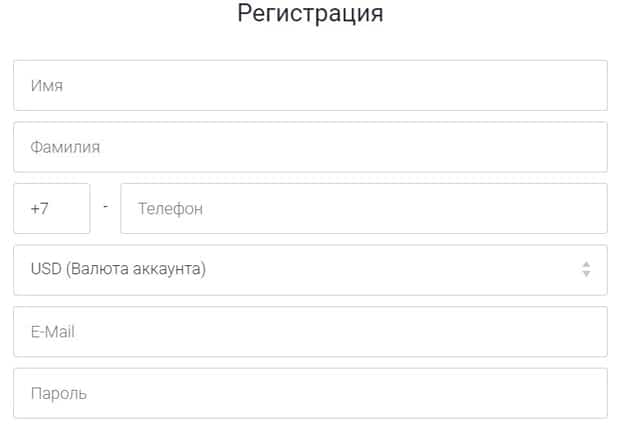 To open an account with CentoBot, you only need to follow 3 simple steps:
Click the "Register" button and a special form will open for you to fill in your details. Enter your name, last name, cell phone number, trading account currency ($, €, Bitcoin or Litecoin), e-mail and password here. Then choose the suitable broker from the list. Check the box to agree to the disclaimer and confirm that you are not located in the United States.
You will receive an email with a special link, by clicking on which you will confirm your account. And once in your account, proceed to depositing. The minimum amount to deposit funds to your trading account is $250. But before you do that, be sure to test the bots on a demo account.
And now you can move on to auto-trading. Choose the necessary trading settings, manage your risks by defining stop-loss and take-profit levels. Decide which cryptocurrencies to trade and start earning with CentoBot!
As you can see, there should be no problems with registration! The developers of centobot.com have made the process of opening an account as simple and convenient as possible.

CentoBot trading platform
Platform centobot.com has a simple and user-friendly interface. This cryptocurrency trading software can be considered new because it was developed just a couple of years ago. The site is available in 8 languages: Russian, German, English, French, Chinese, Spanish, Thai and Arabic. The CentoBot system was created specifically to automate cryptocurrency trading and has interesting features that set it apart from other similar robots (How to make money on cryptocurrency?).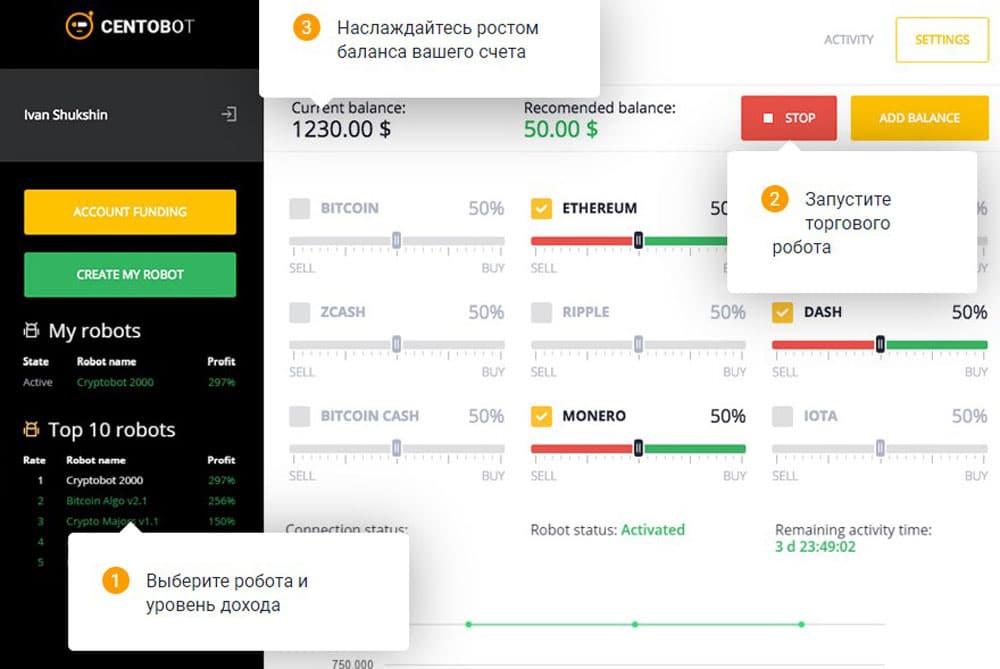 The base of the centobot.com platform contains many interesting software solutions for different trading styles. There are such TOP robots in the system:
Cryptobot v2.0 - profitability bot 300% per month, and all because it is designed specifically to trade the most expensive and popular cryptocurrencies. Market analysis is based on technical indicators MAC and RSI;
Crypto Majors - works with the top cryptocurrencies Bitcoin, Ethereum and Ripple. Analysis is based on MACD and CCI;
Altcoins Combo - this cryptobot supports simultaneous trading in several altcoins, which allows you to diversify risks;
Cryptobot v2.1 - returns up to 250%, uses a set of different trading indicators;
Ethereum Rise v1.1 - work is done on CCU and Stochastic indicators, the emphasis is on Ethereum.
In addition, traders can create their own robots. To do this, they need to select and run those cryptocurrencies and technical indicators that they want to use in auto-trading (cryptocurrency trading training). In general, the system offers six basic indicators: MACD, CCI, RSI, Stoch, Trend and Williams. The crypto market uses various technical strategies with their application. So there are potential entries for put and call options. CentoBot cooperates with 3 brokers - BinaryCent, VideForex and RaceOption. The terms and conditions of them are identical:
Min deposit - $250;
min amount of investment - 10 cents;
max income - 90 %.
Traders can open one of 3 account types:
Bronze. Suitable for beginners + there is a live video chat, withdrawal within 1 hour.
Silver. Suitable for those who know a little about how to work in the Crypto market +3 risk-free deals, offers for webmasters and 50% bonus.
Gold. Ideal option for experienced investors who are willing to invest decent amounts in software + Swiss prepaid card, 100% bonus and personal manager.
The peculiarity of the Centobot system is that each trading bot performs specific functions. The robot automatically opens new positions when the market fluctuates, as a result, speculators benefit from diversification. Advantages of CentoBot:
rich selection of cryptocurrencies for trading - Bitcoin, Ethereum, Litecoin, Bitcoin Cash, Zcash, Monero, etc;
easy-to-use interface;
automated trading strategies;
diversification opportunities;
a wide range of deposit and withdrawal methods;
availability of a demo account;
the ability to customize your robot.
Centobot has 3 awards, which proves the reliability of this company. The robot uses trading strategies and follows the trend, which leads to increased efficiency of cryptocurrency trading. The human factor is eliminated here.
Signals centobot.com
Trading signals CentoBot are submitted after the market situation is predicted. They are considered to be as accurate as possible for entering a trade. We noticed that this robot is very similar to BinBot Pro in interface and functions. It is possible that the same developers worked on the creation of these software. In both cases, the trading signals are a standard system for copying other people's trades.
That is, trades performed by experienced speculators are automatically summarized and formed into packages. Then they are delivered to the trading terminals, where the exchange players who use the robot we are studying work. However, the centobot.com There is one peculiarity: a buy/sell signal is given by an indicator based on MACD, CCI, RSI, Stoch, Trend or Williams. This platform is designed specifically for cryptocurrency trading, which also distinguishes it from the BinBot Pro robot because it is designed for binary options trading.
CentoBot demo account
The Centobot trading robot offers private traders a demo account. With its help beginners can understand how bots work in general. But, unfortunately, you can only run the bot for one minute. Clients of centobot.com can also run a demo bot from the top 10 trading robots. To do this, select a specific robot and click on the "Robot Demo" button. The initial virtual amount is $1000.
After completing a demo trade, the user sees his final balance in the "Currency Balance" section. We tried CentoBot demo account, and, as it is not surprising, the tests always ended with profit. But nevertheless, you have to understand that the situation in demo environment is completely different from real trading on the crypto market. If everything goes well on a demo account, it doesn't mean that everything will be as great on a real account.
Mobile application
CentoBot is a web interface, so there is no need to download a mobile app. That is, this trading robot offers only a web platform with cryptocurrencies and does not provide clients with a mobile application. Traders can only trade from a PC or laptop. However, brokers that centobot.com cooperates with offer mobile trading to clients. The app can be downloaded to a tablet or smartphone directly from the broker's website. It is available on Google Play and the App Store.
Bonuses from CentoBot cryptocurrency trading robot
On the site centobot.com We did not find any information about bonuses or promotions. The company does not offer bonus programs and other "pluses" for traders. It is engaged only in one direction of activity: it specializes in automatic trading in cryptocurrencies. It is recommended to look for information about bonuses directly on the websites of CentoBot's broker-partners.
Deposit and withdrawal
According to the requirements of the robot centobot.com, the minimum deposit is $250. It is possible to replenish the trading account by the following methods:
using Bitcoin, Litecoin, or another cryptocurrency wallet available from CentoBot;
through a bank card Visa or MasterCard;
via payment systemsFor example, Neteller or QIWI Wallet.
If you make transfers using a bank card, please note that you will have to pay a fee of 5%. Transfers through the payment systems are made instantly. But on weekends and holidays there may be delays in transfers. Before withdrawing funds from the deposit, you must confirm your identity and registration address. For withdrawal of funds may be charged a fee, it depends on the type of account. To withdraw funds, you should use the method you chose when depositing.
Complaints about CentoBot
Although Centobot is a new automated system for cryptocurrency trading, but there are already a lot of reviews about it online. We have studied comments on many information portals and came to the conclusion that reviews of the company are mostly positive. Traders like the simple and easy-to-use platform, they note a wide range of cryptocurrencies and deposit/withdrawal methods.
However, it is not without complaints. Some Centobot users write that they lost their entire deposit "thanks to this robot". Others believe that the minimum deposit amount is too high and they are afraid to invest in a "suspicious project". But as far as we know the robot offers a demo account and it is not necessary to deposit $250 into a real trading account from day one.
And as practice shows, sharply negative reviews are written by unsuccessful traders, usually beginners. Before drawing conclusions about a trading robot or a broker, you should at least understand the rules of trading on the financial market. If you don't understand the basics of trading, you can lose your deposit in just a couple of minutes. And our competitors are sparing no expense to order reviews. At their behest, they often write extremely negative reviews of financial companies on various resources. But this is understandable - everyone wants to earn as much as possible!
If there are any reviews about the cryptocurrency trading robot CentoBot, we will definitely publish the information in social networks. Sign up so you don't miss anything!
Please keep yourself informed about news and complaints. We copy the most valuable information to social networks, so please sign up!
Robot controller
The regulatory issue is very important for financial companies. However, on centobot.com we found no information about the regulation of the robot. No legal documentation or license is provided on the company's website. We believe that this is due to the fact that CentoBot does not advise clients on investment matters. Therefore, we recommend to study the information about the regulation not from centobot.com, but from the websites of the partner brokers.
Having studied the resources of BinaryCent, RaceOption and VideForex, we were convinced that these financial structures are regulated by time-tested organizations. The European BinaryCent is managed by Cent Projects Ltd., the British RaceOption - Race Projects Ltd. and the American VideForex - Algobit Ltd. All these brokerage companies have real offices and give their clients full contact information - phone numbers and e-mail addresses.
Centobot.com User Agreement
There is no "agreement" on centobot.com. But there is a warning that information about centobot.com should not be taken as a recommendation for cryptocurrency trading. This automated system is not licensed and is not set up to advise customers on financial or legal matters.
CentoBot disclaims responsibility for the trading decisions of private traders. Any trading decisions are made by the user himself, and any loss is purely his responsibility. If you do not have enough knowledge for successful cryptocurrency trading, first educate yourself about it, instead of immediately funding your deposit for $250. Otherwise, you might as well blow it right away! You must understand that the past rates of return are not a guarantee for future profitability. Trading cryptocurrencies always entails significant risks. Everyone can lose even all their money on a financial platform. And keep in mind that Centobot, its partners and agents are not registered in the USA and do not provide any services there.
Is the CentoBot cryptocurrency trading robot a scam?
CentoBot - is a new trading robot that appeared on the market in 2017. The company offers good software for cryptocurrency trading, it is legal and attractive for private traders. And the best part is that you can create your own bot using technical indicators on the centobot.com platform. Centobot offers customers a rich functionality and 3 brokers to choose from. However, we found on the site not only pluses, but also one significant disadvantage. The fact is that the company has existed since 2017, but the portal presents the award "Best Binary Robot 2016". First of all, why did the award appear a year earlier than the company itself? Secondly, what does this have to do with binary trading, if the robot is created for trading cryptocurrencies?
We think that CentoBot was created by the developers of BinBot Pro and many other robots. Then perhaps this award belongs to a single corporation and not specifically to centobot.com. If that's the case, we'd like to see a notation to that effect on the portal of the robot in question. Otherwise it will still seem very suspicious to the users. In general, CentoBot cannot be called a scam. The company's services are used by experienced traders and many of them are happy with the results. But the regulation and rewards have to be sorted out! So we just have to wait for feedback from the creators of the resource and wait for positive changes on the site.
Conclusion
CentoBot - is a trading robot with software perfectly suited for all types of investors (from beginners to professionals). The centobot.com platform even has a full customization option, which is already loved by many speculators. All in all, Centobot can be called a legal and good platform for cryptocurrency trading.
Rating of reliable brokers