Online service for working on cryptocurrency platforms using bots. Possibility to connect via API. Individual technical support, affiliate program and convenient tariff plans.
Read completely
Cryptocurrency robot
Official website
Social media
Date of foundation

2017

Head Office

Harju maakond, Tallinn, Lasnamäe linnaosa, Majaka tn 26, 11412

The owner of the company
Types of support
Languages

English, Russian, Spanish

Minimum input limit

15

USD

Minimum deposit depends on the selected tariff

Exchange Commission

From 0.05% per transaction, the amount depends on the particular exchange

Age restrictions
Free Demo Account
Types of accounts

Trial, Beginner, PRO, Business

Methods of replenishment

Bank card (Visa/MC/MIR), UMoneu, Cryptocurrencies

Withdrawal methods

Cryptocurrencies

Account currencies

Cryptocurrencies, USD, EUR

Mobile applications
Trader training

Video instructions on how to use the service

A way to store cryptocurrencies
Fiat accounts
Scalping
Exchangeability for fiat currencies
Number of connected exchanges
Margin Trading

It is possible to configure margin bots

Extended AML verification
Basic verification
Stop Loss and Take Profit Function
Affiliate Program

Registration

Up to 20% from referral commission and 10% from paid rate

API
Benefits

Convenient platform and quick start, no need to install additional software

Works with the most popular crypto exchanges

Profitable affiliate program

Ability to use more than 200 bots to trade on exchanges

Convenient rates and demo access for 14 days

Quick account registration procedure

Transfer between accounts using exchange codes

Own token for commission payment

Disadvantages

Relatively high threshold for the deposit

Withdrawal of funds during certain hours

Little information in the help center

Trading strategies

Long, Short, Exit Strategy

Trading signals

Technical Signals, Moving Averages, Oscillators

Algorithms of the robot

Short and Long

Company requisites

Legal address:

Harju maakond, Tallinn, Lasnamäe linnaosa, Majaka tn 26, 11412

Overall assessment
Date of update

27.11.2022
The address is
Harju maakond, Tallinn, Lasnamäe linnaosa, Majaka tn 26, 11412
Map
Subscribe to this company
Is Cryptorg a scam? Reviews and description
Cryptorg
- is an online service for automated trading on
cryptocurrency exchanges
The platform helps you create and set up trading bots to work with the markets. The platform helps you create and configure trading bots to work on markets with
KuCoin
,
Binance
,
Okex
,
Bittrex
,
BitFinex
and other similar electronic trading platforms. Built-in strategies for automatic trading are used and robots can independently make decisions on the start of trading, based on the accepted data of technical analysis (calculating the indicators of optimal entry-exit times for trading). The number of bots used is limited only by the selected tariff.
Four offers with services are launched for clients, newcomers can try to register and start working for free during the first 14 days. Among the advantages: 24-hour technical support, group chat, convenient subscriptions, there is an opportunity to earn income from mining, affiliate program, up to 500 bots on exchanges, two-factor authentication when accessing the account, API. The portal works in three languages: Russian, English and Spanish. The company's documents have not been translated into Russian yet. To find out if cryptorg.net is a scam, let's get acquainted with the work of cryptocurrency trading robot closer.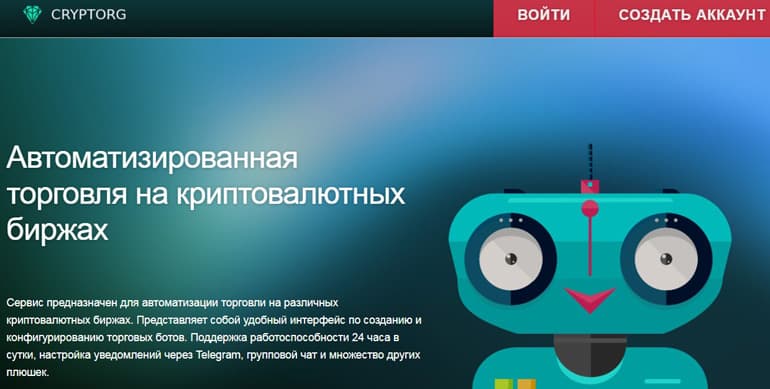 Cryptorg registration
To open an account on the platform, fill out a short questionnaire on the website cryptorg.netAdd your email address and confirm it with the link that came to your email. After that you will be able to start exploring your personal account and control panel. If you have a referral link or promo code You can add them to the appropriate fields when registering.

Trading platform cryptorg.net
Four pricing plans are available on the platform. There is no need to install any additional software to get started, just register and get access to the control panel from your laptop, smartphone or tablet. As another source of income, the company suggests using CTG-tokens trading on the platform, when every trader with more than 100,000 CTGs in his or her account will receive a portion of the profit from mining.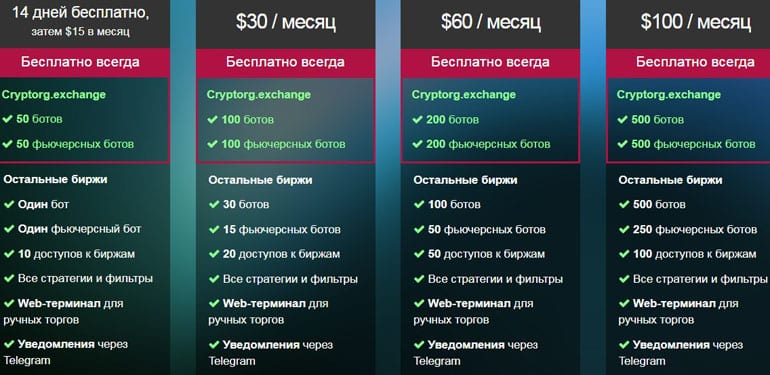 Trial Rate
After registering on the website cryptorg.net you can try your hand at the exchange. The first 14 days access to all services of the tariff plan for free, after that - $15 per month. Only 1 exchange, where you can trade one currency pair, is connected. Among other services: 10 exchange accesses, group technical support and a terminal for manual trading. If you choose Cryptorg.exchange you will be given 50 bots. According to reviews, this plan is great for those who haven't yet chosen whether they will work on Cryptorg.
Initial
Fully paid: $30 per month. On all exchanges client can set up to 30 bots simultaneously. Gives 20 accesses to the exchange, 24-hour support, web terminal for manual trading and other services. When working with Cryptorg.exchange: 100 regular and 100 futures bots.
PRO
$60 per month, Cryptorg.exchange: 200 bots, access is always free. Access to 50 exchanges, using all possible strategies and filters, terminal for manual trades, 100 bots for work on other exchanges.
Business
Professional rate for cryptocurrency trading. Price: $100 per month. As on other plans, free access to Cryptorg.exchange, 500 futures and 500 regular bots, 100 accesses to exchanges, all possible Cryptorg strategies and individual technical support at any stage of trading.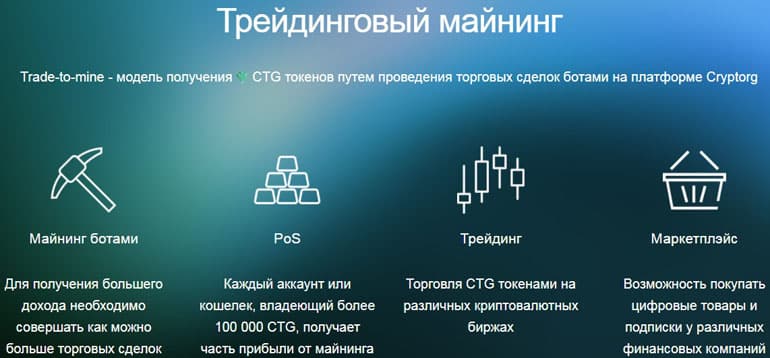 Demo account cryptorg.net
Free access is given for 14 days only on the trial tariff.
Mobile application
The company has not yet launched a mobile application, but the platform has an adaptive design, so it is possible to work with the desktop version and a tablet or smartphone.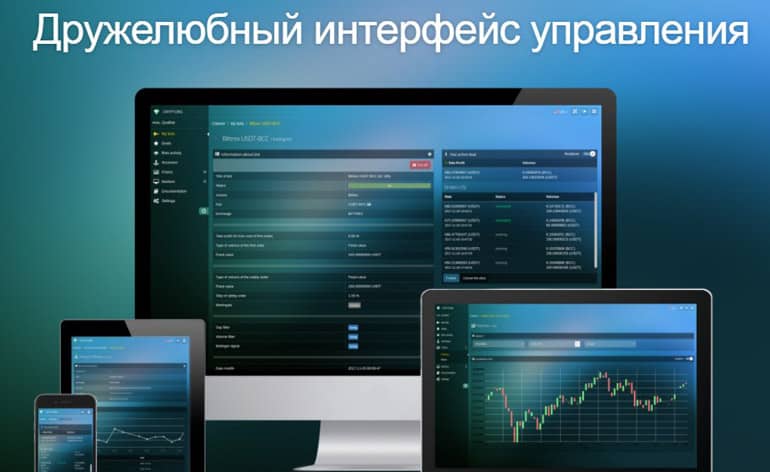 Bonuses from Kriptorg
At the site are promotions and contests, operates its own affiliate program.
Contests
Cryptorg holds contests for bidders. For each completed cycle you can get bonus points, the more bots traded on the site and the more trades completed, the higher the probability of winning. As rewards contestants get: TTM Bank cryptocurrency plastic card (100 euro) for the first place and hardware wallet with unique design for cryptocurrencies storage (100 euro) for the second and third places.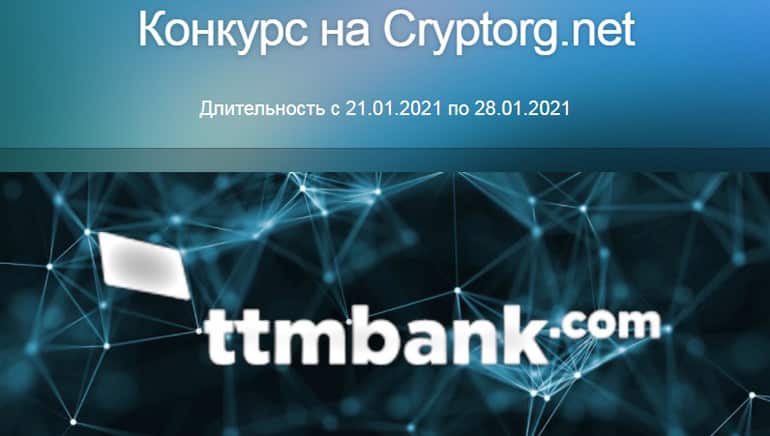 Affiliate Program
There is an affiliate program on the platform. To participate you need to register, get a referral link in your personal cabinet and place it on your site. Possible income: from 10% from each activation and up to 20% exchange commission.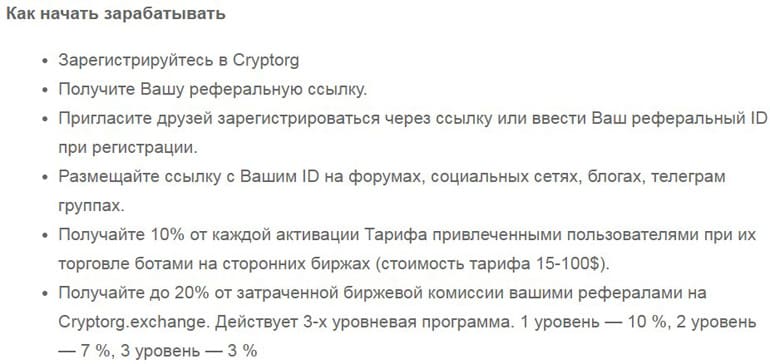 Deposit and withdrawal
You can transfer money to the account in your personal cabinet from a bank card of any of the payment systems, except national, from cryptocurrency wallets or through YuMoney. Withdrawal of earnings is also carried out through a personal account.
Cryptorg Complaints
The service is not in its first year and we were able to find a lot of feedback on its work, most of them positive. In almost all comments, customers write about the fact that the company has a convenient platform, comfortable rates, easy-to-use control panel, and the mechanisms of participation in trading simple and effective. In rare negative reviews there are comments that the minimum deposit about $300, which is quite expensive.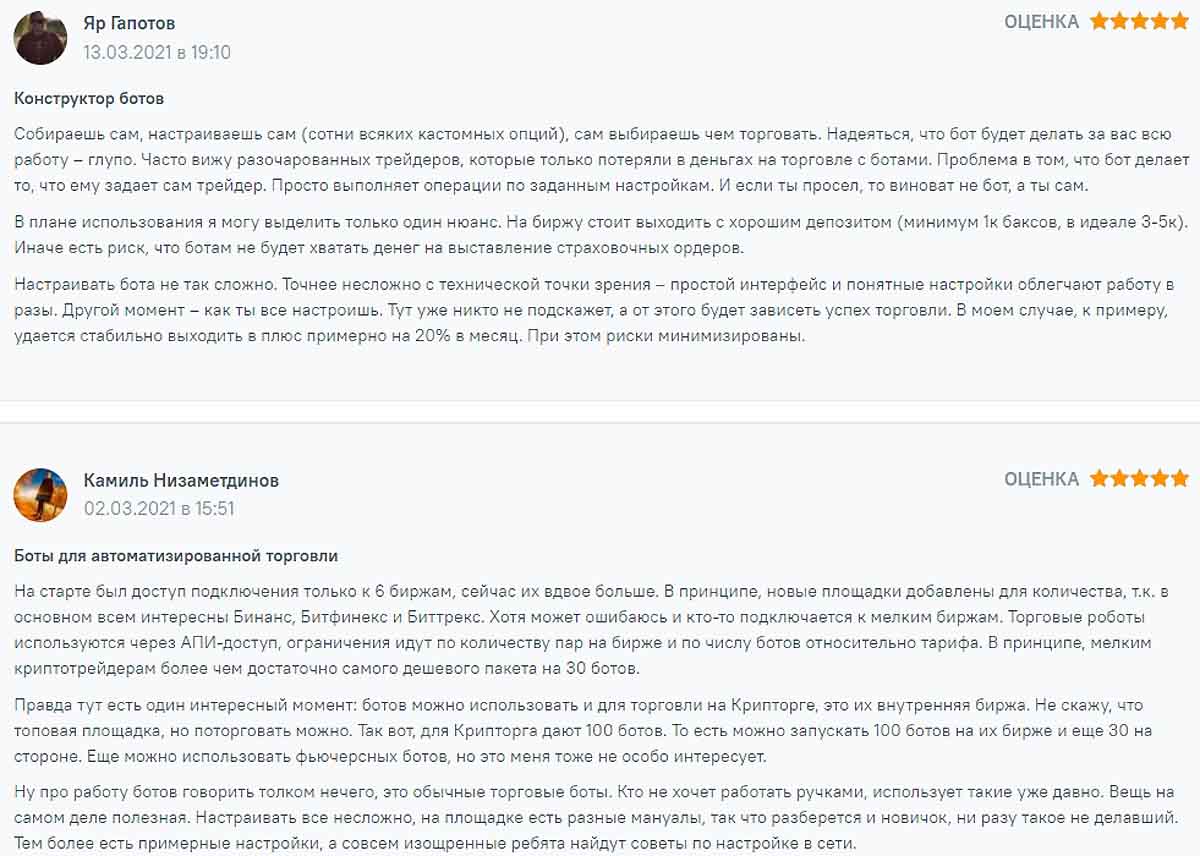 If there are any reviews about Cryptobot Cryptorg, we will definitely publish the information in social networks. Sign up so you won't miss anything!
Please keep yourself informed about news and complaints. We copy the most valuable information to social networks, so please sign up!
Robot controller
Cryptorg OÜ is registered in Tallinn. Legal address: Harju maakond, Tallinn, Lasnamäe linnaosa, Majaka tn 26, 11412. Legal entity registration number: 14720778.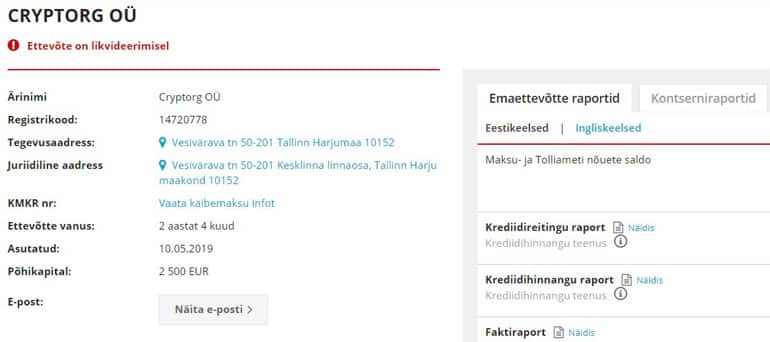 Cryptorg.net User Agreement
Like all documents on the site, the user agreement is not translated into Russian and is available only in the English version. It is a small document that spells out the rules of the portal and its users. When registering, customers receive non-exclusive rights to the electronic trading software.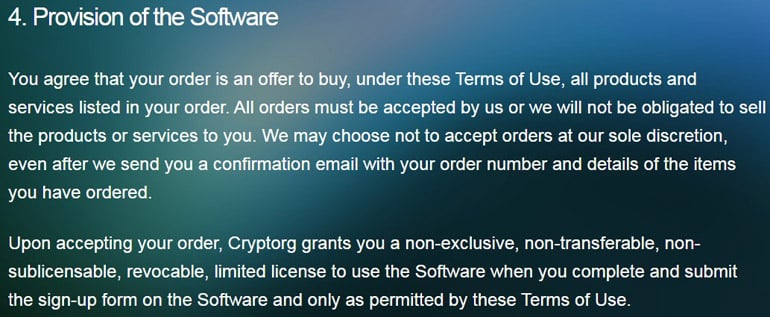 The company reserves the right to change the price of its services without notice.

In its activities Kryptorg is guided by the laws of Estonia. The legal name and address are written at the end of the contract.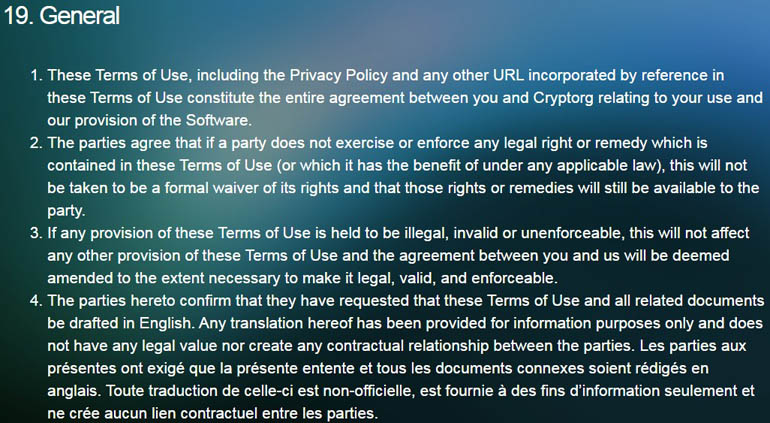 Is Cryptorg a scam?
Kryptorg offers a platform for automated trading on cryptocurrency exchanges. Cryptorg is not a scam. All necessary information about the portal, its services, bots and trading algorithms can be found in the user support center.
The central office of the company is in Estonia, but the platform is translated into Russian and English, the support service works through Telegram-channel, and thanks to the free test period, before choosing a tariff you can check if Cryptorg is suitable for your purposes. Almost all reviews are positive, many people note that cryptocurrency trading with cryptorg.net can produce a stable income.
Conclusion
Trading bots keep the cryptocurrency exchange running 24 hours a day, all you have to do is choose a convenient rate with the right amount of services and make a deposit. The company Cryptorg from time to time holds contests among those who trade the most actively, in addition, additional benefits will bring an affiliate program. Algorithms of work are adjusted so that the technical analysis of the optimal market entry and trading, based on the stored data, is constantly carried out.
No reviews yet, be the first!
The company in the ratings
Rating of reliable brokers
New companies on the site
Cupocoin

Robots for cryptocurrency trading

AverBot

Robots for cryptocurrency trading