Haasonline is a platform for automated cryptocurrency trading with high performance, customizable scripts, and integration of all known options.
Read completely
Cryptocurrency robot
Website
Social media
Date of foundation

2014

The owner of the company
Types of support

Feedback form on the site

Chat with a bot consultant

FAQ

Facebook

Discord

Twitter

Linkedin

Languages

English

Bonuses
Minimum input limit
Exchange Commission

Subscription fee for trade access - 0.006-0.013 BTC/3 months, 0.008-0.025 BTC/6 months, 0.012-0.036 BTC/year

Age restrictions
Free Demo Account
Types of accounts

Demo, Beginner, Simple, Advanced

Methods of replenishment

Cryptocurrency wallet

Withdrawal methods

Cryptocurrency wallet

Account currencies

BTC, USD, EUR, GBP, AUD, CAD, CNY, ZAR

Mobile applications
Trader training

Blog, e-textbooks, manuals, market news

A way to store cryptocurrencies
Fiat accounts
Scalping
Exchangeability for fiat currencies

7 fiat currency units (USD, EUR, GBP, AUD, CAD, CNY, ZAR)

Margin Trading
Extended AML verification
Basic verification
Stop Loss and Take Profit Function
Affiliate Program

Registration

10-25% of the amount of company commissions from the referral

API
Benefits

Trading on a server in the cloud

Script bot with a library of 600+ commands

Historical reconstruction to compare different strategies

Transparent working conditions

No fees and exchange limits

14-day test access to evaluate features

Disadvantages

Replenishment in cryptocurrency only

Slow start of the platform, technical problems on the server side

It's hard for newbies to figure out

Trading signals

Accurate signals to enter the trade

Trading strategies

All user trading strategies are supported

Algorithms of the robot

Nuclear

Company requisites

Legal name:

Haasonline Limited

Overall assessment
Date of update

20.04.2022
Haasonline is it a scam? Reviews and description
Haasonline
opens data to 22 marketplaces, among which are
Binance
,
Bitfinex
,
BitMEX
,
Bitpanda
,
FTX
,
Bittrex
, Iconomy,
Gemini
,
Kraken
,
OKEX
,
Huobi
,
Bybit
,
Deribit
etc. The main direction is high-frequency trading. The platform is based on the so-called core algorithm, which takes into account the wishes of the user.
The client can choose between a local or a cloud server, several hundreds of assets and technical analysis tools. You can customize ready-made scenarios or use one of the two types of editors to create your own (How to make money on cryptocurrency?). Is it really cryptocurrency trading robots are they that good in the service, or is Haasonline a scam? Let's take a closer look at this representative of the market and form our own opinion.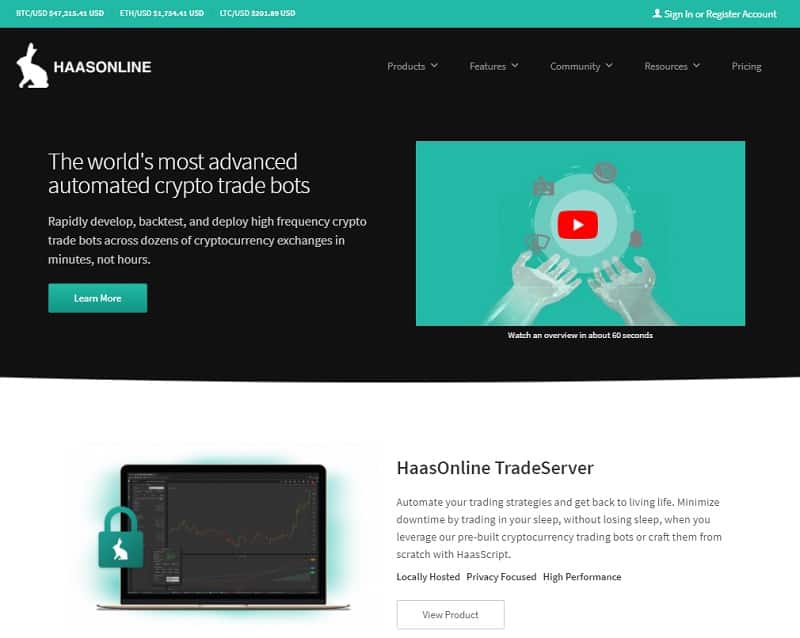 Haasonline Registration
Registration with Haasonline does not require verification of identity. You simply go to the Sign In or Register Account link in the upper right hand corner of the site and fill out the form in the right hand column: enter your email address. After that the system will bring you to your personal profile, where you will be able to watch the training videos and set the time zone for trading at your convenience.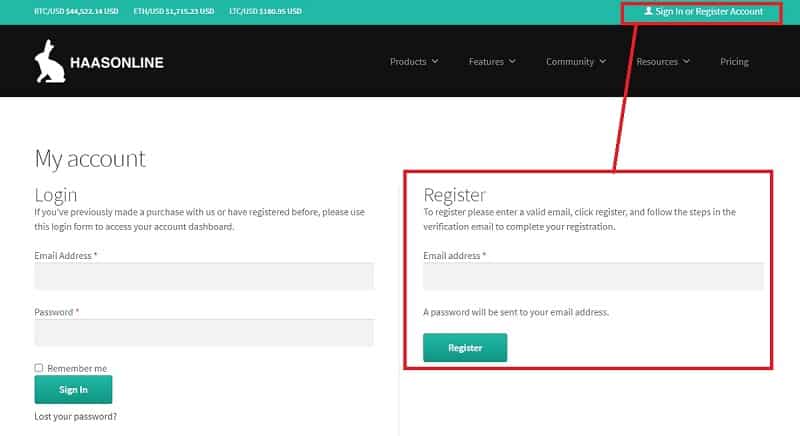 Trading platform haasonline.com
On the platform haasonline.com you do not pay for transactions, but for a digital subscription, as if you were downloading any other software - for example, antivirus. There are three packages:
Beginner. Connection of up to 10 active trading bots, access to 20+ indicators, no transaction limits, 22 cryptocurrency exchanges, VPS credit in the equivalent of 100 USD. It costs 0.006 BTC/3 months, 0.008 BTC/6 months and 0.012 BTC/year.
Simple. Connection of up to 20 active trading bots, access to 40+ indicators, no transaction limits, 22 exchanges, HaasScript visual editor and VPS credit equivalent to 100 USD. Costs 0.007 BTC/3 months, 0.015 BTC/6 months and 0.022 BTC/year.
Advanced. Connection of unlimited number of active trading bots, access to indicators without restrictions, no transaction limits, 22 exchanges, HaasScript visual editor, free developer license and VPS credit equivalent to 100 USD. Costs 0.013 BTC/3 months, 0.025 BTC/6 months and 0.036 BTC/year.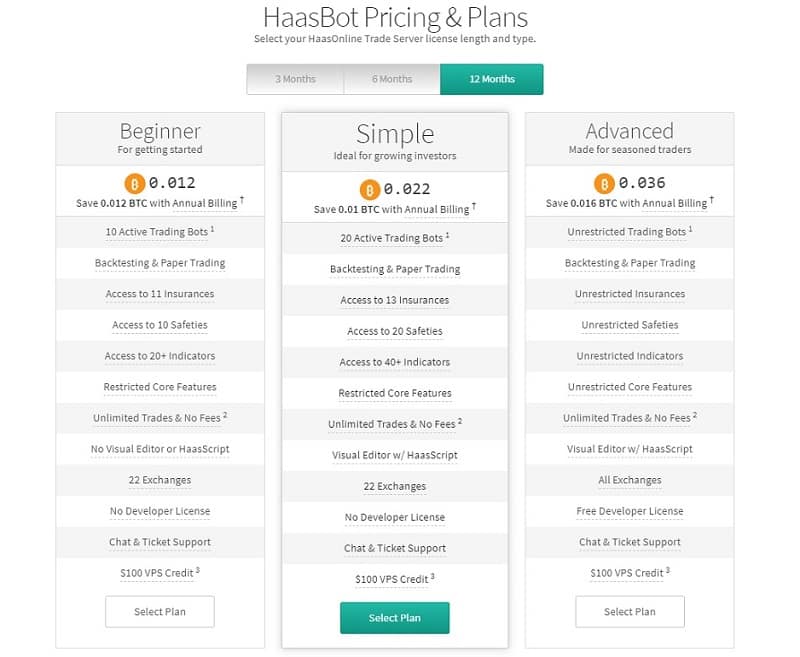 The platform allows you to open accounts in bitcoins and 7 types of fiat currencies: U.S./Australian/Canadian dollars, British pounds, euros, Chinese yuan, and South African rands. You start just by choosing your currency units. This is done in the Personal - Portfolio section. There you also adjust the number of decimal places in quotes and the display of assets (the minimum value at which they will be displayed in the list).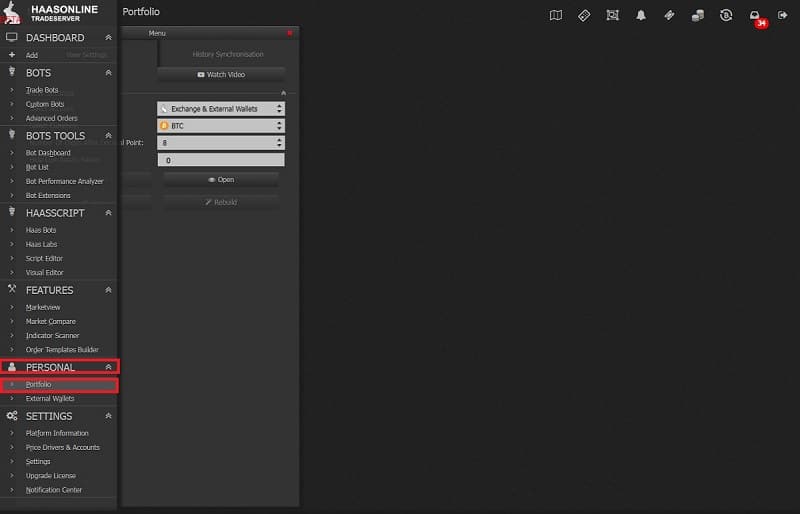 The Externals Wallets block of the same Profile section stores data about client cryptocurrencies (their names and addresses). The interface, as well as tutorials, is only available in English. In the BOTS panel, you select, configure and connect a trading bot that will analyze the market for you. Their rating and overall performance is displayed in the Bot List block of the Bots Tools section.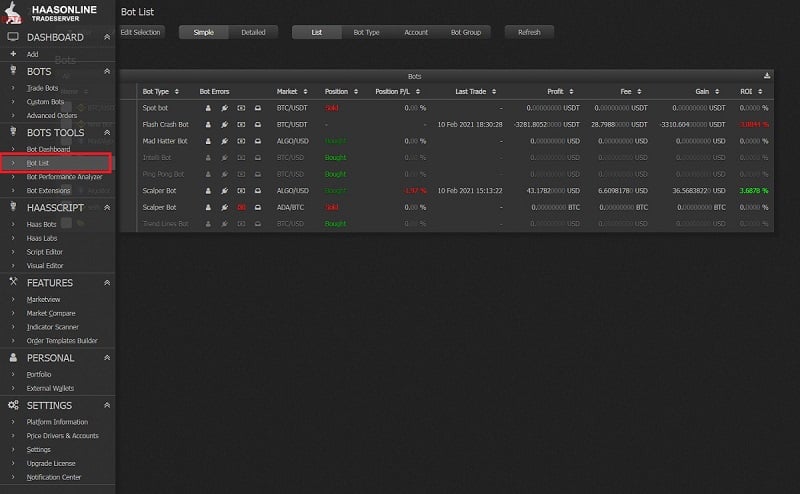 And for performance monitoring, the Bot Perfomance Analyxer from the same section is used. There are more parameters configurable in it than in the bot panel, plus you can do a backtest.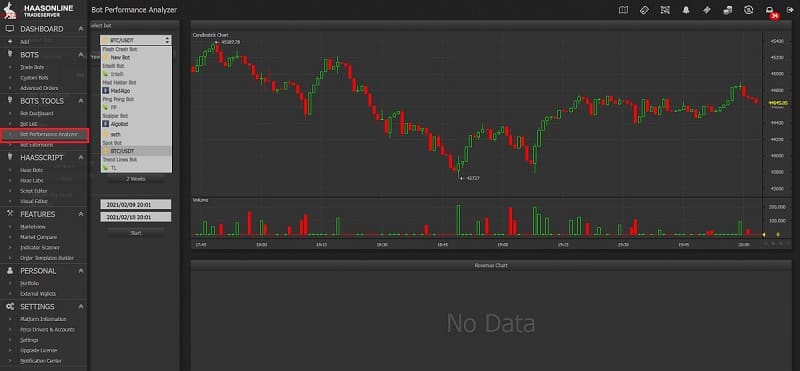 The available script bots are located in the Haas Bots block of the Haascripts section. For them, it is offered to set up a script by specifying the settings - private (algorithm setting conditions) and general (market, rate, leverage size, order type, etc.). All this is in the Haas Labs block. And Script Editor and Visual Editor are editors for creating a custom script: a script, with code, and a visual one, with schemes and buttons.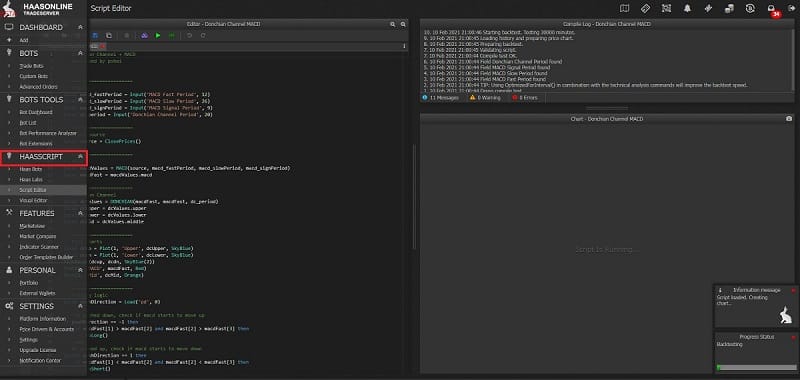 Features - a block with tools to optimize your work:
Marketview is a market overview. Real-time charts and quotes, indicators, trend patterns and other tools. Everything you normally see in your trading terminal.
Market Compare compares markets of several exchanges and selects the best ones by margin. You choose the time interval in the settings at the bottom (Interval button) and the pair you want to analyze in the top search bar (Search Market). The options will appear when you start entering, say, BTC.
Indicator Scanner tests the variables on the indicator. It studies all possible values in the specified time interval, on the basis of which it forms the list of the best combinations. But for the function to be available, you need to create a trading bot with the indicator you are going to study and save it.
Order Templates Builder - Order Templates Builder. Allows you to create an unlimited number of rules and combinations of market and limit orders.
General information about the platform (access to which markets and exchanges are open, VPS location, history and contact links), switching between paid packages (Beginner, Simple and Advanced), the list of notifications about actions within the account and other settings are expected to be in the Settings section.
Robot signals
Trading signals Haasonline robots are considered reliable by market analysts. But we haven't found any user comments on the web that would confirm this. But given that the company earns money on subscription fees rather than on trades, there is no benefit to the software provider in bankrupting the trader or losing access to the platform.
Haasonline Demo Account
If you want to test the platform haasonline.comBefore "pouring" personal money into it (especially since the license is paid for at least 3 months in advance and is expensive), it will be useful for you to try a free demo version of the product (cryptocurrency trading training). It is enough to open one of the two test servers at the link on the site and log in. The test login is showme, the password is evolution. The functionality will be the same as in the trading version. Access is given for 14 days.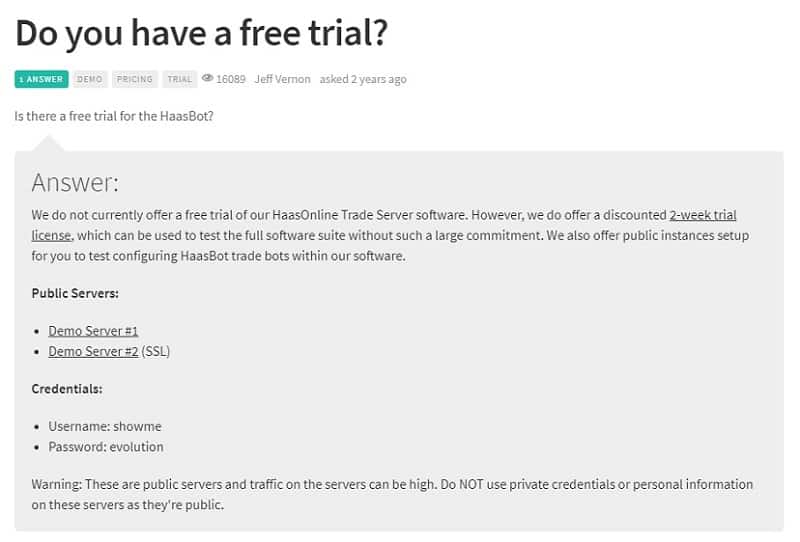 Mobile application
Haasonline does not have a downloadable mobile phone. And many people think that's a drawback. But integrating such extensive functionality into a mobile application is no easy task. There are also a lot of interface settings, and on narrow-format devices it will most likely be impossible to place it all without errors. Therefore, the question of software for iOS and Android remains open.
Bonuses from Haasonline cryptocurrency trading robot
Haasonline periodically distributes promo codes to customers that activate bonuses. In addition, there are discounts for paid license renewals and cash payments for vulnerability and bug detection. Plus, there is a referral program. Let us tell you more about it.
Up to -40% on license renewal
The discount applies if your license has always been active and you have not suspended your cooperation with the company. It does not take into account trial licenses, and you cannot use the bonus if other coupons are activated. The size of the discount depends on the renewal period.
Bag Bounty Program
The idea is that you test Haasonline products for technical bugs and potential vulnerabilities that could lead to confidential data leaks, license and signature bypass, cross-site request forgery, authorization errors, clickjacking, and more. Work is being done with the site, APIs and servers.
Errors are divided into 5 classes. P1 - high-priority, for their detection you will be paid from 1000 to 2500 dollars. P2 - less global, but still significant, and for them you will get from 500 to 1000 dollars. For P3 you will be paid $100 to $500, for P4 you will be paid less than $100. And P5 doesn't pay at all. To participate in the program, you need to register on the site page with its description.
Referral program
In the personal cabinet, each registered on the haasonline.com The user will see his unique affiliate (referral) link. As well as the banners in which it is embedded. All this is available in the Referrals section (Affiliate URLs and Creative tabs). So, any natural or legal person can be an affiliate of the provider. The terms of the program are standard: the link or advertising materials are placed on public resources, where they do not violate the rules and user rights. For example, on partner's personal site, blog, community, social network page, forum topic, etc. People who have clicked on the link are considered as his referrals. The partner gets 10-25% from the commissions they pay to the company.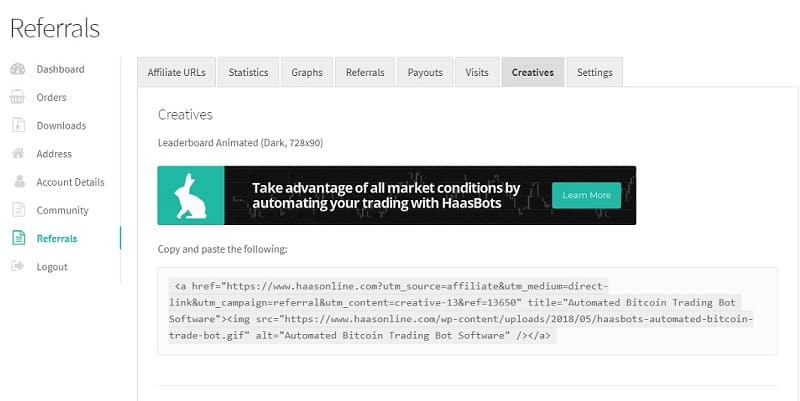 Deposit and withdrawal
Depositing and withdrawing funds in Haasonline is possible only through cryptocurrencies. In the Personal section of the drop-down left menu, in addition to the client's portfolio, there is a block External Wallets, where payment requests (Coin Request) are made and details (links) are added. There are no limits on the amount of input-output. But you will have to pay a conversion fee at the company's internal rate.
Complaints about Haasonline
Haasonline is the subject of many expert reviews, but there are almost no user reviews about the platform. Only on Trustpilot we found several comments. Their authors generally praise the functionality of the services, but note that they are not for beginners. And it is out of the question to build a strategy with them. It is an excellent set of tools, but the data analysis must be performed by a trader.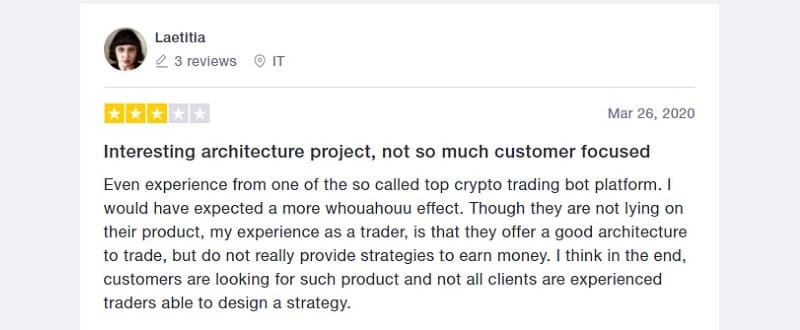 If there are any reviews about the Haasonline cryptocurrency trading robot, we'll be sure to post the information on social media. Sign up so you don't miss anything!
Please keep yourself informed about news and complaints. We copy the most valuable information to social networks, so please sign up!
Haasonline regulator
The platform is owned by HaasOnline Limited, registered in Belize. In the public registry of Belize, whose laws are specified in the user agreement as applicable to the relationship between customers and the company, it is present under registration number 162411. Details regarding the organization's location and contacts are not available. However, there is no reason not to trust the source, as it is referred to by the Federal Tax Service in its list of open databases of foreign countries.
Haasonline User Agreement
The Haasonline User Agreement, Terms of Services, sets forth the terms of use for the license to operate the vendor's software. The document exists officially only in its English version. Let's take a look at some of its provisions that seem worthy of our attention. Haasonline provides services on an "as is" basis. That means that you are not guaranteed that the software will run smoothly, that the data displayed there will be accurate, or that the services will be fit for your purposes.

The company (and its partners) are not responsible for your losses caused by your inability to use its resources.

The law applicable to the relationship between the trader and the company is the law of Belize.

Is Haasonline a scam?
HassonlineAs it often happens with representatives of the cryptocurrency market, it belongs to a foreign company. However, Haasonline is indeed registered in Belize. However, the regulator does not provide any details. We found several customer reviews about the platform. There are no complaints about fraud among them, but traders note difficulties in working with the company's services: a beginner is unlikely to quickly understand the functionality, as stated on the website.
And yet the terms of cooperation are as crystal clear as possible. And the lack of guarantees for this industry is also commonplace. We doubt that Haasonline is a scam. But we recommend that you first test the platform in a demo to see if it's right for you. Only then should you pay for a license for a few months.
Conclusion
Haasonline opens access to several dozen exchanges and instruments, offering automatic cryptocurrency trading, tokens, and futures. The cost of maintenance is high: in terms of rubles, it is close to 80 thousand for 3 months. The platform is rather oriented for professionals, who will be able to assess the functionality and enjoy the scenario editors. Those who are just trying it out, a 14-day trial version (or demo) is available.
Technical support is available 24/7. The fastest way to get an answer is to create a ticket in your personal cabinet. On the site there is a special note that the support team has the right to ignore other communication channels. The disadvantages - slow platform launch (we experienced it ourselves), the occasional problems on the server side, expensive licenses from 0.003 BTC for 3 months and difficulties in understanding the functionality. Of course, there are instructions and video reviews, but everything is in English. In addition, a lot of terms are used, which confuses a newcomer completely.
Rating of reliable brokers