American cryptocurrency platform offers customers to invest in promising blockchain projects and exchange popular cryptocurrencies.
Cryptocurrency exchange
Official website
Social media
Date of foundation

2017

Head Office

850 Montgomery St. Suite 350, San Francisco, CA 94133

Types of support

Help Center

Feedback form on the site

Twitter

Languages

English

Founder
The owner of the company
Manager

Brian Tabergen, Graham Jenkin

Minimum entry amount

Unverified

Cryptocurrency

Not available

Maximum input amount

Unverified

Cryptocurrency

Not available

Minimum withdrawal amount

Unverified

Cryptocurrency

Not available

Maximum withdrawal amount

Unverified

Cryptocurrency

Not available

Exchange Commission

Internal token exchange:

0.5

%

Trade Commission:

From

0.02

To

0.25

% for maker /

From

0.1

To

0.45

% for taker

Withdrawal fee:

0.00025

BTC

Terminals

TradingView

Age restrictions
Trading volume per day
Number of users
Number of cryptocurrencies

14

The number of cryptocurrencies may change

Margin Trading
Tokenized assets
Free Demo Account
Types of accounts
Execution of orders

Market Execution (at market price),

Methods of replenishment

Cryptocurrencies,

Withdrawal methods

Cryptocurrencies,

Account currencies

USD,

Types of cryptocurrencies

Bitcoin, Ethereum, ALGO, Flow, Wrapped, etc.

Mobile applications
Trader training

Reference materials, blog

A way to store cryptocurrencies
Fiat accounts
Scalping
Stop Loss and Take Profit Function
Exchangeability for fiat currencies
TradingView terminal features

A lot of indicators, graphical elements, depth charts, order glass, etc.

Trading Strategies

All strategies for trading in the cryptocurrency markets are allowed

Additional features

Steaking, custodial storage, DeFi

Crypto loans

No, but you can convert cryptocurrency into ERC20 tokens to output to DeFi-platforms

Basic verification
Extended AML verification

Passport, passport or driver's license, photo with document, bank statement, utility bill, etc.

Regulatory laws

International data protection law

FATF (Financial Action Task Force)

API
Affiliate Program
Benefits

Affordable investments in new cryptocurrencies

Earnings from blockchain cryptocurrency

Bitcoin to wBTC conversion

High level of reliability and liquidity

Fast deposit and withdrawal of assets

Internal DeFi allowing conversion of cryptocurrencies to ERC20 tokens

Full functionality in mobile applications

Disadvantages

Long verification, expensive withdrawal of stabelcoins, no fiat input for international clients (according to online reviews)

Company requisites

Legal name:

CoinList Markets LLC

Legal address:

850 Montgomery St. Suite 350, San Francisco, CA 94133

Overall assessment
Date of update

27.04.2022
The address is
850 Montgomery St. Suite 350, San Francisco, CA 94133
Map
Subscribe to this company
CoinList is a scam? Reviews and description
CoinList
- is an American cryptocurrency platform focused on ICOs. The exchange offers customers to invest in promising blockchain projects and exchange for popular cryptocurrencies.
Let's find out how good this service is and whether it's a scam cryptocurrency exchange CoinList.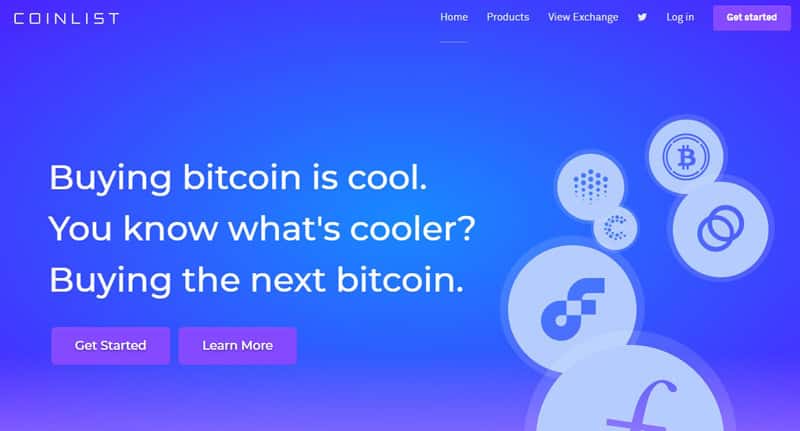 Why CoinList?
In 2018, cryptocurrencies suffered losses, but the blockchain industry continued to evolve. The main innovation was the ICO. This is a fundraising procedure for startups, similar to crowdfunding. In an ICO, investors receive project tokens in exchange for their investment. The value of these altcoins can grow as the startup itself grows in popularity.
CoinList was created specifically for this market. It appeared back in 2017, but only a year later found its niche. The leaders of CoinList set themselves a goal: to create an exchange where entrepreneurs can find financing, and investors can invest in a promising project. The site itself checks companies applying for ICOs. This protects investors from fraudsters flooding the initial offerings market.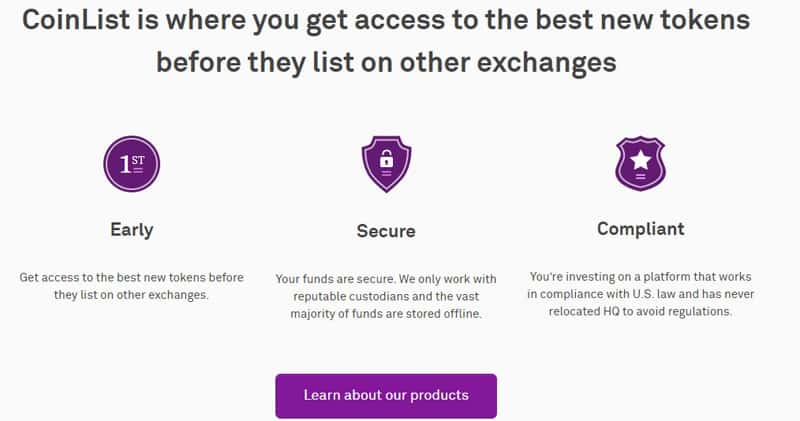 CoinList motto: "Buying Bitcoin is cool. But it's even cooler to buy the next Bitcoin." This phrase accurately reflects the goals of investors interested in promising tokens. But users must remember: where there is an opportunity for high returns, there are also high risks. This is one of the tenets of the ICO market. CoinList places new tokens before other exchanges. At the same time, the system temporarily freezes assets provided for developers. Thus, the company can be sure that only startups with a real product will get listed. This is another protection measure against fraudsters who raise funds "under the word of honour". The first project listed on CoinList was Filecoin. In 2021, this coin has a capitalization of $12 billion and is consistently in the top 20 cryptocurrencies. Other successful altcoins include Ocean Protocol, Flow, Algorand, TrustToken.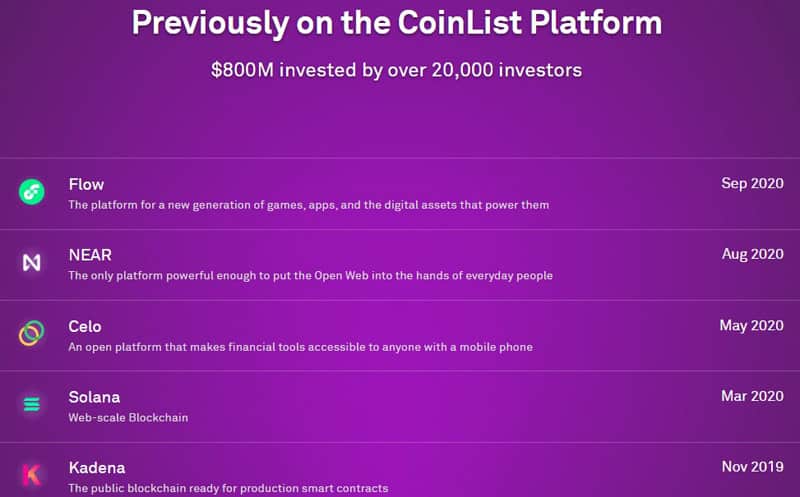 CoinList Pro
In 2020, the company launched a new product - CoinList Pro. This is a classic interface for trading cryptocurrencies. According to its name, it is focused on professionals. It has high order limits, fast order processing speed, high liquidity, and indicators for quotation analysis. In addition to the trading window, other services were also presented:
Staking. CoinList users can create passive income by freezing tokens in a wallet. The maximum yield is 32% p.a. for NU coin staking. TerraUSD Stablecoin Staking is available with an annual yield of 21.47%.
Storage. CoinList offers storage of digital assets using Anchorage and Gemini Custody intermediaries. Custody placement will be interesting for traders with high turnover and need for liquidity. For long-term storage, it is better to use separate wallets, with access to private keys.
DeFi. Decentralized finance has not escaped CoinList. Users of this site can convert Bitcoin to wBTC token and deploy it on Compound, Curve and other platforms.
Mobile. All services can be accessed in the official CoinList mobile app. There are versions for iOS and Android.
CoinList positions itself as a full-stack platform for crypto-enthusiasts. That is, it is an "all-in-one" service, where the client can operate with digital assets without leaving his own account (How to make money on cryptocurrency?).
How to exchange cryptocurrency on the CoinList platform?
The entire exchange service is available in the Pro Trading section. You can go there from the Dashboard page or from the main screen of coinlist.co. In the center of the trading section there is a price chart. By default, the Filecoin/USD pair is opened. Above the chart, by clicking on the name of the pair, you can select another trading asset. The current order book is placed on the right. It helps to assess the current supply and demand from other traders. Below is a record of all past transactions at the exchange. The user's balance is placed below the chart, and even lower, the history of his exchanges.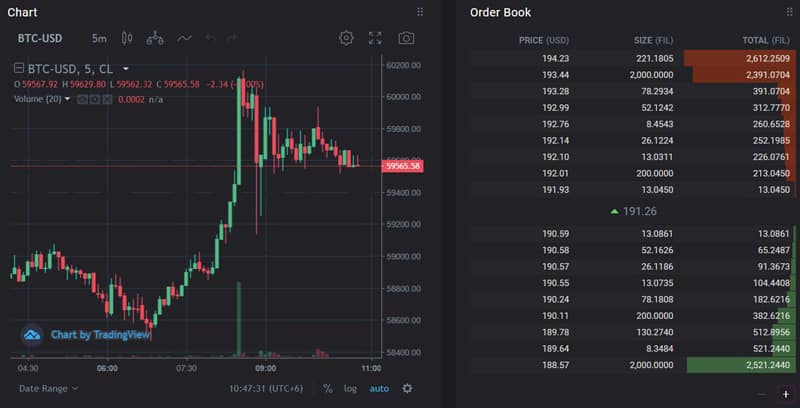 On the left side of the page there is a form for sending an order. By the way, you can change the appearance of the exchanger. In the upper right corner of each window there is an icon with six dots. The window can be moved by hovering the cursor over these points. To return to the default view, you need to click on the login, at the top of the page and select Workspace - Reset to Default. To exchange cryptocurrency, you need to select the desired pair and fill out an order. For example, the client wants to buy Ethereum for Tether. Then he should select the pair ETH/USDT. There are several tabs in the order:
Market. This is a purchase at market price. Here the trader only needs to enter the desired number of coins to buy and send an order.
Limit. This order option allows the client to name his own price. It must be appropriate - you shouldn't ask for 2500 USDT for 1 ETH if it's trading at 1750. Otherwise the order will just hang in the book unanswered. Price must be entered in the Price field, and Quantity - the number of coins to be bought.
Stop Loss and Take Profit. These tabs are responsible for additional order settings. Stop Loss and Take Profit can be considered as an analogue of signaling. They will trigger as soon as the quotes reach the specified value. For example, you can fill an order so that an order to sell 1 ETH for 1850 USDT is sent to trade as soon as the chart reaches 1840. Or the trader can program a stop loss so that 10 ETH will automatically sell if the price falls to 1,720 USDT.
The daily trading volume on the Pro-platform is 40 million dollars. Not much, compared to competitors. But the exchange takes on the responsibilities of a market-maker. This allows you to maintain liquidity and speed of transactions even with low trading volume.
Verification on the coinlist.co platform
Verification on CoinList is mandatory. Without identity verification, users won't even be able to enter all the sections of the settings menu. That's why it's recommended to send documents immediately after registration on the site coinlist.cobefore the first deposit.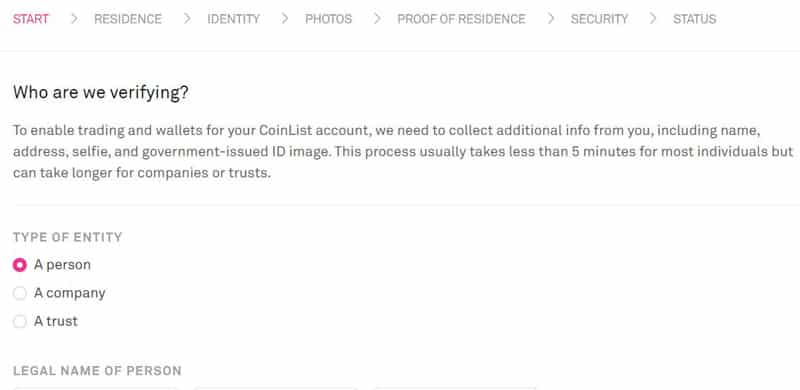 To be verified, go to settings, open the Entities section and click on Get Verified. You will have to fill out a large questionnaire:
On the first page, choose which type of account you want to verify. Person - if for an individual, Company - if for a legal entity and Trust - if for a trust, private foundation or family office. Below you should specify the last name, first name and patronymic in Latin alphabet.
The second step is to specify your country of residence. Select the states from the drop-down list, and the region below.
On the Identity tab, you must enter your passport information, residential address, and date of birth. The system will also ask for your cell phone number. Please note: At the next steps, you will need to confirm your residential address by providing a certificate of registration. Therefore, in Identity you must enter the registration address.
Then the system will ask for photos of the passport or ID-card, as well as the user himself with this document in his hands. There is no need to upload scans - there is an interface from Jumio, which allows you to take snapshots using a webcam.
The next step is Proof of Residence. This is a proof of address of residence with a certificate of registration or receipts for utilities.
Security. The system prompts you to set up two-factor authentication via SMS code or the Google Authenticator app.
This is the end of the verification process. It takes up to three business days to process the documents. The process can be tracked in the Status tab. As soon as the client's identity is verified, he will receive an email notification and access to all CoinList features.
Deposit and withdrawal
You can make deposit to CoinList in cryptocurrencies and US dollars. Unfortunately, fiat deposits from card or payment system are not possible - only bank transfer in USD. This also means that clients can't send funds in rubles or other currencies. If the client has a USD account and wants to send such a transfer, the details are available in the Wallet section.
To deposit funds in digital assets, you need to go to the Wallet section and select the desired cryptocurrency from the list. Then - click on Deposit button. The system will create a wallet for the currency and address. To this address, you should send funds from the location where they are located. If you use the storage on your smartphone, you can use the QR-code. CoinList does not charge a fee for depositing funds, even if fiat currency is used. But keep in mind that your bank and wallet may charge their own commission for sending funds. To withdraw assets you need to click on Withdraw button, specify your sending address and amount of coins to be withdrawn.
Commission of the crypto exchange coinlist.co
CoinList's fee depends on the product used. For example, internal token exchange is subject to a flat fee of 0.5% per transaction. And the fee is charged on the target coin. That is, by exchanging a Filecoin token for Bitcoin, the transaction will be paid in BTC. As for trading, it is provided for each transaction. Customers with a maker position pay a base commission of 0.25% of the contract, and takers pay 0.45%. This is quite a high commission, but clients can get discounts.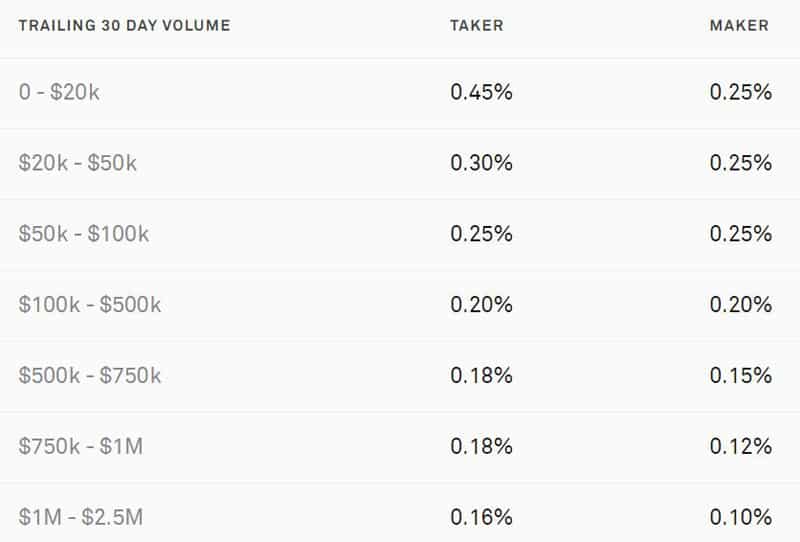 How do I get a discount on commissions?
The commission is reduced for regular clients who meet the monthly volume requirements. The basic rate of 0.25% for makers and 0.45% for takers is valid if a trader makes transactions up to 20 thousand dollars per month. If the volume grows, the commission falls:
Monthly trades of 20 to 50 thousand dollars: the commission remains at 0.25%, and for the takers is reduced to 0.30%.
From 50 to 100 thousand a month: 0.25 - maker and 0.25 taker.
From 100 to 500 thousand: 0.20 maker and 0.20% taker.
A total of twelve levels are provided in the system. The maximum level is a volume of $100 million each month. Then the trader will pay 0.02% for a maker position and 0.10% for a taker position. The volume created by the client 30 days prior to the transaction is taken into account. Transactions on cryptocurrency pairs are also converted to the dollar equivalent for counting. This complicates the calculation somewhat, given the volatility of the market. The exact level of commission charged can be found out by the user in his personal cabinet or by requesting information from the support service.
Withdrawal fees
Withdrawing funds on the site coinlist.co paid. The fee charged depends on the specific asset. Fiat withdrawals to a bank account cost $10 per transaction if using a U.S. bank. If money is sent abroad, it's $30 for each withdrawal. Prices for cryptocurrency withdrawal are as follows:
Bitcoin: 0.00025 BTC.
Ethereum: 0.026 ETH.
Wrapped Bitcoin: 0.00064 WBTC.
Tezos: 0.2 XTZ.
Compound: 0.09 COMP.
Filecoin: 0.01 FIL.
USDCoin: 33.23 USDC.
Dai: 32.23 DAI.
Tether: 32.23 USDT.
The average Bitcoin withdrawal fee on the market is 0.0005 BTC, so on CoinList this operation is cheaper. But Ethereum is more expensive - on many exchanges withdrawal will cost 0.01 ETH. Payouts in Stablecoin are frankly expensive. For comparison, on KuCoin withdrawal in Tether costs 20 USDT, and on Gate.io - 3 USDT.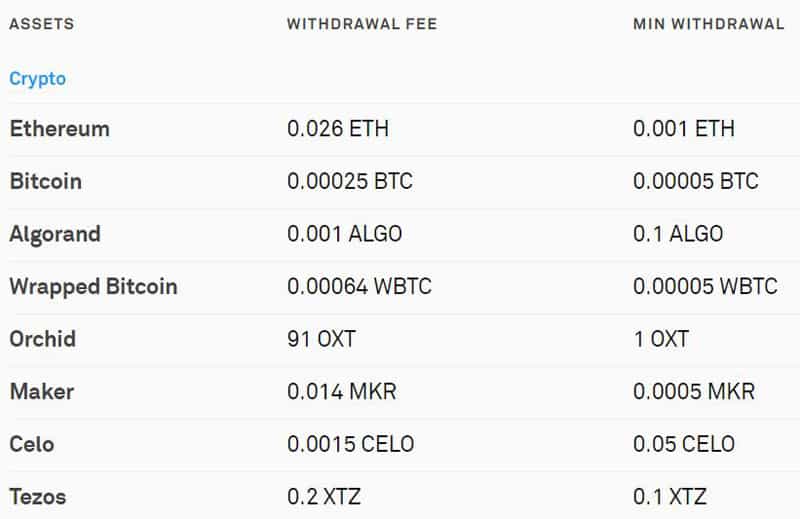 CoinList Bonuses
On the site coinlist.co There are virtually no promotions or contests. While most other platforms launch events to support coin listings, CoinList has no such task. Users come to this platform for the sake of new tokens, and there is no need to motivate them additionally with bonuses. This is largely due to the American jurisdiction of the exchange - local regulators often regard marketing events as market manipulation and "luring" customers into a particular asset.
Referral program
CoinList users can invite friends through their own referral links. If an invited client buys or sells more than $100 worth of cryptocurrency at a time, he and the person who invited him will receive a one-time reward of $10 each. The reward is credited in BTC. But, in the rules of referral program we found a point, telling about the countries where the "affiliate" does not work. Among the banned countries are Russia and Uzbekistan.

Complaints about CoinList
Taking a look at popular review sites, you can find a lot of negative opinions about CoinList. But having studied the reviews more closely, we noticed that the negativity is not related to the site itself, but to the ICO projects presented on it. Often people invest money in new startups, and when their tokens do not "skyrocket" in a week, they write angry comments about both developers and exchanges. Once again, it is worth reminding: investments in ICOs are high risk and no one guarantees a profit, even if the company is run by the most honest people in the world.


As for CoinList and its technical part, the reviews are positive. The customers like it:
The variety of altcoins in trading.
Fast deposit and withdrawal of assets.
Internal DeFi, allowing conversion of cryptocurrencies to ERC20 tokens.
Highly profitable steaking.
Full functionality in mobile applications.
Clients give bad marks for long verification, expensive withdrawal of stabelcoins, absence of fiat input for international clients.
If there are any reviews about CoinList Crypto Exchange, we will definitely publish the information on social networks. Sign up so you don't miss anything!
Please keep yourself informed about news and complaints. We copy the most valuable information to social networks, so please sign up!
Crypto exchange regulation
The cryptocurrency exchange CoinList is owned by CoinList Markets LLC. It, in turn, belongs to the holding organization Amalgamated Token Services Inc. The structure includes two other subsidiaries, CoinList Services LLC and CoinList Lend LLC. All of the firms are in U.S. jurisdiction and are subject to local law. CoinList's operations are overseen by FinCEN, the U.S. Financial Crimes Enforcement Agency. In addition, the operating company has received about 40 other licenses for financial activities in different states.
CoinList can work with clients from other countries, including the Russian Federation. But Russians cannot participate in the referral program. The official website has a list of states whose residents cannot work with the platform. The list includes Belarus and Crimea, so Belarusians and Crimeans should look for another exchange. Also, residents of the states of Alaska, Nevada, Hawaii, New York, Washington and Minnesota cannot become CoinList customers. In these regions, the parent company has not yet received a license. When using bank accounts or payment services registered in these regions, there may be problems.
Co coinlist.co User Agreement
All customers opening an account on the Coinlist.co platform must read and agree to the user agreement offered on behalf of the parent company. It applies not only to cryptocurrency trading, but also to other products offered on the site or in the platform's mobile app. Judicial claims must also be resolved in U.S. jurisdiction. The customer automatically agrees that the laws of New York State will take precedence in adjudicating matters.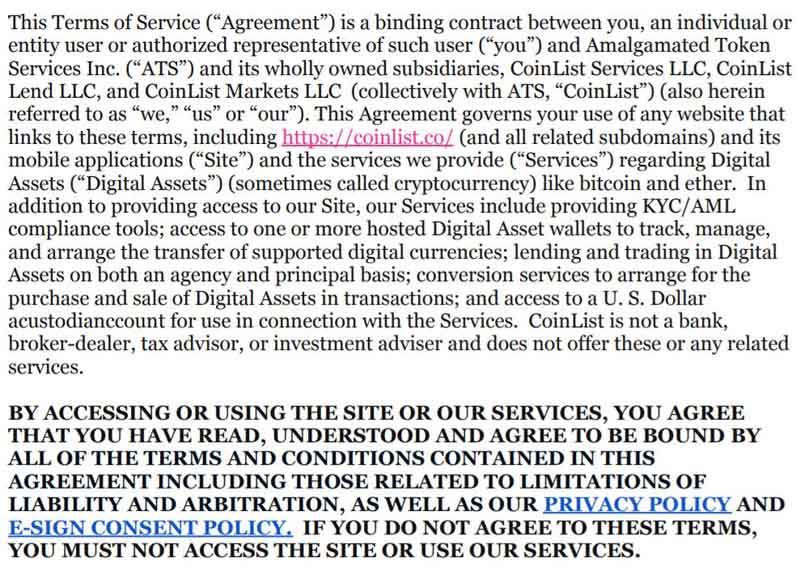 The user confirms that he or she will personally manage the account without transferring it to other hands. The only exceptions are corporate accounts registered to a legal entity or trust organization. The document stipulates that the exchange is not responsible and will not compensate for losses incurred as a result of hacking a customer's account. Also, the administration of the platform does not compensate for financial losses incurred as a result of failed transactions and investments. Users knowingly accept the risk and undertake not to make claims in the event of losses. At the same time, the platform agrees to take all possible measures to improve trading security.
Customer Service
Coinlist.co support service works only in English. Users can send a request to the following email address: [email protected] The company is also represented on Twitter.
Is CoinList a scam?
Coinlist.co - is a fully legal company operating in the USA, in the most regulated financial market in the world. Because of the specifics of the platform, related to investing in high-risk assets, many clients of this platform do lose money. But there is no fraud on the part of the exchange. Immediately after its launch, CoinList quickly gathered an audience and partners. The company works with many investment funds like Angel List and Protocol.
The executives have been licensed by FinCEN, as well as approved in almost every state in the United States. After studying these facts, we can conclude that CoinList is not a scam. In addition to the legal basis, the trust of customers also speaks in favor of the exchange. Every day, transactions worth over forty million dollars are conducted here. The portal CoinMarketCap rated the exchange at 6.2 points out of 10, and CoinGecko's trust rating was six points out of ten.
Conclusion
CoinList - is a large project with its own "thing. Initially, this platform was created for risky investors and venture capitalists. Over time, the company has expanded, and today KoinList offers other services, such as steaking or trading of established crypto assets.
This exchange may interest enthusiasts from Russia and CIS countries, but is recommended only to experienced investors. Standard products, like cryptocurrency exchange, are somewhat limited, as there is no possibility to deposit the account in rubles. The site does not have Russian language, and the referral program does not work in Russia. Therefore, for beginners who do not know English, it is better to look for another platform.
The company in the ratings
Robots for cryptocurrency
New companies on the site