Coingi is a reliable cryptocurrency exchange that offers 14 popular trading pairs, secure transactions and an interesting affiliate program.
Read completely
Cryptocurrency exchange
Website
Social media
Date of foundation

2014

Head Office
Types of support

Help Center

Facebook

Twitter

Languages

English, Russian, German, French, Portuguese, Italian, Chinese, etc.

The owner of the company
Minimum entry amount

Verified

Fiat

Bank Transfer (SEPA):

to 5 USD

Bank Transfer (SEPA):

to 1 EUR

Unverified

Fiat

Bank Transfer (SEPA):

to 5 USD

Bank Transfer (SEPA):

to 1 EUR

Exchange Commission

Withdrawal fee:

10

USD /

10

EUR /

0.001

BTC /

0.001

LTC /

5

DOGE /

0.001

Dash

Terminals

TradingView

Age restrictions
Trading volume per day
Number of cryptocurrencies
Number of trading instruments
Margin Trading
Tokenized assets
Free Demo Account
Types of accounts
Execution of orders

Stop Limit Order, Market order, Limit Order

Methods of replenishment

Bank Transfer (SEPA)

Withdrawal methods

Cryptocurrencies

Account currencies

Cryptocurrencies

Types of cryptocurrencies

BTC, LTC, DASH, DOGE, PPC, NMC, VTC

Mobile applications
Trader training

There are instructions on verification, deposit and withdrawal, commissions, etc.

A way to store cryptocurrencies
Fiat accounts
Scalping
Stop Loss and Take Profit Function
Exchangeability for fiat currencies

You can exchange cryptocurrency for fiat

Terminal capabilities

Working with indicators, graphical tools

Basic verification
Extended AML verification

KYC (passport, passport or driver's license. Photo with document (selfies). Proof of address (bank statement, utility bill, etc.)

Regulatory laws

International data protection law

FATF (Financial Action Task Force)

API
Affiliate Program

Registration

50% of exchange income from trading operations of your invited users

Benefits

Advantageous trading conditions

Access to the platform for traders from all countries

Easy website registration

Disadvantages

User Agreement and other documents in English only

Company requisites

Legal address:

Czech Republic

Overall assessment
Date of update

18.07.2022
Subscribe to this company
Coingi is it a scam? Reviews and description
Coingi
- that
cryptocurrency exchange
which appeared on the digital asset market in 2014. The company offers optimal trading conditions, a high level of security and 24/7 support. In November 2017, the cryptocurrency exchange included fiat currencies, which made this platform even more attractive. In this article, let's look at the advantages of coingi.com and find out if this project is a scam.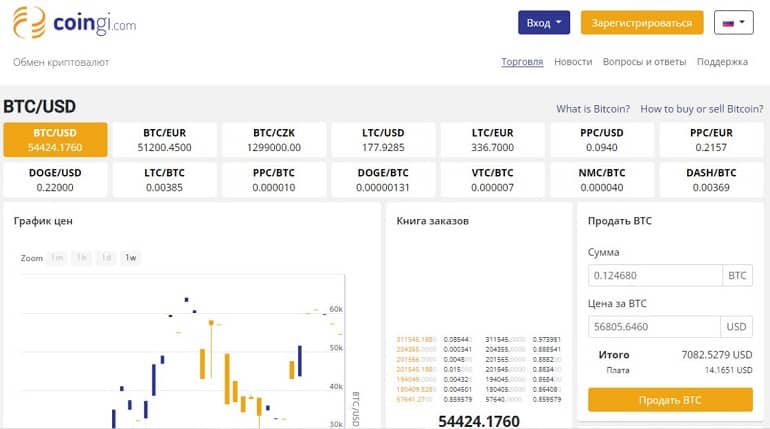 Why Coingi?
Benefits coingi.com:
intuitive platform interface;
a simple registration on the site;
multilingual resource;
high level of security (simultaneously with the introduction of fiat currencies on its platform, the company has implemented AML/KYC rules);
access is open to traders from all countries.
The platform is available in Russian, English, German, Arabic, Spanish, and other languages. In the Trading section, you can view the transaction history, order book, and price chart.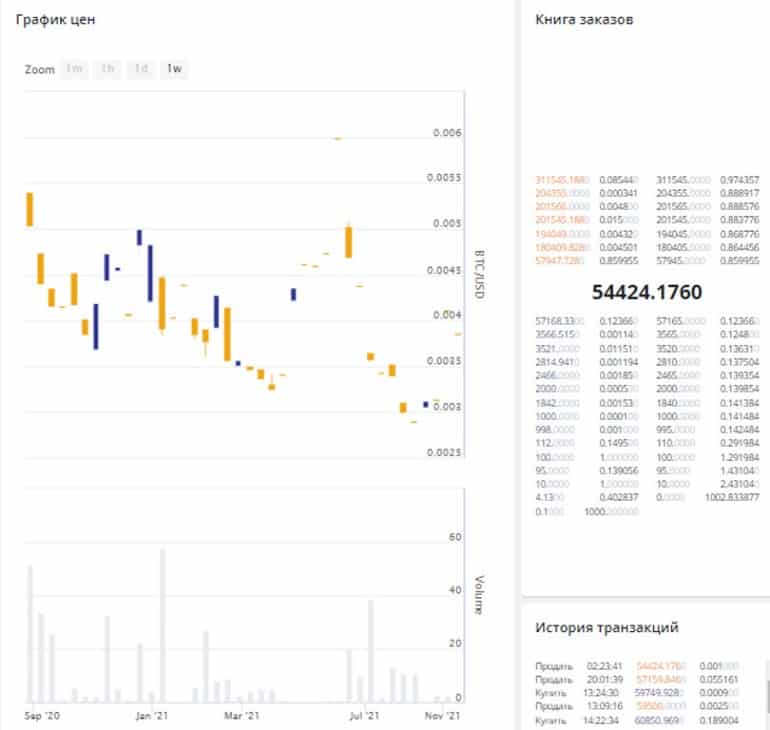 Two types of charts are used on the Koinji trading platform. The main one allows you to see the price dynamics for a particular trading pair. And on the secondary chart you can see the number of pairs sold. The charts use Japanese candlesticks, which allows you to see at what price trades opened and closed.
How to exchange cryptocurrency on the platform coingi.com?
On the right side of the "Trade" section are the panels for buying or selling cryptocurrencies. Here you need to specify the amount, the number of coins you want to sell or buy. The price is set automatically. It remains to click on "Buy" or "Sell" and conduct the transaction.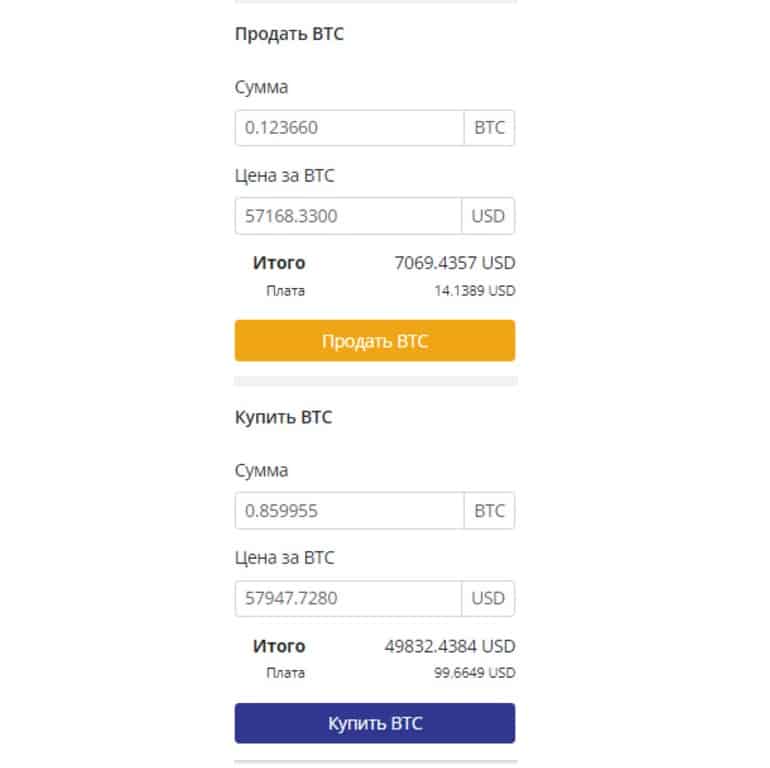 Verification on the Coinji platform
There is an "Identity Verification" section in your personal account. Here you need to enter your address and upload a photo of your documents. For authentication, upload a copy of both sides of your personal ID card, passport or driver's license. To confirm your address, upload one of these documents:
electricity bill;
gas bill;
phone bill;
Internet bill;
a receipt for payment of rent;
account statements delivered to your address.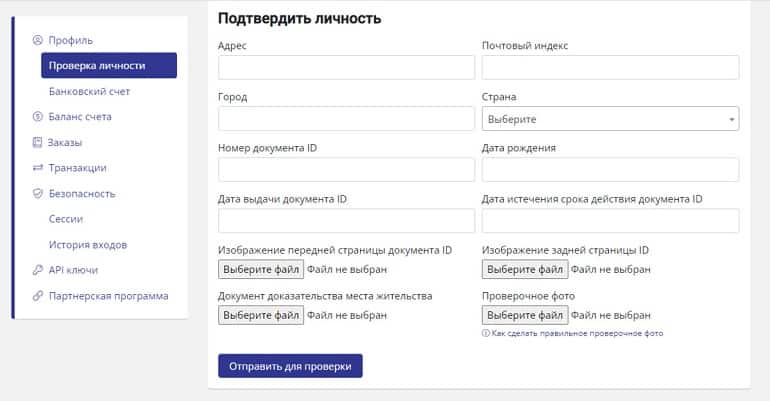 Deposit and withdrawal
At the stock exchange Koinji Payment via electronic payment systems, credit and debit cards is not available. Only bank transfers and SEPA (available in EU) can be used. For deposits and withdrawals, bank transfers usually take 2 to 5 business days. SEPA deposits must go through an additional step of converting funds to U.S. dollars, which in some cases may delay deposits by an additional day. International deposits are processed and credited immediately after the transaction.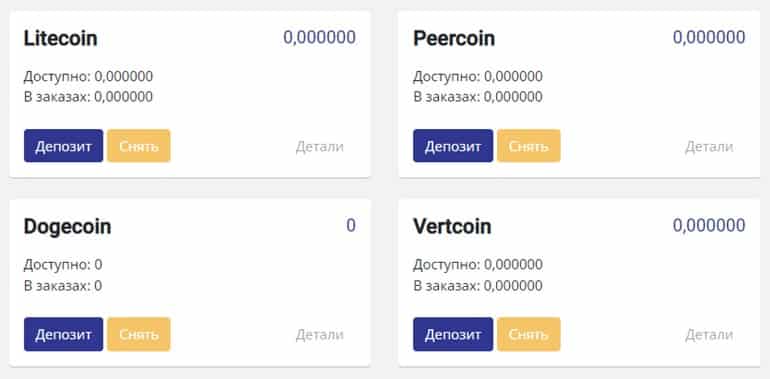 Coingi Crypto Exchange Commission
Coinji Exchange charges 0.2% for all transactions. Deposits are charged a fee of 5 dollars and 1 euro, for cryptocurrencies it is not provided. For the withdrawal is charged such a commission:
USD - 10 usd;
EUR - 10 eur;
CZK - 0 czk;
BTC - 0.001 BTC;
LTC - 0.001 LTC;
PPC - 0.1 PPC;
Doge - 5 Doge;
VTC - 0.1 VTC;
NMC - 0.1 NMC;
Dash - 0.001 Dash.
Bonuses coingi.com
There is nothing about bonuses on coingi.com. Apparently at the moment they do not. But the referral program at Koinji there is.
Affiliate Program
You can invite other users to trade on coingi.com and receive 50 percent of their trading fees as a commission. You will find the referral link in your personal cabinet in the "Affiliate Program" section.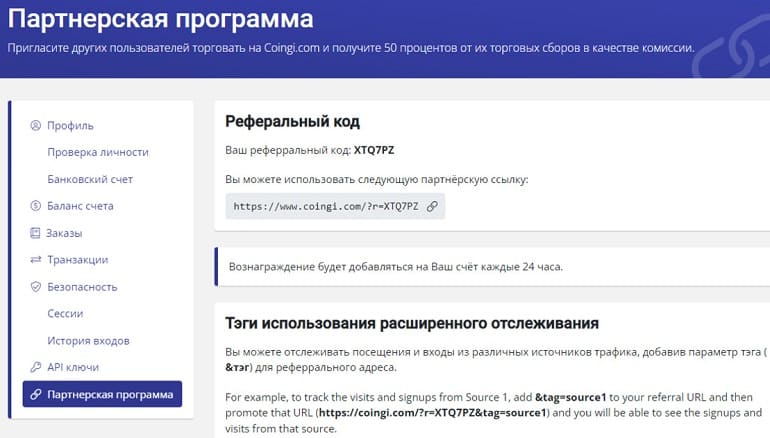 Complaints about Koinji
We did not find any reviews about this crypto exchange on the web. That is, there are no complaints about it. But judging by the trading turnover of 465062 BTC per day, the company is popular among traders. Users are attracted by its simple and straightforward interface, high level of security and accessibility of the platform to clients from all over the world. Support specialists answer questions promptly, solve problems via email and social networks.
If there are any complaints about Coingi, we will be sure to post the information on social media. Sign up so you don't miss anything!
Please keep yourself informed about news and complaints. We copy the most valuable information to social networks, so please sign up!
Regulation of the crypto exchange coingi.com
The issue of regulation is important for companies engaged in the financial sector. A cryptocurrency exchange can be both transparent and fraudulent. Next, let's talk about regulation coingi.com.
Regulator
The website of the exchange says nothing about regulation, the company does not have a license to conduct financial activities. On some third-party resources slips the information that the main office of Coindzhi is located in the Czech Republic. Although other portals say that the headquarters is located in Panama. There is no information about the management and founders of the company, it is hidden.
Koinji User Agreement
By registering on the website coingi.comYou confirm that you are at least 18 years old and have the legal capacity to trade in digital assets.

By registering on the Koinggi portal, you agree that you will never use the service for any illegal purposes - money laundering, illegal gambling operations, etc.

Customers agree to pay a commission for buying or selling virtual currency, it is 0.2% per full transaction.

Verification requires a scan of the customer's ID card and a document proving the customer's residential address.

Customers are warned that the company is not responsible for the loss of income, because trading digital assets involves a lot of risk.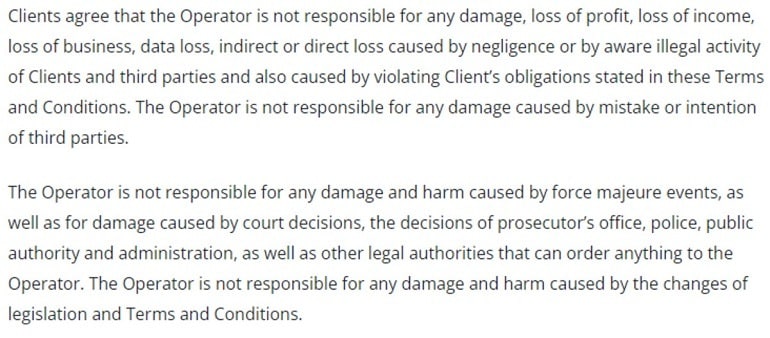 The agreement also specifies what data the exchange may require from the client. These are name, address, date of birth, etc.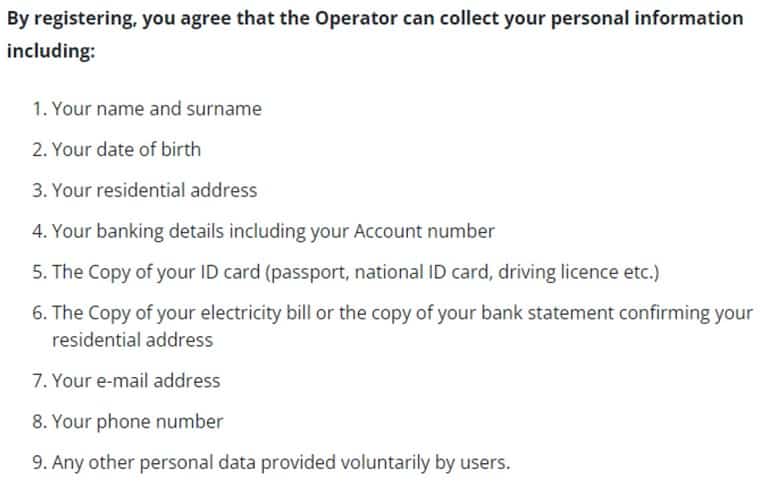 Customer Service
The support team can be contacted as follows:
Is Coingi a divorce?
Coingi hides contact information and says nothing about the founders of the company. It seems to be headquartered in the Czech Republic and has an office in Panama. There is nothing about regulation, the exchange has no license to conduct financial activities. But this can be said about many crypto exchanges. So this is not an indicator that the organization is fraudulent.
Koinji is not a scam or a scam. Support specialists promptly answer questions and always try to help the client. And the daily trading turnover proves that this crypto exchange is popular among traders. The site offers access to digital assets to clients from all over the world. There is even a Russian-language version of the site, which makes working with the platform much easier.
Conclusion
Coingi - is a cryptocurrency exchange that offers 14 popular trading pairs for transactions. Here you can trade digital assets on favorable terms, the company guarantees the safety of financial transactions. Coinji is not a scam or a scam, this platform is used by traders from all over the world. There is even a Russian-language version of the site, but the documents are only in English. If you have any difficulties when working with this platform, you can always ask for help from the support service.
No reviews yet. Be the first!
Robots for cryptocurrency