Bingbon is the first crypto exchange with transaction copying functionality that offers a variety of digital coins and bonus rewards.
Read completely
Cryptocurrency exchange
Official website
Social media
Date of foundation

2018

Head Office
Types of support

Chat

Feedback form on the site

Twitter

Facebook

Telegram

Instagram

Reddit

Languages

English, Spanish, Japanese, Turkish, Indonesian, Vietnamese, Russian

Founder
The owner of the company
Manager
Minimum entry amount

Verified

Cryptocurrency

From 1 USDT
From 0.0002 BTC
From 0.01 ETH

Fiat Currency

Bank card (Visa/MC):

from 31 USD

Unverified

Cryptocurrency

From 1 USDT
From 0.0002 BTC
From 0.01 ETH

Fiat Currency

Bank card (Visa/MC):

from 31 USD

Maximum input amount

Verified

Fiat Currency

Bank card (Visa/MC):

to 88,652 USD

Unverified

Fiat Currency

Bank card (Visa/MC):

to 88,652 USD

Minimum withdrawal amount

Verified

Cryptocurrency

From 10 USDT
From 0.001 BTC
From 0.02 ETH

Unverified

Cryptocurrency

From 10 USDT
From 0.001 BTC
From 0.02 ETH

Maximum withdrawal amount
Exchange Commission

Trade Commission:

0.075

% for taker /

0.045

% for maker

Withdrawal fee:

From

1

To

28

USDT /

20

USDC /

0.0005

BTC /

0.007

ETH /

0.25

XRP

Terminals

TradingView

Age restrictions
Trading volume per day
Number of users
Number of cryptocurrencies
Margin Trading
Leverage
Tokenized assets
Free Demo Account
Types of accounts

Isolated margin account, standard contract account, professional contract account

Execution of orders

Market order, Limit Order, Take Profit Orders, Stop-Loss

Methods of replenishment

Bank card (Visa/MC), Apple Pay, Cryptocurrencies

Withdrawal methods

Cryptocurrencies

Account currencies

Cryptocurrencies

Types of cryptocurrencies

USDT, USDC, BTC, ETH, XRP

Mobile applications
Trader training

There are instructions on how to use the service, you can also communicate with experienced traders and copy their trades

A way to store cryptocurrencies
Fiat accounts
Scalping
Stop Loss and Take Profit Function
Exchangeability for fiat currencies
Terminal capabilities

Working with indicators, graphical tools

Futures trading

Indefinite and standard

Basic verification
Extended AML verification

KYC policy (passport, documents proving address and source of income)

Regulatory laws

International data protection law

FATF (Financial Action Task Force)

API

Read more

Provides access to endpoints of market data, trading and account management Perpetual Swap

Bonuses
Affiliate Program
Benefits

Loyal terms of cooperation

A wide selection of digital coins

You can trade FOREX, indices and commodities

Generous affiliate program

Disadvantages

Complaints about insufficient experience of traders offering copytrading services

Company requisites

Legal address:

No information

Overall assessment
Date of update

17.02.2023
Subscribe to this company
BingX is this a scam? Reviews and description
BingX
- is a company founded in 2018
crypto exchange
which provides access to the spot market, derivatives market and copy-trading service in more than 100 countries around the world. BingX is proud to be the trading exchange that unlocks the fastest-growing market
cryptocurrencies
for everyone, uniting newcomers with experts, as well as giving an opportunity to invest in digital assets in a simple, clear and transparent way. In this review, we will look at what exactly this crypto exchange offers and find out if it is a scam.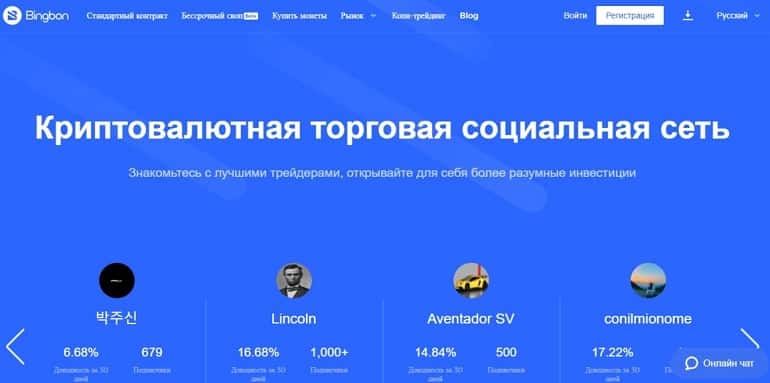 Why BingX?
This crypto exchange covers not only digital assets, but also other financial instruments, such as FOREX, indices and commodities. Represents contracts denominated in USDT, with other popular coins, including Bitcoin, Ethereum, Litecoin and Bitcoin Cash. For BTC and ETH specifically provides inverse contracts that users can choose as the base coin in the transaction. Platform Features bingx.com:
supports CFD trading on popular cryptocurrencies, forex, global indices and commodities;
A large selection of currencies from around the world for input - dollars, euros, pounds, rupees, rubles, hryvnias, etc;
The site has been translated into Russian, English, Spanish, Japanese, Turkish, Indonesian, and Vietnamese;
100,000 virtual VST coins are provided to traders for testing;
there is copy-trading - you can copy trades of successful traders and earn money, giving only 8% of the profit received from copying;
Verification of identity for deposit/withdrawal of funds is not required.
BingH offers a simple and intuitive terminal. The TradingView chart allows traders to manage their portfolios easily and efficiently. Moreover, users can create support and resistance charts or insert comments to make it easier to keep track of their investments.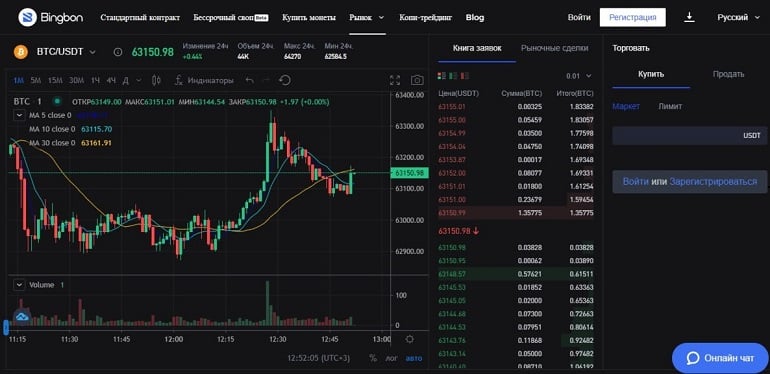 This is the first crypto exchange with trade copying functionality. Thanks to automatic copy trading, you can search for successful traders, follow them and copy their trading strategies. You can set a limit on the daily amount of copied trades in advance to reduce risks and better manage potential losses.
Another handy feature is the platform, which has a virtual coin called VST, 1 VST equals $1. After full registration, a participant will automatically receive 100,000 VST, which are used to run demo trading on Bingbon. Users can use VSTs to make transactions in TradingView. It's a quick and harmless way to get used to exchanging and trading digital coins.
How to exchange cryptocurrency at bingx.com?
The "Market" section has a "Buy Coins" tab. Here you can buy USDT, BTC or ETH for rubles, dollars, euros and other currencies. You need to specify the amount you want to deposit, and the system will automatically calculate the number of crypto coins. Coins will appear in your account after depositing. Application limit for USDT: 1612 ~ 402953 RUB or 31 ~ 5076 USD. For ETH: 16234 ~ 6493466 RUB or 239 ~ 95278 USD. For BTC: 10435 ~ 5217290 RUB or 132 ~ 65545 USD.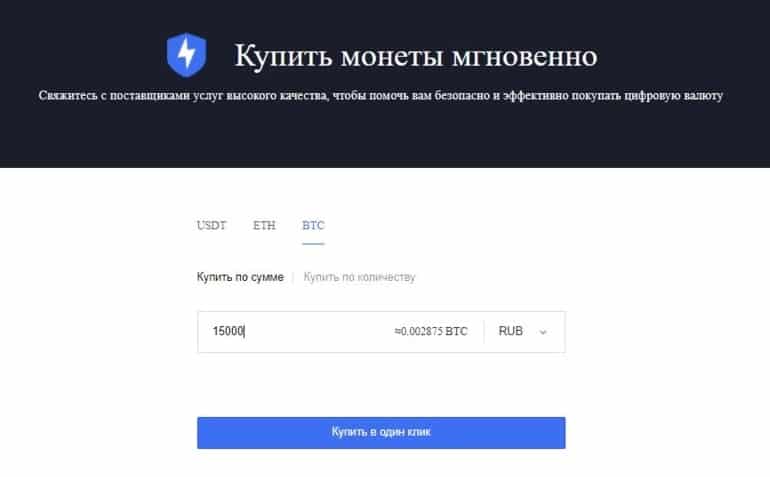 Also in the "Market" section there is a subsection "Exchange", where you can quickly convert one currency to another. This is a free conversion of BTC, ETH and USDT into another cryptocurrency.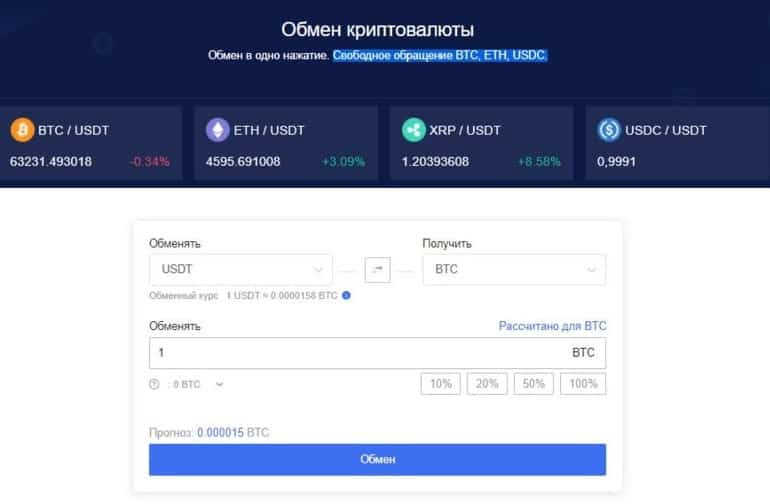 Verification at the BingX exchange
Verification of identity is not a mandatory procedure. However, it may be required when withdrawing large sums of money. There is a tab "Verification of identity" in the personal office, where you need to specify the type of identity, country and name. Then you need to upload an image of your passport and a self photo with the text "Bingbon + Verification Date".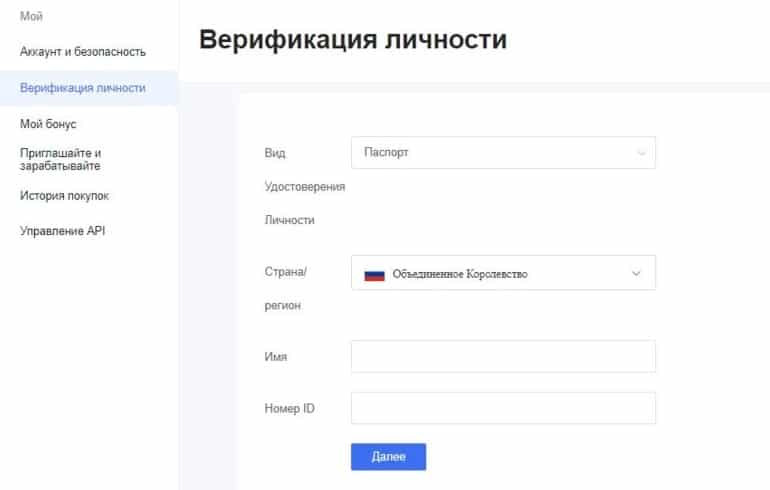 Deposit and withdrawal
You can top up your account in rubles, dollars, euros and other currencies using a Visa or MasterCard bank card, or through Apple Pay. Then all work is done in cryptocurrency. The minimum deposit amount after the exchange is 1.00 USDT, 0.0002 BTC, 0.01 ETH. You can replenish your account in the "Assets" section of the same name.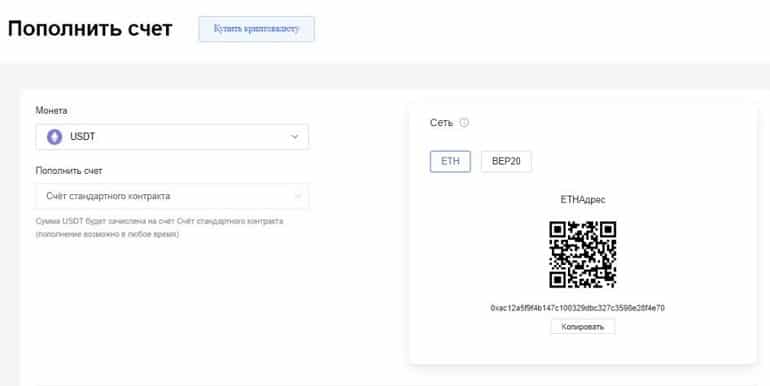 By trading in digital currencies, you can make a profit and withdraw it to cryptocurrency wallet. Minimum withdrawal amount is 0.001 BTC, daily withdrawal limit is 5 BTC. For USDT 10 USDT and 2000000 USDT, for ETH 0.02 ETH and 400 ETH. To withdraw you need to go to "Assets", subsection "Withdraw".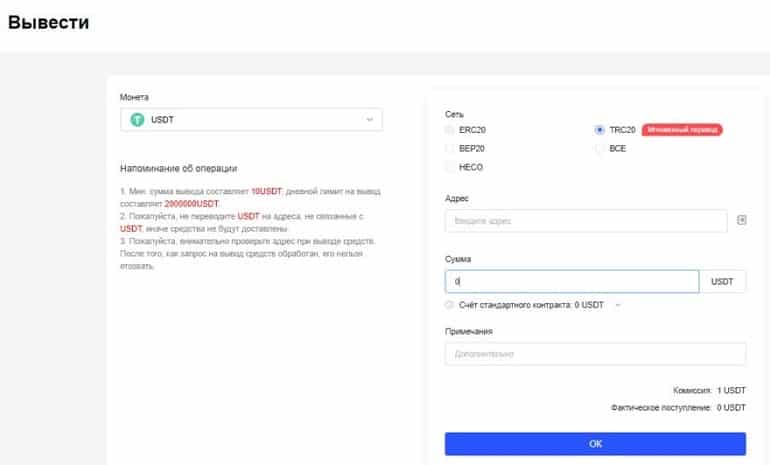 BingX Crypto Exchange Commission
The commission rate for trading the standard contract is 0.075%. For open-ended swaps trading 0.075% for tokens and 0.045% for makers. Withdrawal fees are provided for each cryptocurrency:
USDT-ERC-20 - $20;
USDT-TRC-20 - $1;
USDT-OMNI - $28;
USDC - $20;
BTC - 0.0005 BTC;
ETH - 0.007 ETH;
XRP - 0.25 XRP.
The commission for exchanging cryptocurrency for Bingbon is 0.2%.
BingX Bonuses
This crypto exchange offers clients interesting bonuses and affiliate program. That's what we'll talk about next.
Rewards for Beginners
After registering at bingbon.com, the user receives a gift of $120 to their account. This money can be used in digital asset trading. They cannot be withdrawn or used for copy trading. But you can use it to open positions, and the profit can be withdrawn. The bonus is credited in installments if a number of conditions are met:
5 dollars. You need to fund your account and switch to trading standard contracts. Total top-up USDT ≥ 50, BTC ≥ 0.002 or ETH ≥ 0.05.
35 USDT. It is necessary to make a total trading volume of ≥ 25000 USDT. With 5X leverage.
80 USD. You need to make a total trading volume ≥ 200000 USDT. At a leverage of 20X.

Affiliate Program
BingH provides convenient and reliable digital asset trading services for its users. You can become an affiliate, use a referral link and invite your friends using it. For this, you will receive a commission of up to 60%. This is a very generous affiliate program.
Complaints about bingx.com
Users comment on the platform bingx.com in different ways. Some like the simple and user-friendly interface, the transaction copy function, the generous affiliate program and bonuses. Some even believe that the BingBong system could revolutionize financial, legal and social relationships between people.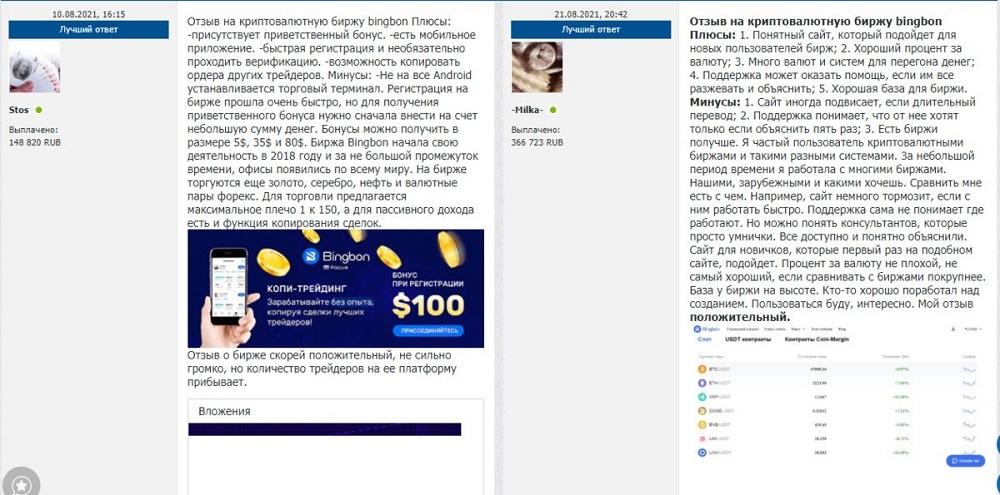 Others accuse the company of being a pyramid scheme and a scam. But most likely such reviews are written at the behest of competitors. There are complaints about the support service, as well as hanging site. At the time of writing our review, the site was not freezing and was up and running. They also complain about the copy trading services, saying that there are a lot of inexperienced traders on the exchange.
If there are any reviews about Bingbon Exchange, we will be sure to publish the information on social networks. Sign up so you don't miss anything!
Please keep yourself informed about news and complaints. We copy the most valuable information to social networks, so please sign up!
Regulation of the BingX crypto exchange
Among crypto exchanges there are both honest companies and scammers. To understand the integrity of a crypto exchange, it is necessary to study its regulation and check whether it has a license. That's what we're going to do next.
Regulator
The project was launched in 2018 in Taiwan and Vietnam, but already in 2020 the crypto exchange entered the European market. The network writes that Bingbong has licenses to operate in the European Union and the United States. However, the company's official website says nothing about regulation.
bingx.com User Agreement
The "agreement" stipulates that capable persons from 18 years of age can trade digital currencies on the cryptocurrency exchange. Bingbon functions as a trading platform provider, not as a buyer or seller in transactions between traders.

All users must register before using the services at bingx.com to obtain an account. Use of the services must not violate the public interest, public ethics or the legitimate interests of others.
If the company suspects you of dishonest business practices, it may block your account. Users are also warned about the risks associated with trading in digital currencies. The cryptocurrency exchange is not responsible for the loss of your funds.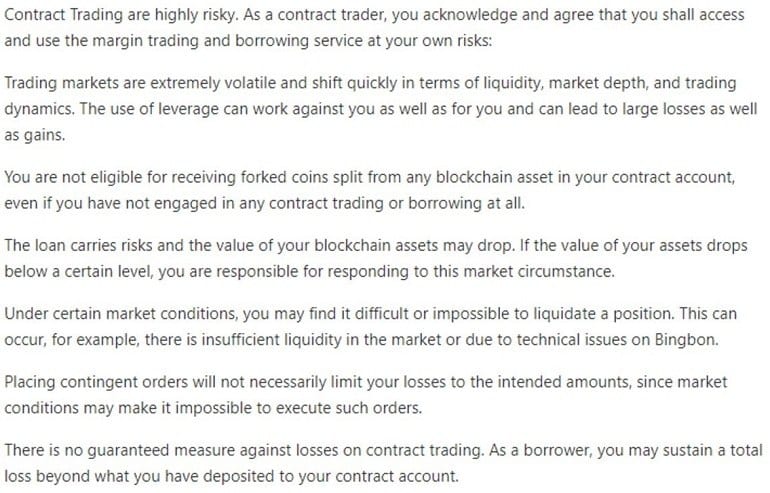 Customer Service
Support can be contacted in the following ways:
email: [email protected];
online chat and feedback form on the site;
Twitter;
Facebook;
Telegram;
Instagram;
Reddit.
Is BingX a scam?
BingX can't be called a scam or a scam, it's the first crypto exchange with the function of copying trades. A beginner can copy trades of experienced traders and earn money, giving only 8% of profit from each contract. In addition, newcomers have the right to use the demo version to practice trading digital assets with virtual money.
It is known that the crypto exchange has licenses to operate in the EU and the United States. That's what they write on the web, but we didn't find any legal information on the website. And the documents are presented only in English, which is not very convenient for Russian-speaking audience. Despite these disadvantages, the project still has more positive sides. Clients like simple and convenient interface, variety of digital coins, function of transaction copying, interesting affiliate program and bonus rewards.
Conclusion
Thanks to a variety of products, copy trading, demo trading, users BingX can learn how to trade and improve their skills. Bingx crypto exchange is a relatively new player on the global derivatives market, and it is now demonstrating the potential to become a leader in cryptocurrency trading. This project is not a scam: there are currently over 300,000 registered accounts at bingx.com, generating a trading turnover of around $500,000 per day.
The company in the ratings
Robots for cryptocurrency
Activity
New

0

Resolved

0

Not resolved

0
New companies on the site