Udacity is an online platform with a large selection of training courses in the technical sciences. There are courses with a job guarantee.
The company
Official website
Head Office

2440 West El Camino Real, 1st Floor, Mountain View, CA 94040

Date of foundation

2011

The owner of the company
Types of support
Social media
Languages

English,

Cost of training

Paid, Free

Prices

Online courses

/

From

399

USD

per month

Bonuses
Methods of replenishment

Bank card, Wire transfer, PayPal

Buying on credit
Installment
Categories of training programs

IT and digital courses, Business courses

Specialties

Web development, Programming, Freelancer, Business, Data Science, Product manager, Data analytics, Cloud developer, Cyber security specialist, Web analytics, HTML layout, CSS layout, Mobile developer, Web design

Programming languages

C++, SQL, R, Python, Javascript, Java

Project Features

Stanford University portal with a large selection of technical science courses, including job security

Number of courses
Course Types

Short-Term, Medium-Term, Long-Term

Additional services

Taking an in-person exam at partner universities

Employment Assistance

By the Nanodegree Program

Starting the training

By calendar, At any time (you can join at any time for the course)

Course completion documents

Certificate

Age restrictions
Mobile applications
Affiliate Program
Benefits

A wide range of courses developed with leading industry partners

Convenient training format. Implementation of real projects and practical exercises

There is an opportunity to take exams at partner universities

Opportunity to study through scholarship and state programs

Courses with a job guarantee

Partial refund if employment did not occur

Materials from teachers of technical universities. Unlimited access to programs after graduation

The practical part is based on the experience of specific companies

Disadvantages

Rather high cost of subscription

Regulatory agencies and laws
Company requisites

Legal name:

Udacity, Inc.

Legal address:

2440 West El Camino Real, 1st Floor, Mountain View, CA 94040

Overall assessment
Date of update

12.02.2023
Address
2440 West El Camino Real, 1st Floor, Mountain View, CA 94040
Map
Subscribe to this company
Udacity is this a scam? Reviews and description
Educational commercial platform
Udacity
- a portal where you can find courses in a variety of engineering disciplines. The courses are paid, prepared by specialists from Stanford and other partner universities.
The platform also has courses with a guarantee of employment in the next 6 months after training and the opportunity to take full-time exams at many universities. To find out if Udacity is a scam, let's take a closer look at it.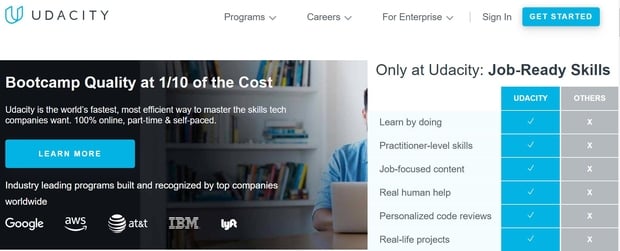 Why Udacity?
Platform for online learning was launched in 2011 by experts from Stanford University. Udacity is a portal where you can find a huge number of courses in technical disciplines and more. The company has launched several programs in which you can receive additional education, both for a fee and through grant programs.

What are the advantages of the platform udacity.com:
More than 200 partner companies, whose experts help prepare educational content;
The platform makes it possible to apply for a training grant for an information technology degree;
a huge number of courses consisting not only of theory, but also of an extensive practical part;
At the end of the course you receive a certificate signed by the course instructors;
Pay in a convenient way, including the ability to auto-renew your subscription;
At the end of the course you prepare a project that can become part of a portfolio for employment.

Udacity is not just an online school, according to the website and student reviews, but an educational resource through which you can later find work in IT, Internet marketing and other fields. After the courses, you will have the opportunity to get a new specialty or an additional degree from one of the universities the company cooperates with if you want to continue your studies.
How do I study online at udacity.com?
In order to start studying, you need to choose a course from those offered on the website udacity.com and register. You can verify your account with your Google or Facebook account or with your email. Registration should not take more than 15 minutes.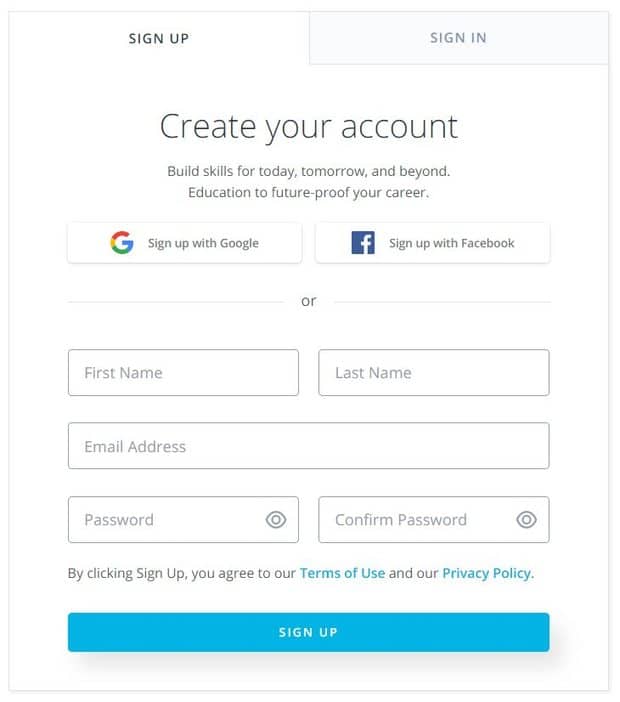 Udacity Personal Cabinet
Once you open your personal account, you'll have access to most of the learning functionality of the platform. You will be able to take courses, contact instructors, and pay for courses.
Mobile application
The school does not have its own mobile app.
Courses at udacity.com
The company's website offers a huge selection of courses and classes in the technical sciences. The courses are broken down by areas and programs for easy navigation. Let's look at the most popular of them.
Programming
Programming is a very important skill in today's world. The site presents programs in popular areas for both beginners and experienced professionals.

Database Specialist
This course starts on schedule. The class lasts four months, during which time you will learn the basics of programming and developing databases, search queries in SQL and Python.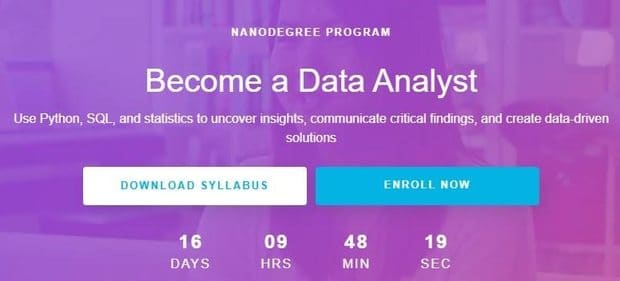 The practical part of the classes will be built on real examples from leading technical companies. The course is included in the program, in which you can get a guaranteed job in selected companies (or you will get a refund for the money spent on training). The cost of access to this course is $399/month or $1356/4 months.
Business School
Whether you are starting or advancing your career, you will benefit from programs in this area. All courses also start on schedule and cost from $399 per month.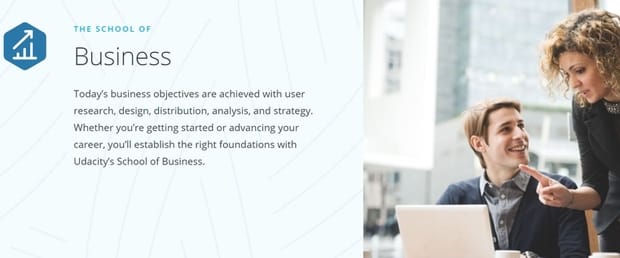 Risk analytics and forecasting
One of the non-technical but popular courses on the platform. Studying and predicting risks in business will allow you to get additional education and work in one of the constantly developing and in-demand fields.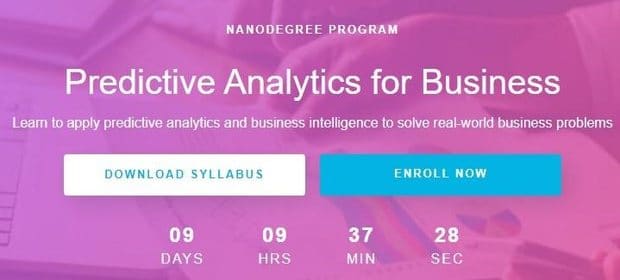 In this course, you will look at real cases from partner companies, learn from their examples, and examine the pros and cons of their decisions in times of crisis. While taking this course, all students get access to the Career Center, where they can get help with preparing resumes, preparing portfolios, and much more. The cost of subscribing to the course is $399 per month.
IOS Software Developer
The course lasts six months, and during this time, you will learn the basics of iOS programming, app creation, and much more. As with the company's other courses, the technical part of the course will consist of real-world tasks presented by partner companies.
Employment is possible at the end of the course. All materials can be downloaded from the website after registration, and course supervisors will be constantly in touch with their students. The price of the course is $2035/6 months. If you do not know which course you want to choose or want to learn a new profession from scratch and find a job in this field, you can choose one of the online schools presented on the platform, for example "Cloud Technology School", where you will have the opportunity to download and watch video courses, listen to lectures, find all the necessary information on the subjects of interest to you from leading teachers of courses and partner universities.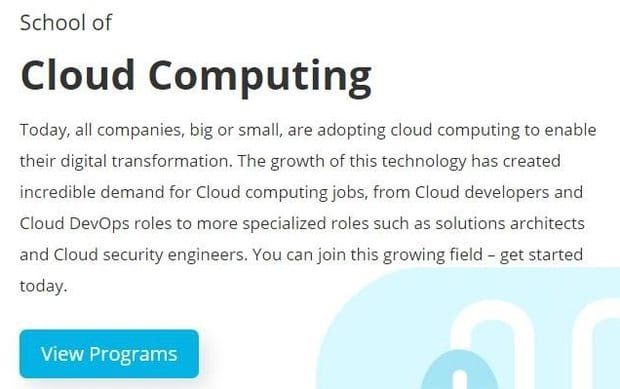 Free Udacity courses
Subscription to the platform's educational courses udacity.com costs $399 per month, but you can find interesting videos, lessons, webinars and other reference materials on various areas on the platform website.

Additional services of Udacity
In addition to training on the site, participating in the company's programs, you can get a job in one of the partner companies.
The courses here, as we have already written, include assistance in preparing resumes, job matching, test interviews, assistance in compiling a profile on sites where headhunters are looking for future employees of the companies represented on the portal, and much more.
Tuition at udacity.com
The cost of learning on the platform depends on the selected course. You can pay for the courses on a one-time basis, by subscription, or with a grant. In addition, the courses can also be paid by legal entities for their employees On average, the price of the course will be from 399 USD/month.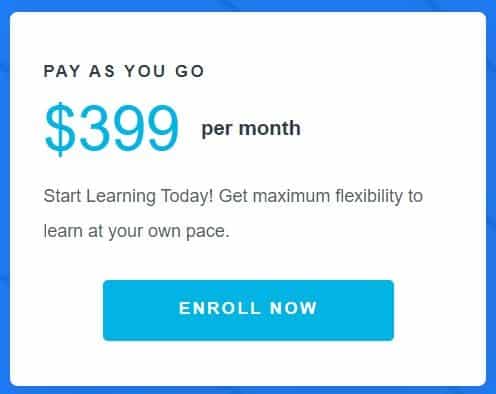 How do I pay for Udacity?
The easiest and fastest way to pay for your subscription is with your bank card. Legal entities can pay for the courses by invoice.
Paying for training in your personal account
You can pay for classes through your personal account with a linked bank card.
Other ways to pay for online courses
You can pay for classes in many convenient ways other than a bank card, as we have already written: by bank transfer, through PayPal and others.
Udacity bonuses
The school offers its students various bonuses. Let's look at some of them.
Coupons
From time to time the school offers promo codes. Keep an eye on the website and social networks so you don't miss out on great deals.
Discounts
Udacity has seasonal discounts that are valid for a limited time.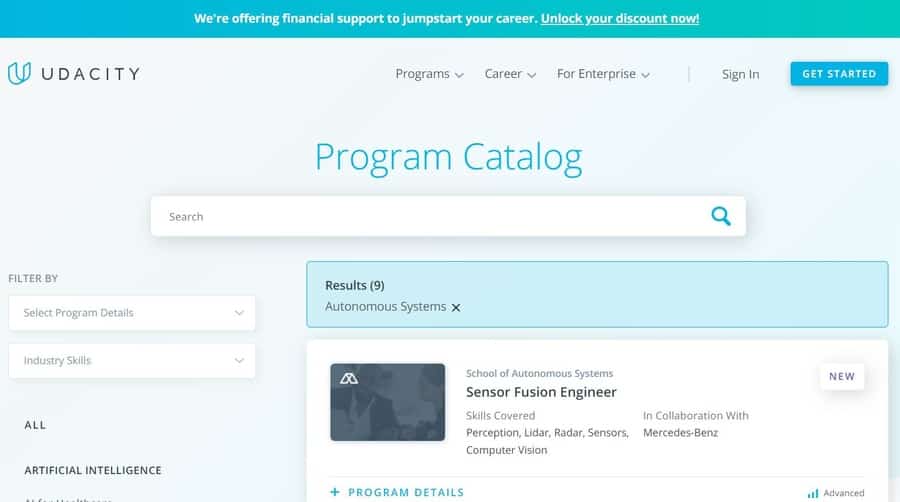 At this time there is a discount on courses in 10%.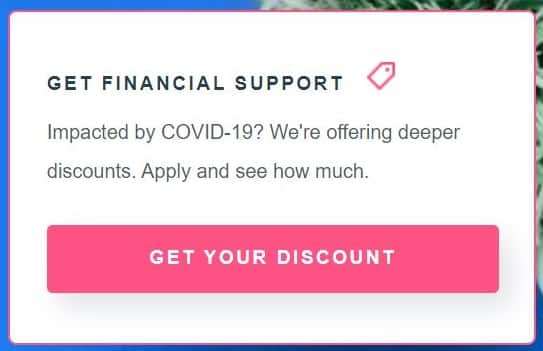 Referral program
Udacity currently has an affiliate program in the spa network Admitad.
Complaints about Udacity
The online university has been operating since 2011, and there are many reviews about its work, but mostly about individual courses rather than about the work of the online platform in general. The reviews of Udacity are almost all positive.

Students at the school primarily praise the large selection of topics offered for study, the convenience of the platform, and the fact that the platform offers very interesting video lectures and homework. The few negative reviews are related to the fact that there are no materials translated into languages other than English and Chinese.
If there are any reviews about the Udacity platform, we'll be sure to post on social media. Sign up so you don't miss anything!
Please keep yourself informed about news and complaints. We copy the most valuable information to social networks, so please sign up!
Regulatory agencies and laws
Udacity is governed by the laws of the State of California. The service operates as an online educational platform.
Documents from udacity.com:
Udacity User Agreement
When you register on the educational platform site, you sign a user agreement and a confidentiality agreement. All documents are presented only in English and are quite detailed. Let's look at the user agreement with the online university.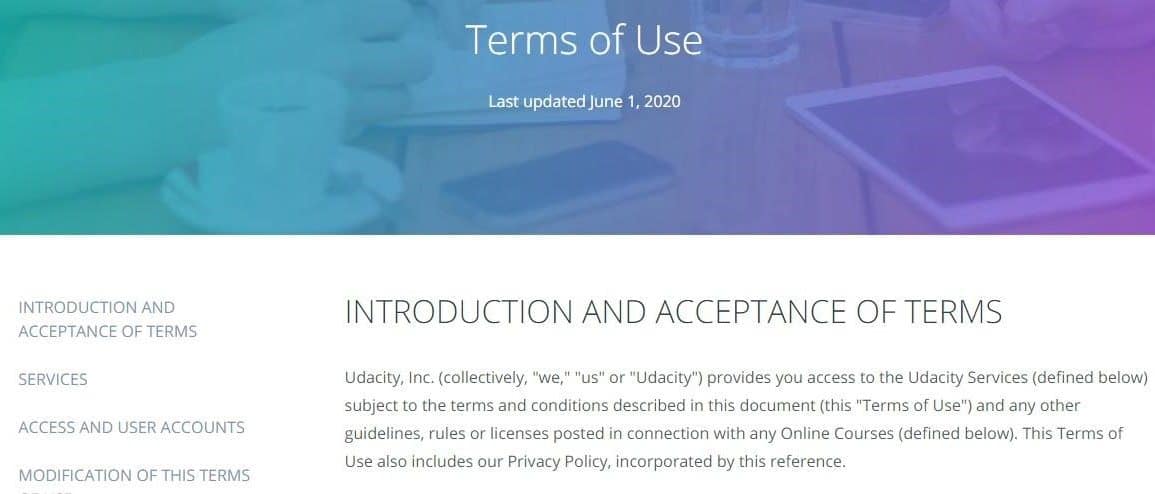 You can use the rubricator in the left menu for easy viewing of the document. Note that Udacity works with both individuals and legal entities. And if you study on behalf of an organization, you sign a different contract when you register, and your tuition is paid by your employer.
In addition to training courses, the platform also offers online courses from partner universities.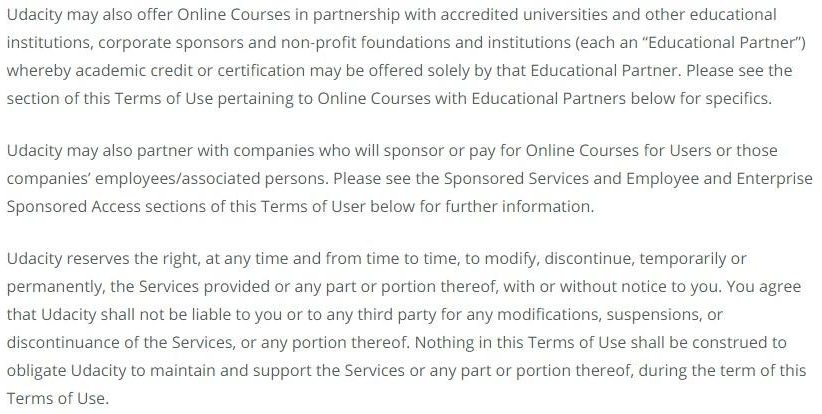 When registering, you choose a user role and then log in to that account: student, tutor, visitor, and others.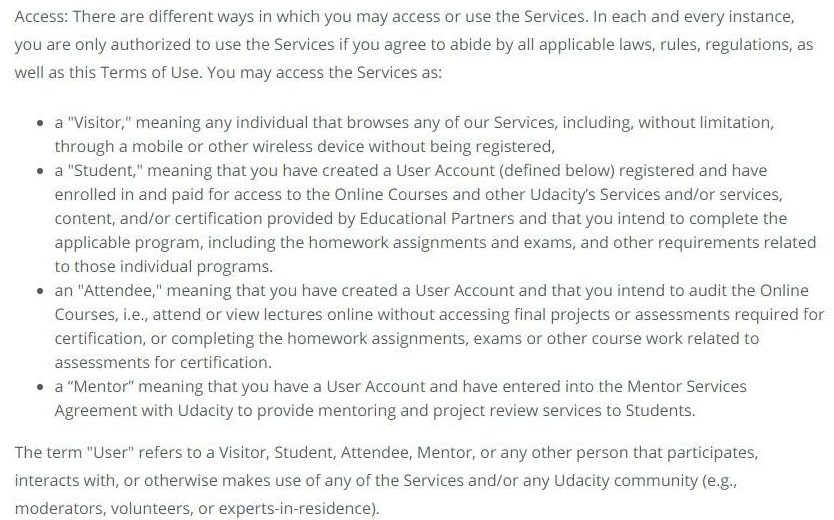 You can pay for training on the platform not only by card or bank transfer, but also with a grant from a university or other organization.

Udacity has a program called Nanodegree Plus, the essence of which is that you train on the platform and the company guarantees you a job within the next 6 months, if that doesn't happen, you get a refund.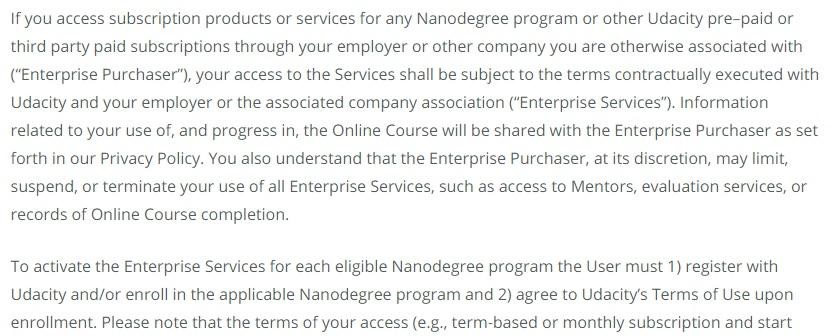 When registering, you can select auto-renewal among the payment methods. In this case, the money will be deducted from your card automatically without confirmation if you have the necessary amount on the card.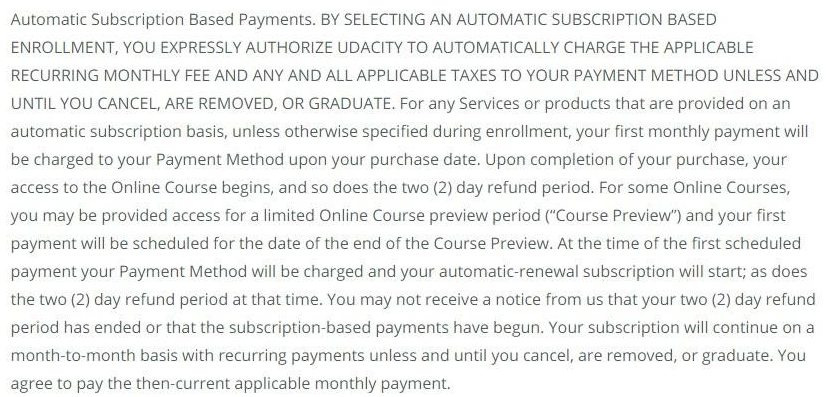 The latest you can cancel a subscription is the day before the amount is debited.
Otherwise, the contract is standard. If there are any issues with it that cannot be resolved through customer service, they will go to California arbitration.

Customer Service udacity.com
If you have any questions while working with the service, the answers can be found in the FAQ section.

If you can't find the answer to your question, you can contact the company by e-mail, through social networking groups and the feedback form in your personal cabinet.
Site security
Udacity website is protected by a valid network security certificate - Cloud Flare Inc. ECC CA-2. All payments through the service site are also protected. For additional cardholder payment verification the standard banking 3D Secure protocol is used.
Is Udacity a scam?
Udacity - educational portal, which began its work as a technical training platform of specialists from Stanford University. Constantly developing, attracting new specialists and opening new areas of training, it has become a full-fledged educational platform with a large number of courses, new programs, interactive schools and many other interesting projects that will help not only to get a new specialty or improve your level of technology skills, but also to get a decent job.
Having studied how the platform works, the courses presented, the materials, the customer feedback, the programs offered, and much more, we can say with confidence that online learning from Udacity is not a scam. The platform presents long-term courses mainly in technical areas with a lot of additional material, video lessons, lectures, and a practical part by leading experts from technical universities in the United States.
The price of the courses is quite high - a one-month subscription costs $399, but there are periodic discounts for many courses. In addition, you can become a member of the "Nanodegree" program and get a guarantee of employment after training or a refund of part of the money spent, if this did not happen.
Conclusion
Every day there are more and more educational platforms where you can improve your professional level or get a new additional education. Udacity works mainly in the field of technical sciences. Subscription to training on this platform will be quite expensive, as we have already written, but in addition to the fact that all course materials are prepared by teachers of technical universities, almost all of the practical part of the lesson is based on the real experience of specific companies and their employees.
You can pay for your subscription in many convenient ways, including auto-renewal. According to student reviews, the Udacity platform is easy to work with, the site is very well designed and well navigated, and the courses presented there are rich and interesting, but so far they are only in English.
The company in the ratings
Job Search on the Internet
Activity
New

0

Resolved

0

Not resolved

0