AAX is a platform that offers a full range of crypto products and services. On the exchange trade cryptocurrency at the speed of light.
Cryptocurrency exchange
Official website
Social media
Date of foundation

2016

Head Office
Types of support

FAQ

Feedback form on the site

Facebook

Twitter

Telegram

Instagram

Languages

Thai, Korean, Vietnamese, Japanese, Chinese, English, Russian

Founder
The owner of the company
Manager
Minimum entry amount

Verified

Cryptocurrency

From 0.001 BTC
From 0.02 ETH
From 5 USDT
From 0.2 EOS
From 0.002 LTC

Fiat

Mercuryo:

from 4 USD

Advcash:

from 1 USD

Unverified

Cryptocurrency

From 0.001 BTC
From 0.02 ETH
From 5 USDT
From 0.2 EOS
From 0.002 LTC

Fiat

Mercuryo:

from 4 USD

Advanced Cash:

from 1 USD

Maximum input amount

Verified

Fiat

Mercuryo:

Up to 5,000 USD

Advcash:

Up to 49,999 USD

Unverified

Fiat

Mercuryo:

Up to 5,000 USD

Advcash:

Up to 49,999 USD

Minimum withdrawal amount

Verified

Cryptocurrency

From 0.0005 BTC
From 0.01 ETH
From 1 USDT
From 0.1 EOS
From 0.001 LTC

Fiat

Mercuryo:

from 4 USD

Advcash:

from 1 USD

Unverified

Cryptocurrency

From 0.0005 BTC
From 0.01 ETH
From 1 USDT
From 0.1 EOS
From 0.001 LTC

Fiat

Mercuryo:

from 4 USD

Advcash:

from 1 USD

Maximum withdrawal amount

Verified

Fiat

Mercuryo:

Up to 5,000 USD

Advcash:

Up to 49,999 USD

Unverified

Fiat

Mercuryo:

Up to 5,000 USD

Advcash:

Up to 49,999 USD

Exchange Commission

Spot trading:

0.06

% for maker /

0.1

% for taker

Futures:

0.02

% for maker /

0.04

% for taker

Withdrawal fee:

0.0004

BTC /

0.01

ETH /

From

0.1

To

8

USDT /

0.1

EOS /

0.001

LTC

Terminals

Trading terminal for futures, Terminal for spot trading

Age restrictions
Trading volume per day
Number of users
Number of cryptocurrencies
Number of trading instruments
Margin Trading

Margin depends on price movements

Leverage
Tokenized assets
Free Demo Account
Types of accounts
Execution of orders

Market Execution (at market price), Limit Orders, Stop Limit

Methods of replenishment

Bank card (Visa/MC/MIR), Cryptocurrencies, Wire Transfer, Advcash, Mercuryo

Withdrawal methods

Bank card (Visa/MC/MIR), Cryptocurrencies, Wire Transfer, Advcash, Mercuryo

Account currencies

Cryptocurrencies

Types of cryptocurrencies

BTC, ETH, USDT, LTC, EOS, ADA, DOT, SOL, etc.

Mobile applications
Trader training

Beginner's guide, blockchain glossary, AAX academy

A way to store cryptocurrencies
Fiat accounts
Scalping

Trade from 1 min to 15 min

Stop Loss and Take Profit Function
Exchangeability for fiat currencies
Trading Strategies

All trading strategies are allowed

Additional features

Free coins from the exchange for reviews and errors found on the platform

Traditional options

Profits from trading options on the platform

P2P trading

Direct purchase and trade of cryptocurrency (without the participation of third parties)

Futures trading

There is buying and selling coins on the platform for a predetermined price

Steaking

Passive profits from holding coins on the exchange

Basic verification
Extended AML verification

KYC (passport, passport or driver's license. Photo with document (selfies). Proof of address (bank statement, utility bill, etc.)

Regulatory laws
API

Read more

Used to automatically perform specified operations by the robot

Bonuses
Affiliate Program
Benefits

Interface in different languages, including Russian

Support for fiat currencies

Availability of a P2P platform

Profitable referral program

Ongoing development of the exchange

Company requisites

Legal name:

AAX Singapore Branch

Legal address:

059915, Singapore, Company No T20FC0021A, office at 36, Carpenter Street, #02-01, Carpenter Haus

Overall assessment
Date of update

05.09.2022
Subscribe to this company
AAX is a scam? Reviews and description
AAX - a platform that offers a full range of crypto products and services. The exchange runs on the LSEG Technology engine, allows you to trade cryptocurrency at the speed of light. The company appeared in 2018, but only after 18 months was it officially launched. All this time the team has been developing and researching the platform, customizing and improving it to make it user-friendly.
When the exchange opened, a strong team was assembled to develop its services, which included specialists from HSBC, IBM and JPMorgan. Now there are 200 people working under the direction of director Thor Chan. In a year the staff has brought the exchange to the leading role in the Asia-Pacific region. AAX is a professional team, the use of reliable technology and a special attitude to security. And it's also a platform that is constantly evolving, introducing new tools for its clients. Let's find out if it's a scam. crypto exchange AAX.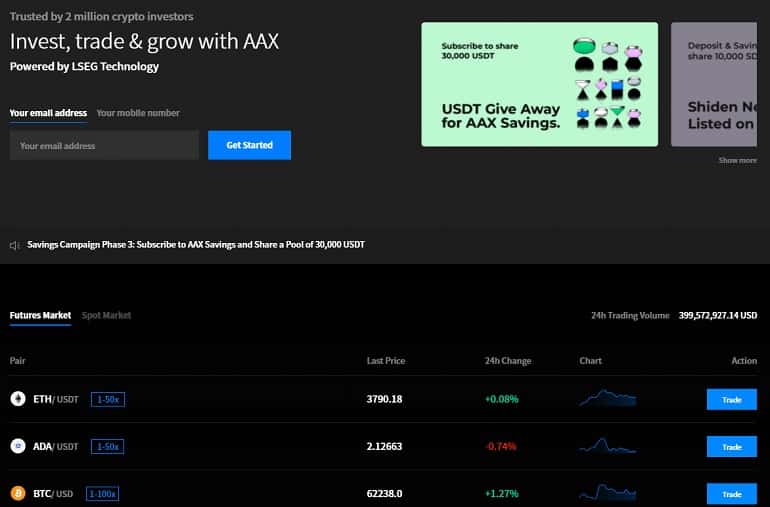 Bonus 50 USD on depositing by promo code 5YQXnFRVozNM.
Why AAX?
At the stock exchange aax.com It is possible to exchange digital coins and use additional tools to receive assets. Spot trading, futures contracts, P2P-platform and saving are available to clients. Spot trading suits beginners, allows you to quickly understand the system, to master the basic schemes of making a profit. With P2P, you can sell and buy coins directly. The client has more control over the transaction, but takes a peculiar risk because there is no intermediary in the form of an exchange in the scheme.
Users can work with futures - selling or buying coins at a set price in the future. In order for the transaction to take place, a contract is signed for its realization. Savings - a service, the principle of which is similar to a savings account. The client deposits his assets at an interest rate and they are returned to the user within a specified period of time. The platform trades 65 digital coins and there are more than 100 bundles. More often clients choose the pair BTC/USDTBut other assets are not neglected, either.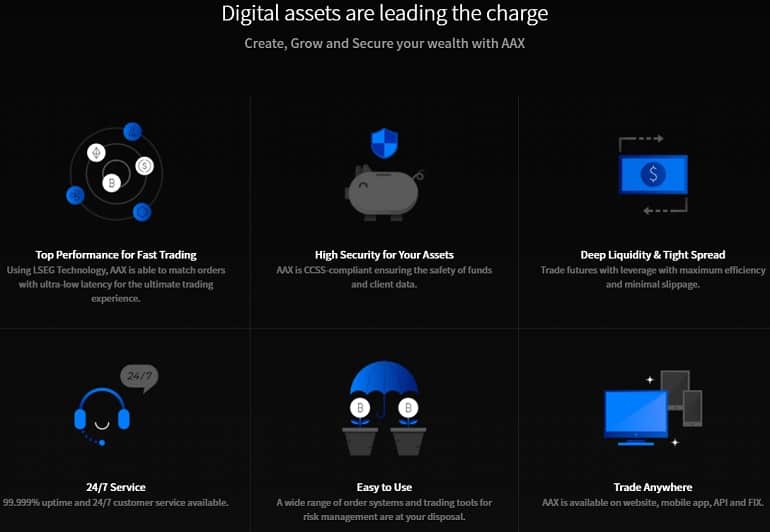 For the convenience of users, specialists have created their own digital coin - AAB. Using it, traders receive a 20% discount on commissions and can work with special trading opportunities. Trading at the exchange is only possible from 18 years of age. If the company finds out that the services are used by a minor, it will delete the personal information from the user. There are still a number of countries with which the platform does not cooperate due to legal disputes. These are Afghanistan, Bosnia and Herzegovina, Cuba, etc. The same list includes the cities of Crimea, Sevastopol. You can trade on the official website of the company, through mobile applications, download links for which are located on the main page of the platform.

How to exchange cryptocurrency on aax.com platform?
Through the "Quick Buy" system, customers can instantly execute a transaction. To buy cryptocurrency, you need to log in or register in your personal cabinet and get verified. Users are offered to make a purchase using more than 20 local currencies. Bank transfer, Visa, Mastercard and others are accepted for payment. Purchased currency is displayed on the fiat account. If you want to sell your accumulated savings, then you should specify the amount and currency that you give away. And choose in which currency you wish to receive funds.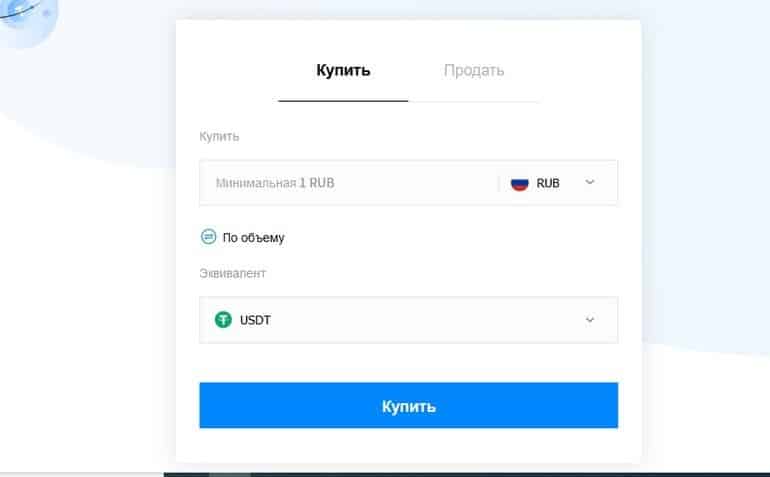 Verification on the AAH platform
When opening an account, customers register on the website aax.com by phone or via e-mail. An identification code is sent to the specified number and box, which can be used to activate the account. Users are also offered to verify their identity in order to use all the services of the company. With the verification of identity it is possible to withdraw money, use the P2P platform and the function of quick purchase of coins. Clients also have an increased limit on receiving funds. For verification, it is necessary to provide personal information and a passport.
The company has the right to make inquiries to verify the accuracy of your data. If a customer sends false information, AAX may suspend the account, deduct a penalty from the balance for non-compliance with the rules. When verifying personal data users are assigned the first level of verification. The second level can be obtained by sending the documents to the company to confirm the actual address. This will open an additional option - depositing in fiat currencies. Clients are advised to use two-factor authentication and payment password to protect their personal data.

Deposit and withdrawal
There is no separate tab with the total balance on the platform. Instead, clients are offered several separate accounts: spot, fiat, futures, and seeding. Users who have passed the second level of verification have the right to use fiat currencies: dollars, rubles, euros, hryvnias, etc. The money appears on the account immediately after the operation. You can deposit money to the account Wallet cryptocurrency. To withdraw savings, users need to set a payment password (only after that the function becomes available). Transactions can be delayed up to half an hour, as the team itself processes requests.
AAX Crypto Exchange Commission
On the platform AAH there are fixed commissions for spot trade: for makers it is 0.06%, for tokers - 0.1%. When working with futures contracts other tariffs are applied: 0.02% for makers and 0.04 for tokers.
How do I get a discount on commissions?
Users can get a 20% discount when paying with AAB.

Withdrawal fees
A commission is also paid when you withdraw your earnings. Each coin sets its own value, specifies the minimum amount you can withdraw, and the percentage that you will give for the transaction.
Bonuses aax.com
To users aax.com offer various bonuses for profitable trading.
Bonus 50 USD on deposit
You can get a bonus of 50 USD if you deposit by promo code 5YQXnFRVozNM.
Passive income with Solana
Blockchain protocol helps clients earn passive income, take advantage of modern technology. Solana takes 0% commissions on the AAX spot market, offers the use of savers SOL / SRM / RAY / STEP / CVC / AUDIO.
Saving
With a swing, the interest rate increases to 20%. At the same time, the duration can be from 7 to 360 days. Clients are offered a zero subscription fee, and the yield is much higher than on the market. Users also have the option to redeem the principal and interest at the same time, automatically extending the deal. Interest is credited to the account at 00:00 UTC for the next day after subscription.

Referral program aax.com
You can get a passive income with the help of an affiliate program. To do this, you need to share a referral link or QR code with another person and motivate him to register. After the new user appears in the system, you will get back 20% from his trading commissions. And when your friend will make trades for 10 000 USD and deposit 500 USD, you will get 20 USD, and your friend will get 50 USD.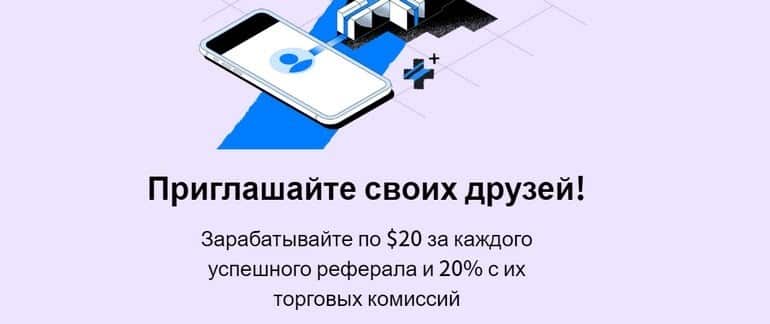 Complaints about the AAH
Before you start working with the exchange AAHIt is worth reading what regular customers have written about it. So, from the pluses, users note that it is possible to choose the language on the site (Russian, English or Chinese). Customers like the fact that there is support for fiat currencies. They also speak positively about the P2P-platform.

The disadvantages include the fact that the company does not have a license and regulators, it is not engaged in margin trading. There are also complaints about the support service, which takes a long time to respond to users, solving problems inefficiently.
If there are any complaints about AAX, we will be sure to post the information on social media. Sign up so you don't miss anything!
Please keep yourself informed about news and complaints. We copy the most valuable information to social networks, so please sign up!
Regulation of the crypto exchange aax.com
From the documents displayed on the site, you can learn that the main branch is located in the Seychelles. There is also an office in Singapore. The company does not have a license and a regulator. But the team cares about the users, about your safety. What measures are taken to protect customers can be found in the "Privacy Policy". The document states that the information collected is used to provide the services prescribed in the contract.
Employees do not share data about you with third parties for research, analysis or profiling. Partners may only receive data if it will be used to improve the platform. The site also uses cookies to keep track of each customer's actions. You can turn them off if you wish.
AAH User Agreement
Before you start working on the platform, you should familiarize yourself with the user attitude. It states that AAX is a digital asset trading platform that provides customers with a number of services. These include spot trading, futures trading and OTC trading.

It is noted that the platform does not act as a counterparty in any of the transactions conducted. The company at will and corporate beliefs can restrict access to any jurisdiction, suspend the operation of a particular account. If a person is traveling, visiting a forbidden country, he is advised to use VPNto avoid the consequences in the form of restrictions on the platform.

When registering, users must provide accurate information about themselves. The team requests passport scans to verify each identity. This is done as part of the company's fight against money laundering schemes and against corruption and bribery. It is forbidden to copy, modify, distribute or sell information from the site. Customers are responsible for the security of their accounts, they must keep their password secret and not share it with anyone.
If you don't have a business account, the security team can terminate it if it is detected that more than one person is using it. The team can improve and modify platform services and make upgrades. When using the mobile app, be aware that some services that are on the full version of the site may not be available. AAX notes that it does not give customers advice or recommendations regarding trading. The agreement details trading on the platform, the fees charged, risk disclosure, as well as intellectual property protection, force majeure, and dispute resolution.
Customer Service
The company is in touch with clients 24 hours a day, helping them understand their questions. Here you can use the feedback form, attach your message and attachments (if any). After reviewing the request managers will contact you. Find answers to frequently asked questions in the FAQ. For the convenience of users separately developed support center, which has the necessary documentation for work, training materials from the academy. You can quickly contact the staff through social networks of the exchange.
Is AAX a scam?
AAX - a site created for exchanging, trading cryptocurrency. Users can buy and sell crypto in exchange for fiat currency. The exchange uses the traditional mechanism used by the London Stock Exchange. It is considered the fastest and most reliable and allows for a large volume of transactions on the platform. Customers have no problems with opening an account, as this procedure does not take much time. Registration requires a number or email box, passport and proof of address. Traders also note the stable operation of the platform, available commissions. For beginners, the site has a lot of useful information that will help to understand the intricacies and peculiarities of trading.
In general, it is worth noting the website of the platform, as it is informative and clear, conveniently divided into blocks. People from different countries can trade: clients can switch from English to Chinese, Russian, Japanese, Thai, Korean. The company also regularly updates its news section, where it posts articles about cryptocurrency exchanges and their innovations. Having studied the work of the company, its history, we can say that AAX is not a scam. The site helps traders to transform their capital and offers quality products. There are more and more users on the site every day, they manage to make transactions from different parts of the world.
Conclusion
Compared to competitors, the AAX there is a great advantage for the work of Russian-speaking users - the site has a Russian interface, which is competently translated. It is this detail that has helped to attract a huge number of new users who have a good command of the language. The platform is chosen for its ability to conduct transactions without verification. To understand how the platform works, to get to grips with all the subtleties of trading will be possible by starting to use it.
The company in the ratings
Robots for cryptocurrency
New companies on the site