Forex broker NordFX, founded in 2008, is a popular company that provides quality service for trading.
Forex broker
Website
Social media
Date of foundation

2008

Head Office

Pot 805/103 Rue D'Auvergne, Port Vila, Vanuatu

The owner of the company
Types of support

Feedback form on the site

Chat

Help Center

Support by phone
Languages

English, Spanish, Portuguese, Korean, Chinese, Vietnamese, Indonesian, Malaysian, Thai, Arabic, Hindi

Terminals

MetaTrader 4, MetaTrader 4 MultiTerminal

Min. first deposit
Broker fee

On the Zero account: 0.0035% per trade (each way). On the Stocks account: 0.2% per trade

Lot volume

From

0.01

On all types of accounts

Maximum open positions

To

100

On all types of accounts

Leverage

To 1:1000

Depends on the type of account

Spreads
Free Demo Account
Adjustable
Regulators
Types of accounts

Demo, Fix, Pro, Zero, Stocks, PAMM accounts

Margin call / Stop out
Features of trade

Forex trading in cooperation with a reliable broker, who has extensive experience in the market

Execution of orders

Market Execution (at market price)

Methods of replenishment

Neteller, Ngan Luong, PayToday, Perfect Money, Skrill, Webmoney, Wire Transfer, Dragonpay, Bank Card (Visa/MC)

Withdrawal methods

Neteller, Ngan Luong, PayToday, Perfect Money, Skrill, Webmoney, Wire Transfer, Domestic Wire Transfer, Bank Card (Visa/MC)

Number of assets
Types of assets

Currency pairs

EURUSD, USDJPY, GBPUSD, USDCHF, EURCHF, AUDUSD, USDCAD, etc.

CFD

Stocks, futures, metals, commodities, indices, energy

Cryptocurrency

Bitcoin, Ethereum, Litecoin

Stocks

NIKE, FERRARI, BOEING, PFIZER, HP INC, COCA-COLA, JOHNSON & JOHNSON, MCDONALD'S, etc.

Account currencies

USD, BTC, ETH

Liquidity providers

ECN PrimeXM

Mobile Trading
Weekend trading
Tournaments / contests

They are held very rarely

Trader training

Training center, video tutorials on forex trading (closed access), glossary of terms

Contract Difference Commission
Swaps
PAMM trading

Classic PAMM account for asset management

Analytics

Professional analytics and news on the site, economic calendar, free trading signals from MetaQuotes Software Corp., trader calculator

Margin Trading

Opportunity to increase profitability during forex trading

Affiliate Program

Registration

Additional profit from attracting traders to the broker platform

Benefits

A broker with a serious reputation and experience in the market

Availability of a license for brokerage activity

Reliable trading terminals

Large selection of assets

Execution of orders - 0.5 seconds

Additional profits from investments in brokerage investment funds

Support for automated trading

Qualitative market analysis

Disadvantages

There are not enough training materials on the website in the public domain

Company requisites

Legal name:

NFX CAPITAL VU INC.

Legal address:

Pot 805/103 Rue D'Auvergne, Port Vila, Vanuatu

Automated Trading

Allowed to use robots and advisors

Trading signals

Free signals from MetaQuotes Software Corp.

VPS services

Forex VPS Virtual Server from Fozzy Company (9,95 euro/13,95 USD/month)

Additional features

Investments in NordFX funds: Pro-Industry Fund, Pro-TECH Fund, Pro-Expert Fund with returns up to 57% per year

Date of update

12.07.2022

Overall assessment
Address
Pot 805/103 Rue D'Auvergne, Port Vila, Vanuatu
Map
Subscribe to this company
NordFX is it a scam? Reviews and description
Forex broker NordFX
was created in 2008. Now it is a well-known organization on the international market of financial services. The NordFX brand belongs to the company NFX CAPITAL VU INC, registered in Vanuatu.
Still, is NordFX a scam or a worthy company to which you can trust your money and time? We will answer this question in a detailed review of the broker.
Terms of trading with NordFX
NordFX offers financial asset management, transactions and operations on stock, currency and futures markets, brokerage activities. The company has many branches all over the world. It is regularly nominated for awards (for instance, it is a recognized and trustworthy company in some countries and on the international market; NordFX's partner programs, high quality of dealing were marked by awards; it was awarded the title of the best broker in the world according to the review of financial companies in the respected British magazine CFI.co).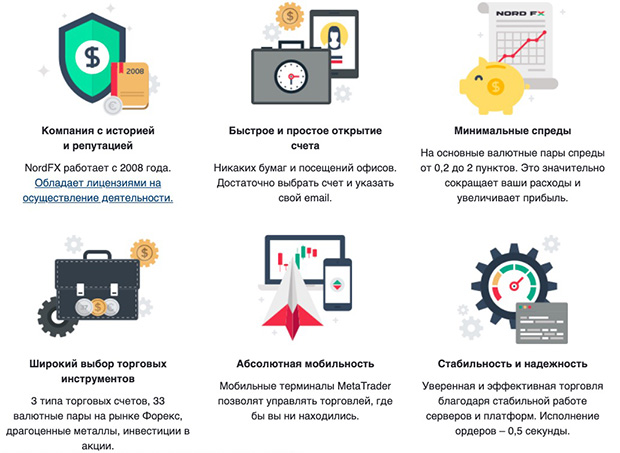 Nord FH regularly expands the list of useful options for clients, provides a wide range of services for trading at the international forex market, gives an opportunity to conclude CFD contracts on differences in prices for futures, commodities, energy resources, precious metals and stocks. Among the instruments are also available forex currency pairs, gold, silver.

NordFX investment funds are available at the broker. These programs allow investing money in shares of world brands on profitable and transparent conditions. The funds are available for professionals and for beginners who can take advantage of the professional approach to managing their assets at the initial stage of working with the markets. The broker offers such investment fund programs:
Pro-Industry Fund (investments from 1000 USD, from 6 months to 1 year) - here are available shares of world brands, which will guarantee the investor the best growth prospects and allow to extract the maximum yield.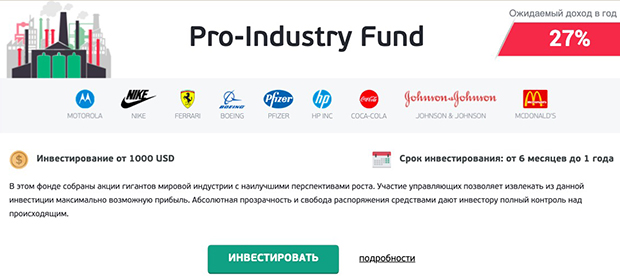 Pro-TECH Fund (from 3000 USD, from 6 months to 1 year) - this offer includes assets of the leading high-tech industry brands showing the best dynamics. Thanks to professional investment management, it is possible to avoid losses and maximize profits, which can be withdrawn when the trader needs them.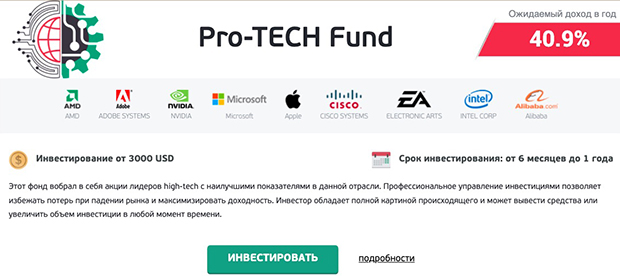 Pro-Expert Fund (from 5000 USD, from 3 months to 1 year) - here the "portfolio" includes assets of leading international brands from various industries with an impressive growth potential of asset dynamics. The offer allows you to get the most out of your investments.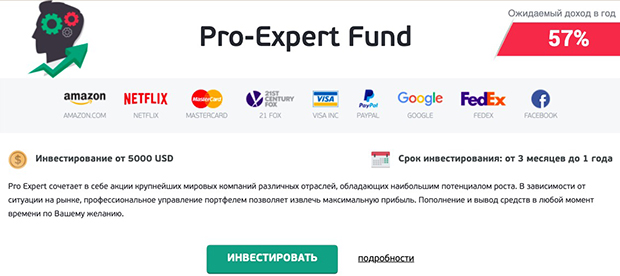 PAMM-accounts are also available here, allowing you to transfer capital to the management of traders and guaranteed profits from trading, even without experience.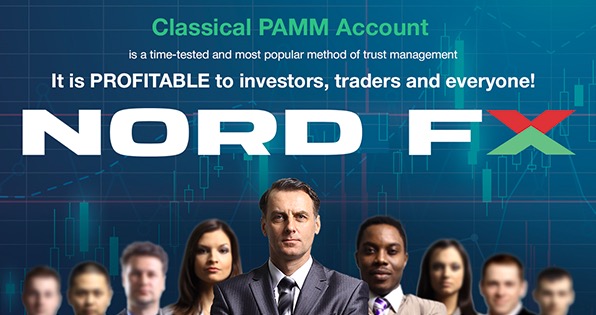 PAMM-service of the company as possibility of trust management of the capital, differs here favourable conditions, assortment of tools (currencies, cryptocurrencies, indexes, oil), the simple system of interaction of traders and investors. These accounts will be of interest to investors as well as traders who can create an unlimited number of accounts in the platform, work with investment portfolios and strategies. Such a dynamic instrument will be attractive to active and confident traders.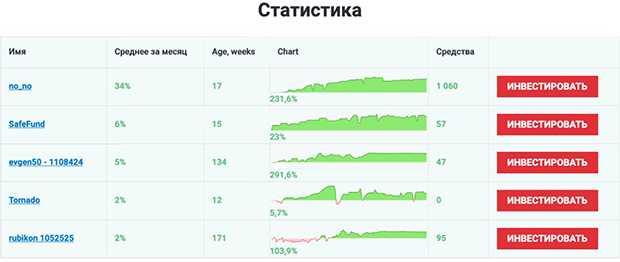 Traders have at their disposal a professional support of managers, an informative website, bonuses, analytics, several trading terminals. There is a wide range of accounts: Fix, Pro and Zero, an innovative ECN system (allows to get the access to the quotes directly from the interbank market). The company offers profitable trading conditions for beginners and professionals. Demo accounts, promotions, 24-hour support, trading signals, a variety of withdrawal methods, minimum deposits - all this makes working on financial markets available and comfortable. Informative articles, introductory and advanced courses, e-books, and materials about the company are published on the site.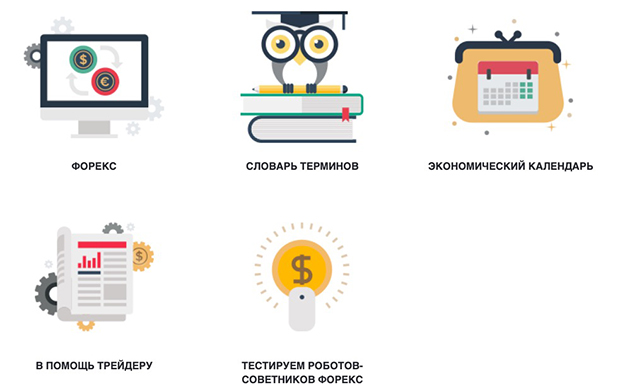 Platform nordfx.com
NordFX provides traders with only reliable solutions for forex trading. The most popular platform is available here - MetaTrader4, which is loved by millions of traders (Windows, Mac). The terminal is easy to understand, easy to conduct technical analysis and trade assets. Among its advantages: security and stability, fast execution (less than one second), different types of orders, expirations, chart types, the ability to create and test your own strategy, use the latest news from Dow Jones agency, types of execution (Instant Execution, Market Execution) and expert advisors. To start working in the MT4 terminal, you need to register at the broker and download the program to your computer.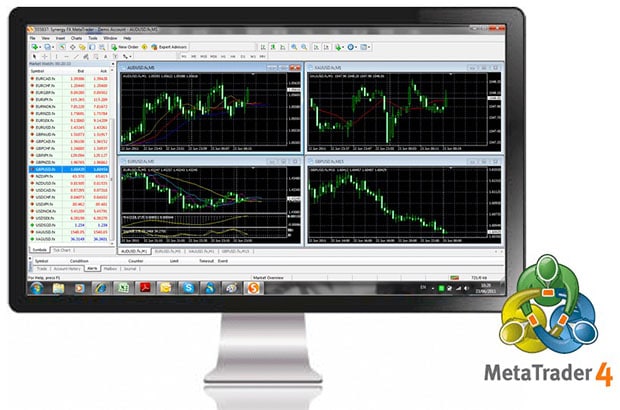 The broker also offers another serious solution for successful trading - MetaTrader4 MultiTerminal, which was specially created for such users who work with several accounts at once. This platform features high security, user-friendly interface and includes all the basic MT4 features. It is simple, but has a lot of features that would allow a client of the company even without any experience in financial markets to quickly learn the system and start trading, while using the MetaTrader4 functionality for analyzing quotes and MultiTerminal for trading. If you read the reviews of NordFX, among other advantages of the terminal are usually mentioned: easy management of multiple accounts, tracking the status of deposits, working with orders, conducting transactions on an investor's account, which facilitates easy control over his actions. In order to use the platform, you need to register at the broker, download the program to your computer, install it and you can start trading with NordFX.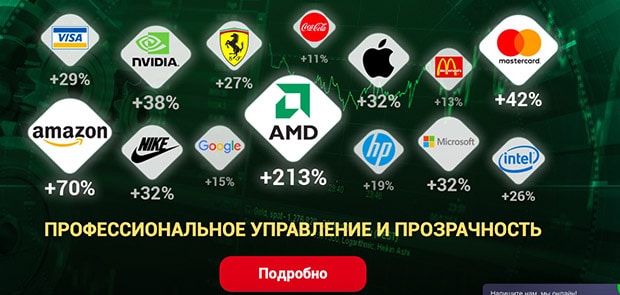 Broker quotes
The broker pays special attention to the quality of service and cooperates with time-tested solutions. The same can be said about liquidity providers. In order the trader has access to exact information about the price of trading instruments, the company works with a reliable liquidity provider, the international organization ECN PrimeXM.
NordFX demo account
In order to get acquainted with NordFX opportunities, to see the quality of its service and professionalism of the company, you can open on the broker's website nordfx.com free demo account (MetaTrader4, MetaTrader4 MultiTerminal). A demo account fully simulates trading on the real market, but the trader will be able to use virtual capital, learn the terminal, analyze the dynamics of assets, place trades, and test strategies. The advantage of such a solution is that working on the Forex market the trader does not spend his own money, does not risk his own capital, but can, with the right approach, feel more confident already during real trading.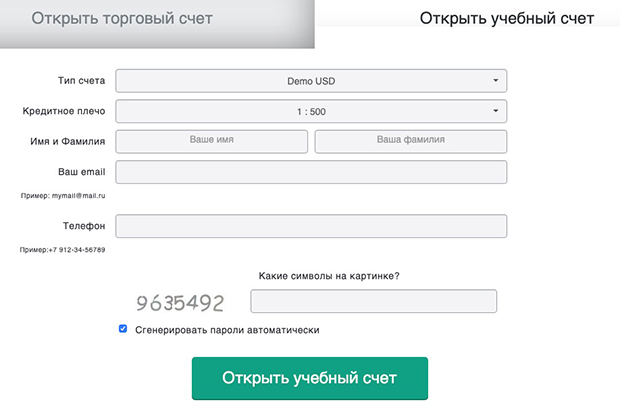 Mobile application
For comfortable work the broker offers traders and convenient mobile applications (iPhone, iPad, iPod Touch, Android). The program can be installed on your smartphone for free, and its functionality does not differ from the desktop version of the platform.
Here it is possible to study information about quotations in real time, analyze the market using indicators, change the chart view, use different expirations, work with different types of operations execution, orders, including pending, trade from the chart, control the account status. The application allows traders to access the market at any time convenient for them, all they need is a stable Internet connection.
Bonuses at NordFX
Every trader of the company can get a bonus under the "Bring a friend and get a bonus" promotion. This is an interesting offer for traders, which will allow them to receive additional remuneration from the broker. If a friend, whom you have brought to the broker's platform, opens an account, passes the verification procedure in the system and actively trades, you get 10% of the deposited amount on his account. Your friend should be a new client of the company and his/her initial deposit should be no less than $100. Be sure to clarify the terms of the bonus with your personal manager.
Deposit and withdrawal
NordFX offers many ways to deposit and withdraw funds. In order to deposit funds to your account, you need to register at the broker's website nordfx.comdeposit the amount by choosing a convenient way to transfer funds (minimum deposit - from 10$). To withdraw capital trader can use modern payment systems - from the usual bank cards to e-wallets:
Deposits and withdrawals are made in one and the same way. Money is credited instantly. There are no restrictions on the minimum amount of withdrawal, the maximum period of withdrawal - 5 working days (depends on the payment system).
Complaints against NordFX
NordFX is not as successfully represented on the Russian market as its competitors, it has many different reviews on the web. Some traders note positively the reliability and stability of the broker, profitable bonuses, excellent working conditions, fast withdrawal of funds, many tools for trading.
Among the reviews of NordFX there are negative points, about which there is also enough information: these are difficulties with the withdrawal of funds, the constant unstable work of the trading platform, incompetence and long answers of the support service, unjustified cancellation of transactions. It is to be hoped that the company plans to monitor the reviews on the Internet in order to improve the service. To avoid negativity when working with the broker, fully verify the account, clarify with the personal manager the peculiarities of the use of bonuses, withdrawal procedures.
If there are any complaints about NordFX, we will be sure to publish information on social networks. Sign up to stay up-to-date with news.
Please keep yourself informed about news and complaints. We copy the most valuable information to social networks, so please sign up!
Regulator of the broker Nord FH
Having several licenses means that it is important for the company to guarantee the client protection of trading and provide him with transparent and safe trading conditions. NordFX is a licensed brokerage company registered in Vanuatu. This broker is regulated by two financial institutions: VFSC (Commission for International Financial Services) and SEBI (Securities and Exchange Board of India).
nordfx.com User Agreement
Cooperating with the broker, it is important to know the rules of work with it and its platform, to understand your rights and obligations, what guarantees the company provides to your client. In case there is a failure, any force majeure, if the trader sends a complaint to the broker, etc., all these situations will be considered by representatives of the company only with reference to the rules of the platform. It is worth to study this information on the broker's website nordfx.comIn the document "User Agreement", which may be called otherwise, at NordFX it is the "Client Agreement" (in Russian). There are 5 documents on the NordFX website regulating the broker's relations with the users:
"Customer Agreement;
"Risk Warning;
"Legal Information" - about the legal responsibilities of a broker;
"Privacy" - about personal data, its transfer and security technology;
"AML Policy" is an anti-money laundering document.
Among the numerous clauses of the "Agreement" let's pay attention to the block of clauses devoted to the work on the account. Here you can find out that the company, if the trader does not actively use his account for a year, can deduct from the account a fee for its maintenance. In addition, in order to combat money laundering, the broker monitors the behavior of traders on the platform, conducts thorough checks on their documents, the sources of their funds, etc: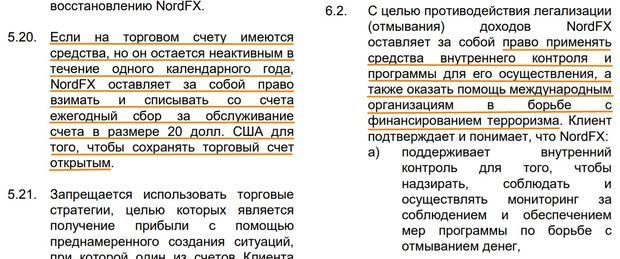 Separately, one can also read information about the company's policy regarding the documents provided to it by the clients. Here the broker follows the KYC ("Know Your Client") regulations, checks traders' identity, monitors their actions in the system and has the right to request additional documents. If the client fails to provide the necessary information to the manager within 30 calendar days, NordFX may stop his trading and non-trading operations, close transactions "at current market quotations and block funds" without the trader's consent: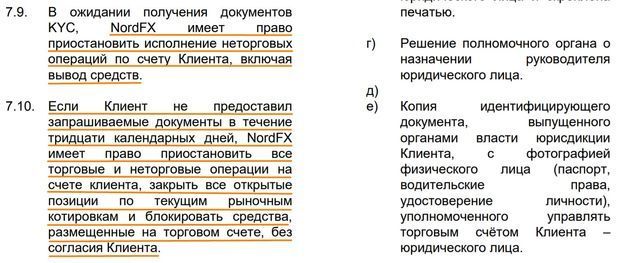 Is NordFX a scam?
NordFX has been working for almost 10 years on the financial services market and is justly considered one of the professional and reliable companies, which continues to work successfully today, taking into account modern trends in trading. The broker is widely represented all over the world, has a large customer base, which increases confidence in it.
The broker offers professionals and beginners to work with NordFX investment funds. There are 3 programs, so everyone can choose the one appropriate to their needs and financial capabilities. There are also PAMM accounts for those who do not know how to trade in the Forex market or simply do not have enough time to do so. A person can transfer his funds into the management of traders and receive income even without experience. On the Nord Fx platform, it is possible to make transactions with 4 crypto indices and 16 cryptocurrency pairs.
An impressive factor is the provision of quality service for trading. It is possible to work both in MetaTrader4 and MetaTrader4 MultiTerminal. The fact that the broker provides its clients with such solutions that make trading comfortable, demonstrates its willingness to cooperate only with serious brands, reliable, stable, and time-tested. However, it is advisable to pay attention to the fact that there are a lot of reviews about the company's terminals on the Internet today, including negative ones. We recommend you to be careful and test them in advance for possible errors.
The advantages of the company can also be considered the presence of an informative website nordfx.com with an interesting design (specifying trading conditions, information about licenses, brand history, awards, etc.), quality support, bonuses, affiliate program - all this demonstrates the serious intentions of the broker in the market, clearly inaccessible to fraudulent companies. The organization has several licenses, which makes working with it safe. Still, can it be argued that NordFX is a scam and a scam? The answer to this question: no, it has licenses, it has a mostly positive image on the market, favorable trading conditions, a variety of instruments.
Conclusion
Forex broker NordFX NordFX has been successfully providing online trading services all over the world for almost 15 years and has a large client base. Despite different reviews about the company on the net, we don't consider NordFX to be a fraud and a scam, we note its professionalism, impressive work experience, licenses and awards.
The company offers users a quality web product, unique services, continues to develop, following modern trends of trading on financial markets. Traders' reviews, which we are waiting for to this review, will not only influence the broker's ratings on the portal, but will also warn the company's clients against various problems.
Rating of reliable brokers