The broker offers several opportunities to trade securities on several stock exchanges from a computer.
Broker
Official website
Social media
Date of foundation

2000

Head Office

123112, Moscow, Presnenskaya nab. 10, BC "Bashnya na naberezhnoi", A Block, floor 13

The owner of the company

Investment Company IT Invest JSC

Types of support
Support by phone
Languages

English, Russian

Terminals

SMARTx, QUIK, SMARTweb

Min. first deposit
Broker fee

From 0.017% per transaction

Depositary commission

From

30

To

300

RUB

Depends on the type of account

Commission on OTC Market Transactions
Threshold of entry
Authorized capital
Leverage
Free Demo Account
Adjustable
Regulators

CENTRAL BANK OF RUSSIA

№045-07514-100000

Types of accounts

Demo, Stock, Derivatives, Currency, Commodity, OTC

Methods of replenishment

Wire transfer

Withdrawal methods

Wire transfer

Types of assets
Account currencies

RUB

Reliability Rating

AAA

Mobile Trading
Weekend trading
Tournaments / contests
Trader training

Glossary, training videos, background information

Trust management

Accord" and "IPO" trust management funds

Fee for the use of the terminal
Withdrawal fees
Trading robots

The software package SMARTcom allows you to create your own trading robots for trading on the exchange, as well as dock with the trading server ready-made mechanical trading systems

Asset management
Managerial assistance
Trade ideas
Single account
EIS

An EIS will generate +13% of tax deduction annually if you fund it for three years

Autosurvey
Analytics

Calculator, news, reviews

Margin Trading
Available Exchanges

Moscow Exchange, St. Petersburg Exchange, Hong Kong (SEHK), LSE, ICE, London Stock Exchange, NASDAQ, NYSE, Xetra Stock Exchange

Whose shares you can buy

Aeroflot, Rostelecom, Sberbank, Norilsk Nickel, MVideo, Lukoil, Tinkoff, Rosneft, Adobe Systems, Apple

Markets

The whole world

Affiliate Program
Benefits

Large selection of terminals

License of the Central Bank of the Russian Federation

Disadvantages

Unsatisfactory support service

Problems with the system, frequent failures

Deception by a broker - loss of money through his fault

Company requisites

Legal name:

Joint Stock Company Investment Company IT Invest

Legal address:

123112, Moscow, Presnenskaya Nab. 10, floor 13, room I, room 1-51. 1-51

Date of update

18.03.2023

Overall assessment
Address
123112, Moskva, Presnenskaya nab. 10, BC "Bashnya na Naberezhnoy", Blok A, etazh 13
Map
Subscribe to this company
ITI Capital is this a scam? Reviews and description
I.T. Invest brokerage company in 2017 became known as
ITI Capital
. At this point in time, this
Stock Broker
is considered one of the best in Russia, the National Rating Agency gave it a rating of AAA (outlook - Stable). Official website
iticapital.ru
is convenient, in addition, it supports the Russian language. The activity of ITI Capital focuses mainly on brokerage services, the project offers traders the opportunity to trade on various stock exchanges, among which are as follows
Russian stock markets
(Moscow Exchange, St. Petersburg Exchange), and international platforms Hong Kong (SEHK), NYSE, NASDAQ, AMEX, etc.
Is ITI Capital a scam, is it a fraud, or is it still a solid player providing serious services to customers? trading in the stock market? Let's try to deal with these questions in this review.
Terms of trading with ITI Capital
ITI Capital stock broker is popular in Russia. Its platform is convenient to work on, including the Russian trader. Trading on stock exchanges is made in the currencies Russian ruble, euro and American dollar. Brokerage services begin with a minimum deposit of 50,000 rubles. Further conditions of trading operations will depend on the exchange at which you are going to work. That's why you should get acquainted with trading conditions on a certain trading platform additionally before you start betting.

The company gives new clients a test period for work - 30 days with free brokerage service. Then the broker will receive a commission from the amount of each completed transaction:
stock market - from 0.017%;
futures market - from 20%;
currency market - from 0.004%.
For convenient and productive work of the clients ITI Capital has created several tariff plans for each of the exchanges, on which the trades are held. All this is available on the official website iticapital.ru.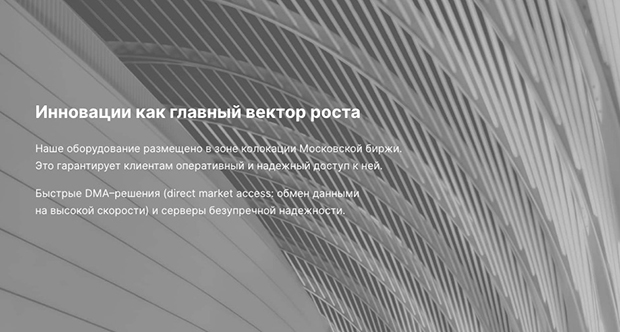 ITI Capital takes care of its clients, creating comfortable conditions for their productive work. The site also has an analytical section, which offers a lot of useful information: daily analytics and reviews stock markets, information about portfolios, assets, trading instruments, investment ideas, as well as a dividend calendar, etc. You can also take a training course here (Training in Stock Market Trading).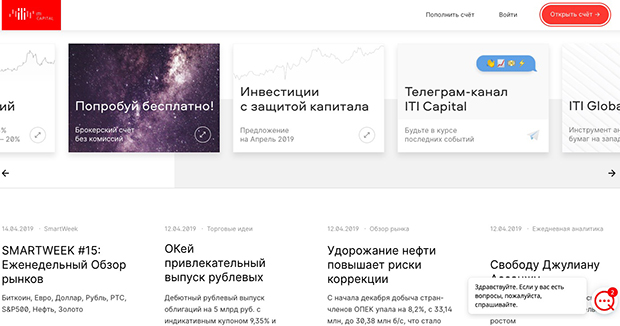 ITI Capital offers its clients various packages to start investing as well. Beginner investors have ready model portfolios available, in which there are several securitiesThe company's products are selected according to certain criteria and will help newcomers to learn how to act in the market during trading independently. Inexperienced clients can also take advantage of other company products, such as robo-advising. Here the robo-adviser provides information on trades and gives investment advice (The stock market as a source of profit).

The company also has other opportunities to help novice investors. ITI Capital's more experienced investor clients can provide assistance with trading ideas. They also have the option of a single cash position, a service that opens up opportunities for margin trading. We also offer personal brokerage services for investors who have more than 15 million rubles in their account. There are also special offers for corporate clients, presented in the form of marginal lending, risk hedging, etc. Investors are offered to open an Individual Investment Account (IIA). It can be accumulative or used for investing funds. This account will bring to the trader's account 13% of tax deduction at its regular replenishment and after 3 years the client will be able to get this money.
A new client must open a brokerage account, which will be used for all future operations. If you are not yet ready to act as an investor, ITI Capital offers a demo account with virtual money. It will help you master the art of trading and test your strategies in action.
Platform iticapital.ru
The broker has several platforms for work. They are convenient, functional, help to place a deal in time and fix profit. The programs are oriented both for beginners and market professionals. Let's talk about them in details. Option-lab is developed for trading options strategies. The program is a robotized trading system via the Internet. New users get free access to it for the first three months. It can also be used by investors whose brokerage commission exceeds 900 rubles/month.
SMARTx is a personal development of ITI Capital. It is a trading terminal designed for trading operations on both Russian and international stock markets. It is also easy to understand and conduct comfortable trading here.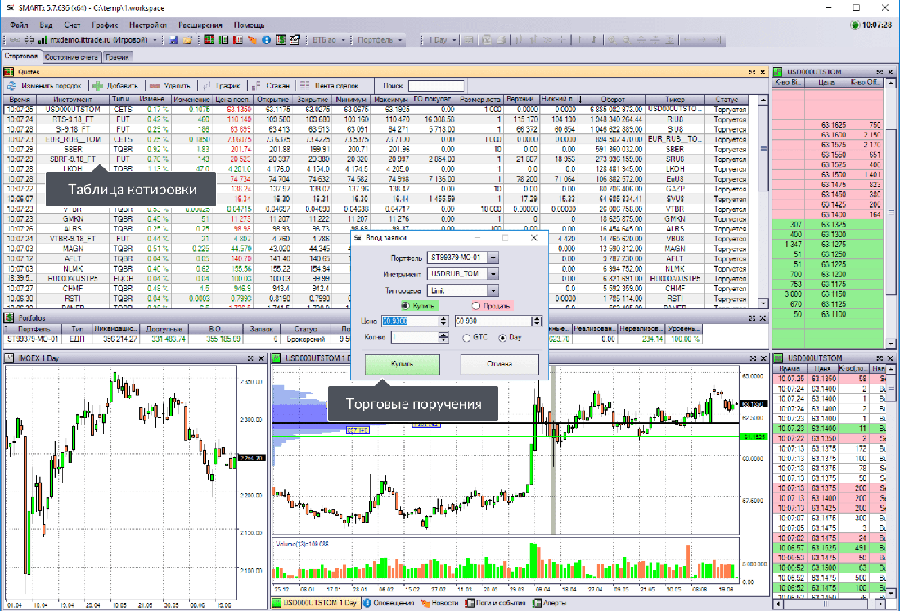 Its important advantages are:
easy to install and use;
Constant expansion of functionality;
fast order processing speed;
there is a system for calculating risks;
There is a version for both computer and smartphone;
additional functionality helps to maximize the reaction on trade transactions, to use other features of the platform by installing various plug-ins.
SMARTWeb is designed to work with exchanges in the Internet browser of any OS. It does not need to be installed, there is no need to download additional programs for its work. The main features of the platform:
Compatible with any operating system, you can work from any device.
It does not need to be installed and configured.
Connecting to the platform is secure.
It implements the basic tools for trading securities.
It is possible to manage bids that have been placed from other platforms.
The user can independently choose the right tools for the job.
It is possible to view charts for each instrument.
You can add indicators and charts for technical analysis to the tool charts.
QUIK is convenient because it offers the investor a range of useful information about the market: all the latest data on assets, instant transactions, trading history, analytics, work with the program tools for market analysis, data import, etc. QUIK provides access to the markets of the Moscow Exchange.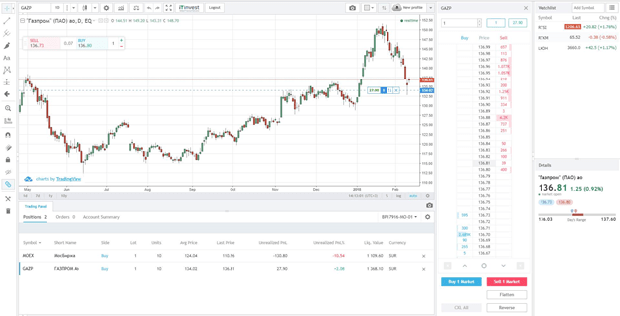 SMARTcom makes it possible to perform trading operations with the help of robots. This platform helps you create your own fully automated mechanisms for successful auto-trading. Advantages of SMARTcom:
The robot is directly connected to ITI Capital's servers, which speeds up the receipt of information from the trades and allows you to directly transmit orders "to the market";
the opportunity to earn automatic income for those investors who do not have extra time for in-depth analysis of the market;
processing of orders is significantly accelerated;
from other ITI Capital sites you can track the execution of orders in this program.
Broker quotes
As ITI Capital provides access to the Moscow Stock Exchange and other stock exchanges, the terminals automatically display the current data on the quotations of securities. In the "Analytics" section of the site iticapital.ru you can get information with daily reviews of stock and currency markets, as well as changes in quotations.
ETI Capital Demo Account
For new users ITI Capital gives an opportunity to open a test account on iticapital.ru. It is a free account that allows you to test your own strategy or try your hand at working on the platform without investing personal funds in trading. The system creates trading conditions that are as close to the real market as possible.The money on the account is virtual, but with their help the investor gets an opportunity:
test the platform;
participate in trading on the stock market;
use all the tools available in the program to conduct trades;
to use the account continuously for 2 weeks.
To get access to a demo account, you must fill out an application form on the ITI Capital website. Then instructions and passwords will be sent to your email box to be entered into the trading terminal. You must activate your account by making your first trade with virtual funds.
ITC Capital mobile app
To ensure that ITI Capital users were not tied to the workplace, a mobile application for the trading terminal, called SMARTtouch, was created. It is suitable for iOS and Android. Features of the application:
the function of substitution of prices from the "cup";
automatic generation of the application;
Close orders "in one click";
The possibility to form a personal table of quotations for certain instruments;
there are news feeds and reviews on economic issues;
there is a test trading mode.
The iSMART mobile terminal is also available for iOS and Android.
Bonuses from ITI Capital
In ITI Capital, as in a number of other similar companies, there is no bonus program.
Deposit and withdrawal
Depositing the account of ITI Capital is possible by bank transfer or via QIWI-terminal. The broker cooperates with Raiffeisenbank, NDR and Sberbank, making the clients' depositing/withdrawing procedures much more convenient and reliable. To make a deposit, you need to specify the broker's requisites in your application. When working with Sberbank, it will be more convenient to open a separate account for such transactions. Money will be credited to the account in 1-2 days. The maximum transfer period is a week.
Working with QIWI terminals, it is necessary to specify the number of the payment code under the agreement with the broker. This information can be found in the account settings of the personal account on the site. There is a restriction on transfers here - 15 000 rubles. The daily amount may not exceed 29,000 rubles. It is possible to withdraw the earned money to the same sources, from which the account was deposited.
Complaints against ITI Capital
There are different reviews about the broker available online. For example, when studying the negative reviews of clients about the project, the following claims were found:
Unsatisfactory work of the support service.
Problems with the system, frequent failures.
Large commissions on transactions.
Cheating on the part of the broker - the loss of money through his fault.
At the same time, the authors of the feedback did not provide a single piece of evidence in the form of screenshots or other evidence of dishonest work of the project. Of course, it is acceptable that there are failures in an organization that serves thousands of people, but they must be solved in the established order, stipulated in the contract for the provision of services. But most of the investors, working through ITI Capital, speak highly of the company and its technical support. They especially note the availability of various platforms for work and offers from the broker for traders, the possibility of educational trading, etc.
If there are any complaints about ITI Capital, we will be sure to post information on social media. Sign up to stay up-to-date with the news.
Please keep yourself informed about news and complaints. We copy the most valuable information to social networks, so please sign up!
Regulation and broker's license
In order to ensure the honesty of the project, let's study the question of whether he has a license.
ITI Capital Broker License
The broker ITI Capital is regulated by the Central Bank of the Russian Federation, which issued the following licenses:
No. 045-07514-100000 dated 17.03.2004 - authorizing brokerage activity.
No. 045-08543-000100 of 14.07.2005 - entitling to depository activities.
No. 045-07516-010000 of 17.03.2004 - giving the right to dealership activity.
All licenses are currently valid, available online at iticapital.ru.
User agreement iticapital.ru
As a document regulating the company's relations with its clients, the broker provides the Brokerage Services Agreement, published as a pdf freely available for downloading on the website iticapital.ru. In the section "About Company" go to "Disclosure of Information" and then to the category "Sample Agreement". Here you will find sample contracts to sign with ITI Capital before you begin. What does this document say? We will show you further on with examples. For example, here is information about the rights of the parties to the agreement:

In addition, there is a list and responsibilities of the parties beginning cooperation after the document is signed: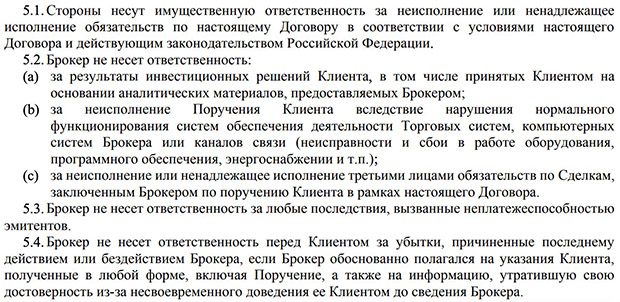 Is ITI Capital a Scam?
Judging by the popularity of the company in Russia, ITI Capital - is not a scam. The broker really carries out its activities honestly, on transparent terms, providing services of access to Russian and international exchanges. A large number of users are satisfied with the work of the project, actively use its services to make money from trading in the stock markets. In addition, and today the project is actively developing its service, which makes trading on the stock exchanges every year more and more comfortable. A large number of positive reviews of traders and a decent reputation of the company in the market testify to its reliability and decency.
On the site iticapital.ru information about the broker, analytics, platforms, tariffs, etc. is available. The company offers fast withdrawal transactions, high-quality support service, and opportunities for educational trading. Of course, there are some complaints about the company - some of them are problems with service failures and customer support. But this is also an area where the company is improving, attracting new traders to the platform, who are guaranteed the stability of trading, opportunities for profitable investments in profitable assets, etc. Wide range of different programs and offers for beginners and experienced investors give them opportunity to realize different trading strategies on the platform. ITI Capital is a time-proven platform for stable money earning.
Conclusion
Stock broker ITI Capital - is a serious organization, working in the market since 2000 and offering its clients a number of opportunities for stable earnings with profitable investments of money. It is comfortable to work here, to study the possibilities of the project on a demo account, to use the updated analytical materials, various trading platforms.
Every investor, regardless of trading experience, will find here what he needs: opportunities for learning trading, opportunities to increase profitability, and, of course, the opportunity to implement any of his strategies, including trading with robots. Of course, a company with a lot of experience cannot be called a scam.
The company in the ratings
Robots for cryptocurrency
Activity
New

0

Resolved

0

Not resolved

0