Officially operating stock broker with a license from the Central Bank of Russia offers inexpensive service, several types of accounts, a convenient platform and much more.
Read completely
Broker
Official website
Social media
Date of foundation

2008

Head Office

123112, Moscow, 1-st Krasnogvardeysky Proezd, 15, Mercury City Tower, floor. 18

The owner of the company
Types of support
Support by phone

Languages

English, Russian

Terminals

QUIK,

Min. first deposit

From

1

RUB

Depends on the selected tariff and availability of subscription fees

Broker fee

Depending on the tariff and turnover: "All Inclusive", "All Easy" - at a monthly fee of 600 rubles / month. at a turnover of up to 1.5 million rubles / month and from 0.02% to 0.04% at a higher turnover. "Standard" - 0.12% is fixed. "Advisory" - 0.5%. "Universal" - 0.35%. "Agent" - 0.3%. "Partner" - 0.2%. Urgent contracts - plus 1 rub. to the rate. There are additional commissions for swap.

Depositary commission

Until

3000

RUB

Depends on the type of operation

Commission on OTC Market Transactions

From

0.0002

To

0.5

%

Depending on the type of transaction

Threshold of entry
Authorized capital
Equity
Trading volume

2020 г. /

2.2 trillion

RUB

Number of active clients
Free Demo Account
Adjustable
Regulators
Licenses

Licensed

№ 045-13567-001000

(Active)

№ 045-13561-100000

(Active)

№ 045-13564-010000

(Active)

№ 045-13570-000100

(Active)

Types of accounts

Demo, All-Inclusive, Standard, Consulting, Universal, All-In-One, Agent, Partner

Methods of replenishment

Bank Transfer,

Withdrawal methods

Bank Transfer,

Number of assets
Types of assets
Account currencies

RUB

Reliability Rating

ruBB+

Mobile Trading
Weekend trading
Tournaments / contests

In the broker's communities in social networks

Trader training

Individual consultations, seminars, webinars, courses, "Financier" magazine, "U.S. stock market" book, handbook

Trust management
Fee for the use of the terminal

When using an additional account - 350 rubles/month for web-platform, 2500 rubles/month for mobile application, 6000 rubles/month for F-Trader

Withdrawal fees

0.5% from the withdrawal amount in rubles (within the range of 2,000-20,000 rubles)/in case of single sale of securities, additional 1.5% from the order amount is charged

Trading robots
Asset management
Managerial assistance

Paid consultations of experienced managers, which increase the efficiency of investments

Trade ideas
Single account

Invest from one account on the markets of all exchanges to which the broker has provided access

EIS

Type A - up to 52,000 rubles/year with no limit on the minimum amount of contribution, 13% deduction, type B - no limit on the minimum amount of contribution and tax deduction

Autosurvey
Analytics

Exchange news, analytical summaries, calendar

Margin Trading
Available Exchanges

NASDAQ, NYSE, LSE, Moscow Exchange, Spbexchange, etc.

Whose shares you can buy

GAZPROM, Sberbank, Magnit, MTS, Lukoil, Rosneft, Norilsk Nickel, NOVATEK, etc.

Affiliate Program
Benefits

Russian broker with 13 years of experience and ruBB+ reliability rating (stable outlook), member of NAUFOR

Trading highly liquid shares of well-known companies

Transparent conditions - clear tariffs, all legal and financial documentation is publicly available, there are references to licenses of the Central Bank of the Russian Federation

Inexpensive service and free refill of the brokerage account from any card

You can change the type of account at any time

Multilingual functional platform and the ability to open a demo account

Withholding of personal income tax from clients' accounts is automatic

Different formats of trading education and free analytics

Disadvantages

There are complaints about the "hangs" of the terminal and problems when closing transactions

The broker unilaterally sets limits on assets and instruments for each client

Company requisites

Legal name:

OOO IK Freedom Finance

Legal address:

123112, Moscow, 1st Krasnogvardeysky Proezd, 15, Bldg. 18.02

Date of update

26.11.2022

Overall assessment
The address is
123112, Moskva, 1-y Krasnogvardeyskiy pr-zd, d. 15, MFK "Bashnya Merkuriy Siti", et. 18
Map
Subscribe to this company
Freedom Finance is a scam? Reviews and description
Freedom Finance
was founded by Timur Turlov in 2008. It is a financial holding company, whose first and main office today is located in Moscow. The broker operates in 7 countries: Russia, Uzbekistan, Ukraine, Kazakhstan, Kyrgyzstan, Cyprus and Germany, and is showing stable growth, scaling up.
The stock is already listed on NASDAQ, with several large Russian and American brokerage companies joining in 2020. How honest is this representative of the market with clients and does it live up to their expectations? Stock broker Freedom Finance - is it a scam or is it really reliable? Let's find out.
Terms of trading with Freedom Finance
Freedom Finance specializes in stocks, bonds, ETFs, futures, options and currencies (dollars). And it opens access to two Russian stock exchanges: the Moscow and St. Petersburg ones. As well as several foreign (American, Asian, Kazakh, Ukrainian, Turkish, European) exchanges: NYSE, NASDAQ, LSE, etc. The latter is opened under a sub-brokerage contract through a Russian with an American brokerage company.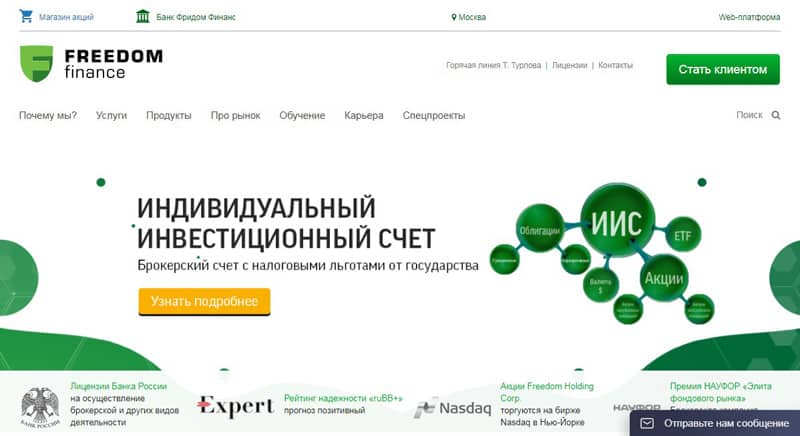 You can open an account with a subscription fee - "All Inclusive" for regular traders or "All Simple" for qualified investors. In it at a turnover up to 1.5 million rubles a month it is not necessary to pay the commission for execution of transactions. On larger amounts it ranges from 0.2%-0.4%. There are several types of accounts without monthly maintenance - the broker recommends to start with them if you are just studying the trading conditions:
"Standard" with a rate of 0.12% of the transaction amount.
"Advisory" - 0.5%.
"Universal" - 0.35%.
"Agent" is a special rate for qualified investors with a rate of 0.3%.
"Partner" is a special rate for qualified investors with a rate of 0.2%.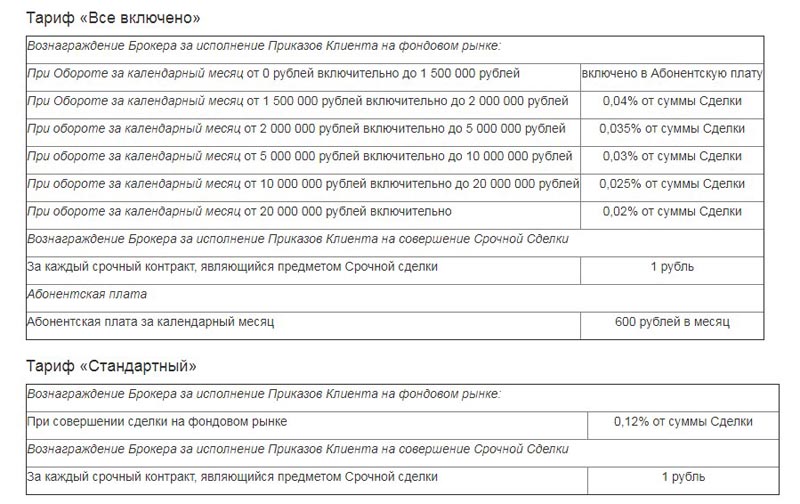 All tariffs have an additional commission of 1 ruble for executing fixed-term contracts. Additional fees are payable:
The transfer of uncovered positions - 0.036% of the amount.
Currency Swap - 0.0002% per day in Russian currency and +0.018% over and above that for transactions in foreign currencies.
Placement on foreign auctions - 3%-5% for the placement itself and 0.12%-0.5% for the execution.
Execution of the order simultaneously with the top up of the client's account from the card - 0.12%.
Opening of special brokerage accounts (clearing, segregated property account) - 10,000-30,000 rubles.
Sending paper versions of documents to the client - 300-1500 rubles.
Execution of OTC trades - from 0.0002% to 0.5% depending on the type of asset.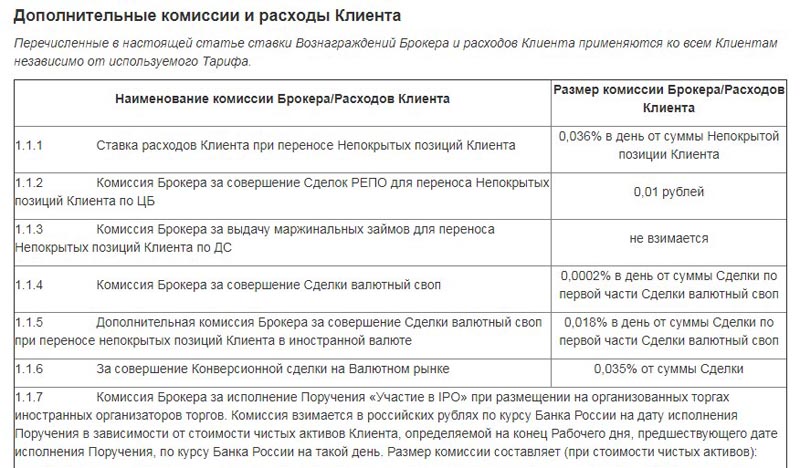 There is also a separate fee for custody services:
The debit and transfer from the account is paid at the rate of 500 rubles per transaction.
Processing an order to participate in a corporate action - 500-3000 rubles per order.
Fixing/removing restrictions on the disposal of trading securities - 300 rubles.
Securities encumbrance fixing - 2000 rubles + 0.2% of the obligation amount.
Write-ups and reports on the account - 100 rubles per document.
Execution of orders for operations with shares - 1000 rubles for each.
All Freedom Finance accounts are opened in Russian rubles. Besides, it is possible to open an IIM - an individual investment account. This will allow to return tax deductions (13% according to Russian requirements), which Freedom Finance automatically deducts from clients' earnings to the tax authorities.

Clients are offered paid professional advice from experts, as well as free general support line consultations. Plus several training formats: open seminars, webinars, courses, access to the "Financier" electronic magazine about personal investments, stocks and brands. In the offices of the company you can buy the book "The U.S. stock market for novice investors," edited by Freedom Finance. You can entrust your money to Freedom Finance experts on a trust management program. There are several options, varying in risk profile (moderate, aggressive, conservative) and expected returns (from 6 to 25% per annum depending on the portfolio). Some are available only to IIM holders.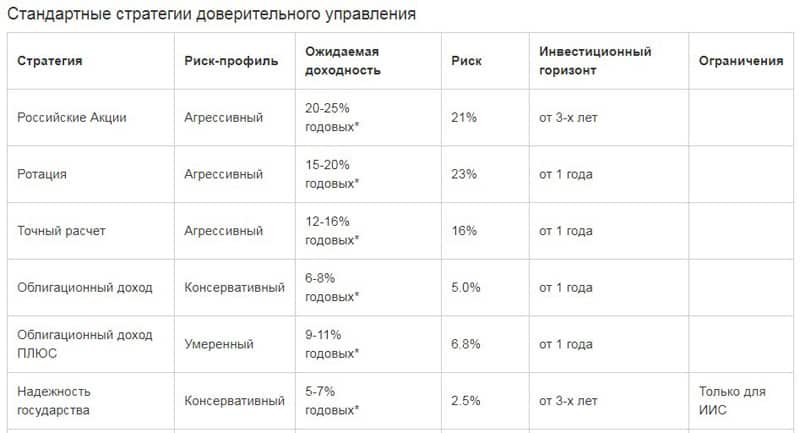 On the site ffin.ru There is a section with analytical materials divided into several headings: "Comments", "Recommendations", "Market Today" and "Reviews". It is possible to read stock exchange news, directories on stock exchanges, stocks and ETFs and study the macroeconomic calendar for the current date. The Special Projects section of the website contains tests for novice investors and information about participation in events organized jointly with Freedom Finance partners. For example, the Tesla-Tour - a test-drive of an electric car. Or the podcast "It's to Money" from Banki.ru.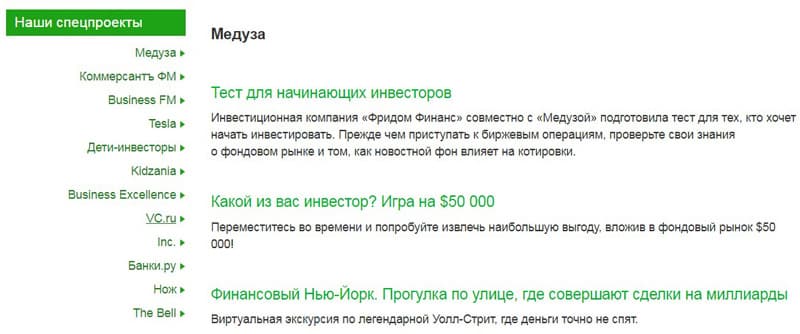 Customer support is provided:
by phone - there is a nationwide line of communication and phone numbers of regional offices;
by e-mail - [email protected] and [email protected] for individuals, [email protected] for corporations;
via online chat or the feedback form on the website;
On Telegram;
on social networks, through Freedom Finance community administrators;
at the broker's headquarters and regional offices.
There is a "hot" line of communication with the general director of the company, Timur Turlov. To talk to him, you need to make an application through a special form, and the head of the project will personally answer.
Freedom Finance platform
Freedom Finance has developed its own stock market trading platforms. There are two of them:
Tradernet is a web-based platform.
QUIK is a program for installing on a personal device.
Both provide access to the markets of several countries and standard features: asset management, technical analysis (indicators, timeframes, trend patterns, different types of charts, etc.), statistics, import of transactions, fast entry and withdrawal of orders - there are 6 types. To start using the web-platform, you need to register a trading account. To do that, click on the link "Web-platform" in the upper right corner of the website. ffin.ru. And by selecting the item "Open an account" in the main menu of the resource, fill out the form.
The system will register you as a new user. You will need to go through several steps. First, enter and confirm your phone number: this is done with the help of a 6-digit code, which the broker sends you via SMS. The next step is to choose a tariff. You can start with a package with no subscription fee, as there is no need to spend money on a training account. Then you need to select the status - individual/legal entity - and enter data about yourself: full name, date of birth, and region of service.
And in the end - to provide passport data and upload a scan/photo of the document, as well as fill out a short questionnaire on the knowledge of trading in the stock market. The data will be sent for review, and in the meantime you will be able to understand the personal account and the features of the platform. In order to use QUIK after registration of a trading account you need to download the program distributive and install it on your device. Then, go to the "Orders" - "Account settings" menu item and select "Connect QUIK".
Broker quotes ffin.ru
Quotes used in the analytical section of the site ffin.ru, taken from TradingView. In addition, Freedom Finance Holding is represented by the bank of the same name. And it is one of the sources of financial data. Nothing is known about other providers.
Demo account
You can get free test access to the broker's web platform by opening a demo account. At first, however, you will have to go through all the steps of registration, only choosing "Demo access", not "Open an account".You will have 1 million virtual rubles on your balance for training. The functionality of the trial is the same as that of the trading platform. There is no time limit for demo access.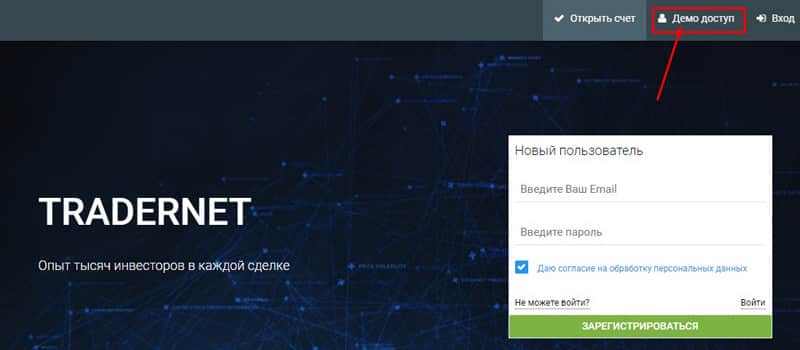 Mobile application
The broker's Tradernet terminal is represented by a mobile application for Android-versions of devices no older than 6.0 and iOS-versions. It can be downloaded from Google Play Market and App Store, respectively. The functionality is the same as on the desktop:
Account and account management.
Securities trading.
View analytics, statistics, training materials.
Users rate mobile at 3.8-4 points out of 5 depending on the platform. The main reasons for dissatisfaction are problems with verification and technical failures and delays in program operation.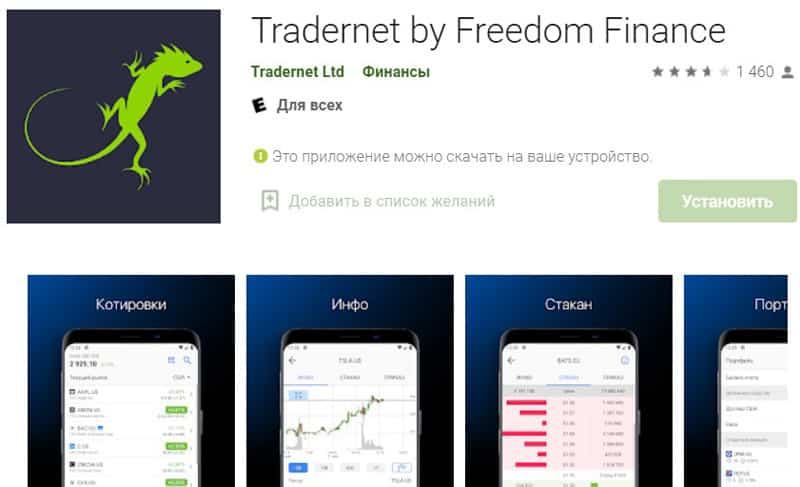 Bonuses at Freedom Finance
As such, the broker offers few bonuses. In addition to special conditions for depositing to the trading account (funds can be deposited from the cards of any Russian banks without commission), Freedom Finance can boast of regular contests and a good loyalty program. The site had an affiliate program. But now it does not seem to work.
Contests and raffles
Held in the broker's communities in social networks. Most often - on Instagram. One of the most recent was a raffle for a unit of the "Primary Placement Fund" on New Year's Eve. Participants had to share a promotional post on their pages and write about their most significant financial achievement of the year in the comments under the contest description. The broker chose three winners.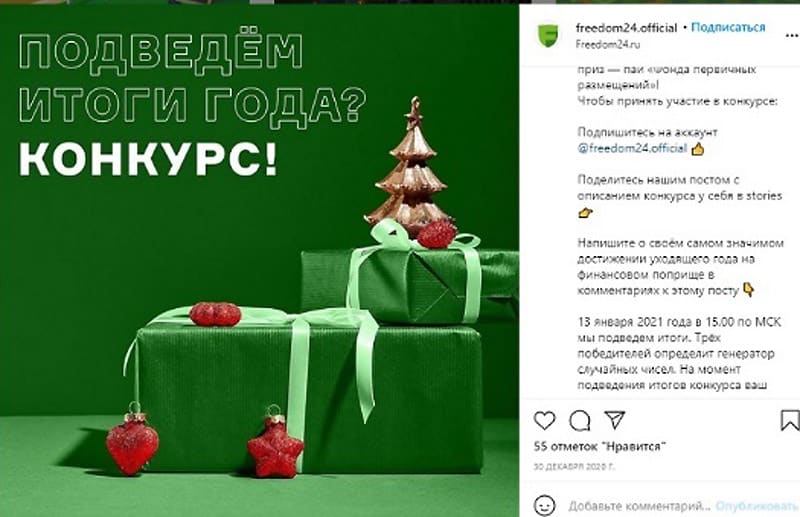 Loyalty Program
For trading activity, finding bugs on the site/platform, interesting innovations, and inviting friends to Freedom Finance, clients of the broker earn loyalty points. These points are then converted into rubles and can be traded.
Referral program
There is a separate section on the affiliate program on the ffin.ru, no. The details are prescribed in the personal account of the user of the web-platform. The conditions are slightly different than those of other referral programs. You also get a unique link, which you place on public resources (your website, page/society of a social network, blog, messenger, forum, etc.), so that other users will go to the broker's website and register on it. But the reward is not in the form of currency, but in the form of bonus points on the loyalty program. For each friend who registers with Freedom Finance, there are 1,000 bonus points. However, according to official data, the broker's full-fledged affiliate program is in development and traders will soon be able to earn extra income.
Deposit and withdrawal
You can deposit the account opened with Freedom Finance without a commission fee from the card of any Russian bank or at the branch, to the broker's details. There is no minimum limit. But you will not be allowed to do anything until the documents sent during registration and verification are confirmed. Withdrawal of funds is made on request - to the same cards or bank account from which you made the deposit. The fee for withdrawal from the account is 0.5% from the amount withdrawn in rubles (within the range of 2,000-20,000 rubles). Besides at single sale of securities the broker will take in addition from you 1.5% from the order sum.
Complaints against Freedom Finance
The feedback about Freedom Finance is varied. There are traders who note the speed of working with the broker: registration, order execution, withdrawal - everything requires a minimum of time. Clients also like the company's analytics. Although some users of the service lack information in narrow areas.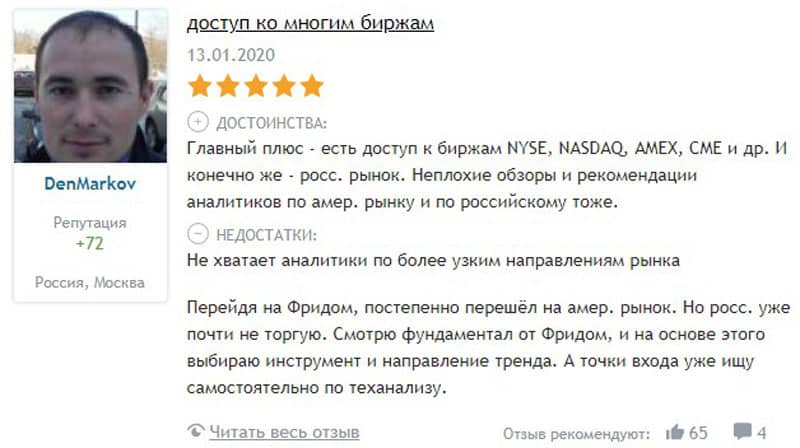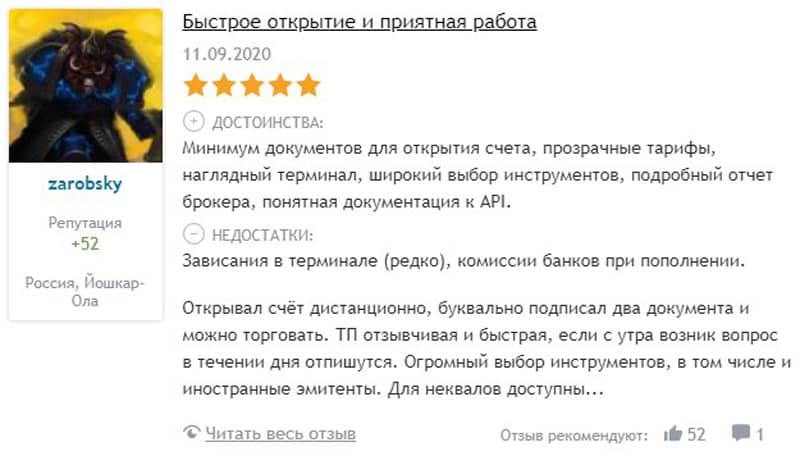 In contrast, other users report that the platform "hangs up", orders may not be executed, and the broker then shifts the blame to the exchange. In addition many do not like the annoyance of the consultants, offering to connect some or other options. On the whole, the broker's ratings on the serious feedbacks are not bad, at 3-4 points out of 5. For the securities sector this is a decent score.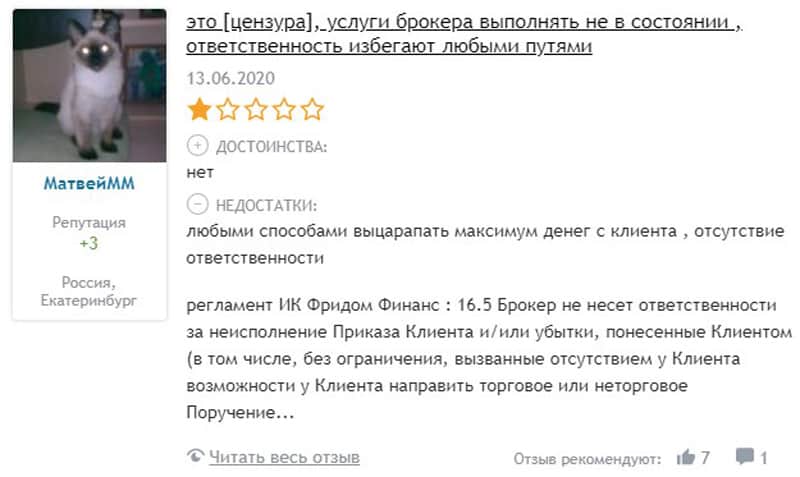 If there are any complaints about Freedom Finance, we'll be sure to post on social media. Sign up to stay up-to-date with the news.
Please keep yourself informed about news and complaints. We copy the most valuable information to social networks, so please sign up!
Freedom Finance broker regulator
The legal name of the broker is OOO IK Freedom Finance. It operates on the basis of licenses issued by the Central Bank of Russia on May 19, 2011:
No. 045-13567-001000 for securities management activity,
No. 045-13561-100000 for brokerage activities,
No. 045-13564-010000 for dealer activity,
No. 045-13570-000100 for depository activities.
The documents are perpetual and are valid until they are revoked by the regulator. Screenshots of the licenses are posted at ffin.ru. Freedom Finance investment company is present in the registers of dealers, depositories, investment advisors and brokers of the Central Bank - we have attached the links to verification below. So Freedom Finance operates in Russia officially.
User Agreement ffin.ru
Its role is performed by the service agreement, terms and conditions of which are accepted by Freedom Finance client when registering a trading account. The place of its conclusion is Moscow. The broker has the right to refuse to conclude the contract at his own discretion, without giving any reasons and to any person. And refuse to execute trade orders on transactions - if the client does not fulfill his obligations or there are not enough assets on his balance (clause 3.11).

In turn, the client agrees to provide the broker in a timely manner the documents required under the agreement (for example, details for debiting or identity card for verification), to pay commissions (fees) and reimburse the costs incurred by the broker as a result of cooperation with him (paragraph 4.1).

Freedom Finance unilaterally sets limits on assets and instruments for each client. And does not accept for execution the orders that will lead to a violation of these restrictions. And if detected - immediately close (clause 5.12).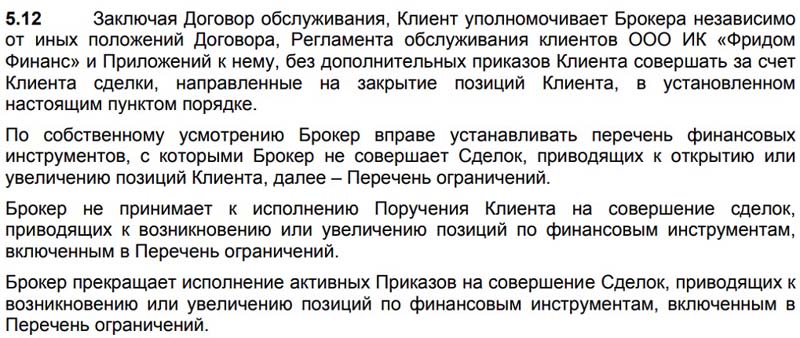 During the entire term of the contract, the broker has the right to dispose of the money on the client account in his own interests. As long as he does not need it (clause 6.1). In this case, the profit received from such actions will belong to Freedom Finance (clause 6.2).

Is Freedom Finance a scam?
Freedom Finance - is an officially operating broker with licenses from the Central Bank of the Russian Federation for all types of activities. It has extensive experience and a good rating by ACRA, which demonstrates its solidity. All trading conditions, legal and financial documentation is publicly available on the website - the service provider behaves honestly and openly in relation to the client. The client agreement is quite loyal: with the exception of the broker's right to impose trade restrictions on clients unilaterally (which is one of the standard conditions), we have not found stringent conditions. There are no bonded clauses either.
The reviews of the holding are varied. But among them there are no accusations of fraud related to the delay of withdrawal or refusal of payment. Basically, the complaints are related to the terminal, its "freezing", which leads to the loss of money, and the refusal of the support team to take responsibility for such situations. So Freedom Finance is not a scam, but a serious and reliable representative of the market, albeit with some flaws.
Conclusion
Freedom Finance is distinguished by a good, 13-year experience, work experience with different securities markets and transparent trading conditions: the broker does not hide financial or legal documentation from the clients. The broker is a member of SRO and has been licensed by the Central Bank of Russia. The broker's service is comparatively inexpensive and the account can be funded for any amount and without commission from a Russian bank card. Freedom Finance offers several types of accounts with different restrictions and fees. It is possible to choose the account with a subscription fee or with the payment of a percentage of the concluded transaction.
The trading platform is developed by the company's specialists and contains all the familiar functionality for traders: several chart types, indicators, trend patterns, display settings, sorting assets, etc. Fulfillment of tax obligations is undertaken by the broker: 13% fee is automatically deducted from the client account. In addition to trading, you can put your funds on an individual investment account, and there is a program with no tax deduction. There are also several formats of paid and free training, analytics from Freedom Finance experts and partner services. Legal entities have access to underwriting service - issuance and distribution of the company's securities. Among the disadvantages of the broker - the need to go through all the steps of registration, including verification by passport, confirmation of mobile and giving address data to open a demo (test) account, as well as complaints about delays in the trading terminal at the time of execution of an order.
The company in the ratings
Robots for cryptocurrency
New companies on the site