An international investment broker that offers trading on 135 markets and many tools to help beginners and professional traders.
Read completely
Broker
Website
Social media
Date of foundation

1977

Head Office

Heron Tower, Level 20, 110 Bishopsgate, London, EC2N 4AYE C2N4AY, United Kingdom

The owner of the company

Interactive Brokers (UK) Limited, part of Interactive Brokers Group, Inc.

Types of support

Feedback form on the site

Help Center

Live Chat

Tickets in my personal cabinet

Facebook

Instagram

Twitter

Support by phone

Languages

Russian, English, German, French, Spanish, Italian, Chinese, Japanese

Terminals

IBKR Mobile, Trader Workstation (TWS), IBKR API

Min. first deposit

From

2000

USD

With a limit of 4-day trades in a rolling period of 5 days, 25,000 USD unrestricted

Broker fee

Depends on the type and size of the asset

Depositary commission
Equity
Trade turnover per month
Number of active clients
Spreads
Free Demo Account
Adjustable
Regulators
Types of accounts
Methods of replenishment

Bank transfer, Securities

Withdrawal methods

Wire transfer

Number of assets
Types of assets

Mutual funds, hedge funds

Account currencies

USD, AUD, CAD, CZK, EUR, GBP, DKK, etc.

Mobile Trading
Weekend trading
Tournaments / contests
Trader training

Trading Academy, webinars, video reviews, trader's dictionary, calendar, blog, training laboratory of trade

Trust management
Fee for the use of the terminal
Withdrawal fees

First operation - no fee, starting from the 2nd operation - from 1 USD per operation

Trading robots
Asset management
Managerial assistance

Platform for finding managers from 33 countries, allowing you to select a specialist, taking into account your portfolio

Trade ideas
Single account

Invest from one account in all markets

EIS

Non-trading license holders, professional traders and non-broker clients participate in a special options exchange activity program

Autosurvey
Analytics
Margin Trading
Markets

Vienna Stock Exchange (VSE), CHIXEN, Euronext Brussels (BELFOX), Turquoise (TRQXEN), IBCFD, Nasdaq Baltic (N.TALLINN), Euronext France (MATIF), CBOE EU, FWB, GETTEX, etc.

Affiliate Program
Benefits

Certified broker with a serious legal base

IBot program with artificial intelligence for voice control of operations and automation of all actions

Free demo account with analytics

You can manage your portfolio and orders using third-party software

Investors Exchange (offer their own services, search for specialists)

Disadvantages

High custody fees (reduced by the amount of commissions paid on transactions)

Difficult presentation of information on the site

A lot of complaints about the support service

Company requisites

Legal name:

Interactive Brokers U.K. Limited

Legal address:

Heron Tower, Level 20, 110 Bishopsgate, London, EC2N 4AYE C2N4AY, United Kingdom

Date of update

03.06.2022

Overall assessment
Interactive Brokers is it a scam? Reviews and description
Interactive Brokers
on the market since 1977. The service provider offers trading on 135 markets and many tools to help beginners and professional traders: management with AI (artificial intelligence), centralized interface to control all assets, customizable API, platform to select managers and other specialists, etc. It is a major representative of the industry, which has many fans all over the world.
How profitable is it for a Russian user? Interactive Brokers - a scam or justifies its reputation as a reliable stock market broker? Let's see what we can find out about it.
Terms of trading with Interactive Brokers
Interactive Brokers opens up access to trading on the stock exchange stocks, bonds, options, currency pairs, metals, mutual and hedge funds, futures, CFDs, EFPs and robo portfolios.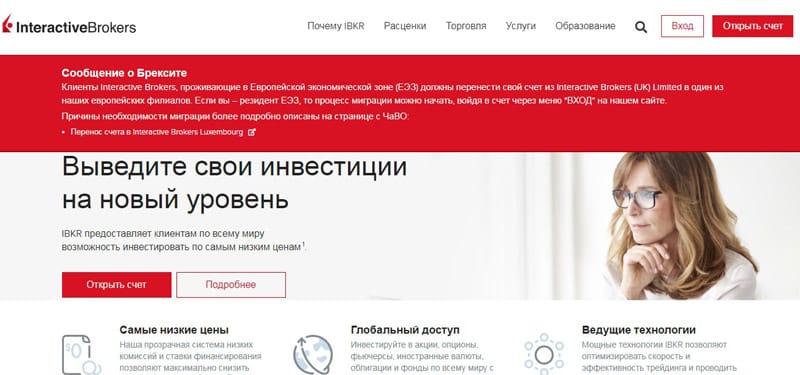 The broker offers two basic types of trading accounts:
IBKR Lite for novice investors. Trading U.S. exchange stocks and funds with no fees and access to the global market with low fees on the mobile platform and in the workstation (API and web trader not available). No inactivity or maintenance fees (regardless of minimum account balance).
IBKR Pro for professional traders and institutional investors. It works on all platforms and devices, including web-trader and API. The account maintenance fee is set based on the balance.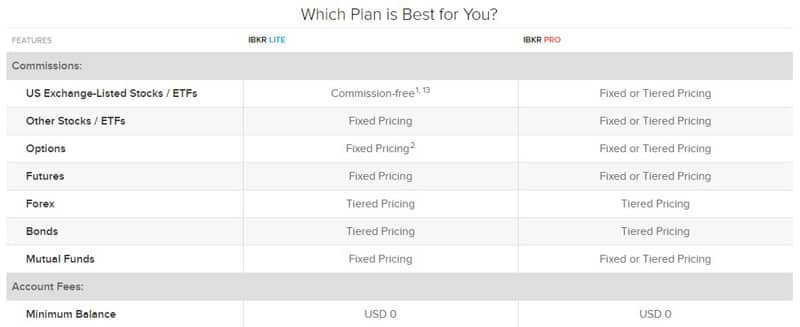 They open in 20 types of currency: Russian ruble, Hungarian forint, Israeli shekel, American/Australian/Canadian/Hong Kong/New Zealand/Singapore dollar, Danish/Norwegian/ Czech/Swedish kroner, euro, British pound sterling, Indian rupee, Japanese yen, Swiss franc and Mexican peso. Both account types use IBot, an artificial intelligence algorithm that recognizes human speech and executes commands, setting up charts, scanners, placing and adjusting orders, displaying price information, etc. It is built into all Interactive Brokers platforms.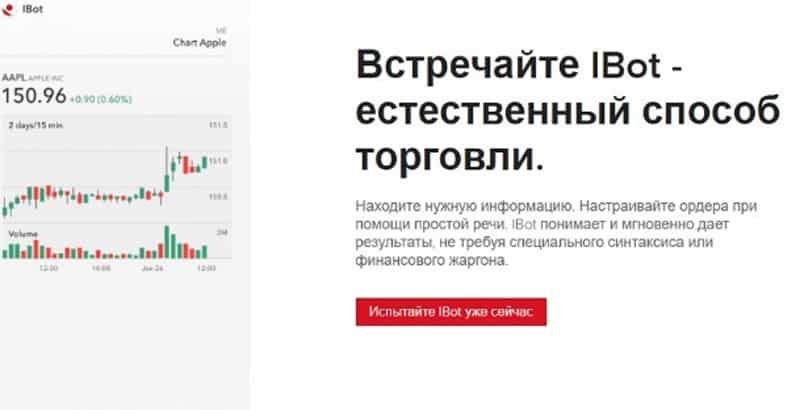 There are 2 types of orders available for stock trading: management of securities baskets (automatic creation, storage and setup) based on indices, and market buy/sell orders based on market bid/ask prices. The first one allows you to use your own tables to import identifiers (tickers) and set the data for the whole group of orders. The second allows you to execute at a lower or higher price than the one shown in the bid/ask. You can create, modify and transmit orders from the Depth of Market in one click thanks to a tool like BookTrader.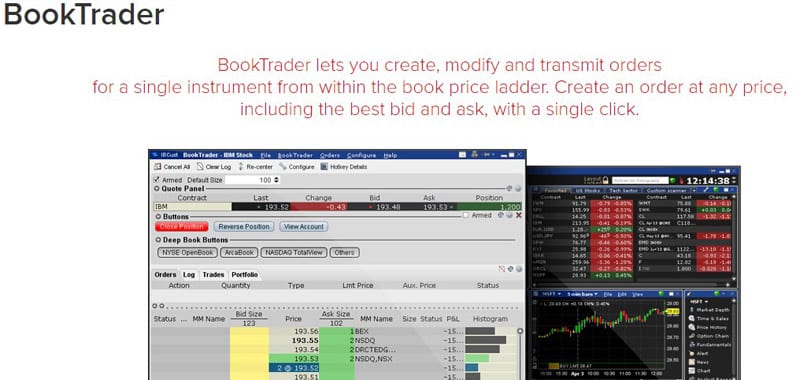 In addition to the basic account types, there are account configurations available to traders based on their country of registration/residence. For Russian clients these are:
Margin, when the margin is calculated in real time, and positions are liquidated if its minimum requirements are not met. But the proceeds from the transaction are available in a cut.
Margin IRA. Same, but without the ability to borrow funds (debit balance, short stock positions).
Margin Portfolio. The same requirements as for a margin account, but they are set using a "risk-based" valuation model that calculates the largest loss on all positions of an asset group.
Cash. For transactions it is necessary to have a settlement balance. Trading of short positions (shorts) is forbidden.
Interactive Brokers charges a deposit fee to Pro account holders whose balance is less than the required minimum: USD 10 for accounts with a net liquidation value of less than USD 100,000 (or its equivalent in another US dollar), USD 20 for accounts with an average balance of less than USD 2,000. As well as the transaction fee set for each country and each asset separately. For instance, for mutual funds Europeans, including us, pay a fixed rate of 0.1% of the transaction value, but not less than 29 euro, or a floating one - from 0.015 to 0.080%, but not less than 29 euro. For ETF (Exchange Traded Funds) - floating - from 0.015% do 0.05% (minimum 2200 rubles). Plus external commission from the Moscow Stock Exchange - 0.00575% for exchange and 0.00425% for clearing.
Interactive Brokers' clients have access to the IBKR investor exchange, where they can act as a service provider (manager, auditor, lawyer, programming consultant) and a client investing in securities trading. The broker is engaged in training and professional development of traders. There is a trading academy, webinars, video reviews, trader's dictionary, calendar, blog, educational trading laboratory and much more - more about all of this you can read on the website interactivebrokers.co.uk. To analyze your financial performance, you can use a free tool developed by your service provider, PortfolioAnalyst. Among other things, it has built-in advisors. Client support is provided by phone (each region has its own number), email, via the feedback form on the website, Interactive Brokers communities in social networks and by means of tickets in the personal cabinet. In addition, you are offered to read the answers to the most common questions in the FAQ (knowledge base).
Interactive Brokers platform
As we have already mentioned, Interactive Brokers client account management is performed via the client portal - a web application with access to all metrics and tools to make trades, manage active orders, view the latest transactions, news, analytics and other actions. It opens in any browsers and from any type of devices (PCs, smartphones, tablets). The trading platforms are represented by three:
Trader Workstation (TWS) for trading stocks, futures, currency pairs, options and funds from a single account. Features and options: 100 order types and algorithms, analytics, risk management system, practice account, continuous monitoring. Data display in a mosaic format (tiles), when all the main options are quickly accessible.
The IBKR mobile app. We tell you more about it below.
IBKR API. Allows customizing the working environment by adding the necessary trading tools and constructing your own system of account indicators. Requires no additional maintenance, but supports third-party software.

Broker quotes
The broker broadcasts quotes from 135 exchanges from 33 countries: Vienna Stock Exchange (VSE), Vienna Stock Exchange (VSE), CHIXEN, Euronext Brussels (BELFOX), Turquoise (TRQXEN), IBCFD, IBCFD, Nasdaq Baltic (N.TALLINN), Euronext France (MATIF), CBOE EU, FWB, GETTEX, IBCFD, XETRA (IBIS), Budapest Stock Exchange etc. Data providers on the site interactivebrokers.co.uk are not specified.
Demo account interactivebrokers.co.uk
If you are not ready to invest in a broker, you can start with the free demo version. It gives access to all Interactive Brokers platforms and market data on all assets with a time lag of 10-15 minutes, transaction responses plus a subscription to a free analytics package. To register a demo account you need to fill out an application form on the website interactivebrokers.co.ukThe client will be able to download the free platform by entering the email address (you will need to confirm it by clicking on the link in the letter), the country of residence and a user name (it will serve as a login in the future) and password. After that, you will get to the user interface, from which you will be able to go to the client portal (through which the account is managed) and to download the free platform. Settlement amount available for demo trading is 1 000 000 c.u.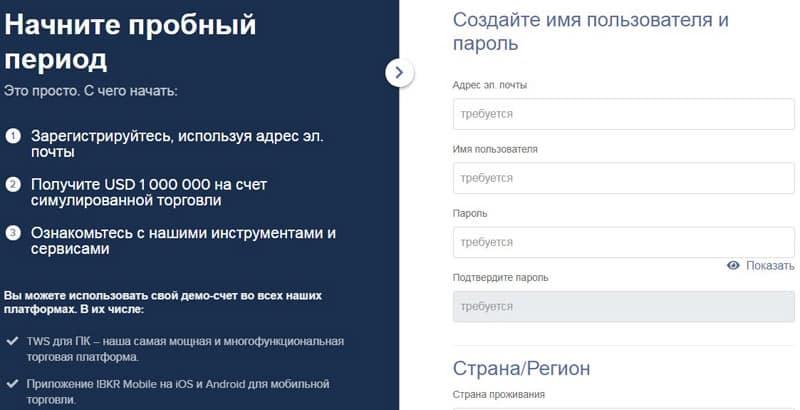 IBKR mobile app
One of the platforms offered by Interactive Brokers is designed for mobile devices. And it exists in two versions: for Android OS (for versions no lower than 6.0) and iOS (for iOS no older than 11.0 and watchOS from 2.0). Mobile offers:
Multi-currency trading in stocks, options, currencies and futures.
Access to real-time streaming quotes and charts.
Market scanners and notifications.
BookTrader tool to create, modify and transfer an order from the Depth of Market in 1 click.
Daily bulletins from the broker.
Free support.
The software is rated on average 3.3-3.4 out of 5. Criticism is mainly related to technical problems (can not update the interface, can not log in, can not scale the graph, etc.).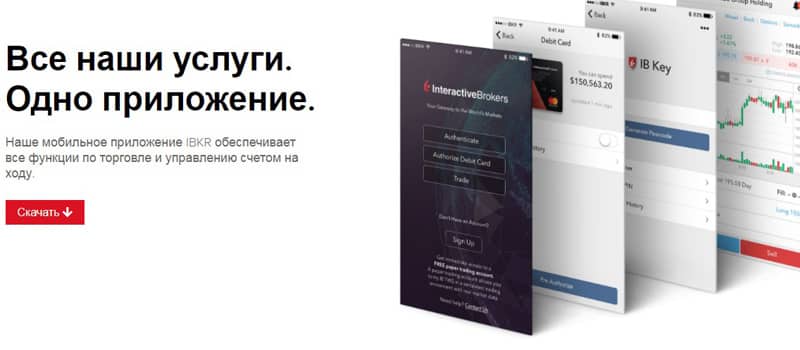 Bonuses at Interactive Brokers
The broker offers few bonuses. In fact, it only provides remuneration to users who attract new clients to its network. So, the "Invite a friend" promotion and referral programs are running.
Invite a Friend" promotion
Clients with a liquid portfolio of more than $2,000 participate in it. For each new trader who has registered and funded their account with Interactive Brokers, they receive $200. In addition to the promotion for individuals, there are 2 commercial (affiliate programs) options.
Commercial referral programs
Two options for cooperation:
With a fixed rate. The same $200 from each client attracted by the partner.
With surcharge. A partner receives a percentage of the amount of trading commissions of a referred client within 3 years from the date of registration of a trading account.
Both options are designed for organizations. The partner does not have to have an account opened with the broker.

Deposit and withdrawal
Deposits and withdrawals from Interactive Brokers are made primarily by bank transfer. More than a dozen currencies are available, but the conversion is in any case carried out through the dollar, so you will pay a percentage for currency exchange. Deposits can also be made in securities. The minimum deposit amount is $2,000 (or the equivalent of this amount in another currency unit).
However, the broker notes in the FAQ that if you deposit less than 25,000 USD, you limit your trading activity to four daily trades within 5 days of the so-called "rolling" period. But there is no minimum limit for opening an account. Withdrawal of funds from the account opened with InteractiveBrokers is subject to a commission from the broker (it depends on the type of currency - 10 USD, 12 CAD, 8 EUR, etc.). In addition, the latter does not repay the fees charged by the payment agents who process the transaction - you compensate them at your own expense. And, of course, the conversion fee does not disappear.
Complaints against Interactive Brokers
The broker does not have the best reputation: its average rating on the large international portal Trustpilot is only 2.8 points out of 5. Traders are dissatisfied with the slow processing of tickets (appeals to the technical support) or even ignoring of requests (in chat, by e-mail), as well as their losses related, as they believe, to the trading requirements of InteractiveBrokers.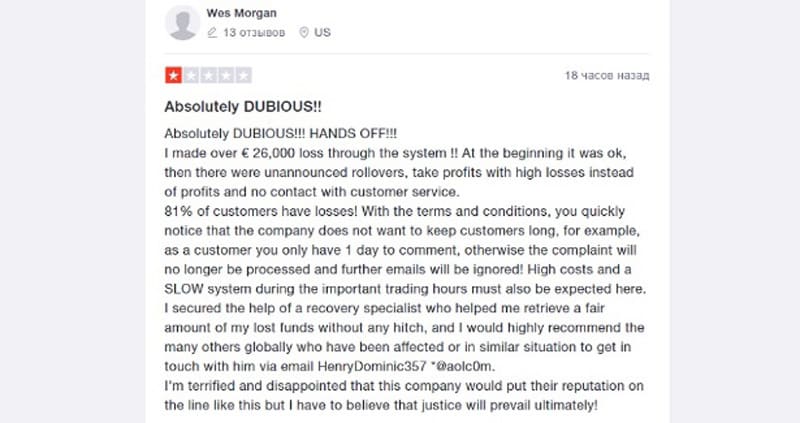 Among the positive points noted by users are low commissions, the functionality of the IBKR platform and the breadth of the instruments and markets offered.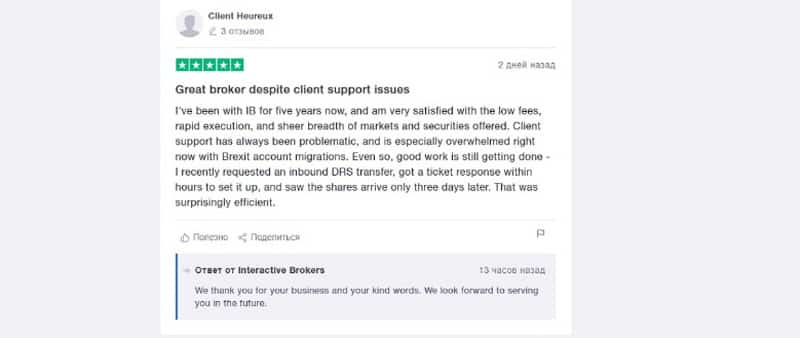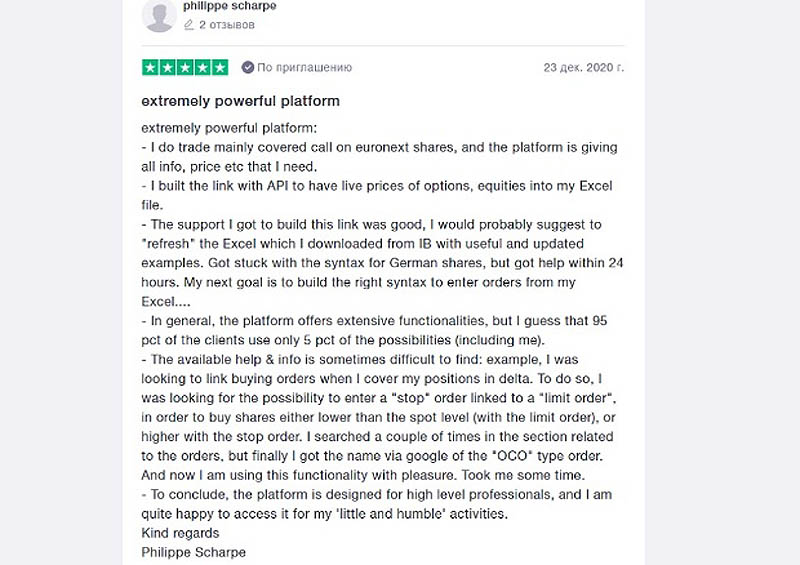 If there are any complaints about Interactive Brokers, we will be sure to post on social media. Sign up to stay up-to-date with the news.
Please keep yourself informed about news and complaints. We copy the most valuable information to social networks, so please sign up!
IBKR broker regulator
Interactive Brokers is an extensive network, managed by the parent corporation, Interactive Brokers Group, Inc. Interactive Brokers (UK) Limited provides services to European clients (which include Russian users). The British branch is regulated by FCA, which is confirmed by the record in the official public registry (license number 208159 allows you to work in the areas of investments, asset management and protection, investment agent and principal, etc.), and ASIC, which also has a record in the appropriate registry. The Canadian branch of the broker is regulated by IIROC, a local non-profit SRO. Luxembourg - CSSF (Commission de Surveillance du Financier). Australian - ASIC.
Interactivebrokers.co.uk User Agreement
European clients who use Interactive Brokers (UK) Limited services sign one or another document depending on the scheme of cooperation with it. For example, for those who trade with the help of a third-party manager (administrator), this is a discretionary agreement. Let's examine a few provisions of the document. For example, it is noted that the administrator must maintain and preserve all records related to the accounts and transactions on them to ensure that all actions with them are carried out within the legal requirements. If the rates of fees for transactions differ from the standard ones announced on the site, you are obliged to notify the administrator (clause 4.H.i).

In addition, the manager is responsible to the broker for the accuracy of the information specified in the application. If the manager fails to comply with his obligations to the company, the latter has the right to terminate cooperation with him. InteractiveBrokers software is provided "as is" without any guarantees as to its continuity and availability (clause 10.A.ii).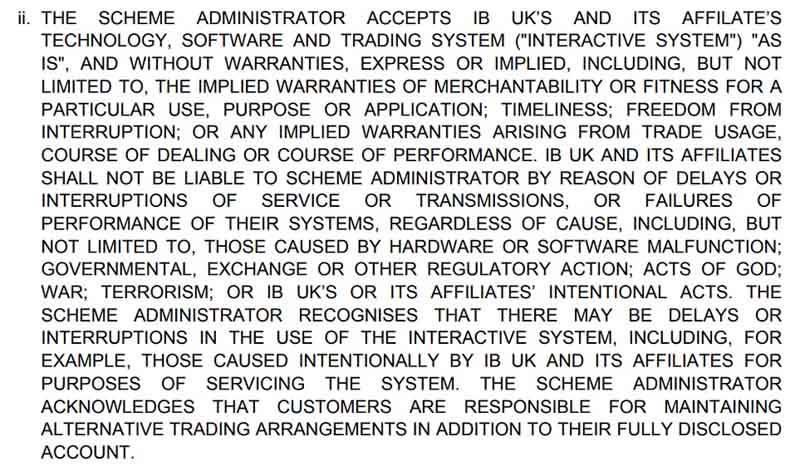 You, in turn, must compensate the company for any costs, losses and damages incurred as a result of working with you (clause 10.B).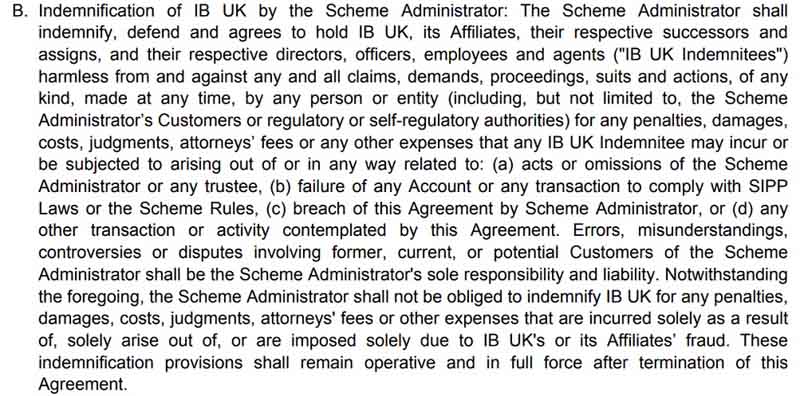 Any client or manager's property held by InteractiveBrokers may be seized as collateral if the former is indebted to the broker and transferred to a third party or sold (clause 14.L).

Interactive Brokers - is it a scam?
Broker IBKR exists on the market for almost half a century (it started operating back in 1977) and is distinguished by a serious legal framework: each of the branches is registered and registered with a regulator with a good reputation. All of the necessary legal documentation governing the rights and responsibilities of the parties (trader, company, manager and other affiliates) is publicly available on the website. However, it is not always easy to make sense of it, because there is a lot of data. However, we did not find any blatantly oppressive clauses: most of the requirements are standard and dictated primarily by the regulatory policy.
The reviews of Interactive Brokers on the international reputable feedbacks are, unfortunately, not the most flattering. There are many complaints about unprofitable trading conditions and the behavior of the support team, which ignores or slowly fulfills client requests. Although there are positive comments about the service provider: their authors write about the functionality of the platform and low (especially in comparison with other brokers) commissions. It is unlikely that Interactive Brokers is a scam. It is just like any other industry giant, the broker has problems with quality customer service.
Conclusion
Interactive Brokers has pleased us with a really powerful platform with a wide range of tools. For example, the LBot algorithm with artificial intelligence for managing a trading account and analytics using voice commands or BookTrader with one-click price setting from the market. The broker's website has a lot of analytical and educational materials. In addition, the company organizes webinars and other events that allow you to learn the basics of trading or improve your skills if you already have experience in this professional field. For those who are used to relying on a manager, the platform for finding a trading representative is available. Here you can also find an administrator, software provider, consultant and other industry specialists. Or you can put your own offer of services.
The broker does not have an entry threshold: you can even start with $100. Commissions, as users of the network write, are an order of magnitude lower than those of most competitors. It must be admitted that the table of rates does show low rates. But we do not know whether they are among the lowest on the market. Interactive Brokers has all necessary licenses and certificates to operate. But the abundance of five-star reviews, alas, it cannot boast: many were dissatisfied with the company's support service. And yet, some of the broker's disadvantages will hardly make you forget about the great many advantages it offers. At least at the moment.
Robots for cryptocurrency