FXCC is one of the most popular forex brokers. It offers more than 200 assets, 3 types of accounts and a free demo account on MetaTrader 4.
Forex broker
Website
Social media
Date of foundation

2010

Head Office

Law Partners House, Kumul Highway, Port Vila, Vanuatu

The owner of the company
Types of support

Feedback form on the site

Chat

Help Center

Support by phone
Languages

Russian, English, French, Spanish, Italian, Portuguese, Kazakh, Ukrainian, Korean, Romanian, Polish, Turkish, Vietnamese, Indonesian, Thai, Swedish, Japanese, Lithuanian, Latvian, Estonian, Hindi, Tajik, Georgian, Esperanto, Finnish, Filipino, Frisian, Greek, Gujarati, Hausa, Hawaiian, Hebrew, Hmong, Hungarian, Icelandic, Haitian, Creole

Terminals

MetaTrader 4

Min. first deposit
Broker fee
Lot volume
Bonuses

From

200

%

Cashback on deposits, free withdrawal depending on the type of account

Leverage

To 1:300

Depending on the type of account

Spreads
Free Demo Account
Adjustable
Regulators
Licenses
Types of accounts
Features of trade

Round-the-clock forex trading

Methods of replenishment

BCP, Boleto, Efecty, Moneta.ru, Neosurf, Neteller, OXXO, PagoEfectivo, PSE, Rapipago, Santander, Skrill, UnionPay, Webmoney, Webpay, Bank Transfer, Yandex.Money, Bank Card (Visa/MC)

Withdrawal methods

BCP, Boleto, Efecty, Moneta.ru, Neosurf, Neteller, OXXO, PagoEfectivo, PSE, Rapipago, Santander, Skrill, UnionPay, Webmoney, Webpay, Bank Transfer, Yandex.Money, Bank Card (Visa/MC)

Number of assets
Types of assets
Account currencies

EUR, USD, Cryptocurrency, GBP

Liquidity providers

FX Central Cleaning Limited

Mobile Trading
Weekend trading
Tournaments / contests
Trader training

Handbook (knowledge base), e-book, terminal guides

Contract Difference Commission
Swaps

Depending on the type of account

PAMM trading
Analytics

Economic calendar, daily technical analysis of EUR/USD, GBP/USD, USD/JPY, daily market reports and news, articles by experts (blog)

Margin Trading
Affiliate Program
Benefits

Large selection of assets

Free VPS (dedicated virtual server) for trading and SMS-service

There is an account with zero swaps, zero commissions for deposits, withdrawals and transactions

User agreement with no pitfalls

Disadvantages

Broker refused from PAMM-accounts

Trading starts later and finishes earlier than most brokers

Delays in order execution

Company requisites

Legal name:

FX Central Clearing Ltd.

Legal address:

Law Partners House, Kumul Highway, Port Vila, Vanuatu

Date of update

26.08.2022

Overall assessment
Address
Law Partners House, Kumul Highway, Port Vila, Vanuatu
Map
Subscribe to this company
FXCC is it a scam? Reviews and description
FXCC is a trading platform of the Cyprus provider FX Central Cleaning Limited, which has been opened in 2010. The company received an award Best Forex Trading Account in the nomination of a prestigious international conference UK Forex Awards in 2017 and is licensed by two regulators – CySEC (Cyorus), VFSC (Vanuatu, Melanesia).
But do the broker's public merits indicate its good faith? Is FXCC a scam or a serious project? Let's carefully study all «pros» and «cons» and draw our own conclusions.
Trading terms with FXCC
Despite the fact that the FXCC platform offers more than 200 assets (precious metals, goods, indices, stocks, debenture bonds, currency pairs), it is primarily focused on Forex (Forex trading). 3 types of accounts in euros, dollars or pounds are offered to a trader to choose from:
ECN with a minimum deposit amounting to USD 10,000 and a floating credit leverage up to 1:200.
ECN XL Within the framework of the promotional offer, the broker canceled here the swaps and commissions for replenishment and withdrawal, if the balance does not exceed USD 10,000.
ECN Advanced Account with a minimum deposit amounting to 100 000 USD and a floating credit leverage up to 1:100.
Spreads are surprisingly low – starting from 0.1, so the transactions are profitable. Apparently, FX Central Cleaning Ltd is not particularly worrying about the risk of a large number of scalpers (earning on short-term timeframes). A free demo (training) account is provided on MetaTrader4 PC (downloaded to a computer) for training.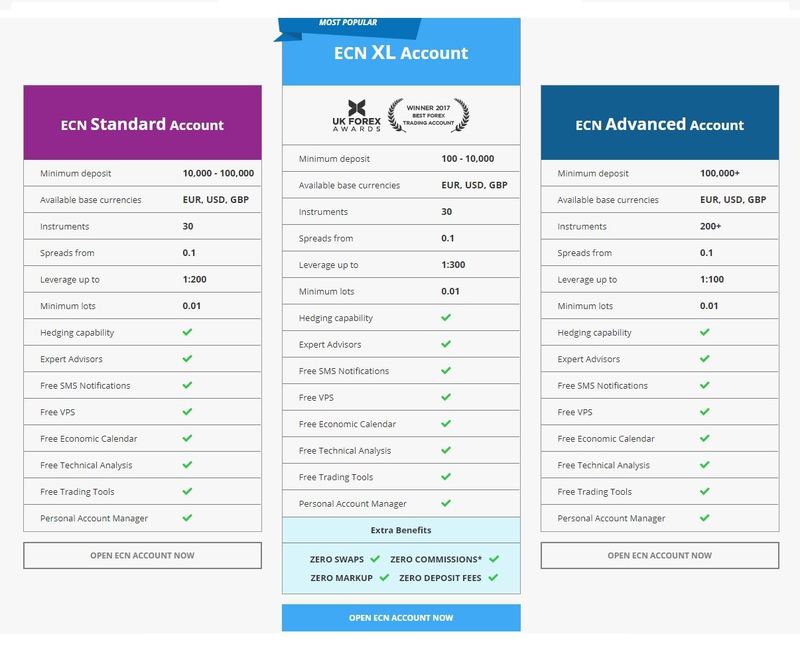 There is no PAMM trading as it is, but you can invest your money in MAM. Accordingly, there is no autocopy of transactions of the manager's accounts (the trader who conduct trades for you), an individual sub-account (slave) is set up for each user, which is located inside the MAM. The trader manages all the amounts at once, setting the corresponding lots. Moreover, it is possible to set a different amount for him/her as compared with others at the request of the investor. That is, instead of auto-follow – a partition («fragmentation») of the total asset.
You can also use the services of a trading adviser. But FXCC does not offer robots for automated trading. A selection of training materials is not in a position to boast of a particular scope; however, it includes the minimum necessary to start: a structured reference (database), a blog with a selection of interesting articles, an electronic textbook and guides for individual terminals.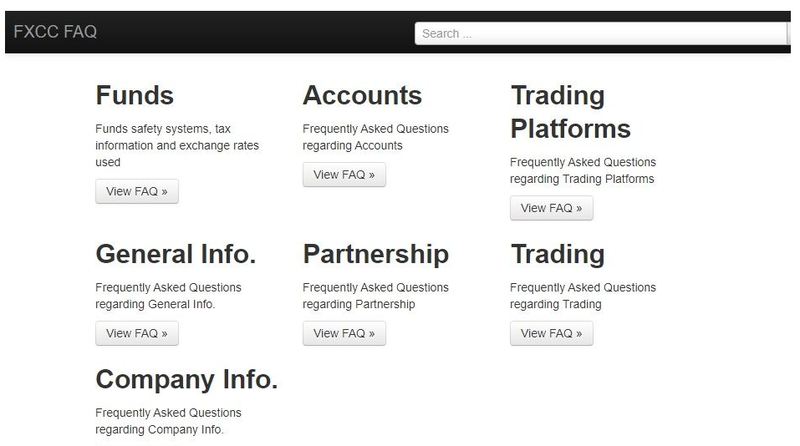 But there is a lot of analysts. In addition to usual economic calendar and daily Forex reports (here they are designated as technical analysis and contain information on three main currency pairs: Euro-dollar, British pound-dollar, dollar-yen), you will find reviews and analyzes from industry experts. The drawbacks are as follows:
Stop out at 50% of the total assets already – all your transactions will be automatically closed as soon as half of the original amount or less appears on the balance.
A large selection of currency pairs is available only on the last type of account (Advanced Account), on all the rest – a little less than 30.
Bidding starts at 00:05 server time on Monday and ends at 23:55 on Friday, and not at 00:00, like most brokers (Forex brokers). This ten-minute difference can seriously affect the trader's position.
FXCC platform
FXCC works with one popular platform – MetaTrader 4 (MT4) – with two modules – MT4 for processing accounts and MetaFx MAM (Multi Account Manager) for managing multiple accounts simultaneously. As well as mobile versions for phones/tablets on iOS and Android. Main advantages of the software are the following:
User-friendly interface (according to users' opinions).
Multilingualism.
No usage fees.
A large number of tools and functions – up to 4 charts of 3 main types (linear, candles, bars) are displayed in the same window, there are online scaling and scrolling, 30+ technical tools, over 20 analytics objects (trend figures and lines, channels, etc.), sound and push notifications, and so on.
High working capacity and fault tolerance.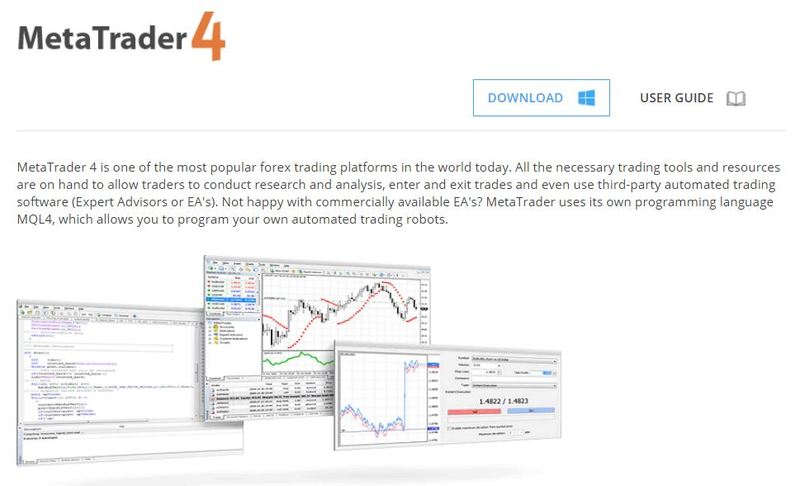 All user data are stored on the company's virtual servers (VPS), and transactions go through secure 128-bit SSL protocols (GeoTrust certificate), to reduce the likelihood of theft. You deposit funds to a segregated (individual) account, which is placed separately from the broker's accounts, therefore you do not risk your funds even in case of bankruptcy.
fxcc.com broker quotations
As mentioned above, about 30 currency pairs are available on Standard and XL accounts, and around 70 – on Advanced Account. Among them are standard EUR/USD, EUR/CAD and USD/JPY, as well as less popular ZAR/JPY, MXN/JPY, CHF/GSD and other. Judging by the feedback from traders, the quotes are not always accurate and there are suspicions that the service provider is «painting» the charts.
FXCC demo accounts
Before starting active trading on FXCC, you will be able to practice on a demo account – a free (demo – that is, with a limited set of functionalities) account where you use virtual money and lose nothing.

When you open it, you will need to indicate and confirm the e-mail (an e-mail with a link will be addressed to it), and then a username and password to enter your account will be available. All that is left to do is to download the terminal to a computer or mobile device. You will have no time limits. The main thing is not to make your account «idle» for a long time.
fxcc.com mobile application
The broker uses the MetaTrader4 platform to work with narrow-format devices (mobile, tablets); you should specify only FX Central Cleaning Limited as your provider. OS iOS and Android are supported. In terms of functionality, the mobile completely copies the computer version:
Quotations of financial instruments online.
3 types of charts, 30 indicators, 24 analytic objects.
9 timeframes – M1, M5, M15, M30, H1, H4 D1, W1 and MN.
Up to 4 graphs on the same screen + scaling, scrolling and other features.
Setting the colour scheme.
Analytics and statistics, history of transactions.
Sound and PUSH notifications.
News and «live» chat.
Trading Advisers.
The application is rated at 4.6/5 points among users of android devices and 4.8 – among «apple» ones.
FX Central Clearing Ltd bonuses
FXCC traditionally offers a deposit bonus: you get 200% cashback if you deposit $ 200 or more in your account. You can use the promotion of an unlimited number of times, but you will be credited with a maximum of $ 10,000 in total (put 6 times for $ 1,000 – received a bonus only for the first five ones).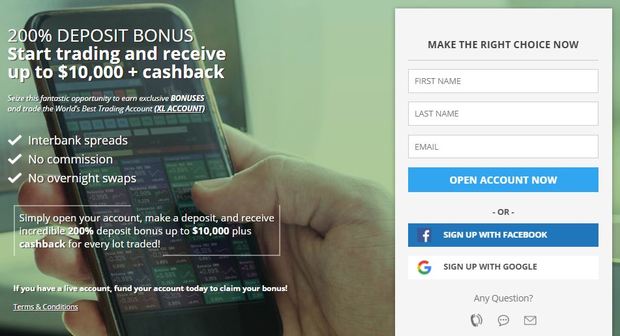 In order for the donated funds not to be debited, it is necessary to continue trading and maintaining the account balance at the level of not less than 30%, if we are talking about personal money, and not less than 100% (i.e., in full), if we are talking about bonus money. If you fulfil this requirement within 50 days, the virtual currency is completely yours and it will be available for further trading. The lot size is $ 1, and the fixed credit leverage is 1:100.
The «Bring a friend» promotion: remuneration for each client who came to the broker through your referral link (a link with an individual number that is installed on the website/blog/social network page for advertising). The remuneration shall be calculated taking into account the winning lots by the invited person:
10 lots (USD 100-1000 in total) – USD 40 to you and USD 10 to your «friend».
40 lots (USD 1001-2500 in total) – $75 to you and $25 to your «friend».
80 lots (USD 2501-5000 in total) – $150 to you and $50 to your «friend».
100 lots (USD 5001-10 000 in total) – $175 to you and $75 to your «friend».
Unfortunately, the broker does not hold contests: we did not find any information about them.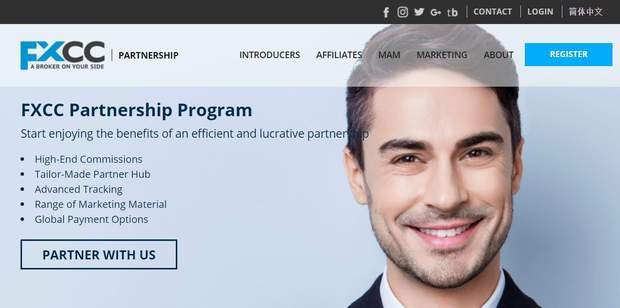 Deposit and withdrawal
A large number of ways are available for depositing and withdrawing funds:
VISA, MasterCard, Neosurf – crediting within an hour, withdrawal – 5-10 days, no commission during 2019 (hereinafter we will talk about the broker's shares for 2019, but the latter reserves the right not to compensate interest for the transaction of individual players at its discretion).
Bank transfer — deposit and withdrawal – within 5-7 business days.
Neteller, Skrill, Yandex.Money, Moneta.ru – crediting within an hour, instant withdrawal, commission is paid by FXCC.
UnionPay – crediting within an hour, withdrawal – 2-5 days, commission is paid by FXCC.
PSE – crediting within an hour, withdrawal – up to 7 business days, commission is paid by FXCC.
Efecty, PagoEfectivo, Rapipago, OXXO, Santander – crediting within 2-5 business days, withdrawal – up to 7 business days, commission is paid by FXCC
BCP, Webpay, Boleto – crediting within 1-2 business days, withdrawal – up to 7 business days, commission is paid by FXCC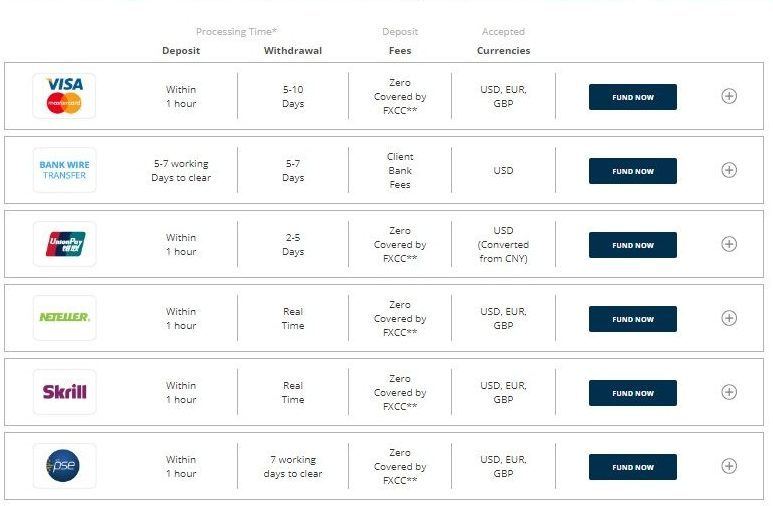 One more important point: Before making a deposit, it is necessary to confirm your details. And in order to earn money for your details (by the way, they must coincide with those used in the replenishment), repeated verification with sending copies of documents will be required: identity cards, card/account numbers in the payment service, receipts/statements on deposit. This is the standard rule of all online establishments, introduced for the security of your assets (in case someone gets access to your account and tries to get funds). The minimum withdrawal is at least USD 50, regardless of the account type.
Complaints against FXCC
If you look at the whole, the user opinion about fxcc.com is not too good, the company's clients have many reasons for dissatisfaction (traders complaining). First of all, they are caused by delays in the execution of orders. Not everyone likes the limited tools and availability of requotes on the types of accounts with small deposits (Standard, XL). And finally, traders note serious differences in quotes with other brokers. Positive commentators praise FXCC for its quality support and platform usability.
FX Central Clearing Ltd broker's regulator
FX Central Clearing Ltd. operates based on two documents, each of which regulates activities within its region (continent):
Europe – CIF 121/10 license of the Cyprus CySEC regulator.
The rest of the world is licensed by Vanuatu (Vanuatu FSC) under number 14576.
Both in the VFSC registry and on the website of the Cyprus regulator there is a provider page confirming a permission to carry out brokerage activities. You can check their status at the links below.
FXCC terms and conditions
The FXCC user agreement consists of several sections and concerns, more like, the website use terms, rather than directly trading (we did not find the rules for conducting open access transactions on the resource). Let's analyse it in more detail. Firstly, the operator obliges us to maintain the confidentiality of published content and prohibits copying it, as well as using special programs.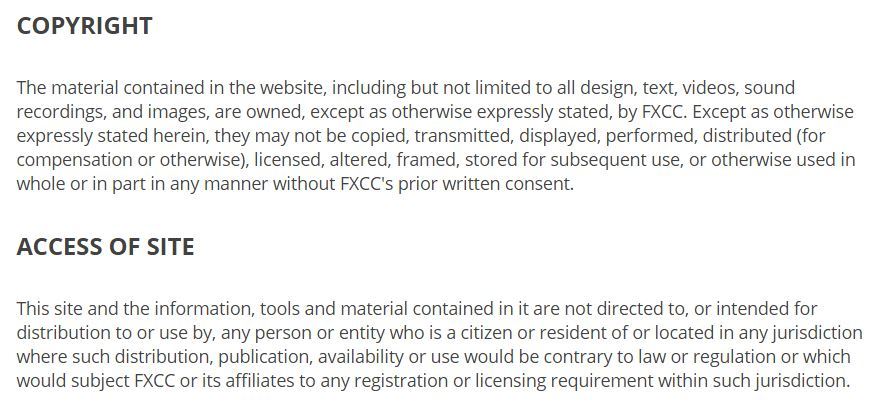 On its turn, FX Central Clearing Ltd., may use your personal data for any legal purpose (i.e., even transmit it to your partners so that they send advertising to you).

You use the resource on an «as is» basis. This European term means that the owner does not bear any responsibility for losses incurred by users as a result of using the platform. Even if there were technical failures and false information.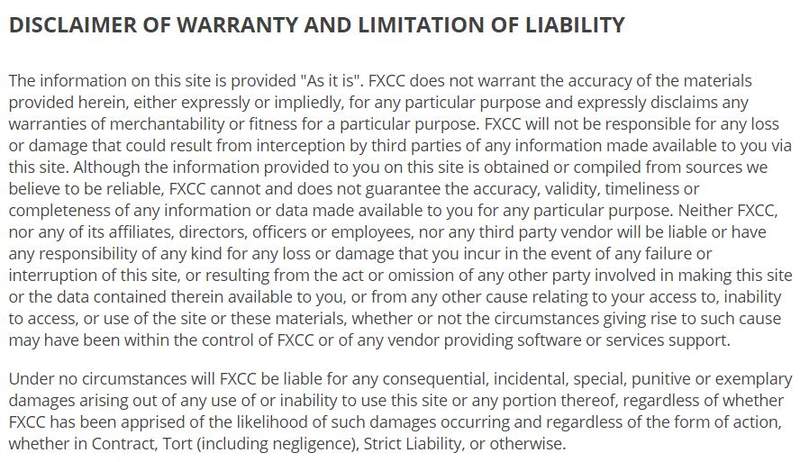 When following links from fxcc.com to other resources, you are also solely responsible for possible consequences. The operator does not guarantee that their contents will comply with the legislation requirements, and the platforms themselves are viruses and other malicious programs. In general, it is quite a standard document.
Is FXCC a scam?
At first glance, the FXCC terms and conditions seem beneficial: crediting and withdrawing funds without a commission, 200+ assets, lack of swaps, small spreads, etc. However, in practice, everything is not exactly this way:
A full package of assets is available only to holders of ECN Advanced Account accounts, where you should deposit at least USD 100,000 to start trading.
There are requotes, and the trading mode is shorter than that usually provided by brokers, for a total of 10 minutes, which further weakens the position.
The average spread is higher than in advertising. For example, it made 0.4 for EUR/USD as of the time of writing this review, while for USD/JPY it made 0.8.
According to users, the speed of order execution is high, so there is a serious chance to «pour all money down the drain».
Stop Out occurs already at 50% of the initial balance – in combination with a high spread and a large credit leverage; a couple of transactions is enough to be out of work.
FXCC is not a scam in the traditional meaning of the word (i.e., it is not a fraudulent organization, since it holds licenses for activities), and yet the Forex trading terms are not favourable (Forex strategies).
Summary
FXCC trading may be interesting for an experienced trader with a serious financial portfolio. This will enable you to use the functionality of platforms in full and not worry so much about the forced closure of your positions by the broker: the «pillow» will be big.
In our opinion, the conditions will seem uncomfortable for beginners trading on real, not virtual (at the training terminal) money: only 200+ assets, requotes, lack of contests (on the same demo accounts), the need to replenish USD 200 at once to receive a deposit bonus, etc. And you should not forget about advantages of a broker:
Good licensing base.
Loyal user agreement.
Free virtual server and SMS service.
Zero commission for withdrawal and replenishment during the entire 2019 (promotion extension is possible).
Good referral program.
The ability to quickly register through Facebook.
Taking into consideration the pros and cons, the broker features a strong «average» and, in our opinion, it is quite competitive.
Rating of reliable brokers