JustForex offers brokerage services taking into account the diversity of cultures, nations, trading experience and the wishes of its clients.
Forex broker
Website
Social media
Date of foundation

2012

Head Office

Suite 305, Griffith Corporate Centre, P.O. Box 1510, Beachmont, Kingstown, Saint Vincent and the Grenadines

Types of support

Chat

WhatsApp: +372-8196-4389

Viber

Support by phone
Languages

Russian, English, French, Spanish, Portuguese, Korean, Chinese, Vietnamese, Indonesian, Malaysian, Thai, Arabic, Japanese, Malay, Urdu

Broker fee
Leverage
Spreads
Free Demo Account
Adjustable
Regulators
Types of accounts

Standard, Pro, ECN Zero, Cent, Mini

Features of trade
Methods of replenishment

Bitcoin, Bitcoin Cash, FasaPay, Mastercard, Neteller, Perfect Money, Qiwi, Skrill, STICPAY, Bank Card (Visa/MC)

Withdrawal methods

Bitcoin, Bitcoin Cash, FasaPay, Neteller, Perfect Money, Qiwi, Skrill, STICPAY, Bank Card (Visa/MC)

Number of assets
Types of assets
Account currencies

EUR, USD, CNY, MYR, IDR, THB, KWD, ZAR

Mobile Trading
Weekend trading
Tournaments / contests

iPhone 11 Pro Max trading contest, Golden Trading contest

Trader training

Training videos, articles, webinars

Contract Difference Commission
Swaps
PAMM trading

There are no PAMM accounts. There are MAM accounts

Analytics

The relevance of the materials is marked by users

Margin Trading
Affiliate Program
Benefits

A wide range of tools for trading

ECN accounts with the Market Depth plugin

Disadvantages
Company requisites

Legal address:

Suite 305, Griffith Corporate Centre, P.O. Box 1510, Beachmont, Kingstown, Saint Vincent and the Grenadines

All strategies are allowed

Using Expert Advisors, trading on the news, hedging, scalping

Date of update

26.08.2022

Overall assessment
Address
Suite 305, Griffith Corporate Centre, P.O. Box 1510, Beachmont, Kingstown, Saint Vincent and the Grenadines
Map
Subscribe to this company
JustForex is it a scam? Reviews and description
JustForex is a brand of JF Limited and IPCTrade. Such information on it is present on the Internet. The main company's activity is trading in financial instruments of the Forex market, as well as commodity derivative instruments and other securities. IPCTrade is regulated by Belize, which is confirmed by record number 19 on the website of the regulator itself. JF Limited is regulated by FSA (Great Britain).
JustForex broker features a mixed business model – it renders brokerage services, being at the same time a dealer. On its website, the project announces a mission consisting in rendering the high-quality services that facilitate the accumulation of all necessary information for customers in one place.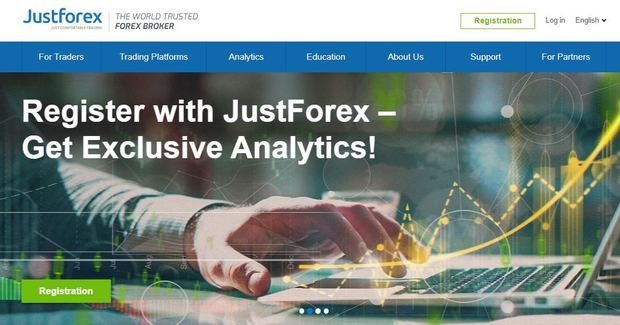 Trading conditions with JustForex
Unfortunately, there is no information on the formation of the project on the website justforex.com. According to the developers, the brand was created by professionals. Being a fairly large company in the Asian market, JustForex offers its clients with currency pairs, precious metals and cryptocurrencies. The project provides specialized services as a broker. It is the second participant when implementing trading transactions as a dealer.
Working with legal entities and private investors, the brand aims to cover the post-Soviet space and Asian countries. This website is available in the European and Asian languages. They also provide customer support. The user is given a personal account after registration. There are several types of accounts to choose from:
Standard. The minimum deposit amounts to USD 100. Credit leverage 1:3000. The account is popular with the majority of traders. When opening a trading position, the safety orders can be placed immediately or after a while.
Pro. The amount of credit leverage is the same. But the minimum deposit amounts to already USD 500. This account type is acceptable for experienced speculators. There are no restrictions on the number of orders and the volume of positions. It is characterized by a wide variety of trading tools: currency pairs, indices, precious metals, raw materials. Any style of trading is available.
ECN Zero. The minimum deposit amounts to USD 500. Credit leverage 1:500. Traders can check all the dynamics of trading on this account type. It is characterized by fairly frequent market entries and exits. It is preferred for scalpers. You can optimize trading by changing various timeframes. But you need to pay a commission for opening the trading positions. But client applications are displayed on the interbank. Excellent execution of orders is caused by the lack of intermediaries.
Cent. It is very convenient for beginner speculators. Real trading, but using small funds makes you feel the real changes in the market. There is no possibility of large financial losses. At the same time, a beginner can check the nuances of broker's trading conditions, as they say, in a combat mode. Credit leverage 1:1,000.
Crypto. It is characterized by trade in highly volatile assets. Cryptocurrencies continue gaining popularity with many traders (how to make money in cryptocurrency). High earnings due to course changes, but serious losses are also very real to take place. The speculator has 39 assets in its arsenal. You can start with any amount. There is no lower limit.
Mini. There are also no restrictions and you can start trading with any comfortable amount. The speculator is capable of receiving a deposit bonus. The range of trading tools is wide enough.
The website developers posted useful analytical information in the «Analytics» section:
Market overview, from which users can get information on the latest major political and economic world events.
Daily forecast, as well as technical analysis of main currency pairs.
An economic calendar, being a convenient tool that reflects the main economic changes affecting Forex. It monitors the economies of more than 50 countries online.
Analysis of cryptocurrencies.
The «Education» section contains articles about Forex. Beginners can gain knowledge of this market basics, get initial ideas about trading sessions, trading participants, asset charts, trading terminals. Moreover, the section has a glossary with concepts, terms and phrases used by traders, as well as a training video.
JustForex widely advertises and offers partnerships in business. Affiliate programs are created for Forex mentors, bloggers and active social network users. It is proposed to present the project, building its own network of clients and developing its own business. Collaboration can be represented in several types: introducing broker, regional representative, white label, payment agent. You can find more details on the broker's website. The project does not limit persons collaborating with it. They will receive earned funds upon first request. Social trading is available for those persons who wish. After creating an MQL5 account, you can copy any selected signal provider. Thus, in the absence of independent participation in the trading process, the subscriber retains control over his/her deposit. He/she can disconnect and stop the trading process at any time.


If one of JustForex clients becomes a successful speculator, he/she himself can also earn as a signal provider. More users subscribing to these signals promise more profit to their supplier. More detailed information on it is provided in a special section. The rating of all signal providers is available on the broker's website. A diverse bonus program is presented to customers. Interesting promotions are implemented from time to time. 24/7 client support. You can order a call back, If desired.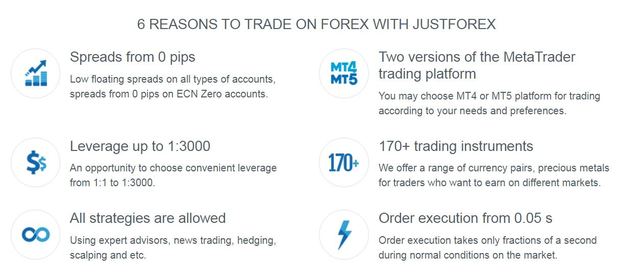 Just Forex platform
The quality of trading (Forex brokers) largely depends on the broker's trading and analytical software. In this regard, great importance is attached to the reliability of user data protection, as well as the speed of information processing (in fact, execution of orders). JustForex company provides one of the most popular and reliable MT4 trading terminals. It features embodiment of the «all in one» concept. It is no coincidence that many speculators prefer using this platform. The advantages of metatrader 4 are obvious:
Trading is implemented not only with Forex, but also with instruments of other markets.
Tracking quotes online.
The ability to trade on various timeframes.
Entering a trading position with a market or pending order.
Opening a trading position in a single click.
Trading with a chart using any of a wide range of possible instruments at option.
Using expert advisors and automated trading.
Programming of its own advisers in the language built into the platform.
MT4 can be downloaded from the broker's website without any problems and installed on a computer or laptop. Opening the platform for the first time, you can also activate the training account. Those who wish using WebTrader, which is a browser version of the metatrader. Here there is a more simplified functionality. Even beginners can easily and quickly master it. «Web-version» has its own advantages: it should not need to be installed, it functions on any device with a browser, minimum traffic and much more.

JustForex broker quotations
The relevance of quotations provided by the broker to its clients is extremely important for them. Adoption of a trade decision depends on these very price values. The speculator decides to buy or sell the asset selected for trading based on its quotation. This issue is especially important for scalpers the transactions of which sometimes last less than a minute. The suppliers of quotations or liquidity providers are the largest banks and prime brokers. The most significant financial organizations are united in a network for conducting joint trade. Other brokers broadcast quotations to their users from there. In this regard, Sucden Financial, Integral and Equinix are partners of JustForex company, along with MetaQuotes, the developer of trading platforms.
Traders' transactions are implemented based on the company's electronic communications platform (ECN) of Integral company, which aggregates the liquidity of various Forex market participants. The liquidity provider Sucden Financial is of particular note. The company has earned an impeccable reputation for more than 30 years of its activity. In 2013, Sucden Financial was recognized as the best liquidity provider according to the most respected magazine in the industry – ForexMagnates. Therefore, execution of JustForex client orders under normal market conditions occurs in a fraction of a second.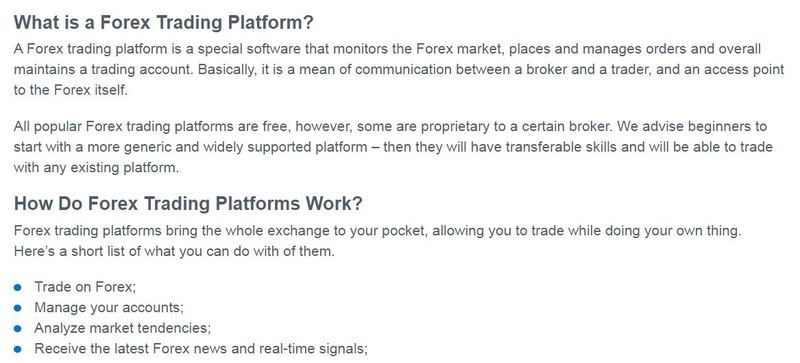 JF Limited demo account
A demo account provided by any brokerage company enables you to check its trading conditions using virtual funds. At the same time, the client, using risk-free trading, will select the most convenient trading tools and try out various strategies (Forex strategies). Experienced traders will check them on demo versions of software robots.
JustForex gives its clients the opportunity to try their hand at a demo version. The simulation of trading here, like other brokers, is intended for practice and training. Since the trading process is completely identical to trading on real accounts, a beginner speculator gets real experience in working with asset charts. Opening a virtual account, the practitioner chooses the beginning balance for himself/herself. You can learn trading using any account type. Having achieved a certain experience and stability in trading, you need to switch to a cent account and try your hand there.
JustForex mobile application
Undoubtedly, its availability in the project gives a definite advantage, since trading can be made from anywhere in the world. All you need is an Internet connection. Modern mobile devices have very diverse requirements for mobile applications. MetaTrader 4 Android for the JustForex broker is such a solution in this case. The interface is simple and understandable to the majority of speculators; the speed of transactions is high. The application can be easily downloaded and installed on a mobile device. You can trade using not only Forex instruments, but instruments of other markets, as well. Orders can be corrected on the chart online.
Functionality of the application is generally in many ways similar to the MT4 trading terminal for computers. There are some differences from tablets, but the software package is specially optimized for each of these devices. It is worth noting that there is no Trailing Stop – the function of automatic movement of a safety order. But they plan to implement it in the future. You can optimize the entire trading process using 30 indicators (at option).
justforex.com bonuses
Trading firms use promotions and various bonuses to attract new users to their ranks. Since Forex is a very popular niche, the struggle for traders increases with the increase in the number of brokers. Bonuses are a great market-speak in this regard. The JustForex project offers its clients a variety of bonuses:
50% bonus on Cent, Mini, Standard, Pro accounts, subject to a deposit replenishment up to USD 100 and above.
100% bonus on Mini, Standard, Pro accounts, subject to a deposit replenishment from USD 100 and above.
115% bonus on Mini, Standard, Pro accounts, subject to a deposit replenishment from USD 500 and above.
Clients can receive all types of rewards only for a one-time replenishment of the deposit. Moreover, it should be noted that replenishment funds are not cumulative. The bonus program has its limitations: one trading account can be replenished to the maximum amount of no more than USD 40 thousand, the same amount is the limit for all accounts of the same user. Internal transfers are not considered to be the account replenishment; therefore, remuneration does not apply to them.
The broker on the website indicates that he/she is ready to bear all expenses that may arise when replenishing the deposit. In other words, he/she pays a possible commission to the client. Bonus funds can be withdrawn from the deposit, having implemented a certain volume of transactions within 3 months. The number of standard lots should be equal to the bonus amount divided by 4. These conditions are quite favourable as compared with competitors. Brokers generally provide 1 month for «laundering» rewards. In addition to bonuses, users can participate in various contests. For example, Golden Trading, a contest of trading accounts, which lasts 3 weeks, provides a prize fund of USD 8 thousand. Participants complain that prizes are granted only for the first three places:
1st place – USD 5 thousand.
2nd place – USD 3 thousand.
3rd place – USD 1 thousand.
Those wishing to participate shall use Standard, ECN Zero or Pro-like accounts. The selected account shall be replenished with a one-time deposit amounting to at least USD 200. The same types of accounts are used in the iPhone 11 Pro Max contest. Participants shall replenish one of them with an amount of at least USD 199. The grand prize iPhone 11 Pro Max 512Gb will go to the winner with the highest number of Profit points. These points shall be calculated according to the principle: Profit% is equal to the product of the percentage increase in profit by the number of profitable days. During the contest, the achievements of 10 competing traders with the best results are always presented in the Table on the website justforex.com.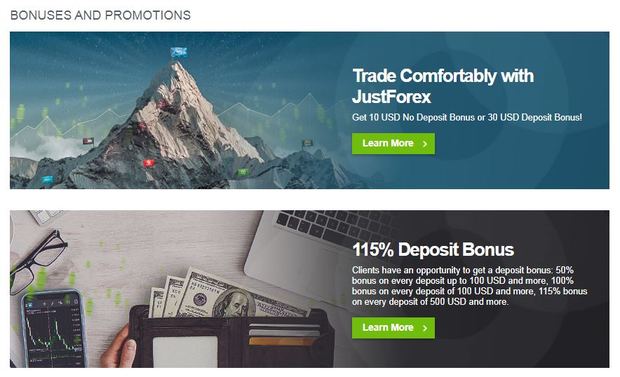 JF Limited deposit and withdrawal
This is one of the important criteria for choosing a broker for cooperation in the financial market. JustForex offers its clients several different ways to deposit funds to choose from: Visa/Mastercard, Qiwi Wallet, Perfect Money, Neteller, WireTransfer, FasaPay. Money can be withdrawn from the account using the same methods. Replenishment is made without commission and instantly. The following currencies can be used: USD, EUR, MYR, IDR, THB, VND, KWD, CNY. The minimum transaction amount is USD 5. Amount of the commission when withdrawing funds varies depending on the method for withdrawing money. There are no commissions in some payment systems, such as Neteller. The withdrawal period is up to 3 business days.
Complaints against JustForex
The feedback about the company justforex.com vary. Along with positive feedback, there are also negative ones. Some negative comments are related to the money withdrawal process. Some users complain about mismatch of the declared deadlines with real ones. For example, several clients indicate that withdrawal process took them one and a half or two weeks instead of the specified 3 days. Some traders could not withdraw money at all. In response to client requests, the broker support service stubbornly remains silent (complaints from traders).
Some traders criticize the justforex advisor. The product is not entirely successful for trading. There is no information about it on the Internet. But you should always remember that software robots, as a rule, earn money for their developers by selling their offspring to users. A significant part of such products of the mind does not meet the investors' expectations. Using of robots in practice is always associated with the ability to analyse the situation on the market. And the market is constantly changing. 100 per cent foreseeing and predicting everything is impossible. Hence, the loss of funds and even frequent discharge of deposits occur. Using a robot should always be tied to a proven successful strategy and clearly follow the unshakable laws of trading – observing the money management rules and the lack of excitement. Some JustForex users note the pressure from the managers and analysts of the company, who require them to increase deposits. Alas, similar cases are found not only with this broker. But, despite existing shortcomings, JustForex has the following advantages:
A good selection of tools for trading.
Availability of segregated bank accounts.
A variety of bonus programs.
Affiliate offers.
ECN accounts with Market Depth plugin.
Affiliate rebate service.
JustForex broker regulator
The availability of a regulator and license for any broker clearly increases its status and inspires confidence of clients. Although majority of the companies never use the services of regulators in practice, availability of such control in itself opens up the possibilities of new markets and advertising their services. As an IPC Trade brand, JustForex operates under control of International Financial Service Comission (IFSC). The license number is 60/241/TS/17. IFSC is the official regulatory authority of Belize. Although such control is deemed to be offshore, many well-known and reputable companies are registered here.
It is worth noting that the conditions for obtaining a license in Belize are more loyal than those of FCA or CySEC. However, most brokers with Belize regulation can be generally trusted, since these companies must keep at least USD 100,000 in their accounts, store client funds in separate accounts and report monthly. It should also be taken into account that the higher the license level, the more stringent the trading conditions for traders.
In addition to IPCTrade, JustForex represents JF Limited regulated by FSA (Great Britain). This control minimizes the presence of scam. The FSA is primarily an independent and autonomous financial institution with broad powers. The solidity of such jurisdiction virtually eliminates violations by the broker. Taking into account this circumstance, the project should «gain weight» in Europe. However, JustForex is currently one of the most popular brokers in Asia and is one of the few that provides protection against negative balance.
Just Forex User agreement
This document is extremely important for traders. Strangely enough, but few beginner speculators want to spend their time to reading the «Terms and Conditions», printed by brokers in small print at the bottom of the registration page. And how wrong it is. Experienced traders, before registering on the website of the company chosen by them, should carefully study these Terms and conditions. They pay attention to all restrictions of the broker, commissions, conditions for depositing and withdrawing funds from the deposit, as well as the rules for receiving bonuses.
At JustForex, this important regulatory document is called the «Client Agreement». The company that concludes it with the client is JF Limited. It provides software products and services to users. In clause 4.6, the broker indicates that the Market Execution execution method is used to perform trading transactions. Apparently, the preferences of the bulk of clients are taken into account here. In other words, there is a market execution of orders. Its advantages are speed, mandatory execution, the ability to make more profit than it is planned, when the price moves in the right direction.

Clause 4.9 provides for margin requirements. In order to avoid forced closure of the user's position, the margin level of the open position according to the trading conditions should be obligatory maintained. The broker, at his/her own discretion, can change the amount of credit leverage for individual clients.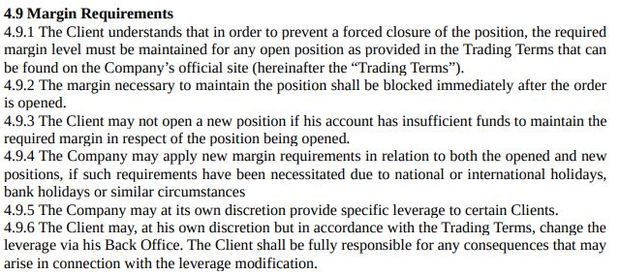 The commission amount and the conditions under which it is paid are determined in clause 4.11. ECN Zero account, in addition to these payments, has costs in the form of a spread and a swap. Cent, Mini, Standard-like accounts are not subject to commission. If there is no activity on the client's account for 150 days (none orders have been opened), they begin to withdraw USD 5 monthly from it.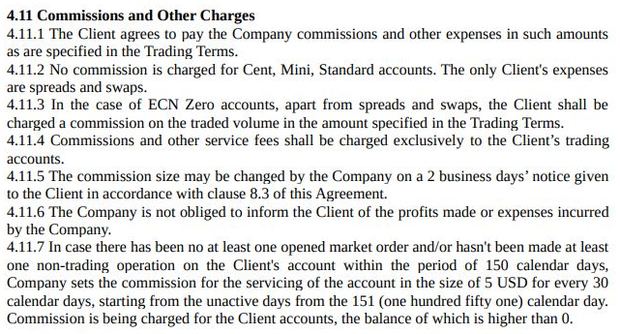 The procedure for withdrawing funds from a deposit is specified in clause 5.3. An application for it should be executed exclusively through the user's personal account, upon completion of the verification procedure. The broker agrees to implement the procedure for withdrawing money from the deposit within a period not exceeding 2 banking days from the application date. If the client refines the account using the method by which withdrawal is not possible, the funds are withdrawn to his/her bank account. Another method is possible by agreement. In this case, it is necessary to establish the identity of this account owner.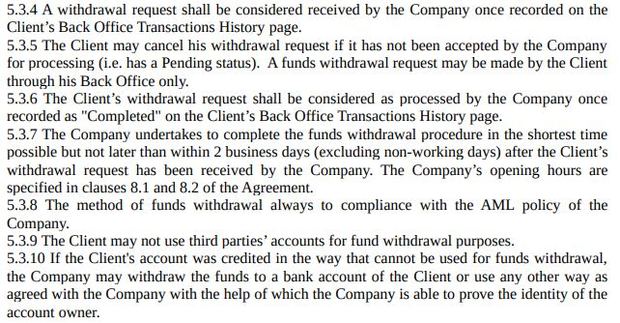 In some cases, the broker is entitled to refuse the client to withdraw funds in the manner specified in the application. Then the money is withdrawn in a different way as agreed with the company. Funds are sometimes transferred directly to the client account for security reasons.

Force majeure circumstances or force majeure are specified in clause 7 of the Client Agreement. A party for which non-performance or improper performance of obligations was caused by force majeure must notify the other party of them within 7 calendar days after occurrence of these circumstances. All disputed situations shall be considered individually and in electronic format.

Is JustForex a scam?
Founded in 2012, JustForex broker represents JF Limited and IPC Trade companies. In fact, the project has two regulators – IFSC and FSA. JustForex website displays only advantages of this broker, indicating that the professionals who created the brand, implement new technologies for its development. JustForex clients are traders from 197 countries. The broker initially expected to gain popularity among European users, but subsequently the emphasis was placed on expanding influence in the Asian regions and the post-Soviet space. Perhaps this is due to the softer regulator IFSC.
Good trading conditions and a variety of accounts enable users to choose the most comfortable ones for themselves. Barrier to entry is very acceptable and amounts to USD 100, which is affordable even for a beginner speculator. Interesting affiliate programs, bonuses, promotions. All this really contributes to the expansion of the client base. The broker does not limit the partners' profit. Training is provided for beginners. As for trading process, 3 types of trading can be distinguished – time-tested MT4, its mobile version and web version. Over 90 assets provide a wide range of options for speculators. Good conditions for scalpers: low spread and market-type execution of orders. Those who wish can connect to the signals of professional traders and copy them. In turn, professionals, having registered on the project and having proved their skills, can broadcast their own signals, receiving additional profit.
However, JustForex is not all perfect. There are disadvantages, as well. On the website pages there are no history of the project formation, the names of analysts and authors of market reviews are not indicated. Such information is usually always provided by all reputable brokerage companies. Withdrawals of money are not always perfect. Instead of 2 banking days promised in the client agreement, the withdrawal of money from the deposit may take up to 7-10 days. There are problems related to withdrawal of bonus funds. However, characterizing the project as a whole, it can be noted with confidence that it is definitely not a scam. This is evidenced by registration with two regulators. The broker is trying to reach a wider audience of users and occupy its niche among competitors.
Summary
The licensed broker JustForex has been providing intermediary services in the financial market for 7 years. This is a relatively short period as compared with competitors operating for 15 years or more. However, thanks to a mixed business model (broker and dealer), it managed to become popular in Asia. The project is characterized by some advantages and disadvantages. It does not stand out among competitors. Those who have decided to cooperate with JustForex should start trading using a cent account, and only making sure of the possibility of obtaining larger profits, to increase the size of the deposit and the volume of transactions.
Rating of reliable brokers