Ukrainian service, which combines a currency exchanger and a cryptocurrency exchange, offers favorable trading conditions and bonuses.
Service
Website
Social media
Date of foundation

2009

Head Office

04071, Ukraine, Kiev, Verkhny Val St., 10.

Types of support

Feedback form on the site

Telegram

Help Center

Languages

English, Russian

Number of cryptocurrencies
Minimum input limit
Methods of replenishment

Advcash, GEO Pay, Kuna Code, Mastercard, Payeer, Perfect Money, Qiwi, VISA

Withdrawal methods

Advcash, GEO Pay, Kuna Code, Mastercard, Payeer, Perfect Money, Qiwi, VISA

A way to store cryptocurrencies
Affiliate Program
Terminal capabilities

Automated/self-trading

Benefits

Large selection of cryptocurrencies

Relatively low commissions

There is a Telegram bot for trading

Availability of a regulator

Trading with other users (kuna codes)

Bug Finder Rewards Program (owners strive to improve the platform)

Disadvantages

Few currency pairs, low liquidity (according to user reviews)

Recharging a bank card when buying bitcoin for hryvnia - only for residents of Ukraine

Overall assessment
Date of update

29.07.2022
Address
04071, Ukraine, Kiev, ul. Verhniy Val, d. 10
Map
Subscribe to this company
Kuna is it a scam? Reviews and description
Kuna is a Ukrainian service opened in 2009 by Mikhail Chobanyan and combines a currency exchanger and a cryptocurrency exchange. It is oriented mostly for the residents of the CIS countries.
How convenient and safe is the platform? Is Kuna a swindle or a serious project? Let us walk through all the pros and cons and make conclusions.
Why Kuna
The convenience of the service kuna.io lies primarily in the fact that there are often no deposit and withdrawal fees, and the interest on transactions and deposits is relatively low. At the same time there is no need to keep the currency on the company's wallet – you create your own and bear less risk.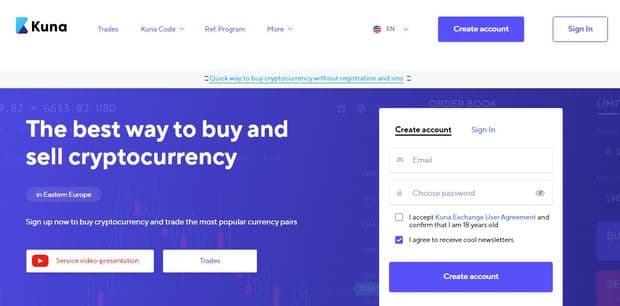 A large number of cryptocurrencies are used (bitcoin, lightcoin, air and others – 24 types in total) and the 3 most common fiats – hryvnia, American dollars in the CIS countries.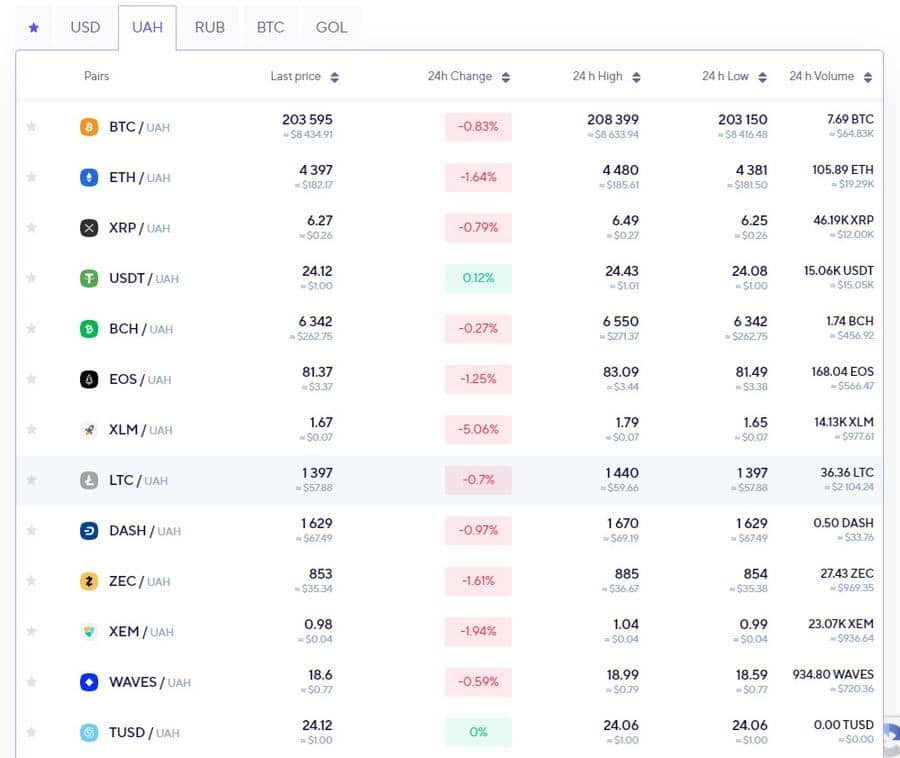 It is possible to trade Telegramm-robots under the given conditions or to put out transactions independently for other users.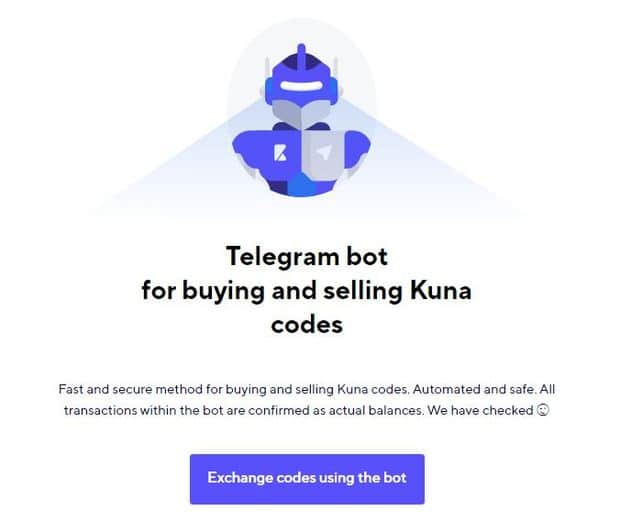 There is an analytics from TradingView and a knowledge base with detailed instructions for newcomers. If you have any questions, clients can contact the support service via e-mail, chat bots Telegram/Facebook and community administrators in Kuna social networks.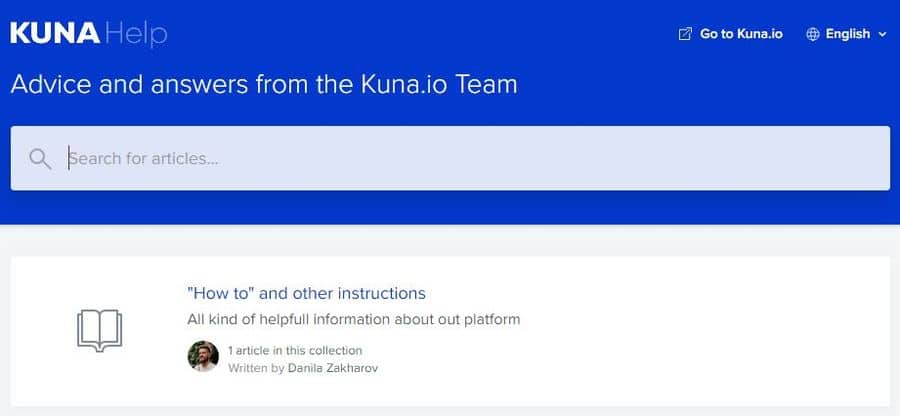 The platform is also supported by registration under the laws of England and Wales. Additional advantages are the following:
The system of rewards for detection of vulnerabilities in the program by users.
Referral program with up to 75% cashback from referrals' transactions.
Checking each client in accordance with AML policy.
Availability of a handy mobile application to use the service without reference to a physical location.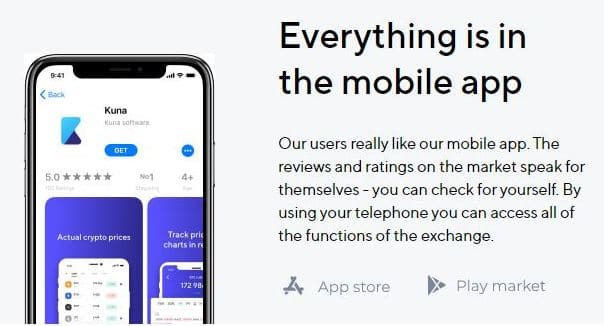 How to buy cryptocurrency on the platform kuna.io
You need to create an account on the website kuna.io first to buy a bitcoin, for example, with Kuna. Click the appropriate button in the top menu of the site and go to the basic window, where we are asked to enter the e-mail address, come up with a password and accept the policies of the organization.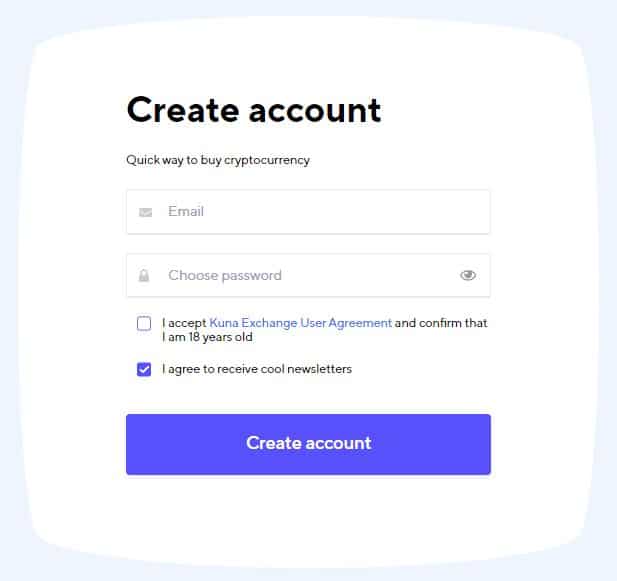 On the specified e-mail address will come a six-digit code, which you must enter in the form that opened on the registration page.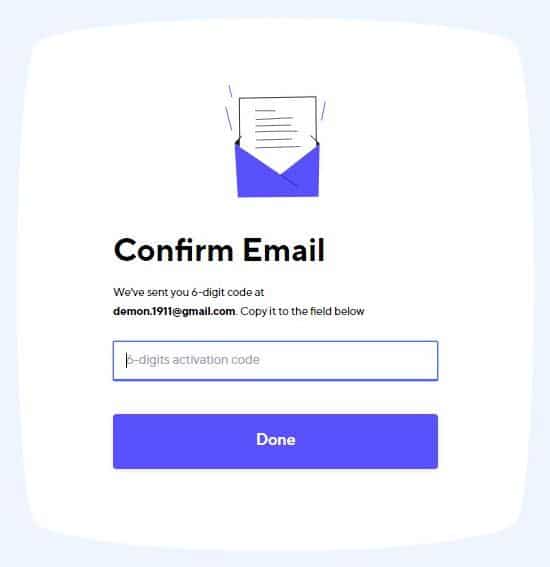 Now we can login by specifying the login (mail) and password that we created. There will be another captcha (checking that you are not a robot: the system will ask you to choose pictures that show, say, buses or traffic lights).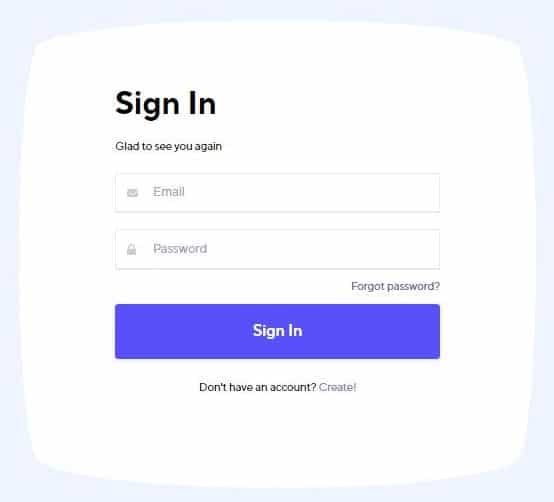 For trading we open the «Trades» section, for creating trades with other users of the platform – the Kuna Code section. In the first case, we will talk about charts (this option is suitable for experienced traders), and in the second – about the usual exchange. Here you must create a code in order to buy/sell a fiat or a cryptocurrency. This is made by the following steps:
The asset is selected (e.g. bitcoin).
The amount to be exchanged is set.
The recipient is specified (each registered client has a Kunaid – an individual number by which it is searched).
Clicking the «Generate» button creates a unique combination of characters, containing the conditions of the Offer.
All further actions are performed in Telegram – independently or by means of automated bots.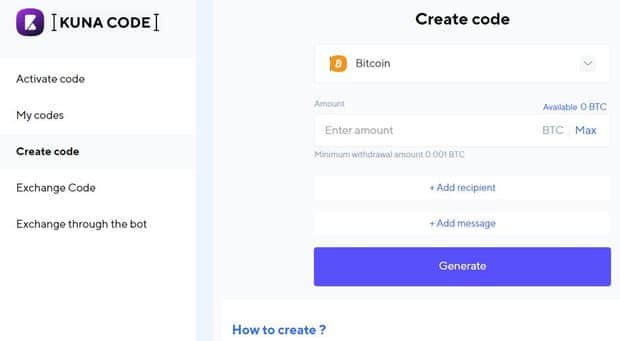 Verification on Kuna platform
In order to enjoy the full functionality of Kuna, you must undergo profile verification: provide identification, payment scans and other documents that are necessary to verify your security. In addition, all transactions and transactions are under control and may be frozen or even cancelled if you suspect compliance with the service/laws.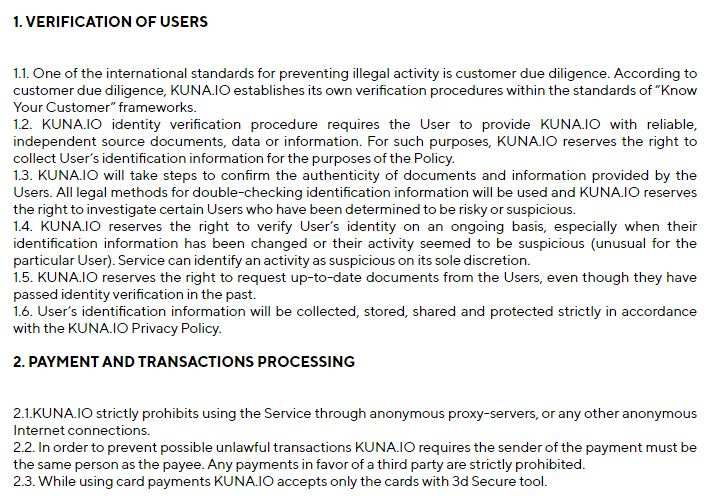 And for security purposes, you will be prompted to set up two-factor authentication – 2FA. This is additional confirmation of each transaction with a one-time password. The function is connected by installing the application Authy or Google Authenticator.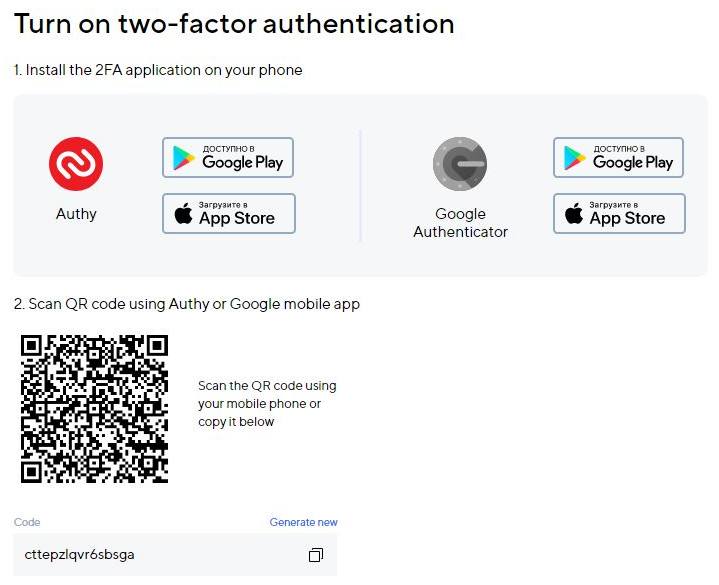 Cryptocurrency purchase conditions
Kuna is available for use by adults who have been registered and verified. Only one account per person is created. There are two main directions to choose from:
Trading on the Bitcoin Exchange 10 timeframes (1M, 5M, 15M, 30M, 1H, 2H, 4H, 6H, 1D, 1W), 70+ indicators and trend figures, interactive functions (scrolling, zooming, magnet) and other features.
Exchange operations in Kuna Code, which we mentioned above.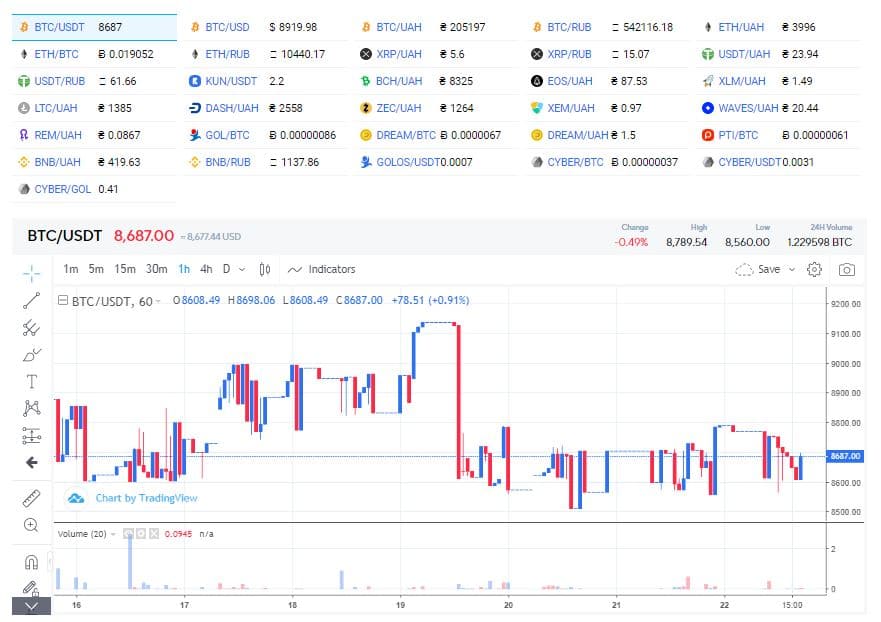 Of virtual currency units the following ones are supported: Bitcoin, Ethereum, Ripple, Bitcoin Cash, Litecoin, Dash, Zcash, Stellar, Nem, EOS, Waves, Remme, Tether, Goldiam, Golos Gold, Hacken, Karbowanec, TrueUSD, Deamcoin, Paytotam, Binance, Golos, Cyber and Dai. Of fiat ones – Ukrainian hryvnia and US dollar. In some cases, restrictions are imposed. For example, only users from Ukraine are allowed to replenish the account with a bank card when buying bitcoin for hryvnia.

Deposit and withdrawal limits
Despite the fact that the promotional offer of Kuna says that for fiat currency (USD, UAH) there are no limits on input-output from the exchange, they are. The values are as follows:
Replenishment: in the equivalent of 1 to 10 000 USD.
Withdrawal: minimum 0.001 BTC (no upper limit is marked).
Kuna commissions
There are 2 types of commissions in Kuna: for replenishment/withdrawal and for making transactions. The first one is determined by the type of commission and your status (seller/buyer).
Fiat — 0%-3.5%.
Cryptocurrency – 2-5 USDT/0.0005 BTC/0.005 ETH/0.001 BCH/0.02 XRP/0.001 BCH, 0.01 Waves/0.001 LTC/0.001 ZEC/4 XEM/0.01 DASH/0.001 XLM/0.01 EOS/0.005 ETH/0.5 KRB/0.001 CYBER/0.001 BNB/2 USDC/2 DAI.
The second one is fixed: 0.25% for buying and selling.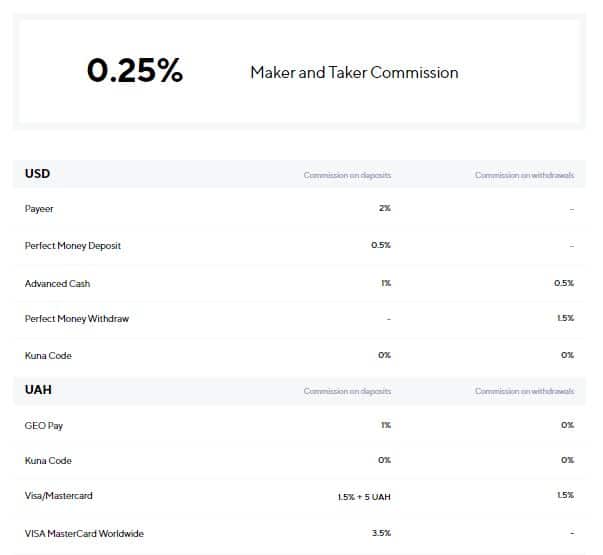 Kuna bonuses
Kuna has an incentive system for active clients. For example, a rewards program for found vulnerabilities: if you find a bug in the service and notify the support team about it, rather than telling outsiders, friends or relatives, you receive funds into your account. Usually there are specific numbers: how much and for what you will be paid.

And when you buy Coon's VIP account, you get another bonus: a reduced transaction commission of 0% for sale and 0.125% for purchase.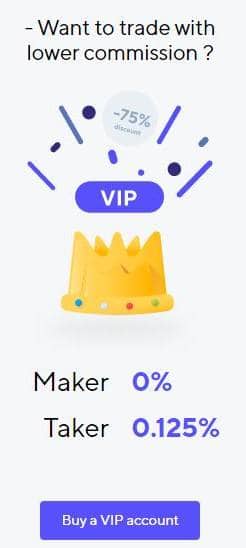 Affiliate program
You can get up to 75% commission from other users if they register on kuna.io by clicking on your link. Such links are called referral links, and incoming clients are called referrals. Each link is unique, and you can place it on your website, blog, and social network page. The more referrals, the higher your status and more cashback.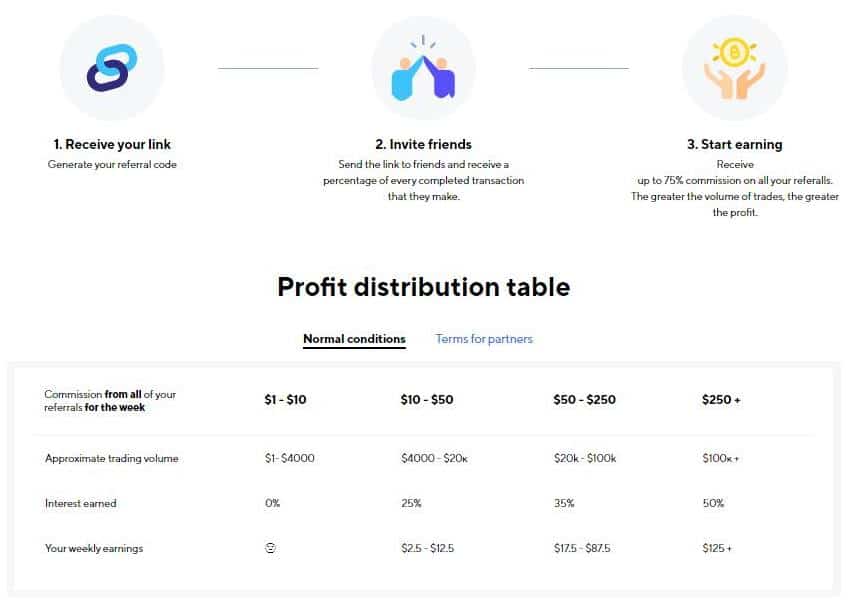 Complaints against Kuna
In general, the opinion about Kuna in the Internet community is rather positive. However, there are a number of things that do not suit the users:
Verification issues.
Unneeded platform tokens, which are almost nowhere else but on the platform itself, can not be used.
Shortage of currency pairs, due to which you have to make several transactions instead of one and pay a large commission.
Low liquidity.
It is fair to say that almost all the complaints we have found have a statute of limitations of 2 years and more. Fresh reviews of the platform mostly contain thanks. This is especially nice considering that they are posted on official reviews, where strict moderation is carried out and feedback from Kuna is given.
Regulation of kuna.io
Regulating the purchase and sale of cryptographic currency is not always possible, as most states have not yet approved the relevant legislation. Some companies do, however, register their activities. And the operator Kuna is one of them.
Kuna's regulator
Kuna Fintech Limited, the service owner, is regulated by English law and the company itself is certified under the number Registrar of Companies For England and Wales 11834168. The document's scan can be found on the official website. You can also check the status of the organization in the register of the regulator.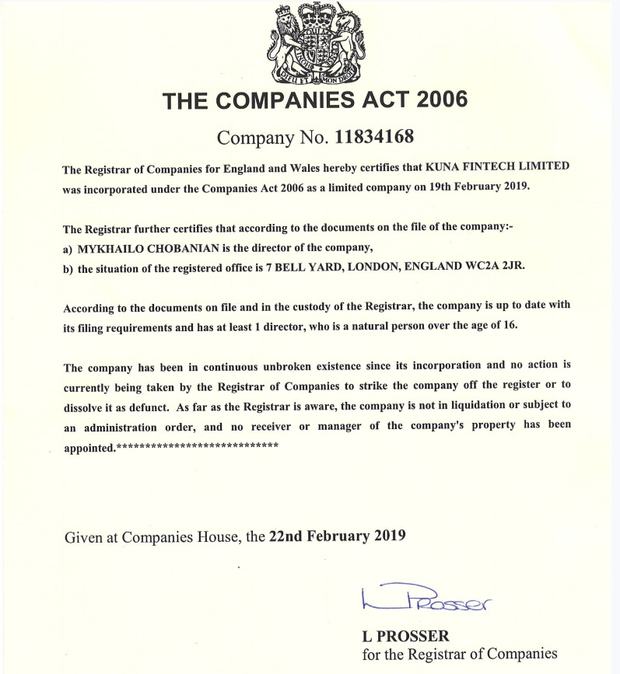 Kuna's Terms and conditions
Terms and Conditions defines rights and obligations of clients (exchange users) and resource owners. Let us analyze it by examples. Thus, in case of suspicion that you violate KUNA.IO rules or legal requirements, you can simply send a request to confirm the legality of the transaction or simply block access to the personal computer without prior notice. This is stated in section 4.3 of the policy.

Fiat money is not stored directly on the platform – all Kuna activities are limited to technical accounting on the balance (clause 5.7).

In most cases, the provider is not entitled to make transactions to write off your balance by itself. Exception: liquidation in the case of delisting electronic tokens, when you have not initiated their withdrawal within the specified period (clause 5.11).

It is forbidden to use the service for fraudulent and illegal purposes, copy and distribute any intellectual property of the company (trademarks, know-how, etc.), interfere with the software component of the site and perform other actions that affect its performance and the rights of third parties (clause 9.1).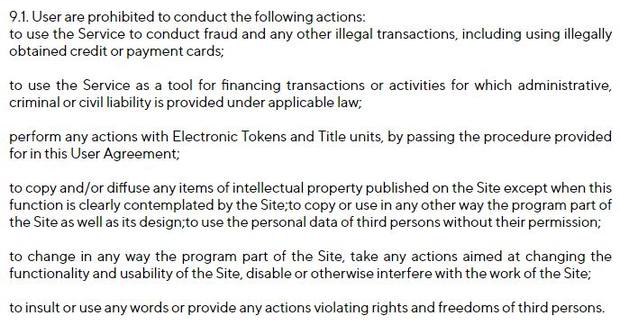 If suspicion is detected, access to the account is restricted for a period of 24 hours to 30 working days (clause 9.2) or blocked permanently (clause 9.3). Of course, in the latter case the funds from your account will not be returned to you.

You use the platform on «As it is» terms. This means that the operator is not responsible for any damage incurred by you as a result of using Kuna or its malfunction (clause 10.1), only as part of regulatory law (clause 10.2).

Is Kuna a scam?
Kuna is a popular platform that combines functionality oriented to experienced traders with services for beginners who do not want to go deep into the market and prefer to orientate themselves only towards a given course. There is a large choice of cryptocurrencies, but currency pairs themselves are not always represented in the desired variety of users. On the other hand, there are quite good commissions for deals and input-output (in the latter case interest is often not charged).
Judging by the feedback, traders have no questions to the honesty of the operator – complaints arise mainly on liquidity, unclaimed tokens and similar things. The user agreement, in our purely subjective opinion, does not contain anything beyond the standard requirements, though not always beneficial to the client. In general, in our opinion, Kuna is not a swindle, but an interesting and convenient way to earn money on cryptocurrency for those who are fond of it.
Summary
Kuna leaves rather a positive impression: advantageous and clearly defined trading conditions, simple and clear interface, automated exchange facilities, serious regulation and profitable bonus/referral programs. There are, of course, disadvantages as well. For example, restrictions on the use of certain payment services, taking into account the currency. But all this looks not so terrible against the background of problems that users have with Kuna competitors. We recommend the platform for active use by traders with different levels of experience.
Robots for cryptocurrency