Cryptocurrency exchange with exchange functions offers favorable terms of cooperation and quality technical support.
Cryptocurrency exchange
Website
Social media
Date of foundation

2014

Head Office

35 Rue du Caire, 75002 Paris, France

Types of support
Support by phone
Languages

English, French, Spanish, Italian, German

The owner of the company

Coinhouse Custody Services

Manager

Coinhouse Custody Services

Age restrictions
Number of cryptocurrencies
Margin Trading
Tokenized assets
Free Demo Account
Types of accounts

Classic, Premium, Platinum

Execution of orders

Market Execution (at market price)

Methods of replenishment

Mastercard, VISA, Wire transfer, Cryptocurrencies

Withdrawal methods

Mastercard, VISA, Wire Transfer, Crypto Wallet

Account currencies

EUR

Types of cryptocurrencies

Bitcoin, Bitcoin Cash, DASH, Ethereum, Dogecoin, etc.

Licenses
Mobile applications
Trader training

Blog, market news, knowledge base, online consulting, courses

A way to store cryptocurrencies
Fiat accounts
Scalping
Stop Loss and Take Profit Function
Exchangeability for fiat currencies
Basic verification
Extended AML verification
API
Affiliate Program

Registration

Up to 30% on the amount of commissions from referral transactions

Benefits

Large selection of cryptocurrency on paid accounts

There are physical offices

Online courses, training, counseling and support

Disadvantages

Modest selection of cryptocurrencies on the free account

Strict territorial restrictions

Complicated and confusing terms and conditions of the user agreement

Company requisites

Legal name:

Coinhouse Custody Services

Legal address:

35 Rue du Caire, 75002 Paris, France

Overall assessment
Date of update

26.04.2022
Address
35 Rue du Caire, 75002 Paris, France
Map
Subscribe to this company
Coinhouse is it a scam? Reviews and description
Coinhouse
- that
cryptocurrency exchange
feature
exchanger
, which opened in 2014 in Paris. The company works with cash through the office and online assets through the website, and is focused on a European audience. The territorial restrictions here are strict.
Will the Russian consumer be able to work with the platform? And how reliable is it in general? Is Coinhouse a scam or a serious project? Let's find out, based on the facts.
Why Coinhouse?
Coinhouse is not only an exchanger, but also a cryptocurrency exchange, so its customers can choose between two formats of work with the platform: a simple exchange or trading with the economic environment and the use of technical tools (How to make money on cryptocurrency?). It also provides free training, a good selection of theoretical materials and a knowledge base for mastering the service.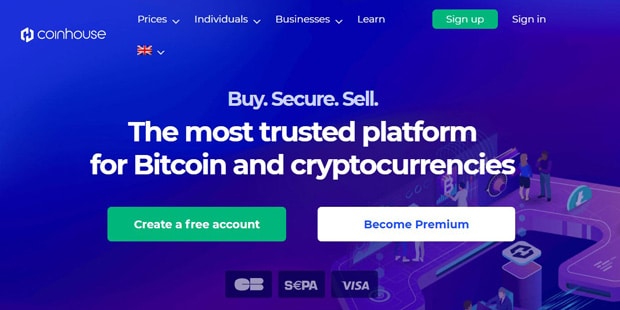 The commission here is quite high, but it is assumed that the final yield of the user in the profit will cover it. All the more, that some tariffs provide individual support with the ability to build your own trading strategy. Your funds are stored on the company's servers, in segregated (isolated from the provider's accounts) cells, which allows minimizing the risk of loss.
In addition, all transactions are verified, and the account creator provides proof of the legality of the invested currency during registration, so that you don't have to deal with fraudsters. Of course, this has a downside: the seemingly excessive bureaucracy, but it is still the best option for security lovers.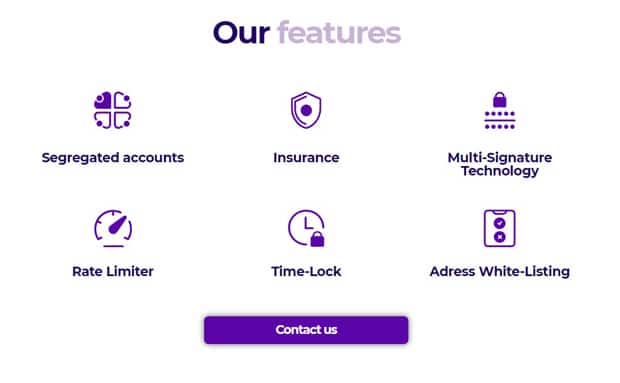 How to buy cryptocurrency on the coinhouse.com platform?
For buying/selling cryptocurrency through Coinhouse, as with most other services, you will need to register on the site coinhouse.com. First, let's try a free account. To sign up, click Create a free account on the main page. The system will take us to a form where you will be offered authentication through your existing Facebook/Google+ accounts, or login with confirmation by mail.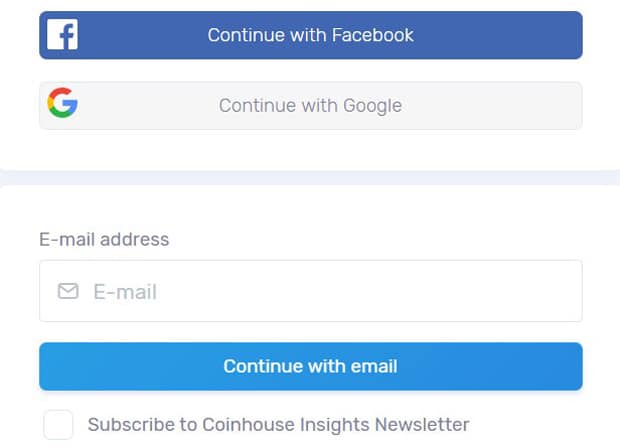 An email will be sent to the specified email address with a link, which you must click to continue creating your account. The next step is to create a password. It must include at least one uppercase letter, one number, one special character (punctuation mark, @, #, $, etc.) and be at least 8 characters long. Once again confirm the type of account we will use, and you can move on to specifying personal information.
Enter your first and last name, date of birth, country of residence, specific address (street, house, city, zip code) and phone number. The phone will also be asked to verify with a four-digit code from the text message. If all goes well, the next step is verification, and then you can open the currency platform. All you have to do is to select the currency, the amount, and fill in the details.
Verification on the Coinhousing platform
As part of the verification procedure Coinhouse requires firstly to confirm the identity (passport scan), secondly, the origin of the investment (credited to the balance) funds (bank statement, tax / notarial declaration, etc.). Taking into account the passing of these or those stages, the status is assigned: Start, Blue or Premium, - determining the possibilities (exchange limits, commissions, etc.).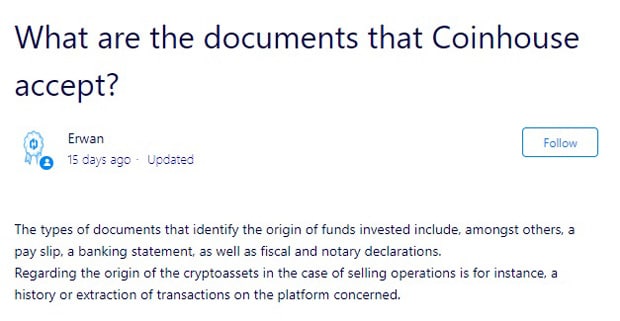 Terms of buying cryptocurrency
Sign up online coinhouse.comto make exchange transactions with cryptocurrencyOnly residents of a number of countries and territories are eligible: Germany, Austria, Belgium, Spain, Estonia, Finland, France, Greece, Ireland, Italy, Luxembourg, Netherlands, Portugal, Slovakia, Slovenia, Croatia, Bulgaria, Denmark, Hungary, Latvia, Lithuania, Poland, Czech Republic, Romania, United Kingdom, Sweden, Iceland, Norway, Liechtenstein, Switzerland and the French overseas departments and regions, Saint-Pierre-et-Miquelon, Saint-Barthelemy and the French part of Saint-Martin, the Principality of Monaco, Andorra, Vatican City and San Marino.
Coinhouse representatives accept almost everyone in the physical office, except for citizens of Afghanistan, Saudi Arabia, Bahamas, Botswana, Cuba, North Korea, Ethiopia, Ghana, Guam, US Virgin Islands, Iran, Iraq, Libya, Nigeria, Pakistan, Panama, Puerto Rico, Samoa, Serbia, Sri Lanka, Syria, Trinidad and Tobago, Tunisia and Yemen. So, Russian users will only be able to buy/sell crypto using the service in Paris or underground, as far as online is concerned (the latter can be easily uncovered with verification). The age restrictions are standard: 18+.
Because Coinhouse combines the features of an exchanger and a crypto exchange, here you pay not only for transactions, but also for account access if you want to have advanced functionality. There are 3 types of accounts to choose from:
Classic. Support for 3 cryptocurrencies (Bitcoin, Ethereum, Litecoin), online advice, crypto vault. Connected and valid for free. In fact, it is just an option for those who want to just buy and sell virtual currency without immersing themselves in the subject of blockchain technology.
Premium. Support for 300+ crypto units, personal advice, access to financial analyzers, reduced commissions. Focused on new traders. Costs 39 euros per month.
Platinum. All the features of "Platinum" plus personal analytics and trading assistance. It costs 99 euros per month.
However, as we have already said, the free version is enough to make exchange transactions, so let's consider it in detail. The following deposit/withdrawal methods are supported: bank card (VISA, MasterCard), transfer, cryptocurrency wallet. The FAQ sets the transaction processing time of 30 minutes for the first method.
Each transaction is confirmed using two-factor authentication - 2FA (one-time passwords). Provider reserves a maximum of 72 hours for delivery of currency from the moment of fulfillment of obligations under the transaction on your part (sending ue). After this period, if you still have not received the u.e., you can file a claim.
Deposit and withdrawal limits
The minimum limit of transactions in Coinhouse is set at 50 EUR (this figure is announced in the official feedback from representatives of the company). The maximum deposit is determined by the verification status:
Classic - up to 250€ per transaction by card and up to 2000€ by bank transfer.
Blue - up to 2,000€ per transaction by card and up to 5,000€ by bank transfer. The daily purchase limit is 10,000€, the sales limit is 5,000€.
Premium - 5000€/day. Trade restrictions are the same as in Blue.
Attempting to exceed this or that limit will result in requesting additional documentation to upgrade your status.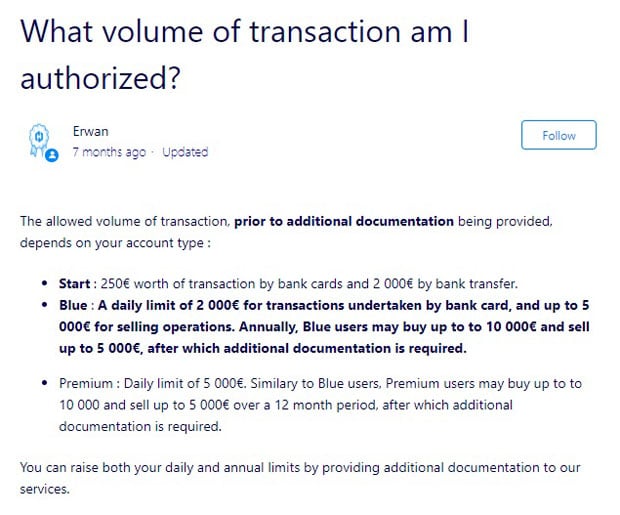 Coinhouse Commission
When a transaction is thwarted through your fault or you fail to make a payment: you will be charged a fee of 20€. All other fees (processing, the exchange itself) are included in the rate and are not stipulated.

Coinhouse Bonuses
The company periodically conducts promotions (mostly - reduction of commissions), about which it notifies by e-mail. As soon as you go to the website coinhouse.comYou will be prompted to sign up for the newsletter, so you won't miss anything. Coinhouse has no permanent bonuses, unless you count the referral (affiliate) program.
Referral program
The Coinhouse referral program involves receiving up to 30% from the commissions of your referrals in bitcoins. The link is unique for each member of the program and can be found in your personal cabinet. You are free to place it anywhere you like (site, blog, social network page, forum, chat room, etc.) as long as it does not violate any laws or the rights of others. Each click on the link is recorded in your personal cabinet.

Complaints against Coinhouse
We almost did not find any complaints about derailed transactions with Coinhouse on the network, except for a couple of reviews, which told about the technical errors (were fixed). However, many customers are unhappy with the high commissions charged by the exchange.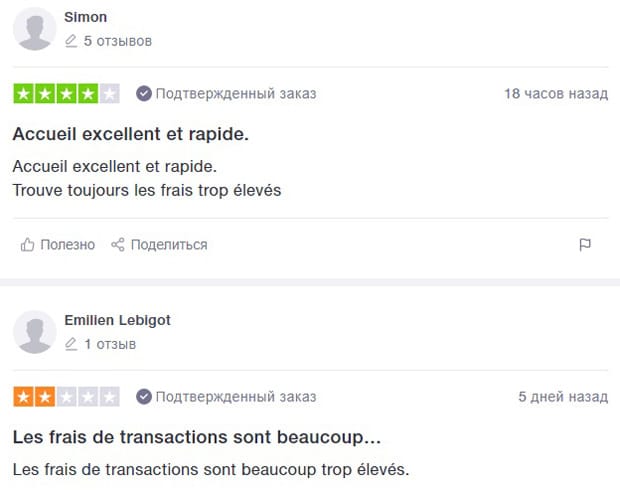 And in some cases users write about the pressure of the company, forcing them to leave a review, and the high minimum deposits. It should be noted that the authors of all comments provided the moderators with confirmation that they actually made the exchange through Coinhouse.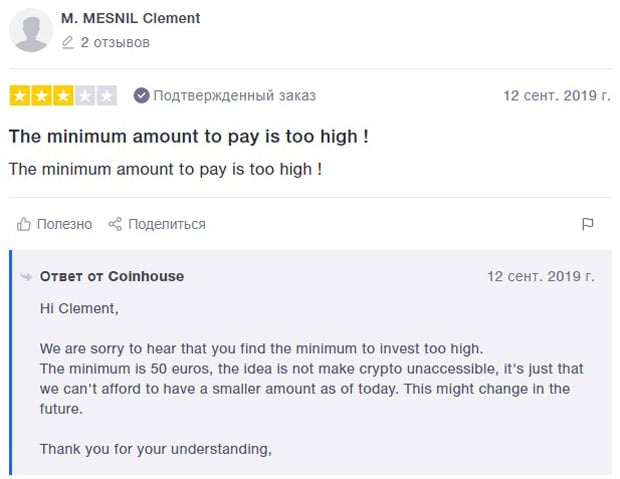 If there are any reviews about Coinhouse service, we'll be sure to post the information on social media. Sign up so you don't miss anything!
Please keep yourself informed about news and complaints. We copy the most valuable information to social networks, so please sign up!
Regulation
The regulation of cryptocurrency exchanges is a complex topic. After all, most countries, including European ones, have not yet introduced a coherent legal framework for blockchain. Many providers take advantage of this by not obtaining a license, but only registering in the country where they are located. The owner of Coinhouse is one of them.
Coinhouse Regulator
The rights for Coinhouse belong to Coinhouse Custody Services, registered in France under number 843 699 455. This information is confirmed in the official registry of the jurisdiction - infogreffe.fr.
Check the license of Coinhouse Custody Services at Infogreffe.fr
Coinhouse.com User Agreement
The Coinhouse User Agreement is quite detailed and contains important terms of cooperation between the client of the platform and its owners. Let's look at examples. So, clause 10.5 says that the operator has the right to change your trading limits at any time - in particular, the minimums - without warning you about it in advance.

An account is blocked temporarily or permanently in the following cases (listed in section 10.8 of the policy):
Refusal/impossibility to pass the verification procedure.
Appeal to official representatives of the authorities, court and other instances,
Failure to comply with the terms of the agreement, payment.
Failure to respond to a support request within 7 working days.
Suspicion of fraud, theft, cyber attack on account.
Insults, manipulations, threats and other unacceptable behavior against Coinhouse representatives.
No operations (deposit, withdrawal, trade) can be performed with frozen/blocked account.

The exchange rate is updated every 30 seconds and is fixed only after the request is confirmed. After that you have only 10 minutes for its payment, so that nothing is cancelled (clause 12.6.2).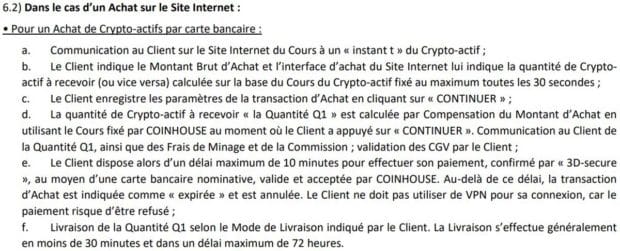 Before your withdrawal request is approved, your account will be checked and temporarily frozen for 72 hours. If there are any doubts about the legality of your actions, the payment will be denied. Provider is not responsible for losses caused by technical failures of your devices, hacking, viruses, Internet connection interruptions and other third-party factors (clause 14.3).

Is Coinhouse a scam?
Coinhouse - it is a reliable service in many ways: registration and physical office in Europe, a large number of tools and insurances (for example, it is possible to cancel transactions, albeit with compensation to the company), training kits and other factors that demonstrate responsibility to clients.
And yet the bureaucratic component is very strong here: territorial restrictions do not allow users from the Russian Federation to work legally with the platform, and a lot of delays associated with registration simply siphons off some visitors. Coinhouse is not a scam, of course, but the resource is not particularly convenient.
Conclusion
A lot of bans and requirements, high commissions (so says a verified audience in the official feedback, to which the provider itself refers Coinhouse on its website coinhouse.com), lack of some functionalities (fiat is represented only by euro, crypto cannot be exchanged into fiat currency) and license (though registration is available) - all this leaves a bad impression and, in our opinion, outweighs the advantages that Coinhouse has: security, safety of investments and informativeness. At the moment the exchange (exchanger) cannot be recommended to Russian traders.
Robots for cryptocurrency