Young convenient cryptocurrency exchanger, which supports popular types of cryptocurrencies, fiat, offers a parner program.
Cryptocurrency exchange
Website
Social media
Date of foundation

2019

Head Office

Zentenes iela 30 - 14, Riga, LV-1069, Latvia

Types of support

Feedback form on the site

Chat

Telegram

Help Center

Support by phone
Languages

English, Russian

Manager
Age restrictions
Number of cryptocurrencies
Margin Trading
Tokenized assets
Free Demo Account
Methods of replenishment

Mastercard, Sepa, SWIFT, VISA, Wire Transfer

Withdrawal methods

Mastercard, Sepa, SWIFT, VISA, Wire Transfer

Account currencies

RUB, EUR, USD, GBP, BYN, UAH, KZT, AMD

Types of cryptocurrencies

Bitcoin, Bitcoin Cash, Ethereum, Ethereum Classic, Litecoin, Ripple, DASH, Zcash, Cardano, Stellar

Licenses
Mobile applications
Trader training
A way to store cryptocurrencies
Fiat accounts
Scalping
Stop Loss and Take Profit Function
Exchangeability for fiat currencies
Basic verification
Extended AML verification
API
Affiliate Program
Benefits

Large selection of cryptocurrency and fiat

Not a bad affiliate program

Checking the wallet before the exchange

Analytics from TradingView

There is a Russian version of the site

Disadvantages

No mobile app and no bonuses

The terms of the agreement are changed by the operator without prior notice

No verification at registration

Few deposit/withdrawal methods

The license is issued by the Estonian regulator, but the legal relationship with users is regulated by Polish law for some reason (it is written in the agreement)

Technical errors in the LC (can not exit in the Russian version)

Overall assessment
Date of update

02.09.2022
Address
Zentenes iela 30 - 14, Riga, LV-1069, Latvia
Map
Subscribe to this company
Cryptonezia is it a scam? Reviews and description
Cryptonezia is a stylish, up-to-date and in most cases convenient exchanger with a somewhat complicated regulation system: its owner is registered in Latvia, it holds an Estonian license to carry out activities, and terms and conditions of the agreement are generally regulated by the Polish law.
Are legal complications speak in favour of the provider's dishonesty? Is Cryptonezia a scam or a reliable platform? Let's find it out now.

Why Cryptonezia
Cryptonezia is notable for a simple and intuitive interface. When you get to the website cryptonezia.com, you immediately see the exchanger, which displays all available replenishment methods, currency of purchase/sale, fees and limits. And when performing an operation, the key of your wallet will be checked on a mandatory basis (because an error threatens a loss of funds). The service does not have a mobile application, but the website is adapted for narrow-format devices. The advantages also include the following:
Availability of an Estonian license (one of few jurisdictions providing services in this field in relation to exchangers).
A good selection of fiat and crypt (8 ones for the first case and 10 ones for the second case).
Analytics from the famous broker TradingView for choosing the optimum time of exchange.
Good affiliate program.
To be sure, some points on the platform still need improvement. Let us say, bugs in a personal account, which we managed to exit only after changing the keyboard layout to English one. However, in our opinion, everything is generally quite good for a service that was opened just a few months ago.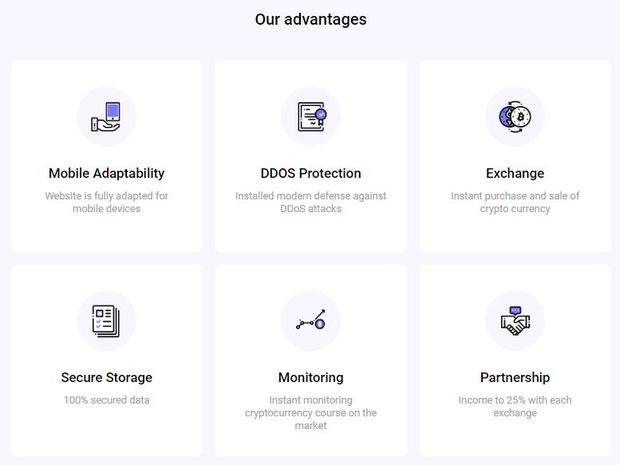 How to buy the cryptocurrency on the platform cryptonezia.com
The process of buying/selling cryptocurrency on Cryptonezia is standard and consists of several stages:
Registration.
Personality verification.
Sending an exchange request.
Transaction itself.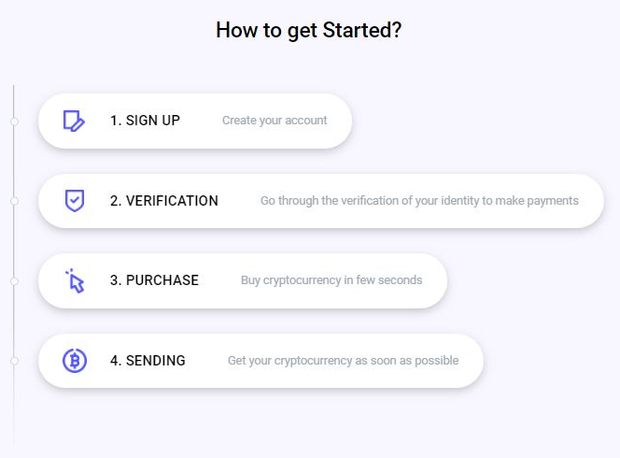 Let's analyse the order of your actions in this case. To go to the registration form, click the «Start» button in the upper right corner of the website. Then fill in the base fields: E-mail, password (we should create it by ourselves) and acceptance of policies and rules.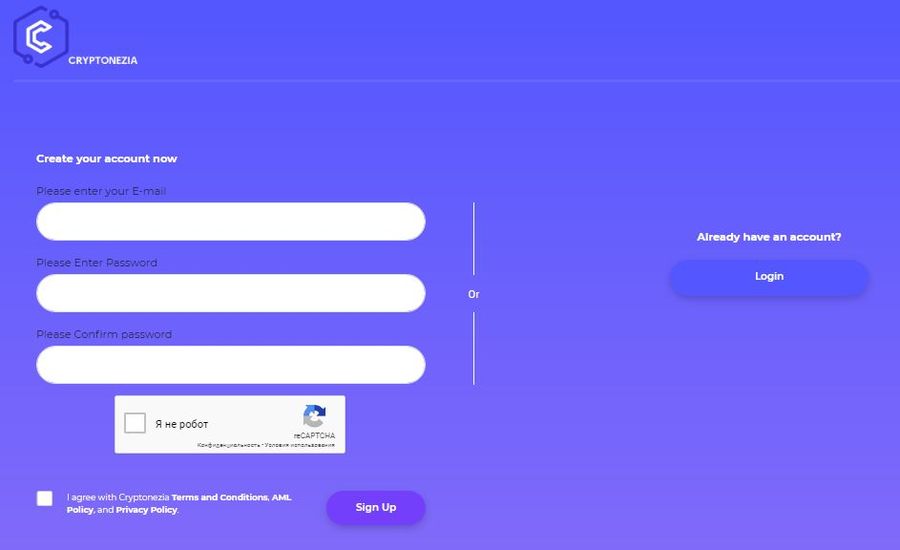 Indicate the last name, first name and full address of residence with a postal code, as well as a phone number.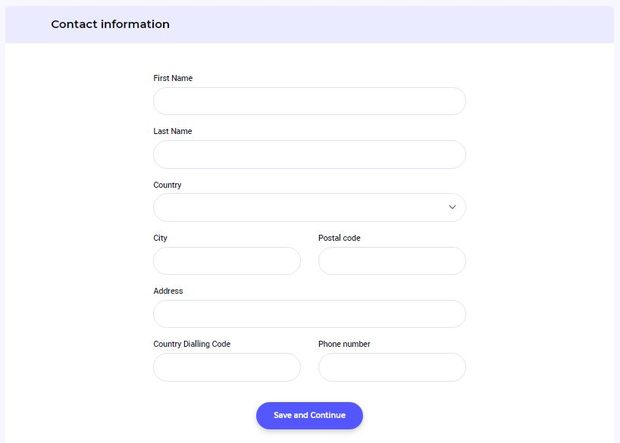 No additional confirmations are required at this stage. In the opened account we should find an exchange form, indicate the purchase/sale currency, amount and then click «Exchange Now». Your application is being processed. Its status will be tracked in the "My Exchanges" tab of the top menu of your personal account.
Verification on Cryptonezia platform
Although the user agreement stipulates the company's right to verify the user's identity under the AML policy (clause 6.2), the verification is not performed at the registration and exchange stage. Even mobile phone number and email do not require confirmation. All of this significantly increases the risks of hacking the account and theft of funds.

Crypttocurrency purchase conditions
Any adult who is not a resident of one of the following countries/territories shall be entitled to use the service cryptonezia.com: Afghanistan, Kuweit, New York, China, Algeria, Bahrein, Bangladesh, Bolivia, Bosnia and Herzegovina, DPRK Northern Korea, Ethiopia, Iraq, Crimea, Iran, Lebanon, Japan, Libya, Palestine, Nigeria, Oman, Pakistan, Qatar, Saudi Arabia, South Sudan, Sudan, Syria, Vanuatu, Yemen, Cuba, Uganda, Island and some US states (Connecticut, Washington, Georgia, New Mexico and Hawaii).

Currency pairs consisting of 8 types of fiat (euro, Russian rouble, US dollar, British pound sterling, Ukrainian hryvnia, Kazachstan tenge, Armenian dram, Belorussian rouble) and 10 varieties of crypto (BTC, BCH, ETH, ETC, LTC, XRP, DASH, ZEC, ADA, XLM) are offered for exchange. The operator does storage funds – you will tie your personal wallets. And it promises that you can replenish your account via a bank transfe (international systems SEPA and SWIFT), cards (VISA/MasterCard), along with Payeer, AdvCash and Epay servies. Whereas in our personal account only the first two options were actually presented (cards, transfer). Transactions are available without verification.
Deposit and withdrawal limits
Exchange restrictions are specified directly in the calculator: you will see them after entering initial data (type of purchase/sale currency) and before confirming the transaction. They are the following ones:
Minimum deposit limit — 50 USD/50 EUR/50 GBP/1800 UAH/28 000 AMD/125 BYN/21 400 KZT/0.011 BTC/0.45552 ETH/1.25387 LTC/0.46438 BCH/0.74436 DASH/14.16499 ETC/1.19847 ZEC.
Maximum deposit limit — 10 000 USD/8800 EUR/8800 GBP/320 000 UAH/5500 000 AMD/32 000 BYN/4 200 000 KZT/2 BTC/91.10356 ETH/250.77301 LTC/92.87638 BCH/0.74436 DASH/2 832.99762 ETC/239.69492 ZEC.
Maximim withdrawal limit — 27-30 BTC/1444 DASH/27 480 ETC/2325 ZEC/2 785 360 ADA/1 372 232 XLM/796 BCH/327 998 XRP/2150 LTC/781 ETH.
The numbers may vary slightly depends on the replenishment method.

Commission of cryptonezia.com
The fees for using the service is already included in the exchange rate. The following values are specified in the user agreement:
Processing fee (for deposit/withdrawal) — 0% for SEPA and 4.5% for VISA/MasterCard bank cards.
Networking fee — 0.0001 BTC/0.005 ETH/0.001 LTC/0.00001 XRP/0.0001 BCH/0.0055 DASH/0.005 ETC/0.0002 ZEC/0.2 ADA/0.00001 XLM.
The service fee – 4.5% in case of bank transfer and 5% by deposit via card.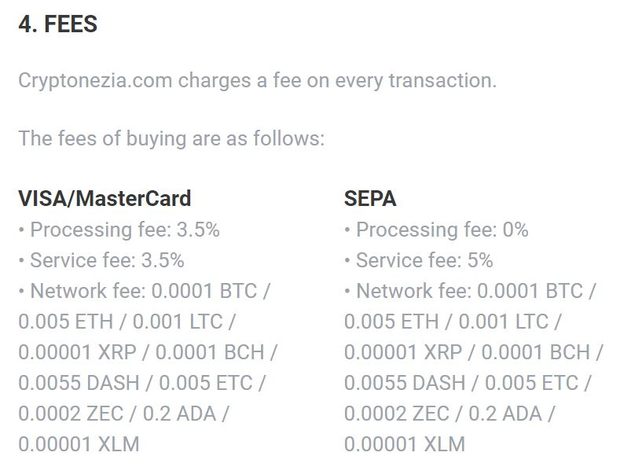 Cryptonezia bonuses
There is no bonus program – you can receive rewards only by participating in the provider's referral (affiliate) program. This program will be described further on.
Referral program
Registered user of Cryptonezia receives a unique referral link, enabling you to participate in the affiliate program. The link is placed on any legal resource: your page on the social network, blog, website, forum topic, etc. And if a person who registers and makes an exchange passes to it on the platform's website cryptonezia.com, you will receive a bonus from each of his/her transactions:
12% — when making less than 25 exchanges a week by all referrals (people who followed a recommendation link);
25% — when making over 25 exchanges a week.
The company provides advertising banners to help a partner that increase the flow of referrals.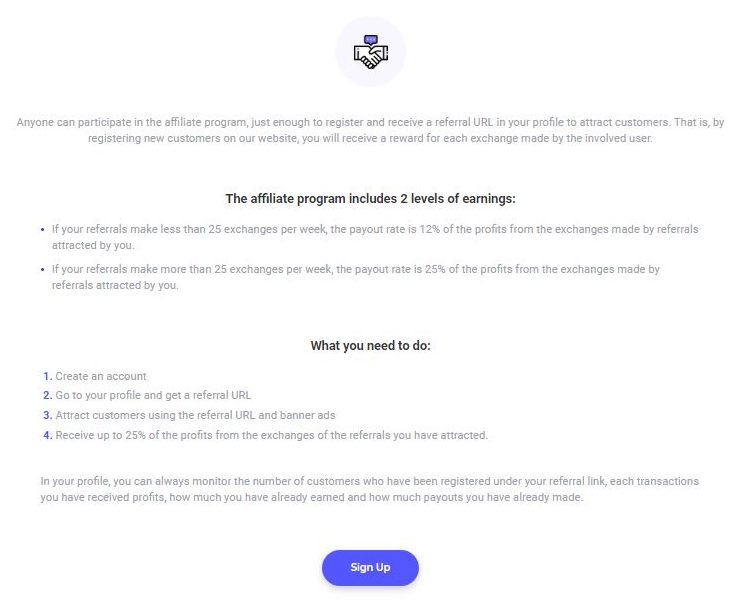 Complaints against Cryptonezia service
There are no feedbacks about Cryptonezia on the Internet at all (even at the international websites). Most likely, this is caused by the fact that the service is very young. We will closely monitor the changes and publish the information as soon as it appears. We will post the feedback with pleasure that were sent by you to our e-mail – certainly after preliminary moderation.
Regulation of cryptonezia.com
Regulation of cryptocurrency exchanges is not always possible, since the legislative framework of most countries is not yet able to reflect all features of this economic sector to the full extent. However, many service providers seek a license in order to gain customer trust. Let's see what about SIA Generation P, the owner of Cryptonezia.
Cryptonesia's regulator
SIA Generation P is regulated by the statutory and regulatory framework of Poland; however, it operates under two licenses issued 14.02.2019 by Esthonian regulator FVR000698 and FRK000605. Despite this oddity, an active status of documents can be checked on the registrar's official website. All legal issues are settled primarily under the terms and conditions of the user agreement (and only then, if the situation is not settled, one can contact the official jurisdiction).
Cryptonezia's Terms and conditions
Cryptonezia's Terms and conditions is rather short: it consists of only 12 clauses. Let's analyse some of them (excluding those already mentioned above). Thus, clause 2 states that the operator does not store your credit/debit card data for security reasons, but provides this to processing companies. You should be entitled to use only a card issued in your name.

Standard transaction processing time is 48 hours. If you don't receive cryptocurrency during this time, you should be entitled to demand cancellation. Conventional units should be returned within 24 hours – to the same details that were used during the last replenishment (clause 5).

The company will be entitled to refuse you to open an account without explanations (clause 6.1).

The agreement can be amended at any time and without prior notice (clause 7). This is a very unpleasant clause, as it obliges you to constantly «keep your finger on the pulse», so as not to be in a losing situation (let us say, due to an increase in the fee or setting a different limit).

Cryptonezia shall not be liable for losses arising due to equipment failures, viruses, faults, disruption to the Internet connection or damage to your crypto wallet (clause 9).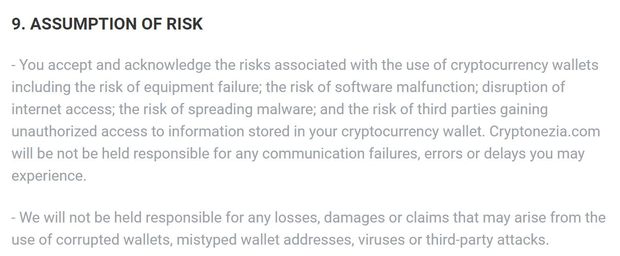 All disputes related to interpretation of this user agreement shall be regulated under the Polish law (clause 11).

Is Cryptonezia a scam?
Cryptonezia looks largely suspicious. Firstly, the inconsistency of information on the main page with terms and conditions of the user agreement and actual capabilities of the service. Let us say, selection of deposit/withdrawal methods in the calculator is indicated much wider than those actually available, and payment services, such as Payeer and AdvCash, are not available.
Secondly, inconsistency of legal issues. Why a company registered in Latvia receives an Estonian license is still clear: regulation is not always possible. But it is already unclear why should we stipulate in the policy that regulation of legal relations between a user and administration of the exchanger is carried out under the Polish legal and regulatory framework. Thirdly, absence of verification during registration. This certainly simplifies the exchange process, but also opens up access to various kinds of fraud and money laundering. We are not sure that Cryptonezia is a scam; however, we are not able to give guarantees of the provider's conscientiousness.
Summary
Cryptonezia seemed to us a fairly convenient platform, whose flaws are primarily related to its youth. And if we discard for a while the moments related to regulation and policies, we can note a number of advantages of the exchanger: availability of an affiliate program in the first year of existence already (the company is thinking about encouraging clients), connected analytics (albeit someone else's), a good set of assets, taking into account the users' interests , as well as the option of checking a crypto wallet before sending a purchase/sale application. The above demonstrates the client-centricity of the service provider. Risk factors still remain. However, Cryptonezia does not seem to be an outright scam. We can only wait for the operator to prove itself, so that more specific conclusions can be drawn.
Robots for cryptocurrency