Bank cards for cryptocurrency
There are two types of cards with which you can take cryptocurrencies and pay for something with them (How to make money on cryptocurrency). These are ordinary cards to which you can credit cryptocurrencies with conversion into fiat and cards that are linked to cryptocurrency wallets with the help of specialized Internet services.
Cryptocurrencies
Debit cards are linked to cryptocurrency wallets, and they can be used as ordinary bank cards - plastic and virtual (cryptocurrency trading training). They support not only cryptocurrency transactions, but also fiat (cryptocurrency trading strategies). Cryptocurrency cards are not a common payment method. Few cryptocurrency users use them because the card itself eliminates anonymity, which is one of the main advantages of cryptocurrencies.
Not all cards require detailed verification, though. In addition, it is not easy to find a place where you can pay with a cryptocurrency card in most countries of the world. To choose a cryptocurrency card, you need to find out what features it has. In particular, what currencies it supports - crypto and fiat, type of card Visa/Mastercard, fees, verification conditions, getting a virtual card, whether the card is available in the country.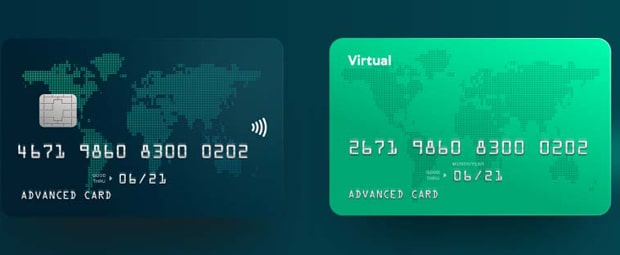 Image. 1
AdvCash
Using a rather popular map as an example AdvCash we can show what qualities a cryptocurrency-enabled card should have and what the overall process of issuing a cryptocurrency card looks like. AdvCash is one of the most popular cards of this type. First, you need to register an account according to the standard procedure, after which the account will be validated within about a day. It is necessary to choose from several options how to secure the wallet.
AdvCash card (Fig. 1) of Visa (for EU) and Mastercard (for all others) standard can be ordered after confirmation of registration. There are two types of them plus a virtual card. Among supported fiat currencies are dollars, euros, rubles, but it is possible to create accounts in national currencies. To deposit with cryptocurrency, you need to choose account currency, create a temporary wallet, transfer the amount specified in the account from the cryptocurrency or cryptocurrency wallet to the account (to the card account), confirm receipt in the account. For bitcoin deposits, 6 confirmations are required. When transferring money in cryptocurrencies you need to consider exchange rate and commissions.
There is a system of discounts on commissions in the AdvCash system. Information about discounts is published on AdvCash pages in social networks. To pay for the card you need to deposit money from another card, bank transfer, bitcoins or e-money as Payeer, Perfect Money and so on. To increase the limits and receive other benefits with the AdvCash card, you need to be verified. AdvCash guarantees free card maintenance for the entire validity period.
Among the terms of service of the card are free crediting and transferring without commission within AdvCash account, free input and output of bitcoins, crediting without commission through SWIFT/WIRE and SEPA systems, as well as purchases on the card without commission. Issue a plastic card costs 24.99 euros, and 10 euros will be refunded if the account is verified for two weeks. Delivery by mail is free. A virtual card costs 14,99 euros and 7 euros will be refunded if the account is verified. The validity period is 3 years.
Monaco Card
Monaco (https://crypto.com/) is one of the most popular Visa cards supporting Ethereum and Bitcoin. It requires opening an account, verification and depositing cryptocurrency into the account. Owning a Monaco card is free, there are no minimum balance requirements, and there are limits on free cashouts and the size of interbank transactions. There is a program to get a card with more features, for this you need to invest in MCO token.
Monaco card transaction fee is 1.5-2%. Cryptocurrency is automatically converted into local currency when the card is used abroad. Since Monaco's issuer is an institutional trader, it can exchange currency at the exact exchange rate, with no additional commissions from intermediary banks, so the card is considered highly profitable for travelers. One of the advantages rare for cryptocurrency cards is 2% cashback, though, in the form of MCO tokens it can be exchanged for fiat on a cryptocurrency exchange.
UQUID
Card (https://uquid.com/) with support of cryptocurrencies of Visa standard, the main advantage of which is a large number of supported coins, a total of 89 altcoins. Service costs $ 1 per month, delivery is free, the cost of registration is 23 euros. The system does not charge a fee for replenishing the card with cryptocurrencies. There is a commission of 1.5% for replenishing the card by bank transfer, through the service QIWI 5%.
SpectroCoin
Map SpectroCoin Visa format, cost $50, service $1/1 euro/1 pound sterling. Verification for the card is not required, but increases the limits. When crediting bitcoins to the card the fee is 0.5% + 1 dollar or 1 euro or 1 pound sterling.
Cryptopay
One of the most popular cryptocurrency cards is Cryptopay, plastic and virtual, of the Visa standard. The card supports Bitcoin, Ethereum, Litecoin, Ripple, USD, EUR, GBP. The cards are available to customers in the UK, other EU countries and Russia. The cards can be used to pay in conventional stores, online stores, and withdraw cash. The cost of the card is $15. No verification is required to obtain the card.
Paycent
The Paycent card (https://paycent.com/) is one of the most popular cards. It is accepted in 200 countries, and, according to the issuer's own data, more than 90 thousand cards have been issued. It works in plastic (Fig. 2) and virtual form. It supports Bitcoin, Ethereum, Litecoin, Dash, Binance and major fiat currencies. Checkout with delivery is about $50. Paycent issues cards of Mastercard, Union Pay International and China Union Pay standards. The cards also have different statuses: CUP, UPI, MC, which differ in withdrawal limits and other conditions.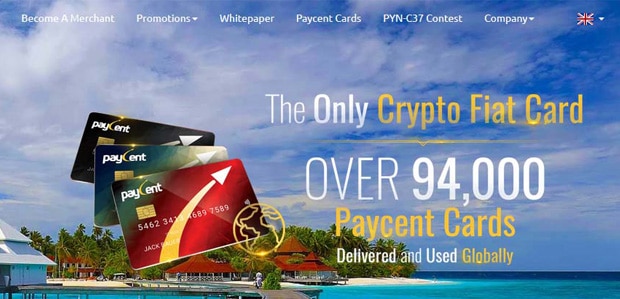 Image. 2
Bitwalla
Bitwala cards are some of the most affordable cards available, €8 plastic and €2 virtual. It is the most popular among users of cryptocurrencies in the UK and France. Three types of cards are offered - Spectrcoin VISA, Shift card, Shift Payments (VISA standard), E-Coin (MasterCard standard). The cards support Bitcoin, dollar, euro and pound. POS-transactions are free, the rest are paid.
Wirex
Getting the card Wirex requires verification, the cost of registration is $ 17, monthly maintenance $ 1.5, offered as a plastic and virtual card. In addition to Bitcoin, supports the dollar, euro, pound sterling. As an advantage offered 0.5% cashback in BTC when paying for purchases in stores.
Bitpain Bitcoin
The need for Bitpay verification (https://bitpay.com/) depends on the limits. Card issuance $9.95, maintenance $5 per month, transaction fee from 2% to 3%. Among cryptocurrency cards Bitpay has a maximum limit of 25 thousand dollars.
Xapo Bitcoin
Xapo cards (https://www.xapo.com) were among the first on the cryptocurrency card market. It presents plastic and virtual cards. It costs $20 to issue an arta, monthly maintenance is $12, but after the first year of use. Verification is not required. The cards are valid in most countries. The card supports Bitcoin, USD, EUR, GBP.
Resources for maps
There are resources on the Internet that offer opportunities to buy cryptocurrencies with debit cards. Let's consider the most acceptable options.
Coinmama
Coinmama - that cryptocurrency exchange, on which you can buy seven types of cryptocurrencies with a card (buying Bitcoin from a card). But the terms of purchase cannot be called the most loyal. Bank card transactions are charged a fee of 5.65%, plus the card issuer's fee. Plus a conversion fee if the card is not euro or dollar. Transactions are limited: during the day you can withdraw no more than 5 thousand dollars. During one transaction you need to spend an amount equivalent to about 60 dollars, within a month you need to buy cryptocurrency not less than the equivalent of 10 thousand dollars and not more than 1 million dollars. Volatility must be taken into account when spending.
Indacoin
Crypto Exchange Indacoin provides an opportunity to buy more than 200 cryptocurrencies by bank card. You don't need to register and verify to buy coins, but registered users have more opportunities, and verified users have additional privileges. Buying cryptocurrencies is limited: the first purchase can be the equivalent of $200, after 4 days the next purchase in the range of $400, after a week up to $2 thousand. The limit per month is 10 thousand dollars. Cryptocurrency purchase commissions are not charged.
24paybank
24paybank - that exchanger, which allows you to buy cryptocurrencies with a bank card. You can buy Bitcoin, Tether, Stable, True, USD Coin, Ethereum, Huobi Token, Litecoin, Monero, Tron, Stellar, Cardano, EOS, Ripple, Binance Coin, ZCash, Dash. The buying process is as usual as at any exchanger: make sure you can buy a given cryptocurrency, and that you can buy it with a particular card. The service specifies the amount of currency to be bought and the wallet number and card details. Registration and authorization are not required. Exchangers charge fees for transactions, they should be clarified. You should also specify the purchase and withdrawal limits.
Ex-Money
With the exchange service Ex-Money (Fig. 3) you can buy Bitcoin, Ethereum, Ripple, Litecoin and other cryptocurrencies, over twenty of them. Commissions are included in the amount received after the purchase and are not shown, as well as on other exchangers, it should be taken into account. Registration and verification are not required for the transaction, however, Ex-Money offers a privileges program for those who take the time to clarify their data. Purchase is carried out according to the standard algorithm.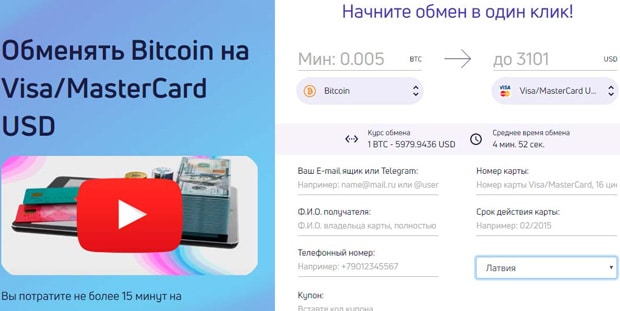 Image. 3
Kuna
Exchange and cryptocurrency exchange Kuna, where you can buy cryptocurrencies of 24 kinds. Here to buy you need a registered account - the registration procedure is standard, by email. Purchase is also conducted in the same way as on any exchanger, but it must be confirmed by a six-digit code. There are commissions for deposit/withdrawal and for transactions, with which you should be additionally familiar, they are different for different types of crypto and fiat.
RiseX
The Exchange RiseX with compulsory registration (but without verification) for any actions. Registration is available in a standard way through email or Facebook and Google+ accounts. Buying bitcoins is done as in the usual exchanger - you enter the amount of cryptocurrency you want to buy, the card issuer is indicated, and the actual exchange is made. The service has limits on deposits and withdrawals equivalent from 0.0001 BTC.
Matby
Matby (https://matbea.com) is a cryptocurrency exchange with the ability to buy BTC, LTC, ZEC and DASH cryptocurrencies. Purchase to the card is possible after registration via phone number with confirmation from SMS. Purchase transactions are also confirmed by SMS. There are limits both for deposit (depends on cryptocurrency) and withdrawal (from 5 thousand to 300 thousand) of funds and commission - for deposit 3% for fiat currency and 0.00001 BTC for cryptocurrency, for withdrawal up to 3.5% or 0.00001 BTC.
BTCBIT
BTCBIT (https://btcbit.net/) is an exchanger, which allows you to buy cryptocurrency to your card after registering and verifying your account. For the exchanger verification is quite complicated, the permission for transactions is given by the security service of the service. Residents of not all countries can buy cryptocurrency, you should read the list of exceptions. The exchanger supports transactions with cryptocurrencies Bitcoin, XRP, Ethereum, Litecoin, Bitcoin Cash, Dash, Zcash, Ethereum Classic, Cardano, Stellar/Lumen. There are limits on deposits and withdrawals. When buying cryptocurrency, you have to pay a processing fee, a BTCBIT fee, and a transaction fee.
Bitengo
Cryptocurrency exchange Bitengo also allows you to buy BTC, ETH and LTC after documenting the identity of the user. The purchase is made without any special features, except for one that complicates the process as a whole - identity verification is required before the exchange.
Kriptomat
Using an exchanger Kriptomat you can buy 29 cryptocurrencies. To buy cryptocurrency, you need to register and open an account with email and phone number confirmation, and then verify with identity confirmation. Buying is possible for euro, there is a commission on deposit and withdrawal depending on the cryptocurrency.