Bank card bitcoin purchase service offers a functional terminal, as well as the ability to buy cryptocurrency for cash.
Cryptocurrency exchange
Official website
Social media
Date of foundation

2018

Head Office

Estonia, Tallin, Ravala 5

Types of support
Support by phone
Languages

English, Latvian, Russian, Estonian

The owner of the company
Manager
Age restrictions
Number of cryptocurrencies
Margin Trading
Tokenized assets
Free Demo Account
Account currencies

EUR, USD

Types of cryptocurrencies

Bitcoin, Bitcoin Cash, Ethereum, Litecoin, Ripple

Licenses
Mobile applications
Trader training
A way to store cryptocurrencies
Fiat accounts
Scalping
Stop Loss and Take Profit Function
Exchangeability for fiat currencies
Terminal capabilities

Exchange only

Basic verification
Extended AML verification
API
Affiliate Program

Registration

Up to 55% of profits from each transaction of your referrals for life

Benefits

Simple and straightforward site

Ability to buy cryptocurrency for cash

Disadvantages

No exchange to fiat currencies

No bonus or affiliate program

Unfavorable terms of the agreement

Company requisites

Legal name:

Beldev Consulting OÜ

Legal address:

Estonia, Tallin, Ravala 5

Overall assessment
Date of update

04.03.2023
Address
Estonia, Tallin, Ravala 5
Map
Subscribe to this company
TransCoin is this a scam? Reviews and description
TransCoin is a young exchanger, which opened in 2018 and is still gaining popularity. Vitaliy Kostiuchenko is mentioned in the license as the manager – his personality is little known.
Is it worth using the services of a «dark horse»? Is TransCoin a swindle or an honest resource, on which you can «climb» quite well, managing the courses of the cryptocurrency? Let's find out.
Why TransCoin
Transcoin is not cluttered with useless articles with basic information about what bitcoin is and why it is needed (you will find them in abundance on the web) – everything here is laconic and simple: exchanger, contacts, licenses and policies.
The company grants its customers the opportunity to buy cryptocurrency not only online, through the website transcoin.me, but also at physical points for cash. They have already been opened in Estonia and Latvia, and the launch of ground offices in Lithuania is planned soon.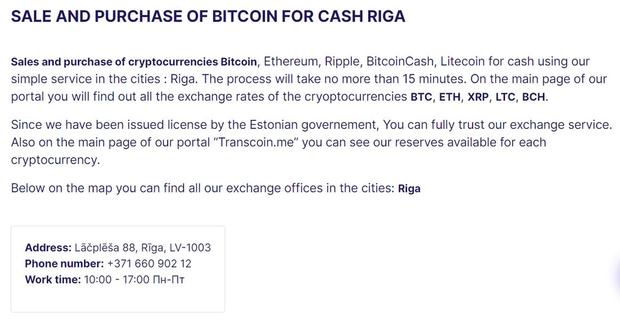 For the young project the number of supported currencies is quite decent here: 5 cryptocurrency units and 2 fiats (dollar, euro). Among its advantages are the following:
License of Estonian Financial Intelligence Unit.
Fast (automatic) processing.
Return of confirmed payments (before the exchange transaction) with a small penalty of 5%.
Support is provided by phone, e-mail (letter directly or via the contact form on transcoin.me), through an online consultant on the website or via Telegram's chat room bot. Some questions can be found in the FAQ section.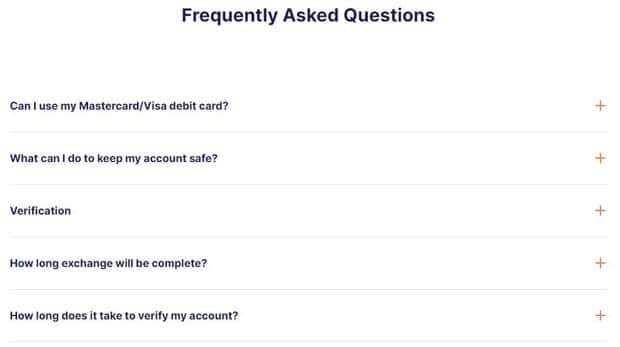 In general, a standard platform with no frills and no particular diversity. Perhaps the owners of the exchanger plan to develop it in the future, but at the moment it is just a good option for those who want to try something new to compare.
How to purchase cryptocurrency on the platform transcoin.me
To buy cryptocurrency on TransCoin, as always, you need to register. We specify e-mail, password, accept the terms of the user agreement and privacy policy.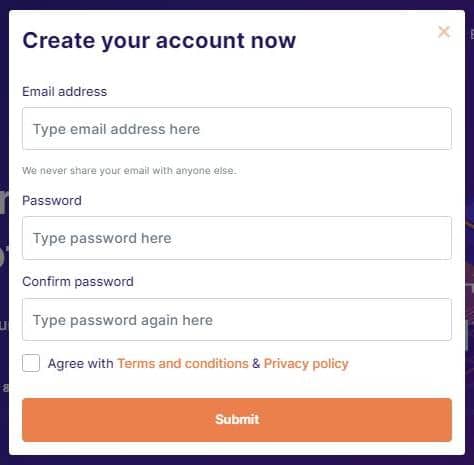 Then we confirm the e-mail address by entering a four-digit code from the automatic Transcoin letter.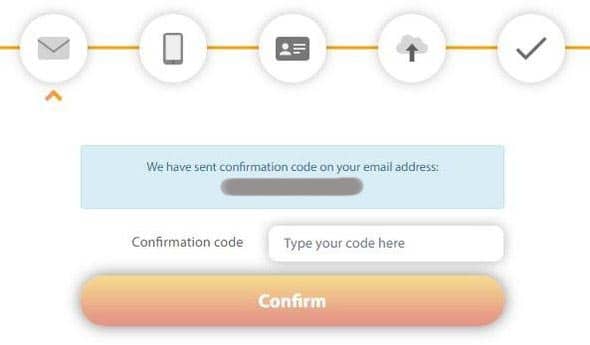 The next step is to specify your mobile number.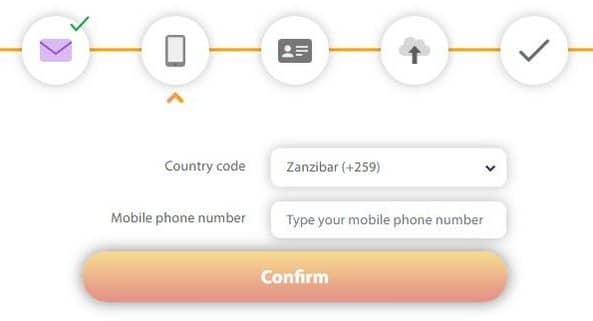 Then we need to verify the profile. If you have done everything correctly, you will have full access to your personal cabinet and exchanger. The next step is simple: open the form, choose the recharge method, type of fiat/crypt for exchange, the number of monetary units, evaluate the conditions (commission, reserve, received amount) and press «Change». The application is sent for processing (as the service owners promise, it takes from 5 to 30 minutes, in some cases – up to 5 working days). All transactions with a status mark are displayed in your personal cabinet.
Verification on Transcoin platform
Verification on the Transcoin platform is carried out in accordance with the international AML policy and in the first stage includes identity verification. You specify your name, country of residence, choose the type of document (passport, driver's license, residence permit) and upload a scan of your ID card in a special form during registration.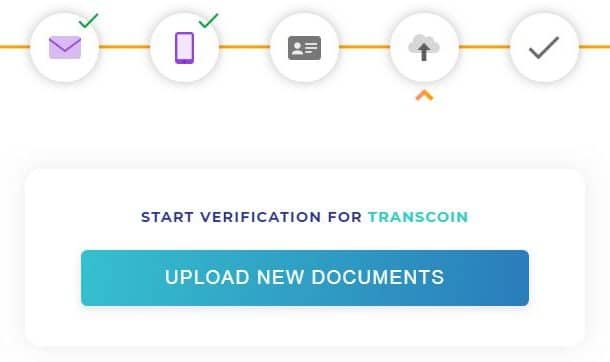 You also need to confirm your address of residence (bank statement, utility bill/internet/cable TV/telephone connection, tax return/statement or certificate of residence no more than 3 months old). And make selfies with ID card in hand.

At the end of the procedure, you can either edit any of the fields, or immediately confirm and send all information to the security service. Verification, as stated by the provider, takes 1-3 minutes. Until it is complete, you cannot do anything. If the document does not meet the requirements, you will be asked to re-download it.
Cryptocurrency purchase conditions
Any adult capable person of legal age can register for the service. However, there are territorial restrictions: residents of Afghanistan, Algeria, Bahrain, Brazil, Bangladesh, Bolivia, Bosnia and Herzegovina, Crimea, Cuba, Ethiopia, Iran, Iraq, Iceland and almost 20 other regions/countries (they are listed in the user agreement) are not allowed to create an account with TransCoin. Replenishment/withdrawal is done in the following ways:
Bank cards: Mastercard, VISA.
Payment systems: Neteller, Skrill, AdvCash.
International (like SEPA) and domestic bank transfers.
The terms of crediting depend on the chosen payment method and in some cases (e.g. bank transfer) can be up to 7 working days.
Deposit and withdrawal limits
There is no limit table on the website transcoin.me, you will see specific figures only when trying to deposit/exchange:
Deposit: within 50 – 10 000 euro/dollars.
Withdrawal: up to 100 000 euro/dollars.
Transcoin commission
The commission, as well as the limit, is displayed in the calculator when the payment method is selected. It consists of three parts:
Deposit/withdrawal fee – 3.5% for refilling by bank card, 1.76% for Skrill, 3.52% for Neteller, 0% for SEPA and AdvCash.
Platform application fee (exchanger commission) – 5% for a bank card, 4.95% for AdvCash, 3.5% for Skrill, 2.95% for SEPA, 2.9% for Neteller.
Netware fee – fixed of 0.00005 у.е.
That is, the most overheads are operations using VISA and MasterCard: the total amount of interest paid to the provider here will be more than 8.55%.
Transcoin bonuses
TransCoin does not provide any bonuses at the moment. Taking into account that the resource otherwise looks «raw» (minimum information, small choice of currencies, short user agreement and even FAQ 5-points), we quite assume that the owners have everything in their plans.
Referral program
Information about the referral program (rewards for the users listed with a unique link to new customers who make transactions on Transcoin), we also found neither in the documents, nor on the pages available to unauthorized visitors, or in the sections of the account.
Complaints against TransCoin
There are many negative references of Transcoin on official sites (reviews). The following reasons for complaints are provided:
Problems with verification. The system several times asks for confirmation documents, does not accept the provided ones.
Loss of funds. After the transaction the funds have disappeared, and the support can't help, referring to third party fraudsters, for the actions of which it is not responsible, as it is only an operational service.
An unfavorable course, according to which the client receives a smaller amount than he expected (sometimes changes occur before the very sending of an order).
In the end, there are far more dissatisfied with the platform than its supporters.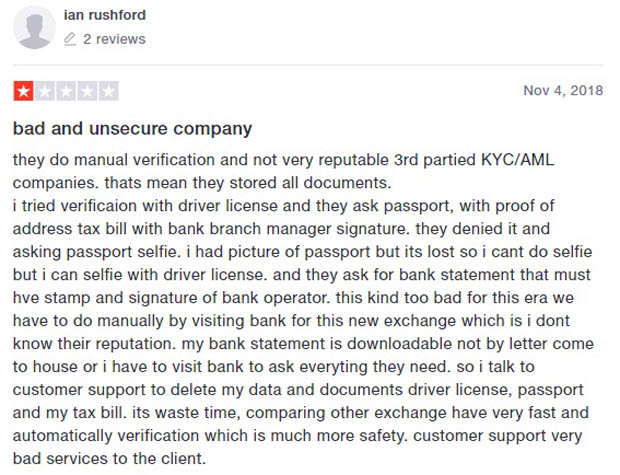 Beldev Consulting OÜ regulation
Regulation of the crypt-currency services is not always possible due to imperfection of the legislative bases of most states. Yet, many companies engaged in relevant activities obtain licenses/certificates of regulatory authorities in order to increase users' trust. Let's see if Transcoin's owners can be classified as such.
Transcoin regulator
The service owner company operates under two licenses obtained from one of the most trusted regulators in the industry. Estonian Financial Intelligence Unit. The company is registered under the number 14441788, ID of licenses — FRK000131 and FRK000130The active status of documents is confirmed by extracts from official European registries.
Terms and conditions of transcoin.me
Transcoin's user agreement is very short and consists of 9 concise sections. And most of it is aimed at removing any responsibility from the service. Thus, clause 4 states that the exchanger administration is not responsible for losses incurred due to delays and failures of telecommunications equipment, software, payment systems, etc. external circumstances.

As well as for losses caused by non-receipt of funds to/from the account (all claims are sent to the payment service).
It is also noted that if the amount of profit received from the transaction exceeds 20% of the amount, the administration may unilaterally reject the client's order. In other words, you will not be able to earn big money. If there is a difference between the rate at the beginning of a transaction and its completion, the rate is fixed at the moment of receiving user funds.

The guarantee of order execution is 48 hours (clause 5). In case of violation of this period, you have the right to demand a refund.

For some reason only 2 nuances reflected in the refunds policy are missing from the user agreement:
There is no refund for cryptocurrency purchase operations.
For operations to buy Fiat, the return is deducted from the user's commission of 5%.
So you are in any case in a loss. Amendments and additions to the agreement are made unilaterally (clause 8).

Is TransCoin a scam?
TransCoin is misleading the user in many ways:
The commissions he calls low are actually above average.
Quick check (1-3 minutes) does not correspond to reality, because the required documents often seem to the system unsatisfactory, and it is necessary to send everything several times, again and again to expect the results of processing.
The connection with the support, if to judge on responses in a network on the checked up sites, is not always adjusted as necessary.
At the same time, the site looks unprocessed, made in a short time (minimum information, no bonus and affiliate programs, a small number of currency units). And the user agreement is made in such a way that the client could not present anything to the company as a claim (even non-receipt of funds is considered the responsibility of payment services). Of course, we can't say for sure that TransCoin is a swindle (especially taking into account the fact that the service provider cooperates with rating platforms, where he gives answers to comments and opinions), but it looks very suspicious.
Summary
At the moment TransCoin does not reach the level of serious service. Despite the possibility of buying crypt currency for cash, which the company presents as its advantage, many conditions offered here are unfavorable for the consumer. It is possible that the resource will be improved in the future (especially it needs to expand its functionality). However, so far the exchanger does not look competitive.
The company in the ratings
Robots for cryptocurrency
Activity
New

0

Resolved

0

Not resolved

0
New companies on the site