Broker AccentForex provides 5 types of trading accounts with MetaTrader 4 and its own platform, as well as bonuses.
Broker
Website
Date of foundation

2010

Head Office

T19, 1st floor, Tana Russet Plaza, Kumul Highway, Port Villa, Efate, Vanuatu

The owner of the company
Types of support

Chat

Feedback form on the site

Support by phone
Languages

Russian, English, Indonesian, Malaysian

Broker fee
Leverage

To 1:200

Floating from 1:1 to 1:500 depending on the type of account

Spreads
Free Demo Account
Adjustable
Regulators
Bonuses

To

10000

USD

Cashback on opening a student account

To

40

%

Cashback on the first deposit

To

35

%

Withdrawable bonus for traders with automatic strategies

To

8

%

On the account balance for active clients

Methods of replenishment

Bitcoin, Neteller, Perfect Money, Qiwi, Skrill, Webmoney, Bank Transfer, Bank Card (Visa/MC)

Withdrawal methods

Neteller, Perfect Money, Qiwi, Skrill, Webmoney, Bank Transfer, Bank Card (Visa/MC)

Types of assets
Account currencies

EUR, USD

Mobile Trading
Weekend trading
Tournaments / contests
Trader training

Free training in the terminal, reference materials, advisors

Trust management
Fee for the use of the terminal

Depends on the type of account

Withdrawal fees
Trading robots
Asset management
Managerial assistance
Trade ideas
Single account
EIS
Autosurvey
Analytics

Technical analysis of the market, fundamental market analysis, weekly reviews, market news daily

Margin Trading
Markets

The whole world

Affiliate Program
Benefits

5 types of accounts for traders with different level of SWAP Free

60+ currency pairs and CFDs

AML Against Money Laundering

There is a PAMM-rating for choosing a suitable manager and an investor calculator

Disadvantages

There is no certainty that the quotes are accurate

One type of terminal is available

Trading session only on weekdays from 16:30 to 23:00 server time (UTC +11)

Trading from mobile devices is not available

There are restrictions on the size of transactions

Low speed of order processing

Company requisites

Legal name:

Accent Market Group Inc.

Legal address:

T19, 1st floor, Tana Russet Plaza, Kumul Highway, Port Villa, Efate, Vanuatu

Date of update

26.08.2022

Overall assessment
Address
T19, 1st floor, Tana Russet Plaza, Kumul Highway, Port Villa, Efate, Vanuatu
Map
Subscribe to this company
AccentForex is it a scam? Reviews and description
AccentForex is brand owned by Accent Market Group Inc, which entered the market in 2010 (Forex-brokers). The broker provides 5 types of trading accounts that are placed on MetaTrader 4 and its own platform. There are 2 types of available currencies – EUR and USD, which are converted at the current exchange rate of the local bank.
How reliable is this operator and can you trust your assets to it? Is AccentForex program a scam or worth our attention? Let's talk about it right now.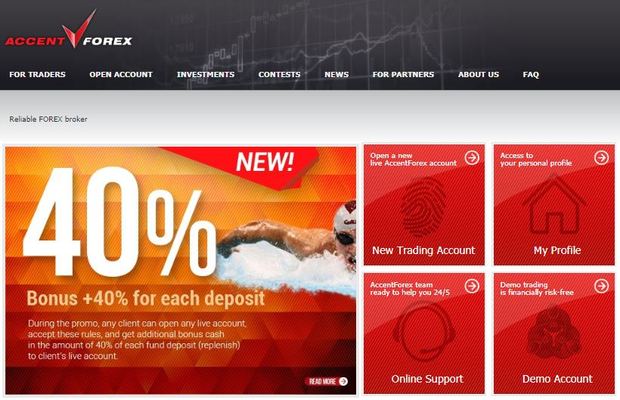 Trading terms with AccentForex
AccentForex proposes 5 types of accounts:
MICRO account is provided for beginners. The minimum deposit here amounts to USD 50, and the lot fluctuates within the range 0.01-5. It is convenient by the reason that the spread is fixed and it starts at 2 points, and the price of one tick per lot amounts to USD 1. Floating credit leverage is from 1:1 to 1:500.
MINI account is suitable for those who already have little trading experience and are determined with the optimum trading strategy: the minimum account replenishment amounts to USD 100 already, and the credit leverage is fixed: 1:200. The cost of 1 tick per lot is still USD; the increment of changing the contract value is 0.1 lot.
PROFIT account is designed for professional traders who use a large set of financial instruments in trading. Min deposit amounts to USD 1,000 with a credit leverage up to 1:100. The spread is already dynamic and averages 0.5-0.8 points. There are CDF contracts in increments of 1 lot.
As the broker claims, STP is an offer «for the most demanding» traders. It guarantees the absence of requotes (closing of transactions by the broker himself/herself) and slippage (price changes since the transaction opening and its execution).
Each of the above-mentioned trading accounts is available in SWAP Free format, i.e., without swap charge (commission for transferring open order positions overnight). The user can become an investor, who has provided his/her assets to the manager under discretionary management (the currency is placed on the PAMM account in this case), or as a PAMM manager who trades and earns a commission from each transaction.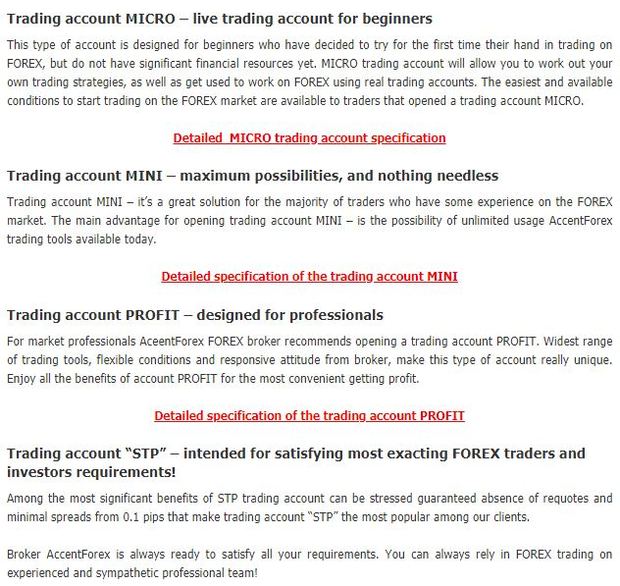 A rating that takes into account statistics and general profitability chart, a number of orders, chosen strategy, an average number of transactions and other activity (Forex strategies) will help in selecting a manager (trader). And if you are not ready to invest real money, you can download the trading terminal emulator for free on your computer and open a free (demo) account for training. The only «fly in the ointment» in this «barrel of honey» is the fact that trade is limited by a narrow time interval: one can purchase and sale currency from 16:30 to 23:00 server time (local) time – UTC +11.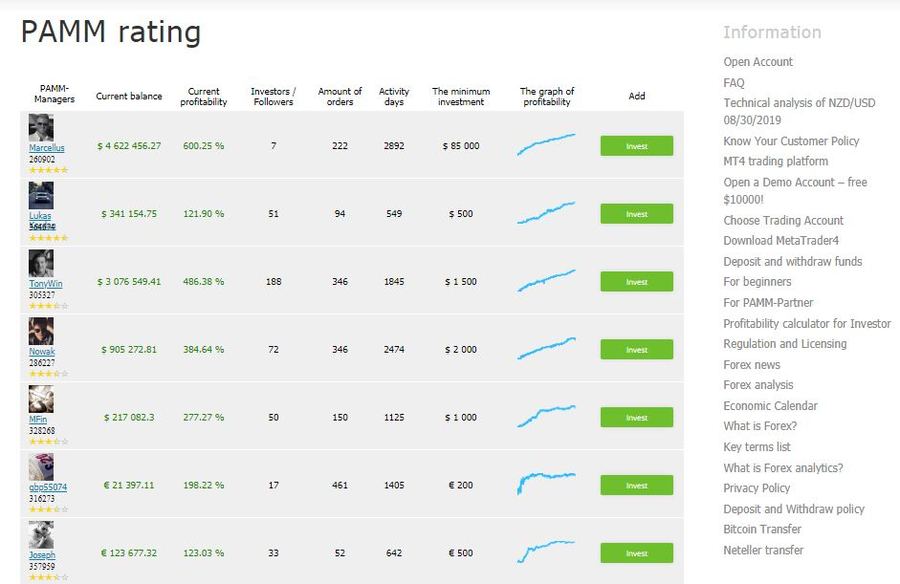 Accent Market Group Inc platform
The platform accentforex.com for a newcomer will seem a bit confusing: diverse functionality, a lot of reference material, different types of statistics… However, market professionals will appreciate it: it's very convenient to configure the options you need, place several orders at once and monitor the dynamics of prices.
The platform functions according to the A-Book scheme, which reduces trading risks and enables you to reach the desired level of profitability, avoiding unnecessary competition. However, this does not guarantee receiving the quick earnings and it is more likely suitable for swing traders. You can create up to 5 accounts in your personal account, manage a bonus program, choose the optimum credit leverage, as well as generate applications for replenishment and withdrawal of funds.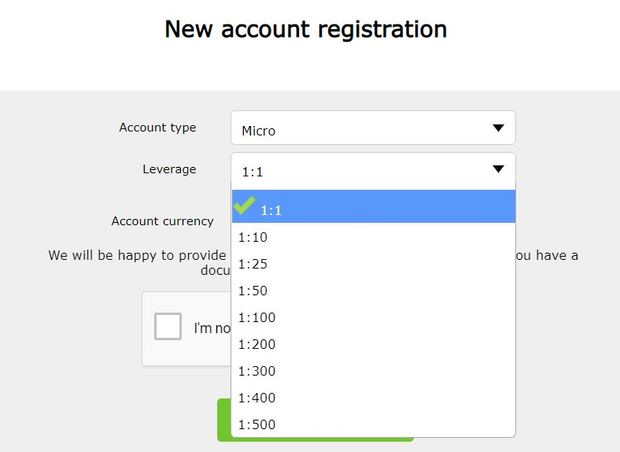 You will need to download and install the terminal on your PC to trade. The broker implemented a user verification system. Account verification is required almost immediately after registration and includes the following package of documents:
Passport, driver's license, ID Card or other proof of identity.
Accommodation document (utility/Internet bill, bank executed payment order, etc.).
You should upload their scans/photos to the appropriate fields of the pop-up window (it will appear as soon as you try to open an account). Unverified users will not be able to withdraw funds.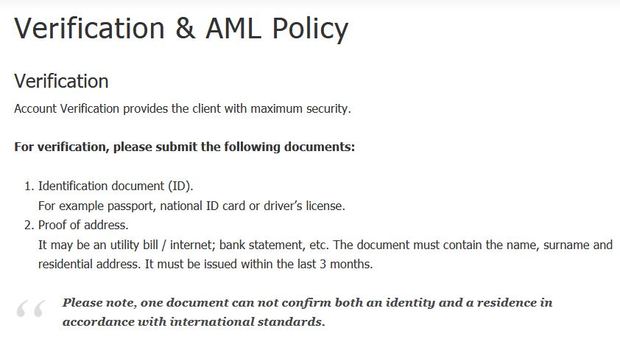 AccentForex broker quotations
About 60 currency pairs are available to you through MT4 AccentForex terminals, as well as trading in securities, stock indices, goods and stocks (Forex trading). Liquidity providers are not voiced either on the official resource or during online consulting (we had a conversation with the company manager) or during the trading process – you see the encodings reflected by the operator, since you are working with an STP account.


Speaking of accuracy, everything is not very good here. Comparing quotes of the same currency pairs in the terminals of different brokers, we found that AccentForex is very different from them in terms of average indicators both in sales and in purchases. This may indicate that the broker data are not absolutely reliable.
AccentForex demo account
The broker provides newcomers to the Forex world with the opportunity to practice and gain necessary trading skills on the downloadable MetaTrader 4 terminal. You should just install the software on your computer, open a free training (demo) account and start trading. You can use the demo account for an unlimited time, but provided that the breaks between authorizations do not exceed 14 days. Therefore, it is possible to replenish the balance and participate in trading without functional limitations under the same account.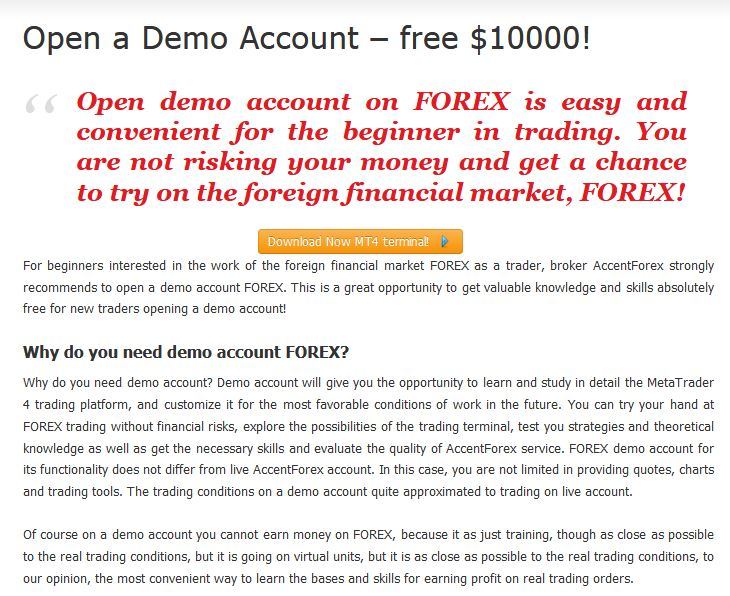 AccentForex mobile application
The broker does not have a mobile website adaptation or a mobile application for trading with portable devices that is why its competitiveness in the market is seriously declining. Most platforms are currently able to provide clients with the ability to trade without reference to a physical location. If you go to the AccentForex website from a tablet or phone, even moving between sections will be a difficult task, since the menu is «cut off on the sides», graphs and options are only partially visible, and the trading account data in your personal account are completely impossible to find.
AccentForex bonuses
When registering a training (demo) account, AccentForex provides an opportunity to receive up to USD 10 thousand per account. You should download the MetaTrader 4 terminal to your computer, register in the system and undergo training to do this. And after making the first deposit in the amount of USD 100/ EUR 100 or more, the trader is credited with a 40% cashback (up to a maximum of 4,000$/€). The provider does not limit the number of promotional accounts, but the loyalty program does not work for PAMM. The funds can be used for further trading, and earnings can be already withdrawn. They can be used to zero the negative balance.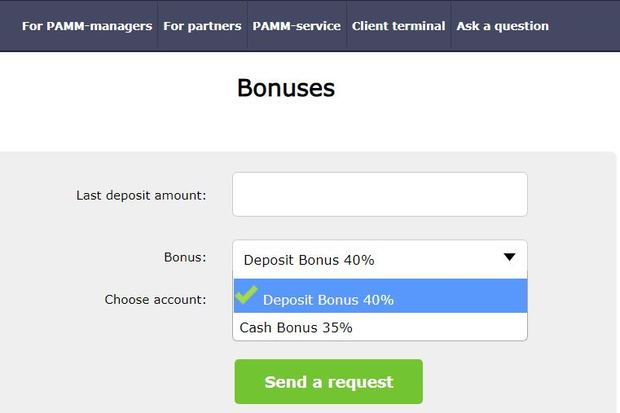 There is also a withdrawable bonus + 35% for deposits starting from 300 $/€ and 8% per annum for unlimited period of time for active clients. AccentForex regularly holds contests on demo accounts for traders using the automated trading strategies. Top 3 participants who received the maximum profit receive a cash reward: $ 1,000 for leadership and $ 500 for «silver» and «bronze» The drawing is carried out in 10 stages.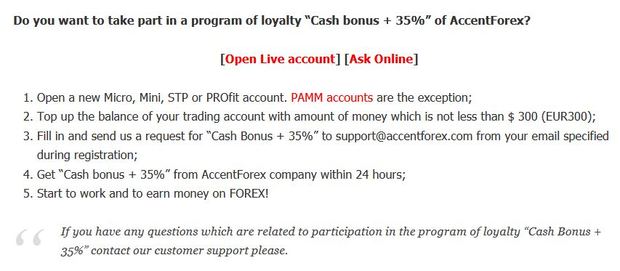 Deposit and withdrawal
Deposits and withdrawals from a segregated account in AccentForex are available in the following ways:
Internet banking – from a bank account or a card Visa/MasterCard.
Electronic wallets – QIWI.
Payment systems – Neteller, Skrill, PerfectMoney.
Bitcoin.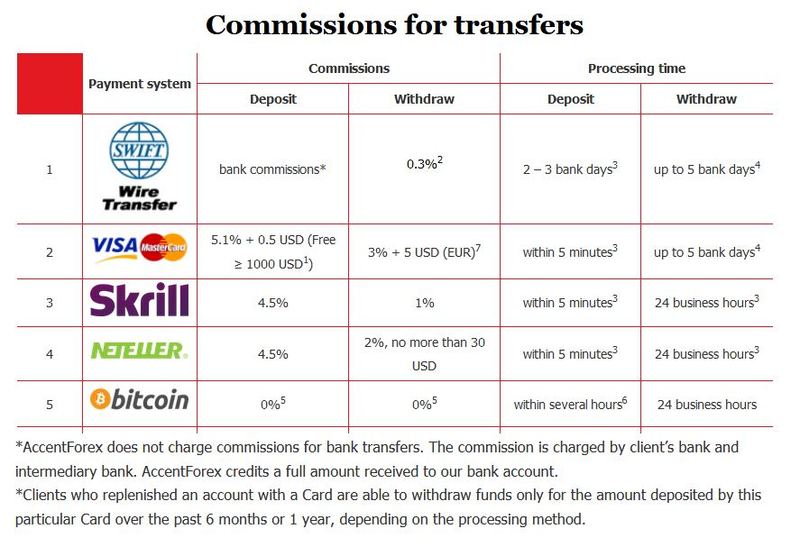 The system itself does not charge a commission for the deposit, however, third-party organizations that make the transfer can do this. The percentage ranges within 1-5.5% of the amount. Amounts in USD are withdrawn according to the application formed in the personal account («Withdraw funds» section). The broker processes it within 5 business days of receipt. One more important point: If you want to withdraw money from a segregated account, a payment instrument, you must do this through the service you used for crediting funds.
Complaints against accentforex.com
A lot of complaints about accentforex.com have recently appeared on the Internet. Users complain that their withdrawal requests are «hanging», and the support service does not respond to messages. There are also those persons who directly declare fraud by the broker. It is difficult to say whether these opinions are fact-based and who wrote about them: competitors or former company's clients. However, the number of dissatisfied comments on forums and feedback services is quite large. There are also users who positively evaluate the broker's work (complaints from traders). They talk about his loyalty and earning opportunities on the AccentForex platform.
AccentForex broker's regulator
AccentForex is the property of Accent Markets Group Inc., which activity is regulated by Vanuatu Financial Services Commission (VFSC). The license no. 17926. You can check the document status (it is currently active) in the register of licensed brokers on the official company's website vfsc.ru (link is attached).
Accent Market Group Inc User Agreement
Accent Market Group Inc User Agreement is a public offer agreement posted on the website. The document determines the nature of legal relationship between the operator and the trader (investor, manager, partner) and therefore it is required to be read, if you do not want to lose your funds due to a violation of the rules only through lack of knowledge.
In this review, we will analyse several conditions that seemed important to us. Thus, clause 4 states that transfer of currency transaction is made through rollover of a currency position, due to which a commission is charged to you. In this case, the transaction is concluded immediately (with an immediate exchange of assets).

According to clause 5, all your assets and property may be at the disposal of the broker and act as security for covering losses on transactions. They should be requested back before the transaction is completed.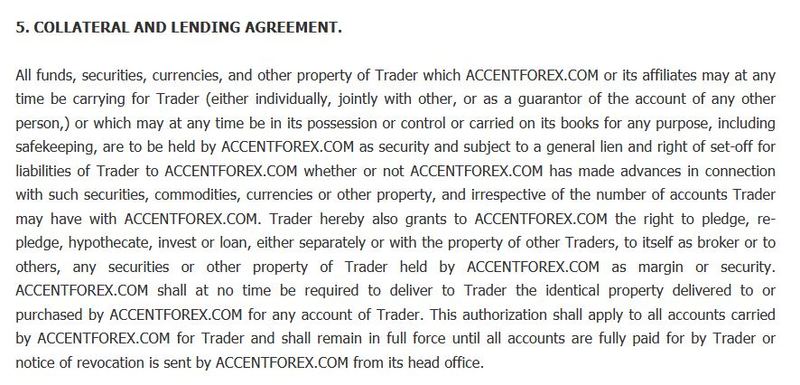 In case of failure to submit the documents requested by the operator or claims to the account, it can be closed (as in the case of bankruptcy, death, judicial decision on incompetence/incapacity). Then AccentForex is entitled to either fulfil the client's requirements for transferring money according to his/her details, or perform any actions at his/her discretion with his/her contracts: cancel, buy, sell (clause 6).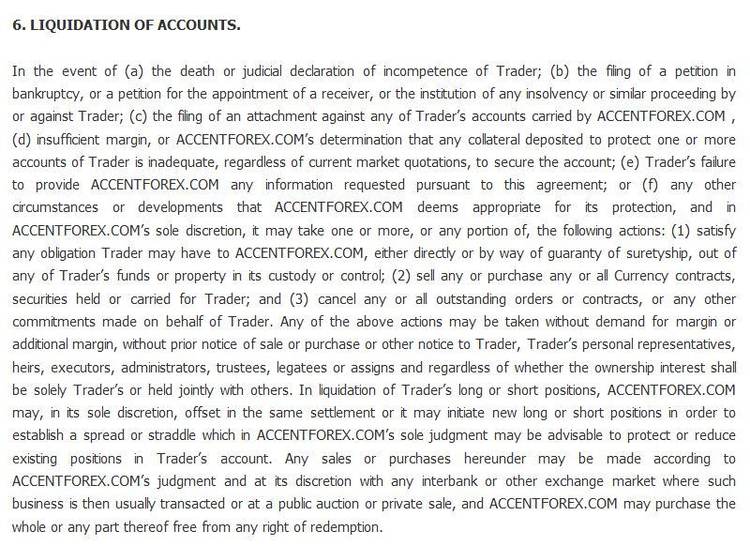 If you have not challenged the information transmitted by the broker in writing within 2 business days after its sending, it is deemed to be accepted. This also applies to reports recognized as ratified ones, if the operator did not receive your notice of opposition within the agreed period (clause 7).

The latter shall not be liable for delays in the transfer of orders and subsequent client losses resulting from equipment breakdowns, Internet connection failures, power outages and other factors not related to the broker's activity (cl. 9). And as we understand, proving the opposite situation will be very problematic. In turn, you should compensate AccentForex for any losses incurred by the service provider as a result of your violation of the contract terms and conditions or incorrect statements, warranties (cl. 20).

AccentForex is it a scam?
AccentForex offers a good range of assets with a small minimum increment of 0.01 lot. In this case, you can connect up to 5 trading accounts with various options: fixed/floating credit leverage, various spreads and ticks. A user verification and data encryption system has been implemented for security purposes. There are many useful services (reference books, PAMM-trading, investor calculator, etc.).
However, the User Agreement contain many provisions that relieve organization of liability for most problems: delay of orders, ratification of reports, etc. MT 4 terminal is only provided for trading. Moreover, AccentForex trading is available only from a PC – even a website is not «tailored» for mobile devices. The Vanuatu license, under which the operator acts, does not enjoy the trust of traders. And the broker's reputation among Internet users leaves much to be desired. All of the above together leads us to a simple conclusion: AccentForex is not a scam, but the broker does not satisfy the client's interests in full.
Summary
This is not to say that AccentForex is not able to compete with other brokers in terms of functionality and quality of service, but, in our opinion, it is behind the times in many ways:
Lack of adaptation for mobile (and this very segment that has currently conquered the market).
Problems with response by the support service that visitors to the feedback service talk about.
Limitations on the size of bets and relatively low speed of processing bets.
A short time period for bidding (from 16:30 to 23: 30 UTC +11).
In our purely subjective opinion, the supplier has every chance of losing the leadership position if the above-mentioned problems are not resolved. Nevertheless, experienced players may be interested in a platform characterized by a variety of options and a good selection of assets.
Rating of reliable brokers