The booking service allows people to book events, tours, and tickets to museums and attractions around the world.
The company
Official website
Social media
Date of foundation

2013

Head Office
The owner of the company
Types of support
Support by phone
Languages

English, French, Spanish, Italian, German, Portuguese, Polish, Russian, Dutch

Company Services

Event Ticket Reservation, Tour Reservation, Event Ticket Finder, Tour Search, Cultural and Sports Ticket Finder, Selling Excursions

Project Features

Online mediator between guides, tour sellers and travelers

Bonuses
Adjustable
Regulators

Milan Registry of Companies

VAT IT07978000961

How to pay for your order

Bank card (Visa/MC), PayPal, American Express

Mobile applications
Project regions

All countries in the world

Mode of operation of the company

From 08:00 to 19:00 Italian time

Availability of online payment
Personal account
The need to register on the site
Affiliate Program

Registration

Bonus up to 50% of income from each referral order

Benefits

Working in eight languages

Profitable affiliate program

Free 72-hour cancellation

Disadvantages

There are delays in ticket delivery

Support work

Italian, French, Spanish and German operators are available from 08:00 to 23:00 on Mon-Fri, 09:00 to 19:00 on Sat-Sat, English-speaking technical support is available 24 hours a day

Company requisites

Legal name:

Musement S.p.A.

Legal address:

Milan, Via Polesine, 13

Date of update

12.02.2023

Overall assessment
Address
Milan, Via Polesine, 13
Map
Subscribe to this company
Musement is this a scam? Reviews and description
Musement
- is a digital, multi-platform booking service that allows people to book events, tours, museum tickets and attractions around the world. A team of employees from more than 20 countries speaks several languages and is constantly working to create the best experience for travelers.
Musement helps customers get the best out of travel services by providing a large selection of local tours and attractions that can be booked on multiple devices. You can use the website and the app to purchase. Although the company has a lot of experience and many testimonials from satisfied customers, not everyone is willing to believe in its reliability. If you too are worried that Musement is a scam and a fraudulent scheme, study this review of how the service works.
Why Musement
Four entrepreneurs founded Musement in 2013 in Milan. Since then, the company has expanded globally to serve more than 1,000 destinations in 80 countries. It is backed by several well-known European venture capital funds, including 360 Capital Partners and P101. The project has connected more ticketing platforms to key attractions and hidden spots than anyone else in the travel industry.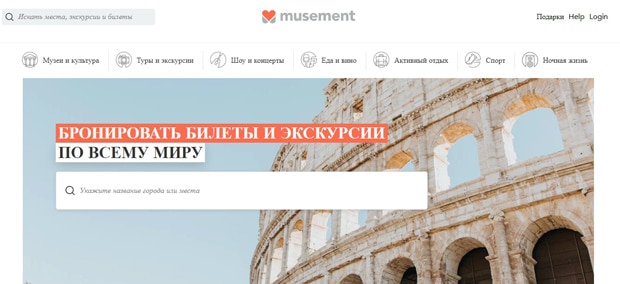 Features of the service:
safe booking;
quick booking confirmation;
24/7 support;
a great variety of excursions and activities;
the ability to change plans with a free 72-hour cancellation;
notifications of temporary and seasonal events around the world;
competitive prices and exclusive discounts.
Musement in numbers: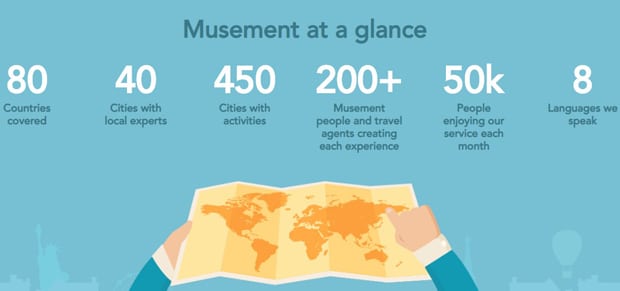 A functional website has been developed for the convenience of travelers musement.com with a simple interface and search for events and excursions. At the top of the home page, there is a convenient categorization of the offerings:
museums and art;
tours and attractions;
speeches;
food and wine
active leisure and adventure;
sporting events.
Each section has a group search bar, galleries with the latest offers, popular options, special offers, and articles about the category's theme. At the bottom there are links to the app, social networks, contact methods, and main menu items. There are also buttons to switch the language (automatic translation is used) and currency, which is very convenient for visitors from different countries.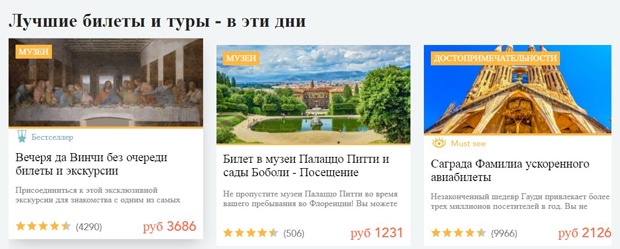 How to register at musement.com
The visitor can register or continue as a guest when making a purchase. The administration recommends that you go through the procedure and create an account to access your order on the website musement.com and in the app anytime, anywhere, and receive various offers and discounts. You can enter your personal information or use your Facebook and Google+ accounts to register.
Personal Cabinet Mewsment
Before the first order, only customer information and a button to request a new password will be available in the personal cabinet. After the purchase is made, all the details of the selected offer will appear in the account.
Mobile application
The free Musement app with a simple interface for travelers will help to feel the spirit of a new city or country, and the phone becomes a real local travel guide. With selections of interesting restaurants, bars, local attractions, places to go and concerts, travelers won't miss a thing. From popular must-sees to "hidden gems," from exclusive events and temporary exhibitions to VIP tours and free excursions, everything a city has to offer is in the app. Benefits of the offer:
Less waiting time and more time to see selected attractions with tickets that entitle you to enter without queuing;
fast, easy and secure way to pay with a system that guarantees the protection of personal data;
instant confirmation of reservations;
constant updates of events and activities in different cities around the world;
routes and places recommended by locals;
the ability to build your own routes;
tips and help;
lists of places and itineraries chosen according to the client's preferences.

How to buy tickets on the Musement website
Open tickets, day offers, and set-date options are available for selection. With an open ticket, you can enter a museum, exhibition, or other place during business hours, without having to choose a specific day and time. Day tickets are valid for the entire day that is reserved, without a specific time, while a set-date offer is valid only on the specific dates and times that were selected at the time of purchase.
In some cases it is possible to make changes to the reservation, but this depends on the type of reservation and is at the discretion of the service provider. To do this, you must contact the Musement Customer Service department with your booking code, and the operators will tell you if a change is possible. The administration asks to choose the tour carefully, as not all providers accept changes after confirming the reservation.
If a voucher is lost or a payment confirmation email is deleted, the registered user can find all the details of the purchase in the profile that was created during registration. If the booking was made as a guest, it is necessary to send an email or call to have the administration send a confirmation of the reservation. If it requires a printed voucher, the customer will need to reprint it.
How to book tickets
You can book tickets on the website musement.com or by phone: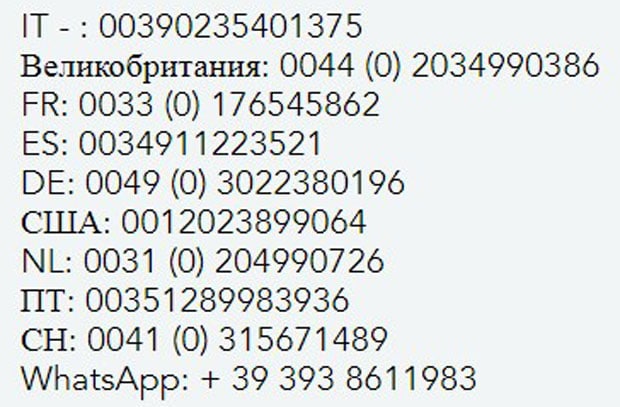 To select the right option, you can use the search or explore the offers in the desired category. The following information is provided on each tour or ticket page:
price;
button to check the availability of tickets;
score and number of reviews with the ability to examine them at the bottom of the page;
periodicity;
duration;
languages of conduct;
the ability to use the voucher on your smartphone;
options that are included and not included in the offer;
A description of an outing, event, or place;
meeting place and map;
information about payment for reservations and cancellations;
the "Give" button to prepare a gift for your loved ones.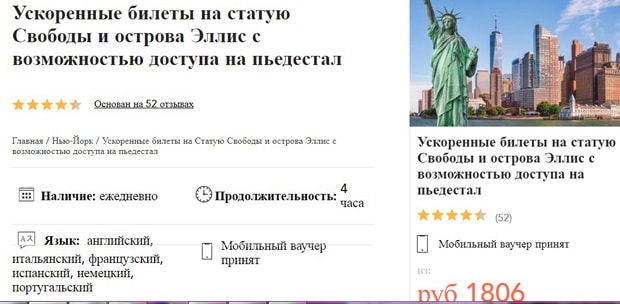 The "Check Availability" button opens a calendar with available dates. If a certain day is busy, but there are similar offers, they will be presented in a separate window that will open after clicking on the red icon on a certain number. After selecting a date, a window will open with the details of the order. In it, you can select the language of the event (if more than one option is offered), the time, and the number of people. Some vendors offer a discount for group tours.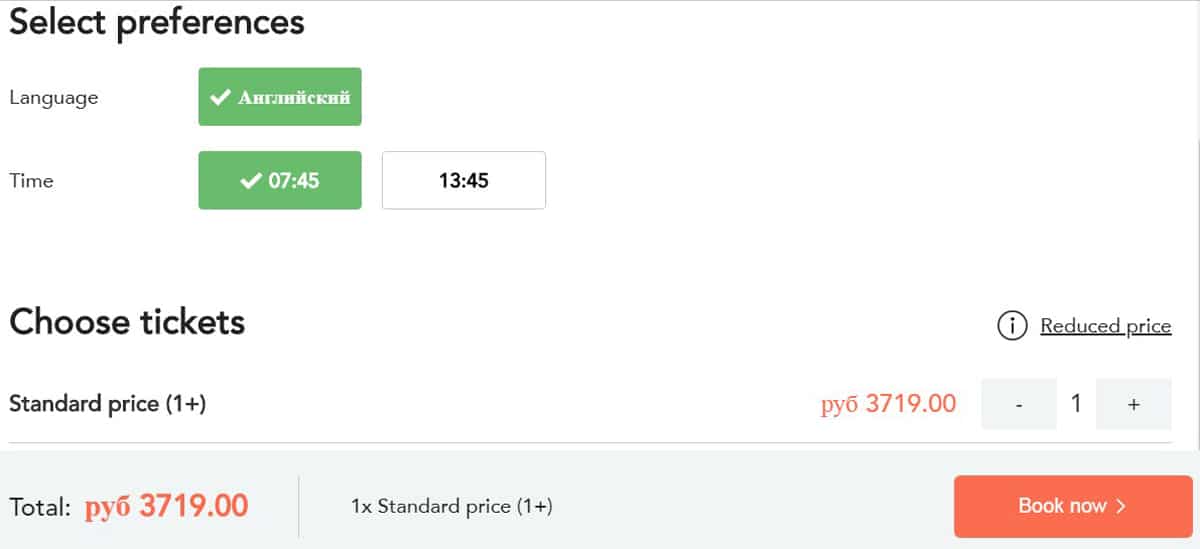 After making a purchase, in most cases the reservation is confirmed immediately or within the next few hours, unless otherwise specified in the description. The customer will receive a confirmation email with a voucher. If he is a registered customer, it is possible to download his vouchers directly from his account. If he doesn't have his own account and hasn't received a confirmation email, he should check his spam folder or contact technical support at [email protected]
How to buy cheap tickets?
You can buy tickets and book tours with discounts offered by individual vendors on their offerings. These are collected in the "Special Offers" category in each group of tickets and excursions. Tickets for more than one person are also cheaper. You have to ask each vendor about this separately.

Ticket refund
Not all tours and tickets can be cancelled, as it depends on the policy of the individual provider. Details can be found on the product page and on the voucher.
More musement.com features
The service makes it possible to present a ticket as a gift. To do this, there is a section with the same name, where you can choose the desired option and place an order for a gift. You can add a personal message and an image to it. The person will receive a code, which must be entered on the site in the same section by the button "I received a gift".

Muzment also offers its clients to become guest bloggers. The service looks for bloggers and photographers from all over the world to share stories about their experiences with site visitors. The administration creates content without any influence from partners and always indicates when they are participating in a blog post. Under "Careers - Become a Guest Blogger," there is a form where you can describe your idea.
You can also become a local expert. You can talk about the mysteries of the city and the places that locals like to visit. This information will appear on musement.com, which is visited by more than 500,000 travelers. The name and photo of the expert will be posted with a link to the blog, Twitter or Instagram.
Paying for and receiving tickets on the Muzment website
Musement accepts all major international Credit Cards and Paypaland guarantees high standards of security and control. Tickets come in the form of vouchers by e-mail. Registered users have the opportunity to find them in their personal account.
How to pay for tickets online?
Bank cards and PayPal are used to pay online.
Musement Bonuses
Each category of events and attractions has a section with special offers, where tickets with discounts are collected. The administration also notes that there are promotions and exclusive offers for registered customers. But details about what options are used are not described on the site. There is no information about other discounts or promo codes.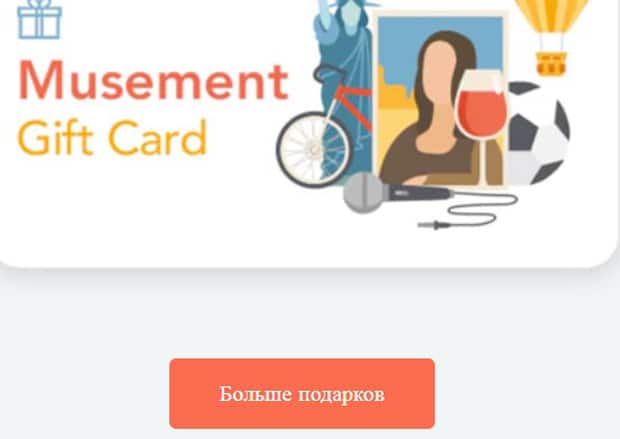 Referral program
Musement is an international service that works in eight languages (English, Polish, French, Italian, German, Spanish, Russian, Dutch, Portuguese), so different tools are available for representatives from different countries. The remuneration of the program reaches 50% of the income from each order. Sales are counted for one month after the first purchase of a referral. Allowed traffic types:
teaser advertising, Click-Under, Pop-Under and Pop-Up, apps in social networks, messengers, Cashback and motivated traffic, retargeting and remarketing, Iframe - by agreement;
mailing list;
targeting, groups and pages in social networks;
in mobile apps;
YouTube.
Prohibited traffic:
contextual advertising;
Toolbar;
DORWAYS;
Adult;
Type-in;
promo codes.
After you activate the Musement program, you can use links and banners to attract referrals. Features of the referral program:
competitive sales commission;
30-day cookies;
Receive remuneration from purchases made within 30 days after the click of a referral;
a large selection of creative banners, texts, keywords and links to content;
hundreds of events updated daily;
quick response to any inquiries.
The program works with popular affiliate networks in several countries:
Affiliate Future (UK);
Zanox (Germany);
Trade Tracker (Netherlands);
Net Affiliation (France);
Tradedouble r (Italy);
ShareASale (U.S. and the rest of the world).
Partners can also give their customers and employees exclusive discounts. To find out more, you need to write to the e-mail of technical support.
Complaints about Muzment
By contacting the technical support service, you can leave a complaint about the work of an individual merchant. To do this on the site musement.com you can find e-mail and phone numbers in several countries. There is also an online chat room. You can also complain about the project on this page. There are many reviews of individual events and excursions on the company's website. They can be found on the pages with the corresponding offers. Most of them are positive. Customers remain satisfied both with the service, which allows you to quickly and easily book and pay for orders, and with the vendors offering their services on the site.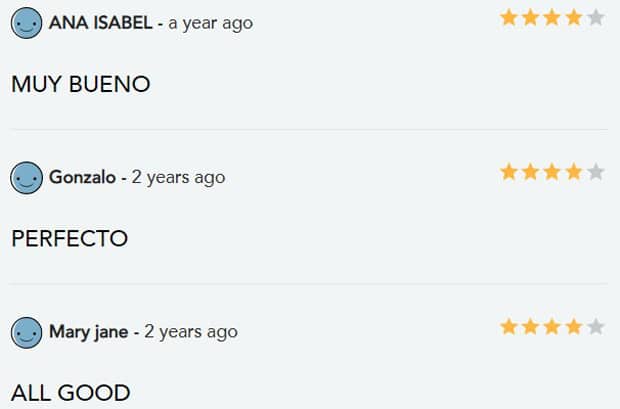 There are a lot of reviews about Muzent on third-party resources, too. Most customers note the ease of ordering, fast payment and receipt of tickets, and prices lower than those of competitors. There are cases when tickets don't arrive on time, but the administration refunds such orders.
If there are any reviews about the Musement service, we'll be sure to post them on social media. Sign up to make sure you don't miss anything!
Please keep yourself informed about news and complaints. We copy the most valuable information to social networks, so please sign up!
Supervisory authorities
The office of Musement SpA is registered in Milan, via Polesine, 13. The company is listed in the Register of Companies of Milan under No. MI1995020, VAT 07978000961, online travel agency license No. 170695 of Lombardy.
User Agreement musement.com
The terms of service are available at musement.com.

Customers are also advised to read the privacy policy and Cookie.

Security
The service uses an online payment system that is internationally recognized and fully secure. It protects against fraud and unauthorized transactions by encrypting customer payment information.
Customer Service
The service offers 24-hour customer support via chat, e-mail and telephone. The English-speaking team answers at any time, and the Italian, French, Spanish and German operators are available from 08:00 to 23:00 from Monday to Friday, from 09:00 to 19:00 on Saturday and Sunday.
Is This a Scam?
Service Musement helps travelers enjoy their trip to the fullest, using local knowledge and recommendations to have a fun and interesting time. The project's website offers event tickets, tours, performances, tours, or just ideas for a great night out. You can order both on the online site and in the Musement app (iOS and Android). The service was launched in Milan in 2013, and it now hosts offerings from 52 different countries and 450 cities. That's 70,000 places to see. The project works in eight languages, making the team the leading guide for international travel events.
Customers like the speed of online booking, secure payment, and many interesting offers for all tastes. This is proved by the mass of positive reviews on the website of the service and on third-party sites. Long experience, the information about the license in Milan and the positive experience of travelers show that Musement is not a scam. It is a reliable intermediary between guides, salesmen and clients, who are looking for interesting places for walks, sights for excursions and tickets for various events.
Conclusion
Musement - is a service that has been operating in the travel services industry since 2013. It is an intermediary site that helps travelers find places to go, book tickets for their favorite performers, sporting events, and book tours. The benefits of the project:
quick online booking;
a mobile app with notifications of new events;
suggestions from local residents;
work in eight languages;
secure payments;
affordable prices;
profitable affiliate program;
24/7 support;
free cancellation 72 hours in advance;
exclusive discounts for regular customers.
If you have booked tickets or excursions on Muzment, leave your review of the facilitator on this page. By studying the comments, other customers will be able to decide whether it is worth using the site's services. Reviews also influence the rating of the service, which allows you to compare it with other similar projects.
The company in the ratings
Activity
New

0

Resolved

0

Not resolved

0
New companies on the site