Trip.com is a convenient online booking service for accommodation around the world. Bonuses, special offers and attractive prices.
The company
Official website
Social media
Date of foundation

1998

Head Office

Unit 3002, 30/Fl, Paul Y Centr 51, Hung To Road Kowloon, Hong Kong (SAR)

The owner of the company
Types of support
Support by phone

8-800-707-37-35

For calls seven days a week from 06.00-23.00. In English 24 hours a day, 7 days a week

Languages

English, French, Spanish, Italian, German, Korean, Chinese, Russian, 25 languages

Company Services

Hotel Reservation, Hotel Reservation, Air Ticket Reservation, Railway Ticket Reservation, Air Ticket Return, Railway Ticket Return, Cancellation, Accommodation Search, Hotel Search, Air Ticket Purchase, Railway Ticket Purchase, Flight Check-in

Project Features

A wide range of booking facilities

Bonuses
Adjustable
Regulators

Hong Kong Travel Agencies Ordinance

Licenses
How to pay for your order

Maestro, Mastercard, VISA, Bankcard, Debit cards, Credit cards

Mobile applications
Mode of operation of the company
Availability of online payment
Personal account
The need to register on the site
Benefits

Large selection of booking facilities

Convenient service portal

The service is translated into more than 25 languages

Profitable affiliate program

Advantageous bonus programs, seasonal promotions and discounts

Affiliate Program
Company requisites

Legal name:

Ctrip.com (Hong Kong) Limited

Legal address:

Unit 3002, 30/Fl, Paul Y Centr 51, Hung To Road Kowloon, Hong Kong (SAR)

Date of update

19.04.2023

Overall assessment
Address
Unit 3002, 30/Fl, Paul Y Centr 51, Hung To Road Kowloon, Hong Kong (SAR)
Map
Subscribe to this company
Trip.com is this a scam? Reviews and description
Booking Service trip.com - is a portal where you can find more than 1.2 million accommodation facilities, buy air and rail tickets for the destinations you are interested in. The company has been operating for quite a long time and during this time has developed advantageous bonus programs for its regular customers. Seasonal sales allow you to buy tickets at a discount of up to 60%.
It seems that the conditions of booking through the service trip.com look quite profitable. But is it a scam? Let's find out.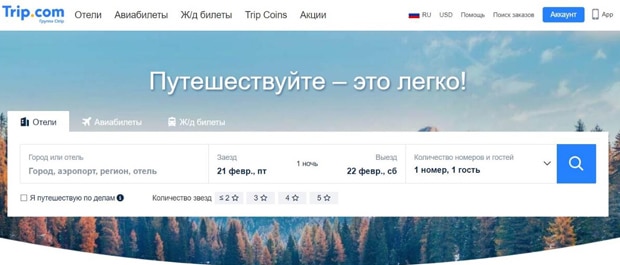 Why trip.com?
trip.com has been in business since 1999, during which time the company has launched many divisions with more than 30,000 employees and more than 1.2 million accommodations on its sites. You can buy tickets and book rooms in more than 5 thousand cities around the world.

The benefits of trip.com:
A convenient portal with many features that will make your booking as quick and easy as possible;
The mobile app, which can be downloaded from the website;
Beneficial bonus programs, seasonal promotions and discounts;
Profitable affiliate program;
Round the clock support;
The service is translated into more than 25 languages.
Although you can make reservations with trip.com almost all over the world. It should be noted that the most objects with the biggest discounts are placed in Asian destinations.
How do I sign up for trip.com?
In order to make your reservation more profitable, you need to register on the service. The registration process will take no more than 10-15 minutes. To do this, you need to click on the button "Account" in the upper right corner of the site. You can register through your social networking accounts or confirm your account via email. You will be able to check your reservation on the site without going to your personal account, through the "search for orders" button.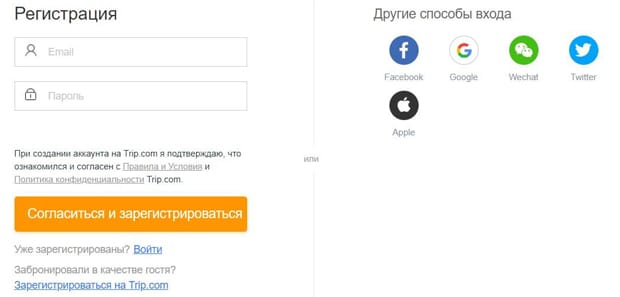 Personal cabinet trip.com
Your personal account on the service site stores all the history of your bookings, personal data, discount programs and subscriptions. Personal data and data of bank cards, which were used to pay for previous reservations, are stored in the personal cabinet.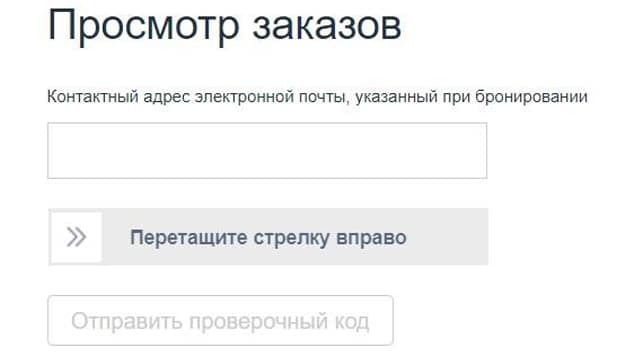 Mobile application
For its loyal customers trip.com has developed and launched a mobile application, which is available for download from the company's website AppStore and Google Play. By booking hotels and buying tickets through the app you can receive exclusive offers from booking sites, additional discounts and more.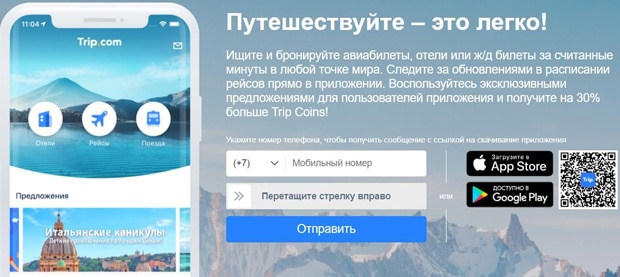 How do I book a hotel at trip.com?
Via the site trip.com you can book accommodation in any location you are interested in. By subscribing to the newsletter from the site, you can receive information about all seasonal discounts and promotions of the service.
How to book a hotel?
First you need to use the standard booking form on the website of the service and choose: city, dates, number of rooms and other conditions. Please note that on the page of your booking choice there is an online chat form with a consultant, where you can ask your questions right away.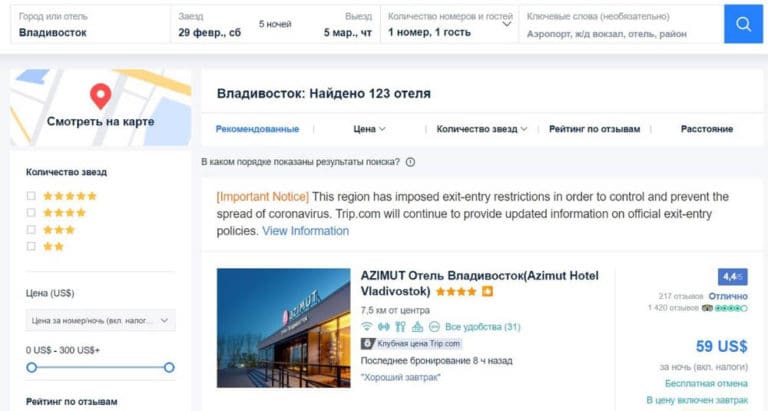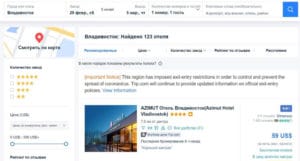 Confirmation of reservation
After completing the procedure, you will receive a confirmation, which will come to the e-mail address you specified during registration and will be saved in your mobile app. When booking, you are required to enter your bank card details - it is necessary to guarantee the reservation in the accommodation facility, but there are accommodation facilities that do not ask for bank card details.
Trip com service fees
Service does not charge additional fees from the client, but it is worth noting that in many cities and countries there is a city tax, which you pay directly on the spot, when paying for a room.
Additional features of trip.com
With the help of the service you can buy airline tickets and long-distance train tickets. You can also book and pay for tickets through the app.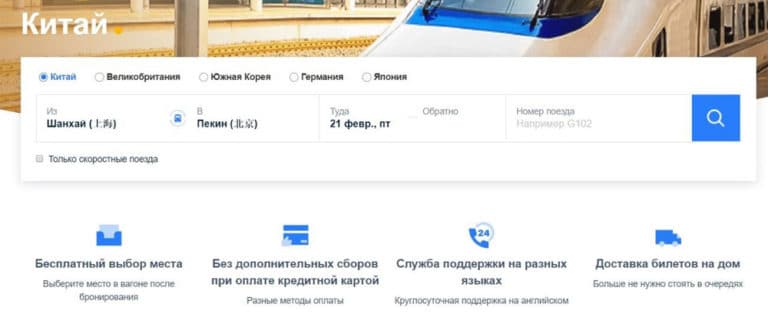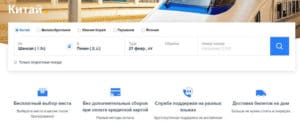 Paying for your reservation at trip.com
Depending on the conditions, you can pay for part or all of your booking with a bank card on the website. If you book a discount offer, it is usually necessary to pay at once. You can also choose to pay directly at the accommodation facility upon check-in.
How do I pay for my hotel online?
Like many other services, trip.com offers the lowest price guarantee. If you find the same accommodation with a cheaper price than listed on the website, the company will refund you the difference in price. To pay for the booking you will need to enter your credit card information into the appropriate fields on the card. If you pay via a mobile app, your card details are already saved there.
Bonuses
The company has a lucrative bonus program. You can find all the best deals, promotions and bonus programs from trip.com on our promotions page.
Registration Bonus
After registering you will have bonuses and special offers for new customers. All new clients of the service can get a discount for booking accommodation facilities up to 5%.

Additional Benefits
Trip.com has a program called Tripcoin Rewards. For each reservation you can receive trip coins which you can then use to pay for services and reservations at the rate of 100 trip coins equals 1 USD.

When you book a hotel, the page will tell you how many bonus points you earn.
Invite a Friend" promotion
Trip.com does not have a referral link program.
Referral program
I trip.com there is an affiliate program in the CPA-network Admitadwhich will allow you to make a profit from inviting customers - from 0.70% to 4.20% per paid order.
Complaints about Trip com
There are not many reviews of the service, and among them there are quite a few negative ones. Many customers write that they were not warned about flight postponements. They also write that there were misunderstandings at hotels, when an already paid reservation through the site was not found in the hotel itself. There are also positive reviews about the company's work, but they are associated with the fact that they managed to find a favorable booking in China and Japan with the help of this service. Support staff try to keep track of reviews and always answer all questions and correct misunderstandings.


If there are any reviews about trip.com hotel reservation service, we'll be sure to post the information on social media. Sign up so you don't miss anything!
Please keep yourself informed about news and complaints. We copy the most valuable information to social networks, so please sign up!
Controlling authorities trip.com
Ctrip.com, which owns the trip.com service, is officially registered in Hong Kong. It has a travel business license - 352367, but in its work it is guided by the laws of the country where it is registered.

trip.com User Agreement
The "Terms of Use" document is a user agreement with the company's service. It is in this document that you can learn more about the owner, details, coordinates and preferred methods of communication.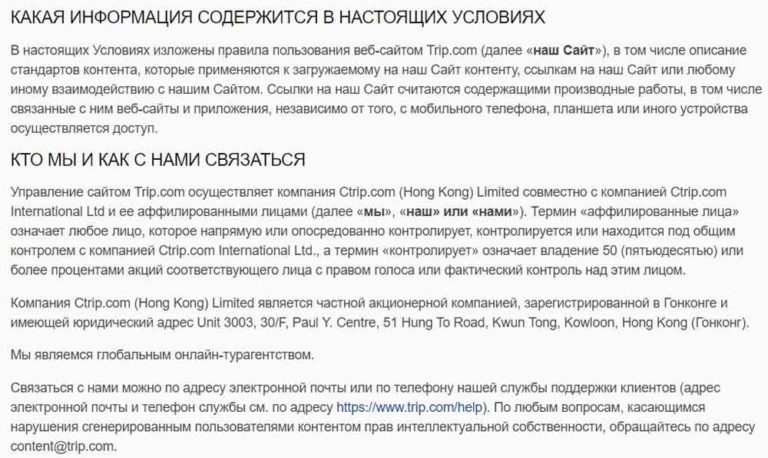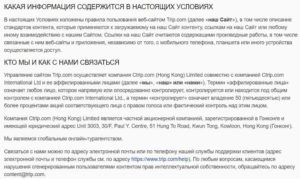 Please note that project partners can post their information there and, for example, if some information is not true, the company is not responsible for it.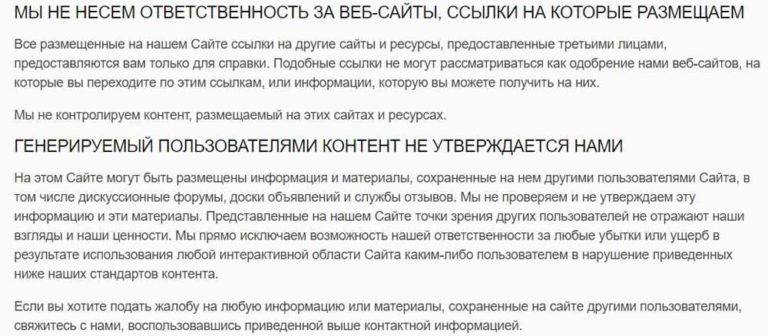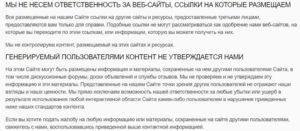 The document is quite short and rather contains general rules, unlike the second document, which you also accept when you register on the service site - "Privacy Policy".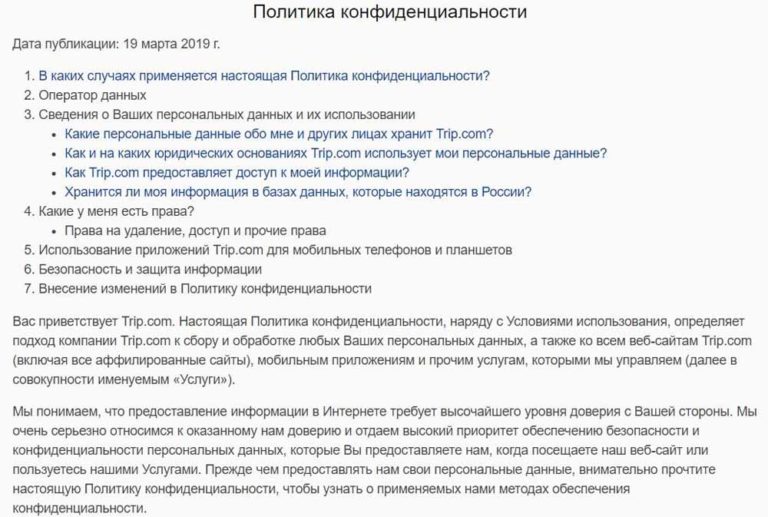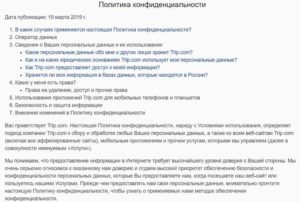 Site security
All your payments that go through trip.com are protected and the site itself is protected by a security certificate. Payments go through bank protection systems, and you can be calm about your personal data. But if you no longer want to cooperate with the company, it is better to contact the support service to have your data deleted from the system, and then you will not receive promotional offers and newsletters to your email.
Trip com Customer Service
The trip.com customer service is available 24 hours a day. The most convenient way is to use the chat form with an advisor, which is available on almost every page of the site. You can also contact her through her social networking groups and through her mobile app.
is trip.com a scam?
trip.com began its work in the Asian segment of the travel market, but for a long time has been able to develop in other areas. The company has its own bonus system, many partners, a large network of booking facilities in almost 5 thousand cities around the world and many regular customers.
We have carefully studied how the portal works, how the services and application work, and reviews of the company. trip.com is not a scam. But you should use its services with caution. If you book accommodation through the company's service, it would be better if you check the object of accommodation before the trip.
Conclusion
Many booking services have their own specialty, and with their help you can book accommodation at a really great discount. trip.com also has its own specialization. If you want to book yourself a hotel in Asian countries, this service has many great deals. But still, we would advise you to check your reservation before you leave by contacting the accommodation facilities.
The company in the ratings
Activity
New

0

Resolved

0

Not resolved

0
New companies on the site