Rayna Tours is an online service for finding cheap short trips and excursions to different countries of the world, discounts and seasonal deals.
Read completely
The company
Official website
Social media
Date of foundation

2005

Head Office

ACICO Business Park Building, Office 703, 704, 705, Port Saeed Road, Deira, Behind Nissan Showroom, P. O. Box 111306, Dubai - UAE

The owner of the company
Types of support
Support by phone

Languages

English

Company Services

Excursion Reservations, Visa Support, Holiday and Weekend Trips, Amusement Parks, Excursion Finder, Short Term Vacation Sales, Excursion Sales, Early Booking

Project Features

Find a short trip quickly with discounts from 7% to 40%

Bonuses
Adjustable
Regulators

Dubai Ministry of Tourism and Commerce

Methods of replenishment

American Express, Bank Card (Visa/MC)

Mobile applications
Project regions

European part of Russia, CIS countries, USA, Australia, Singapore, UAE, India, Malaysia, South Africa

Mode of operation of the company
Availability of online payment
Personal account
The need to register on the site
Affiliate Program
Benefits

You can book the tour online and pay for it in full with your bank card

The site has a high degree of protection

In addition to tours you can book additional tours, trips, visit amusement parks, extreme adventures and more with good discounts

Disadvantages

No tech support in Russian

Sometimes there are technical failures and it takes too long to pay for a tour

Company requisites

Legal name:

Rayna Tours & Travels

Legal address:

ACICO Business Park Building, Office 703, 704, 705, Port Saeed Road, Deira, Behind Nissan Showroom, P. O. Box 111306, Dubai - UAE

Date of update

12.02.2023

Overall assessment
Address
ACICO Business Park Building, Office 703, 704, 705, Port Saeed Road, Deira, Behind Nissan Showroom, P. O. Box 111306, Dubai - UAE
Map
Subscribe to this company
Rayna Tours is this a scam? Reviews and description
The company Rayna Tours was founded in 2006. It specializes in selling short-term tourist trips (without airline tickets), excursions, providing visa support and organizing holiday and weekend trips. The company operates in India, the Arab Emirates, Australia, Singapore and others. The central office of the company is located in Dubai. Through its online service, you can buy tours or sightseeing trips with discounts ranging from 7 to 40%.
Buying tours online is becoming more and more profitable, especially since all you need is a stable internet connection, a passport, and your bank card. But isn't RaynaTours.com a scam? Let's find out.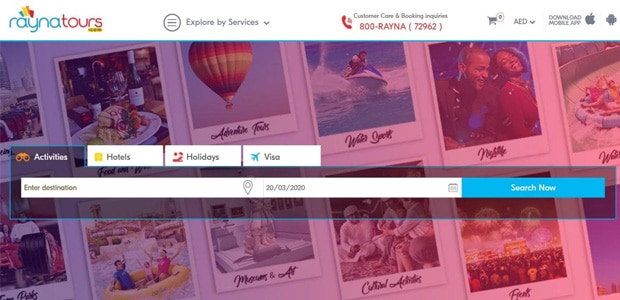 Why Rayna Tours
Service company created so that you can choose a tour that will suit you best in terms of price and conditions and draw him completely online without visiting the offices of the company, pay by bank card.
The benefits of Rayna Tours online store:
Best Price Guarantee;
The site itself has a high degree of protection;
24-hour support service, working in English;
Convenient mobile application available on AppStore and GooglePlay;
You can book the tour online and pay in full from your bank card;
In addition to tours you can order additional excursions, tourist trips, visit amusement parks, extreme adventures and more with good discounts;
Early booking is available.
The company has been working in this field for more than 10 years, and offers discounts, visa support, and a convenient mobile app. It is really profitable to use its services.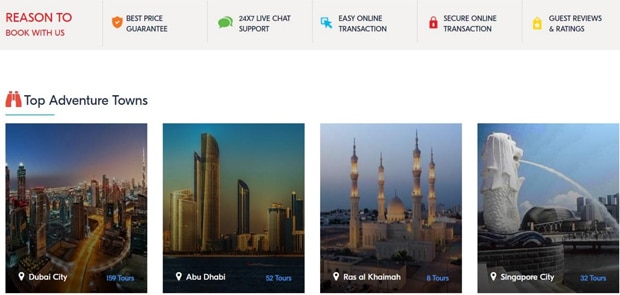 How to register on the Ryan Tours website
If you don't have the company's mobile app installed, you can register through the raynatours.com website by creating a personal account there. The registration procedure doesn't take more than 10-15 minutes. You need to click on the "Sign In" button in the upper right corner of the website. Please note that you can check your booking without going to your personal cabinet by clicking the "Check out booking" link. For checking you will need your booking number and email address. This is convenient in case you are not at your computer and would like to quickly check your reservation without leaving your personal data.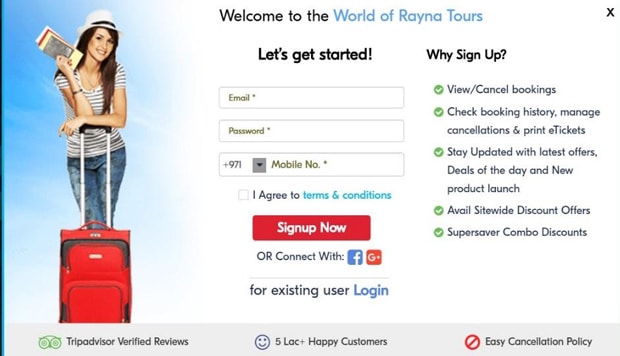 Personal profile raynatours.com
Personal Cabinet will allow you not only to save all the information on purchases, reservations, prices and browsing history, but also to get additional discounts and great deals, the number of which depends on the tourist season.
Mobile application
The mobile application of Rаyna Tours allows you to quickly find all the necessary information about the hotel, excursion or other service you are interested in, book and buy them, contact the company's support service and store all the information about your tour in your mobile device. You can study hotel ratings, read about available services, learn about visa rules and more with your mobile device. The app is available for download from the company's website and AppStore and Google Play.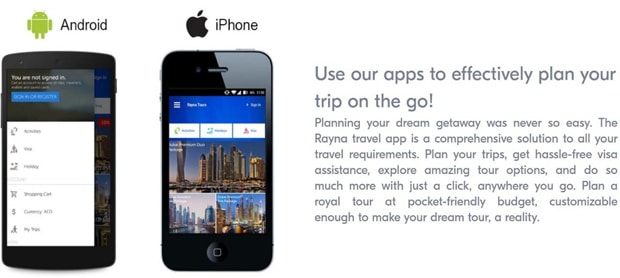 How to buy tours on the Ryan Tour website
On the company's website raynatours.com you can choose a tour to the destination you are interested in, book and buy it by paying the full reservation online. You can buy tours through the company's website with good discounts.
How to book tours
Choosing a destination and date range, deciding what you are interested in, hot tours or early booking, you set the search for tours according to the specified parameters and choose the offer that seems most suitable and profitable. If you need a visa to visit the country you have chosen, the service indicates this information. Visas can also be arranged through the company Rayna Tours.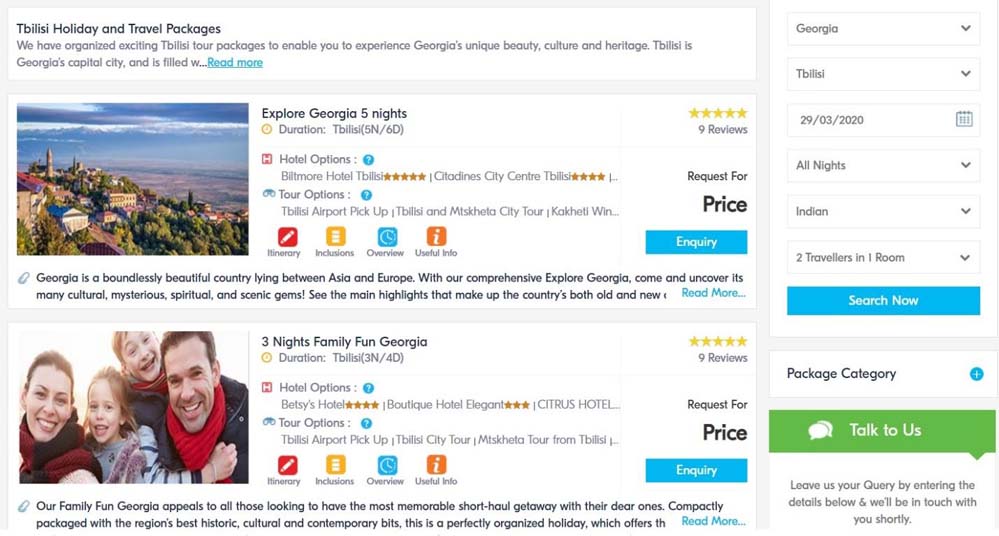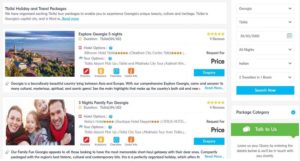 Please note that tour services include transfer, hotel, guide, lunches, but do not include flight. You are picked up from the airport or from the hotel, depending on which tour and excursion you bought. To buy a tour you choose a country, city, service, see what it includes and book, entering all the data, if they are not already saved in your personal account or if you do not yet have a mobile app. The site can pick you up an "adventure" by request or recommendation. Additional discounts are available for the first booking.
How to buy cheap tours?
On the home page of the site there is a constantly updated list of tours, with the best discounts.


Tour refunds
Please note that you can get a refund for the tour only in accordance with the conditions of refunds in the hotels where the rooms are booked. All conditions of refund of tours are specified in the memo when booking the tour. If for some reason you could not get on the tour or missed it, the money is not refundable.
More Rayna Tours site features
On the website of the company you can find out all the information on the most popular tours in the countries where the booking service, learn visa information, order a visa and more. Website raynatours.com is full of reference information, and you can find all the information you need on your reservation.
Pay and receive tours at raynatours.com
You pay in full for your tour through the website with your bank card and after the payment is made, you will receive an email voucher and all information about the tour. It is advisable to print the voucher before the trip.
How to pay for tours online?
After you have chosen a tour and booked it, the form of payment will be available to you. You can pay with your bank card: Visa, Mastercard, American Express. Cards of the payment system MIR service does not accept payment. Please note that you must pay for the tour in full, and prepayment is not provided.
Ryan Tour Bonuses
The company does not have a loyalty or referral program as such. But you can get additional discounts depending on how often you use the service or by receiving special offers through the company's newsletter. You can also get discounts for the first booking. You can find constantly updated offers from the company on the page with discounts and offers: discounts, promo codes, promotions and more. Discounts and special offers are updated according to the tourist season.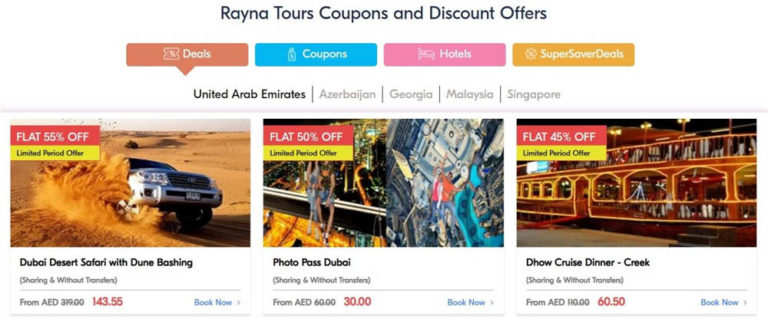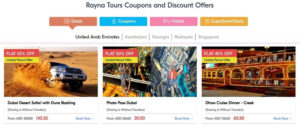 Complaints about Rayna Tours
On the Internet you can find many reviews on the work of Rayna Tours, both positive and negative. Among the positive reviews, most often thanked for the fact that the excursions were very interesting, the guides of the company - friendly, and with the trips very lucky. But there are also negative reviews from those who were unlucky with the guide, and the trip was uninteresting. Among the negative reviews, customers wrote that due to technical difficulties the trip was disrupted several times. But the company employees are monitoring the feedback, and if there are technical difficulties, they try to fix them as quickly as possible.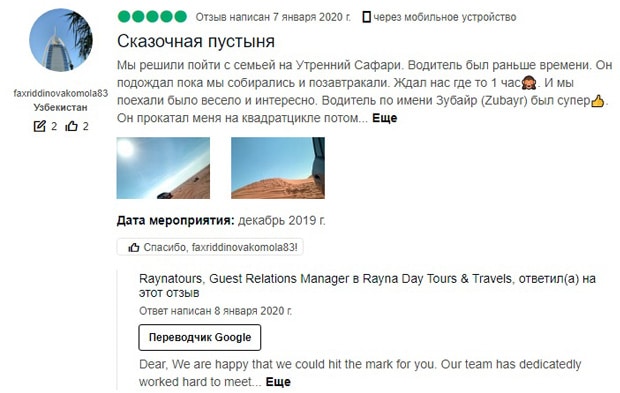 If there are any reviews about Rayna Tours, we'll be sure to post on social media. Sign up so you don't miss anything!
Please keep yourself informed about news and complaints. We copy the most valuable information to social networks, so please sign up!
Ryan Tours' supervisory authorities
The company raynatours.com is a legal entity registered with the Ministry of Tourism and Commerce of Dubai. Company details can be found on request or in the personal cabinet.
User Agreement raynatours.com
When you make a tour or travel purchase from Rayna Tours you sign a "Consent to the Processing of Personal Data" and a "Terms and Conditions". Both documents are available to view on the website. Let's take a look at the Terms and Conditions document.


Like the entire site, the document is not translated into Russian and is only available in English, but it is very short and concise. The document briefly describes the rules of payment, cancellation and confirmation. As we wrote above, each hotel and tour, has its own rules of refunds in case of cancellation.


It is best to purchase travel insurance before your trip or to discuss this issue in advance of buying the tour. Rayna tours does not accept any additional liability for insurance claims during your trip.


The company also strongly recommends that before you travel, you check all the documents that you must take on the road, including medical certificates, if there is a doctor's prescription and so on. In general, the document is quite small and is more of a reference nature.
Site security
All user data on the site is protected legally - by a "Privacy Agreement" and technically - by a high security site certificate. Your payments through the service are additionally protected by the bank system of electronic payments.
Ryan Tour Customer Service
The company's support service is available 24 hours a day through the feedback form on the website, by phone, e-mail and chat with a consultant, which is available on every page of the site. The company's website has a FAQ section with questions and answers.
Is Rayna Tours a scam?
The company Rayna ToursRayna Tours, which is headquartered in Dubai, began its work in 2006 and during this time has managed to create an online service through which you can buy a tour, weekend tour, arrange visas to the Arab Emirates, Australia, India, and so on. We have studied how the company's service works, its offers, discounts, customer reviews, prices and website functionality and we can say for sure that Rayna Tours is not a scam, but a company that knows its business and prepares interesting and the most profitable offers for its customers.
But it is worth noting that while the main language of the site is English, the company is not registered in Russia, and when booking you must make full payment for the tour and refund the money in full. In case you can't be on the tour or go on a weekend tour, it may not work out. Also, do not forget that the tours that the company sells are either long interesting excursions or weekend tours, and airfare is not included in the price of the tour.
 Conclusion
If you want to make your trip interesting with fascinating excursions or get yourself a visa to a country you haven't been to yet, the company Rayna Tours can help you by offering an interesting trip, tour, or a real adventure, from a trip to an amusement park, to skydiving, to a safari.
The company has a lot of great offers, through which you can buy a tour or excursion, with discounts up to 40%, and positive feedback from customers, both in English and Russian-speaking segment of the Internet, shows that the company's services are in demand.
The company in the ratings
Activity
New

0

Resolved

0

Not resolved

0
New companies on the site