Online service for booking/purchasing tickets to museums and sightseeing attractions in major cities around the world.
The company
Official website
Social media
Date of foundation

2014

Head Office

James Wattstraat, 100 1097 DM, Amsterdam, Netherlands

The owner of the company
Types of support
Support by phone
Languages

English, Spanish, Italian, German, Portuguese, Polish, Chinese, Japanese, Russian, Dutch

Project Features

Quick and easy booking/purchasing of tickets to museums of the world's largest cities

Bonuses
Adjustable
Regulators

Netherlands Chamber of Commerce

KvK 59620285

How to pay for your order

Bank card (Visa/MC), Alipay, iDeal, PayPal

Mobile applications
Project regions

All countries in the world

Mode of operation of the company
Availability of online payment
Personal account
The need to register on the site
Affiliate Program
Benefits

It is possible to buy tickets to almost any museum in the world

Entering museums on your smartphone screen

Employees work in 11 languages

Disadvantages

Possible technical failures after application updates

Company requisites

Legal name:

Tiqets International BV

Legal address:

James Wattstraat, 100 1097 DM, Amsterdam, Netherlands

Date of update

12.02.2023

Overall assessment
Address
James Wattstraat, 100 1097 DM, Amsterdam, Netherlands
Map
Subscribe to this company
Tiqets is this a scam? Reviews and description
Service
Tiqets
has been operating since 2014 - it is an online service and mobile application that allows you to visit cultural attractions in different cities around the world. All you need is a mobile device and Internet access to choose the place you want to see, the time of your visit, and to book tickets.
You can pay for tickets with a bank card or e-wallet. For students at ticket booking service there are discounts, and there are good deals for partners. Everything seems quite profitable and convenient. But is it so? Isn't Tiqets a scam? Let's get to know it better.
Why tiqets.com
It often happens that being in a new place, you want to see everything at once, but on the spot turns out that one place can only pass in a tourist group, in another too long line at the ticket office, and some attractions are strictly on time, allowing a certain number of visitors.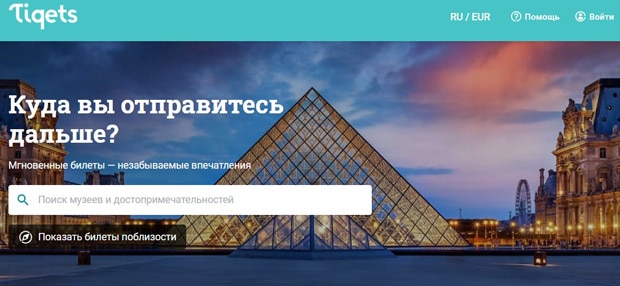 It is for this case, in order to make your trip more interesting and profitable, Tiqets service was created, which will allow you to find, book and buy tickets to visit museums and cultural attractions, without waiting, using only your mobile device. By using the service, you can make your trip interesting and do it quite profitable. Advantages of the service:
a convenient mobile application that can work offline, without Internet access;
Support is available around the clock in 11 languages;
A huge base of museums and attractions;
The company is open for cooperation and new projects;
The company not only operates online, but also opens regional offices in major cities around the world.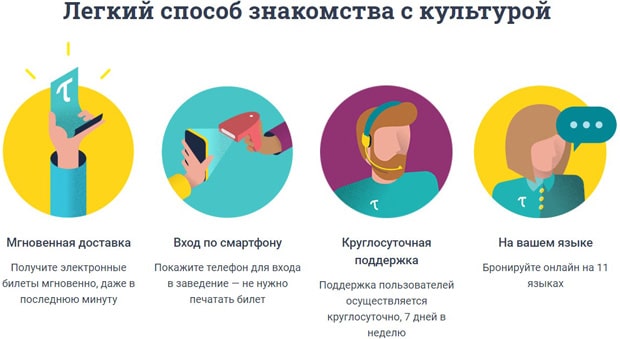 Using such a service is very convenient, it is specifically designed for mobile devices not only to ensure that your assistant and guide to cultural attractions is always with you, but also to avoid wasting time at the checkout.
How to register at tiqets.com
When you download the company's mobile app, you register your account through it. On the website tiqets.comTo register, you need to click on the "Sign in" button in the upper right corner. You can confirm your account via social networks or e-mail. The registration procedure does not take more than 5-10 minutes.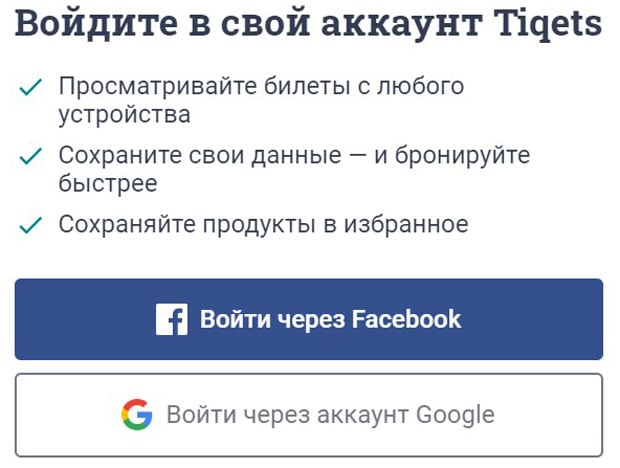 Tiquets personal account
In your personal account on the service site tiqets.com and the mobile app stores all personal data, booking histories and ticket purchase histories. Saved data will help speed up the booking process, without having to re-enter the data every time.
Mobile application
The company's mobile app is your navigator for city attractions and your assistant for booking and buying tickets. Using the app, you can see a map of the city with the nearest museums and sights, as well as choose the place you want to visit. The Tikvets application has an intuitive interface and is quite easy to work with, especially since it works even without the Internet. The application is available for download in the App Store and Google Play, and you can leave your phone number in a special field on the site tiqets.com and you will be sent a download link via SMS.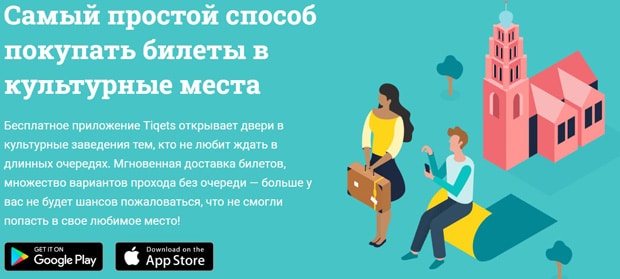 How to buy tickets to museums at tiqets.com
To buy tickets through the company's service, you need to select the place you want to visit, look at the dates.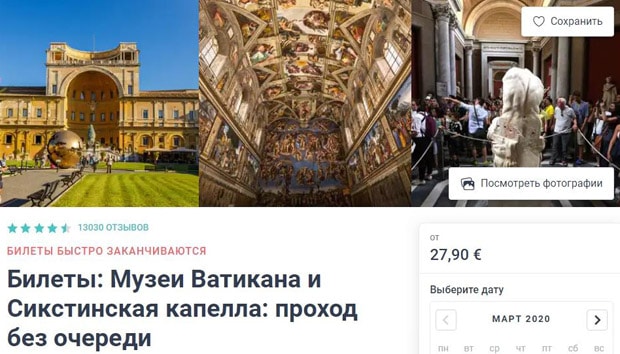 Then you can make a reservation by following the system's instructions. When booking, you can read the rules for many attractions.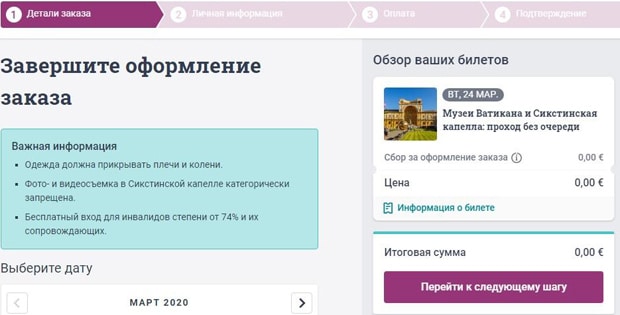 How to book museum tickets
Once you have selected everything, you specify the time, date and other information you will only need to buy tickets, you can pay by bank card or web-wallet.
How to buy cheap tickets?
Seasonal discounts are possible at the service, depending on the offers given by partner museums.
Ticket refund
You are not buying your tickets from the service, but from the museum, and the refund policy depends on the location of the attraction, but the refund will go through the service anyway and a fee of up to 8% of the price will be charged.

Additional features of the Tiquets website
The website tiqets.com was created for booking and selling tickets. With its help you can learn more about attractions, conditions of partnership with the service and more. In addition, you can find out cultural news from the company's blog.

Paying for and receiving tickets at tiqets.com
You pay for your tickets via the service website or mobile app using your bank card/web wallet. After the payment has gone through, you receive a confirmation to the email address you specified when you registered. The ticket is saved in your mobile app, and you can show it even if you don't have internet.
How to pay for tickets online?
You can pay for tickets with your bank card or via a web wallet. The company's service will allow you to make a payment through the payment interface in the language of your banking system.

Tiqets bonuses
In addition to the referral program, the company gives the opportunity to get a bonus for tickets to those who subscribe to the news. The company also has a campaign "Bring a friend" by sharing a link to the service site you can get a discount 10% on the next ticket.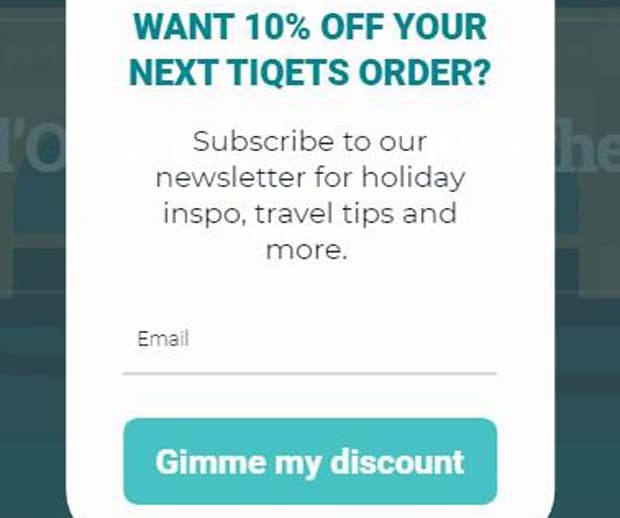 Referral program
Tiqets has its own referral program. You register on tiqets.com as a partner, set up a code-widget received from the company for your website or blog, and then start getting profit for each client who buys a ticket by going from your website. In addition to the code to go to the site, you can set up a widget to check the availability of tickets, for selected dates.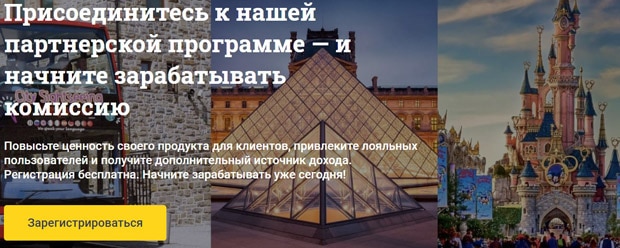 The company also cooperates with the CPA network Travelpayouts. The seller pays remuneration for new clients brought to his site. From each paid order the partner receives 8% of its amount.
Complaints about Tiquets
Service Tiqets has been in operation for a long time and during this time, its capabilities have taken advantage of a huge number of customers who have left their reviews on the Internet. The reviews are many and mostly positive.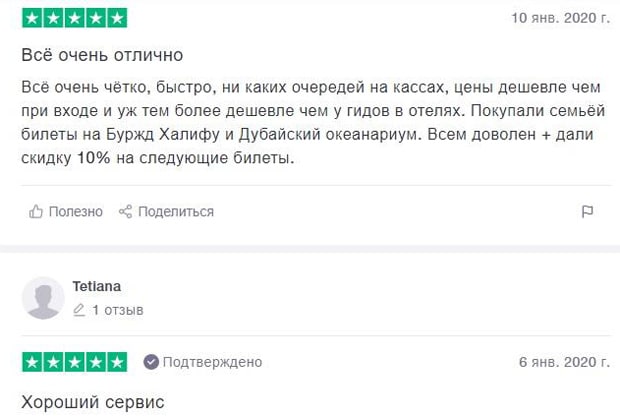 The company has very good ratings, customers praise the app and its convenience, as well as the way payment and the system of passage and control are organized. Many note that they have become regular customers of the company and use the app to buy tickets all the time. There are practically no negative reviews.
If there are any reviews about Tiqets service, we'll be sure to post the information on social media. Sign up so you don't miss anything!
Please keep yourself informed about news and complaints. We copy the most valuable information to social networks, so please sign up!
Supervisory authorities
Tiqets International B.V., the owner of the Tiqets service, is a Dutch company registered under Dutch law with the Amsterdam Chamber of Commerce (registration number 59620285).
User Agreement tiqets.com
You can find the user agreement with the service in the basement of the site. The document is called "Terms and Conditions" and regulates all the work on the service's website and in the company's application. In the rules you can read more about the company itself, the legal side of the service.

After you purchase and pay for your ticket, it must be sent to you within 48 hours. If the service partner does not send you the ticket within this time, your money will be refunded.

The document is quite small, but you should pay attention to point 5. This point concerns the agreement with the service providers, museums and attractions, where you buy tickets through the service. Otherwise, if you have any questions when working with the service, you can contact the support service, which operates around the clock.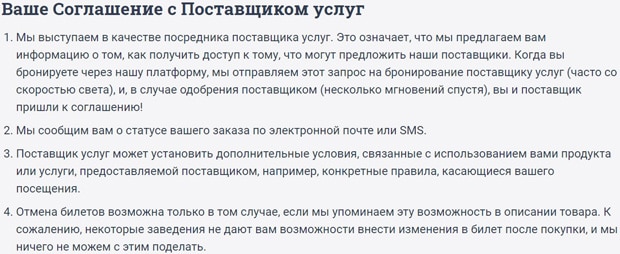 Site security
The tiqets.com service website is protected by a web security certificate, for the safety of all user data and the security of financial transactions. To keep your personal information safe, you also sign an agreement on processing and storage of personal data - this regulates the service's work with your data.
Customer Service
As we've already written, the company's support team is available 24 hours a day. You can contact them through the mobile app, by e-mail or through the "Help on the site" section. Besides there you can read the answers to most questions, start a chat with a consultant or find out the phone number to contact them via WhatsApp.
Is Tiqets a scam?
Tiqets has been operating since 2014. During this time, the company has opened many of its offices in different cities around the world, worked out a system of working with partners and launched its own mobile application so that you can buy tickets to museums and attractions around the world, without queuing and waiting.
We have carefully studied how the company's service works. Tiqets is not a scam. It is a very useful service, especially if you often travel and want to see as much interesting things as possible, but do not want to waste your time standing in queues or coming to a museum to find out that it, for example, is closed today. Through the mobile application of the service to buy a ticket is much more profitable and convenient, and most importantly, you do not need to wait to buy it. You don't have to worry about losing your ticket or forgetting it - you already have it in your mobile app, which can also work without the Internet.
Conclusion
Online Booking Service Tiqets helps not only to buy discounted tickets from the comfort of your home, but also to save time. Many of the world's museums have long provided separate conditions for those who buy tickets online and come with a code or printout.
Tiqets service is constantly developing, ready for new projects and cooperation, and its app and website have already found their customers and will continue to do so. All you need to do is choose a date and a place where you want to go, and then pay for the tickets with your mobile device.
The company in the ratings
Activity
New

0

Resolved

0

Not resolved

0
New companies on the site