AirHelp - an online service that allows you to get compensation of up to 600 euros per passenger in case of delayed, cancelled and overbooked flights, as well as in other force majeure circumstances.
Read completely
Insurance company
Website
Social media
Date of foundation

2013

Head Office

Germany, Berlin, Boxhagener Straße 18, 10245

The owner of the company
Types of support

Chat

Feedback form on the site

Twitter

Languages

Английский, Немецкий, Французский, Португальский, Русский, и др.

Number of insurance programs
Manager
Manager
Licenses
Mobile applications
Affiliate Program
Benefits

Instant online flight check

The world's largest service to help get compensation from air carriers

Through the service it is possible to get a refund of up to 600 euros per passenger for flights in the last 3 years, regardless of the value of the ticket

The service was successfully used by more than 16 million passengers.

Disadvantages

Long decision-making time for compensation

It is not always possible to receive payment

Company requisites

Legal name:

AirHelp Germany GmbH

Legal address:

Germany, Berlin, Boxhagener Straße 18, 10245

Date of update

16.09.2022

Overall assessment
Address
Germany, Berlin, Boxhagener Straße 18, 10245
Map
Subscribe to this company
AirHelp is it a scam? Reviews and description
The company AirHelp started in 2013 as a small startup. Within a few years, AirHelp has grown into a major international company for the protection of airline passengers' rights. In 2020, the company has 13 million winning cases. The service helps air passengers in all countries to protect their rights and obtain compensation for flight cancellations, delays and overbooking, for damage and loss of luggage, for unplanned expenses.
In this review, we will consider in detail all the features and advantages of this service, and answer the question of whether AirHelp is a scam or not.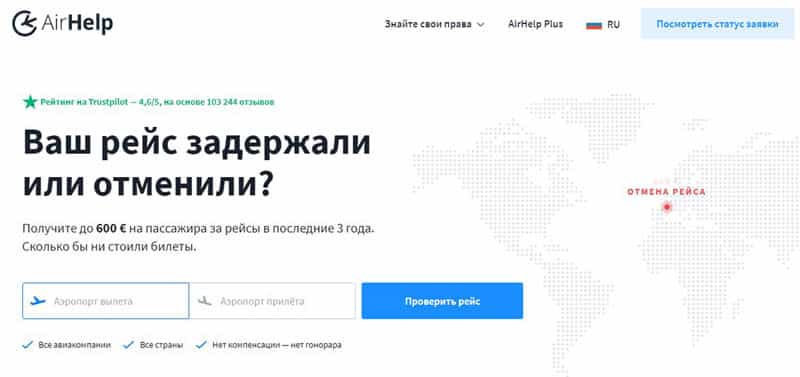 Why AirHelp?
According to statistics, only 5% of all air passengers know their rights and understand the algorithm of actions in case of their violation. Most travelers, even if they know that they are entitled to compensation for violation of rights, do not want to sue and seek justice, which is used by unscrupulous carriers. AirHelp is created to help such passengers so that every client can get compensation for delays, cancellations, overbooking, or luggage problems. Employees of the company take over negotiations with the airlines and, if necessary, file claims and represent the airline passenger in court. Pros of online insurance service AirHelp:
Checking your flight online.
Payment for results.
Operational support service.
Legal advice.
Useful information for air passengers.
Assistance in filing a lawsuit and representation in court.
You can find out if you're entitled to compensation by checking your flight online. Checking the flight is free of charge. Moreover, you will have to pay for the company's services only if you receive compensation from the carrier. If compensation is not received, you do not have to pay anything.

Insurance from Air Help
AirHelp protects airline passengers' rights under the EU Regulation 261, Montreal Convention, Brazilian Regulations and other international laws protecting airline passengers' rights. The company operates in 30 countries and helps travelers obtain compensation in situations not available to other services.
Insurance programs airhelp.com
Every airline passenger should know their rights. On the website airhelp.com You can find out when you can get compensation from the carrier. You can get compensation for infringements in the past three years. Problems eligible for compensation are flight delays and cancellations, missed connections, denied boarding, delayed baggage, and other situations that interfere with the traveler's plans. If such incidents occur, you should contact AirHelp, where you can check your flight and calculate the amount of compensation online.
Flight delay
Compensation is due to passengers of scheduled and charter flights. The amount of compensation is calculated individually, taking into account the reason, details and time of the delay, and can be up to 600 euros. In case of flight delay, depending on the time of the delay, the passenger is entitled to:
Relation to relatives.
Food and drinks at the airport.
Hotel room with round-trip transfers.
Reimbursement of money spent on the purchase of basic necessities.
Material compensation.
If your rights have been violated and you have not received your entitlement, contact AirHelp to find out if you are entitled to monetary compensation and how much you can expect to receive.

Cancelling a flight
In case of flight cancellation compensation is due up to 600 euros. The rule is valid if you notify the passenger 14 days or less before the flight. To receive compensation you should keep your ticket and accompanying documents, find out the reason for the cancellation, and contact Air Help. When a flight is cancelled, do not sign any documents or accept vouchers. These actions disqualify the right to compensation. When a flight is cancelled, the passenger is entitled to:
Communication with relatives.
Food and drinks at the airport.
Hotel room with shuttle service.
Flight on another flight.
Ticket reimbursement.
Monetary compensation.
Causes of flight cancellations subject to compensation are recognized as aircraft malfunction, strike by airport employees, and overbooking.

Missed connection
Passengers are entitled to monetary compensation up to $700 for missed connections. Compensation is paid if the connection was disrupted due to the fault of the airline. If you miss your connection, you must:
Save the boarding pass.
Find out the reason for the flight delay.
Keep receipts for unexpected expenses.
Check whether the flight has connections in Europe.
Contact airhelp.com to calculate the amount of compensation.
The amount of compensation will take into account delays on the flight preceding the connection and flights disrupted after the flight delay. To find out if you are entitled to compensation for a missed connection, please visit airhelp.com.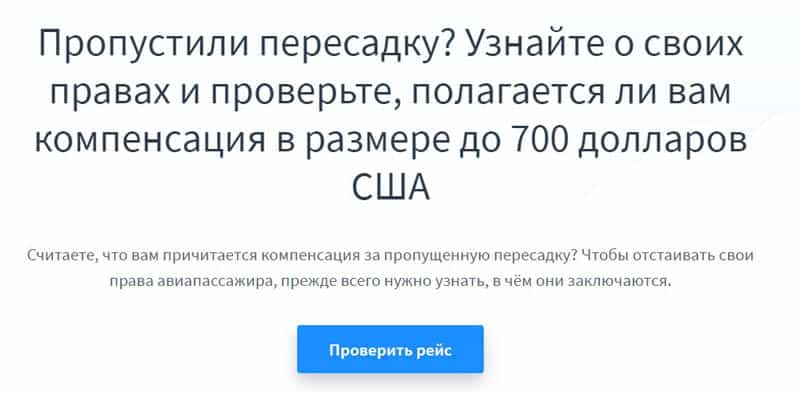 Denial of carriage
The most common reason for denied boarding is overbooking. It is a situation when an airline sells the same seat twice. In this case the passenger is entitled to up to 600 euros compensation. If you are denied boarding:
Don't give up your seat voluntarily.
Do not sign documents or take vouchers.
Keep your boarding pass.
Find out the reason for the denial of boarding.
Save the receipts for unexpected expenses.
Ask for compensation.
If the airline did not pay you a refund voluntarily, contact Air Help for help. Check your flight and see if you are entitled to payment.

Baggage delay
If your luggage is delayed, damaged or lost, you are entitled to compensation between $50 and $1,500. The amount of compensation depends on the time of delay, degree of damage and airline registration. For minor luggage delays, you can receive compensation of US$50, which covers the cost of acquiring the basic necessities. It is difficult to get compensation for delayed and damaged luggage from the airline. By contacting Air Help you don't need to resolve this issue on your own. The company's staff will negotiate with the carrier themselves, and you will only pay if you receive compensation.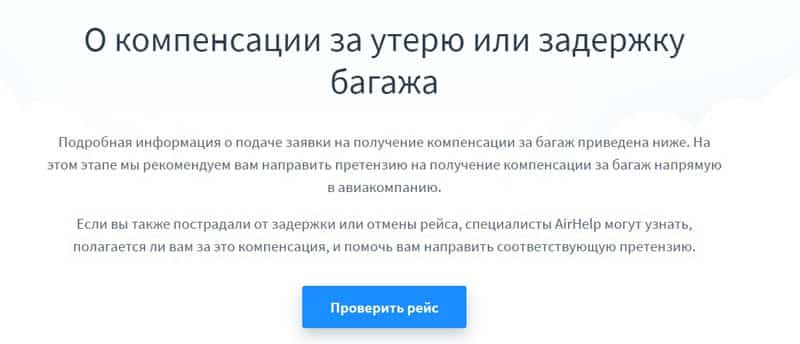 Airport workers on strike
Due to a strike by airline or airport workers, a flight may be delayed or cancelled. In this case, passengers are entitled to compensation of up to 600 euros. The money can be claimed within three years after the incident. Compensation is not due to passengers whose flight was disrupted as a result of a strike by employees whose actions cannot be influenced by the airline:
Airport Security.
Baggage Handling Operators.
Management of the dispatch service.
You will also not receive compensation in the case of strikes caused by political unrest. You can find out if you are entitled to compensation in case of a flight disruption caused by a strike by filling in the form on airhelp.com.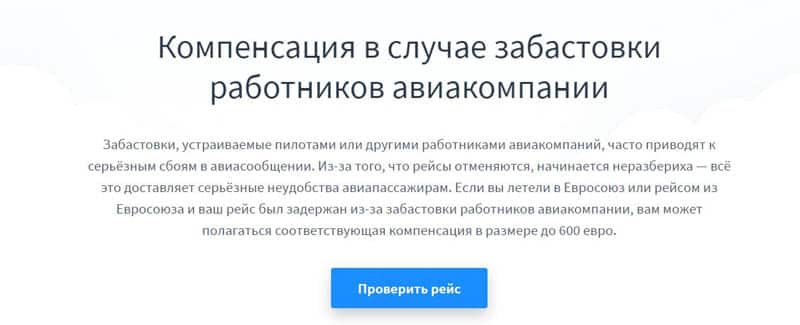 How do I get insurance with Air Help?
Before you can check out a flight and file a claim, you must register. To register, click the "Sign In" button. Click the "Create a free account" link. Fill out the registration form. After registration, your personal account will display compensation claims and decisions on them. Platform users have airhelp.com there are two ways to apply for compensation.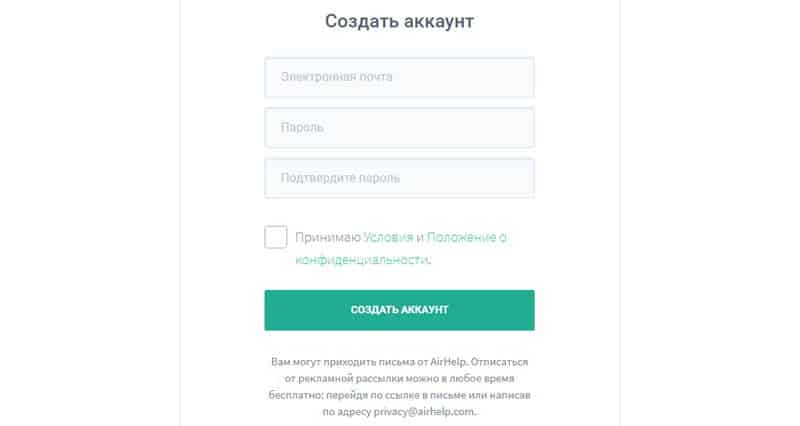 The first, option is to get compensation for the incident that happened. If your flight was disrupted, you lost luggage, or you weren't allowed on the flight until 3 years ago, you can check the flight, find out the amount of compensation, and file a claim for free. To check your flight, fill out the form, indicate your departure and arrival airport, connecting flights, departure date, and flight details. After checking the flight, you will know whether you are eligible for a refund. If the check confirms that you can receive the payment, you will be asked to fill in an application. From there all the work of receiving money will be done by the service staff.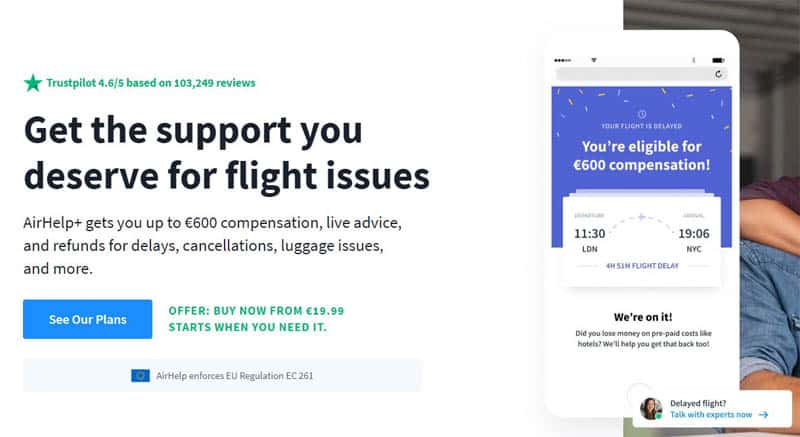 The second option, getting insurance through the AirHelp+ program. The program allows you to be protected for 12 months from the moment you activate your subscription. If you're going on a trip or fly frequently for work, get AirHelp+ subscription and get additional services and fast response time for delays, cancellations, overbookings, and other flight problems. The subscription can be activated at any time and will be valid for 12 months after activation. The company offers two plans:
Essential. The insurance costs 19.99 euros per year and is per passenger. The subscription is payable annually. The package includes compensation claims up to 600 euros, expense reimbursement up to 6000 euros, luggage claims up to 1400 euros, assistance with flight refunds, 24-hour chat support.
Complete. The insurance costs 49.99 euros per year and is per passenger. The subscription is paid annually. The package includes all services from the Essential package, access to VIP lounges, lounge facilities, online doctor's consultation, prescriptions and medical certificates. You can activate your subscription by entering your next flight information. The subscription begins on the day of departure and lasts 12 months.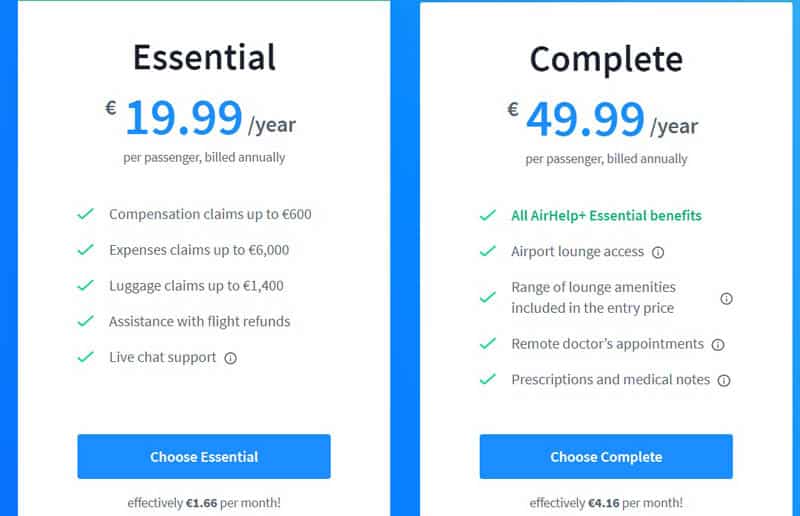 How do I pay for insurance with Air Help?
How to pay for the service airhelp.com depends on the method of receiving services:
Payment for services. Clients pay for the company's services if the service staff managed to get compensation. In this case, the company withholds 35% from the amount of compensation received. If there was a need for a professional lawyer during the court hearing, the client in case of winning in the court shall be additionally charged 15% of the amount of compensation to pay for the court proceedings. The balance of money is transferred to the user to the account specified in the application.
Subscription payment. Subscription payment is available by Visa and Mastercard. The subscription is paid annually by debiting the user's card. You can cancel your subscription in your personal cabinet before the current paid period expires. To pay for the subscription, select a subscription plan and proceed to the purchase. Fill in your bank card details and confirm the payment.
Air Help Bonuses
AirHelp offers users discounts, an affiliate program and a referral program.
Discount of 10 euros
When you buy an Essential subscription, get a discount of 10 euros. The offer is limited, buy a subscription for 19.99 euros.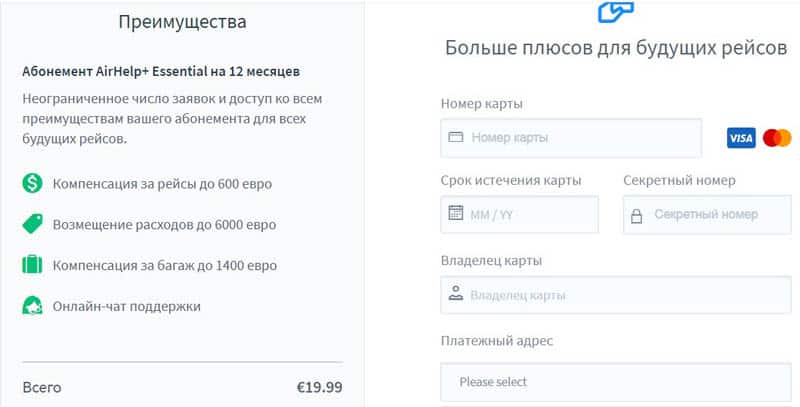 Referral program
Sign up at airhelp.com, copy the referral link and share it with your friends. For each invited friend who signs up to receive compensation, you will receive a reward of 10 euros.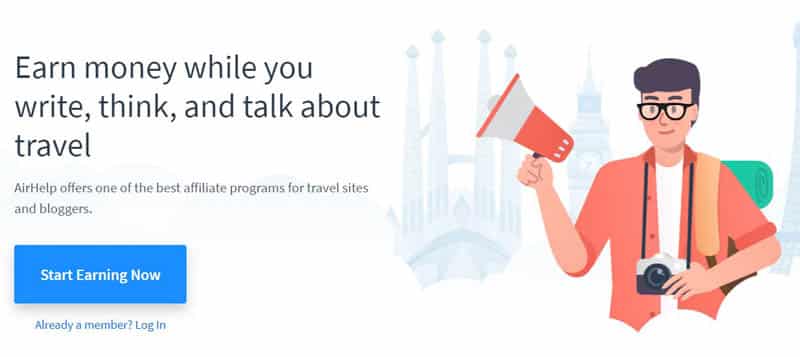 Affiliate Program
Join an affiliate program from a CPA service Travelpayouts you can go to airhelp.com. Register as an affiliate, get an affiliate link and place it on your website, blog or social media page. For attracting traffic, partners of the service receive an affiliate commission (13.5% of the amount of compensation), and additional bonuses for traffic volume.
AirHelp reviews
Analyzing the reviews of the AirHelp service, we realized that the company is not popular . On feedback sites there are few reviews of the service, and 90% of them are negative. In them users write that they did not manage to get compensation and had difficulties with feedback. On English-language reviews of the company are many and 90% of them are positive. Most users write about receiving compensation, although they note the long processing time. Based on our analysis of the reviews, we rate the company's work at 9 out of 10.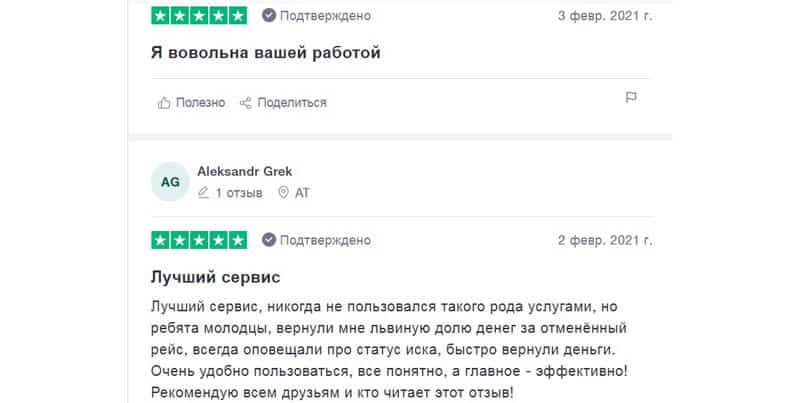 If there are any reviews about Air Help, we'll be sure to post them on social media. Sign up so you don't miss anything!
Please keep yourself informed about news and complaints. We copy the most valuable information to social networks, so please sign up!
Regulation and Licensing
AirHelp Germany GmbH is officially registered in Germany at Boxhagener Straße 18, 10245 Berlin, Germany. The company is an intermediary between passengers and airlines and offers passengers assistance in obtaining compensation for problematic flights.
Air Help's license and regulator
We were not able to check AirHelp Germany GmbH and find out about its licenses. Given that the company is registered in Germany, its activities are regulated by the authorized bodies of that country, as well as by EU legislation.
Customer Service
AirHelp support speaks 16 languages. You can get in touch with the support team via the website chat or the feedback form. You can also write a letter to the company's email. Telephone support is available in English. Service users can find relevant information about the service and terms of service on the appropriate pages of the platform. If you do not find an answer to your question, contact support. When checking the flight, the user gets a personal consultant who will determine the amount of possible compensation and tell how the issue with the airline will be resolved. The status of the request and the decision on it are available in the personal cabinet.
User Agreement
The service's user agreement is called the Terms and Conditions. By accepting the terms of service and applying for compensation on the platform, the user transfers to the company the rights and authority to receive payment from the airline. While working to receive compensation, AirHelp does not accept vouchers or other offers from airlines, other than cash compensation, as payment, unless the chances of receiving the payment are deemed low by the company staff.

At the request of the company, the user is obliged to provide full information about himself, the flight and other passengers. The user guarantees the accuracy and completeness of the data, as well as the consent of other passengers to provide their data. The user undertakes to indemnify the company for damages that may arise due to the provision of incorrect data, fraud or claims from third parties. In case of discrepancies in the information in the agreements published in different languages, the English version shall prevail.

Is AirHelp a scam?
Platform AirHelp offers assistance to airline passengers from all over the world. The company has offices in 30 countries and employs professional lawyers to help you get compensation if your flight is delayed, cancelled, overbooked, or your luggage is lost. To find out if you are entitled to compensation, fill in the form on the website, stating the details and date of your flight. If you are eligible, our staff will help you write your claim and obtain reimbursement and compensation from the carrier.
Having evaluated the platform, information about the company and analyzed user reviews, we came to the conclusion that AirHelp is not a scam. Unfortunately, the company is not always able to get compensation, and the time of proceedings can drag on for several months. But not getting paid, you do not have to pay anything, because here the payment is only by the result.
Conclusion
Flight disruption, cancellation or delay, overbooking and lost luggage are not uncommon. Even the largest airlines often encounter such problems, but none of them wants to pay compensation to passengers. More often than not, the passenger is offered a voucher and paid for hotel and meals. By taking such compensation you forfeit the right to receive a cash payment, which can be up to 600 euros for a disrupted flight. AirHelp advises against taking vouchers and signing waivers, because payment can be received for three years after the incident.
If you have had problems with flight delays and cancellations, find out if you are entitled to compensation, and if so, trust AirHelp staff to get it, because it will be free for you, the service only takes payment when the compensation is paid. Everyone can get not only help in getting compensation on the platform, but also a stable additional income. Participate in a referral or affiliate program, invite new users to the site and get rewarded for each application for compensation.
No reviews yet. Be the first!