An innovative earning program developed by the creators of the Telegram messenger for automated cryptocurrency trading.
Cryptocurrency robot
Website
Date of foundation

2019

Languages

Russian

Bonuses
Minimum input limit
Exchange Commission
Age restrictions
Free Demo Account
Types of accounts
Methods of replenishment

Bank card, Electronic wallets

Withdrawal methods

Bank card, Electronic wallets

Account currencies

USD

Mobile applications
Trader training
A way to store cryptocurrencies
Fiat accounts
Scalping
Exchangeability for fiat currencies
Margin Trading
Extended AML verification
Basic verification
Stop Loss and Take Profit Function
Affiliate Program
API
Benefits

Fast, secure, flexible and efficient blockchain platform

Convenient work with smart contracts

Disadvantages

A lot of negative feedback

Trading signals

Accurate signals to enter the trade

Overall assessment
Date of update

20.04.2022
Gram is it a scam? Reviews and description
Gram
- is an innovative earning program developed by the creators of the Telegram messenger. Using this system, it is possible to earn on autopilot without any hesitation. The developers of gram-appl.com call their product effective, because with its help each project participant can quickly "make a fortune.
"Gram" is a new automatic cryptocurrency trading. Its creators promise quick use of the system's resources and guaranteed passive income. But is it really so and can this site be trusted? Or Gram is just another scammer who is only interested in users' money? Let's answer these questions in our detailed review!
Gram Registration
The registration process takes literally 2 minutes. To register a free account, you need to enter the following data:
After that, click on the "I want to access Gram" button. In the window that appears, enter the password, it should consist of 8-12 characters and contain at least one digit and a capital letter. Then write your cell phone number. That's the registration! Now you just have to wait until the manager calls you and assigns you a personal adviser and gives you access to the Client's Profile.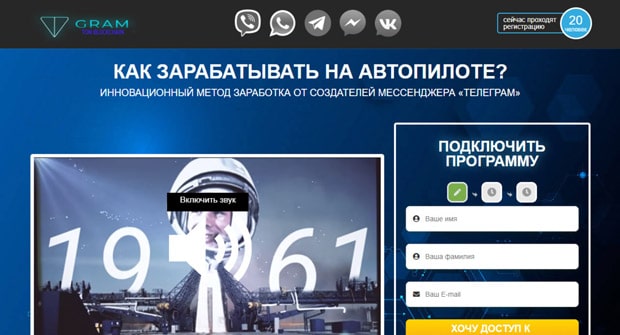 Once all of the above steps have been completed, you can make an initial deposit on the program-compatible "Official Trading Exchange. After that, you can relax and watch the profits gradually grow. Usually 30-40 minutes is enough to check that everything goes as it should (How to make money on cryptocurrency?).
Gram trading platform
On the main page of the portal gram-appl.com we see the inscription "Gram TON Blockchain" and a list of messengers. This may seem strange at first, but if we dig deeper, everything becomes clear. The fact is that Gram is a cryptocurrency and TON (Telegram Open Network) is a blockchain platform. The automatic system itself for cryptocurrency trading called Gram was created by the developers of the messengers Telegram and VKontakte, Nikolai and Pavel Durov. And the messengers Viber and WhatsApp are represented on the site because the creators of these systems collaborate with the developers of gram-appl.com. Their partnership is to advertise each other's services. That is, the creators of Viber and WhatsApp publish information about Gram through their applications, and vice versa. As we can see, the Gram portal has detailed information about what Viber and WhatsApp are and what services they offer to users.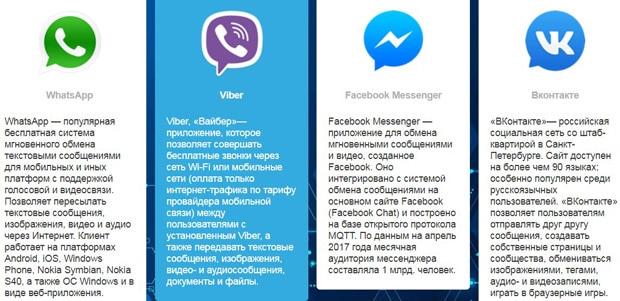 The TON blockchain platform is scalable. It is fast, secure, flexible and efficient. Its main advantage is the high transaction speed. While Bitcoin can provide only 7 transactions per second for all users, and Ethereum 15, the Gram platform has the speed of millions of transactions per second. This allows users to work much more confident and comfortable. In fact, Gram could become a crypto-analogue to Visa and Mastercard. Robot for cryptocurrency trading gram-appl.com works like this:
buys tokens as part of the sale;
transfers tokens to the exchange;
The rate of Gram begins to rise on the exchange;
sells tokens at a bargain price and locks in a profit.
All of these actions are performed by the automated Gram system for the user. In addition to the high speed of transactions, let us highlight the features of the Gram blockchain platform:
convenient work with smart contracts;
complete independence from outside influence;
abandonment of mining in favor of "validators.
As we know, the operation of any cryptocurrency is based on a particular blockchain. However, TON cannot be called a blockchain. Rather, it is a superstructure or a decentralized supercomputer with auxiliary components. The platform gram-appl.com is designed to allow the average person to make money from the cryptocurrency boom. This system for automated cryptocurrency trading features efficient software based on machine learning and advanced artificial intelligence algorithms.
Thanks to this it is possible to predict exactly at what moment the rate will fall or rise. Based on this data, Gram automatically sells or buys cryptocurrencies. Moreover, the "system" contract trading lasts around the clock. To start working with the Gram trading platform, you need to make a deposit of $250 or more. After that the auto-trading algorithm will automatically start working. Using a combination of data and machine learning, it will determine the ideal time to buy a cryptocurrency at a low price and sell it at a high price. With this approach, the user's profit is guaranteed.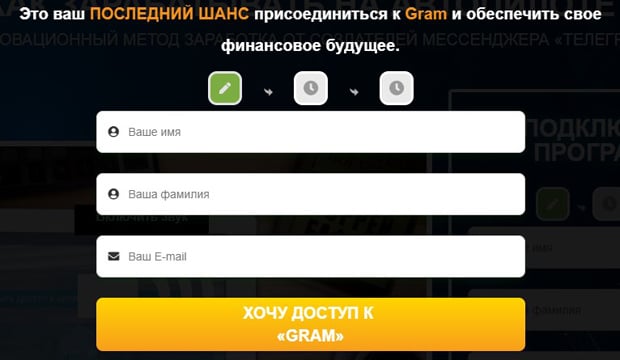 Signals gram-appl.com
Judging by the feedback from the project participants, Gram trading signals can be considered accurate for entering a deal. However, we did not find any information about the providers of these trading signals on the company's website or on other thematic resources.
Gram demo account
Before moving on to real trading in "system" contracts, you can learn how to trade on a training platform for beginners. Already on the first day of trading cryptocurrencies on a demo account you can understand the basics of working with the "Gram" robot and start trading for real money. Many of the company's clients were able to quickly get to grips with the automated system and what steps to take to make money. One of the participants claims that she managed to earn her first $147.95 in one hour on the first day (cryptocurrency trading training)!
Mobile application
Gram is a web interface, so you don't have to download a mobile app to your device. You only need a computer, smartphone or tablet with Internet access to start working with this robot. No special skills or experience with cryptocurrency is required from the user, because the software and the help of a personal advisor will guarantee an income. When downloading apps from Google Play or the App Store, exchange players often encounter problems. So it's probably for the best that the creators of gram-appl.com haven't developed a mobile app. Although we wouldn't be surprised if one day it appears on the market.
Bonuses from gram-appl.com robot
The gram-appl.com portal does not provide information about bonus programs. However, it is opened to the user after registration. A Gram client receives additional funds, which are given to him to increase his trading potential. The amount by which the balance is automatically replenished depends on the value of the initial deposit. For example, if you deposit $ 250 to your trading account, you will get $30 as a gift. If you deposit $500, you will receive a bonus of $200, and $1000 - $450. Moreover, the bonus does not limit the withdrawal of funds in any way.
Deposit and withdrawal
You can replenish the deposit via bank card or e-wallet. The following transfer systems are available:
Visa;
QIWI;
Mobile Commerce.
You can withdraw funds to any card. To do this, go to "Withdraw" on gram-appl.com, choose the desired account and payment system, specify the amount and click on "Withdraw".
Complaints about Gram
We found a lot of reviews about the platform on the web gram-appl.com. But strange as it may seem, they are mostly positive. Many users write that at first they did not believe in such a simple way to earn money, but on the first day they managed to make good money. And they were very pleasantly surprised. One of Gram's clients says that at first she thought it might be cheating and the creators of the project would come up with some excuse to return the money to themselves. But still she managed to withdraw the money to her bank card.
Some people are skeptical. Part of this audience leaves comments like "hmmm, really?!?" or "Of course...". Whereas the most common comments online are, "I saw it on the news. They're just crazy, giving people this opportunity!?!? I'm signing up right now, I think these positions will be filled very quickly!" By the way, there are only 37 spots available right now. That is how many more people can register on the Gram site.
But, of course, it is not without negativity, either. Users write that they believe the whiny stories of mothers with many children abandoned by their husbands and women who have been cheated on by their husbands. Those, in turn, say that after incredible hardships in life, they suddenly started cryptocurrency trading and became very rich. However, the expectations of those who read these stories were not met, they did not manage to become millionaires in a couple of days. And if you carefully read the terms and conditions on the portal gram-appl.comIt becomes clear that transactions are not always closed in the plus. Therefore, the income of all participants in the project can vary greatly. Some receive $ 1000 per hour, others - a day, etc.
If there are any reviews about Gram cryptocurrency trading robot, we will definitely publish the information in social networks. Sign up so you don't miss anything!
Please keep yourself informed about news and complaints. We copy the most valuable information to social networks, so please sign up!
Robot controller "Gram"
The activity of Gram is not regulated in any way at the legislative level. That is, the company has no license which gives the right to carry out financial operations. Perhaps, this is due to the fact that gram-appl.com is not engaged in consulting on investment issues. If you want to trade cryptocurrency using a robot, keep in mind that the risks here are high. Some traders lose their funds not partially, but even completely. Therefore, be sure to study all the terms and conditions of the service before you register and even more so before you make a deposit.
Also note that the law prohibits persuading U.S. citizens to buy or sell cryptocurrency through Gramm, even if the transactions are called "predictive. The only exceptions are if they are legally exempt or registered to trade and applied on an exchange under the jurisdiction of the CFTC.
Gram-appl.com User Agreement
There are 3 documents available at gram-appl.com:
"Privacy Policy."
"Terms of Use."
"Government Waiver.
That is, there is no "agreement" as such. Instead, a disclaimer of liability is presented by the company "Gram". In this document it is written that the creators of the project are not responsible for any damage that may be caused to the user by the use of the information presented on the portal gram-appl.com. Here we are also warned that we should seek help from a specialized specialist (a lawyer, an accountant, etc.) if we do not have the necessary knowledge of cryptocurrency trading:

It is also stipulated in the "refusal" that within 60 days the user can get his money back if he suddenly changes his mind about cooperating with Gram. The refund request is usually processed within 24 hours:
Is the Gram cryptocurrency trading robot a scam?
Personally, we have a double opinion of the project "Gram.". We can't call it a scam or a fraud. But we can't assure you that you will earn $1,000 per hour on this site either. Gram has a permanent registration address: 1000 5th St., Suite 200 Miami Beach, FL 33139. But there are no contacts to contact us. The manager of the company can call us, but we can't. So if I have any questions, I have to write a letter and send it by Russian post overseas? Or wait for the manager to call us, who may not call us again?
They write a lot of good things about the company Gram - about how easy it is to work with this platform and earn large sums of money. However, the company does not have a license for financial activity, which scares away skeptical citizens. We believe that the choice is yours: to register at Gram or not.
Conclusion
Gram - is a novelty in cryptocurrency trading based on a blockchain platform, so we can't make any specific conclusions with certainty. If you have financial possibilities and desire, you can register at gram-appl.com, deposit your trading account on this platform and try out the automated system personally. We would like to remind you that the risks in online trading are high, so always be careful with the documents on the portal of the company you're going to work with.
Rating of reliable brokers