Decentralized cryptocurrency exchanges: rating, parameters and features
Decentralized cryptocurrency exchanges provide cryptocurrency exchange, with coins not stored in the exchange accounts. DEX - a decentralized exchange - acts only as an exchange platform, funds remain in the wallets of users. Decentralized exchanges charge transaction fees.
DEX vs CEX
The principle of DEX and CEX is the same - users exchange cryptocurrencies on a specialized technological platform. The difference between decentralized and centralized exchanges is not in principle, but in functionalities. A centralized exchange in terms of functionality is almost a bank, it provides a range of financial services. It provides protection of client funds, but also requires verification.
Top 5 best cryptocurrency exchanges
What is a decentralized cryptocurrency exchange? It is a platform cryptocurrency exchangewhich does not provide storing of fundsbut immediately exchanged between wallets by means of smart contracts. DEX may not even have an orderbook, the functionality may be limited to AMM (automated market maker). DEX's liquidity pool is created by users themselves, the cryptocurrency rate is determined by supply and demand, and the exchange of funds is based on that.
The advantage of decentralized exchanges is simplicity, speed and anonymity of transactions. Among DEX there are many new cryptocurrency exchanges in 2021 that have gained particular popularity. Not all of these cryptocurrency exchanges are translated into Russian. Decentralized cryptocurrency exchanges list is not large yet, it is a relatively new phenomenon in the crypto industry. But the best decentralized cryptocurrency exchanges have already been identified.
DEX top
Uniswap
Uniswap (go online) is probably the largest crypto exchange among decentralized ones, with the largest trading volume among them. It is designed for transactions with ETH and ERC-20 protocol tokens. The exchange of funds is carried out in the market-matching mode, without the order book. The liquidity pool is created by users, prices are determined by an algorithm, all bidders are interested in a favorable exchange rate for a particular asset, and, in turn, stimulates the influx of new liquidity providers - LPs - to the platform. Cryptocurrency exchange without verification and even without registration. But to use the services of the DEX platform, you need to install a wallet in your browser, through which the user can connect to it and carry out transactions with the funds.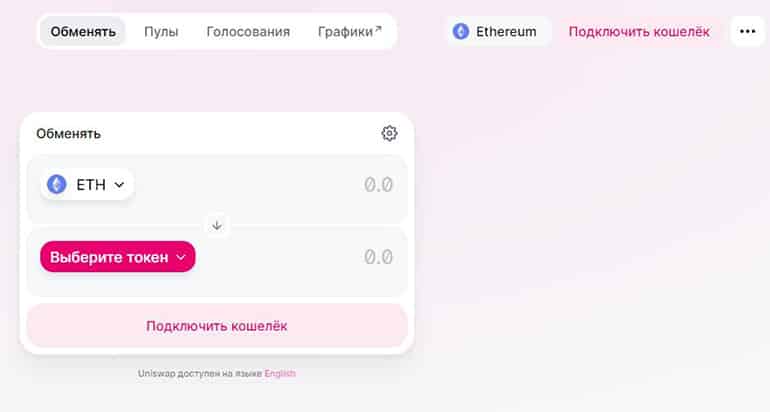 Image. 1
It is believed that the most appropriate for this DEX is the wallet MetaMask (online). The funds exchange service (Fig. 1) is extremely simple, as is the exchange process: the user selects the coin he plans to exchange and the coin he would like to exchange it for. The exchange of funds is instant. The commission of the platform is 0.3%, there is a network fee.
SushiSwap
SushiSwap is a project of Uniswap crypto-platform, the focus is the same, working principle is the same, but with more extended financial functionality. So, on SushiSwap there are such financial tools as banding, stacking, crediting. At SushiSwap you can become a liquidity provider by holding funds in your account. This DEX has a cryptofarming service, which is a service where the user gets passive income from the tokens they send to the farm for use.
Another method of passive income is stacking via Proof-Of-Stake protocol. Lending is a way to make money, analogous to lending - the user borrows cryptocurrency funds and pays it back with interest. Since exchanger anonymous, its functionality can be accessed without verification, the guarantor of the transaction is the platform SushiSwap itself.
Aave
Another decentralized cryptocurrency exchange from the top list (Fig. 2), is a specialized credit platform for ERC-20 protocol tokens. The DEX pool is formed by users from the cryptocurrencies they invest. Those wishing to use funds from the pool can pledge other cryptocurrencies. Lending is not done on individual terms, but on general terms and is managed by smart contracts. The idea is that users can exchange their cryptocurrency funds for the ones they need without actually selling their assets.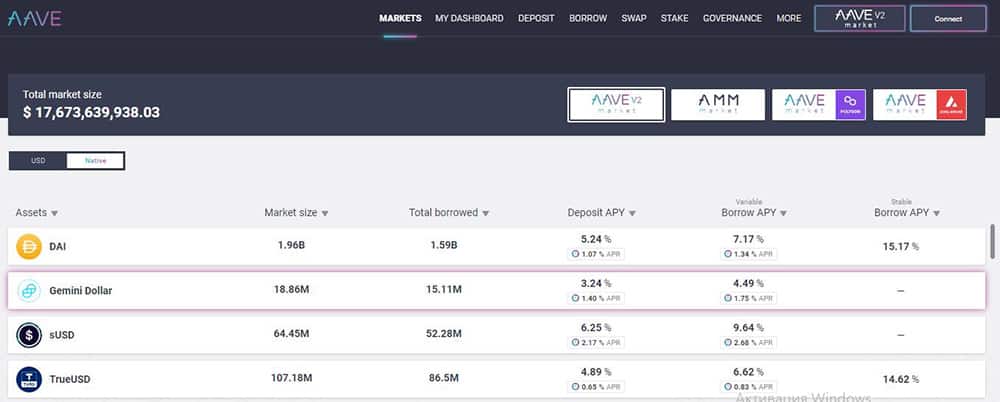 Image. 2
Simplified, a credit pool works as follows: users create liquidity by depositing cryptocurrency funds into the pool. Other users can use these funds by pledging others. All transactions are managed by smart contracts. Loans are not individually matched - there are the same terms for everyone, which are adjusted depending on the current state of the pool. But for each token, there is a specific collateral amount, interest rate, penalties and more. Lending on the Aave platform is not for market newbies, you need to be very familiar with the specifics of DeFi. The choice of exchangeable funds is small, the fee is 0.3%.
Compound
DEX project (dApp) for the banding and lending on the protocol Ethereum. Like most decentralized projects, Compound supports ERC-20 tokens. The exchange works by means of smart contracts, which set the terms of credit. The main feature of the project that distinguishes it from other DEXs is the remuneration system. It does not depend on the commissions on the platform, but is formed as the difference between the rate of cTokens (these are CEther and CErc20 tokens) and the base token, and the remuneration is not divided evenly between participants, but depends on the volume of the user's deposit.
DEX has no exchange interface, to take advantage of its features, you need to connect through a wallet - an account will be automatically created. Compound - for advanced enthusiasts of DeFi (decentralized finance industry), so before using it, you need to learn all its nuances. But in any case, it is important to know that on the project, if the credit limit will be exhausted by 80%, 50% funds will be deducted from it "in arrears".
Balancer
Decentralized Exchange (Figure 3), an automated market maker, also for ERC20-tokens. DEX is a system of pools - general, private and others, which differ in parameters and control features.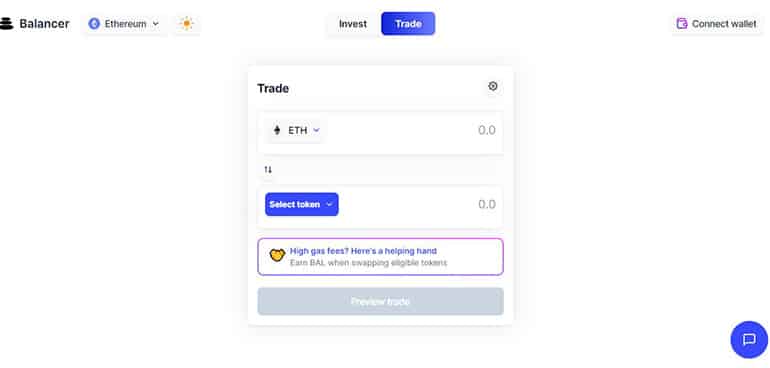 Image. 3
Within Balancer, there are different types of pools (private, shared, smart pools). A private pool is owned by a single owner, who contributes liquidity and controls pool parameters. In a shared pool, its creator has the same rights as participants, parameters - tokens, commissions - are constant, transactions are provided by internal BPT (Balancer Pool Token) system. A smart pool is controlled by a smart contract, parameters vary depending on liquidity and other pool parameters. Commissions in pools are different for each pool.
Curve
The top decentralized cryptocurrency exchanges include Curve - a decentralized platform for transactions with steiblocks, an automatic market maker, and supports four blockchain - Ethereum, Polygon, Fantom and xDAI Chain. Transactions are secured with Curve DAO tokens or CRVs. In addition to exchanges, Curve offers lending - with the integration of the Compound platform and yearn. finance. Curve also supports stacking via the Proof-of-Voiting protocol: in this algorithm, the reward is higher the more CRV tokens a user has.
Image. 4
Curve's Smart Contact aims for users to strive to maintain pool balance, without overspending. To do this, the protocol increases the annual rate when the limits are exceeded. This is done to keep the price of cryptocurrency funds down. Nevertheless, interest rates depend on the balance of supply and demand - the current rates are indicated on the main page of the site (Figure 4). Other pools are incentivized with additional compensation, to whoever supplies liquidity to them.
JustSwap
JustSwap (Figure 5) is a decentralized cryptocurrency exchange that supports tokens on the Tron blockchain - TRC-20. The Tron blockchain is said to be faster than the Etherium blockchain, and there are fewer commissions. But TRC20 holders who want to trade in DeFee mode have no choice - JustSwap is an alternative-free exchanger for them. It's a standard automated market maker, with its own token - JST, and since JustSwap operates on the Tron blockchain, the user needs TRX tokens to pay commissions online. There are no commissions for deposits and withdrawals on this platform, nor are there any restrictions. There is a commission on exchange transactions, out of which the liquidity providers are paid.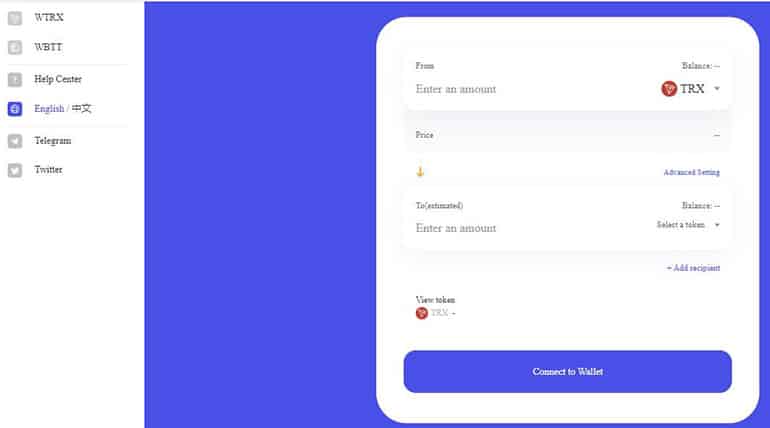 Image. 5
There are tools for earning tools through stacking and farming. The earnings of pool providers depend on how much money they contribute to the pool. Since the exchanger works in the network TRON, only TronLink Wallet is available for trading, as a Google Chrome extension. Through it and need to connect.
Binance Dex
Centralized exchange Binance (go online), which creates new projects in all areas of the crypto industry, could not pass by a decentralized exchanger and made such an exchange. Binance Dex is a decentralized version of the centralized exchange on the blockchain Binance Chain. DEX is also a wallet, which is a significant difference from other decentralized platforms. To work on the decentralized service Binance, you do not need registration, it is enough to have BNB-wallet. The clear advantage of Binance over other decentralized platforms is that it has a testnet - a test service where you can practice trading without investing real money. The cryptocurrency exchange site has instructions on its DeFi page - and you have to use it. Thus, Binance is certainly in the list of the best cryptocurrency decentralized exchanges, as well as in the ranking of centralized exchanges.
How to choose DEX
The advantage of DEX projects is anonymity and speed of transactions. But there are also disadvantages, for example, to benefit from DEX you need to be well versed in the cryptocurrency industry, or the fact that there is no demo account on the cryptocurrency exchange. The decentralized exchange is more likely to be used by professional crypto-enthusiasts, while the centralized platforms are aimed at attracting beginners and provide training and materials. Centralized exchanges take care of many complex things, so a beginner can work on them, the safest cryptocurrency exchanges are also centralized.
In this aspect, decentralized exchanges can be dangerous, there are even decentralized cryptocurrency exchanges providing free listings - that is, as tokens there can be anything, which is excluded on a centralized platform. Not all decentralized cryptocurrency exchanges are translated into Russian, and often are not translated at all, working exclusively in English. Centralized platforms, especially from the top lists are translated into many languages, though often not completely and crookedly.
If any cryptocurrency has low liquidity, there is no way to exchange it profitably, unlike a decentralized platform. On the other hand, the centralized platform requires not only registration, but often full verification to perform even the simplest transactions. But a centralized platform presents as many features as decentralized projects cannot yet offer. But centralized projects can not provide the same degree of democracy as DEX. But, if there is a need to choose a decentralized cryptocurrency exchange, it is necessary to proceed from such basic criteria:
availability of the right coins and trading pairs;
high liquidity;
Security - check if the exchanger has been audited by a third party;
amount of commissions;
acceptable purses.
In the cryptocurrency community, you can see something like a war between supporters of decentralized and centralized platforms, sometimes involving well-known industry personalities who describe centralized projects very negatively. But experienced users know how to work profitably on both DEX and centralized platforms. At the end of the day, both are just infrastructure for making money, the degree of centralization is not the main thing here. You can find a lot of lists of decentralized cryptocurrency exchanges on the Internet, but all of them will be about the same as in this rating, plus two or three more.