Hotel booking service with an extensive database of partners will help you quickly and profitably find accommodation in any country at bargain prices.
The company
Website
Social media
Date of foundation

2013

Head Office

Hong Kong, Chinachem Tower, 34-37 Connaught Road Central, Room 1504, 15/F

The owner of the company
Types of support

Personal Cabinet

Mobile application

Languages

English, Russian

Company Services

Hotel Reservations, Refunds, Hotel Search

Project Features

Hotellook provides a consolidated view of more than 700,000 hotels in 205 countries, working with data from more than 67 online booking systems

Adjustable
Regulators

Hong Kong Special Administrative Region

Licenses
Mobile applications
Mode of operation of the company
Availability of online payment
Personal account

Personal cabinet stores order history and personal data

The need to register on the site
Benefits

A wide selection of hotels with guaranteed quality service

No commissions or hidden fees

Discounts and Affiliate Program

Affiliate Program
Company requisites

Legal name:

Go Travel Un Limited

Legal address:

Hong Kong, Chinachem Tower, 34-37 Connaught Road Central, Room 1504, 15/F

Date of update

12.09.2022

Overall assessment
Address
Gonkong, CHinachem Tauer, 34-37 Konnaut Road Sentral, pomeshtenie 1504, 15/F
Map
Subscribe to this company
Hotellook is it a scam? Reviews and description
Service
Hotellook
is created so that you can fully plan your trip, staying on the same portal. Promotions and discounts from the company and its partners will allow you to find the best deals, and then you can choose your favorite hotel. Via
hotel booking service
You can even buy tickets for Aeroexpress, order airport transfers or buy railway tickets, as well as tickets for regular and intercity buses. There are many ways to pay for your order, and clients of partner banks can get an interest-free installment plan when paying by card.
With Hotellook you can be sure that you will not overpay for the booking service. On the contrary, thanks to the mutually beneficial terms of cooperation with hotels, the price is often even slightly lower than on the official site. The website hotellook.ru promises early booking discounts and lots of attractive offers from partners, which should make your trip unforgettable. But is it true? Let's see what can surprise us Hotellook, and whether this service is not a fraud?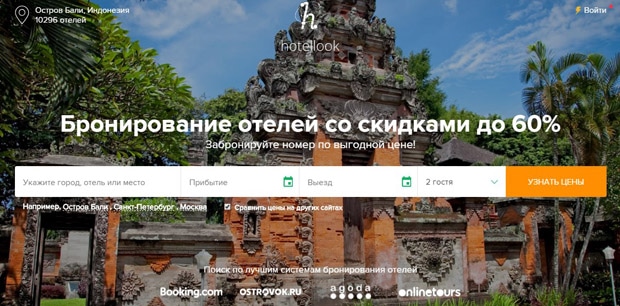 Why Hotellook
The Hotellook hotel chain is a single standard of quality service. Choosing Hotellook, you guarantee yourself a huge selection of hotels, apartments, hostels around the world. On the site hotellook.ru. You can find over a million options even in the most remote and exotic corners of the world. It is possible to book a suitable room in Prague, Paris and other popular European and Russian cities, or find a secluded bungalow on an exotic island. Hotellook offers its customers complete freedom of movement. If you use services of Hotellook booking service, all information is saved in your personal cabinet, and all you have to do is to choose a city and a room. Company benefits:
All prices + discounts: Hotellook compares hotel prices from 70 hotel booking agencies in one place.
Several payment options for the booked room.
Advantageous cancellation conditions - if the trip is suddenly cancelled, you will not suffer financially.
Large affiliate network and you can get additional bonuses from partners of the company.
Constantly updated, lucrative specials.
Hotellook works without hidden fees. The service shows you the final hotel price. No additional taxes or hidden fees. You can learn more about this and other benefits of the service, as well as get advice on any issue, assistance with reserving a room and check-in, from our 24/7 support staff. Hotel prices are constantly changing. You can subscribe to change the price of the desired hotel. Hotellook is an affordable and advantageous way to book hotels around the world.
How do I sign up for Hotelluk?
In order to start your journey, you must first register on the website hotellook.ru.. Registration should not take more than ten minutes. To do this, you need to click on the "Login" button in the upper right corner of the page and select the registration method - through your convenient social media account. Plus, by logging into your personal account, you get access to personal discounts.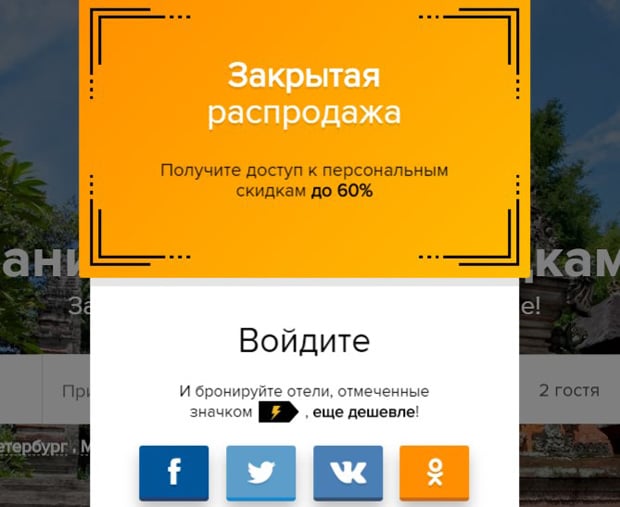 My Account Hotellook
In a personal cabinet service saves all of your information about current, past and future bookings, personal data necessary for booking and payment and information about your participation in the system of promo codes.
Mobile application
The hotel reservation service has a free app that can be downloaded from the App Store, Google Play or the Windows Store. The interface of the app is no more complicated than on the website.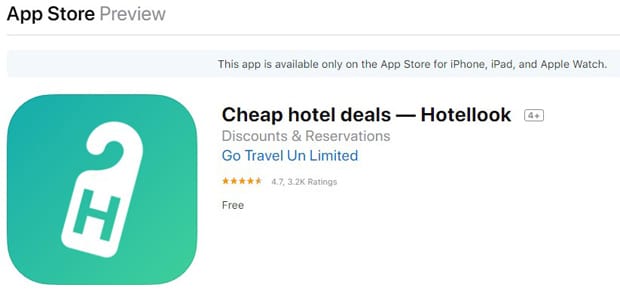 How to book a hotel on the site hotellook.ru?
You can book any hotel from the website using the online booking form in a few minutes. To do this, select a hotel in the city of interest and click "Check Rates".
How to book a hotel?
Even if you are not yet registered on the site hotellook.ru.The booking process should not take much time. All you need to do is choose a hotel, set a date range, select a room and book by entering the data in the appropriate fields. If you already have a personal account, your data is already saved. You just need to select the city, hotel, dates, and more. If you book a room in advance, there will be a discount when you book.
Confirmation of reservation
After selecting a room and entering all data, you must click "Book" and read the terms and conditions. Please note that an unpaid or overdue reservation can be canceled. Confirmation will come to your email.
Cancellation of a hotel reservation
Cancellation of hotel reservations is possible in accordance with the rules set by the hotel administration. In most cases, cancellation of accommodation is possible even a day before arrival. However, it is very important to study all booking conditions at the stage of choosing a hotel and room, as inexpensive hotels charge cancellation fees or fines equal to the hotel accommodation cost per 1 day in foreign currency equivalent at the rate on the day of processing the return.
If the room has already been paid for, but you need to cancel it, you have two options. The amount may be refunded in full or a certain percentage may be deducted from the card - it depends on the conditions of the hotel or the booking system website. It also depends on the category of the room: cancellations at a five-star hotel may also incur penalties. It is possible to cancel reservations online at the reservation system website. If you find in your profile confirmation of the hotel room reservation, there is also a menu item "Cancellation of room". By clicking this button, you can send the site administration information that the selected hotel was cancelled. If you paid for the room, but did not come, the money is not refunded.
Commission for Hotellook services
The Hotellook service does not charge a commission for booking any services. Moreover, when you pay for services on hotellook.ru, you can get additional discounts and participate in promotions that are not available when ordering at the cashier of a particular hotel.
Additional features of hotellook.ru
Hotellook is designed for convenience and time saving. In less than a minute, the booking service will check prices according to the parameters you set by 70 agencies and official booking sites. You will find detailed hotel descriptions, ratings, room pictures, guest reviews, and other information. If you are planning a business trip, use the special filter and find accommodation near the conference hall or the right office.
Payment for the hotel on the website of Hotelluk
Hotel reservations on Hotellook.ru can be paid by Visa, Amex or MasterCard. You can pay in advance or, if the offer is preferential and the amount will be lower with an online payment, you can pay the entire booking in advance.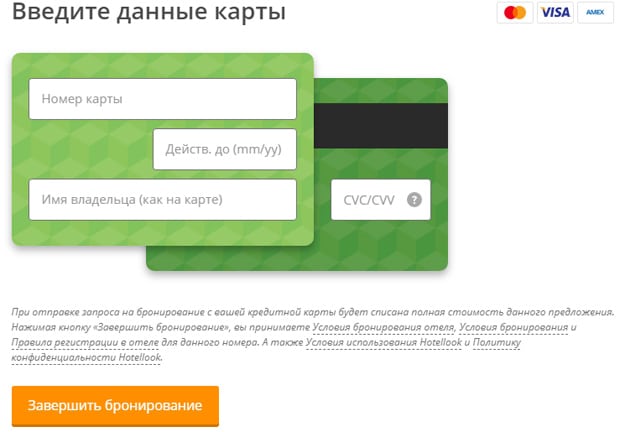 How do I pay for my hotel online?
When booking a room you will need to enter your bank card details and then follow the instructions of the system.
Hotellook bonuses
Hotellook does not have its own bonus system, but sometimes they work with promo codes.
Referral program
Hotel service invites partners to cooperation and offers earnings on referral system ePN. This can be quite a good additional income, especially if your Internet resources are visited by a lot of people.

Complaints about Hotelluk
Reviews are mostly positive. Guests praise service, room cleanliness and other services provided by the hotel chain. Negative reviews write about the hotels that were bought out and rebuilt, noting the positive and negative aspects of the stay. But there are no complaints about the booking and service itself. Customers are satisfied, they note that it is possible to get bonuses and discounts from partners and even from payment systems, for example, a discount for Visa cardholders when paying for rooms of certain categories.
If there are any reviews about the Hotellook hotel reservation service, we'll be sure to post them on social media. Sign up so you don't miss a thing!
Please keep yourself informed about news and complaints. We copy the most valuable information to social networks, so please sign up!
Hotellook's supervisory authorities
The rights to Hotellook hotel and hostel booking service are owned by Go Travel Un Limited, a company incorporated under the laws of the Hong Kong Special Administrative Region on 18 August 2011. Certificate of Incorporation No. 1658681, the office is located at Room 1504, 15/F, Chinachem Tower, 34-37 Connaught Road Central, Hong Kong
Hotellook.ru User Agreement
The following documents are available on the hotellook.ru website: "Hotellook's Terms of Use and Privacy Policy. Let's take a closer look at them.

The policy specifies how personal data is collected by the service. It also specifies when and how personal data of customers will be used and to whom, from transportation service providers to franchisees, the information may be shared.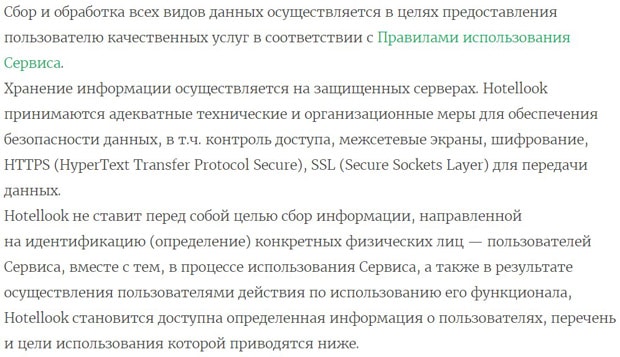 Please note that all data, even that collected through browsers and cookies, is protected, and if you do not want to receive ads, you can unsubscribe from advertising services.

According to the agreement, data stored on the servers of the hotel service Hotellook is secure. If you do not want any of your data to be stored on the service or to be used in any way, you can inform the company and it will be deleted.

Site security
The hotel reservation service Hotellook.ru is protected by a security certificate, and all transactions from bank cards are made through a special secure connection.
Customer Service
The support service is available 24 hours a day, 7 days a week. You can contact the support team by writing a letter to the email address indicated on the website
Is Hotellok a scam?
Hotellook - is a convenient online service that allows users to make their own hotel reservations around the world. Hotellook offers low prices and the best hotels on the planet. Hotels offer rooms at higher rates on their sites. Using Hotellook.ru, you will not pay a single ruble for an online reservation. Pay for your room at check-in or in advance. Our customer service is available 24/7, so you can reach out to a professional at any time for assistance.
Every Hotellook customer gets an opportunity to earn money by distributing services online. You can choose a hotel in Madrid, Tokyo, St. Petersburg or any other city in the world. Rest assured that Hotellook will help you save money. The company focuses on the cities that are most popular among tourists. The resource gives hotels a large number of customers, so the hotels offer the company low prices. Take advantage of online booking for a budget-friendly vacation!
Conclusion
Finding lodging is an important step in planning a trip. At the base Hotellook more than a million hotels, hostels, apartments, and ghettos. In addition to loyal prices, you'll have access to reviews from visitors who have already used the services of a given hotel. Compare and book the best deals on popular destinations and don't forget to see discounts.