BestRate is an aggregator of cryptocurrency exchanges and cryptocurrency gateway. The platform offers trading on the best crypto exchanges in one window and a number of tools for e-commerce.
Read completely
Cryptocurrency exchange
Official website
Social media
Date of foundation

2017

Head Office
Types of support
Languages

English,

Founder
The owner of the company
Manager
Minimum entry amount
Maximum input amount
Minimum withdrawal amount
Maximum withdrawal amount
Terminals

Author's platform

Age restrictions
Number of users
Number of cryptocurrencies
Number of trading instruments
Margin Trading
Tokenized assets
Free Demo Account

Demo account is available when subscribing to a paid plan

Types of accounts

Trader, E-commerce, Crypto-gateway

Methods of replenishment

Bank card (Visa/MC), Cryptocurrencies

Withdrawal methods

Cryptocurrencies

Account currencies

USD, EUR, Cryptocurrencies

Types of cryptocurrencies

ETH, EOS, BTC, NEO, Tron, etc.

Mobile applications
Trader training
A way to store cryptocurrencies
Fiat accounts
Scalping
Stop Loss and Take Profit Function
Exchangeability for fiat currencies

The exchange takes place during the bidding

Crypto-gateway

Accept payments in 120+ cryptocurrencies, USD and EUR when connecting cryptocurrency gateway

eCommerce

Cryptographic plugins for CMS for payment acceptance

Free access

Free 24-hour access for all newly registered users

30 days trial version

If you sign up for the paid plan, get a free demo for 30 days.

Fees

The platform offers 3 paid plans: Trader - $9.99/month, E-commerce - $39/month, Crypto-gateway - $199/month.

Basic verification
Extended AML verification

In some cases. Requires uploading an ID document, selfies with an ID document, proof of residency, proof of origin of deposited funds

Regulatory laws

International data protection law

Canadian law

API
Bonuses
Affiliate Program
Benefits

Fast transaction processing

Trading on several exchanges in one account

Wide range of cryptocurrencies

Disadvantages

No detailed legal information

Company requisites

Legal name:

BestRate LTD.

Legal address:

Delaware, USA

Overall assessment
Date of update

21.02.2023
Subscribe to this company
BestRate is this a scam? Reviews and description
BestRate
- a unique aggregator of cryptocurrency exchanges, as well as a cryptocurrency gateway. The platform offers trading on more than 100 crypto exchanges in one account. If a large amount of currency needs to be exchanged, the service offers trading bots and order routing services to get the most favorable rate.
The company offers a test period of 24 hours to test the features of the service. Also if you buy a paid subscription you will get 30 days of free use. In this review, let's take a closer look at the functionality of the cryptocurrency exchange and real user reviews to understand whether BestRate is a scam or a reliable service for cryptocurrency trading.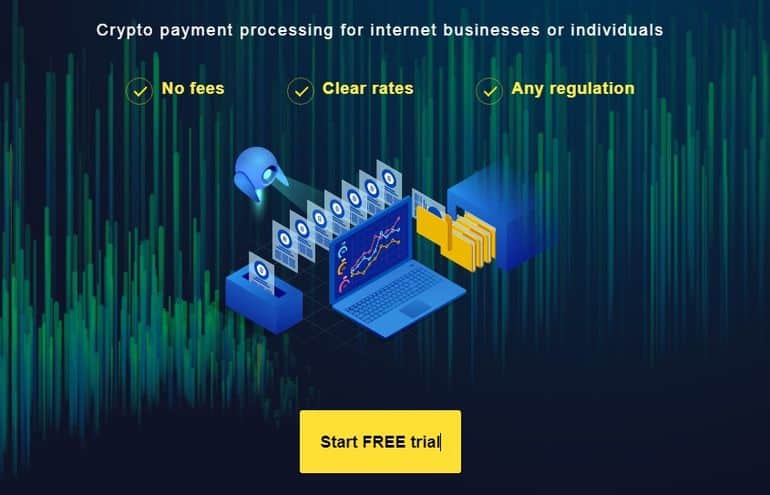 Why BestRate?
Platform for cryptocurrency trading BestRate - is a new format in cryptoprocessing. The company offers fast, secure processing of cryptopayments to individuals and legal entities. The platform offers effective tools for working with cryptocurrencies on the Internet:
Trading bots are cloud solutions to automate trading on the best cryptocurrency exchanges, including Binance, Bitfinex, BitFlyer, Coinbase, Kraken, Poloniex, Bittrex et al.
APIs for crypto-payments are solutions for online businesses to accept various cryptocurrencies for payment.
TokenSale Gateway is a cloud-based crypto-payment gateway for blockchain projects that allows you to automatically distribute tokens to end recipients.
Payout is a customizable payment page for getting paid for your products in cryptocurrency with automatic conversion. The product is designed for B2C and B2B businesses.
For private traders, the platform offers fast buy/sell of cryptocurrencies at the best rate. Thanks to the cooperation with large cryptocurrency exchangesThe trading bots determine the favorable rate for the client and make transactions automatically. If you register on the platform, you no longer need to analyze the offers of various cryptocurrency exchanges on your own. The trading bots will do that for you. You can also trade here in manual mode, choosing exchanges for trading yourself.

How to exchange cryptocurrency on BestRate platform?
Cryptocurrency exchange on the platform bestrate.org takes from 5 to 30 minutes. The exchange takes place at the most favorable exchange rate among the cryptocurrency exchanges that are partners of the service. To exchange, you need to place an order, specify the address of your cryptocurrency wallet, currency and the number of tokens to be exchanged. After creating the order, the trading bot will place it on the partner cryptocurrency exchanges and close the transaction at a favorable exchange rate.
Verification on the bestrate.org platform
For trading on the platform bestrate.org registration is required. To create an account, you need to provide an email address and come up with a strong password. After filling out the form, click the "Register" button. After creating your account, you need to confirm your email address, and you will get 24 hours of free use of the full functionality of the platform.
The next step to start trading is to connect an account with a cryptocurrency exchange. Connecting an account is necessary for safe, transparent trading. To connect your account, log into your personal cabinet and click "Add Exchange Account". Fill out the form. Here you need to choose a cryptocurrency exchange and specify your account details. The service does not require any additional account verification, just go through the KYC procedure at the exchanges you want to connect to your personal account. Read about the most reliable and voluminous crypto exchanges in this article.
In this case, if the service administration considers a transaction suspicious, the user may be asked to prove his identity. In this case, verification consists of providing the following data:
A scan of an identity document.
Selfies with an identity document.
Proof of residency.
Source of deposited funds.
Deposit and withdrawal
The platform does not store the user's money and does not create accounts within the system. To buy cryptocurrency, you need to select a buying coin and a selling currency. As soon as the platform receives the money, you will immediately receive the purchased coins on cryptocurrency walletThe exchange transaction takes 5 to 30 minutes. The exchange operation takes from 5 to 30 minutes.
Cryptoexchange Commission
BestRate does not charge any additional commissions. All commissions are paid according to the tariffs of the cryptocurrency where the exchange was made. Learn more about crypto exchanges' commissions here. To use the service fully, you need to select and pay for one of three subscriptions:
Trader. The subscription price is $9.99 per month. After entering the payment details you are entitled to 30 days of free use of the service. The tariff is suitable for traders who want to trade on several cryptocurrency exchanges simultaneously, as well as bloggers and freelancers to accept payments in cryptocurrency.
E-commerce. The subscription price is $39 per month. The tariff includes all Trader subscription features plus small business and e-commerce functionality to accept payments in online stores and mobile applications. The subscription includes a trial period of 30 days.
Crypto-gateway. The subscription price is $199 per month. The package includes all the functionality of the "E-Commerce" tariff plus special features for blockchain projects that want to distribute tokens to users via smart contracts and other technologies.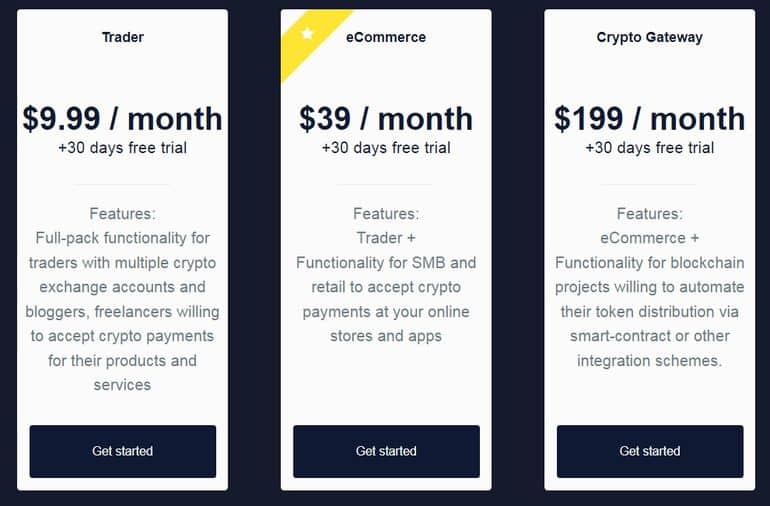 BestRate bonuses
Cryptocurrency exchange bestrate.org offers users bonuses and gifts. Register on the exchange and get a free period or reward through a referral program.
Free access
Each new registered user gets the opportunity to use the full functionality of the service for free for 24 hours. The free period will allow you to evaluate the capabilities of the platform and choose a suitable tariff for yourself.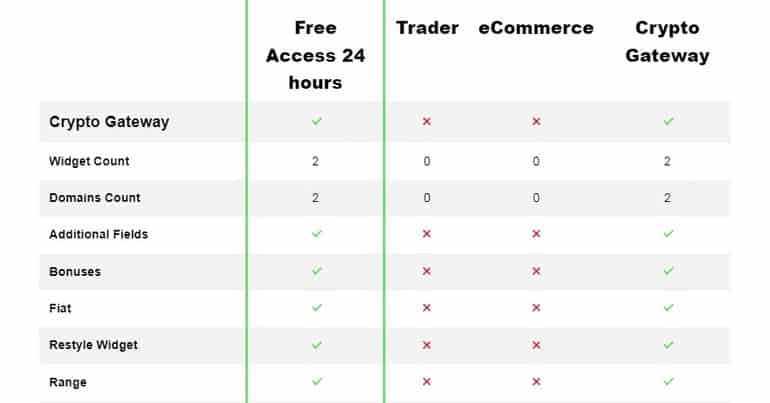 30 days as a gift
If you extend your subscription after the trial period expires, you get 30 days of free usage of the selected tariff as a gift. To get the gift you need to enter your credit/debit card details.debit card into the form. The service will not charge you until the gift period expires.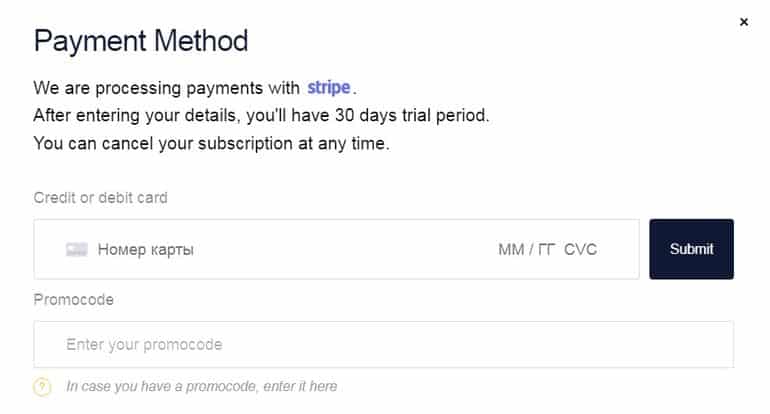 Referral program
After registering on BestRate cryptocurrency exchange website, you can join the referral program and invite new users. Referral reward is $5 for each new user.

Complaints about BestRate
Unfortunately, despite the rather long work of the project, we have not found any feedbacks about bestreit.org platform. In this regard, we can't assess the work of the crypto exchange. If you have experience in trading on this platform, write your opinion about it under this review.
If there are any complaints about BestRate, we'll be sure to post on social media. Sign up so you don't miss anything!
Please keep yourself informed about news and complaints. We copy the most valuable information to social networks, so please sign up!
Regulation of BestRate crypto exchange
A cryptocurrency exchange has a regulator - it is a guarantee of honest work and safety of clients' money. Let's consider whether BestRate has a regulator and what country's laws regulate the company's activity.
Regulator
Cryptocurrency exchange BestRate is operated by BestRate LTD. The website of the crypto exchange has no information about the legal address, except that the company is located in the United States, Delaware. Documents from bestrate.org:
Bestrate.org User Agreement
The BestRate service's user agreement is a modest one-page document. The essence of this document is that the administration of the service declines responsibility for any losses and does not guarantee uninterrupted operation of the site. The document also contains information that the service cannot cancel transactions, so users should be careful when entering payment data.

Customer Service
BestRate cryptocurrency exchange support service accepts requests around the clock. Letters and messages are processed during working hours. The response time of the support team is usually no more than 24 hours. The support team can be contacted via the following communication channels:
If you have any questions about registration, deposit/withdrawal, transaction security, etc., you can find answers to them on the FAQ page or in the service blog.
Is BestRate a scam?
BestRate - is an aggregator of cryptocurrency exchanges and cryptocurrency payment instruments. Service combines crypto exchange with author's terminal and cryptocurrency gateway company. Having analyzed the work and capabilities of the service, we can call the BestRate project interesting and quite promising. It may be interesting for private traders to trade simultaneously on several exchanges, as well as for representatives of Internet businesses wishing to receive payment in cryptocurrencies. But given the lack of reviews, as well as legal information on the site, we cannot call the service reliable on 100%.
To increase confidence in the service we recommend the administration to publish full legal information and work with reviews. Having analyzed the site, we cannot call BestRate a fraud, because there is no information about fraud on the resource on the Internet, and there are no complaints about problems with the withdrawal of money.
Conclusion
BestRate - a young project that may become interesting for traders and companies engaged in Internet business. According to the results of the review, we can conclude that BestRate is a new approach to work with cryptocurrencies. The platform offers several useful tools, clear tariffs and a free period to evaluate the effectiveness of the service. Register on the platform and test its functionality for a day, and if you sign up for a paid plan you get another 30 days of free use.
No reviews yet, be the first!
The company in the ratings
Robots for cryptocurrency
Activity
New

0

Resolved

0

Not resolved

0
New companies on the site