Crypto Exchanges: the Most Reliable and the Most Voluminous
There are many exchanges for trading cryptocurrencies (reviews of cryptocurrencies). There are giants among them who are making huge sums of money. cryptocurrencies and Fiat and on which the world rests cryptotrading. The same crypto-exchanges are often, but not always, included in the ratings of the most reliable cryptocurrencies.
Top Reliable
Absolutely reliable crypto exchanges do not exist, but there is a rough list of exchanges that let their clients down more rarely than others. Among them the most frequently named are:
Binance
Chinese crypto exchange registered in Malta BINANCE (binance.com), which has become a global industry leader in just three years since its founding (Fig. 1). The current daily volume of the crypto exchange is about 163,000 BTC. It's hard to say what the company's meteoric rise is related to, but most likely it is due to extremely successful conjuncture, when bitcoin price exceeded $20,000, and the new exchange offered loyal commissions and advanced trading tools to attract users (How to Make Money on Cryptocurrency?).
In addition to classic crypto trading, spot, 125x leveraged futures and x2 leveraged margin trading are available on the exchange. Fiat trading on the cryptocurrency exchange became possible only in November 2019. This year, Binance introduced the ability to buy cryptocurrencies from Visa and MasterCard through the payment processor Simplex, and just a couple of months ago the exchange began providing exchange of cryptocurrencies for cache through the peer-to-peer platform Binance P2P.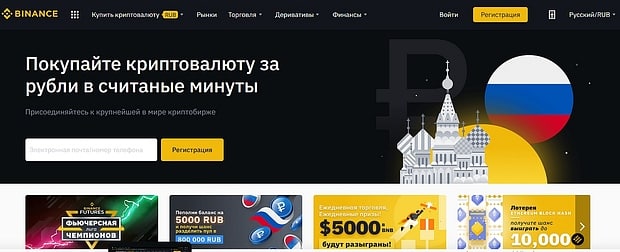 Image. 1
Binance supports work in 21 languages, although you should not particularly hope that the translation, except for English and Chinese, at a high level - it is desirable to communicate in the main languages of the exchange to avoid inaccuracies, especially if we are talking about large volumes of transactions. The peculiarity of the exchange is the presence of its own cryptocurrency BNB, which really facilitates cryptocurrency transactions. Also, the exchange has a low trading fee of 0.1%. As for the user security of Binance, it is provided by the standard - Google Authenticator or SMS. A special feature of the exchange is the DEX blockchain, which can be called an additional security feature - a decentralized platform on the blockchain Binance Chain, which allows you to save private keys and manage your personal digital wallet.
Huobi
Exchange HUOBI (huobi.io) operated until 2017, then was "banned" by the Chinese government and reopened in 2019 as Huobi.pro. The turnover of the exchange is about $1.5 billion, while the total volume of traders' assets is more than $10 billion. The crypto exchange is conditionally multi-lingual, as support is provided only in Chinese and English, and some sections of the exchange are exclusively in Chinese.
The exchange has a number of fixed commissions. For transactions in yuan for which the commission is 0.2%, for placing an order in dollars - 0.1% and for deposits and withdrawals in dollars - 1% of the amount. On yuan also operates a loyalty program, which allows you to reduce the commission. At the same time the exchange practices periodic restrictions on transactions in fiat currency, does not provide futures trading, margin trading is limited. The account is secured by SMS-notification, Google Authenticator, there is also protection from hacker attacks. 98% of user funds on cold wallets.
Bitmex
BITMEX (bitmex.com) is a cryptocurrency exchange (Fig. 2), which has been operating since 2014. Its big advantage is that the platform has not been opened. The turnover of the exchange is $5 billion. The crypto exchange has a number of features that contribute to the popularity of the platform: it works only with cryptocurrencies, does not require verification, has no restrictions on bitcoin withdrawals, very high leverage in bitcoin trading, also high leverage in altcoin trading and margin trading (Cryptocurrency Trading Strategies). In addition, it is believed that the commissions are low.
By some measures, the crypto exchange is the industry leader - it ranks second in terms of derivatives trading volume and is a liquid market for the trading pair XBT/USD (liquidity: 1500%). BitMEX uses a deposit and withdrawal system in which transactions are underwritten by multiple participants. Funds are stored offline. Security of the exchange is provided by Amazon Web Services.

Image. 2
Okex
OKEX (okex.com) is a Hong Kong-based global crypto exchange for spot and derivatives trading, including cryptocurrency futures trading in 11 languages. There is x20 leverage for margin trading, and there is also a perpetual swap with up to 100x leverage. There are 491 trading pairs and 30 national fiat currencies are supported on the exchange. Trading is possible only after verification, which becomes more complicated as you need to trade larger and larger amounts. Security of crypto-exchange is based on complex passwords for login and access to funds, on SMS-alerting when passwords and security settings change, Google Authenticator. There is also an anti-phishing code.
Exmo
EXMO (exmo.me) - Russian-language crypto exchange, which is popular in the CIS market and, specifically, in Russia, although it is blocked in Russia by Roskomnadzor. There are 193 trading pairs on the exchange, but for the most part trading is done with the main cryptocurrencies with low commissions (0.2%). The exchange allows trading only after time-consuming verification. Client accounts are protected by 2FA two-factor authentication.
Bithumb
Bithumb (bithumb.com) is a South Korean global player in the crypto industry with a trading volume of more than $45,000,000 (Figure 3). It is part of the Bithumb Family blockchain structure with the Bithumb Coin (BT) token.

Image. 3
The exchange has existed since 2013, but, as a leading player of the crypto market, it appears only since 2019 due to the development of Bithumb Global. The essential feature of BITHUMB is that no verification is required to trade on the exchange, which is atypical for modern crypto exchanges. The trading commission is 0.1% of the volume and the deposit is commission-free. The exchange can be credited and withdrawn via VISA/Mastercard and transfers. Implemented the possibility of buying cryptocurrency in one click. And the withdrawal is possible in many ways, including through VISA/Mastercard, also cooperates with payment systems Simplex, Banxa, XanPool, MoonPay and a number of others. As for security, BITHUMB.PRO has been hacked many times, which does not add pluses to the company's reputation. The security of the crypto exchange is ensured by a multi-level system of cold wallets, trading is done via API.
Kucoin
KuCoin (kucoin.com) is a Hong Kong-based crypto exchange that provides trading in 503 pairs of cryptocurrencies and fiat. The exchange features an internal KuCoin token, KuCoin Shares (KCS), which greatly facilitates transactions and, in addition, provides dividends for token holders. Verification for trading is not required up to withdrawal amounts from 2 BTC. Otherwise, the crypto exchange is quite standard, reliable and dynamic, takes a worthy place in the top ratings.
Trading commission is 0.1%, withdrawal commission depends on the cryptocurrency. Supports five fiat cryptocurrencies and traditional payment methods - bank account and bank card. However, there is no possibility for transactions within the exchange, only cryptocurrencies, which allows you to trade cryptocurrencies with a high degree of anonymity. The advantage of the exchange is that there are no restrictions on deposits and withdrawals. Customers are protected by the ability to set up two-factor authentication with Google Authenticator and a cell phone code on the Kucoin website.
Cex
CEX (cex.io) was founded in 2013 on the basis of the GHash.IO mining pool. Now the exchange is steadily in the top ratings by volume and reliability. Verification on the crypto exchange is not required up to a certain amount of transactions. Account security is provided by two-factor authentication or Keep 2FA disabled - risk prevention system. There is also protection from DDoS attacks, data encryption, PCI DSS certificate. In terms of trading, not enough advanced features for highly skilled traders are noted. Deposit and withdrawal is allowed for four fiat currencies. The exchange practices relatively small commissions and progressive conditions for traders with high turnover volumes.

Image. 4
Bitfinex
BITFINEX (bitfinex.com) is a popular Hong Kong cryptocurrency exchange (Fig. 4), which at the dawn of the crypto era was the most voluminous in the world. Now you can trade cryptocurrencies on the exchange immediately after registration, while verification is required only for trading in fiat currencies. Moreover, verification for fiat currency trading is time-consuming. It supports transactions for more than 280 trading pairs. It is possible to open separate accounts for trading, margin trading. The crypto exchange's reputation is not the cloudiest in the industry, due to the fact that it was accused of covering losses at the expense of Tether users last year. The platform's security is based on two-factor authentication, universal second factor U2F, withdrawal protection, and encrypted emails.
Bybit
BYBIT (bybit.com) is a large cryptocurrency exchange that also supports fiat trading since 2020. Registration is sufficient to trade on the exchange, verification is not required, which attracts users interested in anonymity. The security of the crypto exchange is based on a system of hierarchically determined offline wallets, clients are protected by an SMS code or 2FA code to protect login, withdrawal, password reset, changing security settings and verification, API management. An interesting feature of the exchange is the mutual insurance function: when opening a position, the trader purchases insurance, which fully covers the amount of losses within 24 hours.

Image. 5
BitForex
BitForex (bitforex.com) is a Singapore-Seychel crypto exchange (Figure 5), which also offers forex trading functionality. Initially the exchange was focused on the Chinese market, but now it operates worldwide. Trading requires verification to be able to withdraw funds. Security is maintained via Google Authenticator or SMS. There are no commissions for depositing funds on the exchange. To facilitate transactions, a BF exchange token is offered, which acts as proof of ownership on the platform.
Security of cryptocurrencies
There are no absolutely reliable crypto-exchanges. According to reviews, you can see that clients of all crypto-exchanges face some security problems. But now the loss of funds is rarely due to technical problems on the exchange, more often it is the inattention of customers. In any case, the main way to avoid loss of cryptocurrencies is to distribute funds - the main part of coins should never be on exchange account. Only a small portion of the money should enter the account to conduct a trading session, and after the trading session is over, it is advisable to withdraw the money to a cold wallet. The support service can provide assistance in case of loss of money. But then, when choosing an exchange, one should also take into account the language in which the support communicates.