Verum Option is a broker, which operates according to the western model. Its favorable trading conditions, functional platform and implementation of modern security technologies make Verum Option an ideal choice.
Read completely
| | |
| --- | --- |
| Forex broker | |
| Website | |
| Date of foundation | 2014 |
| Head Office | 1st Floor Office, 86 A Constitution Street, EH6 6RP, Edinburgh, UK |
| Languages | Russian, English, Portuguese, Arabic |
| Broker fee | |
| Free Demo Account | |
| Adjustable | |
| Mobile Trading | |
| Weekend trading | |
| Tournaments / contests | |
| Trader training | |
| Contract Difference Commission | |
| Swaps | |
| PAMM trading | |
| Analytics | |
| Margin Trading | |
| Affiliate Program | |
| Benefits | |
| Disadvantages | |
| Date of update | 02.07.2022 |
| Overall assessment | |
Address
1st Floor Office, 86 A Constitution Street, EH6 6RP, Edinburgh, UK
Map
Subscribe to this company
Verumoption is it a scam? Reviews and description
Verum Option broker
- is a broker that provides a convenient platform for easy earnings on the financial market. Experts note that due to the continuous improvement, Verum Option has established itself as one of the most innovative and reliable CFD brokers.
The Verum Option trading platform is characterized by high functionality. It features about 200 assets for trading CFD contracts with yields up to 500%. You can choose from the assets of currency, stock, commodity and even the cryptocurrency market, which is so popular today. The broker's platform operates 24 hours 7 days a week, without interruptions.
Technical indicators are also available to the company's clients. EMA, SMA, Bollinger Bands, PSAR, ATR, RSI. With their help it is possible to carry out a thorough analysis of the price chart and get a forecast of the asset's price movement at any timeframe. In turn, for trading based on fundamental analysis, the site provides an informative economic calendar.
The reliability of the Verum Option broker is proven by a number of security technologies, including the well-known EV SSL security indicator and the international PCI Security Standards Council standard, which was developed by Visa, MasterCard and American Express to secure financial transactions.
It is worth noting that with all the above advantages, Verum Option broker is one of the most affordable. The minimum deposit at him is only $50, and the size of the minimum bet - $10.
Withdrawal of earnings
To withdraw funds the broker offers time-proven trading systems - VISA/MasterCard, as well as wallets Capitalist, Payeer, Bitcoin. We want to emphasize that you can withdraw funds to a plastic card in any national currency, and this is an important competitive advantage.
If we are talking about the speed of withdrawal, the website of Verum Option specifies that the processing time is 1-3 days, and the withdrawal itself - from 1 to 5 working days. In practice, however, everything happens much faster. And for the safety of clients' funds, all withdrawal operations are accompanied by clarification by a personal manager.
Complaints about Verum Option
We have carefully studied the customer reviews of this broker and have found almost no real complaints. But we found obviously "custom-made" reviews from competitors, which is caused by stiff competition in the industry.
If there are any complaints about Verum option, we will be sure to post the information on social networks. Sign up to stay up-to-date with the news.
Please keep yourself informed about news and complaints. We copy the most valuable information to social networks, so please sign up!
Is Verum Option a scam?
Verum Option - is a law-abiding broker, which has secured a certificate of the RFTFM and clearly fulfills all its obligations to the clients. The reliability of the company can be judged by the implementation of advanced security technologies and positive feedback from regular clients who appreciate the quality of the company's services.
As one of the leading CFD brokersThe company is constantly developing in order to offer its users trading innovations, quality service and profitable trading. No wonder that market players choose Verum Option for trading more often. Company's official website has been created for the clients; it is quite convenient, informative and has a pleasant design. Going to the address verumoption.comYou can find out more about the information and possibilities of the broker, to learn more about CFD trading. In addition to standard assets traders are available cryptocurrency trading (that's Bitcoin, Etherium, Litecoin and Dash) is one of the most popular and profitable areas in financial markets today. Interestingly, the website verumoption.com The goal of the broker's activity is stated - that the clients should be satisfied with its service and services. It can be said that the company successfully fulfills this goal, not for nothing the broker constantly receives prestigious awards, there are so many clients working on the platform, who recommend their friends to Verum Option (user reviews can be read below), trusting the organization with their funds.
If you are still in search of a reliable broker, interested in the CFD market, it is worth to examine in detail the Verum Option reviews. Is it a scam or not? Can I trust the platform with my funds? These are the questions most often asked by a serious trader. But is it worth worrying about Verum Option's reputation? Although such worries are natural, you can still be calm with one of the leading brokers of the market. The organization has been working in its field for a long time, has many prestigious awards and is deservedly one of the leaders in trading. The platform offered by the broker, Spot Option, is one of the most innovative and technological solutions on the market. THOMSON REUTERS quotes are used in trading. Of course, the broker has also taken care of the regulation (the CRFM), ensures the safety of the work, and the support managers respond to user inquiries in a timely manner.
In order to understand how much confidence customers have in the platform, study from Verum Option reviews. Revieweek or not? Definitely: no. The broker is serious about working with traders, its team includes professionals in the field of development, analytics and trading, the company offers its clients the latest developments in trading, as well as CFD trading with the opportunity to earn income "in one click". Whether you have experience in the market or not, you can change your life and be much happier with Verum Option right now.
Another one of the leading brokers in our country that we would like to recommend to you is Alpari. Most professional traders know about the company, it is a whole financial holding, which successfully works with players all over the world, offering favorable rates, safe and convenient trading. Do you want to know more about the broker? Visit the official Alpari website here.
Broker regulator
Verum Option - is a licensed broker (CROFR Certificate RU 0395AA Vv0075), which is a member of the compensation fund of the Russian Regulator. This means that the company has protected the market risks of its clients to the maximum extent, as the safety of their funds is guaranteed by the Regulator itself.
Check the license of Verum Option on the website of CRFIN ("Verum")
Bonuses
Every Verum Option client can get up to 100% bonus with any deposit. Bonus is funds, which can be fully used in trading, but can be withdrawn only after making a certain trading turnover. In order to get the bonus, it is necessary to enter a special promo code, which is provided by the Customer Support Service upon customer's request, when depositing on the Verum Option website.
50/50 offer from Verum Option
Verum Option offers everyone to participate in the contest "50 x 50" and get a 50% insurance for each CFD contract worth $50 and more. In case a deal is closed with a stop loss or upon expiration, the broker will compensate 50% of the lost funds. This is a good chance for beginners to learn how to trade CFDs and for more experienced traders the promotion gives an opportunity to trade with more confidence.
Cryptomania Contest by Verum Option
Instead of bonuses, Verum Option gives all its clients the opportunity to get $25 real dollars to their real trading account. The broker holds a regular contest "Cryptomania", for the victory in which a cash prize of $25 is given.
To take part in the contest, you only need to be a registered Verum Option client, be a member of the company's official Vkontakte group, and pay $1 for participation before the contest. The contest is held every week from Tuesday to Friday. Participants write their variants of what Bitcoin exchange rate will be at the end of the contest under the contest post. The one, whose answer will be closest to the real rate, will be the winner and will receive $25 to their Verum Option account. This money can be withdrawn or used as a deposit for trading.
VIP conditions for professionals
For experienced traders, Verum Options offers VIP status with special conditions: every deposit and withdrawal is commission-free. Each commission reimbursement is additional funds in the account, which can be used at a profit. To apply for VIP status, you must have at least $1,000 in your trading account.
Summary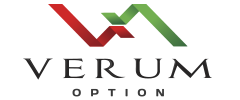 In our opinion, Verum Option broker can be safely referred to the industry leaders. High level of technical equipment, innovations in security and ultimate accessibility - this is the incomplete list of advantages, which make Verum Option interesting for both beginners and professional traders.
If there are any questions about trading, all clients of the company can seek advice from a personal manager, who is available by phone and online.
Conclusion
To conclude our review, let us say that Verum Option The quality of this broker's services is exemplary in many ways. The quality of this broker's services is exemplary by many criteria. In addition, it has secured a certificate of the CFD and set a minimum deposit size of $50, which allows everyone to discover the advantages of reliable and profitable CFD trading.
Thus, we can recommend Verum Option to the clients who are aimed at long-term mutually beneficial cooperation.