The Forex Club Libertex platform is the broker's calling card, a solution that offers functional trading and access to markets from anywhere in the world.
Read completely
Forex broker
Website
Social media
Date of foundation

1997

Head Office

The Financial Services Center, P.O. Box 1823, Stoney Ground, Kingstown, VC0100, St. Vincent & the Grenadines

Types of support

Callback from the website

Chat

Viber

Telegram

Instagram

Facebook

Support by phone
Languages

English, Spanish, Polish, Chinese, Malaysian, Russian

Terminals

Libertex

Min. first deposit
Broker fee
Lot volume
Bonuses
Leverage
Spreads
Free Demo Account
Adjustable
Regulators
Types of accounts
Transaction volume
Execution of orders

Market Execution (at market price)

Methods of replenishment

Neteller, Wire Transfer, Bank Card (Visa/MC), Skrill, Jeton

Withdrawal methods

Neteller, Skrill, Webmoney, Bank Transfer, Bank Card (Visa/MC)

Number of assets
Types of assets

Stocks

Shares of famous companies

Currency pairs

EUR/USD, USD/RUB, etc.

Cryptocurrency

Bitcoin, Binance Coin, etc.

Indexes

NASDAQ 100 (ND 100), FTSE 100 Index, etc.

Precious metals

Gold, silver

Agricultural assets

Corn, wheat, cocoa, sugar, coffee, etc.

Account currencies

USD

Mobile Trading
Weekend trading
Tournaments / contests
Trader training

Seminar and trader courses

Contract Difference Commission
Swaps
PAMM trading
Analytics

Market review, economic calendar

Margin Trading
Affiliate Program
Benefits

Easy and fast registration procedure

Wide range of assets for trading, including the most modern ones (CFD, forex trading, cryptocurrency, etc.)

High level of user data security

Access to a wide range of modern financial instruments

Ability to conduct advanced technical analysis of the market

Working on a demo account

Quick opening of transactions without unnecessary calculations

Easy and clear tracking of open positions

Visibility and informativeness of materials

Quick access to your account from any device

Company requisites

Legal name:

Forex Club International Limited

Legal address:

The Financial Services Center, P.O. Box 1823, Stoney Ground, Kingstown, VC0100, St. Vincent & the Grenadines

Date of update

26.08.2022

Overall assessment
Address
The Financial Services Center, P.O. Box 1823, Stoney Ground, Kingstown, VC0100, St. Vincent & the Grenadines
Map
Subscribe to this company
Libertex is it a scam? Reviews and description
Libertex is one of the oldest international organizations. Its long successful history started in 1997, and since then the brand has been rapidly developing. The number of its representative offices in more than 100 countries of the world is expanding. The company pays much attention to the quality of its services. The development of innovative solutions is another crucial concern of the company. Today, the broker's clients are provided with an impressive choice of assets, stable trading, profitable tariffs, fast capital withdrawal and a possibility to use a functional platform Libertex.
Of course, it's crucial for a broker to provide reliable and safe trading to users anywhere in the world. The company has a license to carry out activities with financial markets. The broker boasts more than 30 prestigious awards such as «One of the fastest growing companies in the US in 2010», «The best trading terminal» according to the Forex EXPO 2014, etc.
The platform ForexClub Libertex
The ForexClub Libertex platform is the broker's business card. It's one of the most perfect solutions for full-fledged trading on the market. It will be interesting for both investors and private traders. The very purpose of creating this platform is to make trading ideal. The unique platform started to work in 2013. It provides every client with qualitative and functional trading, direct access to financial markets from anywhere in the world.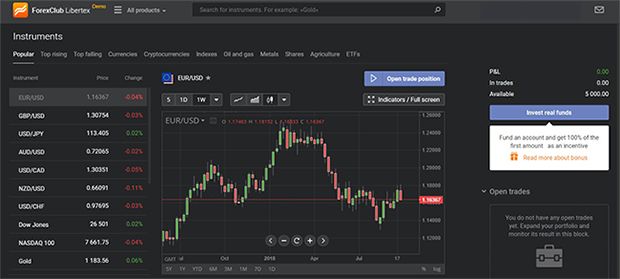 The terminal is presented in the form of a browser solution, which makes web-trading comfortable. Additionally, there's a version for tablets and mobile devices (iOS/Android), so their owners can have a full-fledged trading experience in any convenient place. Thanks to the web-version you don't need to install the program on your computer. You will only require the Internet and a modern browser. The main workspace – the chart of quotations of the terminal – is convenient and highly informative. You're free to choose timeframes, indicators and graphic elements. You can change the scale of the chart (the default size is the size for the entire window), the type of display of the price indicators (Japanese candles, lines, etc.). In general, the program is not inferior to the functionality of the web-version of MetaTrader4: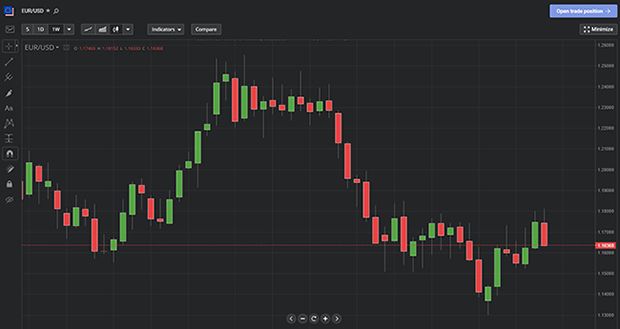 The web version of the Libertex platform
Libertex newcomers will be surprised by the stylish design solution of the terminal, a huge set of options that make trading functional. The program has an intuitive interface, it's convenient to trade, its uses an informative chart of quotes. You can study the history of your transactions and conduct deep technical analysis. You can quickly select the assets you are interested in: CFD, Forex, currencies, stocks, metals, digital coins, etc. You can study their history on a separate web page and instantly make transactions: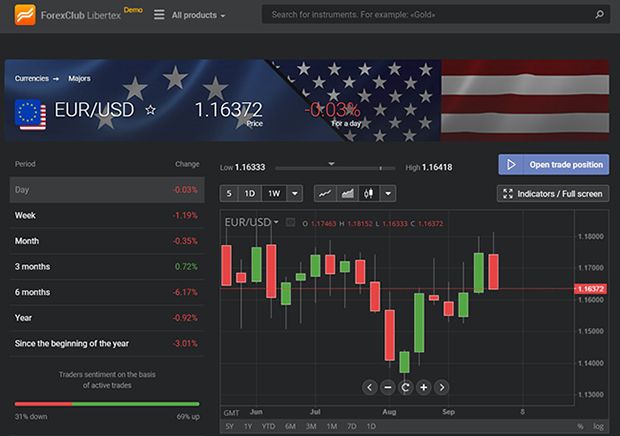 Working in Libertex, you can forget about third-party programs, because all the trading process is easy to carry out in one system, without being distracted and confused in the tabs of the browser. Now it's enough just to focus on what's currently important to you. The terminal has a lot of built-in indicators, popular and less common ones, enabling you to conduct a full-fledged market analysis and work not only with simple but also complex strategies: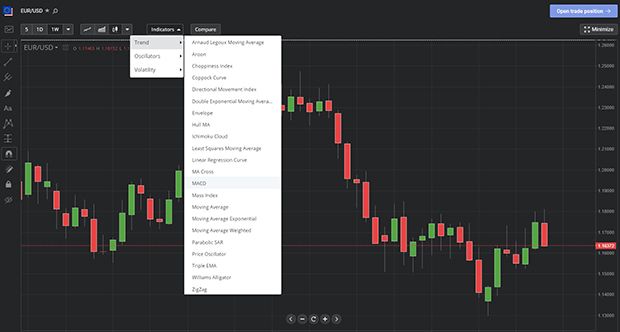 Here you can configure the settings and display format of indicators. Also there are graphic lines of different kinds, other auxiliary tools: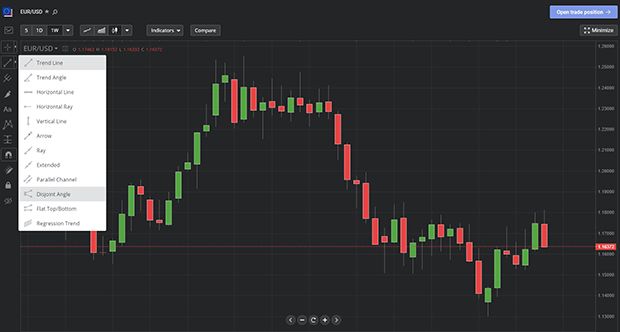 At the same time, you can add any number of indicators to the chart. If you want to remove all elements, just use the special button «Hide all indicators».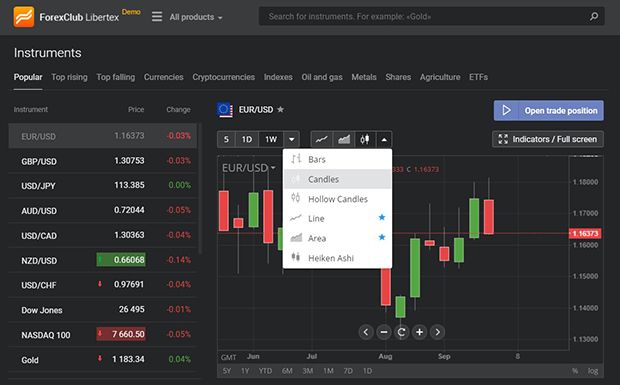 Download ForexClub Libertex for a tablet from the App Store
Download ForexClub Libertex for a tablet from Google Play
The program has an interesting option to compare different assets in order to determine the choice of the financial instrument and the most profitable investment. The upper window of the platform offers a rating of the most popular tools, which is created based on the interest of traders. On the left you can see a convenient bar with quotations of financial instruments: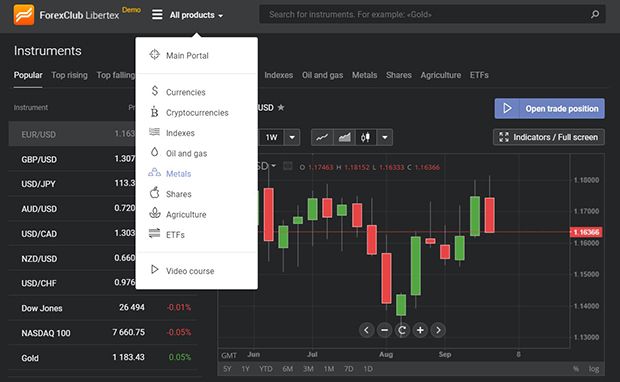 For effective work on the platform, news, analytics, free trade signals are provided. In order to learn all the possibilities of this unique trading software solution, you can use a free demo account, which you can then switch to if you wish. Newcomers are offered video lessons and a glossary.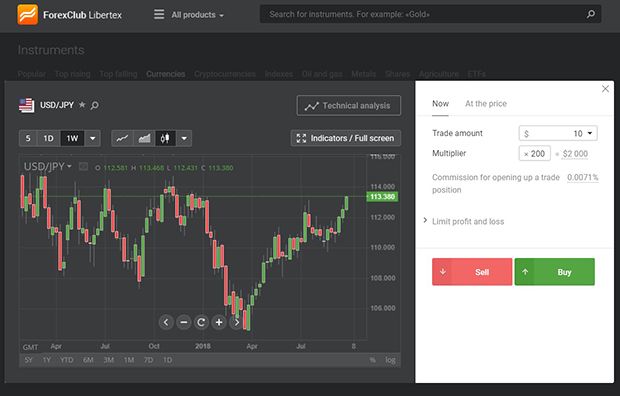 Libertex is a modern powerful software solution, making online trading a functional and comfortable process. It's nice to be here, studying data and easily and simply trading.  The platform can be mastered both by newcomers and true professionals.
Registration on ForexClub Libertex platform
A personal office provided by the broker is a great opportunity to make your trading convenient. The registration procedure is simple and quick. To do this you need to click the «Registration» button in the upper right corner, fill in the required fields of the special form.
Next, you need to agree with the «Terms of Agreement». Now you can get down to studying the terminal and working. Here you are asked to determine the type of account (a demo account, a real account): test the platform's capabilities or immediately start investing in the real market mode.
In the upper right corner you can change the account type at any convenient time, as well as information on your opened and closed transactions, pending orders, cash flow on the account and much more.
There are different ways to replenish your account in the system, which allows you to quickly start investing in assets, making money from trading.
An interesting solution has been implemented by the developers. While you navigate through the tabs, go to different sections, the system comes up with new information for you, and to make this process more comfortable, you can read the statements of traders and market analysts. It's useful and pleasant.
The mobile application ForexClub Libertex
The mobile application ForexClub Libertex makes it possible to access the market and earn money at any time convenient for you. No matter where you are, the platform will always be with you, ensuring a stable income. The version contains a lot of options for high-grade trading in digital coins (here you can read the whole truth about crypto assets), stocks, metals, etc.
As the main trading space, the chart of quotes here is informative – it's easy and pleasant to work with. You can change its appearance, add graphic elements to it (it's not possible to work with indicators, but I think it will be fixed soon), open transactions with various assets in the «Markets» or «Transactions» tabs.
On the «Markets» page you can find popular investment tools. Other tabs include «Crypto» (a list of cryptocurrencies with the ability to open a trade there), «All» (all assets of the service), «News». When you open a deal from a mobile application, you can set stop-loss and take profit orders to lock in profits. It makes your trade more functional and risk-free. The information in the «LIVE Transactions» section will enable you to see the traders' opinion in real time and use it in your work.
The registration process in the mobile application ForexClub Libertex (leave your review about the platform here) is very simple and fast. Having downloaded the application to your mobile device, you can go through the authorization (if you are already registered with the broker) or a quick registration on the platform. Here you can choose the type of account (a demo account, a real account), replenish it with money and start working on the real market.
In the «Wallet» section you will see information about the status of your account and the flow of funds there. You can fill out a profile, configure available settings, notifications and also pass a video course on trading.
In order to download the free mobile application of the platform, you only need to press the button with the operating system of your device, located below.
Download ForexClub Libertex from the App Store
Download ForexClub Libertex from Google Play
Advantages of ForexClub Libertex
Simple and fast registration;
A rich choice of assets for trading, including the most up-to-date (CFD, currency pairs, digital coins, etc.);
High level of security of user data;
Access to a wide range of modern financial instruments;
An ability to conduct deep technical analysis of the market;
An ability to use a demo account;
No hidden commissions;
Quick opening of transactions without unnecessary calculations;
Simple and clear tracking of opened positions;
Visibility of highly informative materials;
Quick access to your account from any device (your PC or handset) via the Internet.
ForexClub Libertex: your profitable investments
Having registered with the platform ForexClub Libertex, you can ponder over what assets to invest your money in. For this purpose one of the leading Forex and CFD brokers on the market provides you with a wide array of opportunities. Only the most profitable assets are available to traders here. These are, of course, classic financial instruments, such as stocks, currencies, metals, which have long gained popularity in the financial world, as well as new trading assets that will be no less interesting to the modern trader.
Promotions
ForexClub Libertex offers you a profitable investment in the shares of leading international organizations, which demonstrate a steady positive dynamics. Here, any investor will find interesting assets for himself, which will make it possible to reach the necessary heights. You can use the trading terminal to easily become the owner of such popular brands as the American corporation McDonald's, which owns one of the world's largest fast-food chains, the manufacturer of the popular carbonated drink Coca-Cola, whose logo evokes a lot of pleasant sensations and which is a symbol of the fans of dynamics, the manufacturer of cosmetics Estee Lauder and others.
It can also be the shares of Walt Disney, the largest entertainment industry corporation in the world, which has given birth to many legendary cartoons, American Express, successfully working in the field of credit and payment cards, the legendary car makers BMW, Ferrari, etc. One of the most profitable investments today is pumping funds in Internet companies. You can conveniently do it on the Libertex platform. In a couple of clicks you can buy shares of the world's most popular social network Facebook, as well as the most famous cloud storage service Dropbox, not to mention the transnational corporation Google, developing a whole a number of services and products, etc.
Commodities
Traders are also interested in investing in agricultural products, which are an important part of the economy of many countries, have a positive growth dynamics, thus becoming a reliable investment of funds. These products always have a wide distribution and great demand because, in addition to the food industry, they are used in other areas (medicine, construction, etc.). Moreover, the surge of their value is always influenced by other factors.
The platform ForexClub (the official site of the broker is here) will give you an excellent opportunity to easily invest in shares of cocoa, agricultural crops, which are used in the confectionery as well as other industries; soybean, the popularity of which is growing every year due to the increased demand for it; coffee, one of the most popular consumer products in the world due to the strong stimulant caffeine, etc.
Metals
Investors are also interested in making money on investments in metals. For many centuries metals have acted as real money, so investments in these assets are rightfully considered to be one of the most effective. Metals are in great demand when the world economy is unstable because during periods of downtime they tend to grow. They are strategic raw materials and their value and dynamics are closely watched by brokers all over the world. Demand for industrial metals is always high, and it leads to an increase in their prices and new opportunities for generating income.
At all times gold has been extremely popular. It's a symbol of wealth, success and unlimited earnings. This metal is highly volatile and the potential for investment in it is always huge. Gold isn't exposed to corrosion, the area of its use is quite wide, but the volume of this metal is limited and therefore it's always in great demand. Investors are also interested in palladium, which looks like silver and platinum. It also has a wide range of applications; it's highly demanded in manufacturing. Sometimes the fluctuations in its value are significant, sometimes it becomes a protective asset, which makes it an ideal tool for investing by active market players. Another high-yield asset on the ForexClub platform is platinum. It turns out that it had been already popular at the time of Inca civilization. Today, it's widely employed in various industries, but it's also rare and it has a number of unique properties of metal; the asset is subject to different dynamics, it's characterized by price stability and less volatility, which can bring high earnings, especially to more conservative market players.
Indices
As one of the most interesting assets of the Libertex platform, indices showed up on the market, when, among a large number of traded shares, part of them moved in one direction, the other in the opposite direction. What can we say in this case about the market? The answer was the introduction of indices, – an average price of a group of shares, allowed to determine the overall dynamics of the market. Today the broker offers to earn on investments in indexes. For instance, traders can trade in Nikkei 225 – the most important indicator of market dynamics in Japan. Here, the index is calculated as the arithmetic average of the prices of the 225 actively traded companies of the Tokyo Stock Exchange. Its feature is that it has a jump-like dynamics, it's active when the European continent is asleep.
It will be also interesting for traders to try their hand at NASDAQ 100 – an American index, which combines the 100 largest organizations whose shares are traded on the exchange with the same name. This asset is characterized by a fairly high degree of volatility and protracted trends, which is particularly attractive for aggressive market players. Standard & Poor's 500 is one of the most authoritative indexes of American speculators. The calculation of this tool involves data on the value of shares of 500 leading US companies. As commonly believed, it demonstrates the most correct reflection of the dynamics of the US stock market. Due to the fact that the index is characterized by moderate volatility and long trends, it will be interesting to those market players who are more patient in trading.
Oil and gas
These assets are popular with traders of the Libertex platform today because they are the raw materials used everywhere. Oil and gas are the resources the welfare and development of modern civilization depends on. The supply is often influenced by political, economic as well as other factors and sudden changes in moods in society, etc., which almost instantly leads to changes in the value of assets. Forex broker offers to receive revenue on changes in energy prices through CFD-contracts. Quotations of these assets constantly fluctuate, which guarantees a great potential for generating income.
For investments ForexClub offers, for example, such assets: Crude Oil, this is a reference oil grade, which is extracted in Texas (the USA); the product is very popular in the market due to its high degree of purity.  For investors, it guarantees a high potential for increasing profitability due to high volatility.  We should mention another and no less profitable tool – Heating Oil (fuel oil) – this fuel is derived from residues of oil processing, etc. With its high quality it has a wide range of applications. Due to moderate volatility, the given asset is also quite interesting to investors.
Forex trading
Forex appears to be the largest financial market around the globe, which trades in currencies. Its advantages: 24-hour trading, a large selection of currency pairs for investment, a high degree of liquidity, enabling you to purchase and sell large amounts of assets at any time of the day.
Thus, EUR/USD is one of the most popular currency pairs for trading, which has great prospects for investments, as it's considered to be the ratio of the largest economies of the world, and therefore, it's highly liquid for market players. The currency pair USD/JPY also shows the ratio of the two largest economies. It's characterized by a high degree of development dynamics. Japan is one of the progressive civilizations, attracting large capitals to the main spheres of manufacturing. Certainly, this asset boasts significant profitability and volatility, which guarantees traders new opportunities to earn with ForexClub (reviews).
The platform offers an opportunity to work with exotic currency pairs, such as SGD (Singapore Dollar)/JPY.
Cryptocurrencies
As a completely new phenomenon, crypto assets are especially interesting to market players. They're rapidly gaining popularity, offering a high and even unlimited level of earnings from online trading. The crypto market works around the clock. It's characterized by high volatility, an ability to generate revenue from different asset values. The broker offers its users only lucrative digital coins for investment, and traders can choose either from the most popular crypto assets or rare altcoins (read here how to make decent money on crypto assets).
It's worth paying attention to the main asset of the crypto market – Bitcoin. It's always very popular due to constant demand, crazy price dynamics, high volatility and the opportunity to get high earnings from trading.  Ripple is no less interesting today. It's also characterized by high growth of value, which draws the attention of traders. The technology of this digital coin is already being actively introduced into the banking sector, for which it was created. The growth of the currency started in May 2017 and for two months the value increased up to 20 times. Cardano is a young, but already promising cryptocurrency, sponsored by well-known developers. Today, a huge effort is actively made to promote it in state structures. In 2017 the currency increased in price by 31.7 times, offering good opportunities for profitable investments on the Libertex platform.
CFD
ForexClub offers to receive income investing in CFD. As one of the most popular financial instruments today, contracts for price differences enable you to quickly and simply get impressive earnings without having them in stock. On the Libertex platform, the reviews about which are mostly positive, these are CFD-contracts for commodities (oil, zinc, nickel, etc.), global indices, shares and spot contracts (silver, gold).
Such transactions aren't aimed at buying goods or raw materials, but for profit from the difference in the value of these goods. As a more advanced tool, CFD allows you to easily and trouble-free get a decent income. In addition, you will require a smaller trading deposit to trade in these assets. You don't need to spend time preparing documents for the purchase of goods, thinking about its transportation, security, etc. Instead, you can focus on the trading process, and a wide range of tools for work will enable you to find the exact asset, which will make the overall process more efficient.