A global affiliate network that helps advertisers and webmasters grow online businesses worldwide.
The company
Website
Social media
Date of foundation

2009

Head Office

Germany, Lise-Meitner-Str. 8, 74074 Heilbronn

The owner of the company
Types of support

Feedback form on the site

VK

Twitter

Support by phone
Languages

Английский, Французский, Итальянский, Немецкий, Украинский, Русский, и т. д.

Categories of offers

Digital Goods, Gambling, Online Games, Insurance & Finance, Internet Services, Mobile Apps, Travel & Tourism, Adult, Dating, Sweepstakes, Education, Offline Services, Mobile Subscriptions, Downloads & Installations, Info-Goods, Mail Order Goods

Number of offers

1500+

5% of the commission amount

Project regions

All countries in the world

Bonuses
Withdrawal methods

PayPal, Webmoney, Bank card (Visa/MC)

Project Features

CPA-network of affiliate programs with an intuitive platform

Adjustable
Mobile applications
Availability of an affiliate network hold
Payment models

CPA, CPI, CPL

Frequency of payments

On request

Allowed traffic sources

Adult, Cashback traffic, E-mail marketing, Banner advertising, Website, Video hosting, etc., Contextual advertising, Mobile traffic, Search engines, Social networks, Teaser networks

Tools for promotion

Banners, Link Generator, Statistics, Popup

Affiliate Program
Benefits

Advantageous conditions for cooperation

Easy and convenient navigation

Quick feedback from technical support

A large number of different offers

Disadvantages

Delays in bill payments by advertisers

Inaccessibility of a number of offers for beginners

A large number of offers with long hold and low confirmation rate

Company requisites

Legal address:

Germany, Lise-Meitner-Str. 8, 74074 Heilbronn

Date of update

05.10.2022

Overall assessment
Address
Germany, Lise-Meitner-Str. 8, 74074 Heilbronn
Map
Subscribe to this company
Admitad is it a scam? Reviews and description
Affiliate Program Aggregator
Admitad
began its work in 2009. The platform includes more than 1,000 ofers in various areas with different conversion schemes. The site features more than 700 online stores, as well as offers from travel companies, financial services, games, etc. The main advantage of the platform is the provision of all necessary tools for working with affiliate programs.
According to the latest data the aggregator of Admitad affiliate programs unites more than 1500 advertisers and more than 600 000 webmasters. By registering with Admitad you get access to millions of potential customers worldwide. If you register as a webmaster, you get a wide range of affiliate programs, high rates and instant payouts.
Why Admitad
Every year there are more and more CPA networks on the Internet. But it is exactly admitad.com is the undoubted leader for advertisers, webmasters and arbitrageurs alike. This international platform provides several tools that greatly simplify the work and allow for a more in-depth analysis of the traffic being attracted. To appreciate the global nature of Admitad, you can simply look at the advertisers, which include Internet marketing giants such as AliExpress, Lamoda, DHGate, TravelPayouts and others. Some of the main advantages of working on the Admitad platform include:
A huge selection of affiliate programs.
Flexible withdrawal conditions.
Personal manager and prompt technical support.
Large selection of ways to make money.
A large selection of tools for work.

All users of Admitad network can take part in profitable affiliate programs, promotions and contests, receive useful information in the blog and get comprehensive help from technical support. If you are new to attracting traffic by means of affiliate programs, you can start your first steps on the Admitad site and receive full and detailed instructions on how and where to start, how to increase your profit, etc.
Main ways of earning in Admitad
The Admitad platform offers webmasters a wide range of ways to make money. The main ones are earnings from offers, participation in contests and promotions with increased payments. Let's consider them in detail.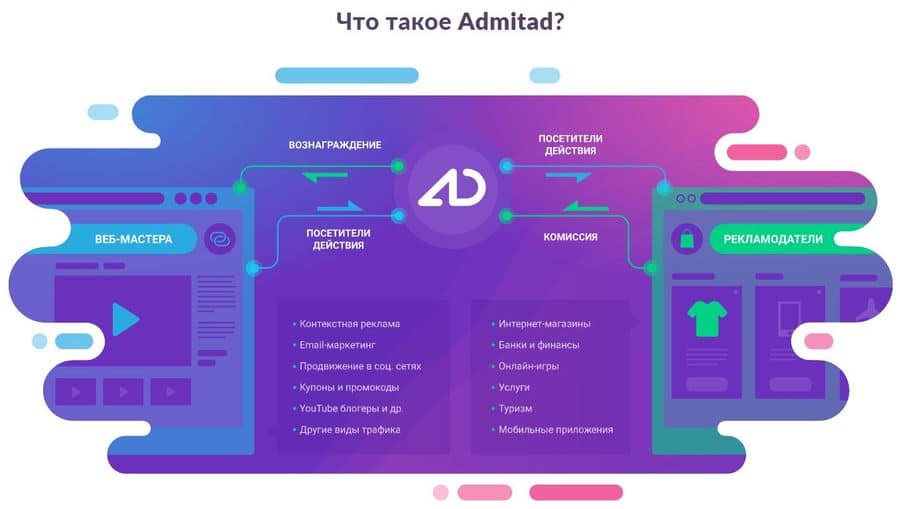 Earnings from offers
Earning on offers is the main method for webmasters. Website owners and those who have official pages in social networks, who run a personal blog or create a webpage can earn money from offers from advertisers. Earnings from affiliate programs can bring a good stable additional income if you understand the specifics of the actions. The essence of earnings from affiliate programs is that you place advertising information from the advertiser on your site or page in a social network. This advertisement must attract visitors to the advertiser's website. After certain targeted actions you will receive income, which you can immediately see in your personal cabinet in the Admitad network. You can find target actions, which must be paid, in the description of each affiliate program.
Contests
CPA network Admitad holds regular contests for webmasters and arbitrageurs. This is another good way to earn extra money. By participating in contests you can win up to several thousand dollars to your account. Also, by participating in contests, you can get a grant from Admitad for project development. Contests on the site are held regularly, you just need to keep an eye out for new quizzes.
Shares with increased payouts
In addition to various contests, the Admitad site regularly holds promotions with increased payouts. This is also a real way to earn extra money. You can find out about the conditions of the promotion in social networks or on the official site of Admitad. Both new webmasters and those who have been working with Admitad for a long time can participate in these promotions.
Offers in Admitad
There are 1,523 affiliate programs on the Admitad site. All of them are divided into categories. To find an affiliate program that matches the theme of your site, you need to fill in the filter and start searching.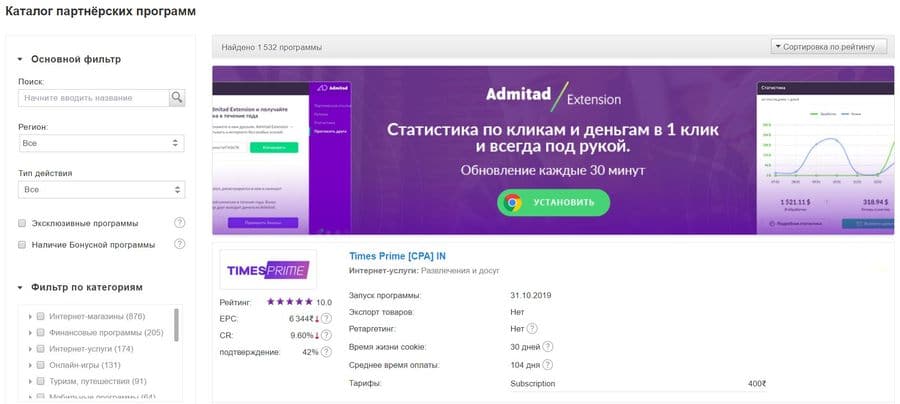 Categories
There are 15 categories of affiliate programs on the site of Admitad. You can choose the desired category in the filter. There you can also specify the type of traffic and the necessary tools. Categories on the Admitad site:
Online stores
There are 879 affiliate programs in this category, including those from such giants as AliExpress. Here you can find stores of electronics, clothing, cosmetics, household goods, gardening equipment, tools, etc.
Financial programs
There are 199 affiliate programs presented here. You will find offers from major financial companies such as Alfa Bank, Rosgosstrakh, Zaimer and others. This category is for webmasters whose site has a financial theme and covers loans, credit cards and other banking products.
Internet Services
There are 171 affiliate programs in this category. Here you can find affiliate programs on entertainment, work, education, IT solutions, hosting, etc.
Online games
Here you will find 131 affiliate programs for game sites. The leaders of the category are such client games as War Thunder, Crossout, World of Tanks, etc.
Tourism, travel
The category is represented by 91 affiliate programs. There are companies for booking hotels, booking tickets, renting transportation, selecting tours, and other services in the field of tourism. You can choose one affiliate program or place advertisements of several offers on your site at once. The leaders in this category are Booking.com, Aviasales, Omio, and others.
VaccinesActions
In this category there are 61 affiliate programs from online stores of automotive products, tools, clothes and shoes, furniture, household goods, etc.
Mobile programs
There are 60 affiliate programs from manufacturers and sellers of utilities and other extensions for cell phones.
Admitad Heroes Marathon
In this category there are 55 affiliate programs from the main heroes of the marathon. Here you will find online stores, hypermarkets pet stores, hardware stores, etc.
Self-Care Days
The category is represented by 28 affiliate programs from leading online stores of various goods. When reviewing this category, carefully read the terms and conditions of the affiliate programs and choose the best one for yourself.
MONEY SNOWBALL
In this section you will find 18 affiliate programs that offer to attract customers to buy financial products. Among the advertisers in this section are such giants as Moneyveo, Monobank and CreditPlus.
Crazy Weekend Fest
The category is represented by 16 affiliate programs, including work and education, food and grocery delivery, entertainment and leisure, pet stores, games, and other offers.
Travel Fest
In this category there are 14 affiliate programs from leading ticketing, entertainment and leisure services, hotel reservations, transport rentals, etc. Aviasales WW, Omio Many GEOs, and Compensair Many GEOs are the leaders in this category.
Stayhome Fest
The category is represented by 10 affiliate programs, among which you can find food and grocery delivery, gift and flower delivery, and other services.
Ramadan 2020
This section is represented by 10 affiliate programs from various online stores. There are stores selling accessories, clothes and shoes, goods for children, beauty products, etc. The leaders are Ounass AE SA, Ubuy Many GEOs and SharafDG AE.
For adults
This section contains 9 affiliate programs from online stores selling adult products. To choose an affiliate program from this section, your site or blog must match the subject of the online store.
Unique offers
Unique offers are affiliate programs that are presented only on the Admitad website. You won't find them in any other affiliate network, because these companies have chosen Admitad as their only partner. The site has the largest number of exclusive affiliate programs. There are 120 unique affiliate programs, including such companies as:
M.Video.
L'Etoile.
Foxtrot UA.
GOODS.
BeCompact.
MegaFon, etc.
Working with unique offers a lot of advantages, because webmasters working with other CPA networks will not compete with you, and you will be able to earn several times more on these affiliate programs.
GEO
Admitad affiliate network has no geolocation restrictions. You can work on the platform from anywhere in the world, as well as connect affiliate companies from different countries. However, payments on the affiliate program may depend on the geolocation of your resource.
How do I get started at admitad.com?
Get started on the site admitad.com simple. You need to register, choose a method of earning and send an application to add a resource to the CPA network. You don't have to have your own site to work with Admitad. The platform offers a variety of earning options, including contextual advertising, social networks and other arbitration systems. In other words, in order to make money on the Admitad site, you need a desire and an understanding of the principles of working with affiliate programs.
Registration on the site Admitad
So, to start working with the Admitad service, you need to register. To do this, go to the main page of the site and click on the green button "Registration" in the upper right corner of the page.

After you click on this button, a registration form will open in front of you. Here you first need to choose whether you want to register as a webmaster or an advertiser. You can register on the site through Vkontakte, Facebook, Yandex, Google or Odnoklassniki. You can also do it by filling in the registration form, where you have to specify your name, last name, e-mail address, login and password. Then you have to confirm the agreement with the rules for webmasters and privacy policy, as well as agree to receive notifications about affiliate programs, coupons and discounts (it is optional, but very helpful in further work).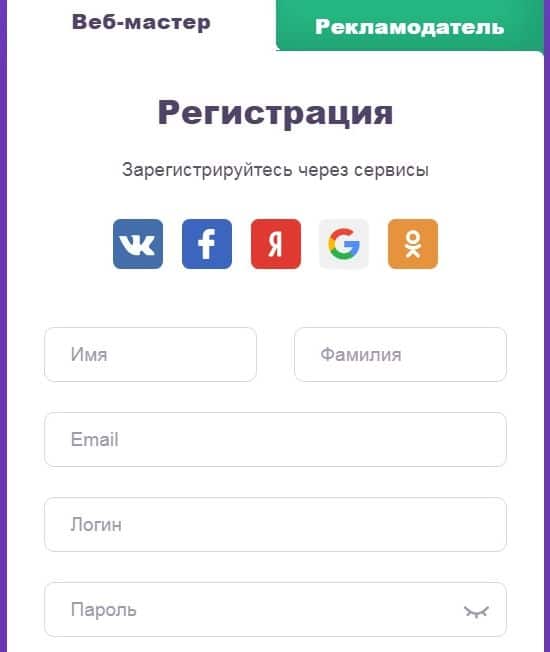 After registering, you will receive an email to confirm your address. Don't forget to confirm your email so that you can recover your password if you lose it.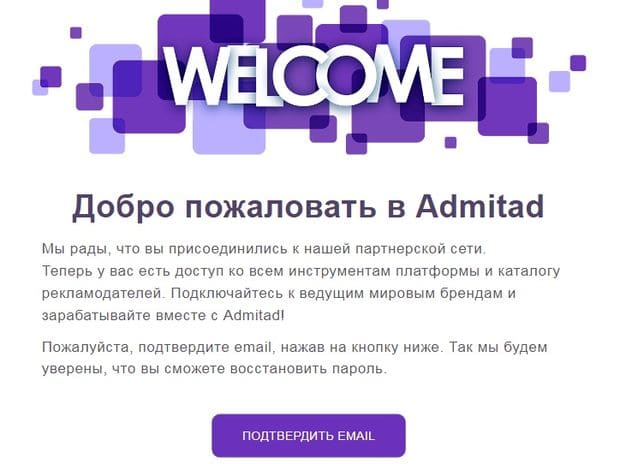 Admitad Private Office
Personal profile of Admitad user - this is the main platform for working on the site. This is where you can choose the programs you are interested in, track client and money statistics, and participate in promotions and contests. After registering on the Admitad site, first of all go to "Settings" in your personal cabinet. Here you can specify your contact information, edit your personal data, view the affiliate programs you have connected, track email notifications and withdraw your earnings.

If you are new to working with CPA networks, you can work on the Admitad website from scratch. The Admitad Academy has all the knowledge you need to work on attracting traffic. Here you can read articles, a calendar of events, learn about certification, and watch videos on the YouTube channel.
Mobile application
With the Admitad mobile app, you can manage your personal account at any time. It also allows you to stay up to date with what's going on in your account. With the Admitad mobile app, you always have the following tools at your fingertips:
Summary of the day.
Order payment of confirmed funds.
Statistics on all parameters for all sites.
Admitad catalog of programs with the ability to connect.
Directory of already connected programs.
Technical support.
The mobile app is very easy to use and has minimal technical requirements.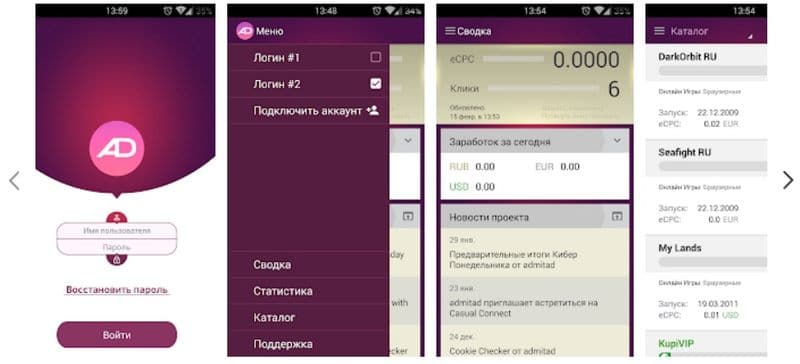 How do I connect to the offer?
Once you have completed the registration process, you need to add your traffic sources. These traffic sources must be moderated. As soon as the moderator approves your traffic source, you can start selecting affiliate programs. For a quick search of the offer, use the filters on the left side of the affiliate programs catalog. As soon as you choose a program, you should apply for participation in the offer. In order to connect to the offer, you need to click on the "Read more" button under the description.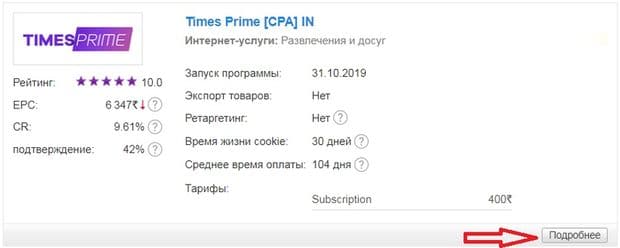 On the page that opens, you can see the terms of the affiliate program. Then you can click on the "Submit Application" button and wait for a while. Your application may not be accepted right away. Sometimes you have to wait 2-3 days until the application is approved. There are cases when your application may be rejected, but it happens quite rarely. This is often due to the low attendance rate of your site. On the site of Admitad you can connect as many offers as you like.
How to work more productively with admitad.com
The main mistake beginners make is registering in an affiliate program and passively waiting for profit. Of course some money will go to you when you place ads on our site, but to work more productively with Admitad, you have to try hard. You need to make the most of the promotional materials we offer, always keep in touch with advertisers, ask for promo codes and promotions, and keep track of increased payouts.
If you advertise on your own resource, you will have to try to promote the site. This also applies to groups in social networks. The more traffic to your site, the more potential customers can see your ads, and therefore the higher your conversion rate will be.
Admitad Payouts
Withdraw earned money from the site admitad.com You can withdraw money in several ways. You can withdraw money to a dollar and euro account. Available systems for withdrawal:
According to the new rules, the Admitad network user is required to provide tax information about himself/herself. This information allows to identify future payments. In this case, the user pays taxes independently.
Minimum payout
The minimum payment on the site Admitad is $20 or 20 euro. When this amount is accumulated, you can apply for a payout. In your personal cabinet earned money can be in different currencies. If, for example, you do not have foreign currency account, you need to convert before ordering a payout and receive income in a convenient monetary equivalent. There are 12 currencies available on the Admitad website.
Availability of a hold
Hold is the processing time from fixing the target action to its confirmation or rejection. In other words, hold time is the period of time when the advertiser receives money into his account from the buyer. Once the advertiser receives the funds in his account and delivers the product to the buyer, he confirms that this buyer has been directed to his site through your individual link. This means that you can get your profit only after the advertiser receives it.
Hold time depends directly on how quickly the advertiser will receive his profits. For example, if it is a large hypermarket, which is located abroad, the hold period includes not only the payment for the goods, but also the delivery time. You can see the hold time in the exact description of each affiliate program.
Frequency of payments
Earned money from the Admitad site is withdrawn weekly on Thursdays. If you managed to send your application from Monday to Wednesday, your payout will be transferred to you on Thursday; if you sent your application on Thursday and Friday, expect your payout the following week. In some cases it may take a little longer for your request to be approved, it depends on how busy the system is.
How do I withdraw money from admitad.com?
To withdraw funds from the site Admitad, you need to click on "Withdraw money" in your personal cabinet. After that a page will open where you will be offered to withdraw your funds. Note: the table will indicate how much money you have in each of your accounts. Then you need to choose which account you will withdraw from. When you choose an account, click on it. Then choose a payment system.
If you withdraw funds for the first time, you need to specify payment details and send a request. After that you will see in your personal cabinet that your withdrawal request has been sent. After your request is processed you will receive your funds to the specified account details. If you don't want to wait several days, you can order instant withdrawal, but you will have to pay additional fee.
Admitad Bonuses
Service admitad.com advises advertisers to regularly run promotions and bonuses to attract new webmasters and encourage those already working with the affiliate program. That's why advertisers often organize various contests and promotions for webmasters.
Discount
To attract targeted traffic and new webmasters, Admitad affiliate network advertisers regularly provide various discounts and coupons. These promotional materials attract users and bring targeted customers to the advertiser's site. To get discounts and coupons, you need to keep in touch with the advertiser and respond to various promotional offers in a timely manner.
Increased payments
In addition to discounts and coupons, Admitad advertisers often offer increased payments to webmasters. These are promotions where not only the standard value is paid for a conversion action, but also a bonus in the form of an increased percentage. For example, on certain promotions you can get a payout increase of up to 50%. To get increased payouts, you need to keep track of such offers from advertisers and always participate in promotions.
Referral program
With the help of Admitad CPA network you can not only earn on offerers, but also get additional income for attracting new webmasters to your site. In order to get your referral link, you need to go to the "Referral program" tab in your personal cabinet, click on the "Referral link" inscription and get your link in a pop-up window. The referral program of the Admitad service allows you to earn 5% for attracting each new webmaster to the service.
Complaints about Admitad
CPA network Admitad gives almost unlimited opportunities to make money on the Internet from affiliate programs. You can earn money from affiliate offers with your own website, groups in social networks, by buying traffic, with contextual advertising and in many other ways. Among the experienced webmasters Admitad service is trusted. The platform is distinguished by transparent statistics, fair payments and excellent support service.
But despite all the advantages of the service, we also found complaints about Admitad on the Internet. According to review sites, the Admitad network is recommended by about 50% users. The rest 50% write negative reviews about the service. Most often, users' complaints are related to the fact that they were not able to earn enough money from affiliate programs. Their expectations were not realized, and they confidently state that it is a scam. Let's take a look at some of these reviews and see what the problem is with such users: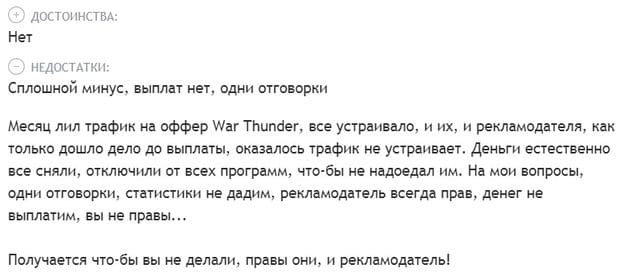 As you can see from this review, the webmaster was unable to make money due to a mismatch in traffic. Such problems are not uncommon for novice webmasters. The thing is that users do not carefully read the terms of affiliate programs. Many affiliate programs have restrictions on certain types of traffic, for example, some affiliate programs do not accept traffic from social networks, messengers or contextual advertising. In order to avoid such problems, the administration of Admitad service recommends to read the terms of affiliate programs and rules for webmasters attentively.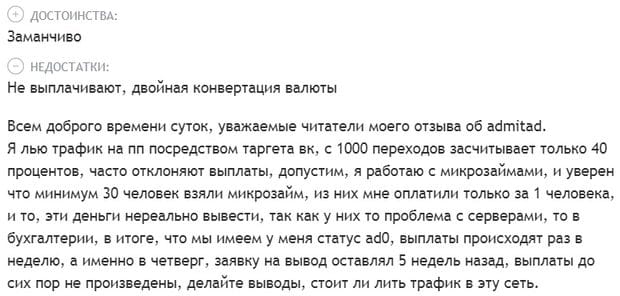 This complaint clearly shows us that the user cannot withdraw his funds and is unhappy that he did not earn enough money. Indeed, there are problems with the withdrawal of funds at the service, but as a rule they are solved very quickly, and such reviews do not quite correspond to reality. As you can see from this review, the user claims that at least 30 people took microloans through his link, but only one person was paid. Of course, he is not happy about this, but here you need to understand that not all users who leave applications for microloans really get to the stage of applying for a loan. Many of these users simply compare the terms and conditions of loans from different organizations and at the last step simply do not leave their phone number or card number to transfer funds. To be fair, it should be noted that there are also positive reviews on otzovik sites, which show that the network does fulfill its obligations to webmasters and honestly pays the money it earns.
If there are any new reviews about Admitad service, we'll be sure to publish the information on social networks. Sign up to make sure you don't miss anything!
Please keep yourself informed about news and complaints. We copy the most valuable information to social networks, so please sign up!
Regulatory agencies and laws
Admitad GmbH is officially registered in Germany at Lise-Meitner-Str. 8, 74074 Heilbronn. The activities of the company are regulated by the German authorities and the laws of the country.
Admitad User Agreement
Rules for webmasters and advertisers are published on site Admitad. Let's take a look at rules for webmasters, which are the user agreement of the site Admitad. The document is published in free access. It is this document that regulates relations between webmasters and administration of Admitad site. The document is obligatory to read before registration on the site.
According to the rules of the service, only people over 18 years old can register in the affiliate network. After registration Admitad company reserves the right to refuse webmaster's participation in the affiliate network without giving any reasons. After completing registration and account activation, user can use services of the affiliate network according to these rules. Webmaster must strictly comply with these rules and guarantee that the data he has transmitted to Admitad is true. In case any of these data are changed the user is obliged to inform the administration of the service within 5 days and change them in his personal cabinet.

The webmaster is entitled to a reward only if certain conditions are met at the same time, namely:

The rules for webmasters on the admitad site are a full-fledged bilateral contract, which must be read before you start working with the service. This document regulates not only financial and legal issues, but also explains what rights the webmaster has, how disputes are resolved, and what each party is responsible for.
Addad.com Customer Service
You can contact the support team of the admitad service through the feedback form in your personal account. You can also leave your questions on the pages in social networks. Service works on weekdays. The staff tries as quickly as possible to solve all the issues that arise. If you have any questions about working with affiliate programs, you must clearly describe to the support service what your problem is, how you tried to solve it with the advertiser, if possible, attach screenshots or photo-reports. All these data will help to solve your problem as quickly as possible. The answer from the support service you will receive in your personal cabinet.
In addition to the personal account you can contact the support service by phone.
Is Admitad a scam?
Admitad - is a global CPA network where every webmaster can make money from affiliate programs. There are a lot of reviews on the Internet saying that Admitad is a scam. Such reviews leave mostly by novice webmasters who failed to make money in Admitad affiliate programs and who are dissatisfied with the conditions of advertisers. In fact, registering on the site, you need to understand that attracting traffic to the advertiser's site is hard daily work. You can't just put a banner ad on your site and expect a multimillion-dollar profit.
The hardest part is for webmasters who don't have a promoted resource or group in social networks. If you are starting from scratch, be prepared to work more than 8 hours a day to attract exactly the targeted traffic to the advertisers' sites. Yes, your stats may have good numbers of conversions to the site, but remember that in practice only 10% users buy products and pay for some offers. Given this, it is safe to say that Admitad is not a scam, but a site where you have to work, show your imagination and constantly learn. And only then will you be able to reach a passive income.
Conclusion
To summarize, I would like to note that the partner network Admitad - is a really great opportunity to switch to a remote work schedule. Your home office can be anywhere, in any city and in any country. But if you really want to make money with an affiliate network, you have to work. If you're just a novice webmaster, don't pass by Admitad Academy. There are very useful articles and videos that will help you get accustomed to the site and understand the basic principles of working with affiliate programs. Also carefully read the terms of affiliate programs, it will save you from problems with subsequent payments.
Of course, it is simply impossible to describe all the features of Admitad Affiliate Network in one review, which is why it is better to see once than hear a hundred times. Register on the site and try your hand at making money on affiliate programs, because this is one of the most promising methods of making money on the Internet.
Promotion in social networks