Forex broker with a license from a reliable regulator offers comfortable conditions for trading, as well as cashback and affiliate program.
Forex broker
Website
Social media
Date of foundation

2007

Head Office

First Bank Building, Kingstown, SV&G, 1574 VC0100

The owner of the company

GAIN Global Markets Inc. of GAIN Capital Holdings Inc.

Types of support

Chat

Feedback form on the site

Help Center

Support by phone
Languages

English, Chinese

Terminals

MetaTrader 4, MetaTrader 5, WebTrader, Author's platform

Min. first deposit
Broker fee
Lot volume
Bonuses
Spreads
Free Demo Account
Adjustable
Regulators
Types of accounts

Demo, Standard, Commission, Direct Market Access (DMA)

Transaction volume
Execution of orders

Instant Execution (exact execution), Market Execution (at market price)

Methods of replenishment

Bank Transfer, Bank Card (Visa/MC)

Withdrawal methods

Bank Transfer, Bank Card (Visa/MC)

Number of assets
Types of assets
Account currencies

EUR, USD, GBP

Liquidity providers

TradingView

Mobile Trading
Weekend trading
Tournaments / contests
Trader training

Individual consultations, handbook, courses

Contract Difference Commission
Swaps
PAMM trading
Analytics
Margin Trading
Affiliate Program
Benefits

Customizable minimum deposit

Several types of platforms and mobile applications

An international company with an extensive network of branches

Disadvantages

Confusing and unclear trading conditions

There is a bonus program, but it is focused only on customers with large trading volumes

No Russian-language support

Company requisites

Legal name:

GAIN Global Markets Inc. of GAIN Capital Holdings Inc.

Legal address:

First Bank Building, Kingstown, SV&G, 1574 VC0100

Date of update

26.04.2022

Overall assessment
Address
First Bank Building, Kingstown, SV&G, 1574 VC0100
Map
Subscribe to this company
FOREX.com is it a scam? Reviews and description
FOREX.com
- is one of the products of the brokerage company GAIN Capital Holdings Inc. focused on the European and Far Eastern markets. The service is less functional than the operator's other project (City Index) and offers about 180 assets as opposed to its 4,500+.
The emphasis is on spread betting, but the CFD direction is also developed. How effective is it to trade on this resource? FOREX.com - a scam or a serious investment offer? Let's see.
Terms of trading with FOREX.com
Forex broker FOREX.com offers its users 3 types of trading account:
Standard. The broker does not charge any commission, the recommended minimum deposit is $50, the spread starts at 0.8 pips. There is an opportunity to increase the price by limit orders. Supports trading signals.
Commission. With reduced spreads from 0.2 pips. Subject to a commission of $5 per lot (100,000 units). All other features are the same as in Standard.
Direct Market Access (DMA). Focused on professional traders. Access to liquidity pools directly. Spreads are minimal: from 0.1 pt.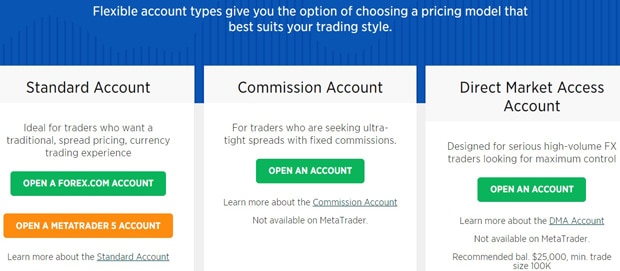 Investing in PAMM is not available, but there is trust management of accounts by introducing brokers (IB) of the company - users who became members of the FOREX.com affiliate program. Other details are known only to registered users who have opened an account on the site forex.com. For example, the currency in which you can open an account: EUR, GBP, USD. And the minimum deposit: the value is entered at the trader's discretion.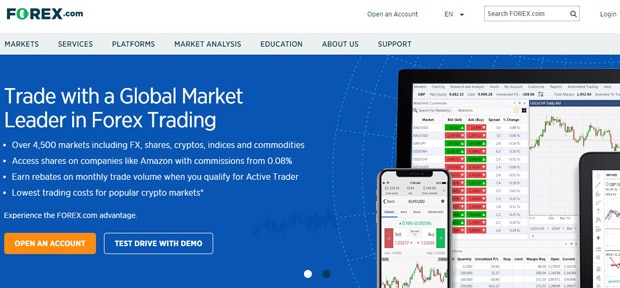 Beginners can connect a demo account (free demo account for training on the terminals) with a limit of $10000 to sharpen skills, develop their own line of market behavior and evaluate the platform functionality (forex trading training). Also available are technical analysis tools: indicators, mobile applications, plug-ins from the well-known service TradingView (Autochartist, etc.). Training comes down to individual counseling (with joint strategy development - Market Strategist) and the study of reference materials collected in a single database on the website forex.com. Support is provided by phone, email, online chat and social networks.
Platform forex.com
FOREX.com operates on three platforms:
MetaTrader 4. The most famous model, popular among traders due to its practicality, functionality, operability and ease of use. Depending on the chosen format, it allows you to work online (web, mobile) and offline (installation for PC). It has its own pool of settings and is complemented by downloadable plugins.
MetaTrader 5. Updated MT4 version with 5 decimal places in quotes and improved charts (more timeframes, indicators and instruments). Also presented in three formats.
FOREX.com (author's). Customizable information panels and trading windows, more than 80 technical indicators, analytical tools, templates on C# and .NET. Available in mobile and desktop versions.

After creating a trading account on the site forex.com For security purposes, each user is verified: his/her identity (scan of passport, ID-card of EU citizen or driver's license) and address (scan of payment document indicating the exact place of residence). Everything is uploaded in the Account Verification section of the personal cabinet. SLL-encryption is used to protect transactions.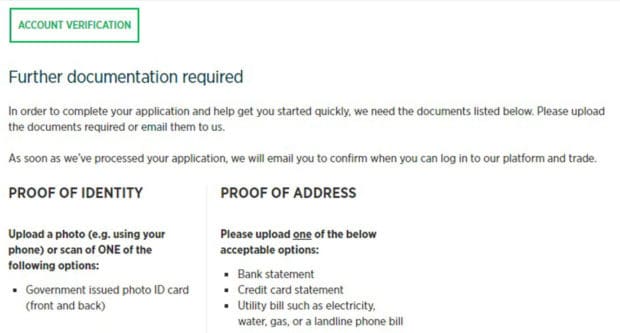 Broker quotes
FOREX.com broadcasts quotes of 80 or so currency pairs: EUR/USD, EUR/GBP, XAU/USD, NZD/USD, USD/JPY, EUR/CHF, etc. (forex trading). Depending on the type of account, you trade on the NDD (access to a pool of liquidity providers) or STP (best offers displayed by the broker) model.
Among the liquidity providers there are TradingView and a number of large banks, as the provider claims, but the names are not specified. And the comparison of the broker quotes with others in the online mode via special services shows serious discrepancies - up to 5 points per demand (Ask). This suggests that the proposed figures are not so accurate.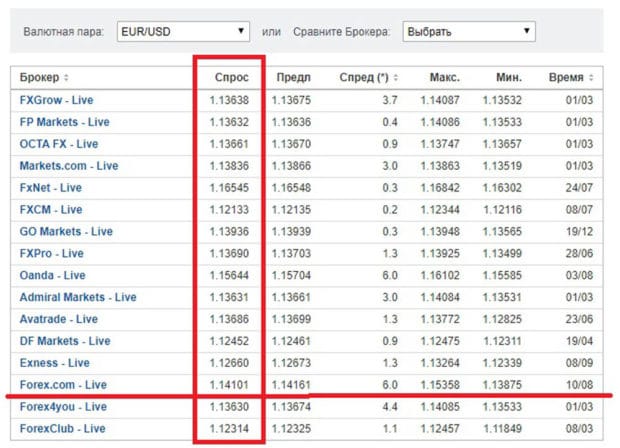 Demo account forex.com
A demo account (free training account) is opened to a registered FOREX.com user. Among the terminals you can choose FOREX.com Demo or MT5 Demo. In the application form we specify the country, full name, phone number and e-mail.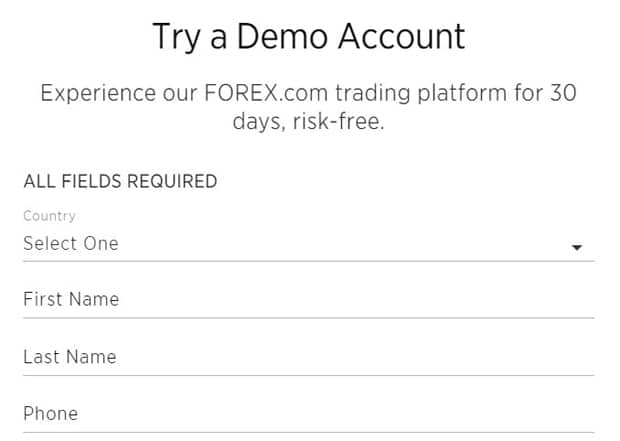 Then login to the platform using the generated username and password. And get 30-day access with a limit of $10000 virtual currency (has no cash equivalent). After zeroing the balance you can open a trading account.
Mobile application
In addition to mobile versions of MT4 and MT5, the company has its own application for Android and iOS devices. It can be downloaded for free from the App Store and Google Play Market. The features are the same as on the desktop:
80+ currency pairs plus CFDs.
60+ technical indicators, more than 50 drawing indicators.
Analytical tools from TradingView.
Overlaying several markets on one chart.
Financial news, helpdesk.
Users rated the software not too well: 3.2-3.3 points out of 5, depending on the site. Almost all of the reviews are hidden, so it is difficult to see the reasons for dissatisfaction. In the few that are available, there are complaints about the program hangs, poor layout (content elements overlap on screens with low resolution) and uncomfortable interface after updating.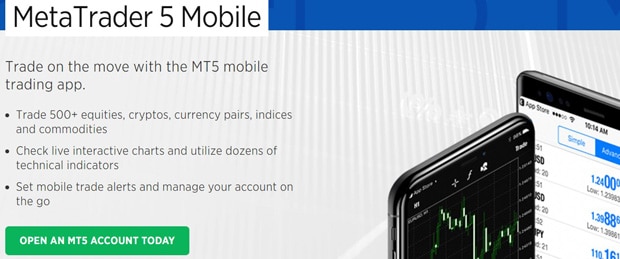 Bonuses at FOREX.com
FOREX.com, unlike its "brother" City Index, has a bonus program.
Cashback
Each registered user can get a cashback of 20% (but no more than $5000) for depositing $1250 or more. Funds are credited within 14 days after joining the promotion. To withdraw bonus funds you need to perform a minimum trading volume (i.e. perform a certain number of transactions). The offer is not valid for the residents of the USA, UK and China.

Active Trader loyalty program
Participants are traders with deposits of 10000 USD and/or trading volumes over 25 million USD per month. If a client fulfills the plan (25 million, 50 million, 100 million, 250 million, 500 million), he gets a level (there are 5 levels in total) and a discount on trades from 4 to 15%. In addition to the promo, there are several options for affiliate programs: referral, White Label, IB (introducing broker). They are provided by GAIN Capital Holdings Inc.

Deposit and withdrawal
Deposit/withdrawal of funds in FOREX.com is carried out only by bank cards (VISA, MasterCard) and transfer. Before each transaction, you must confirm your identity by sending scans of documents (passport, utility receipts, etc.). There are no limits set on transfers, but you can deposit from $50 to $10,000 (or the equivalent of those amounts in another currency). USD, GBP and EUR are supported, all other currencies are converted with commission. The service does not charge for transfers, but does not cover fees set by third parties. payment services, banks.
Complaints at forex.com
Reviews about FOREX.com, in our opinion, are too few for such a solid broker, which the service provider positions itself as. And, if we are guided by the verified international reviews, in the text of the comments there are complaints about problems with withdrawal of funds, verification, as well as the high cost of service.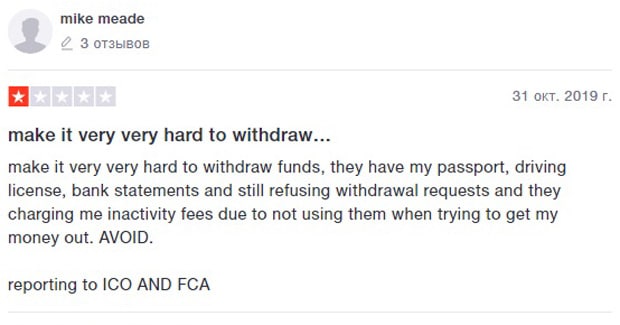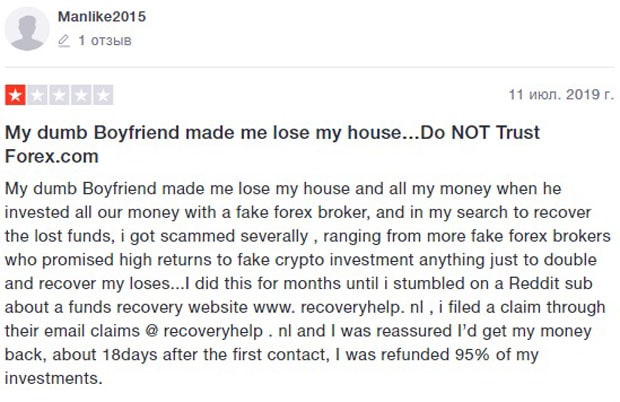 If there are any complaints about FOREX.com, we will be sure to post the information on social media. Sign up so you don't miss anything!
Please keep yourself informed about news and complaints. We copy the most valuable information to social networks, so please sign up!
FOREX.com broker regulator
GAIN Global Markets Inc. (a FOREX.com management company) is part of GAIN Capital Holdings Inc. registered in the United States, but has its own license for brokerage activities, issued by the Cayman Islands Monetary Authority (CIMA) in January 2007. The document number is 25033. On the regulator's website we found confirmation of the permit's active status.
Forex.com User Agreement
The FOREX.com User Agreement is only available in the English version. The document defines the nature of the legal relationship between the client and the administration of the service to each other. Let's analyze some of its conditions as an example. For example, it specifies the client's obligation to provide true and accurate information about himself and notify if there are any changes in the data (change of name, phone number, address, etc.). You have the right to request a payout if your account balance is positive. However the company, for its part, can refuse you for one of the following reasons (clause 13.1):
The presence of losses on your account that have not yet been set off.
The payment will entail going into deficit.
Funds on the balance sheet will be required to meet margin and other requirements.
Part of the funds in the account belong to the company (say, an accrued bonus, the terms of which you have not yet fulfilled).
The legal requirements do not allow for this.
You are abusing the terms of the agreement.
If you violate the payment deadline, the broker will charge you a daily penalty fee. This is an amount up to 4% of the outstanding balance (clause 13.8).

There is an established right of the online service provider to terminate a customer's access to a resource in case of violation of the law, rules of the agreement, loss of legal capacity (or even life) or participation in bankruptcy proceedings. FOREX.com has also introduced a provision allowing the "freezing" of the account for 14 days, if there is a legal proceeding between the user and the company, if the user has engaged in abusive behavior towards the company's employees/partners or on the basis of a belief that the user is not capable of reasonable risk management. The provider is not responsible for the accuracy of the information (this also applies to quotes) posted on its resources (clause 26.6.1).

And possible losses caused by loss of access to the service, if it was not the result of criminal negligence or malicious intent. (п. 27.2.2).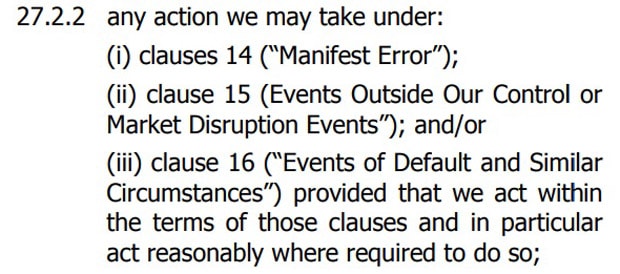 An account with no movement on it is considered inactive after 6 years from the date of the last transaction (deposit, opening/closing positions, withdrawal). In this case, the currency remaining on it may be donated to charity - provided that at least 2 attempts have been made to contact the client and no feedback has been received within 60 days or longer (clause 28.10).

Is FOREX.com a scam?
FOREX.com is somewhat loses in comparison with another product of GAIN Capital Holdings Inc. both in terms of functionality (less assets, tariffs, technical capabilities) and in terms of demand: there are fewer downloads of the mobile application and almost no reviews on the web. And yet the broker still has an official license from a reliable regulator and the affiliate program is interesting.
However, for ordinary users the company's services are expensive: both tariffs and bonus conditions are clearly aimed at the solvent segment (with an income level above average). While the opportunities, in our opinion, do not reach the level of professional traders who are ready to invest in the exchange in a big way: quotes do not always correspond to market ones (judging by online comparison services), trading accounts are described confusingly and unclearly, the speed of processing requests by the support team is slow. FOREX.com is not a scam, but the resource has plenty of shortcomings.
Conclusion
FOREX.com seemed to us a broker of average level, claiming the right to belong to the "big league". Quite spectacular design of the site, pathos wording, high cost of services - all this is at odds with the frank problems of service. For example, users berate the mobile app for its slowness and frequent failures, and the support service for incompetence and ignoring clients.
The imbalance between what is presented and what is real leads to experienced market participants being simply bored with the service, and newcomers finding it difficult. Hopefully, in the future, the vendor will be able to solve this problem by modifying the policy.
Rating of reliable brokers