Forex Signals
Trading signals on forex are signals that inform the trader that it is possible to buy or sell currency pairs or CFD contractsand thereby help the trader to make decisions in the course of trading in accordance with the market situation. Trading signals should help when trading in the market, but can also be misleading.

The trader can trade by his signals, i.e. he can independently determine in the trading terminal, when to buy, when to sell with the help of indicators, as well as by tracking news, studying statistics and so on. Or he can receive signals from a provider.
What are forex signals?
Trading signals are very much in demand on the forex market, they are supplied by providers through various channels. With the help of SMS-notification a trader receives a signal about the point of entering the market, it specifies the type of transaction, entry price, stop-loss, take-profit and other information. It takes some experience to immediately understand the meaning of the information provided in an SMS. In a similar form, signals can be received from the provider by email. There are also mobile applications developed by providers, and signals can be sent in a messenger. The trader-provider can give signals in a webinar format.
On trading floors, traders present their signals for copying, that is, the recipient copies them into their trading terminal during trading.
Signals from providers can be paid and free. It is believed that paid signals are more accurate than free ones. Free signals are mostly demanded by traders who have started trading recently.
How to work with forex signals?
Working on Forex, relying only on their strengths, guided only by their signals, involves a good knowledge of the market, the ability to determine the exact signal, filter out false signals (Is forex a scam?). Ultimately, the signals allow the trader to make a profit or get out of a potentially losing trade in time.
Before you start trading on signals from vendors, you need to choose quality signals and this is not easy, because in most cases the signals are of poor quality.
You should be cautious about signals that offer Forex Brokerseven if compensation is offered for a wrong signal. Brokers benefit from unprofitable trades for traders, so they have little interest in supplying traders with useful signals. Any signals offered by brokers need to be checked for demo account. To an even greater extent, this applies when a broker offers to open an account using a referral link with the condition of signal delivery.
The company-signals provider should be questionable if it has recently entered the market, there is no independent statistics on the signals, it has a lot of rave reviews and no negative, the paid signals are too cheap, no refunds are guaranteed in any cases, the support is poorly responsive or does not respond at all, and so on.
Signals that are offered on social networks and forums are rarely effective. It is extremely unlikely that a trader who has developed or received a signal that works well will share it with other traders. At the very least, such a signal must be paid for. In any case, if buying a signal seems like a potentially good investment, you should check the reviews about the seller and the effectiveness of his signals.
Ultimately, after searching for a reliable signal provider, most traders stop at well-established resources, of which there are not many in the world. But even if a signal provider is reliable, the final decision regarding the use of signals is up to the trader in each specific case. Signals cannot be completely trusted in trading, they must be compared to each other, many related circumstances must be taken into account - the influence of macroeconomic factors, unexpected news, non-market factors, and so on.
Open a demo account with your broker, add a trade based on platform signals and see what happens
How to get signals for forex trading on your own?
In order to get a signal on the trading platform and apply it, you need to refer to the list of traders-providers.
A few years ago the search and selection of individual signals began to turn more into a search for a trader, whose behavior in the market can be copied along with his signal. The essence of this method consists in the calculation that if you copy a trader's signal, the result will be the same as his, and the effectiveness of the result can be checked with statistics. This method has obvious advantages - it takes less time to evaluate the signal and less time to understand the market. Although the latter is a dubious advantage.
In MQL5 (https://www.mql5.com/) The copying option is presented in the "Trading Signals for MetaTrader 5 with automatic execution on your account" section.

Image. 1
This service allows you to copy traders' signals for execution on your account in automatic mode. In order to use the signals from this resource, you must first register an account on it. Enter the signals section and select the desired one. The site offers a great many signals to choose from. They can be selected according to various parameters - profitability, reliability, intraday, leverage 1:100 and so on.
For each signal there is quite detailed information - graphics, statistics, trading history and other aspects. Directly in the signals window you can see the indicators: Price, Growth, Subscribers, Funds, Weeks, Trades, Plus, PF. You need to click on the selected signal for more information.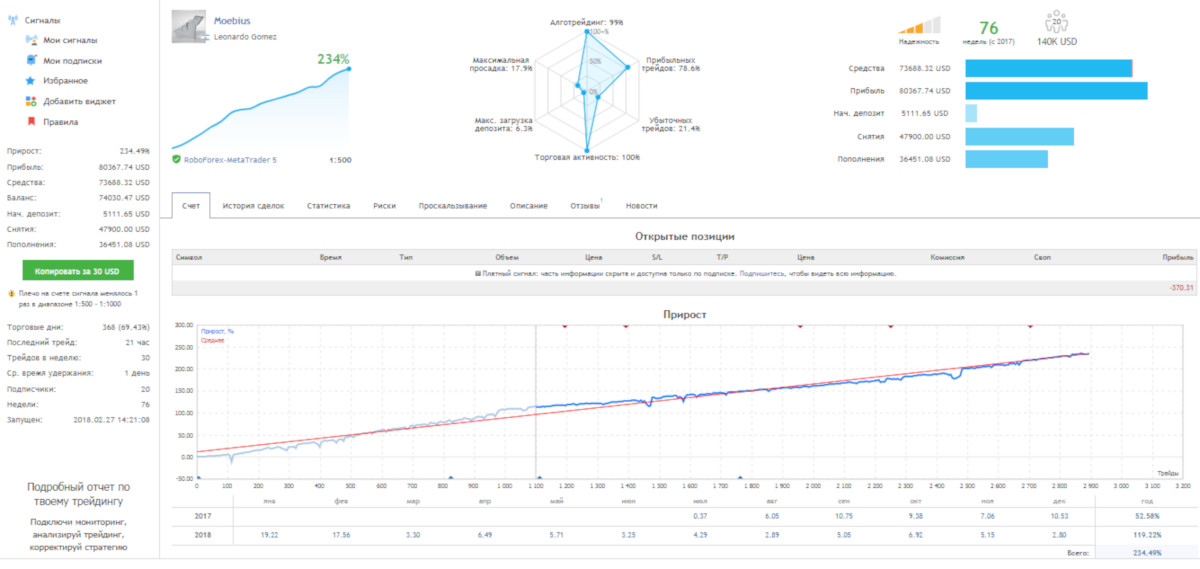 Image. 2
Upload the selected signal to the trading web-terminal through the "Signals" service at the bottom of the web-terminal.

Image. 3
To subscribe, you need to select a suitable trading signal in the showcase, if the signal is paid, it is paid for via Visa, MasterCard and UnionPay bank cards and various e-wallet options. After that the trades copying is set up by specifying the deposit amount for operations with the signal, specifying the spread amount, the minimum deposit at which copying will stop.
It should be noted that now all the signals presented on the trading platform are paid signals. For questions regarding free signals you should contact the MT5 community (https://www.mql5.com/).
To receive signals on the platform eToro, you need to select the appropriate market, enter the "Traders."where traders-signals providers are presented, strategies which can be copied. Traders are distributed according to different parameters - profitability, risk indicators, there is a filter for additional parameters.

Image. 4
After selecting a trader, you should click to go to his profile, where you will be offered to copy. To be able to copy, you must have a completed profile and deposit the appropriate amount to the platform.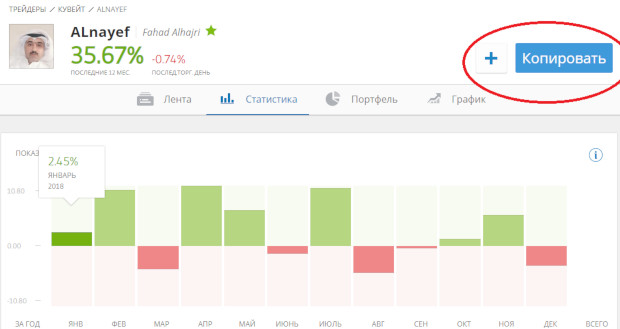 Image. 5
ZuluTrade offers a similar working scheme. The parameters of the rating of signal providers for copying can be selected in different ways, including advanced search.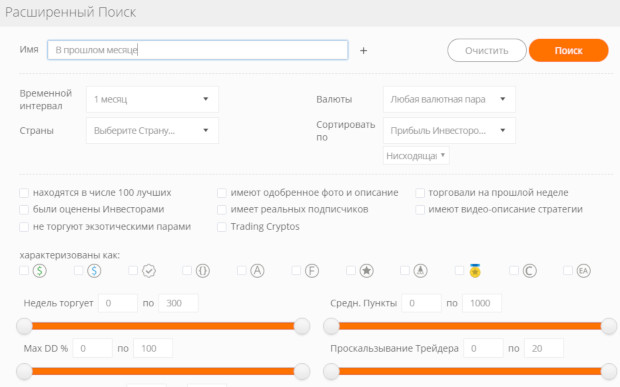 Image. 6
To activate a subscription, you need to fund your account. After the subscription, the copied trader is placed in the trader's portfolio. In addition, in the user's account settings there is a function "Get Traders' Signals".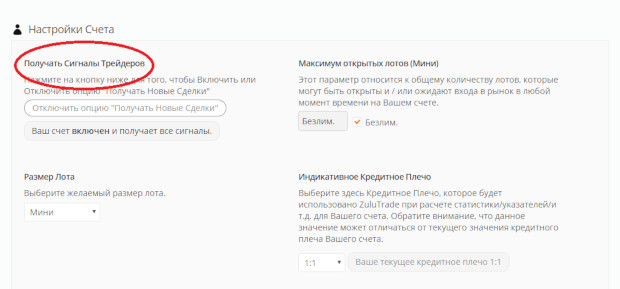 Image. 8
On the Myfxbook platform, trades can be copied automatically in the AutoTrade section (https://www.myfxbook.com/). But here you can also go to the signal providers - companies, they are presented in the "Overview" section, in the subsection "Trading Signal Providers".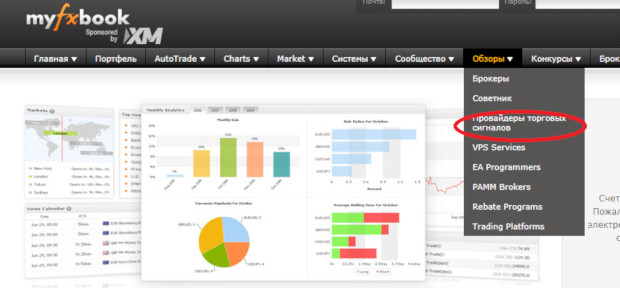 _
Suppliers are presented in the form of a ranking of signal companies.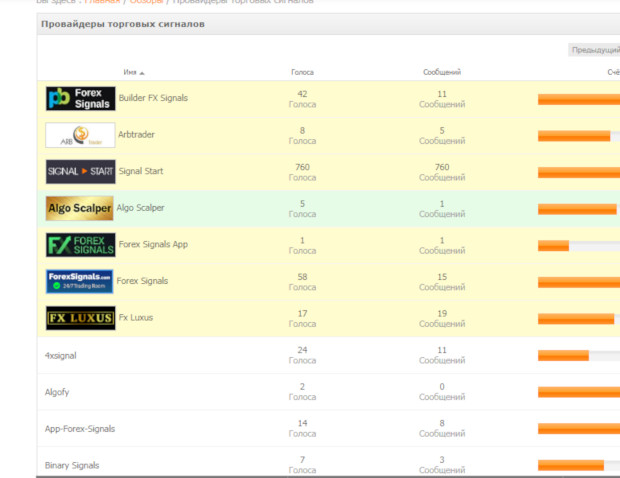 Image. 9
The rating is based on a simple scheme - the number of user votes cast in favor of a particular provider.
Free forex signals
There are a lot of free signals for forex trading, and providers of such signals actively advertise their services. In general, the choice of free signals comes down to distinguishing bona fide providers, which are in the clear minority, from the providers of useless signals or simply scammers. The usefulness of free signals from forex brokers is doubtful, as brokers have no particular advantage in the supply of effective signals. If you choose such signals, you should at least test them on a demo account and read the feedback from the customers who have already used such signals.
Receiving signals for opening an account using a referral link is also questionable, again, there is no benefit for the provider to share useful signals with the trader in this format. If the choice is made in favor of such providers, you must check on which broker's resource the account will be opened. And read the reviews of both the broker and the provider.
In any case, the provider who supplies free signals must be a real trader or company, and this fact can be checked on the Internet. Such provider should be known on major trading floors and services. Such provider must have a proven history of successful trades in signals. Examples from demo accounts are not suitable. Of course, such provider must be present in the market for quite a long time, certainly not less than a year.
As providers of free signals you can consider TradingviewThe screen reader can be used without registration, but registration will widen the possibilities of using the service. The screener can also be used without registration, but registration will expand the possibilities of using the service.
Service Foresignal.com (https://foresignal.com/) presents free signals online. After registration you can subscribe to the signals by e-mail, but it is already paid.
Provider of free signals Traderblog (https://traderblog.biz/) sends signals to the e-mail by subscription, which is very simplified on the first page of the site.
The platform distributes free signals Alpari within the Autochartist application. In order to receive signals, you need to register on Alpari and in the "Forex Analytics" find the subsection "Technical Analysis.".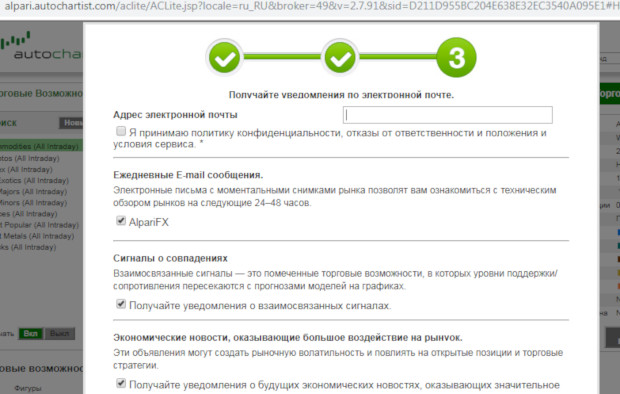 _
For an experienced trader free and very useful signals are economic and political news, information of indicators, oscillators, support and resistance lines, events that occur during trading and which are similar to events that have already happened before, opinions of people authoritative for the financial industry and so on. Signals are often only needed to further confirm what the trader already knows or intuitively anticipates.
On the other hand, free signals from a proven provider are necessary to a beginner who is still learning to interpret the information in the signals. He will suffer losses in any case, so adding losses from the purchase of expensive signals is not a very pragmatic idea.
As for the reviews of traders on free signal services, it is worth noting that a large number of positive reviews should be alarming. The reviews on the providers' websites can be ignored, you should pay attention only to the reviews that traders leave on independent platforms.
Every provider has negative reviews, and if there are a lot of them, it should be alarming. But if the reviews look like "they are scammers" without any clear explanation of why they are "scammers", then such a review can hardly be relied upon when choosing a provider. Nevertheless, reviews of traders' community concerning providers of free signals are a very important factor for choosing a provider. Many traders tell in detail what the disadvantages of the provider are, and this information should be paid attention to.
When choosing a provider, you should be skeptical of the providers' laudatory descriptions of their signals - the figures of profits, promises of inevitable fast and stable income - all this should be treated with skepticism.
Paid forex signals
Paid forex signals are considered to be more informative and useful than free ones, although not all traders, including experienced ones, think so. The most popular providers of paid signals can be found in the ratings, but the ratings themselves (or unrated descriptions) should be treated with caution, especially if they clearly focus the user's attention on a single provider.
If there is too much information with big numbers of profits on the website of a paid provider, this should be a warning sign. A large number of reviews on independent traders' sites is a good sign in itself. An additional plus if the provider responds to traders' claims on such resources and expresses his willingness to help.
The providers of paid signals, known on the market, include, in addition to those already listed, for example, Signaler. (https://www.signalator.com/ru/). The service provides a subscription to a large number of signals and signal packages on different terms - by SMS, email, personal user page and for autotrading on MT4 and MT5 platforms.
Instaforex - provider of signals and other information for traders in a large volume, which is supplied (or used, it is difficult to understand), judging by the information on the site, by Olympic athletes and other sports people, the so-called "stars" of this complex platform. The service provides a directory of signal providers, which includes signal providers and services for copying, among which there are free resources. These services help to trade specifically on the site Instaforex.
For example, among these services is Forsignal (https://forsignal.ru/, the website is down). In order to use the signals of this resource, you need to register and open an account with Instaforex, after which the opportunity to copy ForexCopy signals will be presented.
Copyfx (https://www.copyfx.com/) - a service for copying trades almost without participation of the trader in the process, who in this case becomes just an investor. The investor pays the provider-trader a percentage of the total profit on all closed trades. Accordingly, you can use this service only after registering an account on the resource and making a deposit to it.
Signal Start (https://www.signalstart.com/) - a resource that is positioned as a full service for both signal providers and recipients. Note: when registering, you should pay attention to the fact that the service does not quite correctly recognize the full name - you need to write it in Latin script, and the patronymic is not required, the attempt to enter a full name in Russian was unsuccessful.
After activating the account, you will need to connect a trading account by filling out the appropriate form. Note: in the form, in the "Platform" line, only Metatrader4 is pre-installed. The signals themselves are selected in the corresponding section.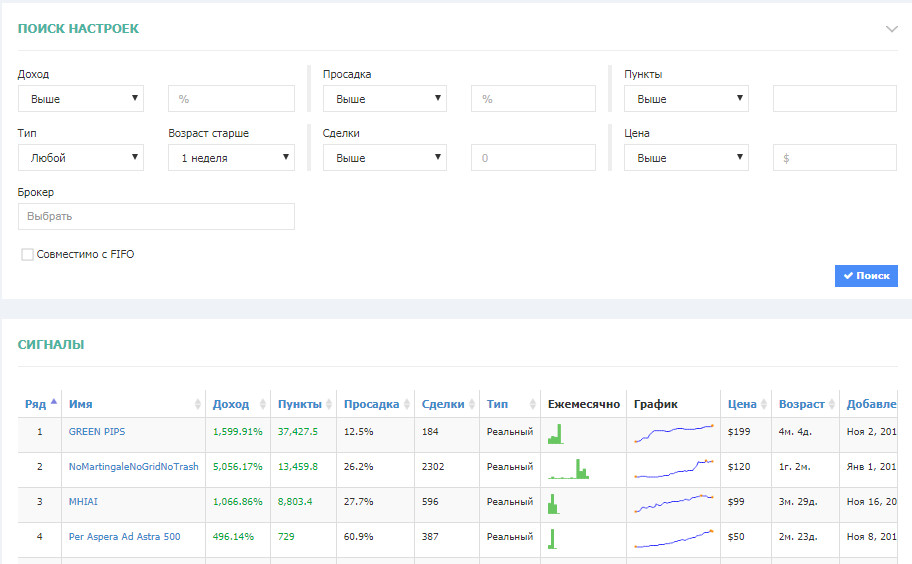 _
As you can see, the service has a rather modest selection of settings, by which you can select the desired signal. But in the list below the settings window the selection of signals is large and the parameters allow any trader to choose the signals.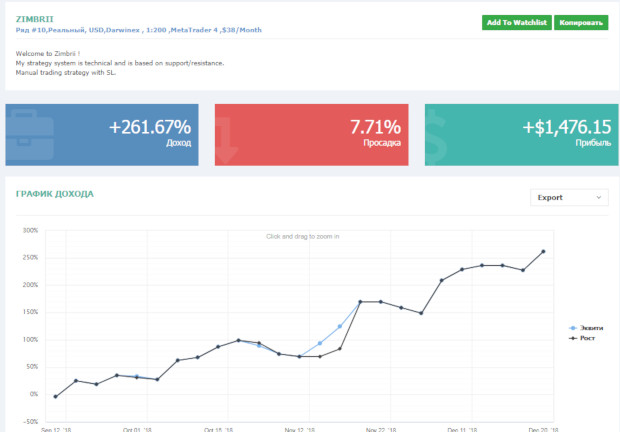 _
By selecting the desired signal in the list and clicking on it in the signal profile, you can read its indicators and add it to the viewed or copy it. The signals are paid because, according to the service's own description: "Signal Start is an online store providing a signal service for subscribers and signal providers.
The "Growth Leaders" and "Newest Signals" signals are placed in the "Control Panel" section of the Signal Start service. This platform for selecting signals is quite popular among traders.
Another signal provider is ForexSignals (https://www.forexsignals.com/), provides signals by mailing list, has a fairly high reputation, a lot of positive feedback, although a lot of negative. There is a free trial period of one week, active support, the opportunity to get advice from an experienced trader on the signals. Registration on the resource is only possible with the confirmation of the phone number.
Broker Builder FX Signals (https://www.1000pipbuilder.com/) also has quite a lot of positive feedback. Sends signals by SMS and e-mail, in the messages indicates the entry price, stop-loss and take profit level. Registration on the resource is only paid.
Arbtrader (https://www.arbtradersignals.com/, the site is not working) is a broker on whose site you can register first on the free version. Despite the outdated and not very user-friendly interface, it is possible to obtain signals and copy the signals of traders-providers on the service. As practice has shown, there can be difficulties with registration.
Algo Scalper (http://forexsignal.love/, the site is not working) is a broker apparently specializing in scalping. There is a trial period for those who want to get access to the signals, and to all other functionality, you can only send a letter to the address listed on the site. The service is designed for traders on MT4, the signals, of course, are paid.
Traders Elite Forex Signals (http://traderselite.com/) is an assistant, which is listed in a number of sources as a provider of free signals. In fact, the resource implies a regular fee. The trial period is inexpensive, but you will have to pay for permanent use. But mostly the reviews of the service are positive.
A comprehensive trading platform TradingCentral (https://example.tradingcentral.com/) is a well-known resource where you can try to work in test mode, in the mode for beginners and for advanced traders. But still it is mostly a resource for traders who know the peculiarities of the market, which is more of a provider of analytics than signals.
On the Collective2 trading platform (https://trade.collective2.com/) it is also possible to copy trades of traders-providers, a long free period is provided for beginners. On this resource, the providers also pay for the opportunity to present their signals and strategies, which is considered an additional guarantee of the quality of the signals.
Signal providers such as 4xsignal, Algofy, App-Forex-Signals, Binary Signals, Currensee, Forex MAM, ForexTIMOBI, Free Forex Membership Club, Live Forex Trading and many others can also be mentioned.
Technical signals, i.e. information based on technical analysis, are mostly supplied as paid signals. But there are also resources that provide breaking news trading signals for traders who use news-based trading strategies. Some traders are content with general trading signals, such as those that show general market conditions and dynamics based on a combination of fundamental technical analysis.
How to filter out false forex signals?
Given the dynamics of the forex market, filtering false signals becomes particularly important. There is a temporal way to filter signals, which is that after the formation of a particular signal, you just need to wait for some time for the signal to be confirmed or denied. But while this is the easiest way, it is also the most inefficient, because it is difficult to determine when a reasonable expectation will lead to a missed benefit.
There are graphical ways of filtering. For example, in the case of trading by candlesticks or bars, the trader can open a trade only after a candle on 100% has closed above (or below) a certain level. This method is used in conjunction with the moving average.
The trader can also enter a trade only after two consecutive bars or candlesticks close, pointing in the right direction. The trader can wait until the bar or candle is less than or greater than a certain point in conjunction with the moving average readings.
There are also technical methods that help in filtering signals, - oscillators and indicators. In particular, the indicator can be used Fractals Williams - it is used to confirm or refute a signal to open a deal, which is given by another trader's tool. Graphical and technical methods are problematic because it takes time to confirm the signal. So, in the end, the best way to identify and cut off a false signal is the trader's experience.
Best forex signals
The trading platforms and resources of signal providers have lists of the best signals or the most effective signals. They are determined by profitability or some other parameters over a period of time. But objectively, there is no unambiguous answer to the question "Which signal is the best." No. Traders choose signals first according to ratings, according to other users' reviews, and finally stop at the signals they feel comfortable working with within the strategy they have developed.
It is believed that you should not limit yourself to one signal, even if it has shown effectiveness, you need to use several signals, thus conducting a cross-check. But the most important thing is the professionalism of the trader, his ability to interpret the signals. If a trader is able to read information he needs and apply it to trading, he is also able to use free signals.
Also, an experienced trader can become a signal provider, there are services for the sale of self-developed signals on many resources and trading platforms.
Conclusions: get your own signals or trust someone else's?
The question of which signals to trust more - your own or from providers, is a question of how well the trader can trade independently. If a trader feels confident in his abilities and has an effective trading strategy, then he does not need third-party signals, he can successfully trade by his own signals, by indicators, by the news and so on, regardless of other people's opinions.
But on the other hand, an experienced trader also needs additional information. It is not necessarily a signal from another trader to buy or sell, but, for example, a rumor, information in social networks, the opinions of reputable traders - all this affects the market, that is, all these signals and therefore require attention and should be considered in trading.