CFD on Futures from Roboforex
The company RoboForex introduces a new asset for trading - contracts for difference (CFD) on futures. This opens up opportunities for traders to trade three popular U.S. futures, viz: S&P 500 E-Mini, Nasdaq 100 E-Mini and Dow Futures Mini. CFDs are a derivative financial instrument which allows traders to speculate on changes in the price of an asset without the need for physical delivery of the asset. In the case of futures, such as the S&P 500, Nasdaq 100 and Dow Jones, traders can trade indices that reflect the health and price changes of leading companies.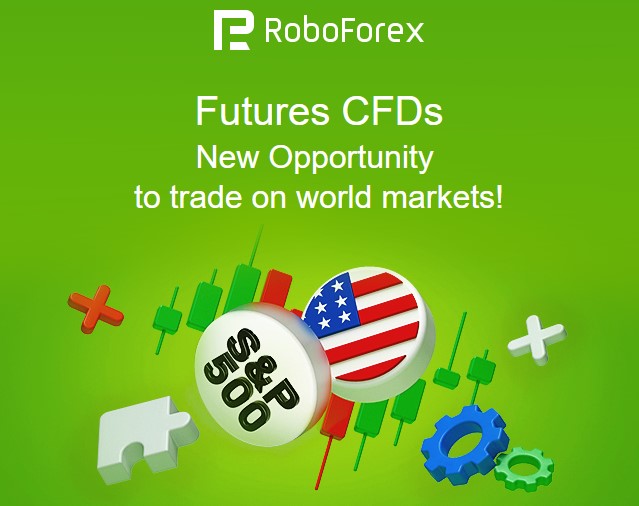 One of the advantages of trading CFDs on futures with RoboForex is the use of advanced CFD features. Traders get access to various tools and features that help manage risk and perform more accurate market analysis. This includes the possibility of placing stop-loss and take-profit orders, using technical analysis with the help of charts and indicators as well as trading robots and advisors.
Another advantage of trading CFDs on futures with RoboForex is the absence of swaps (Rollover Fees). Swaps are fees that are usually charged when a position is rolled over to the next trading day. However, in this case, traders can avoid these fees and save on costs. Traders interested in index futures S&P 500 E-Mini, Nasdaq 100 E-Mini and Dow Futures Mini can take advantage of the new opportunities provided by RoboForex to trade on favorable conditions. However, before you start trading, it is recommended to get acquainted with all the conditions and requirements, imposed by RoboForex for trading