Ionomy is a unique cryptocurrency exchange with a gamer interface and the ability to earn money in games. The platform offers a modern trading terminal, low commissions and safe storage of assets.
Read completely
Cryptocurrency exchange
Official website
Social media
Date of foundation

2020

Head Office
Types of support

[email protected]

Help Center

Feedback form in your personal cabinet

Twitter

Facebook

Telegram

Discord

Languages

English, Korean, Chinese, Russian, Japanese

Founder
The owner of the company
Manager
Minimum entry amount

Verified

Cryptocurrency

From 0.00001 BTC
From 0.01 ETH

Unverified

Cryptocurrency

From 0.00001 BTC
From 0.01 ETH

Maximum input amount
Minimum withdrawal amount
Maximum withdrawal amount
Exchange Commission

Trade Commission:

From

0.25

To

0.5

% for maker /

From

0.25

To

0.5

% for taker

Networking fees:

5

% / Sharenodes Account Maintenance

Withdrawal fee:

0.0004

BTC /

0.0035

ETH

Terminals

TradingView

Age restrictions
Number of cryptocurrencies
Number of trading instruments

20+

Indicators, oscillators, graphical tools

Margin Trading
Tokenized assets

ION - platform service token

Free Demo Account
Types of accounts
Execution of orders

Limit Order, Market order, Stop Limit Order

Methods of replenishment

Cryptocurrencies

Withdrawal methods

Cryptocurrencies

Account currencies

BTC, ETH, LTC, BNB, etc.

Types of cryptocurrencies

BTC, LTC, ETH, BNB, etc.

Mobile applications
Trader training

Help Center, useful articles, instructions

A way to store cryptocurrencies

Cold:

yes

Assets are stored in an off-line vault

Hot:

yes

Hot wallets hold assets for daily turnover

Fiat accounts
Scalping
Stop Loss and Take Profit Function
Exchangeability for fiat currencies
Game grid

A set of mobile games with cryptocurrency earning

Game Dock

Download games with withdrawal of cryptocurrencies

PoTX

Transaction Confirmation Protocol

Jinx

A set of protocols for creating cryptogames

Basic verification

Confirming an email address

Extended AML verification
Regulatory laws

International data protection law

Canadian law

API
Bonuses
Affiliate Program
Benefits

Multifunctional trading terminal

Fast transaction processing

Proof of each transaction

Passive income opportunity

Opportunity to make money from the charms

Disadvantages
Company requisites

Legal name:

Ionomy Limited

Legal address:

Republic of Seychelles

Overall assessment
Date of update

26.02.2023
Address
Republic of Seychelles
Map
Subscribe to this company
Is this a scam? Reviews and description
Ionomy
-
cryptocurrency exchange
with a number of additional services for gamers. Here you can buy and sell not only the usual
cryptocurrencies
such as
BTC
,
ETH
,
DASH
,
LTC
but also tokenized in-game assets and currencies. Transactions on the platform are recorded using the POTX-API protocol, which proves the authenticity of each transaction. In addition to active trading, the service offers passive earnings on the retention of masternotes. Rewards are accrued every 24 hours.
In this review, let's look at the capabilities and features of the platform, learn legal information about the company to understand if Ionomy is a scam or a reliable service for cryptocurrency trading and gaming assets.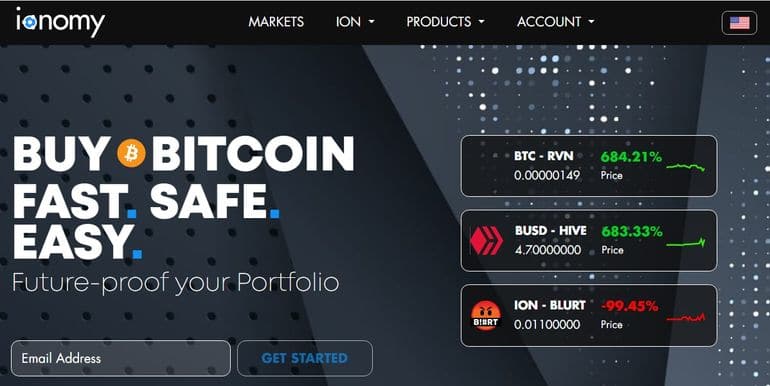 Why Ionomy?
Cryptocurrency exchange Ionomy - is a non-standard trading platform offering a number of additional services for gamers. The platform offers full transparency of transactions and commissions, as well as trading of in-game assets and tokens, along with popular cryptocurrencies. Moreover, a set of mobile games can be downloaded from the site, where the withdrawal fee for any coins is paid by ION token. There are also individual downloadable games available here that allow you to earn real cryptocurrency.
Game developers are offered a set of protocols that can be used to create blockchain games without specialized knowledge or skills. Gamers, on the other hand, can connect to a Jinx game and start earning ION today.

Traders will find a convenient terminal on the exchange TradingViewThe platform supports 80+ indicators and oscillators, charting tools and timeframes from 1 minute to 1 month. The platform supports trading 20+ cryptocurrencies in trading pairs with BTC, ETH, BUSD, ION, Also here you can bet on future events.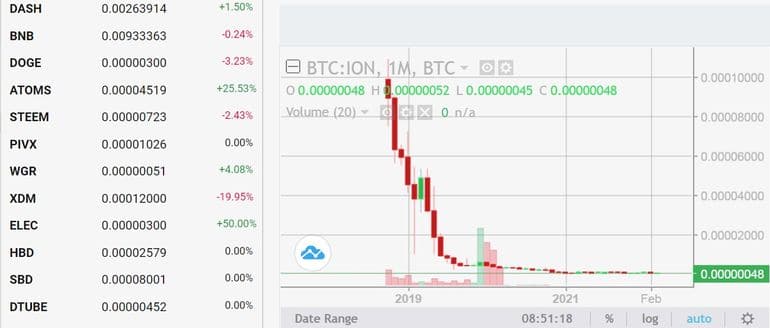 How to exchange cryptocurrency on Aionomi platform
You can exchange cryptocurrencies on the Aionomi platform during trading. Select a cryptocurrency and open an order. After closing the trade, the desired tokens will appear in your account. Built in exchanger there are no cryptocurrencies on the service.
Verification on ionomy.com
To make full use of the platform ionomy.com no identity confirmation is required. The user only needs to register an account with an email address and password. After registering, you need to confirm the email. To do that, find an email from Ionomi in your inbox and click on the confirmation link. Now you can log in to the site and start trading.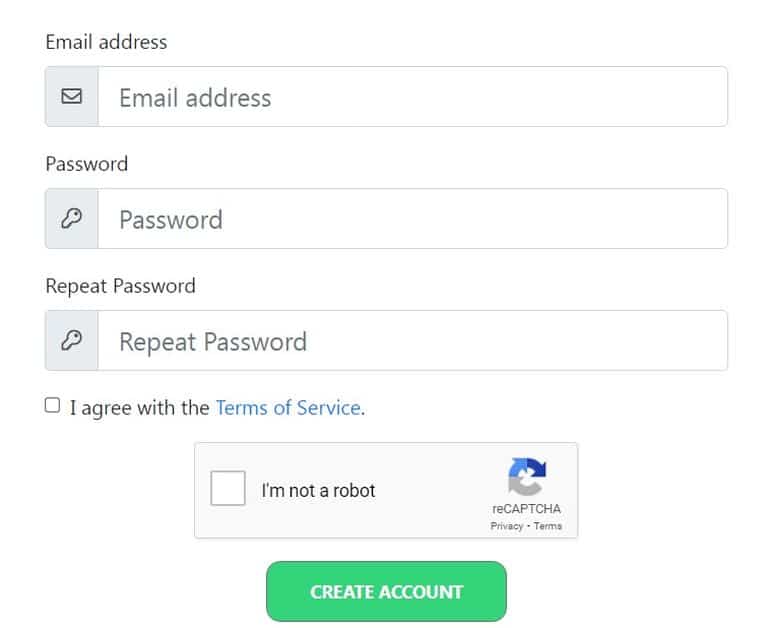 Deposit and withdrawal
After logging in on the site, you can make a deposit. To do this, enter your personal cabinet and go to the "Wallets" tab. Select an asset and click "Deposit". Copy the cryptocurrency address and paste it in your cryptocurrency wallet. Confirm the transfer. The minimum deposit amount depends on the selected asset, for example: BTC - 0.00001; ETH - 0.01.
To withdraw your earnings, follow the reverse instruction. Select token, specify withdrawal amount, specify cryptocurrency address. Confirm the transaction. Please note, that withdrawal amount should be more than the commission charged by the service.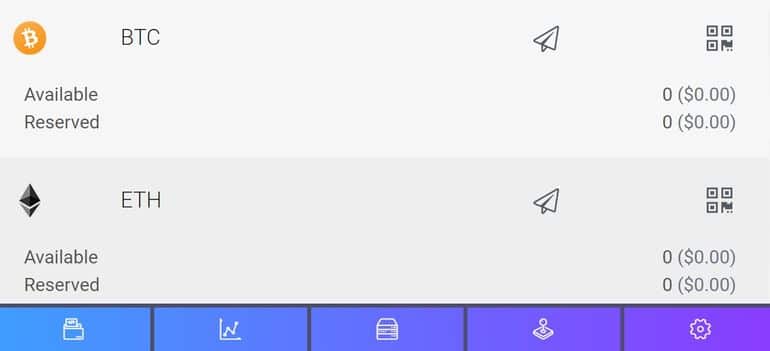 Commission of the crypto exchange aionomi.com
On the platform ayonomy.com three types of commissions have been established:
Trading commissions. Trade commissions are charged from makers and takers. The amount of the fee depends on the traded asset, for example: Atom, Sharenodes - 0.3%; Blurt, DTube - 0.5%,; other assets - 0.25%.
Service fee. Sharenodes Account Maintenance - 5%.
Withdrawal fee. The commission depends on the token being withdrawn, for example: BTC - 0.0004; ETH - 0.0035.
Ionomy bonuses
Users of the platform can earn on sharenodes, referral program and receive discounts on trading commissions.
Discounts on trade commissions
Discounts on trading commissions are available for purchasing a subscription. When you purchase a subscription, you will receive a 50% discount on trading commissions, withdrawal commissions and masternode hosting fees. Subscription prices start at 9.99 USD/month. You can also get up to 100% discount on commissions for trading volume. Trade from 5 BTC per month and pay no trading commissions.

Buy sharenodes and earn daily rewards in ION , PIVX and DASH. Rewards are awarded every 24 hours and the amount depends on the number of available nodes.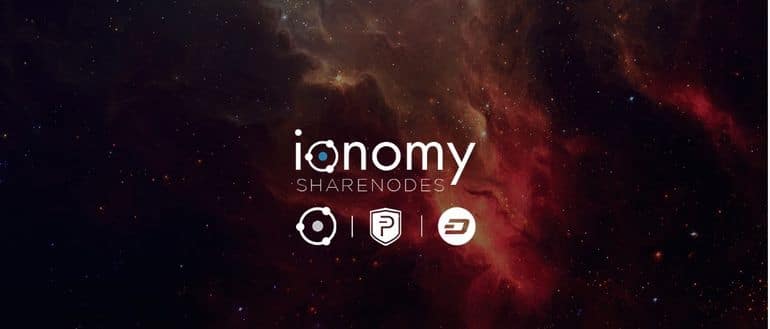 Referral program
To make money from the referral program ionomy.com You need to copy the affiliate link in your personal cabinet and invite new users using it. Share the link and get rewarded for each new member of the network.

Complaints about Aionomi
Unfortunately, we didn't find any trader reviews about Ionomy cryptocurrency exchange. If you have experience with the platform, write your review under this review.
If there are any complaints about Ionomy, we will be sure to post the information on social media. Sign up so you don't miss anything!
Please keep yourself informed about news and complaints. We copy the most valuable information to social networks, so please sign up!
Regulation of Ionomy crypto-exchange
Cryptocurrency exchanges are regulated by the authorized bodies of the country of registration. The presence of a regulator provides traders with reliable and transparent trading. Let's look at how Ionomy cryptocurrency exchange is regulated.
Regulator
The ionomy.com service is managed and regulated by Ionomy Limited, a company registered in the Seychelles. Documents ionomy.com:
User Agreement
According to the terms of the user agreement, by registering on the site, you confirm that you are over 18 years old. When detecting registrations of customers who are underage, the administration reserves the right to block the account. Also, the company may terminate any account for legitimate reasons without prior notice.

If you have a complaint against the administration of the service, you must contact the support service to submit a complaint. The deadline for filing a complaint is 30 calendar days from the date of occurrence of the claim. After this period, the claim is not accepted for consideration. If the dispute cannot be settled in the pretrial order, it will be considered in the courts of the Republic of Seychelles.

Customer Service
The Service Desk accepts customer requests 24 hours a day, 7 days a week. Requests are processed daily during business hours. The support team can be contacted through the following channels:
The necessary information can be found in the support center, as well as on the thematic pages of the site.
Is Ionomy a divorce?
Ionomy - a platform that combines a cryptocurrency exchange and game service. Here you can buy both common cryptocurrencies and game tokens. The service allows you to earn money by holding sharinodes, without having to buy a whole mastercode. After analyzing the website, legal information about the company and the capabilities of the service, we came to the conclusion that Ionomy is not a scam. The company offers clients a reliable trading platform with offline storage of assets, a convenient trading terminal and low commissions.
Conclusion
Cryptocurrency exchange Ionomy will primarily be of interest to gamers. The company offers a unique gamer interface where you can play and earn real cryptocurrencies. The service will also be useful for game creators who want to earn masterminds, as well as active traders. Register on the website of the crypto exchange and get the opportunity not only to trade cryptocurrencies, but also earn them in games and bonus programs of the service.
No reviews yet, be the first!
The company in the ratings
Robots for cryptocurrency
Activity
New

0

Resolved

0

Not resolved

0
New companies on the site