Chiliz is the world's first crypto exchange for sports, allowing crypto-enthusiasts and traders to trade fan tokens and vote in club polls.
Read completely
Cryptocurrency exchange
Official website
Social media
Date of foundation

2018

Head Office

14 East, Level 7, Triq Tas-Sliema, Gzira, GZR 1639, Malta

Types of support
Languages

English, Turkish, Chinese, Japanese, Korean

The owner of the company
Minimum entry amount
Maximum input amount
Minimum withdrawal amount
Maximum withdrawal amount
Exchange Commission

Trade Commission: 0 % for taker For CHZ /

0.2

% for taker / For other cryptocurrencies

0.6

% for maker / For CHZ

0.2

% for maker / For other cryptocurrencies

Terminals

TradingView

Age restrictions
Trading volume per day
Number of cryptocurrencies
Number of trading instruments
Margin Trading
Tokenized assets
Free Demo Account
Types of accounts
Execution of orders

Stop Limit Order, Market order, Limit Order

Methods of replenishment

Cryptocurrencies

Withdrawal methods

Cryptocurrencies

Account currencies

Cryptocurrencies

Types of cryptocurrencies

BTC, BNB, BUSD, ACM, FOR, ETH, CHZ

Mobile applications
Trader training
A way to store cryptocurrencies
Fiat accounts
Scalping
Stop Loss and Take Profit Function
Exchangeability for fiat currencies
Terminal capabilities

Working with indicators and graphical tools

Basic verification
Extended AML verification

KYC (passport, passport or driver's license. Photo with document (selfies). Proof of address (bank statement, utility bill, etc.)

Regulatory laws

Laws of Malta

International data protection law

FATF (Financial Action Task Force)

API
Affiliate Program

Registration

Percentage of referral remuneration depends on the number of invited persons and their trading turnover

Benefits

Wide range of tokens and trading pairs

Low fees and high liquidity of digital assets

Buying tokens from famous sports teams, including FC Barcelona, Juventus, etc.

Participation in Fair Voting on Sports

Disadvantages
Company requisites

Legal name:

HX Entertainment Limited

Legal address:

14 East, Level 7, Triq Tas-Sliema, Gzira, GZR 1639, Malta

Overall assessment
Date of update

20.02.2023
Address
14 East, Level 7, Triq Tas-Sliema, Gzira, GZR 1639, Malta
Map
Subscribe to this company
Chiliz is this a scam? Reviews and description
Chiliz
-
cryptocurrency exchange
, created for sports and cybersports fans. It is the world's first tokenized sports exchange where sports fans and enthusiasts
cryptocurrencies
can trade fan tokens representing the main stars of the sport. Fan tokens are traded in pairs with a token
Chiliz
(CHZ), which is the underlying asset on the exchange. In this review let's look at the features of the platform chiliz.com and figure out if this project is not a scam.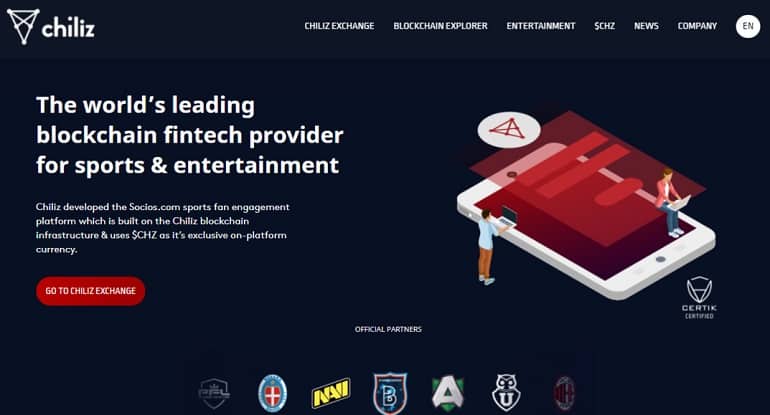 Referral code - F8ORfe (to be specified at registration).
Why Chiliz?
Chilies provides sports and entertainment organizations with blockchain-based tools to help them attract and monetize their audiences. Voting takes place on the Socios.com platform, with the lineup for a match and the decision to buy or sell a player being discussed. Thanks to the use of blockchain, the voting is fair and independent. The developers of Chiliz made it so that no one can influence the outcome of the voting independently, no matter how many tokens they have in their hands.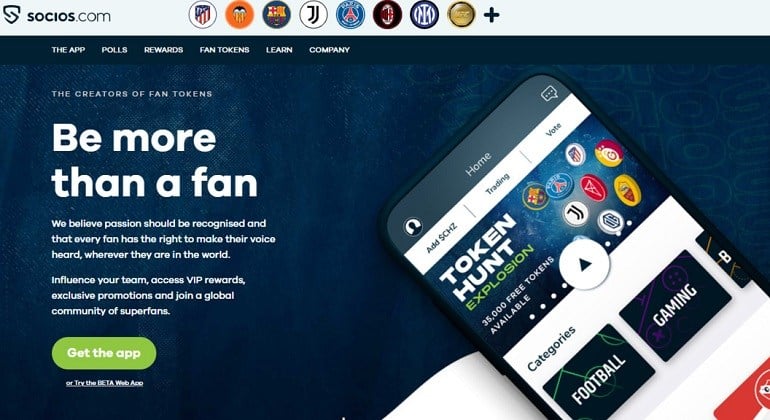 All members of the socios.com platform start with a predetermined number of Fan Tokens. Fans exchange CHZ for Fan Tokens and vote, their votes are counted through a series of smart contracts, and the result is recorded in a sidechain (auxiliary blockchain). At the same time, fan tokens will be sold at a fixed price on a first-come, first-served basis, which guarantees a fair and unbiased distribution of voting rights. Scheme of interaction between clubs and fans:
The club determines in advance what part of the decisions the fan community will be able to make. Part of the power is delegated to the people.
The socios.com platform generates a certain number of so-called Fan Tokens.
Fans buy these coins and vote through the Socios.com platform.
During the existence of the crypto-exchange chiliz.com has managed to attract Juventus, PSG and other soccer clubs from the top leagues to its side. Chiliz was directly invested in by the stock exchange Binanceand this is a weighty argument in favor of the seriousness of the project. The Socios.com platform is built from the ground up on the Chiliz blockchain infrastructure and uses CHZ as its exclusive currency. Socios.com buys tokens from well-known soccer teams, including FC Barcelona, Juventus, Paris Saint-Germain, AS Roma, Galatasaray, Atletico de Madrid, as well as from OG, CAI and UFC.
How to exchange cryptocurrency on the platform chiliz.com?
To do this, enter the CHILIZ EXCHANGE section. On the page that opens, click on the "Exchange" button. Here you will open a chart where you can select trading pairs and exchange one coin for another in the process of trading.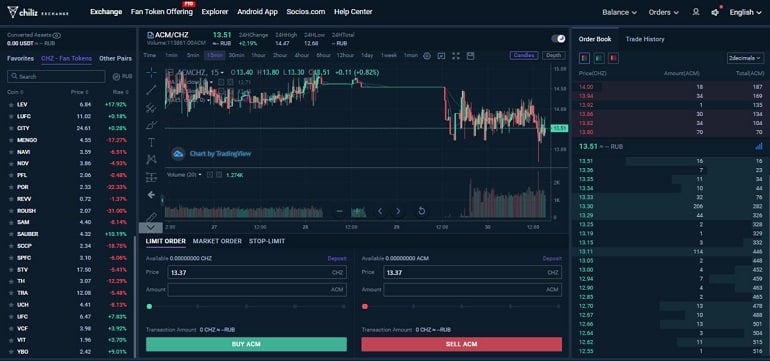 Verification on the Chili's platform
The identity verification process takes literally a couple of minutes. Just go to your personal cabinet, select "User Center" and then "ID Verfication". In the form that opens, enter the necessary data - nationality, full name, etc.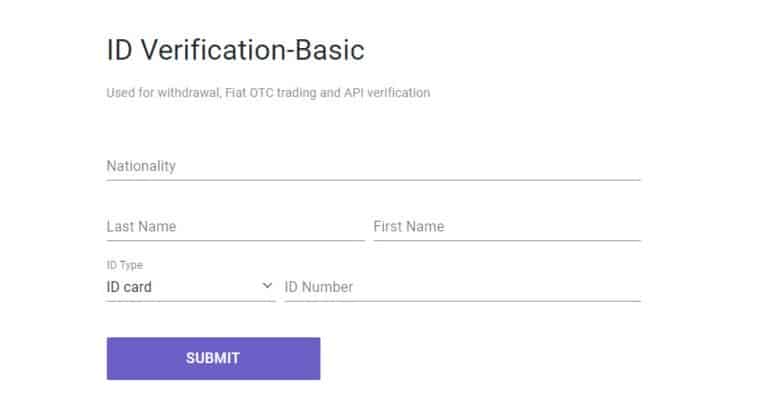 The basic verification is complete at this point, but if you want to perform a full verification, click the advanced verification button. Follow the instructions on the page, uploading a photo of a valid ID and a photo of you holding an ID with a piece of paper with your name on it, exchanging the Chilies and the date of application.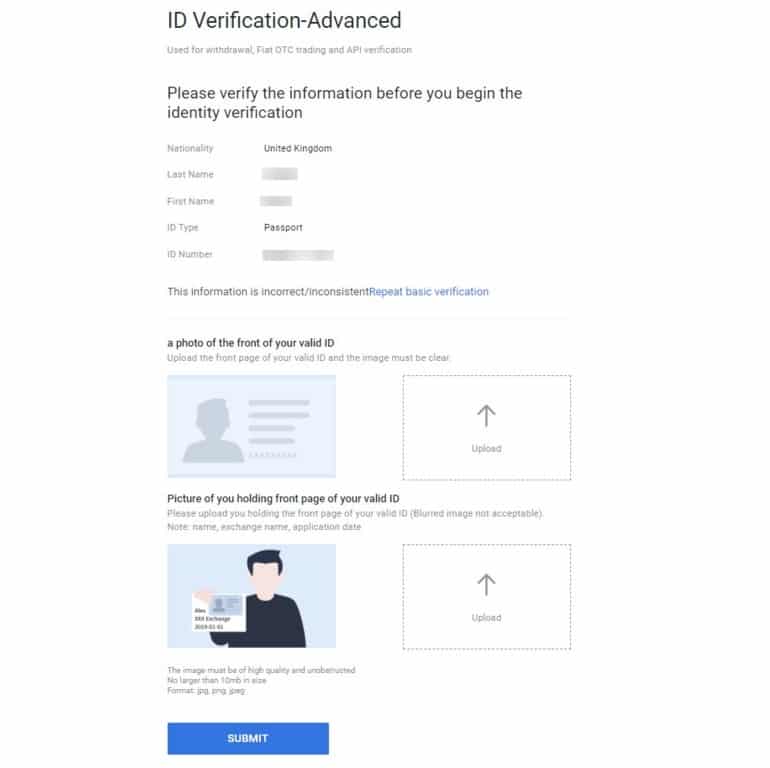 Deposit and withdrawal
To deposit a balance, hover over the Balance in the upper right corner of the site and select Wallet. A list of all available currencies will open, with a Deposit button next to each one.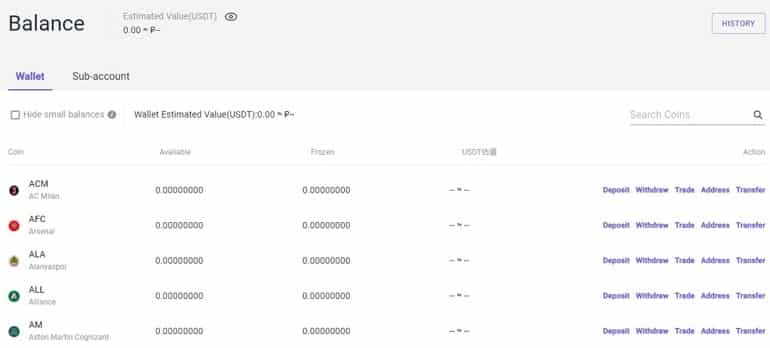 Choose a coin and click on Deposit next to it, copy the address or scan the QR code. That's how you'll complete the transaction and make a deposit.

Also, next to each coin in the list above there is a button Withdraw. In the opened form you must specify the address cryptocurrency walletto which you want to transfer funds. Once you have clicked "Withdraw" and entered your asset password and 2FA verification, you will be redirected to a withdrawal confirmation page which will tell you the status. All withdrawals go through an automatic withdrawal verification process, which may take a couple of minutes.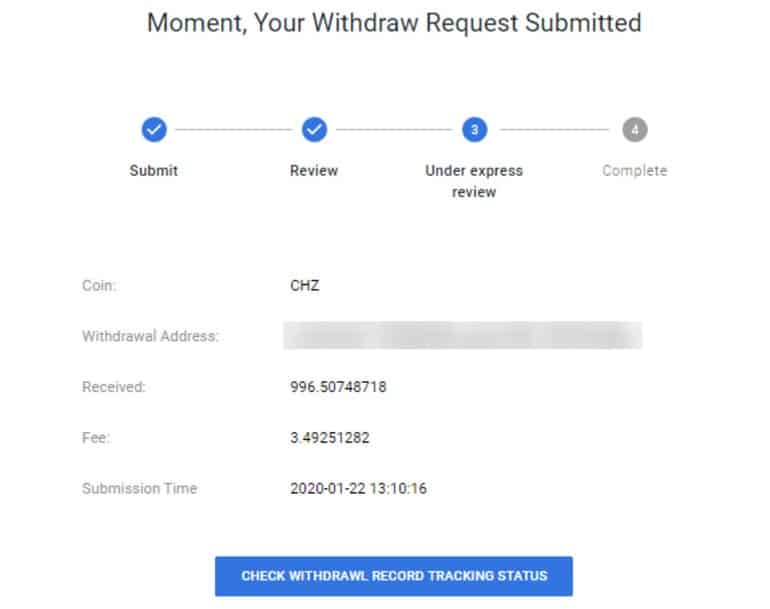 Chiliz Crypto Exchange Commission
CHZ commission is 0% for talkers and 0.6% for makers. For other cryptocurrencies 0.2% for both takers and makers.
Bonuses chiliz.com
At the moment about the bonuses on chiliz.com nothing is said. But the company has an affiliate program.
Affiliate Program
There is a referral link in the "My Invite" section of my personal cabinet. You can share it with your friends and invite them to chiliz.com. The percentage you will receive depends on the number of invited persons and their trading turnover.
Complaints about Chilies
Complaints about chiliz.com on the net. On the contrary, users speak positively about the platform. They write that it is focused on the development of sports and strengthening the influence of fans on the teams they root for. The principle is simple - the fans buy the fan tokens, so invest in their favorite sport, and participate in the management by voting. They note the simplicity and convenience of the trading interface, low commissions and cooperation with famous sports clubs.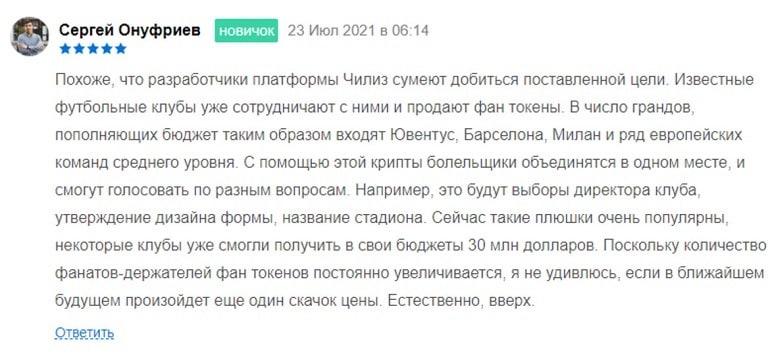 If there are any complaints about Chiliz, we will be sure to post on social media. Sign up so you don't miss anything!
Please keep yourself informed about news and complaints. We copy the most valuable information to social networks, so please sign up!
Regulation of the crypto exchange chiliz.com
A crypto-exchange can conduct both transparent and fraudulent activities. This is true for any financial companies. So next we will talk about the regulation of the company.
Regulator
Chiliz is registered as HX Entertainment Limited. The company operates under the laws of Malta with registration number C77290 and has an office located at 14 East, Level 7, Triq Tas-Sliema, Gzira, GZR 1639, Malta.
Chilies User Agreement
The document states that the company is not responsible for speculative actions by users and third parties. The company does not bear any rights, except for the rights to use Chiliz on the Socios.com platform.

The information provided on this site is not intended to be used as the basis for any investment decision, no specific recommendations are provided.

Users are warned that the value of digital assets can fluctuate.

The company reserves the right to ask questions of the customer and request the necessary documentation to find out the source of funds used to purchase cryptocurrencies (before granting access to the Socios.com platform).

Customer Service
The support team can be contacted as follows:
Is Chiliz a scam?
Chiliz - is the world's first crypto exchange for sports, allowing crypto-enthusiasts and traders to speculate on fan tokens. Sports fans can buy and exchange branded tokens, as well as vote in club polls. The platform was developed to create unique experiences for sports fans and to monetize fan interaction using blockchain technology. Famous soccer teams, sports companies, and athletes participate in the project.
Chiliz is not a scam or a fraud. With fan tokens, users can vote on governance, electing a board of directors for their favorite club. Socios.com buys tokens from famous sports teams - such as FC Barcelona, Juventus and others. By collaborating with the biggest brands in sports entertainment, Chiliz introduces the cryptocurrency to an unprecedented number of new potential users.
Conclusion
Chiliz - a cryptocurrency exchange that provides athletes and sports teams with a unique way to interact with their loyal audience. It is the world's first fan incentive platform that helps sports organizations achieve digital transformation using blockchain technology. You can buy CHZ and exchange them for fan tokens, using them later to vote for lineups for a match, buy or sell a player, etc. The platform chiliz.com aims to tokenize fan voting rights, here everyone can vote on the most important decisions at the club.
No reviews yet, be the first!
The company in the ratings
Robots for cryptocurrency
Activity
New

0

Resolved

0

Not resolved

0
New companies on the site