Top Forex Advisors
Trading in the Forex market are rather monotonous actions in similar situations that are constantly repeated. This means that the trading process can be partially or completely automated. This is what trading advisors and robots, - programs for trading. There are a lot of programs to choose from, and they vary in the way they work and in their quality. In this article we will tell you about the most popular ones.
What is an advisor?
When a trader just starts trading on the market, it seems to him that the situations on the chart are diverse and every time some new actions should be performed. But with time it becomes clear that movements on the Forex market, as well as on the market of other assets, are rather monotonous and repetitive, i.e. algorithmic. Consequently, they can be programmed so that instead of a person, a robot carries out routine operations. And so appeared the Expert Advisors that do most of the work or even all of the work on the market for a trader, but with the appropriate settings (The whole truth about forex).
Top 3 best forex brokers: test their terminals
Trading Expert Advisors are not the same in terms of functionality. They work on different indicatorsThe trading robots can be non-syndicator, work on the technical analysis of the market and schedule or trade on the news, support different currency pairs or other assets, with less or more settings, supporting one or more Forex strategies, set up only on certain exchanges or on certain sessions, using different size leverage, paid and free, and so on.
Many of the Expert Advisors offered on the Internet are fraudulent and useless to use, but there are also really good, profitable ones. It is difficult to say which program is better, because traders have different requirements for them - from testing tactics to Expert Advisors that maximize the deposit. You can choose profitable programs that have gathered the greatest number of positive reviews from traders. Previously, software that worked in the mode of automatic trading in the market were called advisors. But now when searching and downloading necessary program, it is necessary to pay attention that advisors more often are called the programs for trading of currencies only, and robots - for trading of currencies and other assets. But there is no fundamental difference between these systems (forex trading training).
BumbleBeeFX
BumbleBeeFX (Fig. 1) is a popular automated trading program used on the MetaTrader 4 terminal, a trading indicator advisor created by the company developing software for the Forex market. It supports trading on any timeframe.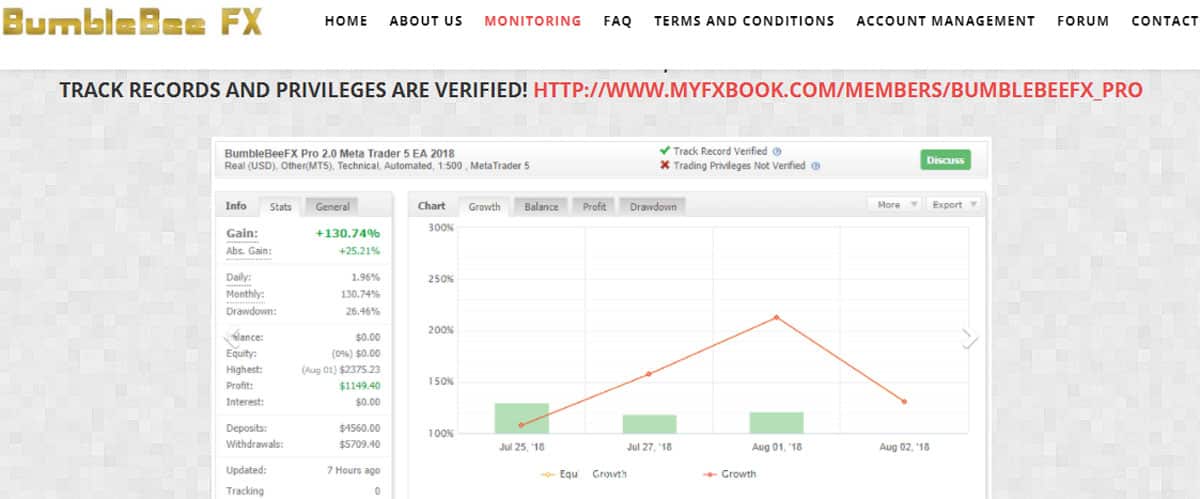 Image. 1
Not limited to any one trading plan, the Expert Advisor focuses on finding the best entry points by analyzing the chart. It has a system of protection against sudden trend reversals and other unexpected situations, knows how to change the algorithm depending on changes in trading conditions. It is paid and expensive, from $999 and works with a deposit of $1000, but promises a yield above 96% per annum with a drawdown of more than 15% when working with large forex brokers.
WallStreet Evolution 2.0
Wall Street Forex Robot (Fig. 2) works on MetaTrader 4 and 5 with non-exotic currency pairs.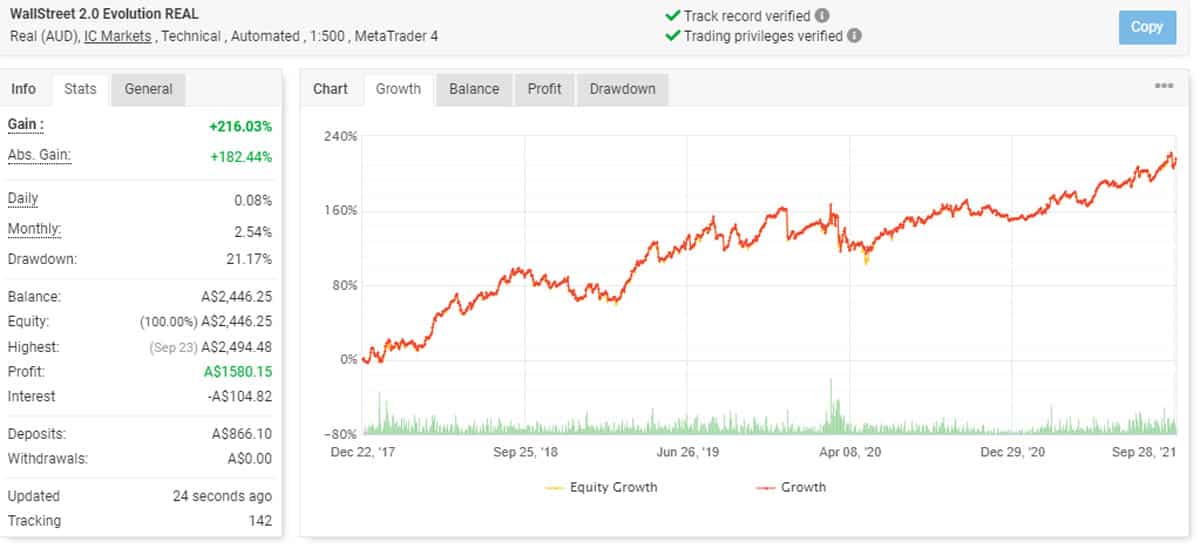 Image. 2
A relatively simple program Wall Street bot uses scalping on the 15-minute timeframe, can be used for trading on the terminals of most major brokerage companies, where the system of automatic trading is allowed. Wall Street bot is able to adapt to the situation in the Forex market by analyzing the charts and can update the program. The trading machine is paid, the price $891, trades from $1000. The minimum yield promised by the developer this time is more than 94% per annum, the drawdown is more than 54%.
Forex Diamond EA
Forex Diamond (Fig. 3) is a non-syndicator program, which works on a trend and counter-trend strategy for the timeframe of 15 minutes.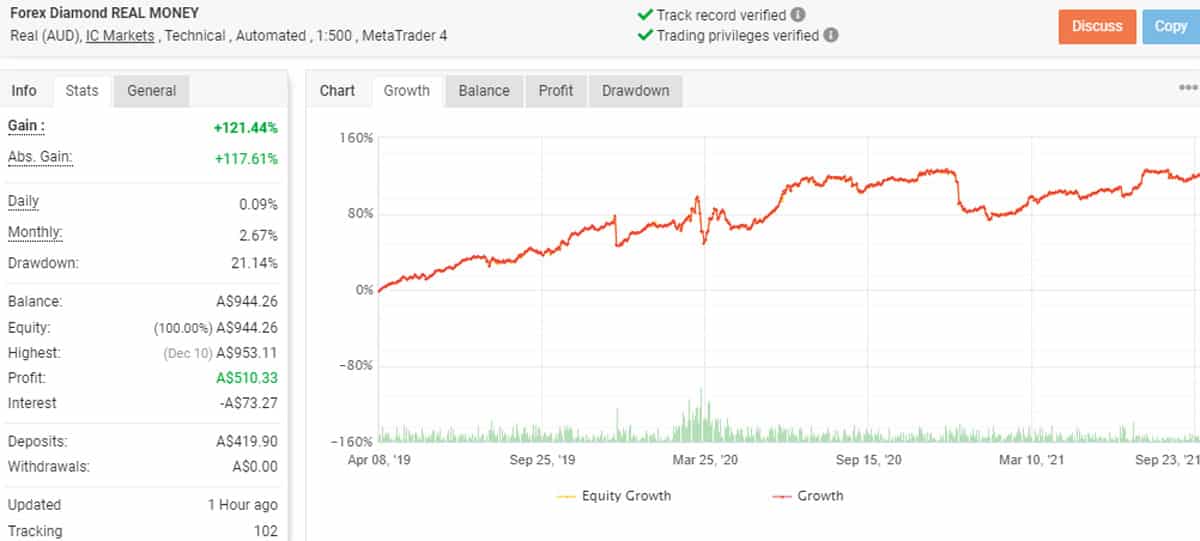 Image. 3
This online advisor is considered suitable for use in high volatility. The cost of the trading robot is $237, you can trade with it from $100 on one pair. It gives a yield of 63.4 % per annum, the drawdown is 34.3%. Works with brokers AMarkets (go online), Just2Trade (online), etc.
KeltnerPRO
Keltner PRO is a popular good trading robot for the MetaTrader 4 terminal, it trades by trend with increased volatility, limit orders, - knows how to set limits for each trade. Can conduct several transactions at once, but recommends no more than three. It trades EUR/USD, GBP/USD, NZD/USD, USD/CHF on a timeframe of 15 minutes, the best results are shown exactly in the multicurrency mode.
This advisor is paid, price $200, yield 73.3%, drawdown 35.3% per annum. It trades from a minimum deposit of $100. Often used with brokers Forex Club (go online), Alpari (online), etc. Downloaded by link, which is placed on the profile traders' sites. When downloading and uploading, you need to make sure that the source of the download file is safe, because spyware is often found. When using it, carefully study the nuances of the work.
Steve
Steve is a trading assistant running on MetaTrader 4 and 5 terminals. This automaton is developed by traders and mathematicians of Mtrobot.net and is positioned as an expert program for trading, trained with the help of neural networks. It trades by the behavior of the price on the chart. The system makes decisions independently, the amount of information analyzed by the robot depends on the amount of trader's account and the settings that have been tested in advance on real accounts. The program can trade simultaneously on three accounts, using different instruments. The service is paid: 630 U.S. dollars, the yield, according to official data, exceeds 342% per year, the drawdown is 10.3%. Trades from $1,000.
Million Dollar Pips Robot
As the name suggests, Million Dollar Pips Robot is aimed at pips - transactions on a very short timeframe. The program is used to work in the trading system MetaTrader4. It opens and closes a huge number of orders and knows how to set levels of Stop-Loss and Take-Profit during the volatility increase, which is very useful for Expert Advisor working on a short-term strategy. However, the trader who decides to trade with this robot should know that even such a program loses money over and over again, which is almost inevitable with so many trades in such a short period of time.
The program trades the EUR/USD pair, price $ 147, minimum return 47.3%, drawdown to 27.4%. The minimum account size for the robot from 100 dollars. You can download it from specialized sites. Before downloading, you should double-check the safety of the resource and file, because viruses are often uploaded. Before work it is necessary to study carefully the principle and nuances of work of system.
EA Gold Shark
EA Gold Shark is a good indicator Expert Advisor, aimed at working in the market of moderate volatility, but is able to achieve profits even with strong price fluctuations on the chart. This robot trades on timeframes from 5 minutes to 60 minutes, but is recommended on M15 and M30. The program provides trading pairs with EUR and USD, with a minimum deposit of $300. It has protection against false signals. The developers promised a yield of 119%, the maximum drawdown is 27% per annum. Trading Expert Advisor mostly used by traders Grand Capital (go online), NPBFX (online), etc. EA Gold Shark should be downloaded from a trustworthy source, check the security, read the download instructions, the nuances of the settings and features of the work.
Gepard
Gepard is a multi-currency Expert Advisor used for automatic trading currency pairs and a dozen more instruments. Acts on forex signals, based on Martingale indicators PSAR, OsMA, ADX and can trade several instruments simultaneously and in different styles. It is considered to be a good advisor because it knows how to hedge risks within the investment portfolio, knows how to exit a trade before a loss, set stop-losses and so on.
Trading is available from a minimum deposit of $1000, programmed yield of 31.4% per annum, drawdown 12.6% per annum. Gepard is downloaded (Fig.4) from safe, trustworthy sources, checked before downloading. Gepard is multicurrency and quite complex to configure, you should carefully study all its features before real trading, for example read expert articles.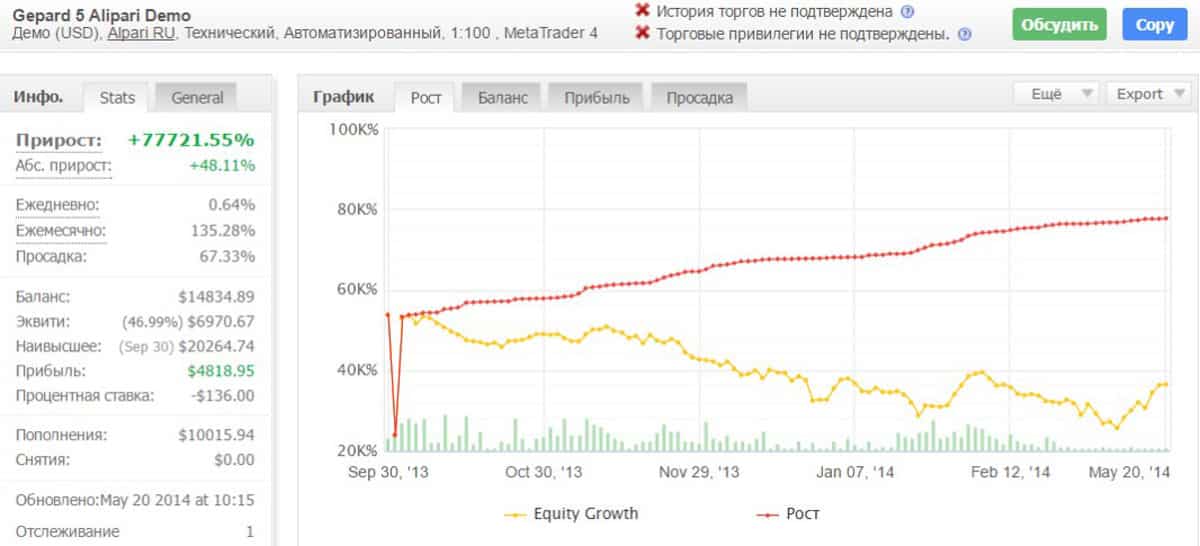 Image. 4
Force Trader
The Force Trader Expert Advisor for MetaTrader 4 based on the Elder system implements forex trading strategies. It is indicator-based, works on the indicators Momentum, RSI, WPR, DeMarker implements which determine the entry point. At the opening of a position, the indicators must confirm it with their indicators, if at least one does not match, this position is not opened. In a suitable situation, the program opens two orders at a time - with different parameters, but both with a take profit and stop loss.
Aimed at implementing long-term plans, the Expert Advisor trades on the D1 timeframe, non-exotic pairs. It is definitely popular with Alpari and Grand Capital traders. The yield is 130%, the drawdown up to 31%, trades from 100 USD. Downloaded from a specialized and reliable resource and checked for safety. The Expert Advisor actually works on the Elder system, so it is very desirable to get acquainted with the system before you run it.
Setka Trader
As the name implies, this machine works on the so-called grid strategy. Grid robots are considered very effective and therefore very popular, although in fact, is a variation of Martingale. The Expert Advisor works on a minute timeframe, mainly with EUR/USD, GBP/USD and AUD/USD on the terminal MetaTrader 4. In this case, the Expert Advisor has a large number of settings, which can be done only by experienced traders. This is all the more so because the initial deposit size for trading must be $ 2,500. Promised by the developers yield 85.1%, maximum drawdown, 97.1%.
Perfect Score MT5
Perfect Score MT5 is one of the highly specialized programs, which is configured for a specific time - the opening of the London Stock Exchange (LSE), for a specific pair - EUR / USD, for a specific five-minute timeframe. This advisor is peculiar, it acts on the trend, but without indicators. The advisor focuses only on the typical LSE movement of pairs on the chart to the average value. At the same time, it is quite expensive, $1,500, but the initial deposit should be from $50. Since the advisor is limited, it is well protected against sudden fluctuations. The promised yield is 360% per annum, the drawdown is 21%.
Generic
Generic Expert Advisor trades on Bollinger lines on 15 minute timeframe on the Metatrader 4 terminal during Asian session (night session for Europe). Among traded pairs GBP/USD, USD/JPY, GBP/CAD, GBP/CHF, EUR/GBP, EUR/CHF, USD/CAD, USD/CHF. The Expert Advisor opens positions fully automatically on a rebound from the Bollinger price channel boundaries. When trading using the trading advisor, you need, in addition to keeping strictly to the Asian session, you should also avoid volatility tracking the news background and charts. Trading is possible from a deposit of $ 1000, the promised yield 59%, the maximum drawdown 31%. The program is freely available. Nevertheless, after downloading in any case it is necessary to check the file. And, of course, carefully study the principle and features of work before you run it.
How to choose an Expert Advisor for forex trading?
When choosing an automatic trading advisor, of course, you can be guided by some rating from a reliable professional website. For example, there are ratings of paid programs and top free ones. But first you need to decide on the goals for which you plan to engage in automated trading. From this it will be clear what kind of robot you are looking for. Perhaps you do not even need a robot, but testers of the Forex market, which do not trade, and check the performance of strategies, or it is enough to generally monitor the session and charts with a heat map. Read articles about automated trading before you buy or download them. These articles will help you to decide which instrument to choose.
Programs can trade on the news, predicting the price by events, there are even advisors for price action traders - trading on patterns. Breakout Expert Advisors open a deal when the price breaks the support or resistance level. The robot can perform the functions of hedging - if this is the trader's plan, then it is necessary to choose a system that works for more than 1 position. There are also programs for scalping. As it can be easily seen, a trader who buys a program or downloads it free of charge, should already know what trading is, have an idea about the market and have a preferable strategy.
If the trader does not know how to trade manually, successfully use the tools, the attempt to trade with even the most real EA will only lead to losses. So forex trading assistants, paid or free, for deposit acceleration, can be used only by an experienced trader, who understands the market, knows how to calculate the profit, calculate the cost of buying a robot accordingly to the profit it can provide.
When choosing a forex advisor, the resource from which it is downloaded is also very important. Optimally, if it is the site of the developer, but this is very rare. Many top programs are available in MetaTrader 4 and MetaTrader 5 online stores - but not all. At the same time, you can find dozens of downloadable files with the best Expert Advisors on the Internet. It is imperative to check them to be safe.
When the question of the advisor and the source of downloading is solved, it is not superfluous to read the reviews about it on the forums and other specialized resources of traders. If the Expert Advisor has been developed a long time ago, the reviews will allow you to find out all the features and nuances of its work, as there are probably articles with detailed descriptions about it. If it is relatively new, but seems promising, then it is certain that experienced users have already tried it and shared their observations.