Online store women's swimwear and other beachwear high quality at affordable prices. Discounts for orders and fast delivery.
Online store
Official website
Head Office
Date of foundation

2015

The owner of the company
Types of support

[email protected]

Live Chat

Help Center

Feedback form on the site

Facebook

Twitter

Instagram

Social media
Languages

English, German, French, etc.

Bonuses
Payment methods

Bank card (Visa/MC), PayPal, American Express, Apple Pay, Google Pay, Gift Certificate

Buying on credit
Installment
Store category

Clothing, Footwear and Accessories

Project Features

Online store swimwear and other beachwear for women with worldwide delivery

Additional services
Project regions

All countries in the world

Shipping methods

Courier delivery, Transportation companies

Delivery time

From

3 days

Depends on the type of delivery and region

Free shipping terms

From

25

USD

For some countries

Mobile applications
Affiliate Program
Benefits

High quality products and a large selection

Convenient online payment and mobile app

Affordable value for money

Available in different units

Clothing is designed with the shape and features of the body in mind

Fast delivery and compliance with ordered dimensions

Disadvantages
Regulatory agencies and laws

Legislation of the countries of registration of online brand stores

Company requisites

Legal address:

Los Angeles, CA, USA

Overall assessment
Date of update

15.02.2023
Address
Los-Andzheles, Kaliforniya, SSHA
Map
Subscribe to this company
Cupshe is this a scam? Reviews and description
Cupshe
- is a brand of women's beach and swimwear, founded in 2015. Since entering the big market, the store has earned the trust and interest of millions of women on every continent.
There are a lot of enthusiastic reviews on the Internet about the products of this company and the same number of reports about the intention to order a swimsuit there. But isn't it a scam? online store Cupshe? Let's figure it out.
Why Cupshe?
The Cupshe brand deals with women's bathing suits and gives them all the attention of its experts. The company listens to the needs of women and creates a quality, stylish and comfortable product. Cupshe actively supports women's initiatives in the fight for rights and equality, and promotes the idea that every woman is beautiful.
In proof of this there is a large size range, open and closed models, the ability to choose an individual size. Clothing is designed taking into account shapes and features of the body, so in the store a woman will find something that will hide flaws and show the advantages. The company emphasizes the reliability of its products. Quality fabrics and tailoring are used to create swimwear, so the purchase will last a long time.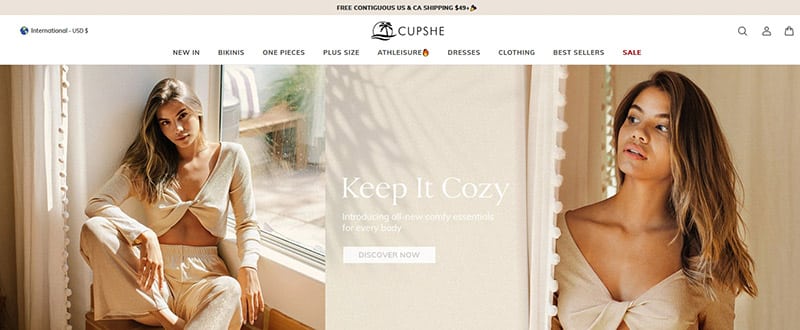 What can I buy at Cupshe?
In the online store Cupshe you can order swimwear and beachwear for women. On the brand's website cupshe.com All products are divided into categories, which will make it easier to navigate and find the right thing.
New in
This category contains the store's new products and latest collections. For example, at the time of writing the Spring-Summer 2021 collection is on sale with new styles of swimwear and the "Mom and Me" collection, where you can order a bathing suit for a child, both boy and girl. Children's swimsuits are so similar to options for adults that you can create interesting images of mom and her little copy. In addition, it's also easy to go here to the new products that have appeared in other categories.
Bikinis
Here we sell separate swimsuits. You can choose the type of swimsuit: low-rise, high-rise or tankini. You can also choose tops and bottoms separately, or consider sets.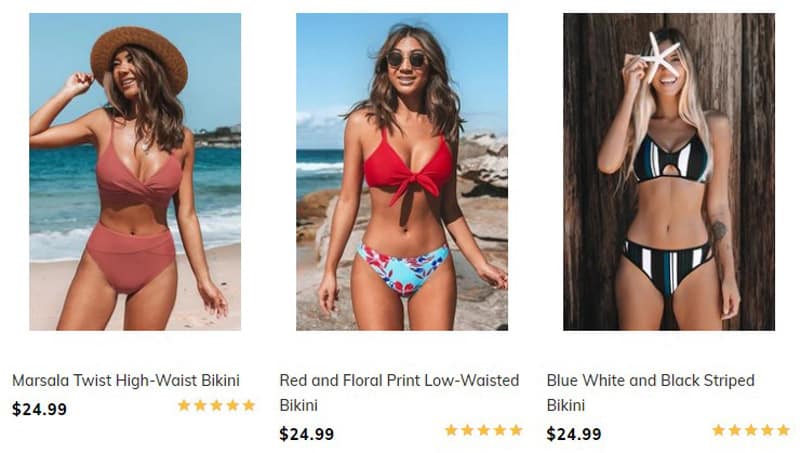 One pieces
This is a category that contains one-piece swimwear. There are subcategories: monochrome swimsuits, with floral prints and with deep necklines.
Max & match
Here the goods are divided into top and bottom of the swimsuit, so that the buyer can compose his own set to his liking.
Plus size
In this section the store has placed clothes and swimwear of large sizes. Here in one list will be both fused and separated swimwear with different prints and different styles.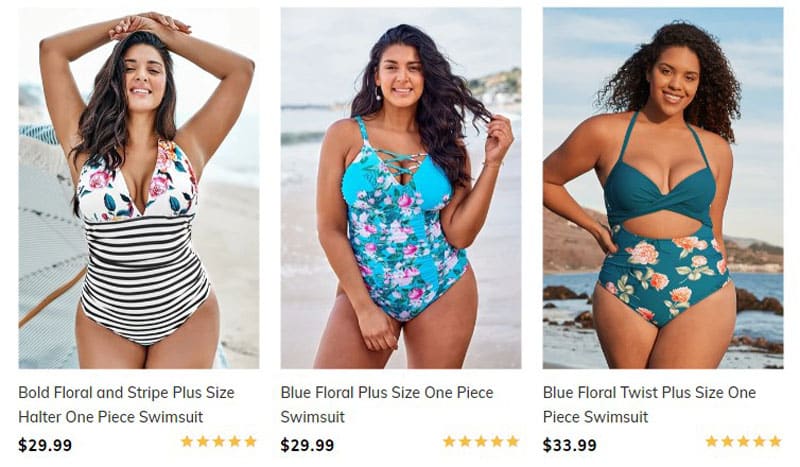 Beachwear
This tab is entirely dedicated to beachwear. You can choose from beach dresses, tunics, and kimonos.
Best sellers
This section contains those products that have earned the greatest popularity with customers.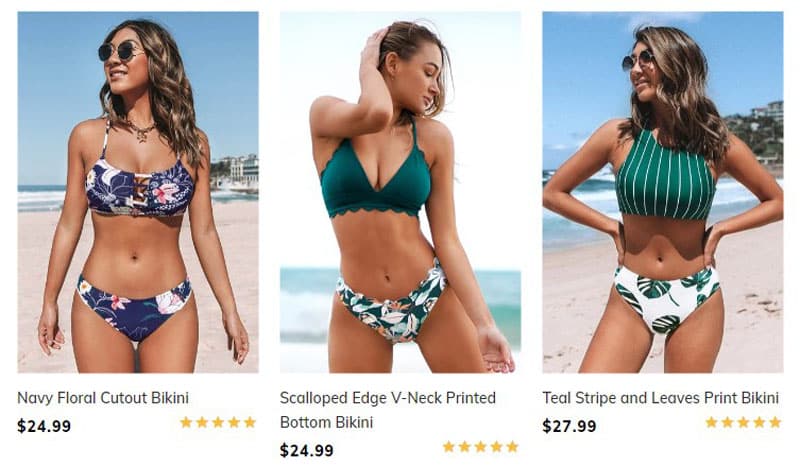 Sale
This is a category of those products for which there is a discount or for which promotions and bonuses apply. To simplify the search, you can open a tab with discounts on bikinis only or on fusion swimwear only.
How do I find the right product at cupshe.com?
To find a product by its name, search on the upper right side of the site cupshe.com button with a magnifying glass on it. This will access the search. In the window that opens, type a part of the name or characteristic of the product (for example, color, type, size). A list of matching items will open. There are no filters for this list. However, there are filters within categories. Organize products by type, price, color, style, or trend to help you find what you're looking for faster.
Product card
If you hover your cursor over a product you are interested in, its photo will change and show that product from the other side. That is, if you have seen the swimsuit from the front before, you will be shown what it looks like from the back. Thus, you can see the product without going into detailed information about it.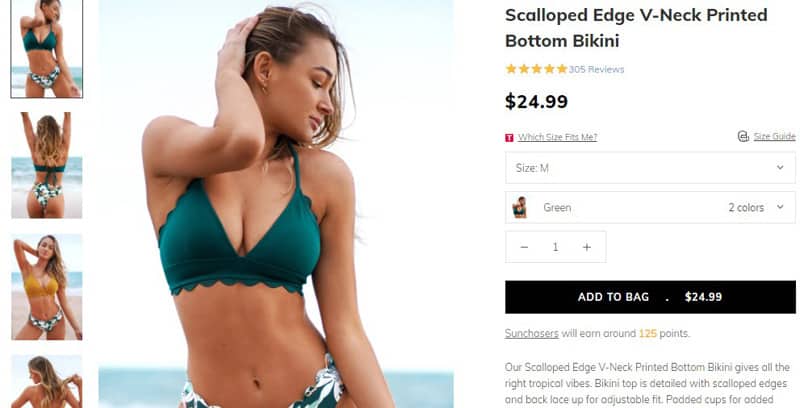 You can open the product card by clicking on the desired product. This page shows pictures of the product, including those that were not visible in the general list. The right side of the card shows the name of the product, its rating, and price. The price is in U.S. dollars, Australian dollars, or euros - the currency depends on which location the buyer indicated. Next is the choice of size and color, as well as the quantity of the item. The size range information, a link to which is located directly above the size box, will help in selecting sizes. There will be values of sizes in centimeters and hints on how to choose the fullness of the bodice cup. The recommended size button can also help, which will pick up what you need based on what sizes you're wearing from other brands.
Below is a button to add the item to cart. If the product is out of stock, this button will change to a notification that the product is sold out, and an additional button will appear, which can be used to order a notification that the product is back on sale. The right side of the screen also contains a description of the selected product, its code and features, as well as an indication of how many points in the affiliate program you can get for this purchase. At the bottom of the product card there are tabs with information about shipping and possible returns or exchanges. On the same page, the store offers to see other products that you may like, as well as shows a list of items already viewed.
How do I order from Cupshe?
To make an order, first of all you need to put the necessary items into the cart. The "Add to cart" button is only on the page of the product card. The contents of the cart are opened by the button in the upper right corner of the screen.
How do I sign up for cupshe.com?
In order to place an order, register on the website cupshe.com is not required, but it will make it much easier to make a purchase and provide access to an affiliate program, bonuses, discounts, and favorable shipping.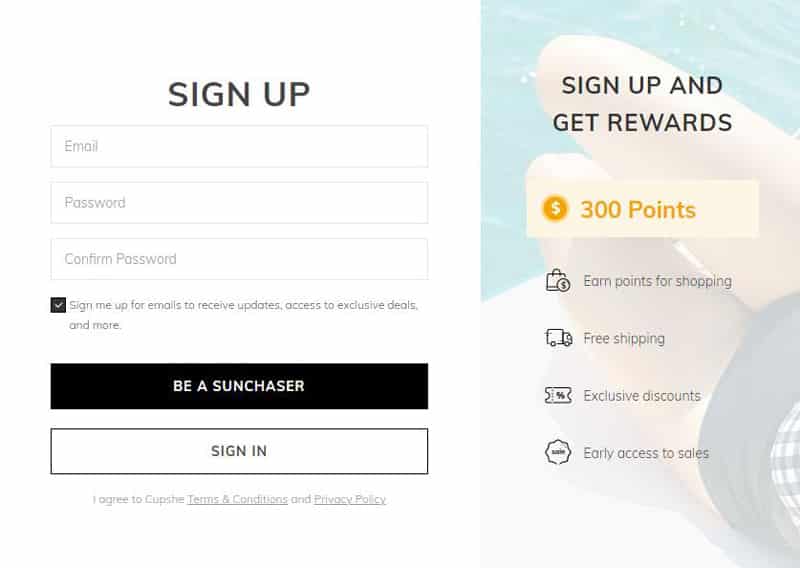 To register, click the person button in the upper right corner of the screen. This will open a window to sign in to your personal account. Click "Join now" or "Sign up", enter your email address and come up with a password. After confirming your email, you'll have access to your personal profile and you'll receive 300 bonuses.
Personal Cabinet
Through a personal account, it becomes easier to keep track of your order. It gives the advantage of discounts and bonuses. Through it you can set up promotional and informational mailings. Shopping on the site with a personal account simplifies the process of placing an order, because the system will remember your data. This will allow you to spend less time on the purchase.
How do I place my order at cupshe.com?
Go to the shopping cart to place your order. Make sure all items are in place and the sizes or colors are correct. If everything is correct, click "Checkout.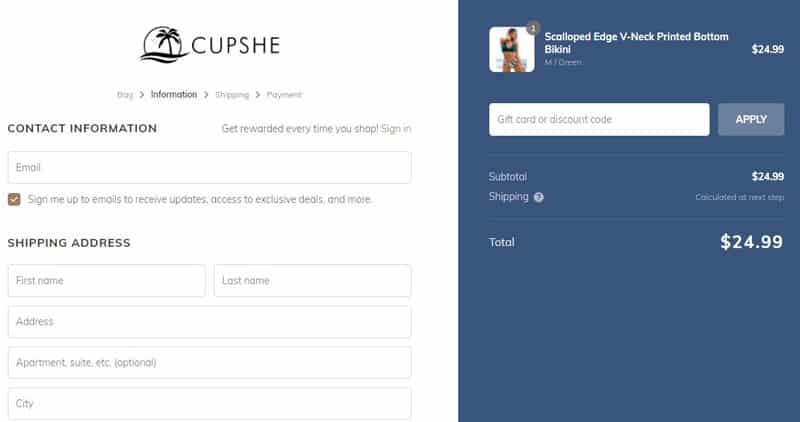 A page opens on which you must enter your shipping information: name, country, region, city, address, zip code, email, and phone number. When you have filled in all the items, click "Continue to shipping". Here you need to confirm your information and choose the method of delivery, if several options are available. After that press "Continue to payment". Specify the method of payment and the data for the transaction. After completing all these steps and paying for the purchase, the order will begin to prepare for shipment.
Additional features
There aren't many additional features on the site.
Order Tracking
A handy feature of the site is tracking your order. To check the location of your purchase, find the "Order tracker" button at the bottom of the site. This will take you to a page where you can find out the status of your order. To do this, you need to enter the email address you gave when you made the purchase or registered in your personal account, and the order number.
Sizing assistance
When choosing a size, a tool helps you find a size based on the sizes you wear from other brands. It comes with a size chart with measurements in centimeters. These features help you choose a size without making a mistake.
Mobile application
The Cupshe mobile app can be downloaded from Google Play and the App Store. The application gives access to the personal account from a cell phone. You can place an order, check its status, and make a Wishlist - a wish list. In addition, shopping with the app brings even more bonuses and opens up access to additional discounts.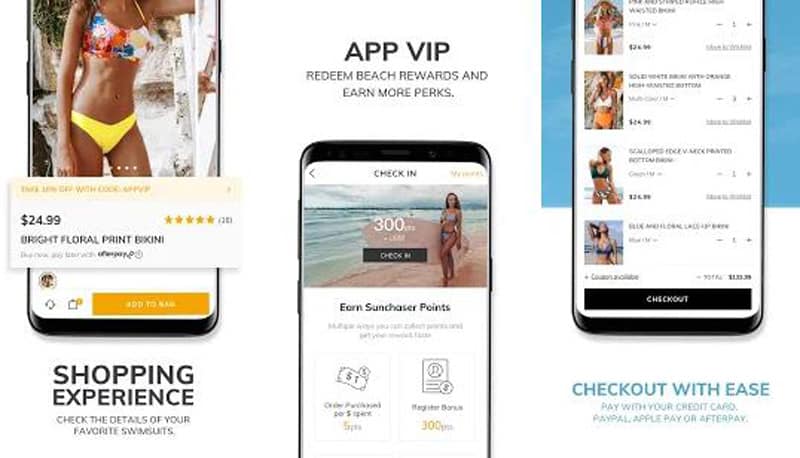 Payment and Shipping at Cupshe
The method of delivery and payment can be selected at checkout - in the third and fourth steps, respectively. For payment you will need credit card or an account at PayPal or Afterpay.
How do I pay for my order?
The order must be paid for online. You can do this with a bank card - for example, MasterCard, Visa, American Express and others. Payment via PayPal and Afterpay is also available. The PayPal service includes buyer protection, which allows you to get your money back within 180 days if you find problems with your order.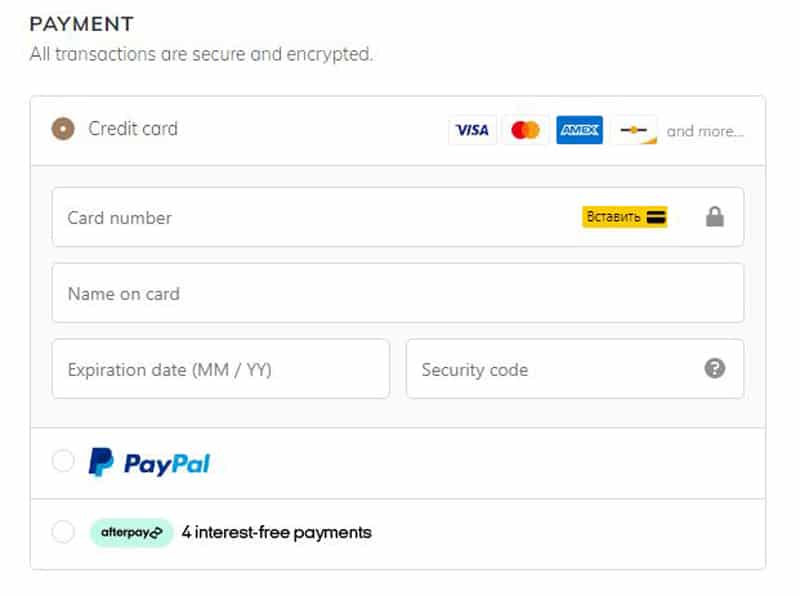 Ways to deliver the product
When ordering, you can choose between two methods of delivery - normal or express. In the first case, the order will take from 5 to 12 business days to reach the recipient. Express delivery will cope faster - within 3 to 7 business days depending on the region, but will cost more. It may take up to 2 additional days due to the pandemic. In some territories, shipping may be free for orders above the amount specified in the shipping terms. The store automatically offers $25 express shipping, which will get your purchase to you in 5-7 business days.
Ways to return merchandise
If an item does not fit or is of inadequate quality, you can return it or exchange it for another product. To do this, you need to contact the store's customer service department and make a return. This can be done within 30 days. The return shipment will have to be paid by the customer, the store does not compensate for it.
Bonuses at Cupshe
In the store Cupshe there are always discounts, you can almost always find things at a reduced price. Often there are seasonal promotions, when the price of things from the last collection drops.
Free Shipping
In some countries, you can order items and they will be shipped absolutely free. The cost of the order can vary from $25 to $100.
Bonus Program
After registering on the site, the buyer automatically enters a bonus program, which will be linked to his personal account. Bonuses can be exchanged for discounts on products. You will receive your first bonuses after registering - 300 bonuses are given for this. Bonuses are credited with each purchase - on the product card page you can see how much you will be credited for a particular item. Bonuses can also be obtained in the store's mobile app.
Discount 10%
Another reason to register on the site is to get a 10% discount on an order worth more than $65. The discount will be credited automatically when you place your first order.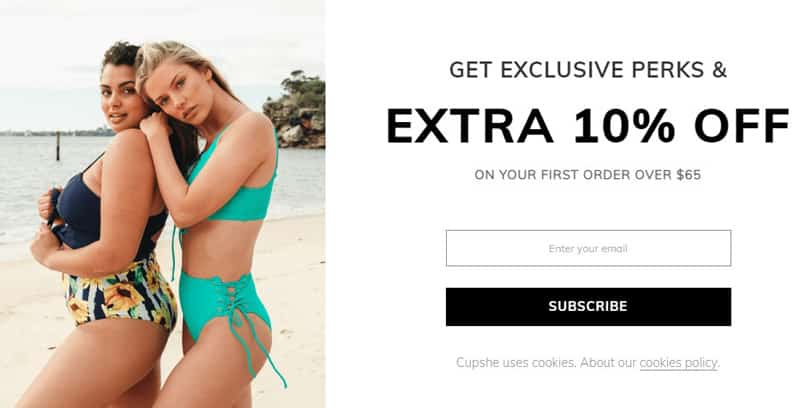 Seasonal discounts
Under the seasonal discounts of up to 50% any items can fall under, depending on the season and demand, and sometimes selected at random. It's a chance to buy an item just about half the price. You can view a list of all items participating in the promotion if you select the "Sale" tab on the top menu.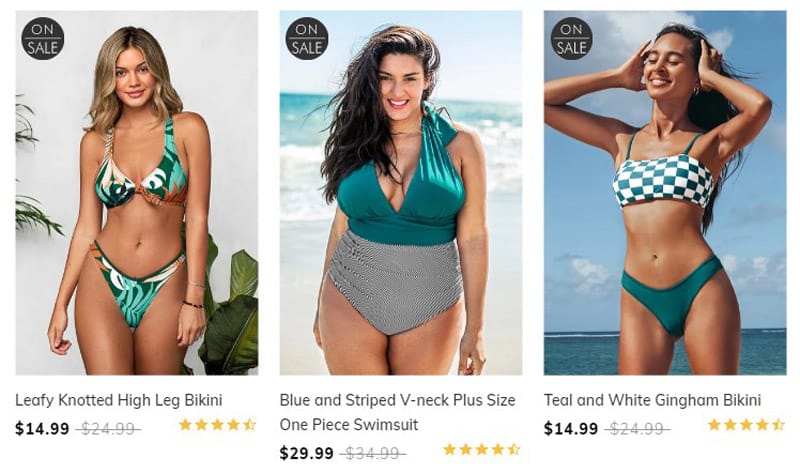 Student discount
A discount is available to students at 10$ on orders from $85. To qualify, you must be registered in the Student Beans program and confirm that you are a student.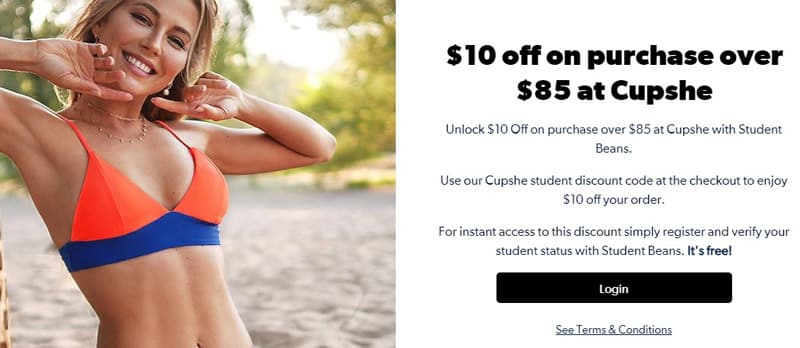 Referral program
Additional remuneration is provided for webmasters and site owners from affiliate networks. Thus, Admitad offers 5% for a paid order.
Complaints about Cupshe
The store's site has a section with customer reviews and photos of the items I received. Here you can see the excellent ratings - five out of five stars. Customers note good service, fast delivery, and the quality of the items. Female customers share their delight at how a swimsuit fits and how beautifully it sits on them.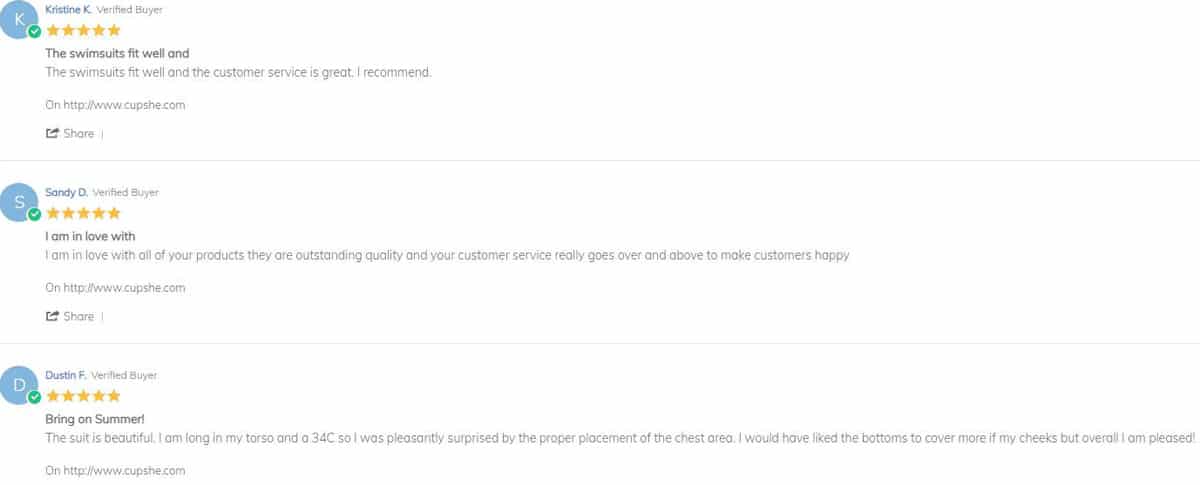 We looked at other review services as well. No complaints were found. Customers remain completely satisfied with their purchases.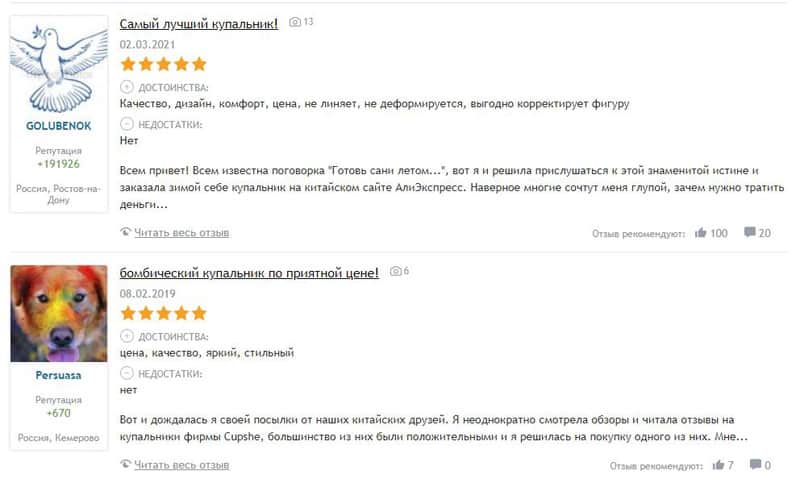 If there are any reviews about Cupshe online store, we'll be sure to post on social media. Sign up so you don't miss anything!
Please keep yourself informed about news and complaints. We copy the most valuable information to social networks, so please sign up!
Supervisory authorities
The online store is owned by Cupshe Inc. and the store website is curated by Shopify Inc. All companies in the sales chain are registered and regulated by law, as well as by the authorized bodies of the countries of registration. The relationship between cupshe.com administration and customers is governed by the user agreement, which includes information on privacy policy, and the "Terms and Conditions".
cupshe.com User Agreement
The first document regulating the online store is the Terms and conditions. It lists the main rules related to the work on the site and the transactions between the seller and the buyer. The first point - the terms and conditions of online trading. By agreeing to this document, you confirm that you are of legal age, undertake not to spread disease through things and not to use the store's products for illegal purposes.
The second point is the main provisions. The store warns that it can refuse service without giving reasons. The user of the site undertakes not to use the content of the site or parts of it for their own purposes, and to remember that personal information, except bank card data, may be transmitted unencrypted.

The store further warns that information on the site, such as photos, names or prices, may change. The store is not responsible for the data posted in the reviews. The company asks that you enter your information online carefully and cautiously. Another important document is the Privacy Policy. In the first point the customer is informed about what kind of data the store collects. This is the information the customer gives when registering, making a purchase, or communicating with customer service. Then the terms of data storage on the site and incidental services are described. The store also recommends reading the provisions of Shopify, which supervises the online store site.

Customer Service
There are several ways to get in touch with the service, but all of them involve text communication. The store has no telephone support. There is a chat-bot on the site, which is located in the lower right corner of the screen. In it, you have to enter your name, e-mail and ask a question. After a while an answer will come into the chatbot, and you can discuss your question or problem online. Another option is to write an email to [email protected] and describe your problem. The same methods can be used to make a refund.
Is Cupshe a scam?
Store Cupshe has existed for more than 5 years, has bases in several countries, and works with buyers from different parts of the world. The company has reached a global level, and at that level it is impossible to be a scam. The fact that Cupshe is not a scam is confirmed by a number of acknowledgements from customers with their testimonials. In its work, the company does not forget about the most important thing - its customers. Cupshe monitors the quality of fabric and cut, develops swimwear for every shape, produces large sizes and willingly shows plus size models in the catalog, proving that every woman is beautiful.
Customer care is also evident in a rich bonus program. Seasonal discounts of up to 50% are constantly active in the store. You will find information about them on the site in the tab "Sale", and there you will also see a list of items participating in the action. They have not forgotten about the affiliate program. Store subscribers, that is, those who have a registered personal account, participate in the accumulation of bonuses that can be spent on subsequent purchases. There is also a discount on the first order and a student discount. Delivery customers are also satisfied. For large orders in some regions shipping can be free. The company's value for money is a win-win. Comfortable, stylish, bright and durable swimwear and at the same time not overpriced - this is a great advantage.
Conclusion
Cupshe - is one of the largest stores of women's swimwear and beachwear on the market. The company guarantees the quality of its products, and these expectations are justified. Cupshe product is designed taking into account women's figure, so every woman will find her own swimsuit size and a set that will emphasize her merits.
Cupshe positions itself as more than just a store. It creates a community of women who are close to the ideas of equality, self-development and individual beauty. This company is trustworthy.
No reviews yet, be the first!
The company in the ratings
Activity
New

0

Resolved

0

Not resolved

0
New companies on the site